Kalkan - May 2015
Written by Kev

You must be thinking that it's a bit strange that we returned to Kalkan so soon. In fact it's just 7 months since our last visit. Well, there is a very good reason for that. It was my Mum's 90th birthday in March 2015 and we wanted to do something special for her, so we asked her where she would like to go on holiday as a birthday present. She could choose anywhere in the world and she decided that she would like to go to Turkey. At this point we had not yet been to Kalkan, but it looked so lovely that we thought it would be ok to book a second visit with mum. As we were booking a villa the girls decided to come as well, along with Charlie, Georgia's boyfriend. We booked a week in mid-May with flights from Gatwick.
We booked Villa Gelidonya in the Kalamar district. Alex was the lady we booked it from and she was very helpful in sorting everything out for us including transfers and a welcome pack on arrival.
http://www.ownersdirect.co.uk/accommodation/p8132472
Kalkan is a very hilly place with many of the restaurants on roof terraces. This means an awful lot of stairs. We were a little concerned that this might be too much for a 90 year old woman, but my mother is no ordinary 90 year old. She coped admirably with the hills and stairs, in fact when I offered her my arm to assist her up the steps, I found myself being pulled up by her!
I can honestly say that we had a wonderful time. The weather was fantastic, the villa amazing, the food lovely and the group had the pleasure of my company for a whole week. What more could anyone want?
We got a 7 seater taxi from home to Gatwick and arrived in plenty of time to enjoy a drink in the Sofitel and lunch at Jamie's Italian before boarding the Easyjet flight to Dalaman.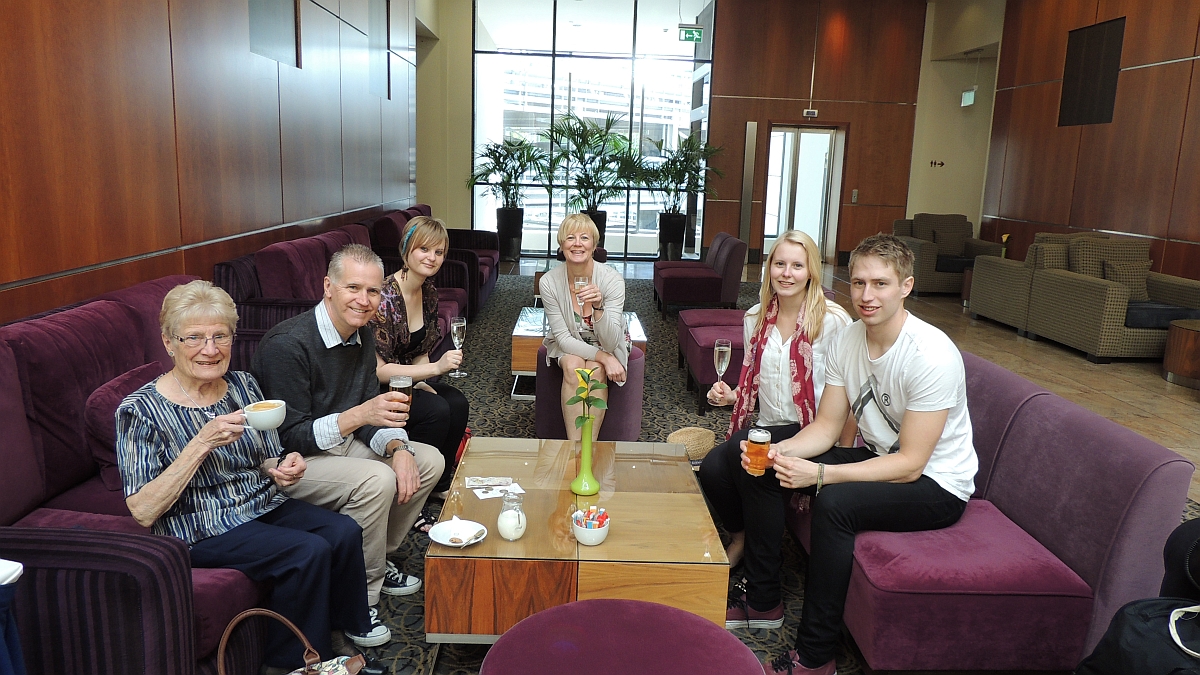 Here we are at the Sofitel. I'm not sure why my mother is drinking coffee. She'd better buck her ideas up, we're on holiday now!
Our transfer the other end took about an hour and a half, arriving at our villa around 11.00pm.
This was our home for the next week.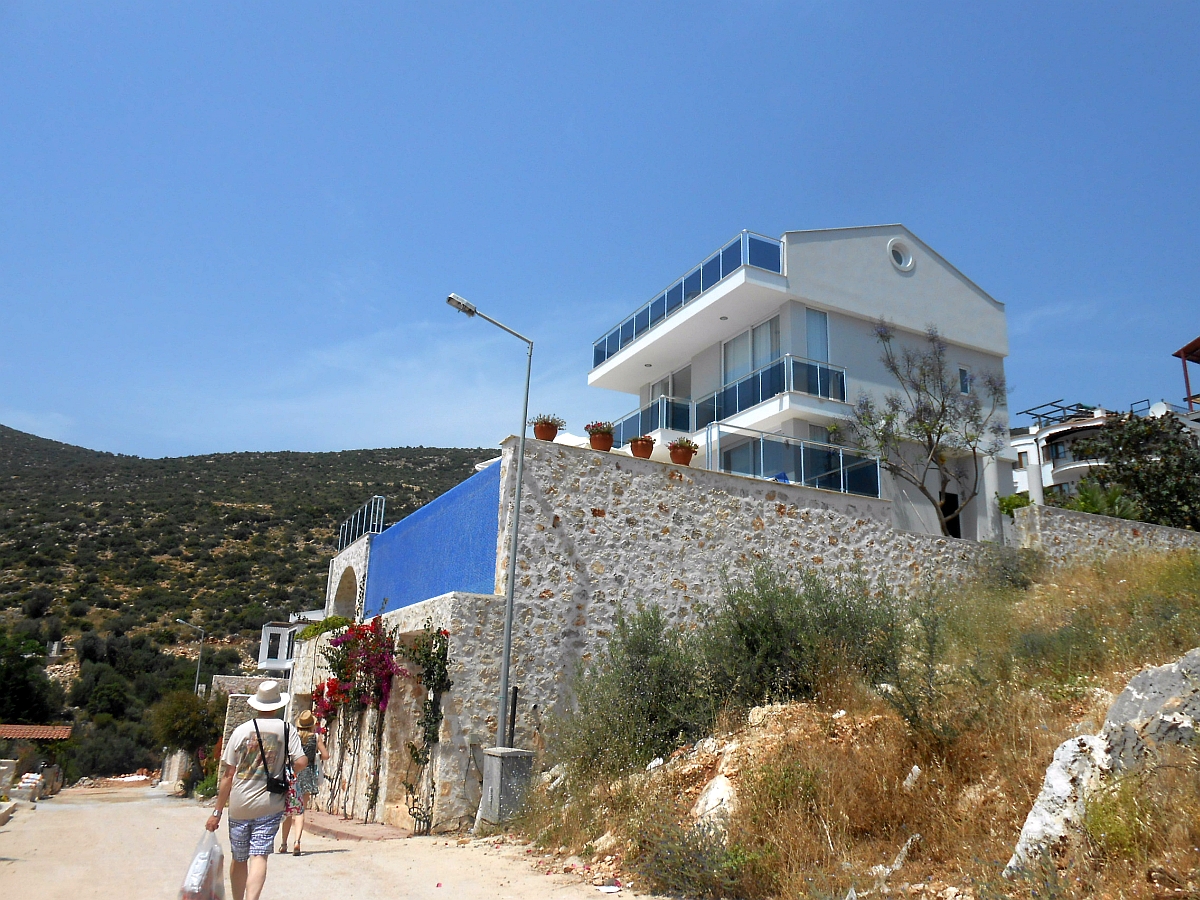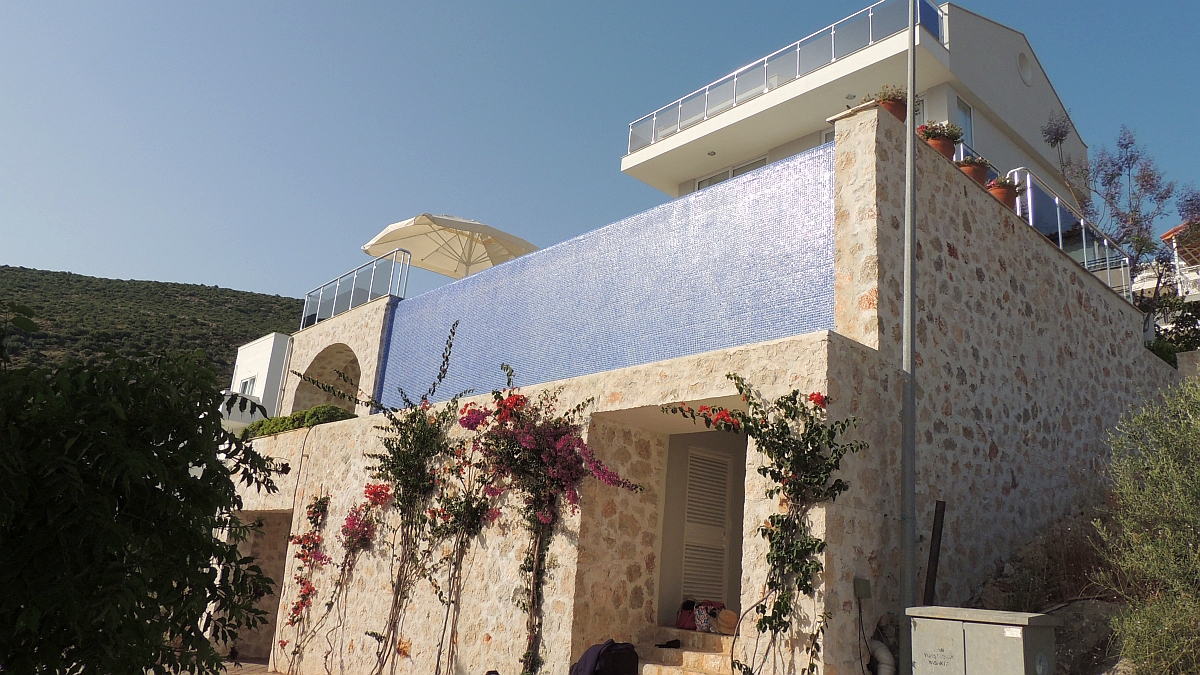 There was an apartment for Georgia and Charlie underneath the main villa, so they had some privacy. Their little balcony is the arched structure to the left of the infinity pool.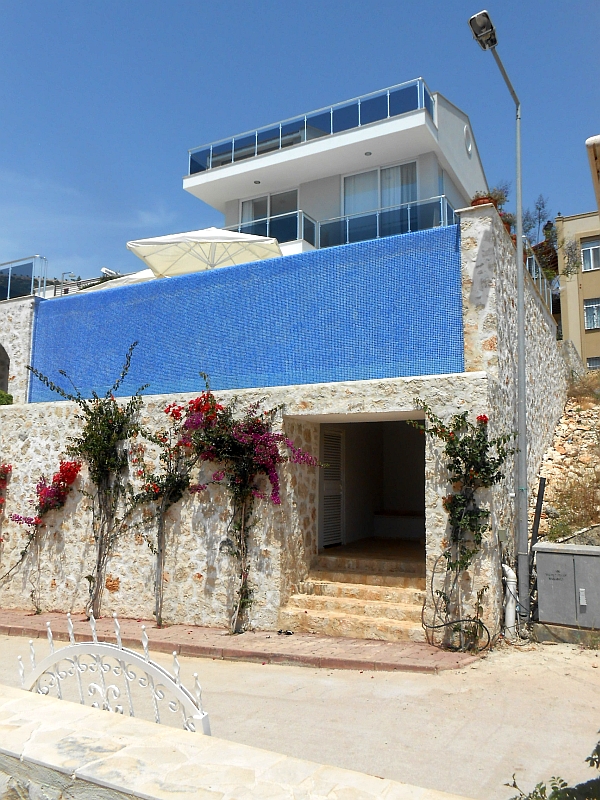 This was the view Tam and I woke up to every morning from our bedroom balcony.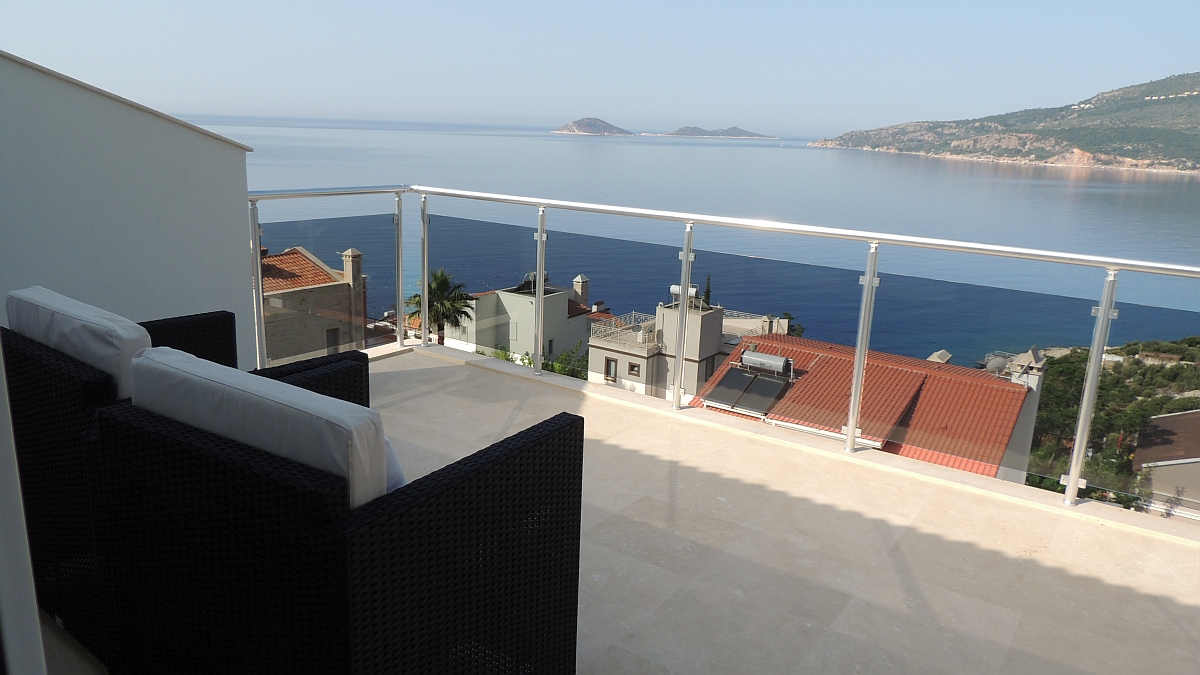 Our bedroom balcony.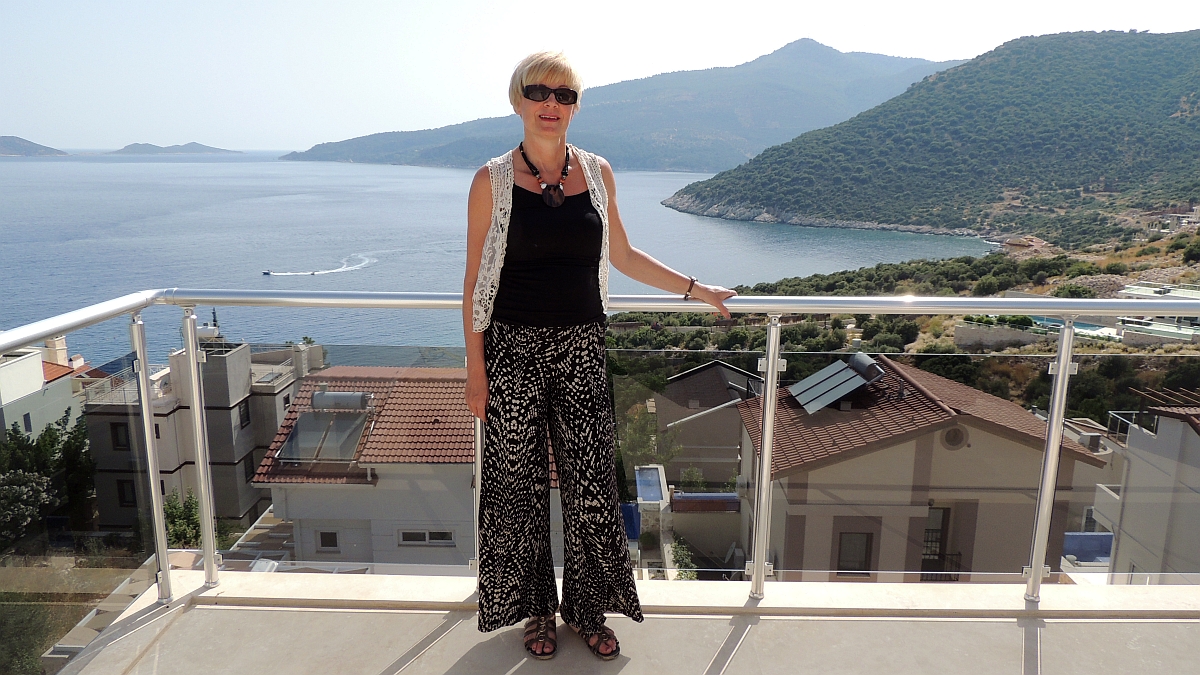 Tam enjoying the view. Of course she is - she's looking at me taking her photo.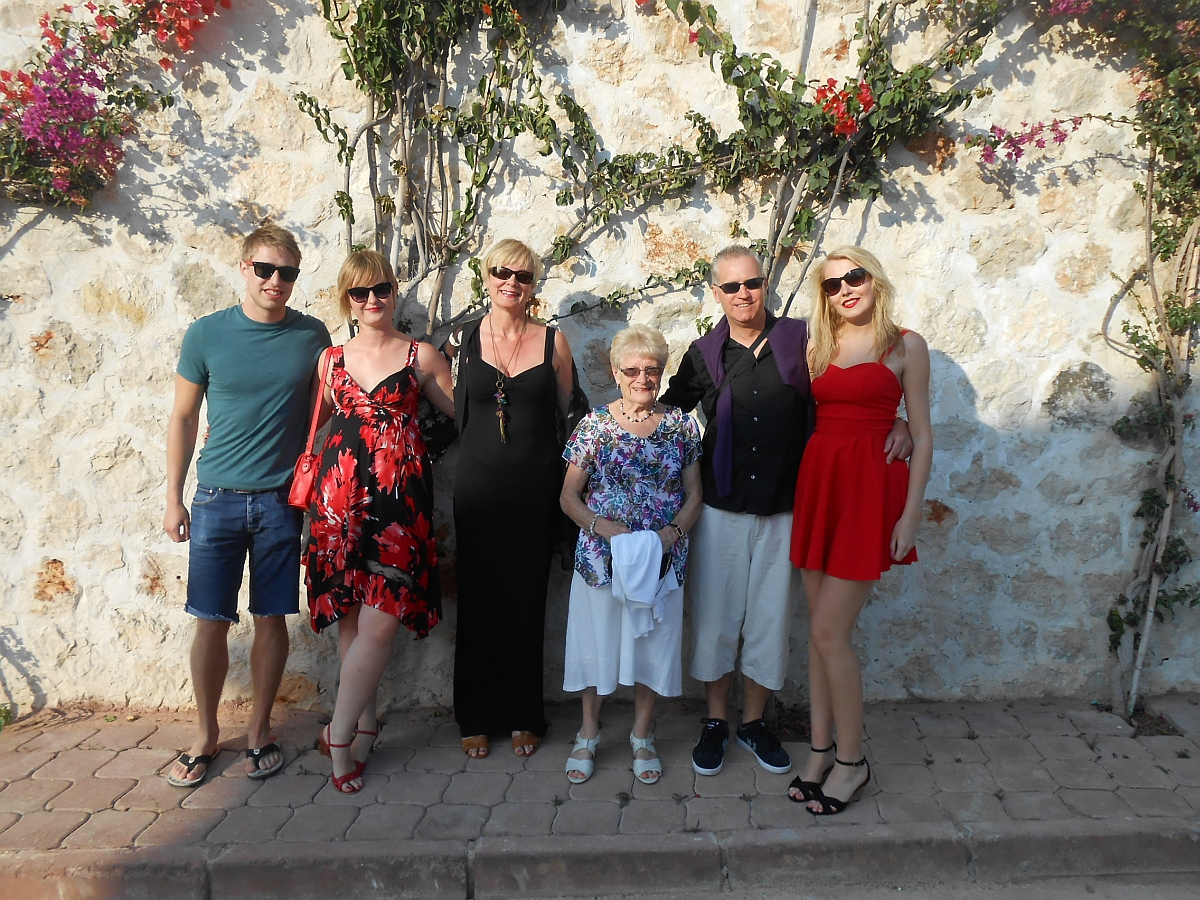 Here we all are outside the villa waiting for a taxi. You could walk into town (me, Charlie and the girls did so a couple of times), but there were a couple of very steep hills and it took 25 minutes. We mostly got taxis, which were about £5 including tip. We used a chap called Ali for nearly all our journeys - we just rang him up and he was there within minutes. He was a thorughly nice man, but all the Turkish people are lovely, they are so welcoming and polite that it's a real pleasure to talk to them. Obviously they want your trade, but it goes beyond that - they want you to enjoy their country.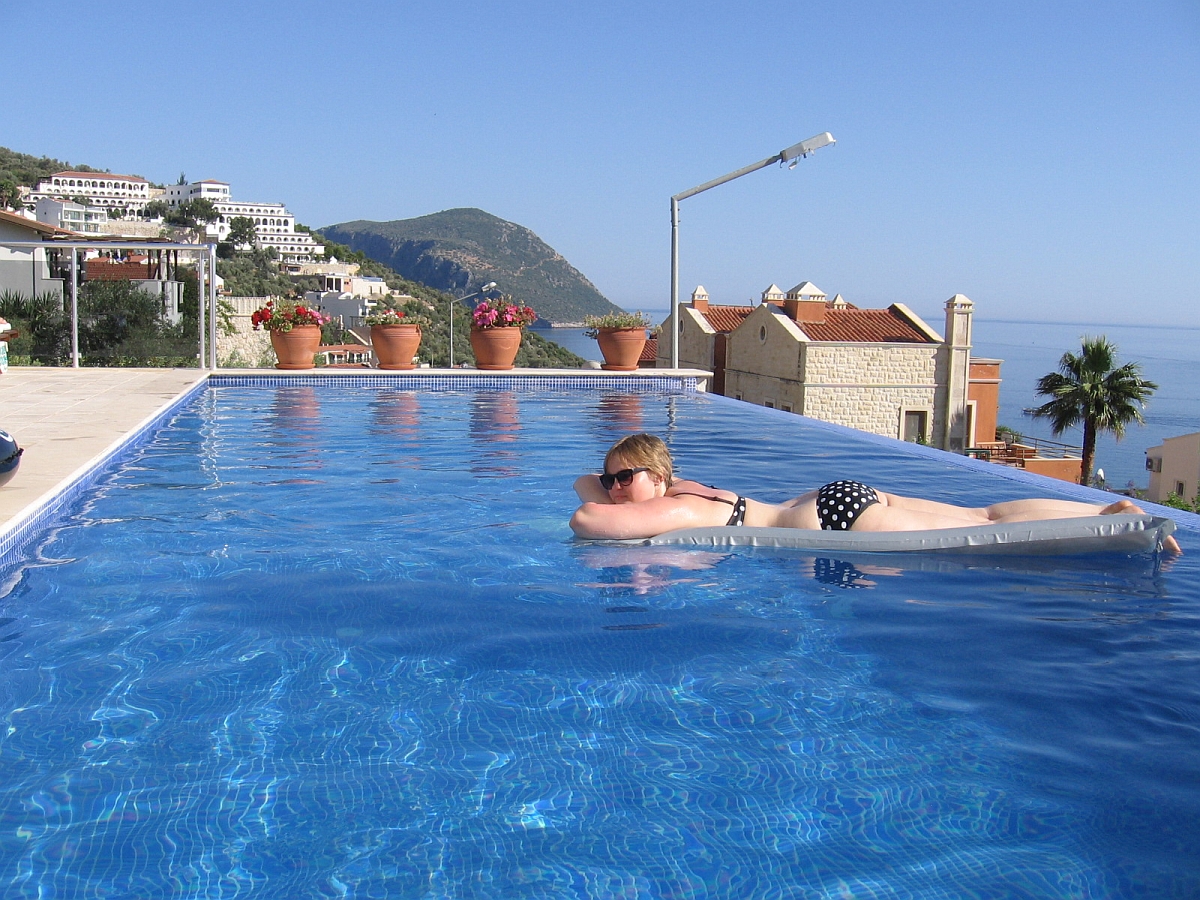 Here's India enjoying the pool.

And here's a wider view of the pool deck.
Georgia appears to be wearing a pair of underpants on her head. If she had a couple of pencils up her nose, she could pass for mad. Wibble! (You have to have seen Blackadder Goes Forth to understand what I mean).
We had a couple of friends that visited us most days.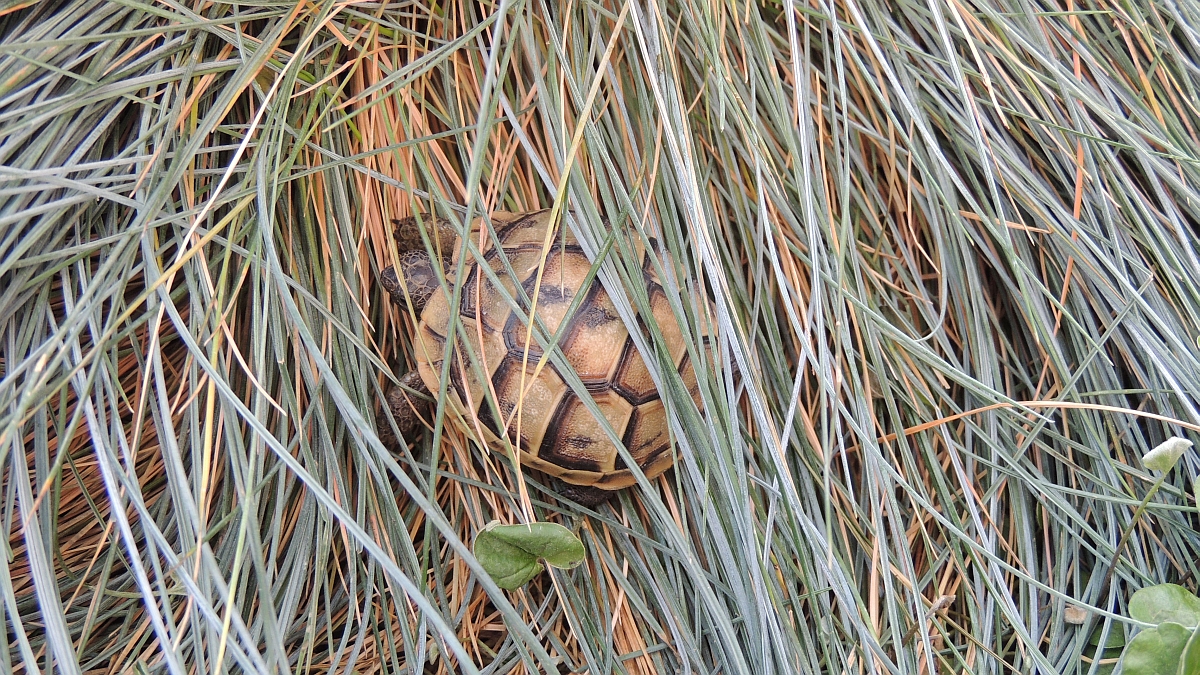 This is Little Terry. He's only about 3 inches long, hence the name. He lived in the back garden.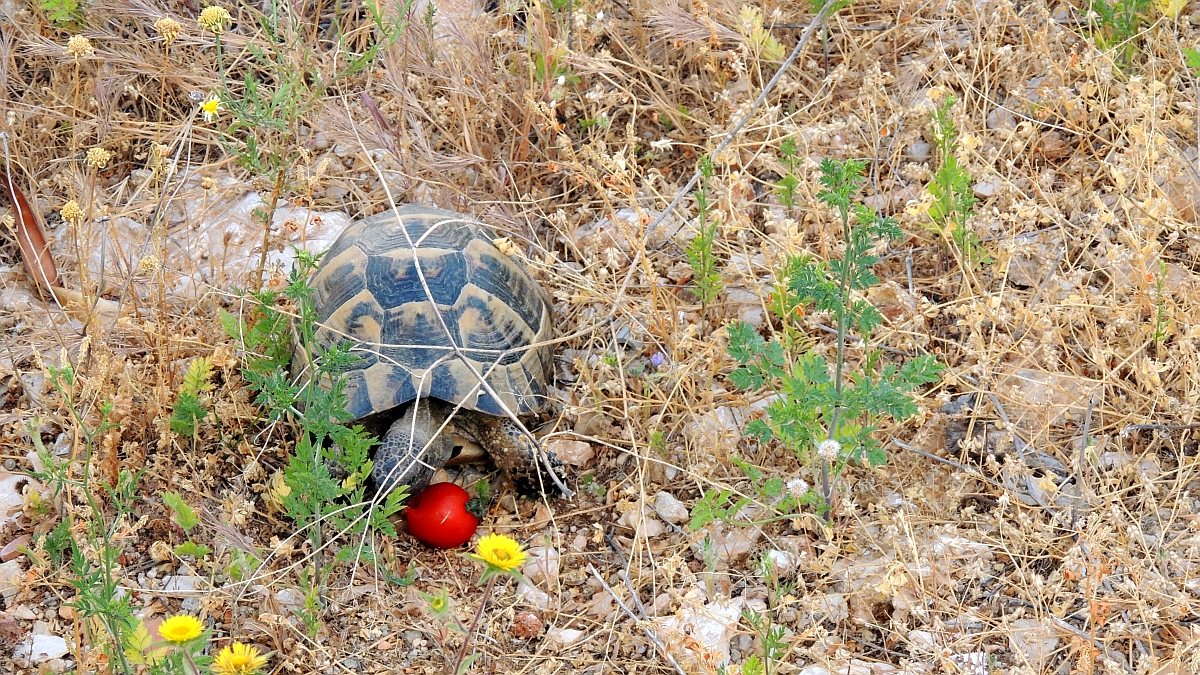 And here's Big Terry who lived on a patch of scrub land next to the villa. He must have thought it was his birthday when Tam scambled up to give him a tomato.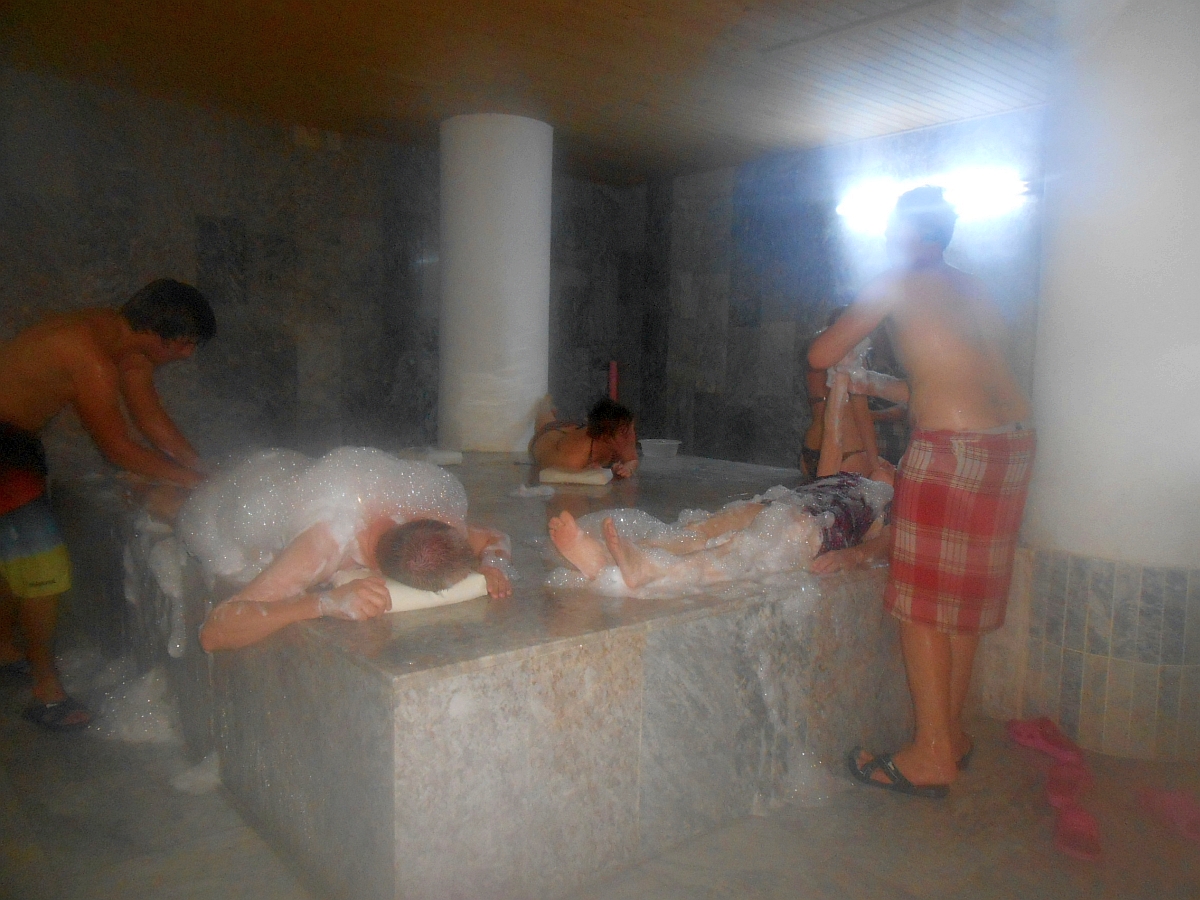 On our first day we had a Turkish Bath. That's me on the left covered in soap and Grandma on the right having her arm pulled from its socket. We were a bit concerned that it might be too rough for her as they pull and push you aroung quite a lot, but she loved it.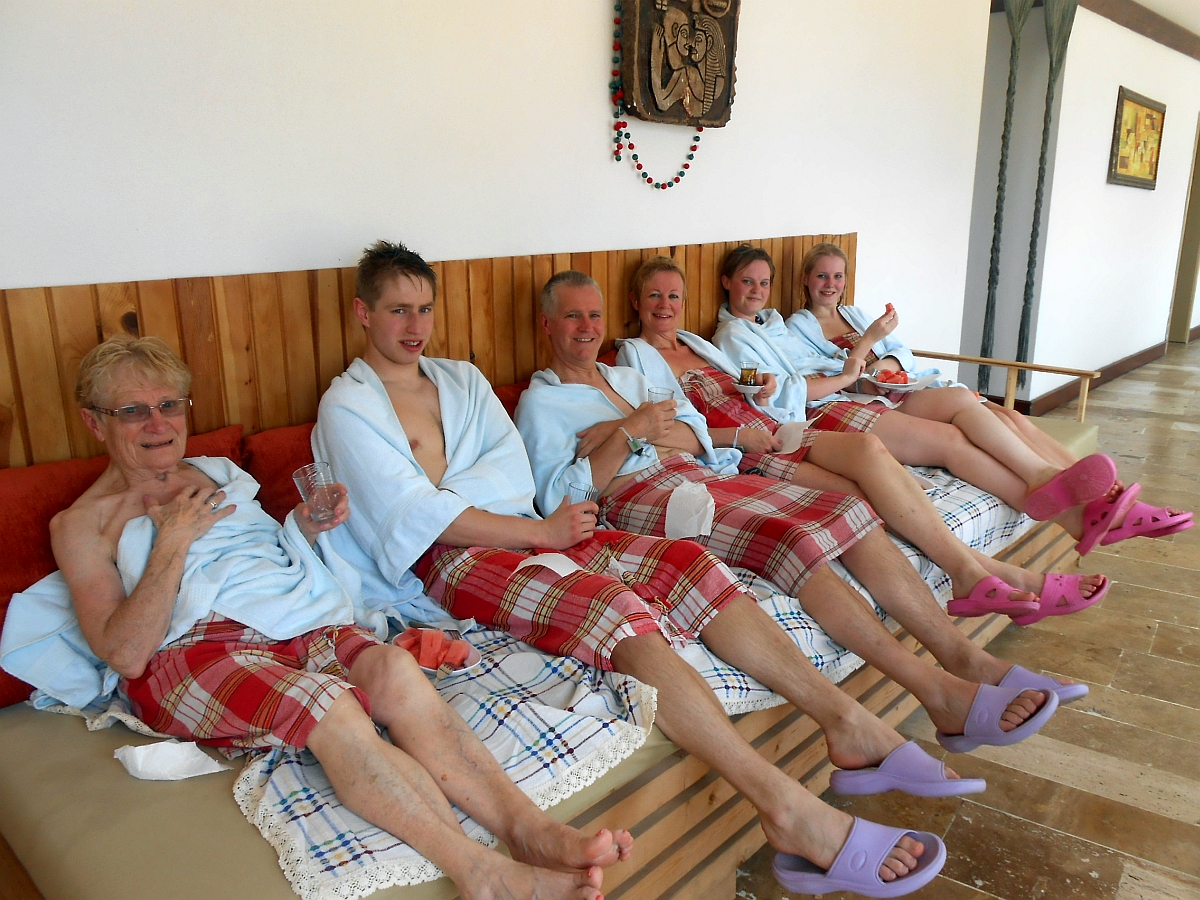 Here we are afterwards enjoying water, tea and watermelon. Just after this photo was taken I attempted to take some video of us all and my towel decided to make a break for freedom. I luckily caught it just before my undercarraige was exposed to the good citizens of Kalkan. Needless to say this was not met with a lot of sympathy from the family. Ribald laughter was more the order of the day.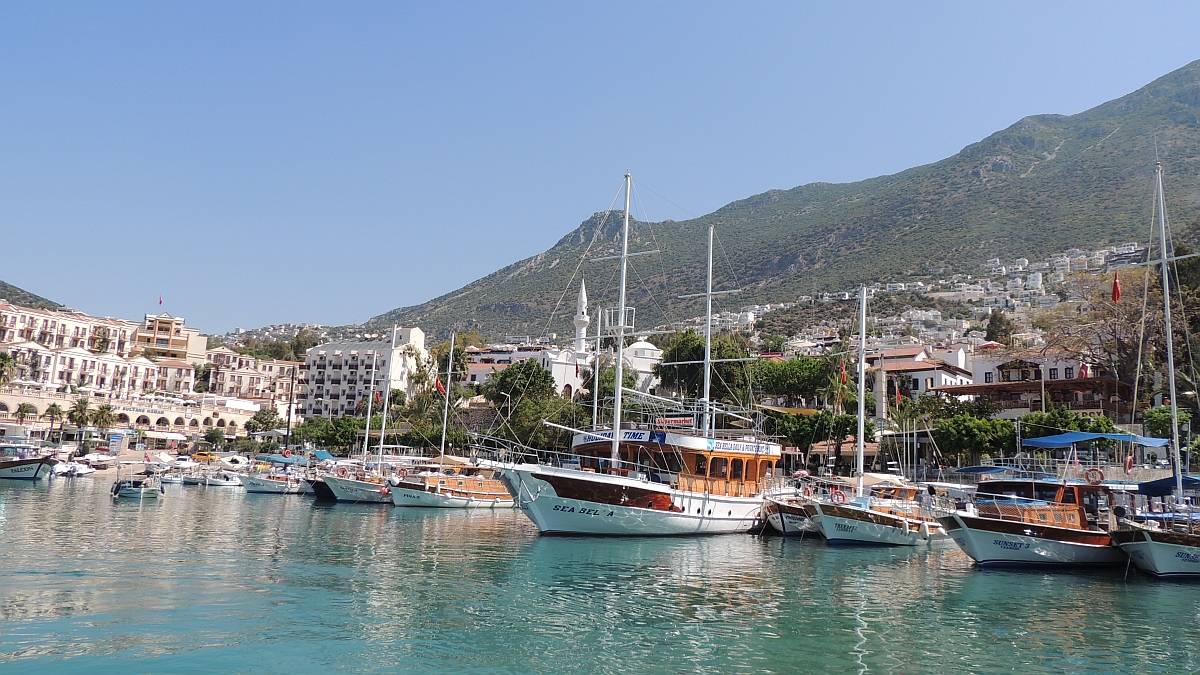 The Turkish Bath was where the arches are in the building mid-left of the above photo.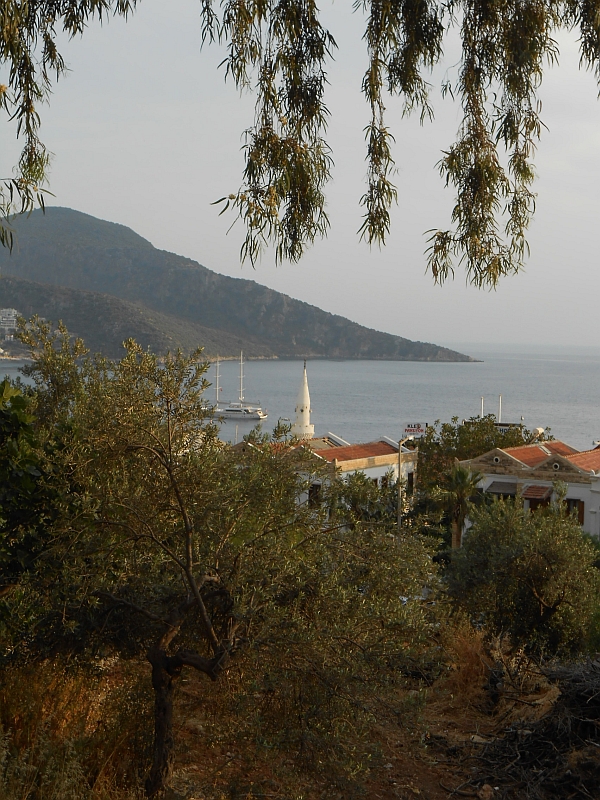 The little mosque in the centre of town.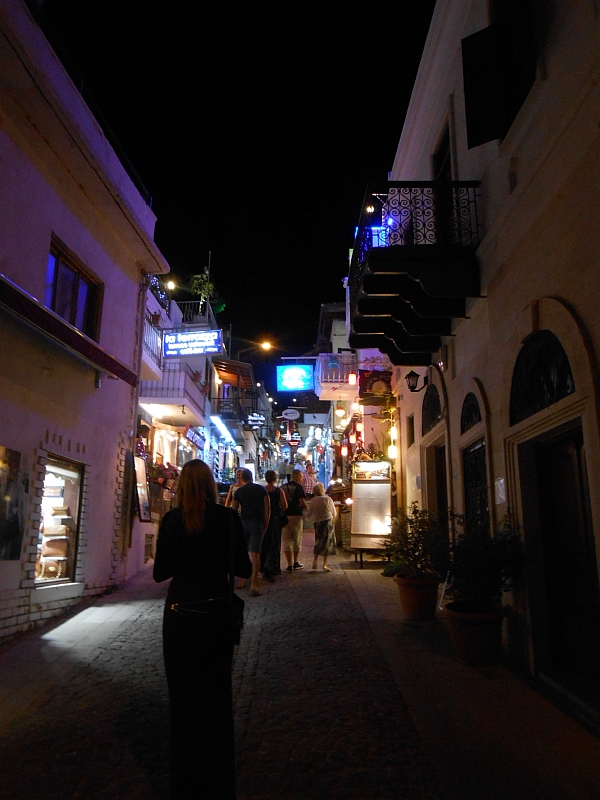 A night time shot. Just because I like it.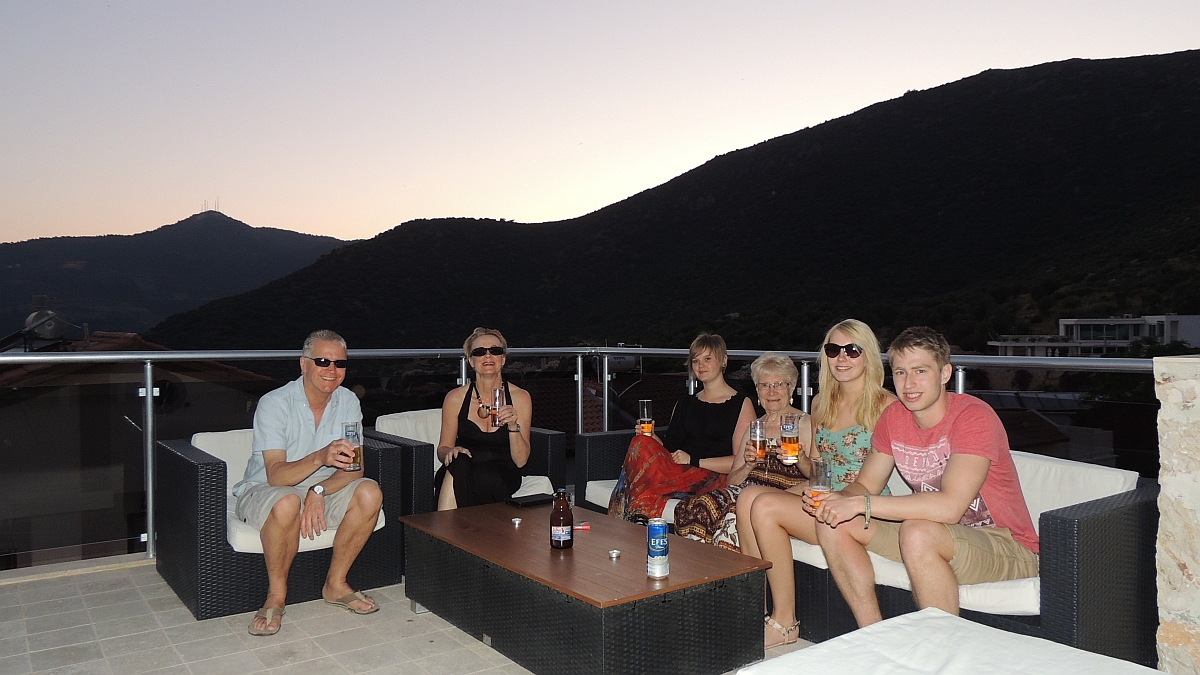 We had a BBQ on the balcony one evening and a lot of fun it was too, although we made the mistake of thinking that steak from the butchers would make a good meal as the steak in the restaurants is so good. To say it was tough would be an understatement. We all sawed away at it for some time, trying to find a piece of edible meat. Luckily we also bought some fresh fish, which was lovely, but we still had to resort to opening up a large bag of crisps at the end of the meal. Still, the beer was cold.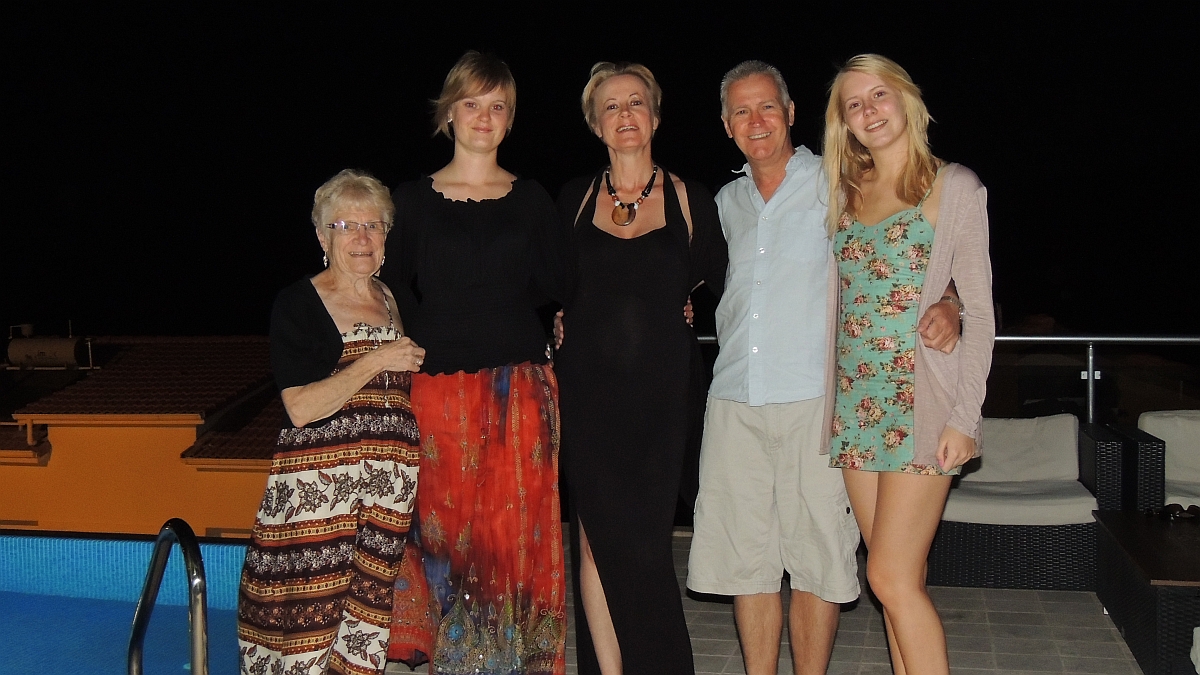 We look reasonably happy considering our meal was probably calorie neutral. We expended as much energy trying to cut the steak as we gained from consuming it.
We chartered a boat one day and had a lovely relaxing time. I think it cost about £170, but we were out from 10.30am until 6.00pm and had lunch and afternoon tea. We used Sunset Boats. This is their Facebook page https://www.facebook.com/pages/Sunset-Boats-Kalkan/301253733278967 as their website doesn't seem to work. There are many boats moored up in the harbour in the evening offering similar trips, but this was just the right size for the 6 of us.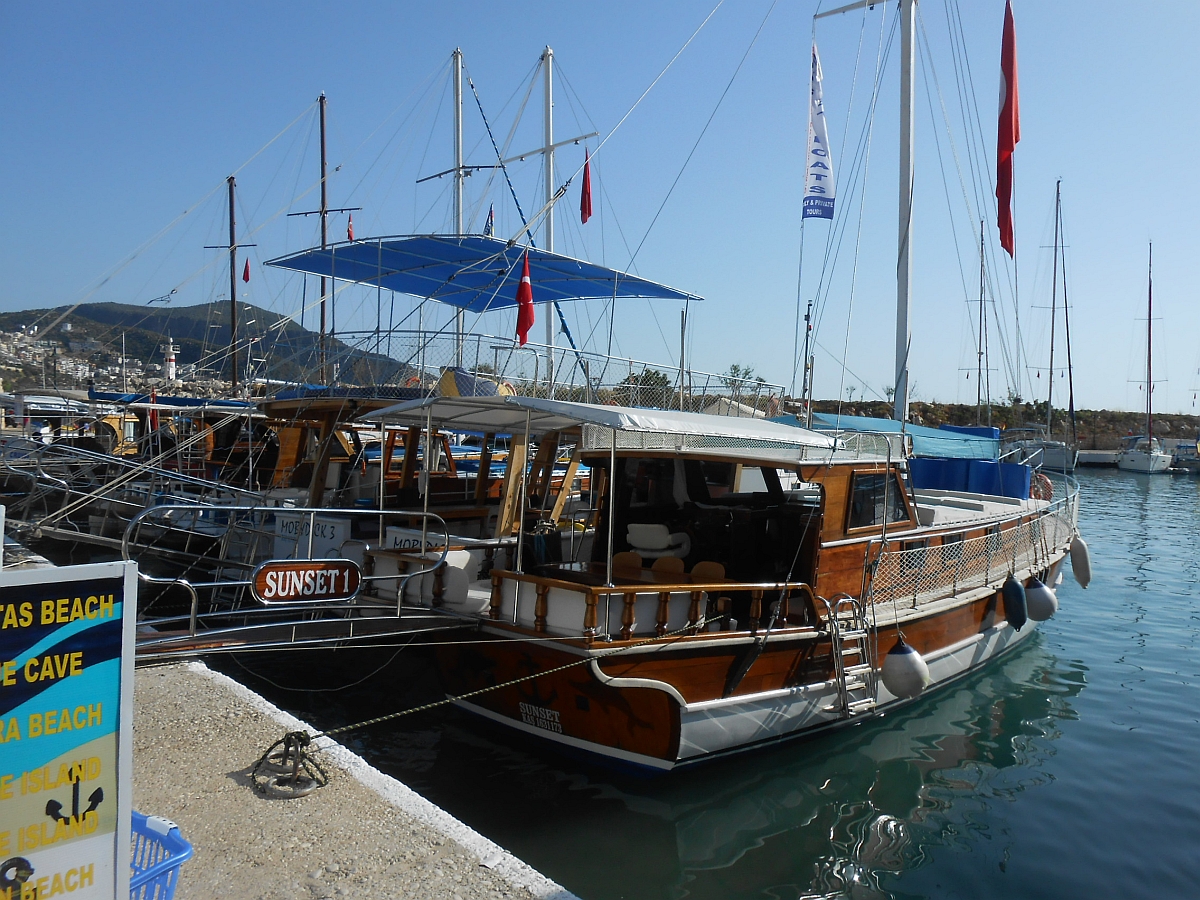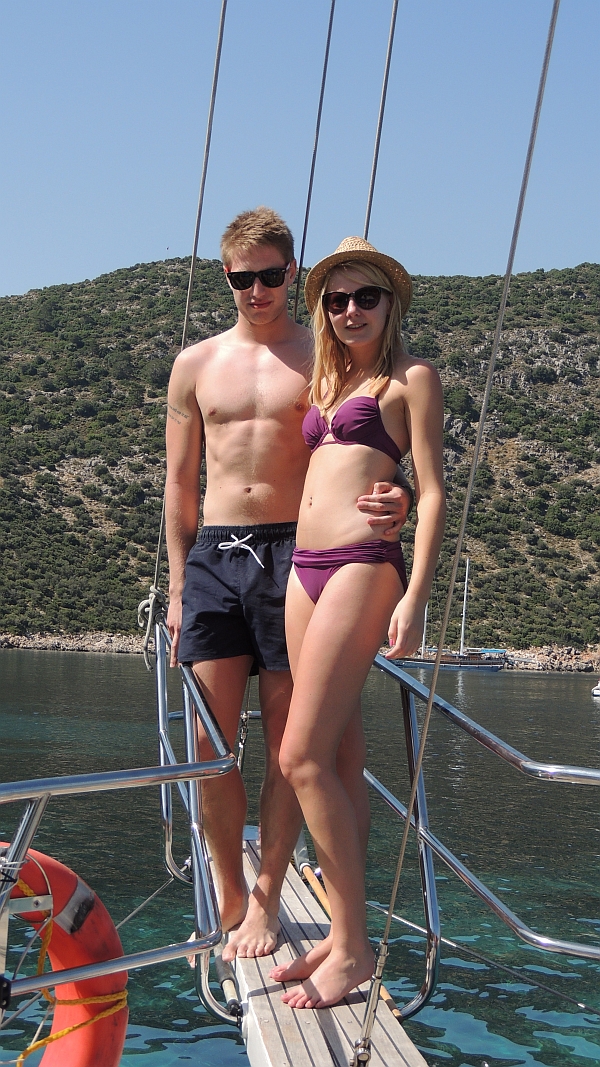 Charlie and Georgia strike a model pose. I would have stood next to them, but I didn't want to put Charlie to shame with my perfectly toned body.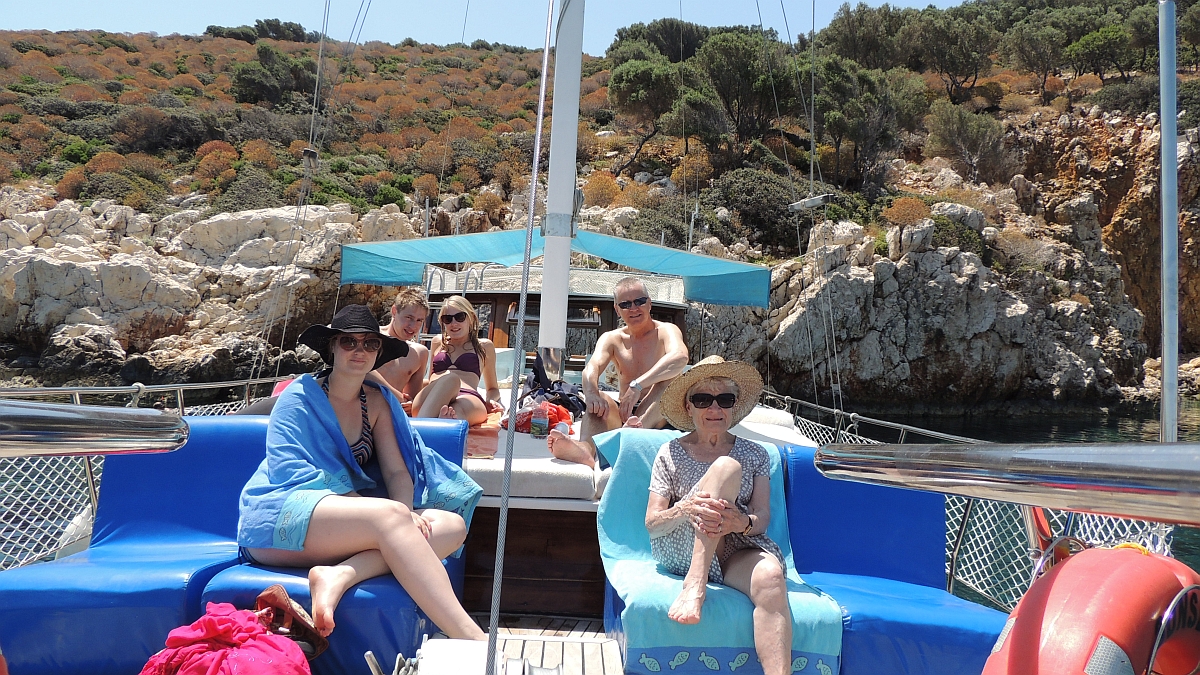 There was plenty of room for all of us. I think the boat had a maximum capacity of 12.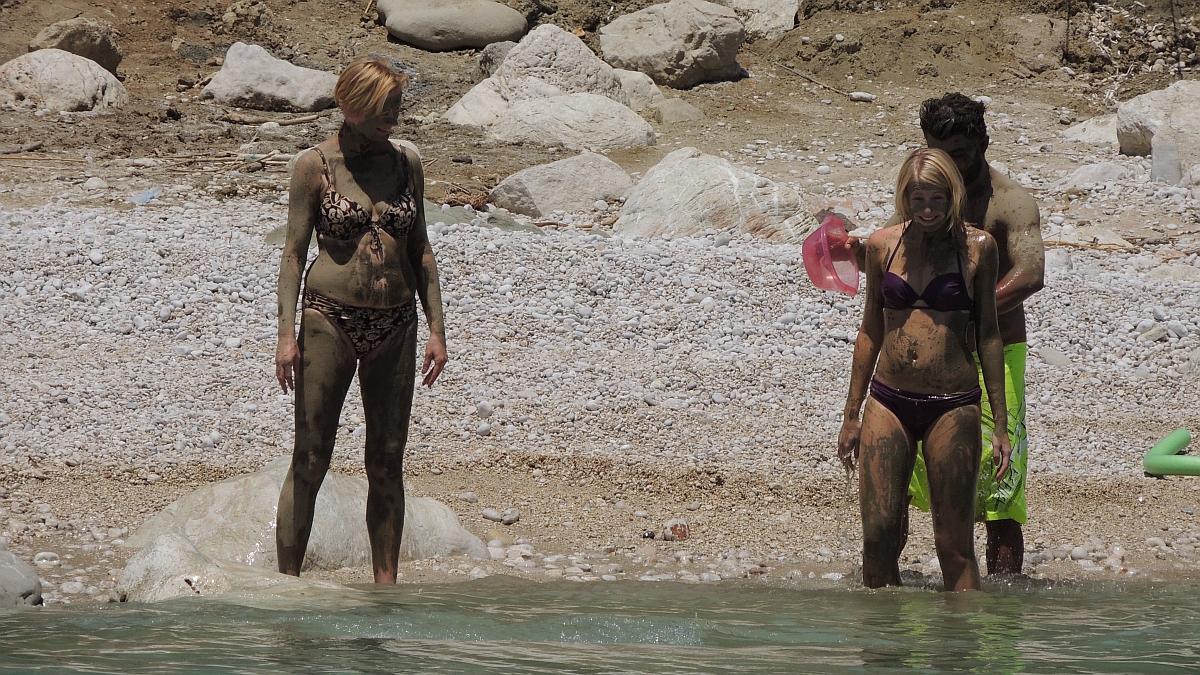 One of the things we did was to get a mud bath. You had to swim to shore, so Grandma couldn't do this. It's supposed to make you look 10 years younger. Tam did it twice.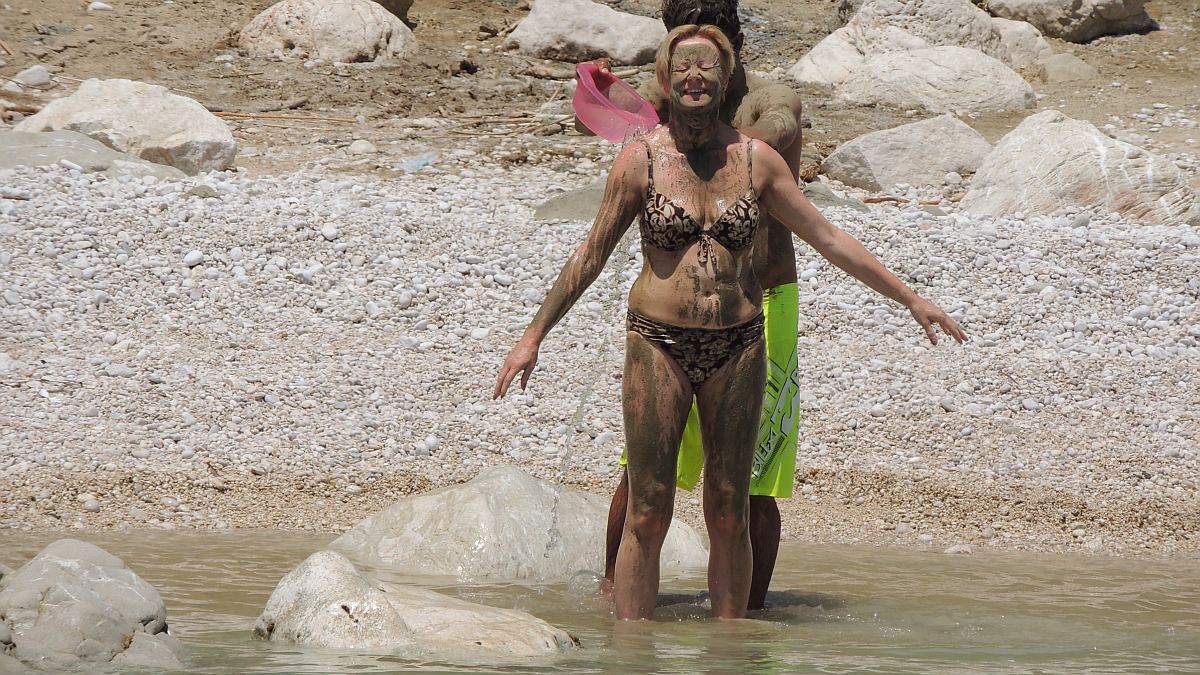 I'm not sure whether this is a smile of joy or a grimace of pain.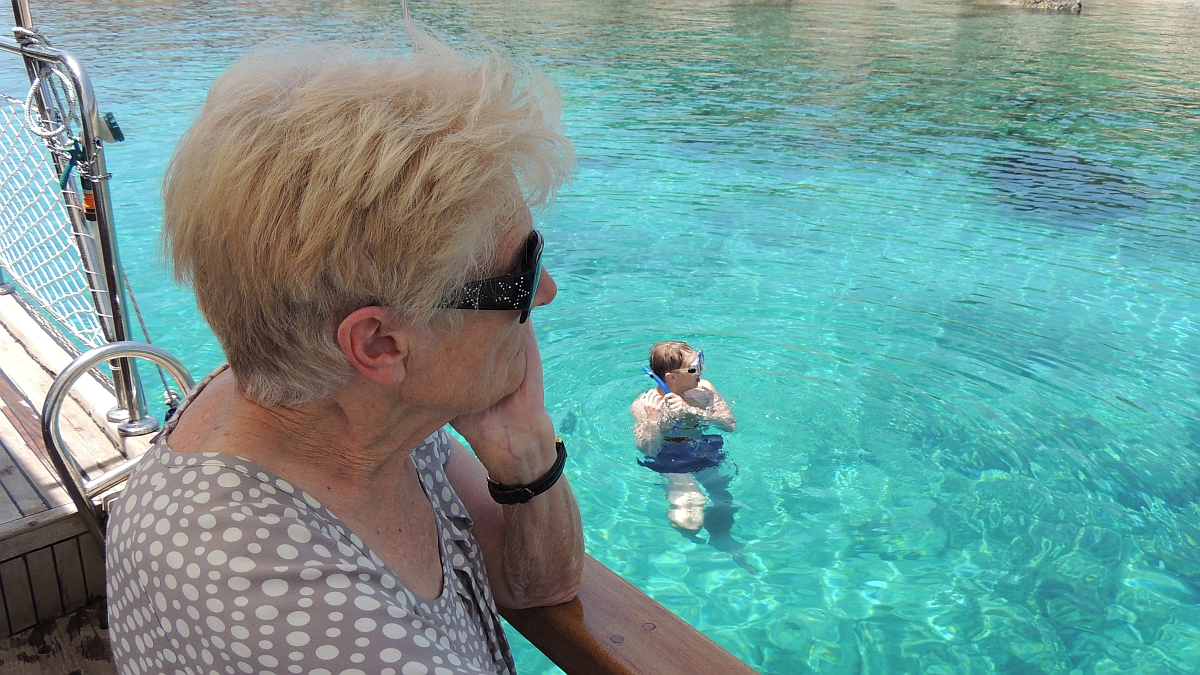 Grandma looks on thinking that she made the right decision in sitting out the mud bath.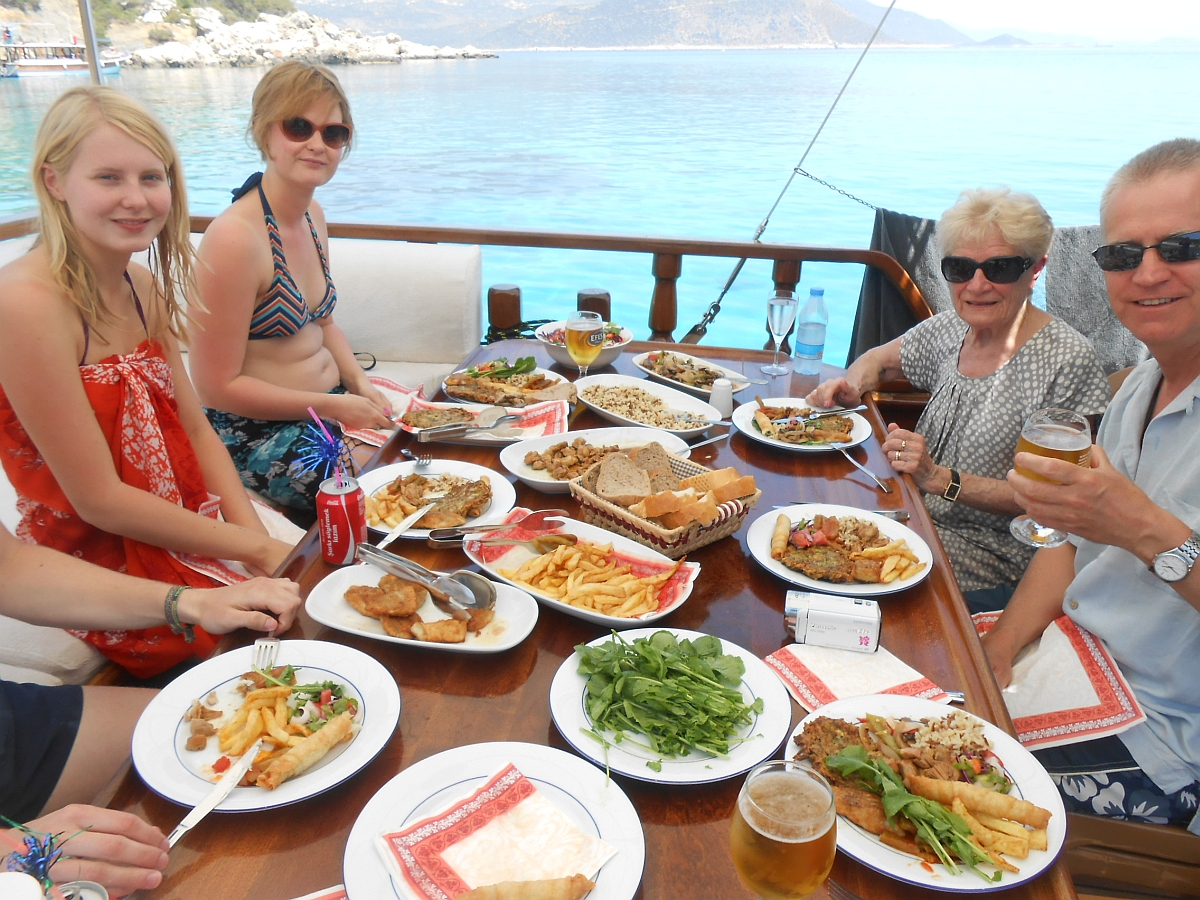 Lunch was very tasty.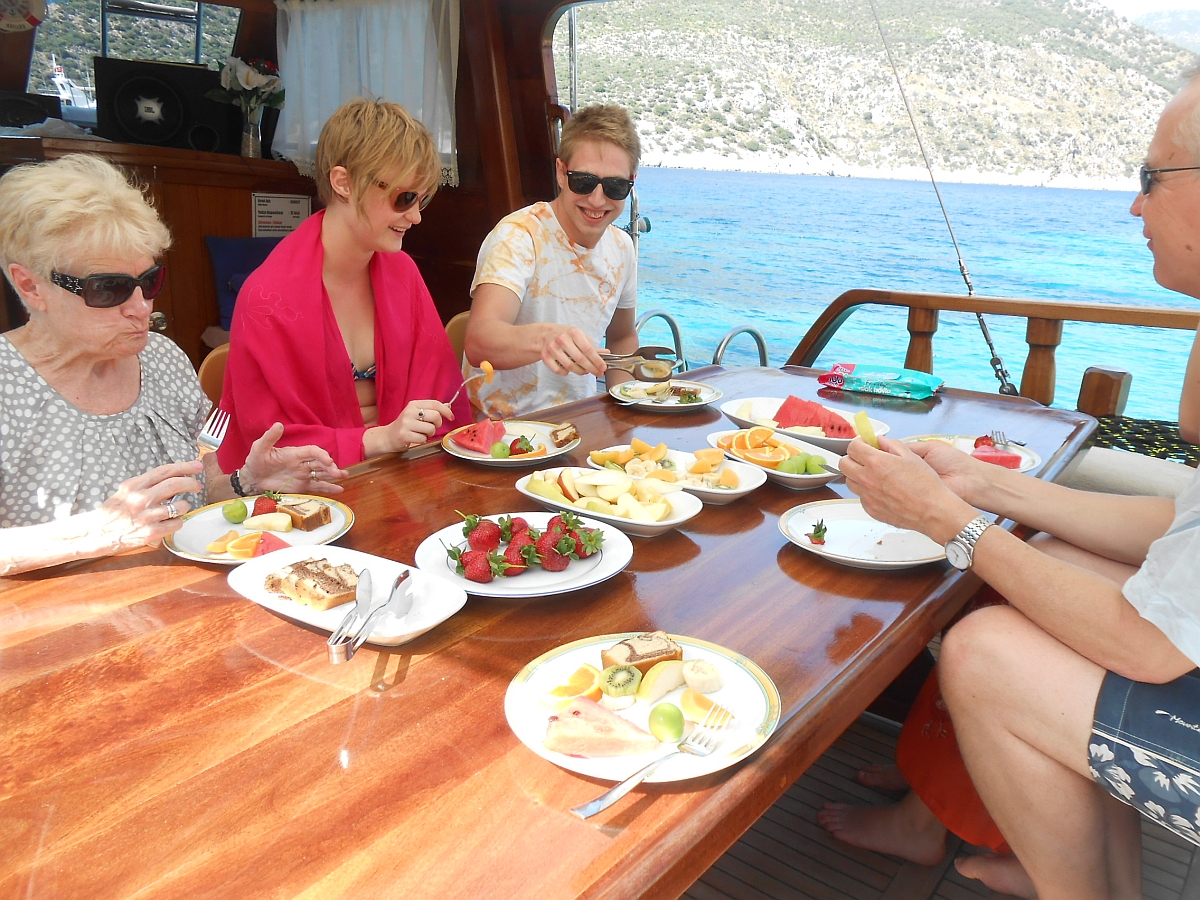 Followed by afternoon tea with fresh fruit and cake.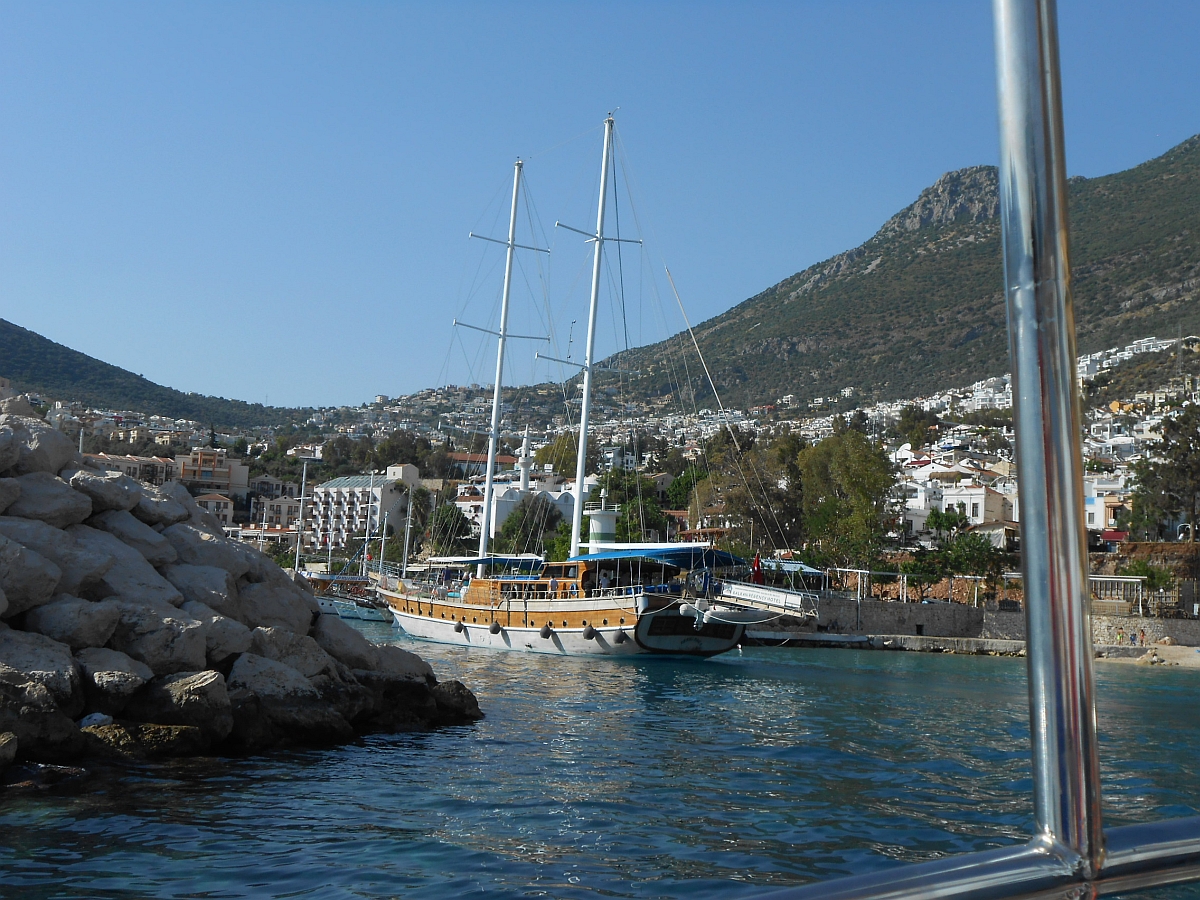 The boats return to harbour in the early evening.
We also took a day trip with a local company, there are quite a few of them selling excursions from shops in the old town. We went to Saklikent Gorge, Tlos and had lunch at a trout farm. We were out all day for the princely sum of £20 per person. We had a tour guide, who was very good and looked after Grandma at the parts she couldn't do. We were picked up from the villa in a mini-bus and it was just the 6 of us and a Turkish couple who were on their honeymoon.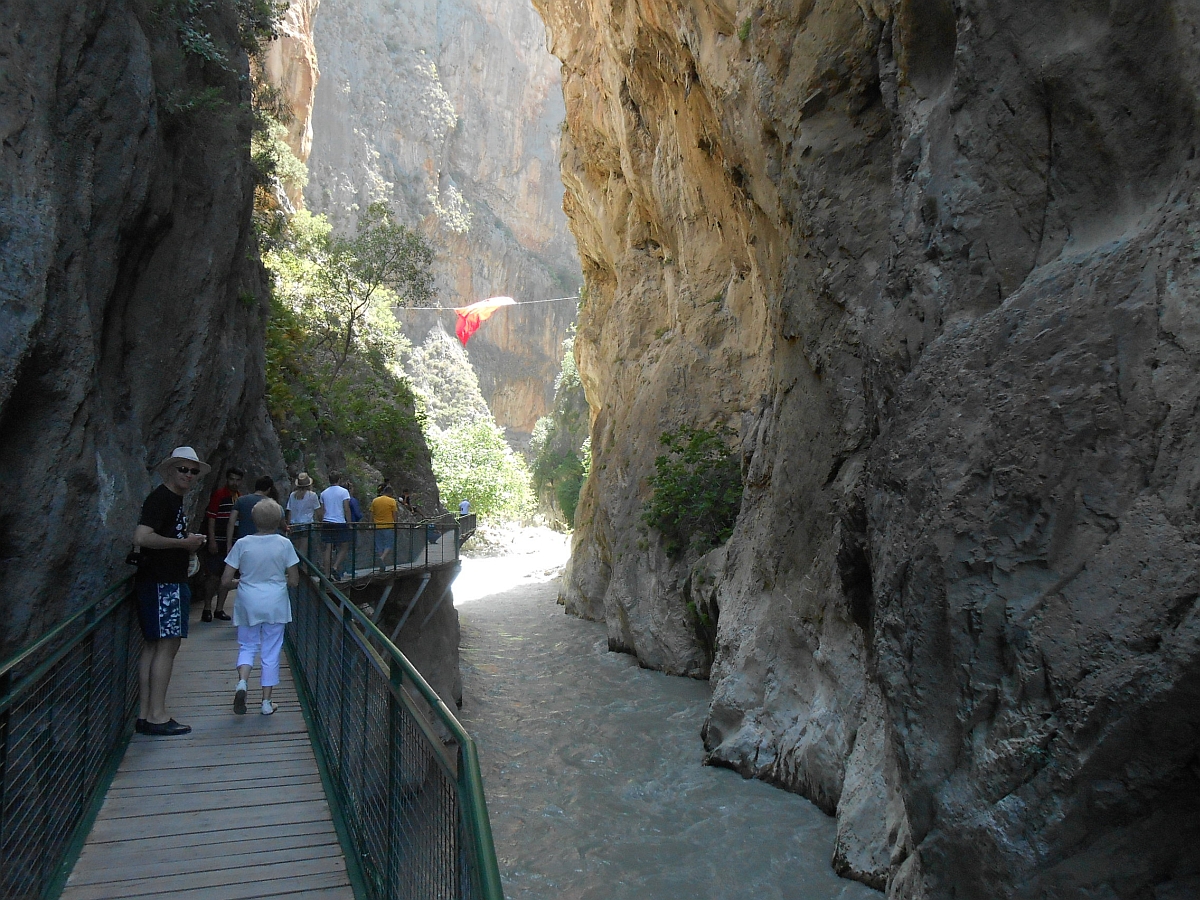 You walk into the gorge along this elevated platform.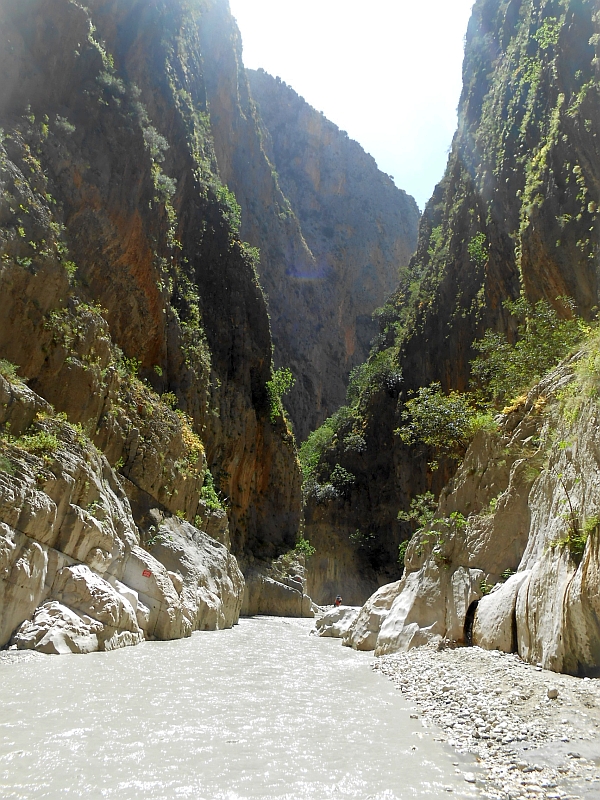 You then have to wade across a fast flowing river with the aid of a rope in order to walk further up. Grandma didn't do this bit. You can walk up as far as the water will allow, but we didn't go too far as we had limited time.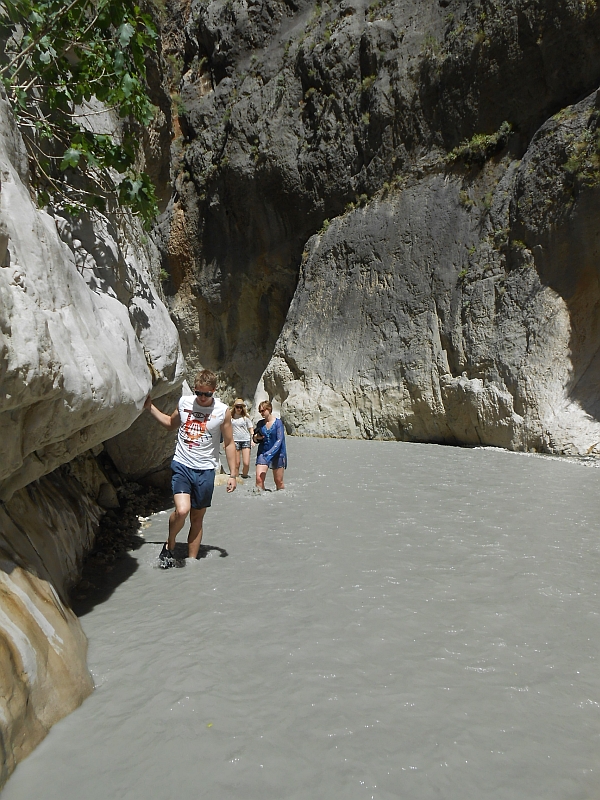 It doesn't look like it, but the water flows quite quickly and is freezing cold as it's melted ice from the mountains.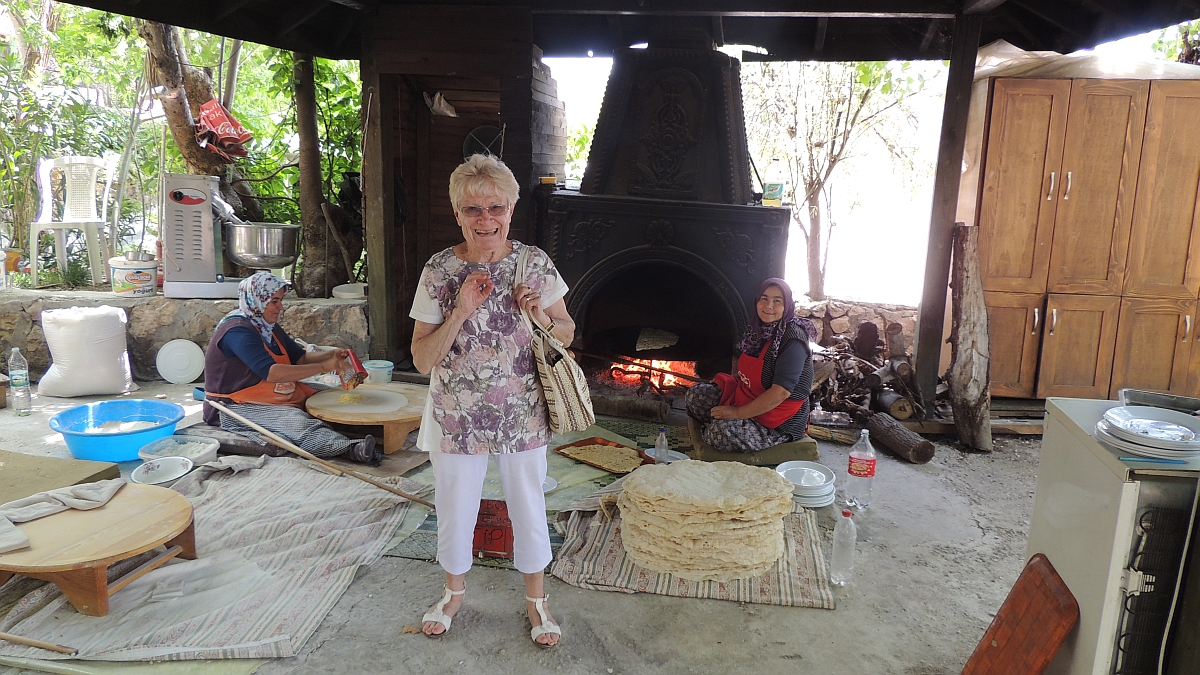 The next stop was at a trout farm for lunch. These ladies were baking the most amazing flat bread. Well, two of them were - Grandma just watched.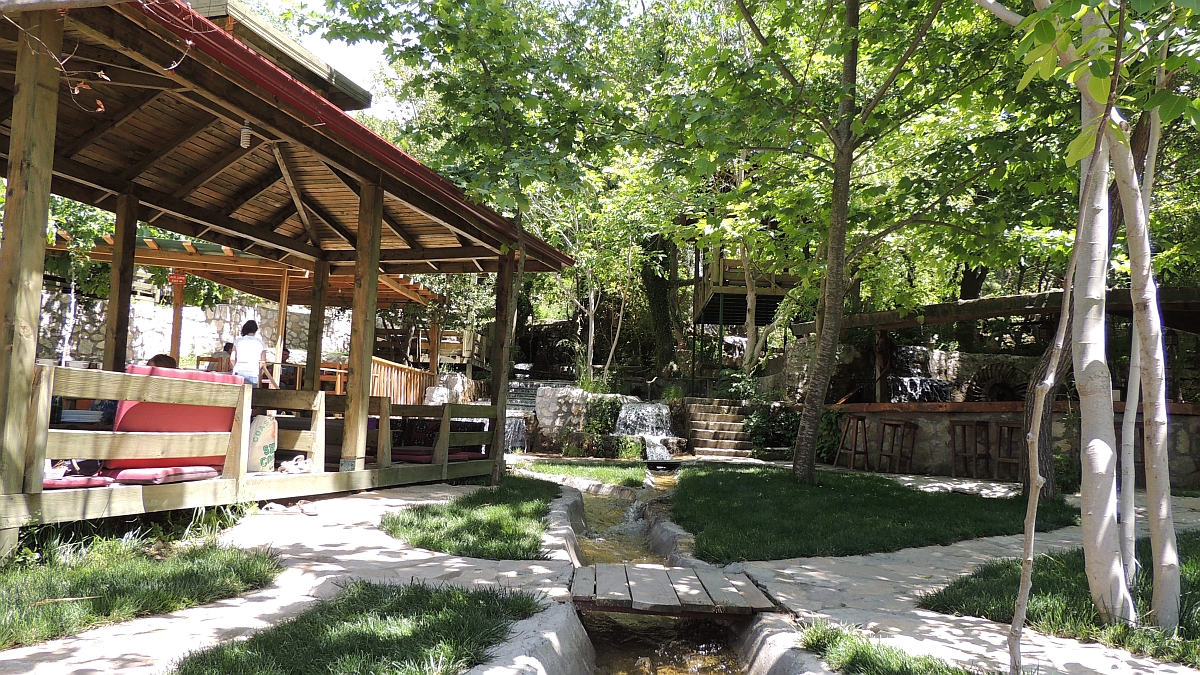 The bar on the right had water running through the bar top with trout swimming in it.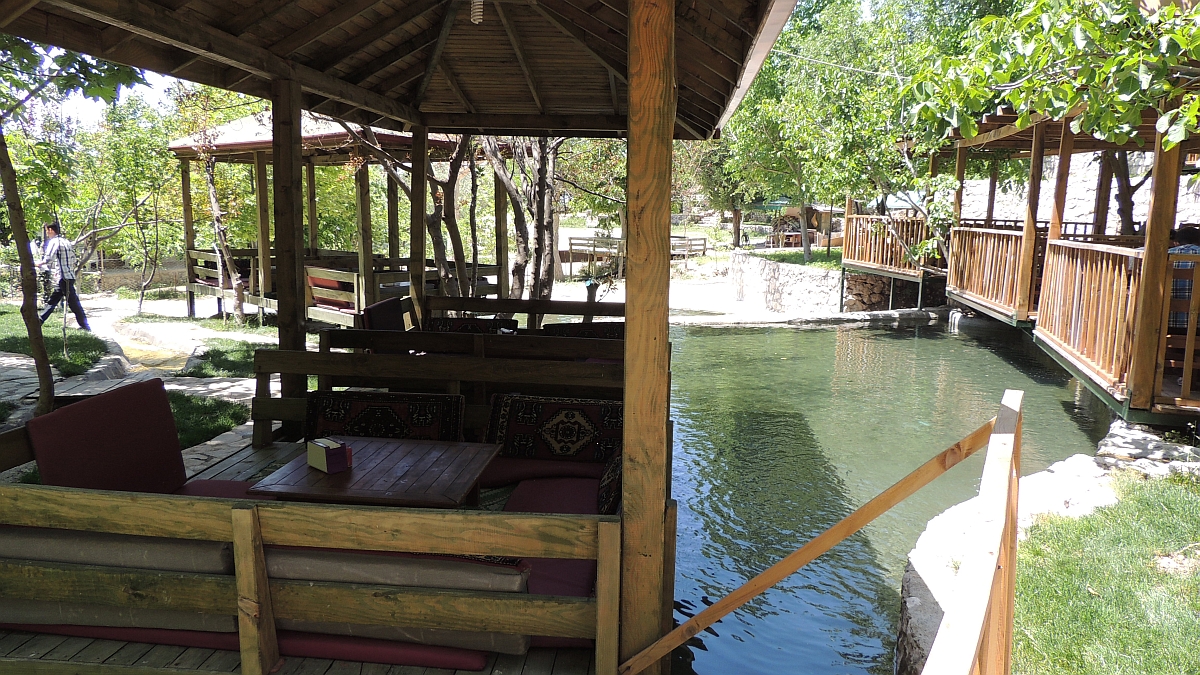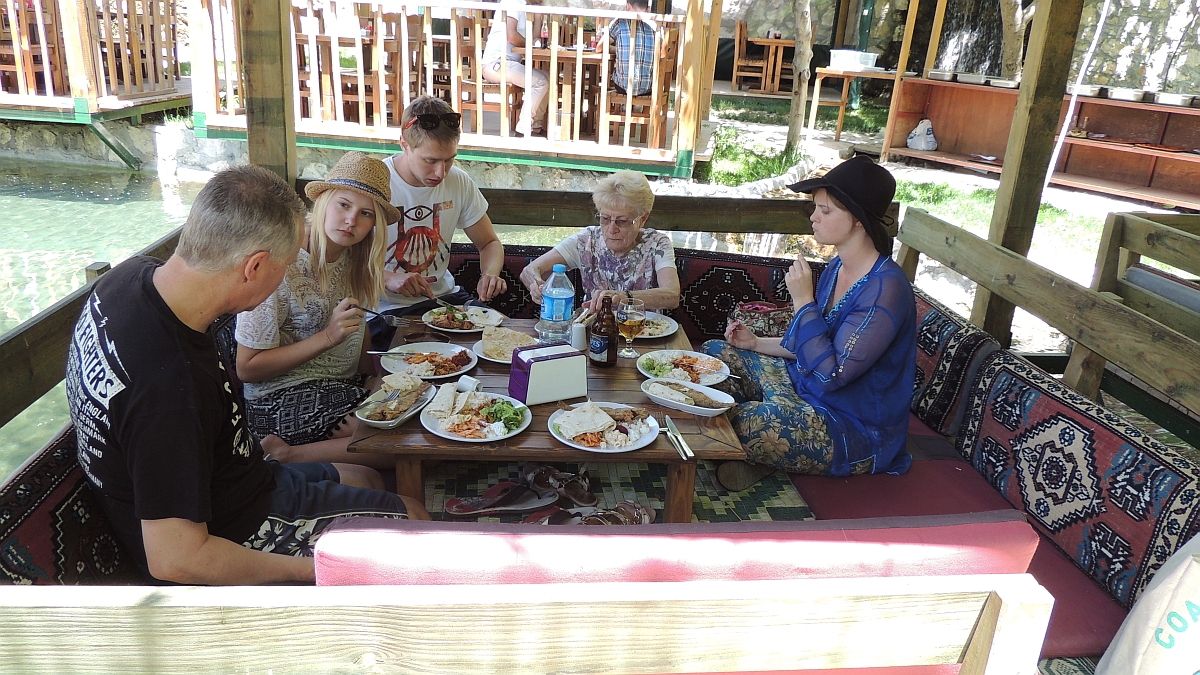 Lunch was freshly grilled trout with various salad items from a buffet and some of that lovely freshly baked flat bread.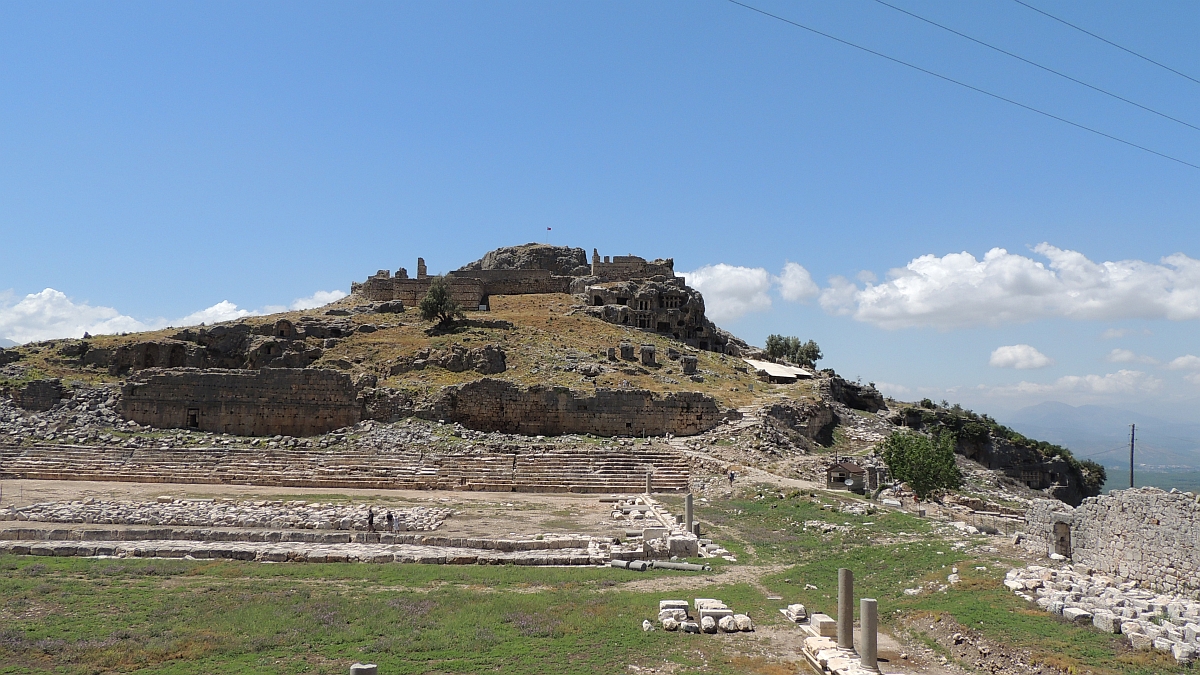 Our last stop was Tlos, a Lycian hilltop citidel. As well as the Lycian rock tombs there are also Toman and Ottoman remains. It's at a height which allows clear 360 degree views for miles aroud, making it very important strategically, hence one civilisation after another colonising it.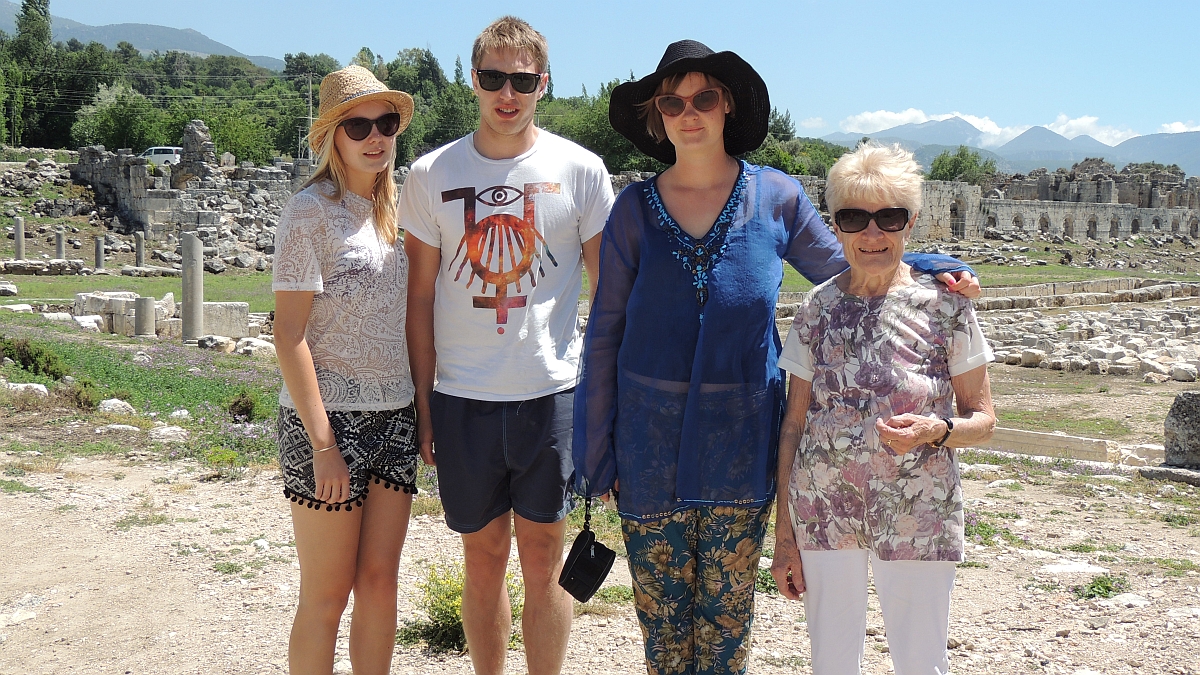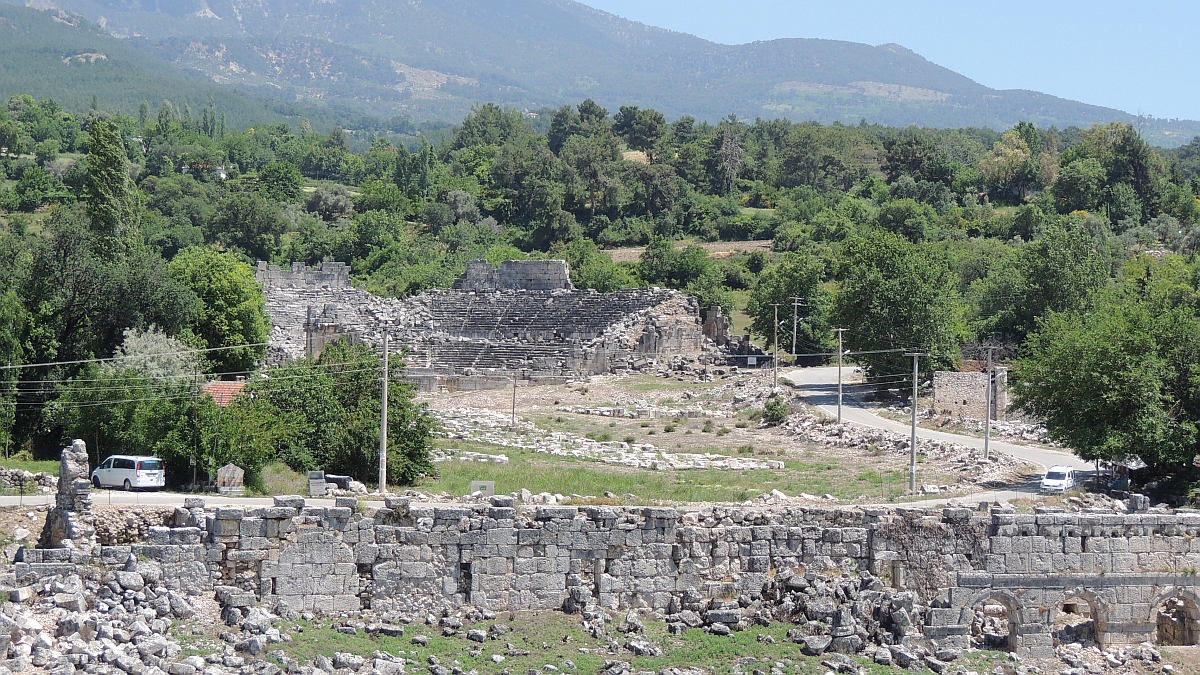 As you can see, there were very few people about, so it was a very pleasant time to be wandering around.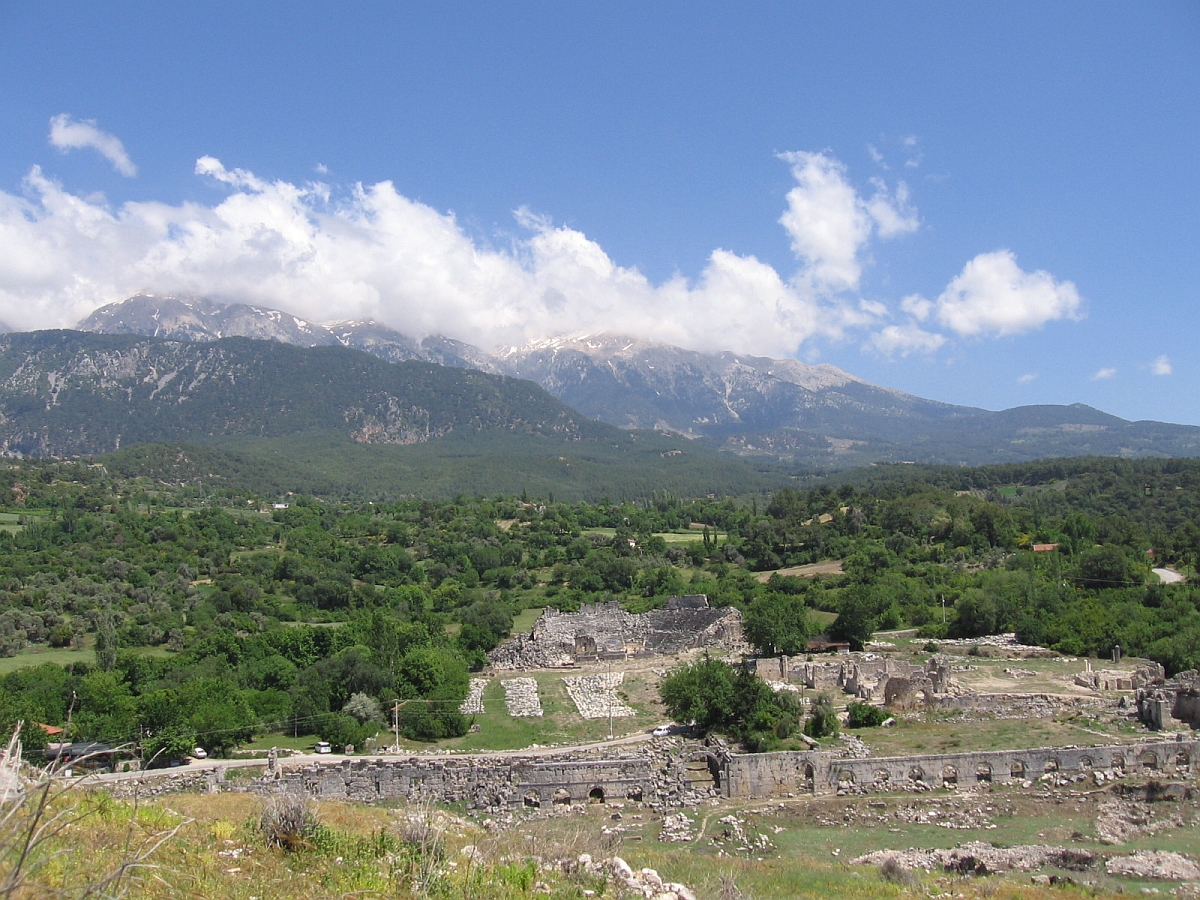 The next load of photos are of the bars and restaurants in Kalkan.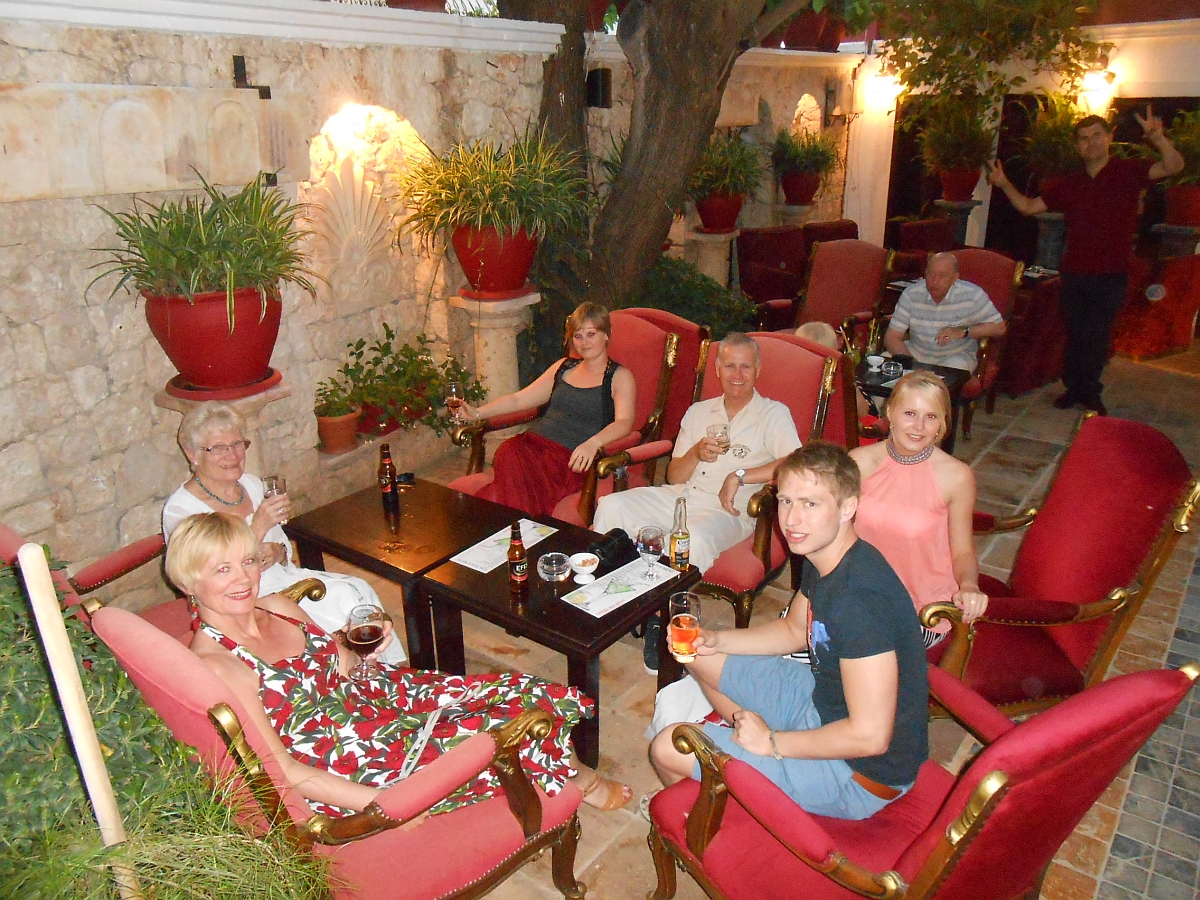 This is the bar at Gironda. Hang on - there's a waiter photo bombing us!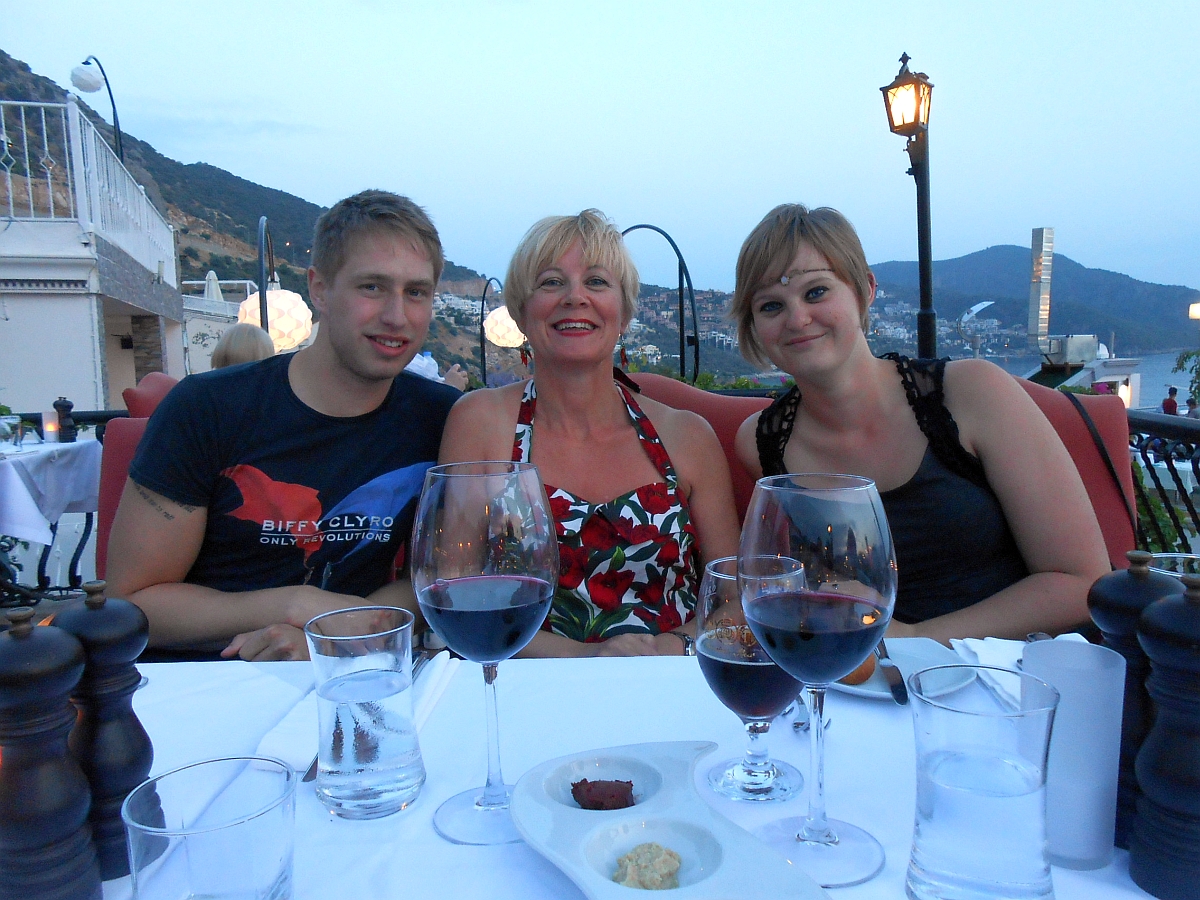 Like I said in the last trip report, many of the restaurants are on rooftop terraces with lovely views.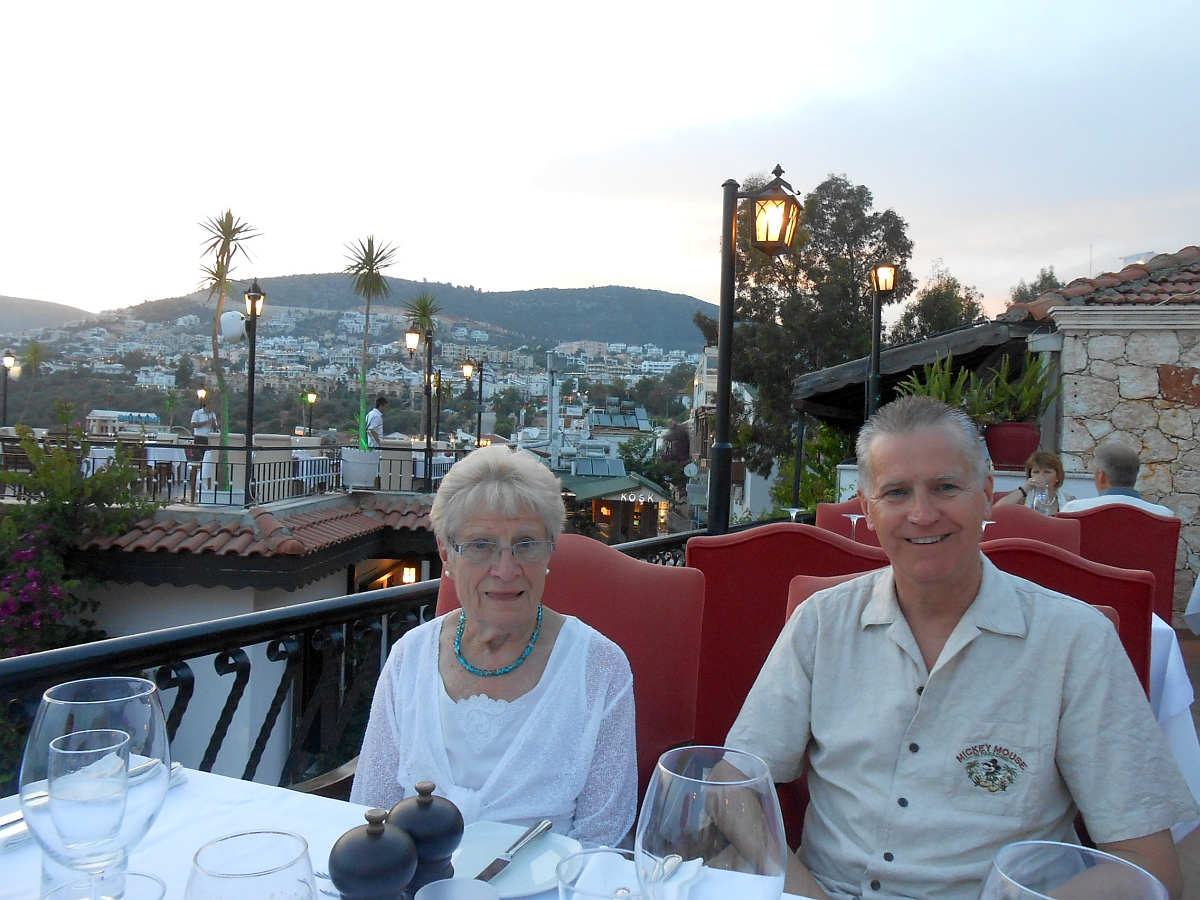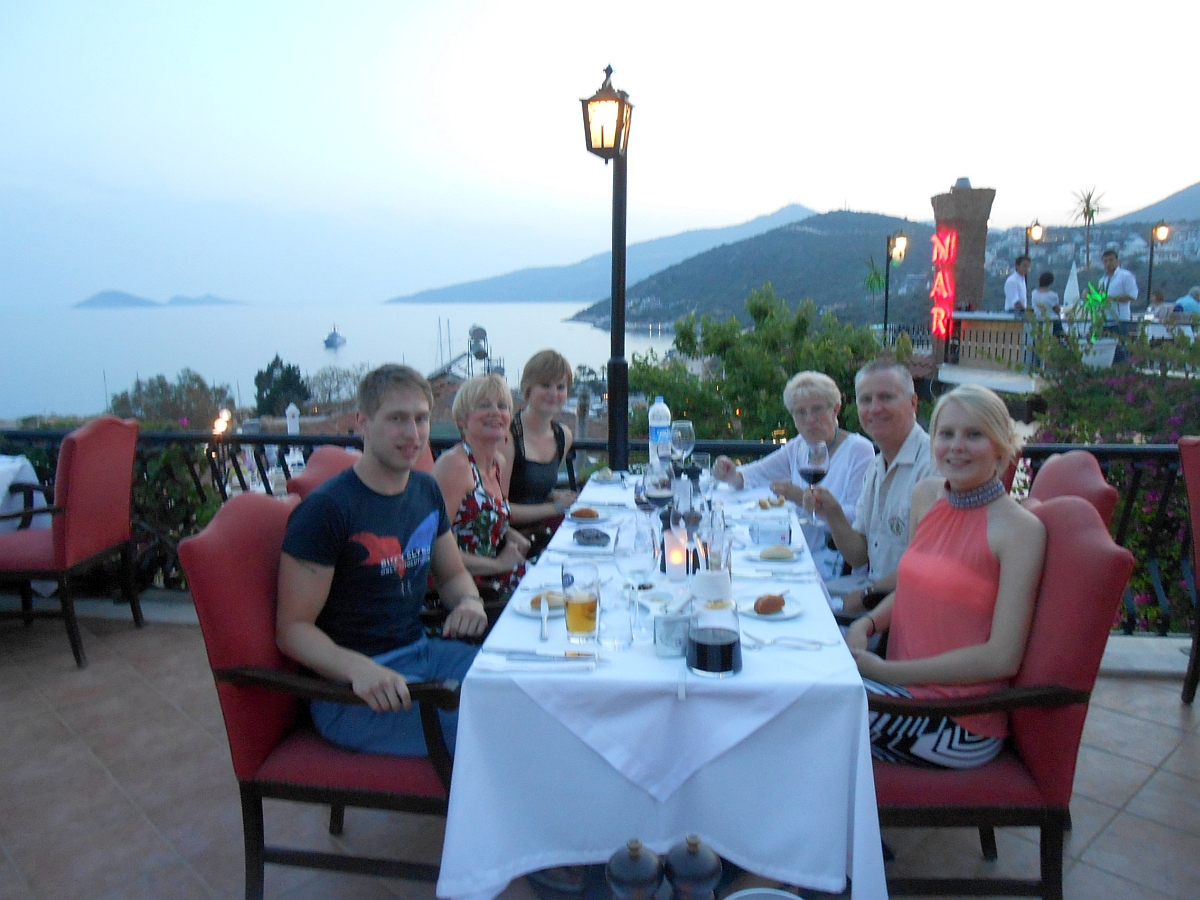 It's a shame this photo is a bit fuzzy, but it gives a good indication of how lovely it all is.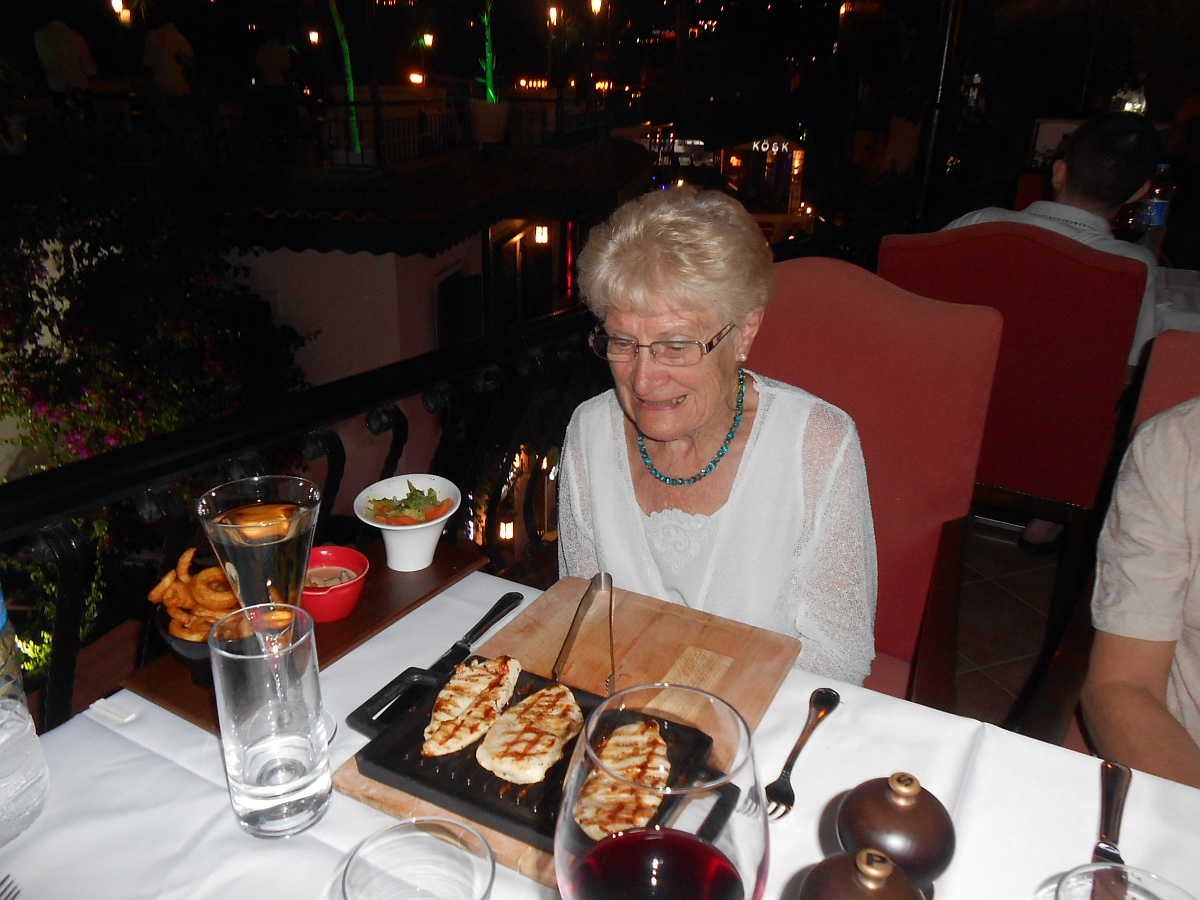 Grandma had a chicken dish that she cooked herself on a hot skillet.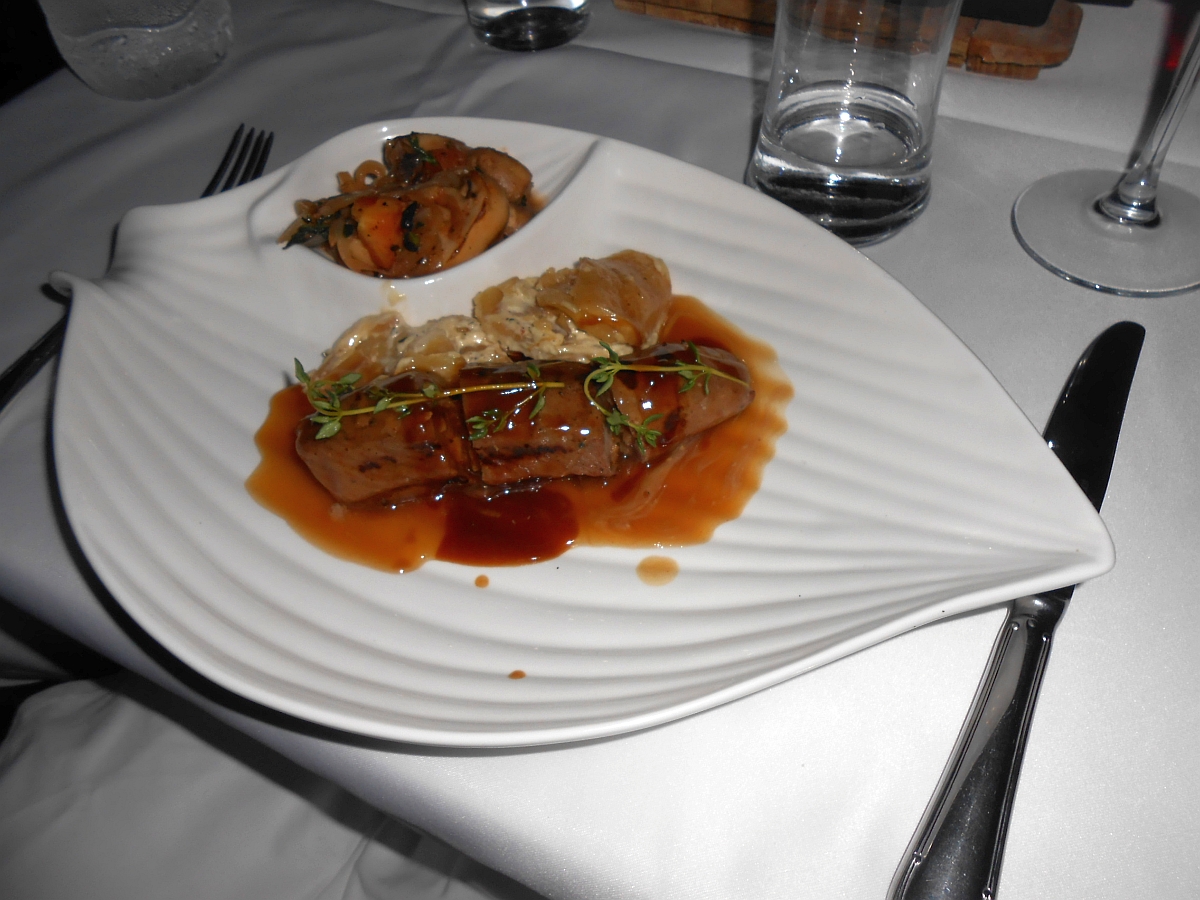 I can't remember what this was, but it tasted nice.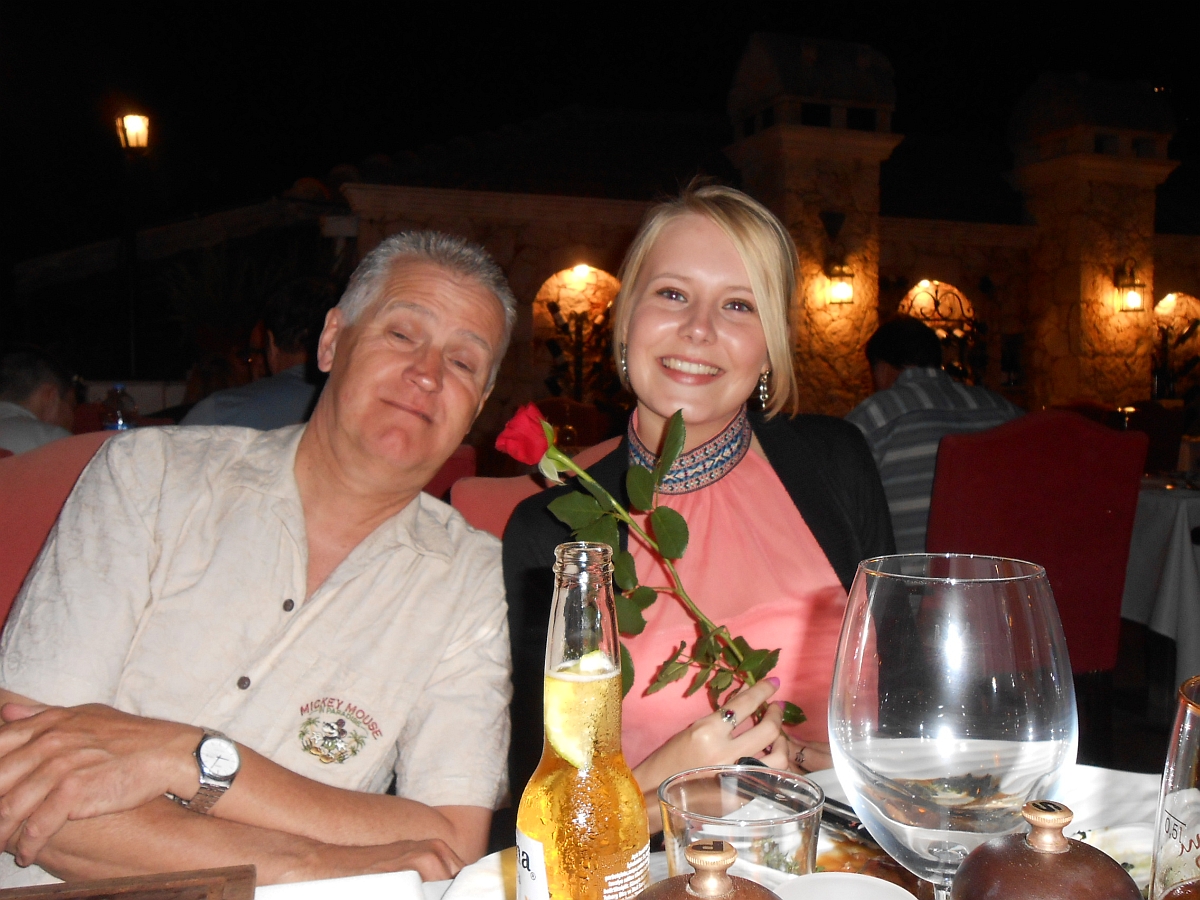 A rose for the lady? As you can tell, I was overjoyed at the prospect.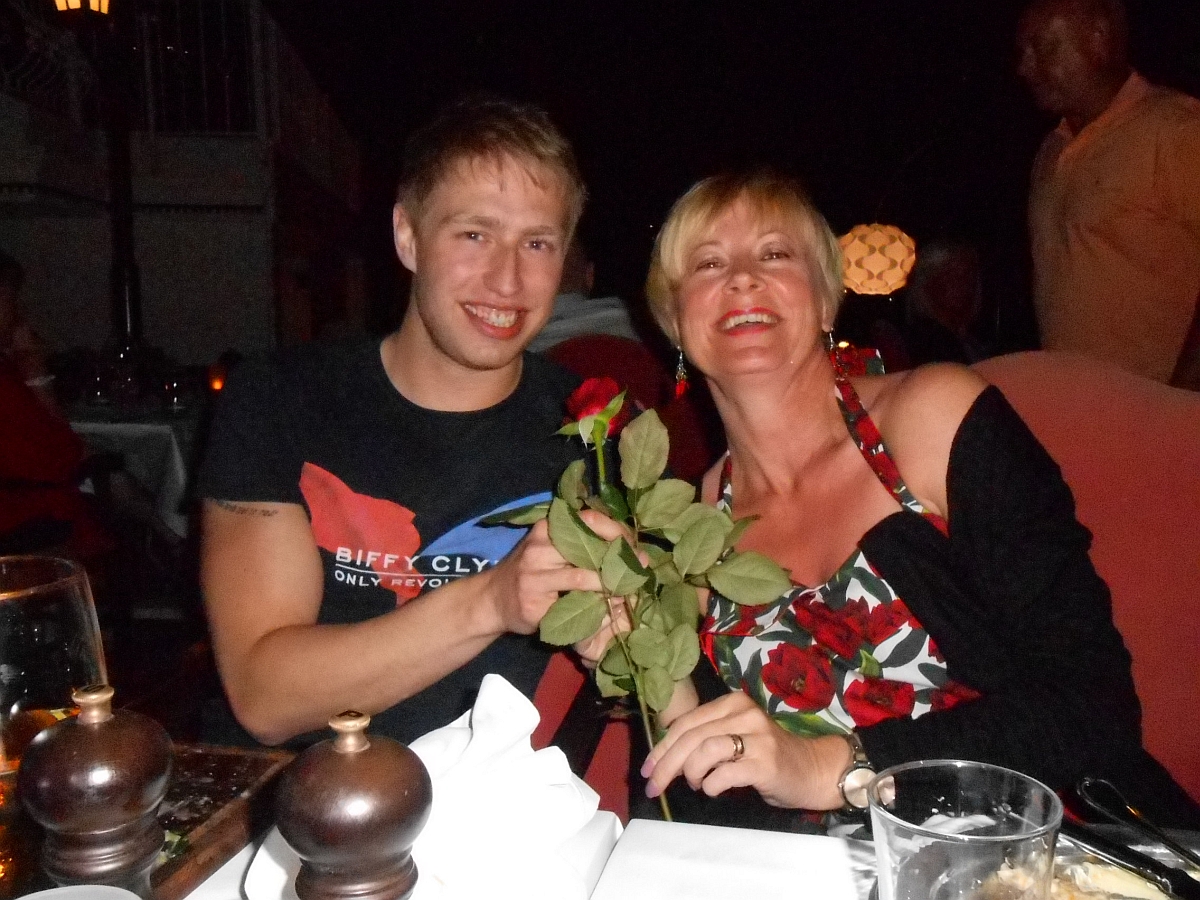 I say Charlie - steady on old chap. That's one's wife you know.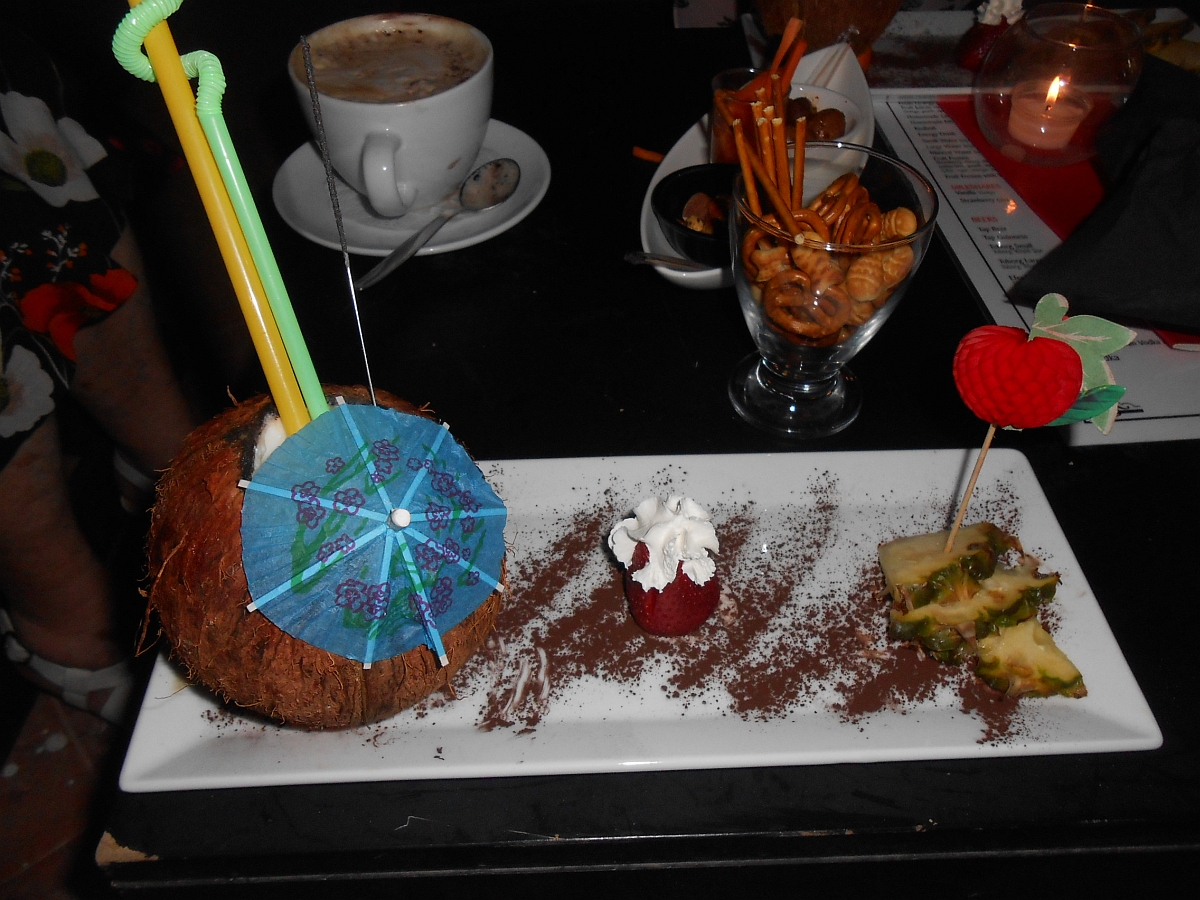 Believe it or not, this is The Black and Gold Bar's take on a Pina Colada - served in a real coconut.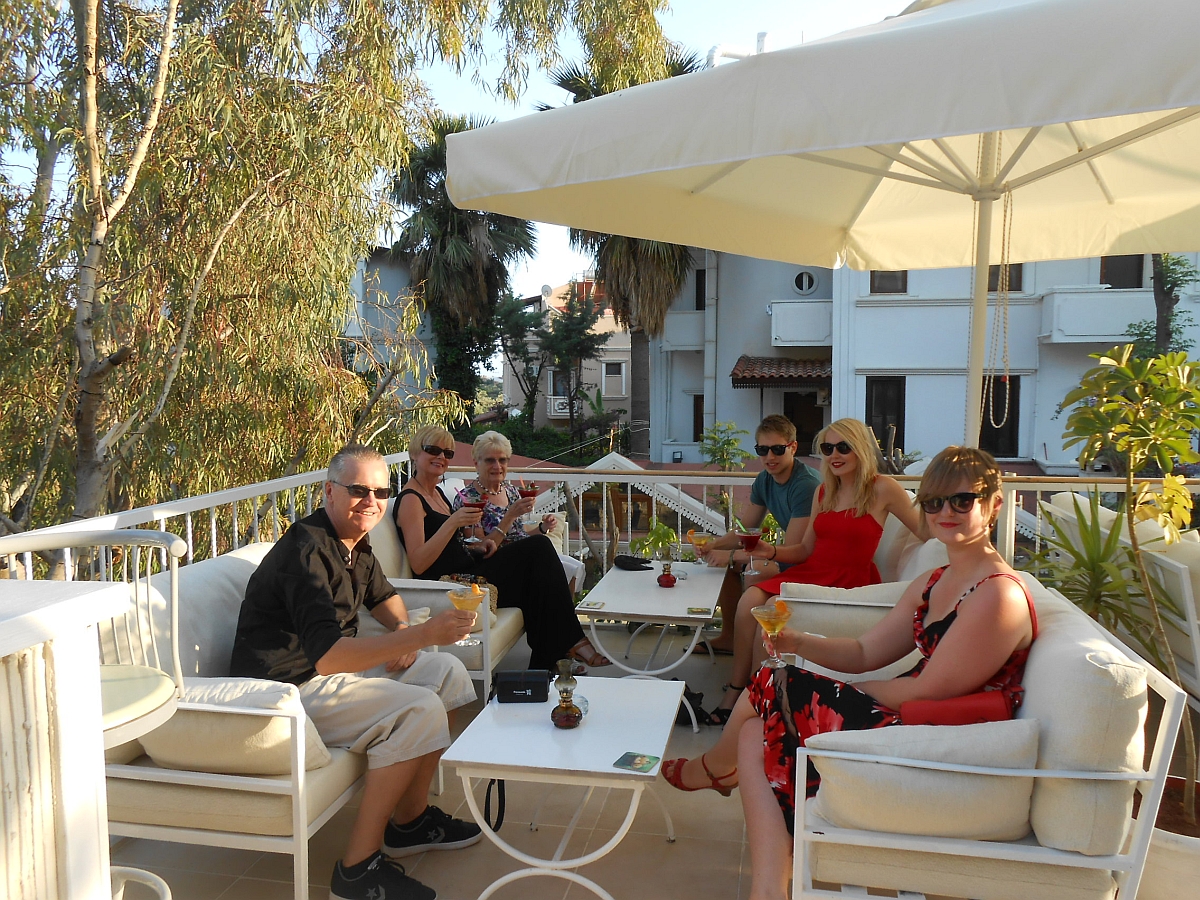 The Deniz Bar - half way between our villa and town.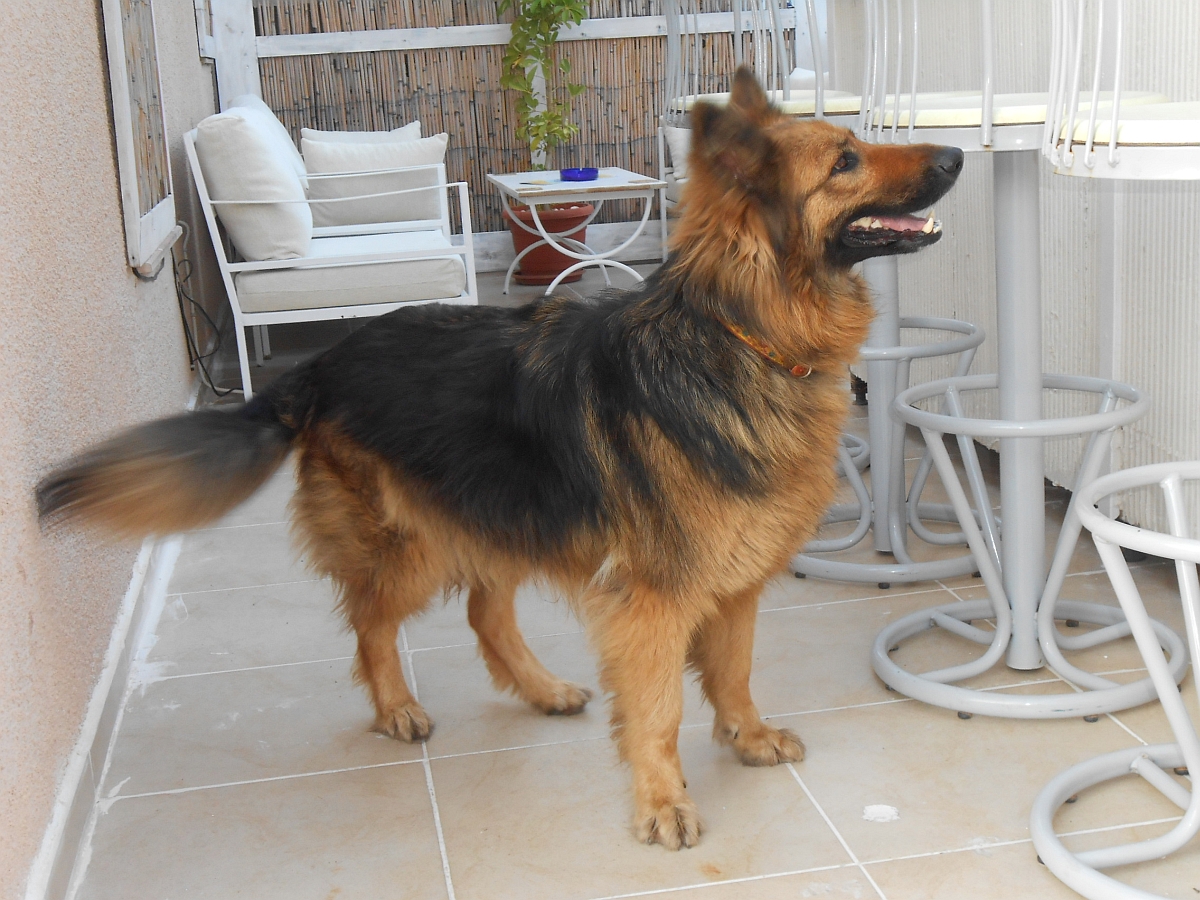 The Deniz Bar had a dog that reminded us of our old hound - Duke (sniff). Actually, there are quite a lot of stray dogs in Kalkan (this one wasn't he belonged to the bar), but they are all very friendly and don't really bother you at all. There is a local charity that tags the dogs and makes sure they are looked after.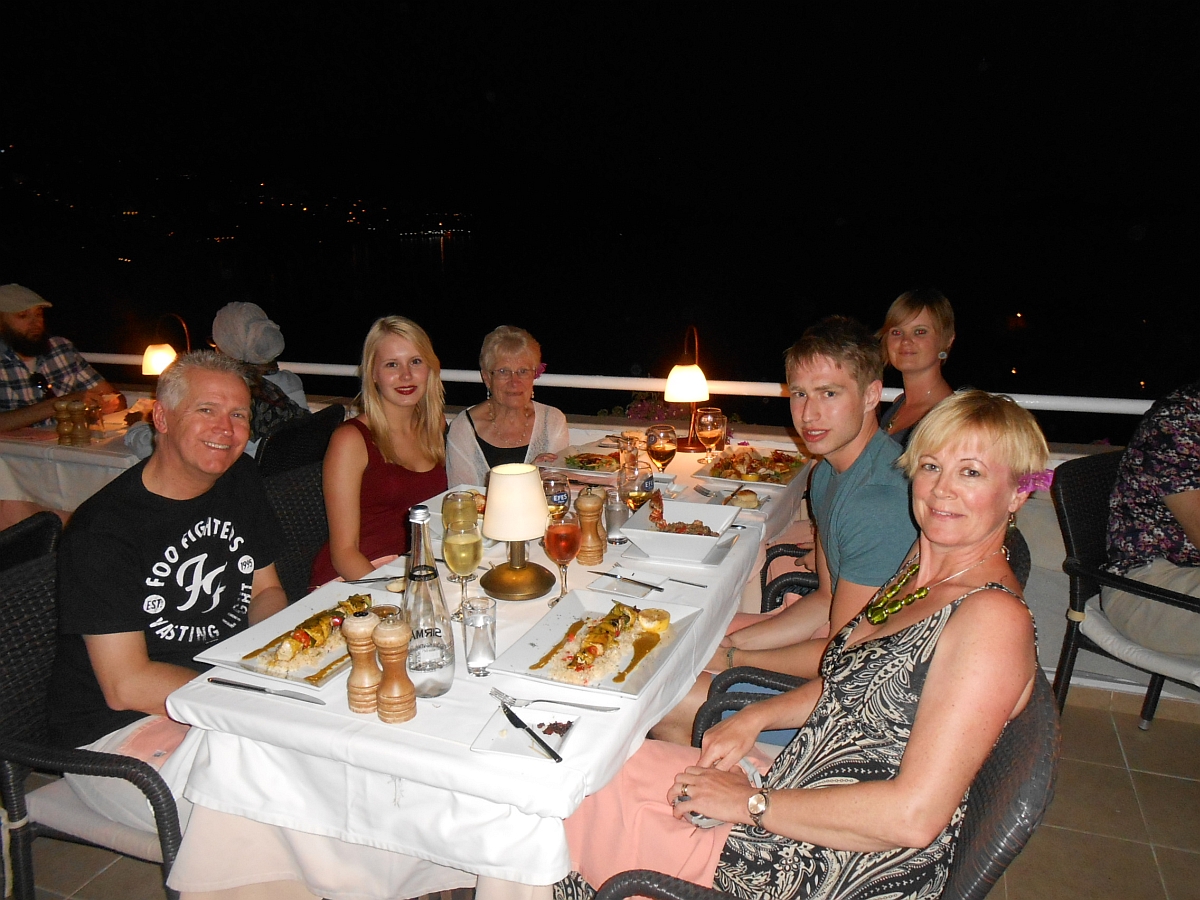 This is The Fish Terrace. As the name suggests it primarily serves fresh fish.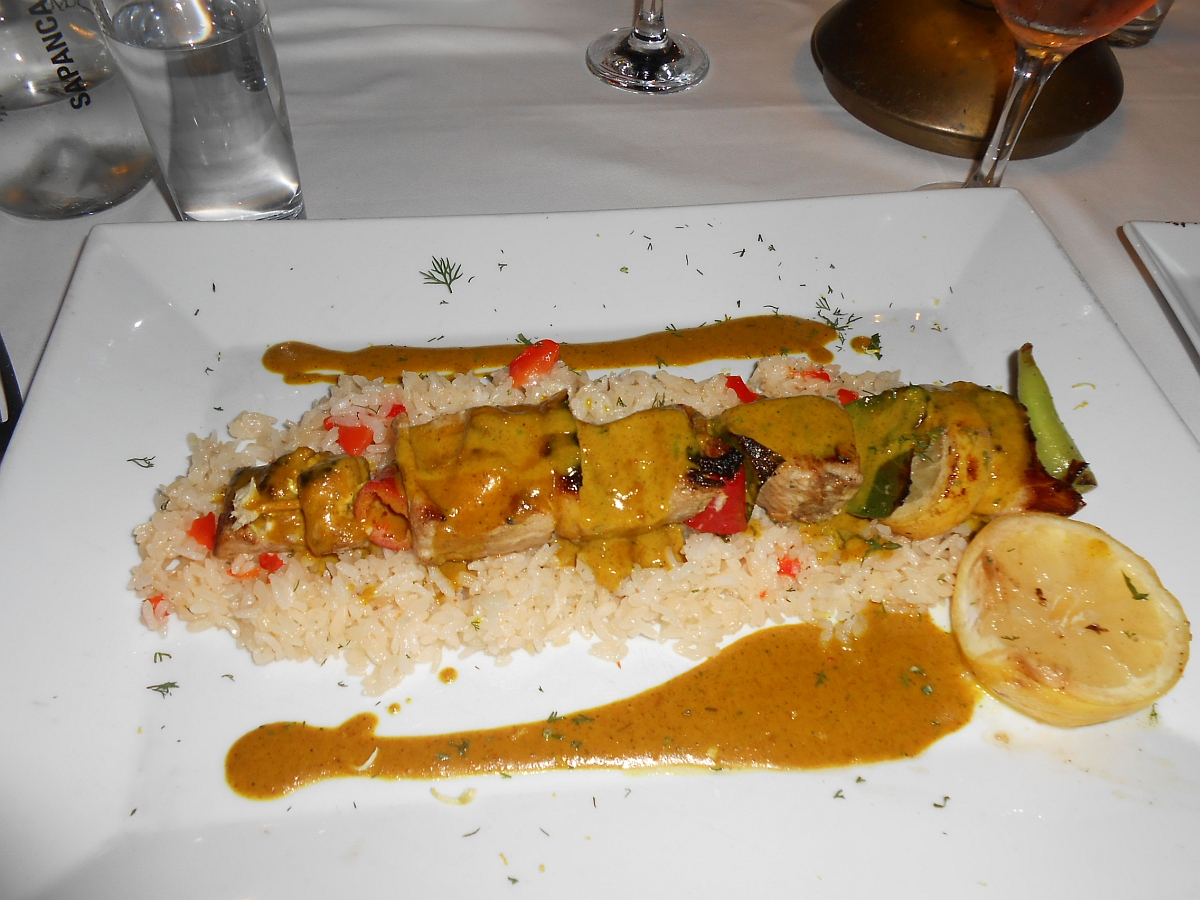 The yellow stuff is a mild curry sauce. I wasn't sure it would go well with fish, but is was wonderful.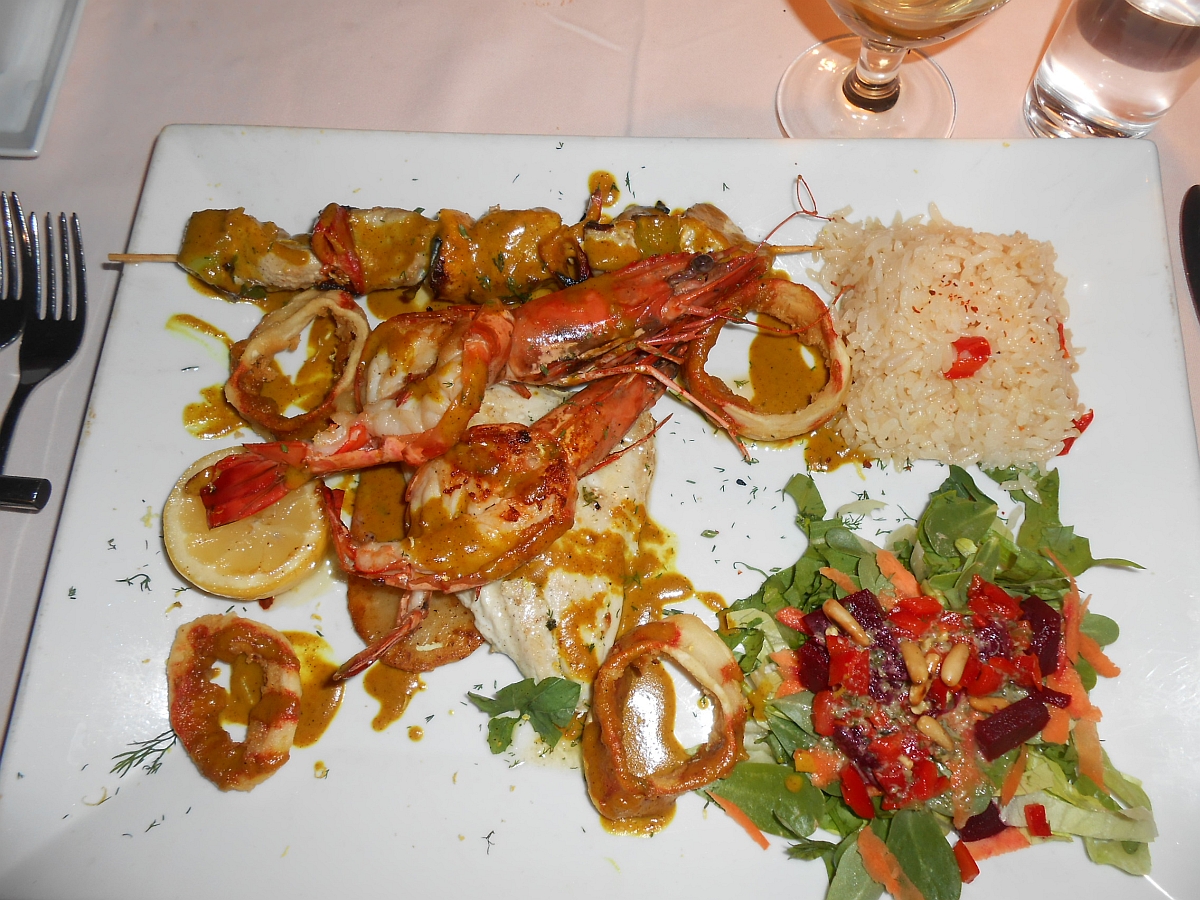 I think this was Georgia's meal.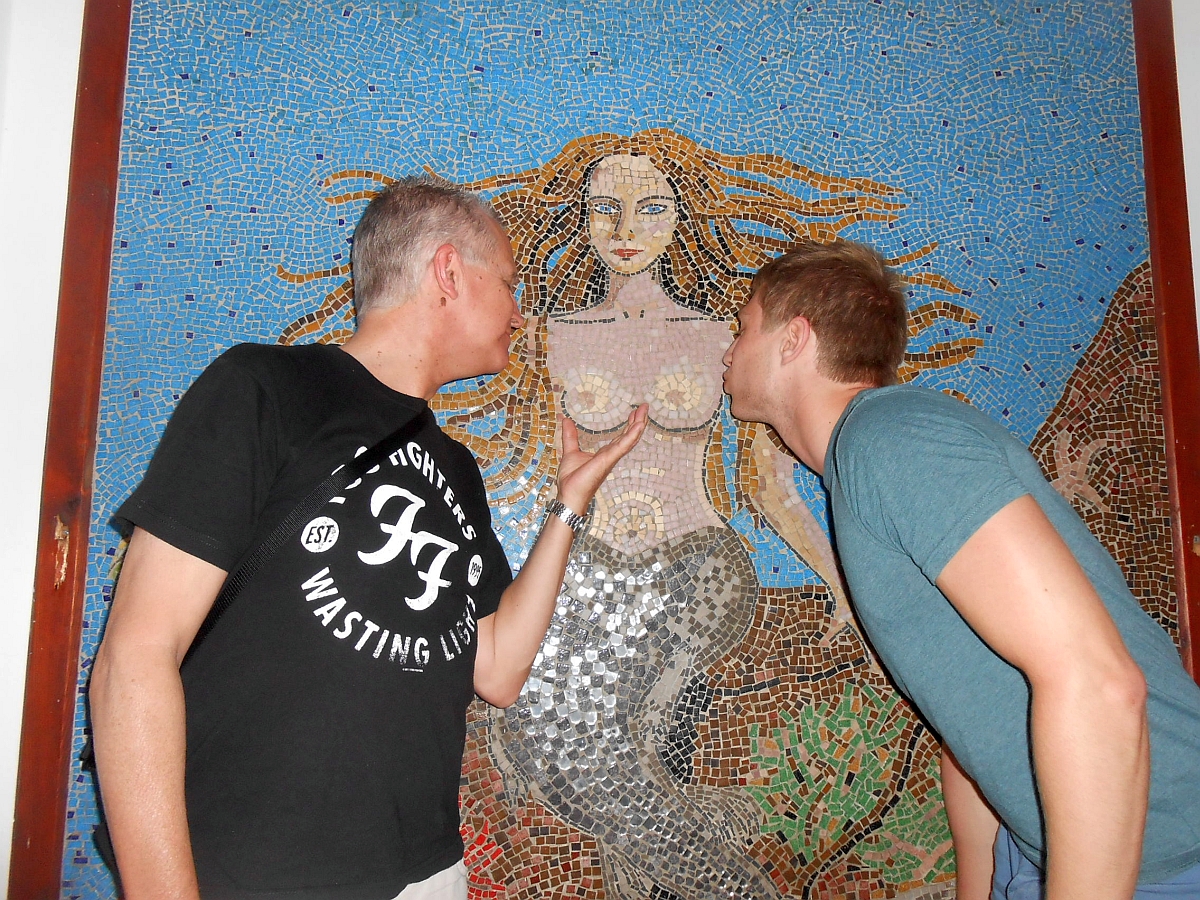 A lovely mosaic. How could we resist.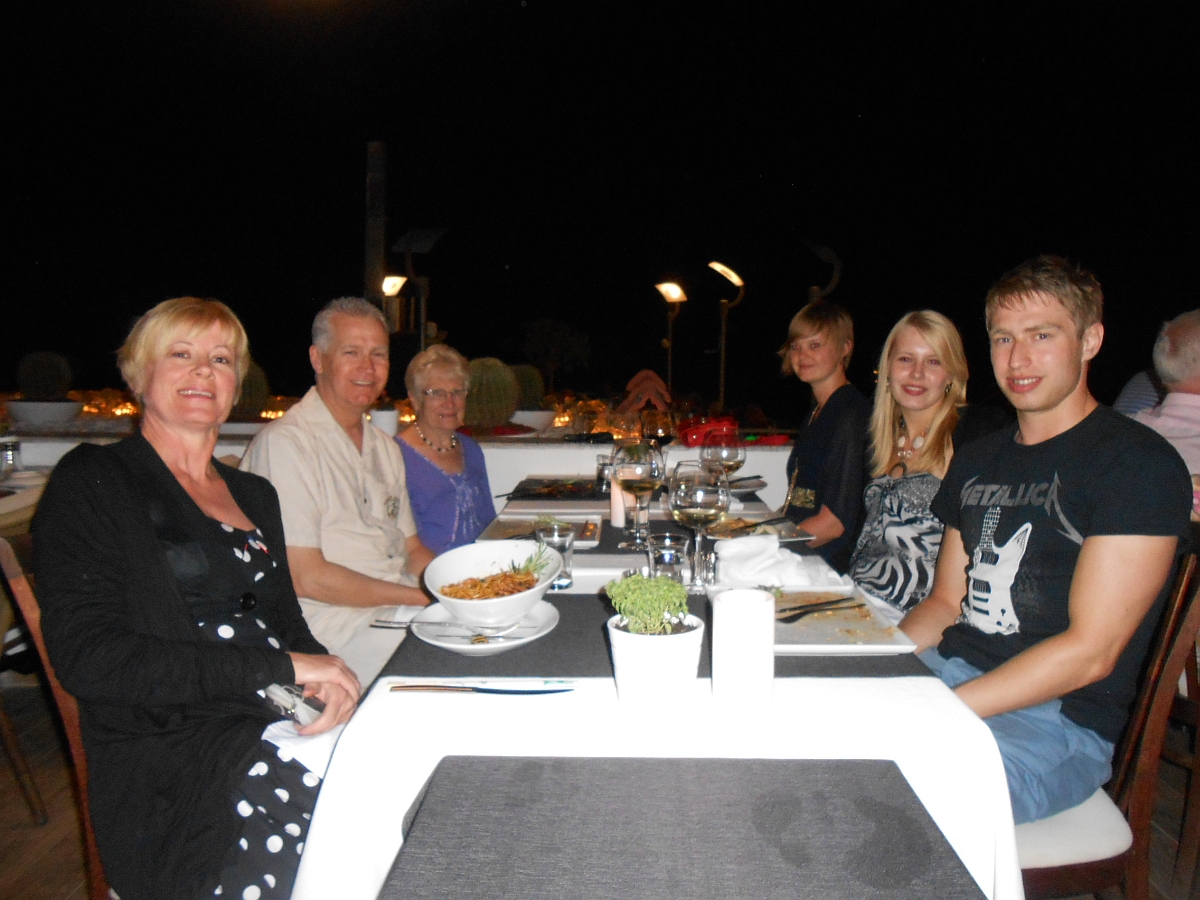 Gourmet Restaurant.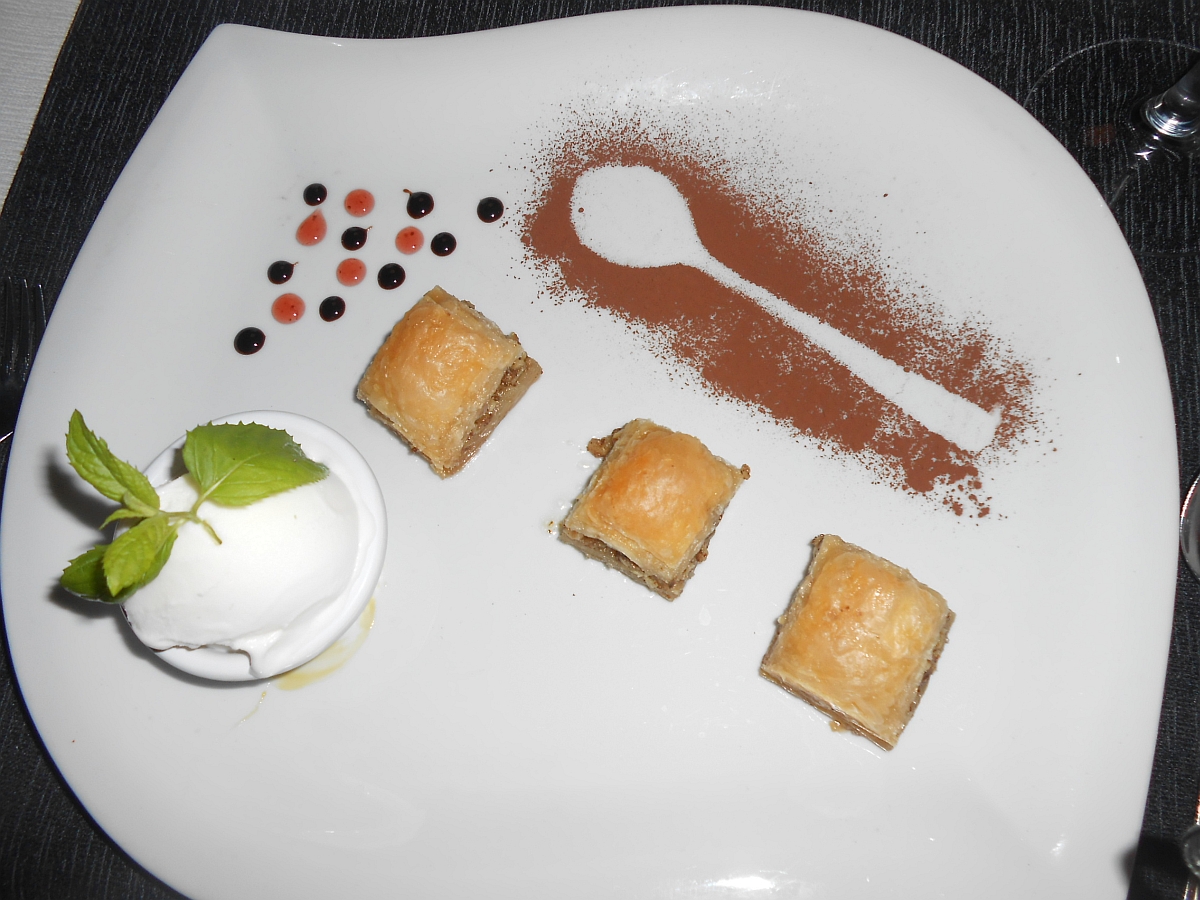 Baklava. Beautiful.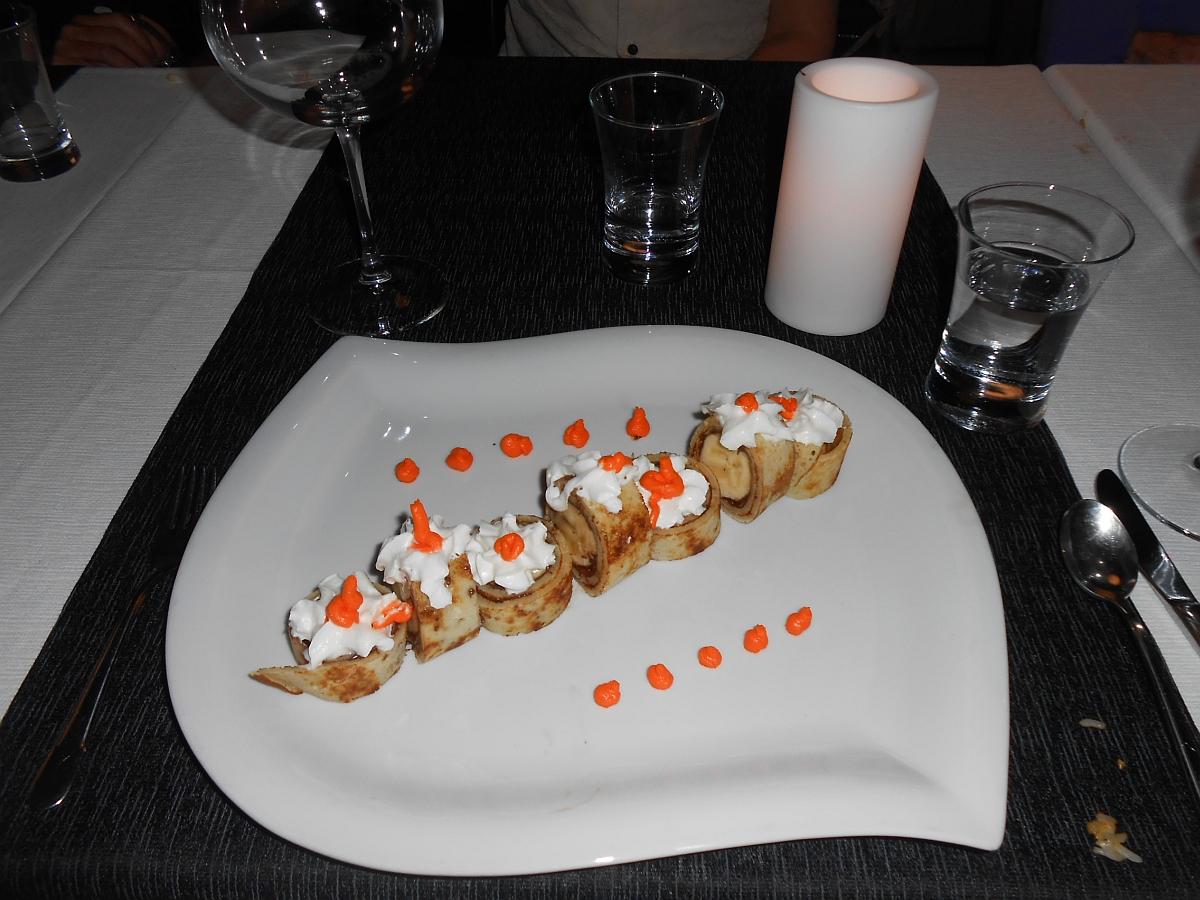 A bananary, desserty type thing.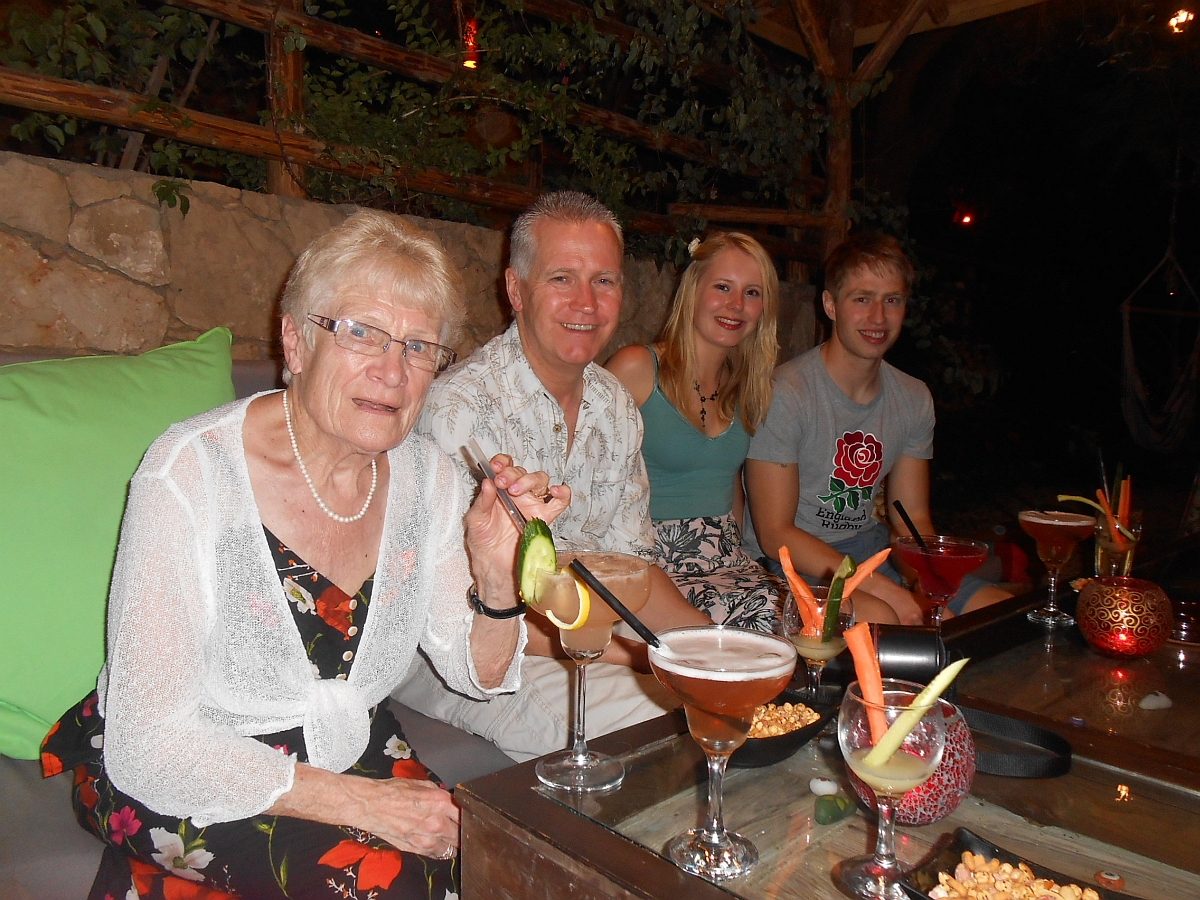 The Botanik Bar. See, Grandma definitely progressed from coffee at the start of the holiday. Her drink looks the biggest of all of them in this photo.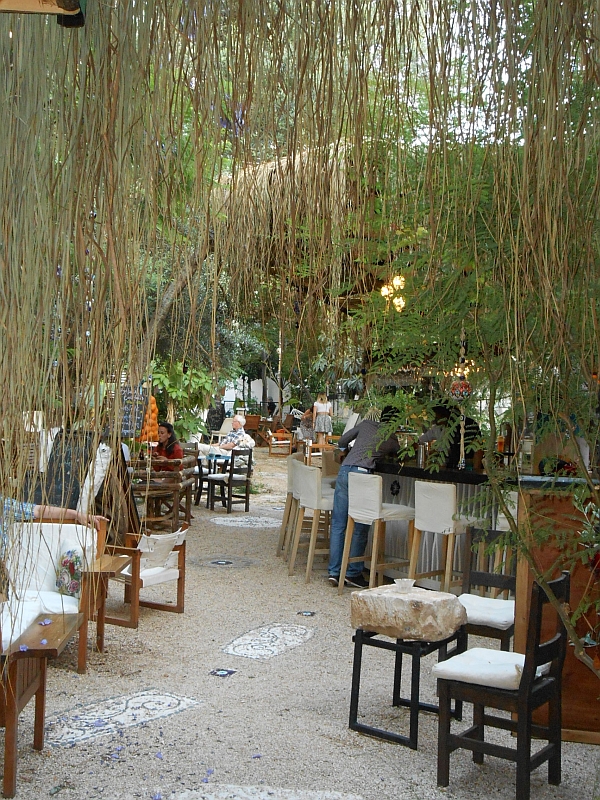 This is the same bar during the daylight.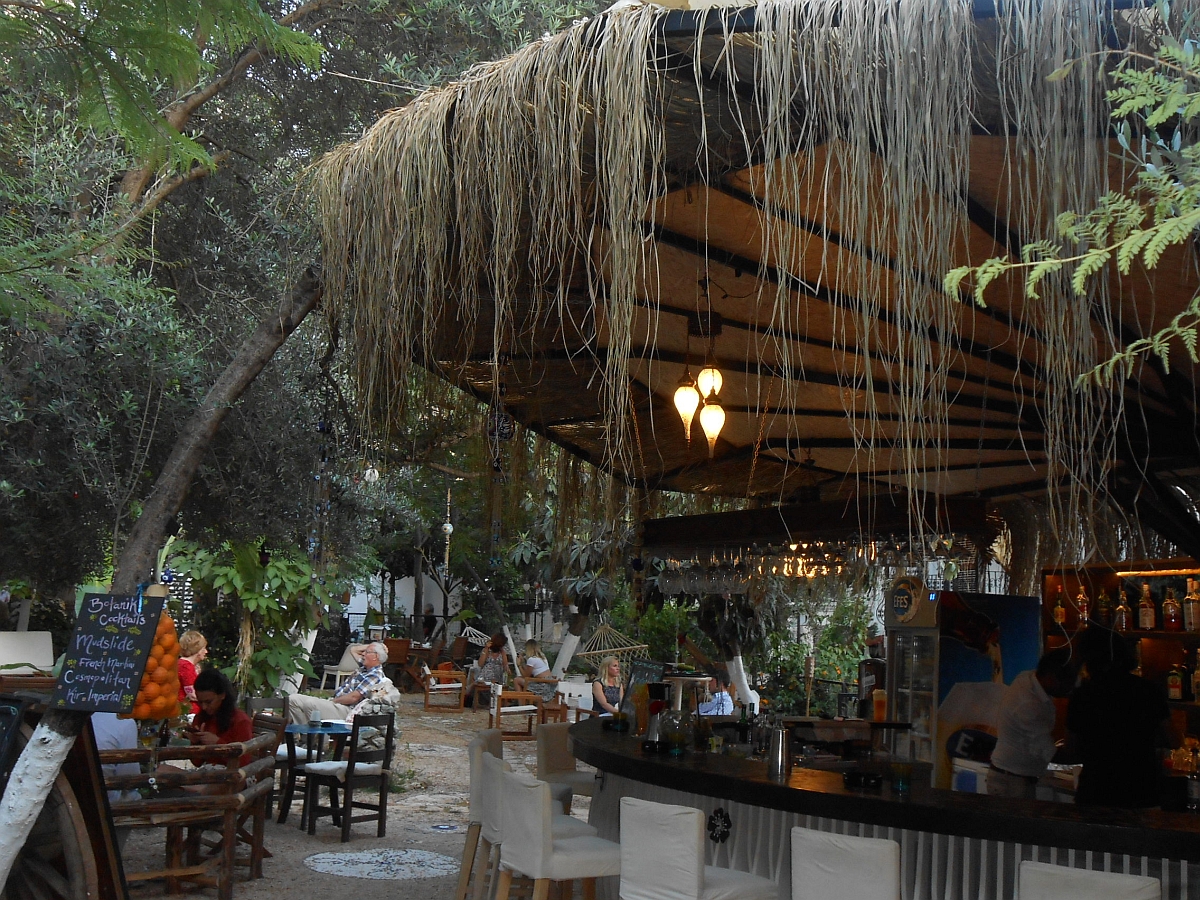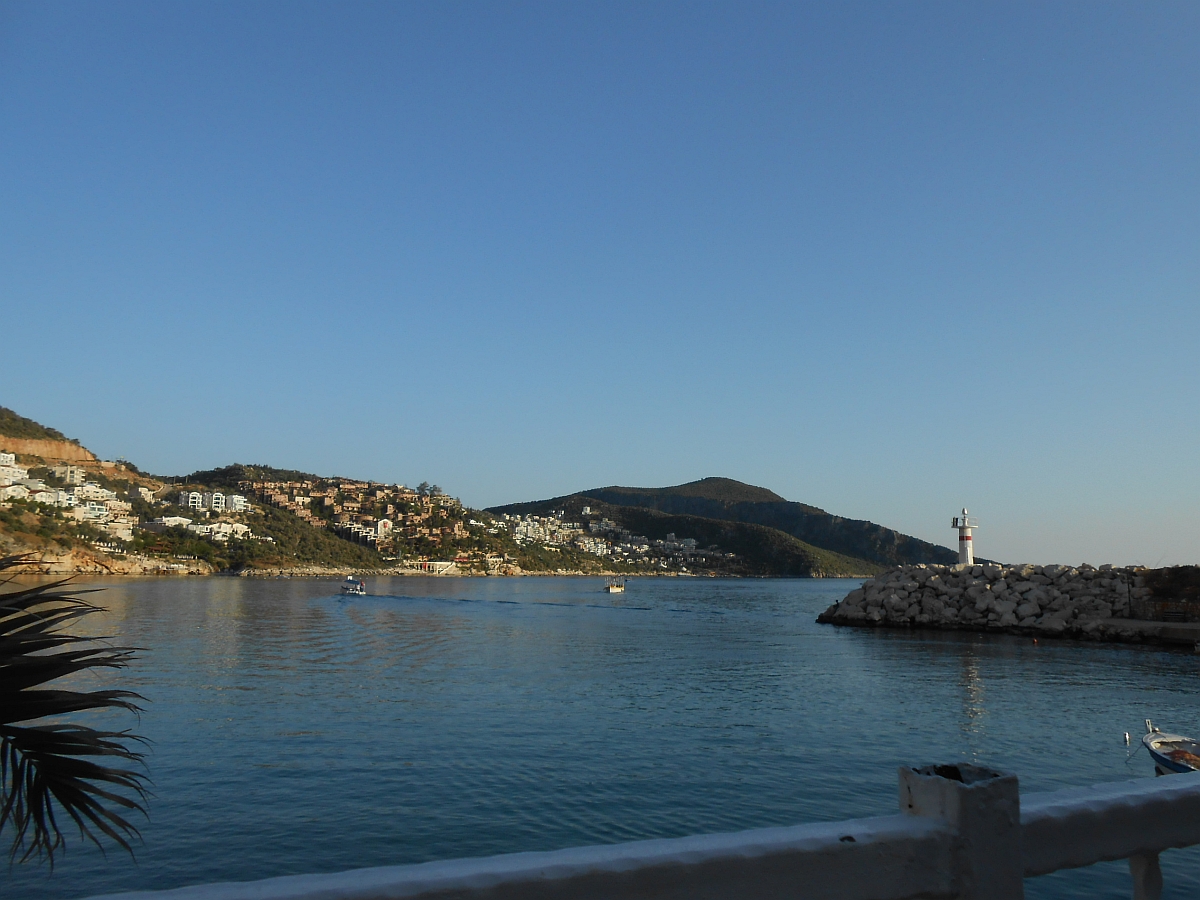 This is the view from Feners bar. Although it burned down in the winter, they rebuilt it and it overlooks the small beach and harbour entrance.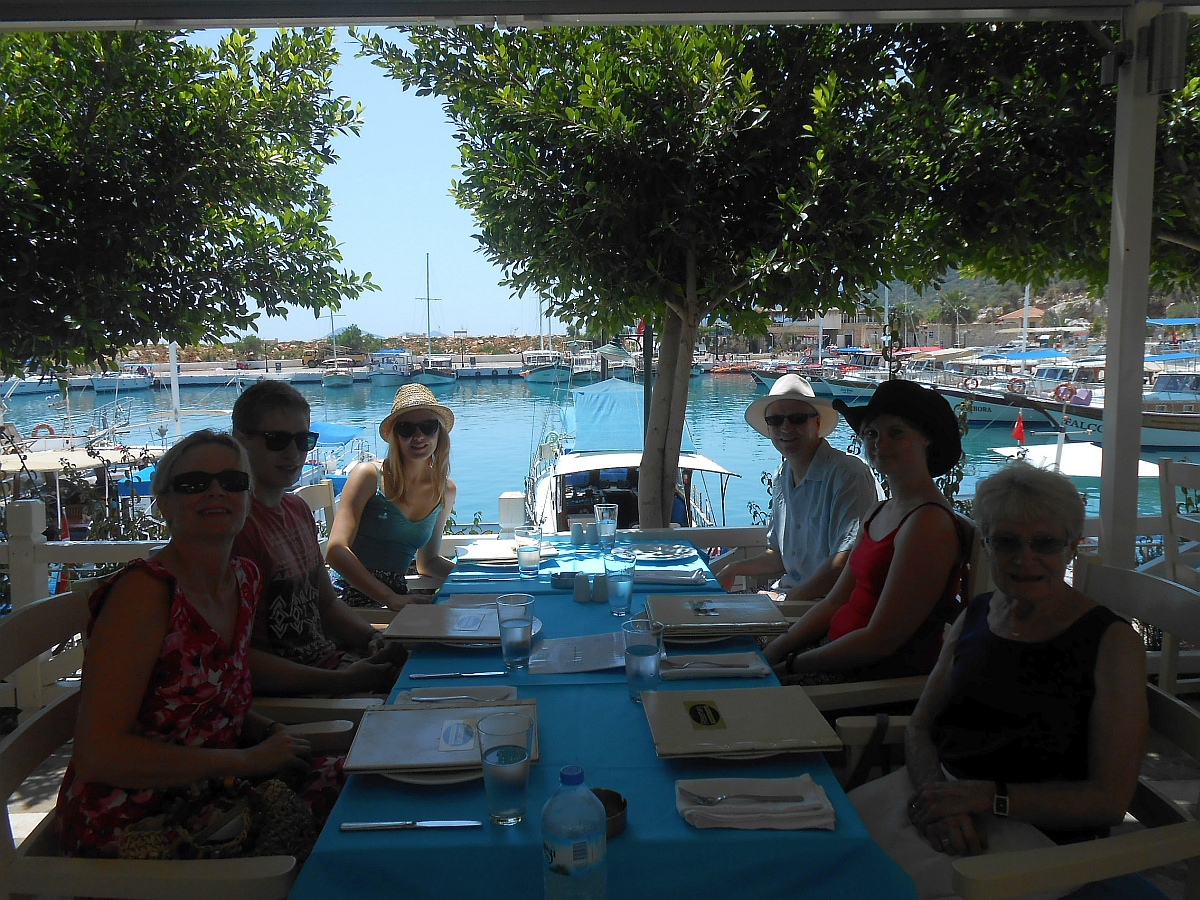 The Rosemary Restaurant on the harbour front. We had lunch here one day.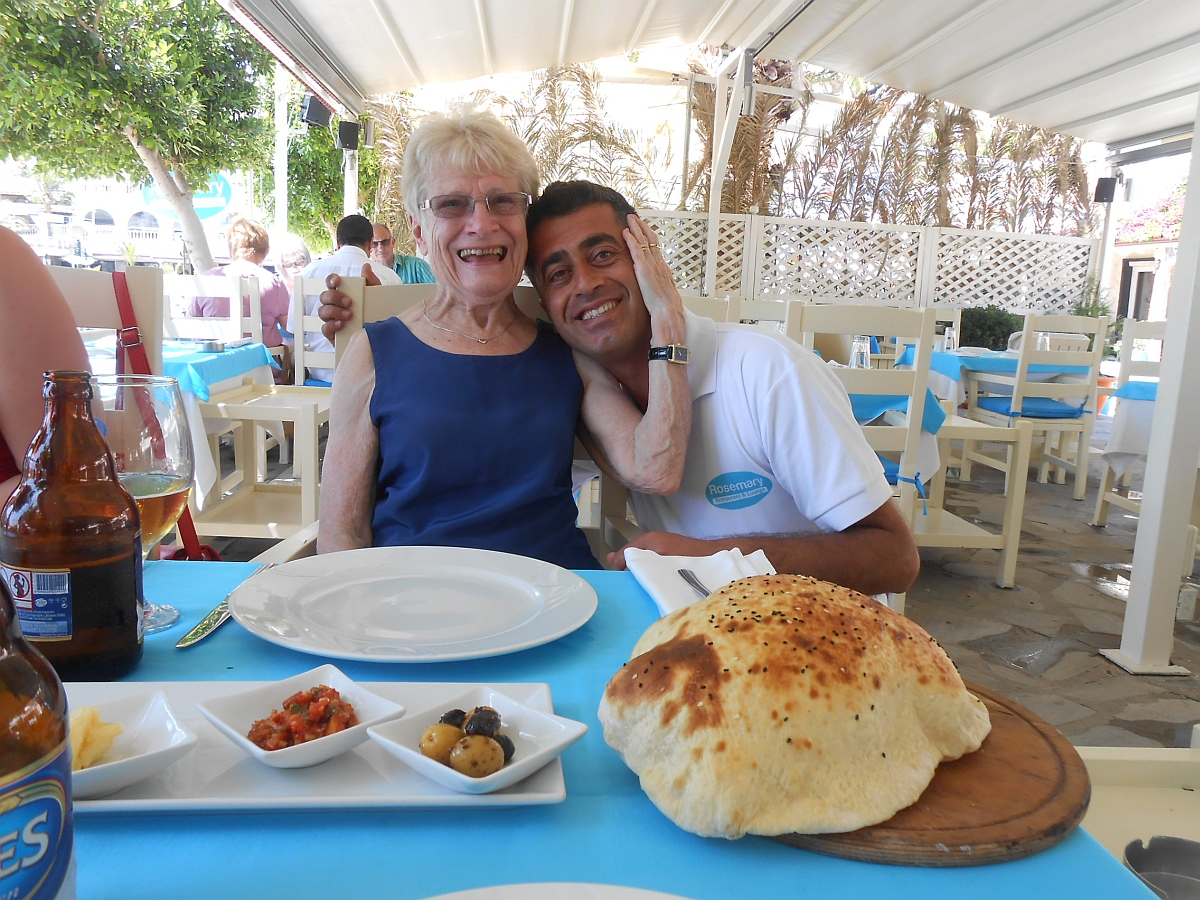 The owner of the restaurant took a real shine to Grandma. Every time we walked by he would run out to give her a hug. In fact everywhere we went they made a fuss of her. Many people called her 'Mama'.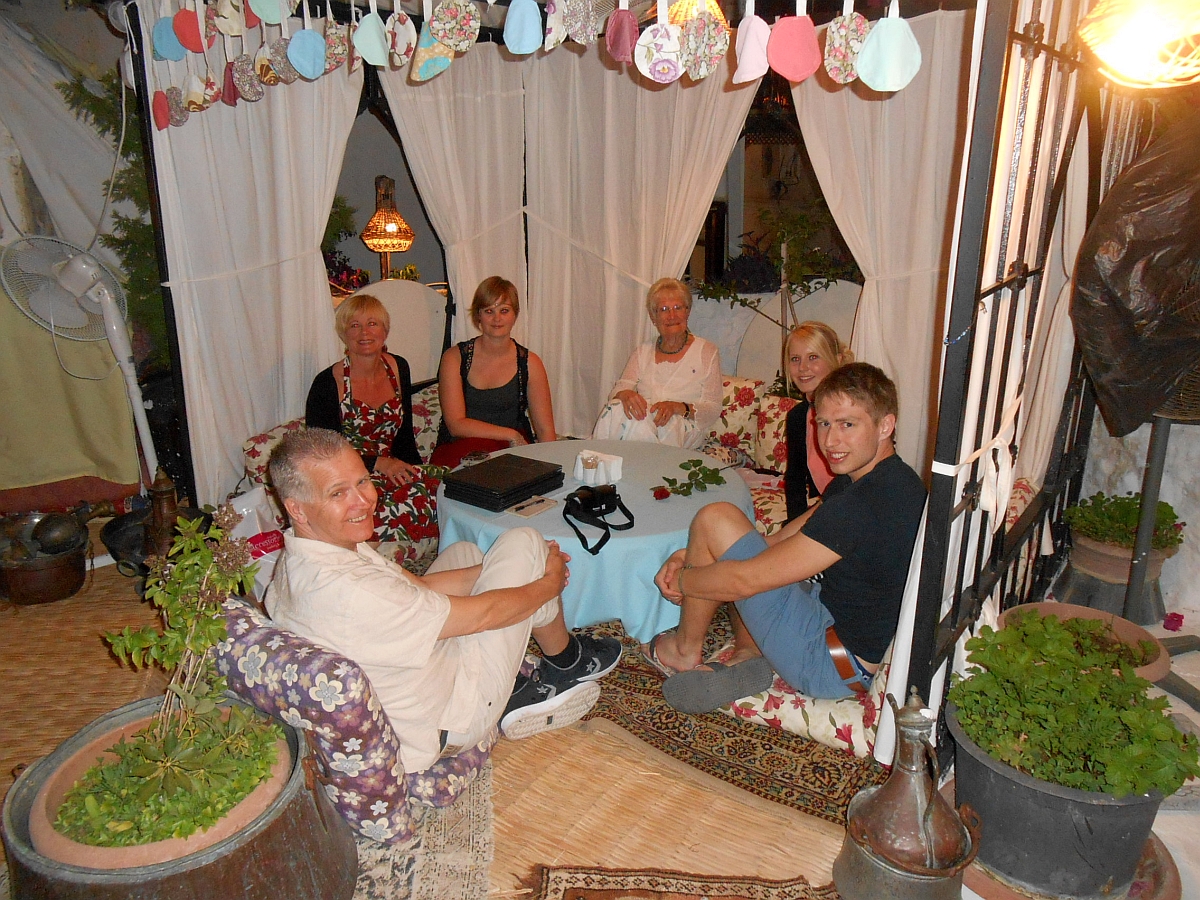 This is Belgin's Kitchen restaurant. Again on a rooftop. You sit around on the floor on cushions and rugs. Tam and the girls fell in love with this place. It's a shame we only went there for a drink on our last night.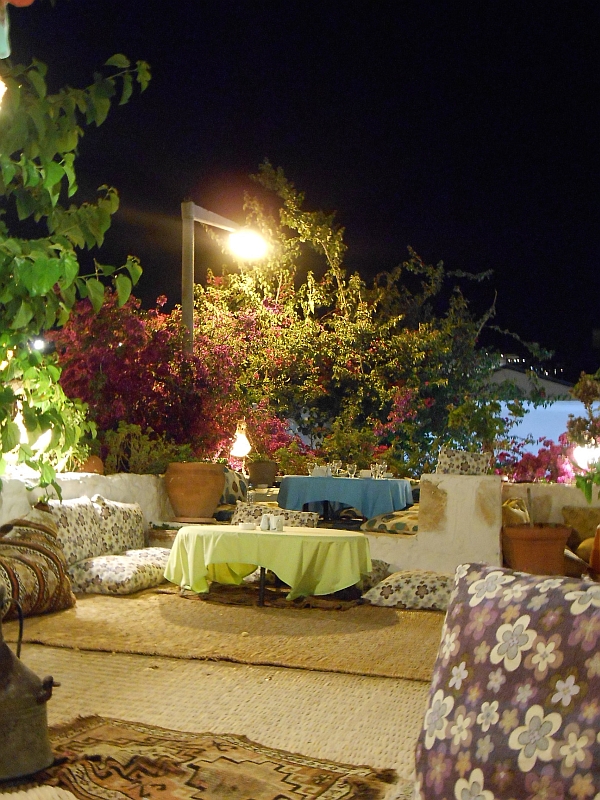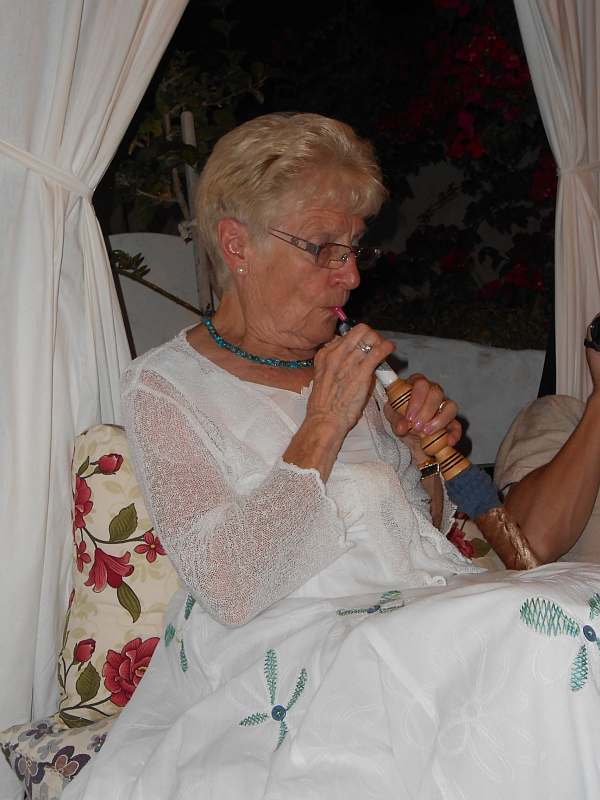 It was here that the girls introduced Grandma to the joys of the Sisha pipe. We were falling about with laughter as she puffed away with considerable aplomb.
So there you have it. Another holiday done and dusted. As I said at the start, we had a marvellous time. The girls, Charlie and especially my mum fell in love with Kalkan. I think I even enjoyed it more than our first visit. It's not a place for youngsters looking for night life and loud music, but that makes it much more attractive to older people and families. I'm certain this will not be our last time here.