Kalkan - October 2014
Written by Kev
This isn't going to be a full trip report, but a few lines of description and some photos. This is probably the best way of viewing one of our trip reports - plenty of pictures, no waffle.
Our Turkish adventure was booked as a spur of the moment decision. I'd had an e-mail come through from Voyage Prive (which I always read as Voyage Privy - toilet humour at its best) and I'd shown Tam a rather nice looking villa on a complex in Kalkan. We both thought it looked fantastic as it had its own private infinity pool and looked out over the bay.
We went through the usual 'shall we, shan't we' debate and hadn't really come to a conclusion. We had already had a week in Florida in March and were now just about to go on a long weekend to Paris to celebrate Tam's 50th birthday in April. Can a woman truly celebrate reaching the half century? Anyway, we thought we would like a week somewhere later in the year, but hadn't really planned where or how much to spend. This particular Kalkan adventure was not cheap at nearly £1,300 each and we weren't sure if we wanted to pay that much.
So, we were literally just about to walk out the door to catch the train to London to begin our long weekend in Paris when we looked at each other with that 'Ah, what the hell' expression. On to the website and all booked up before we had time to change our minds.
Our stay was for one week in the Likya Pavillion from Saturday 4th October.
Here's the website if you're interested:
http://www.likyapavilionhotel.com/
It turned out to be a wonderful place that was just as nice in reality as it looked on the website.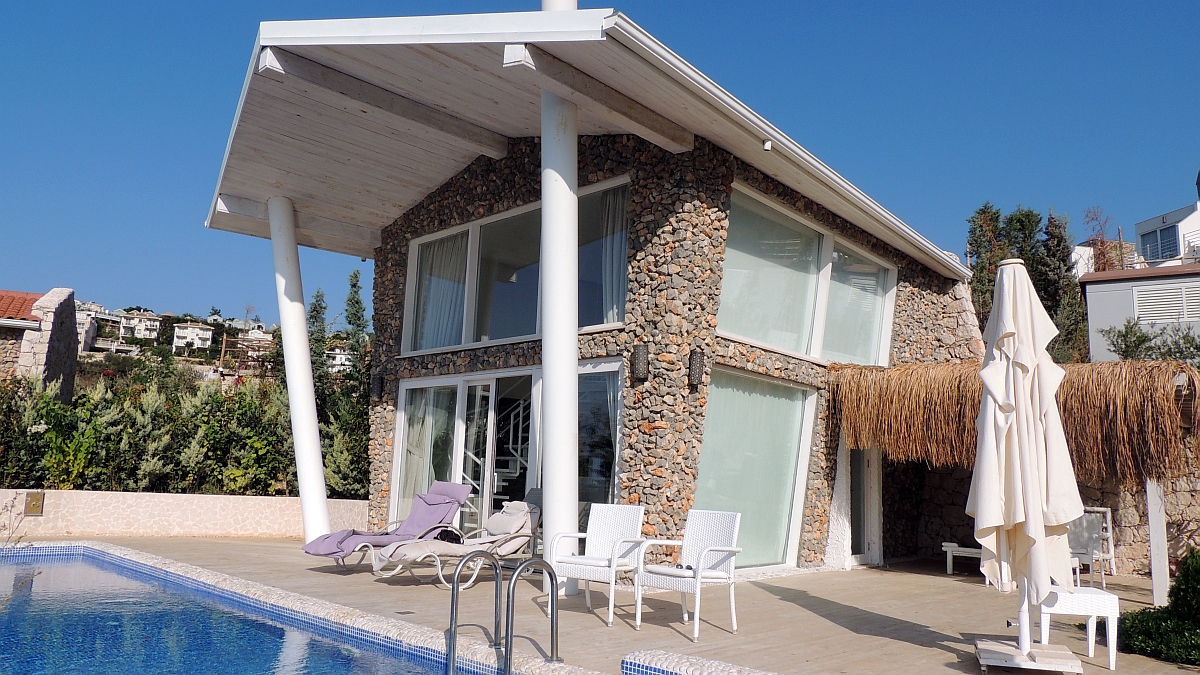 So, this was our home for the week.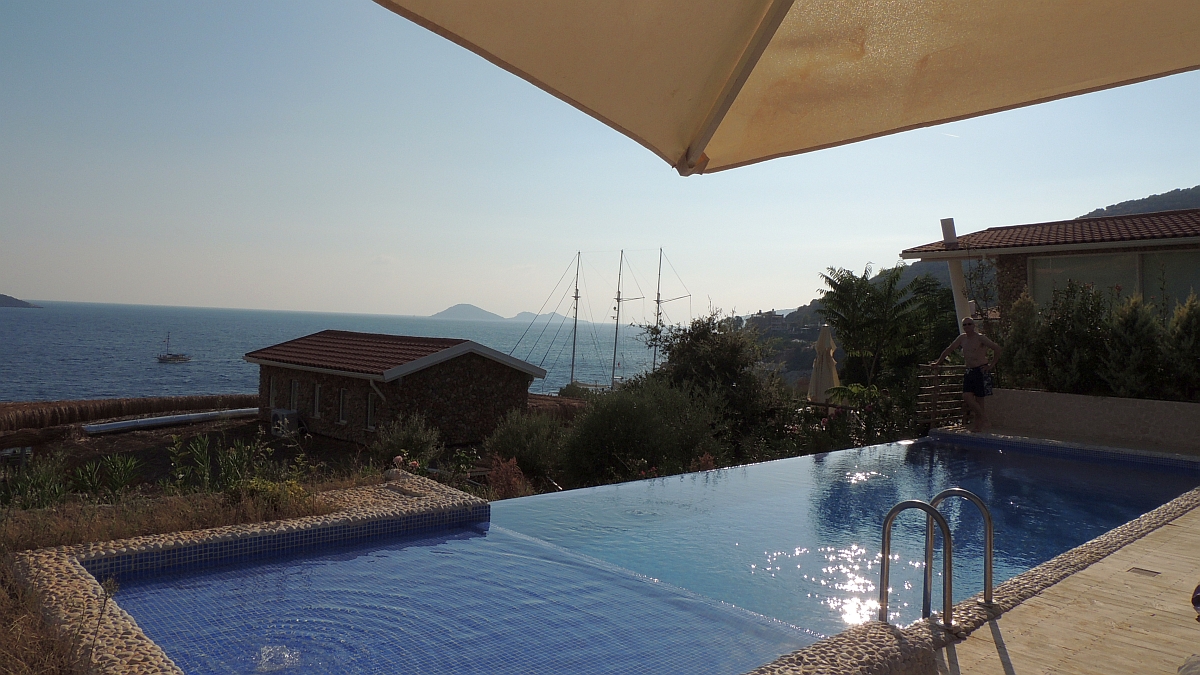 Our own pool made it very private. I really liked the 'away from it all' feel.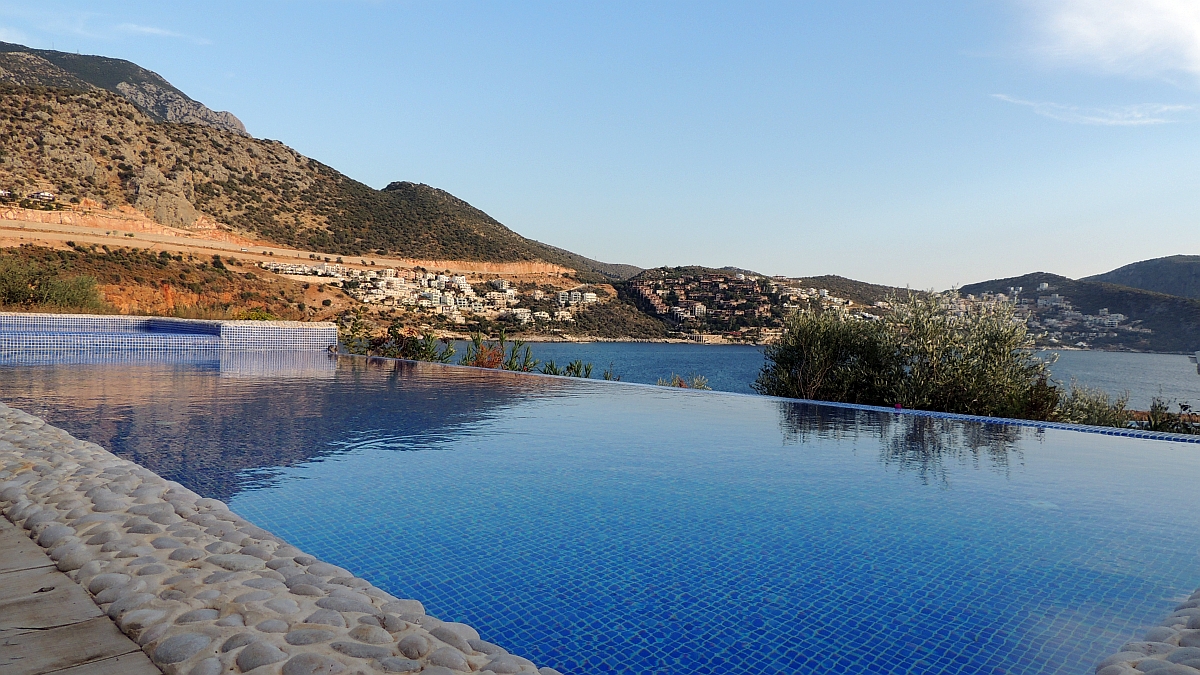 This is the view looking back towards Kalkan town. The harbour is back round to the left in this photo.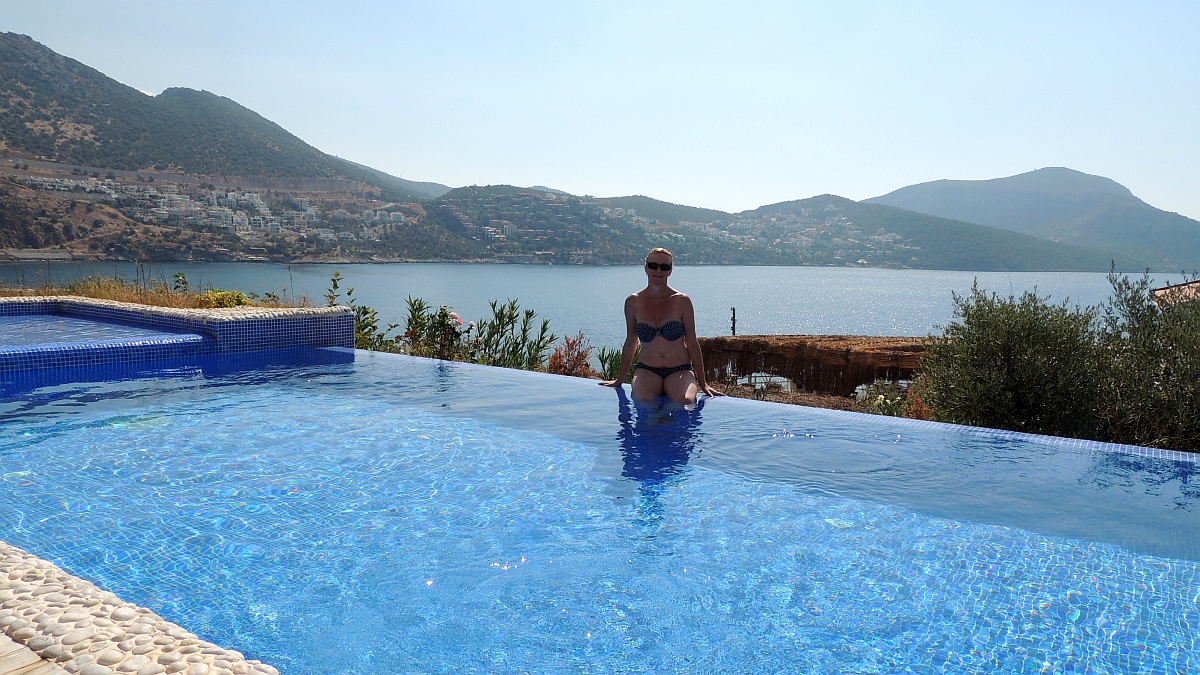 A lovely view, I think you'll agree. Kalkan's quite nice too.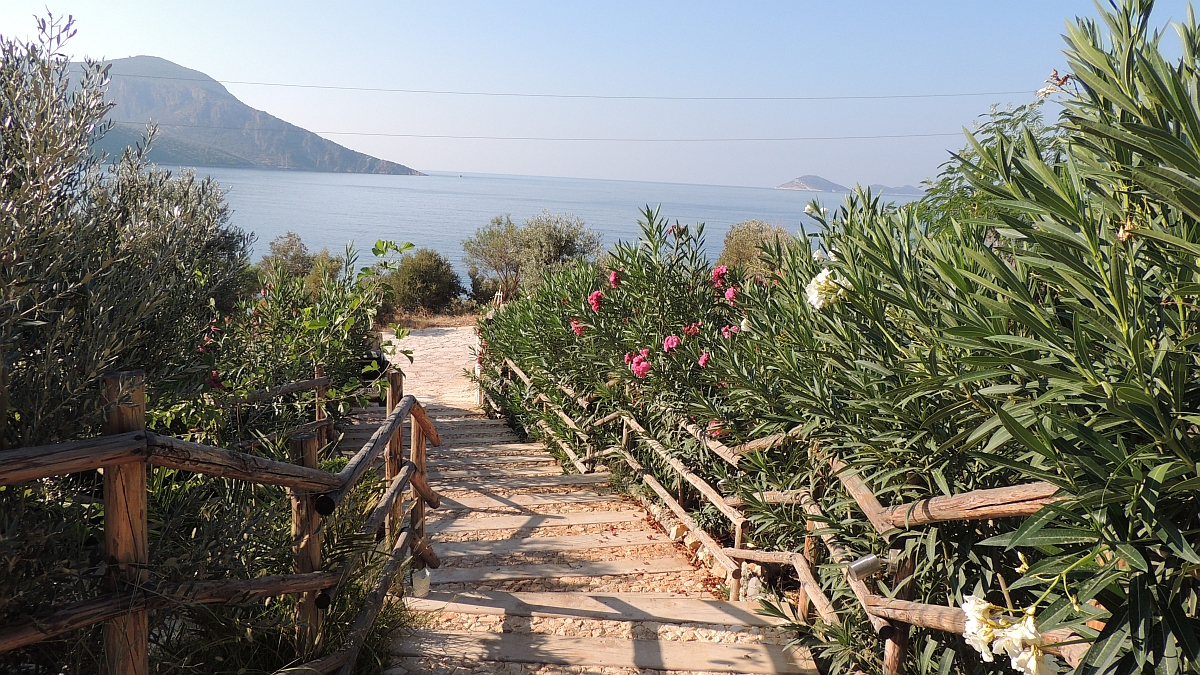 A view of the grounds.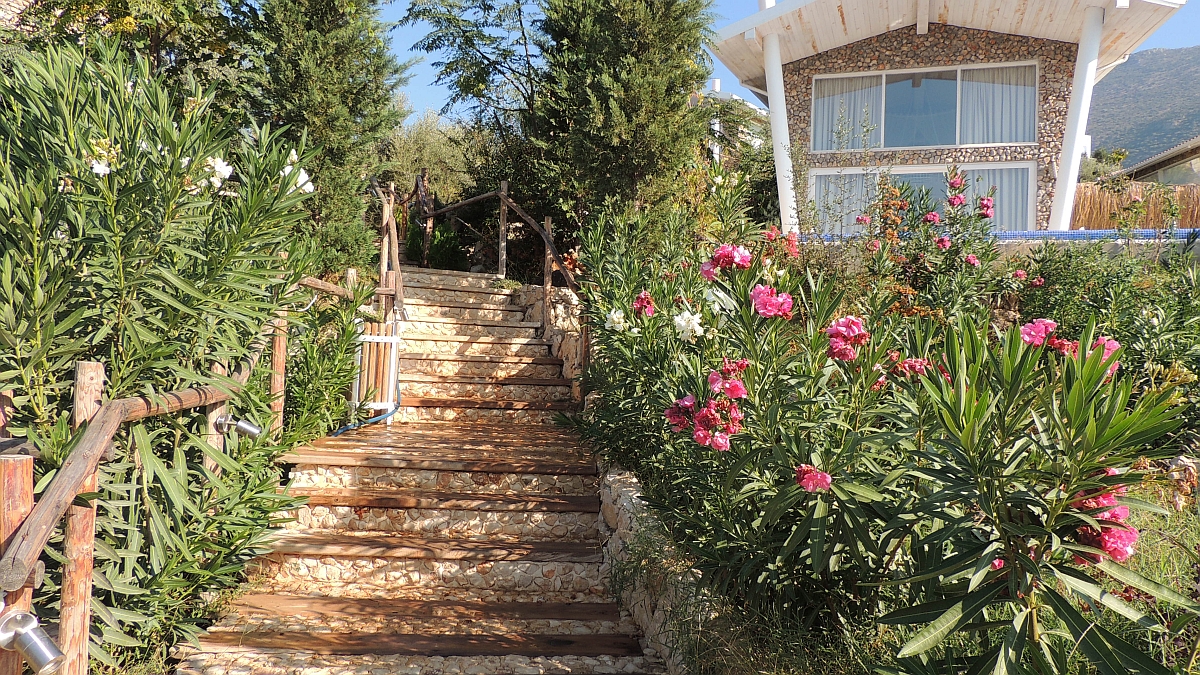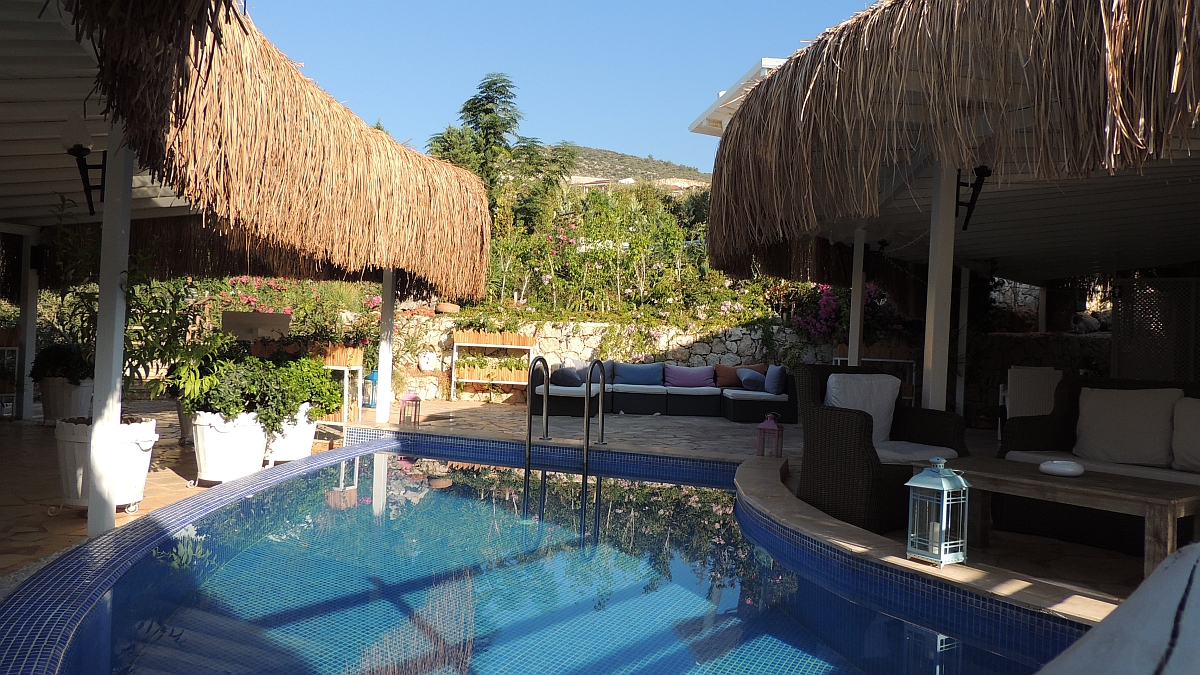 This is the bar/restaurant/small pool area.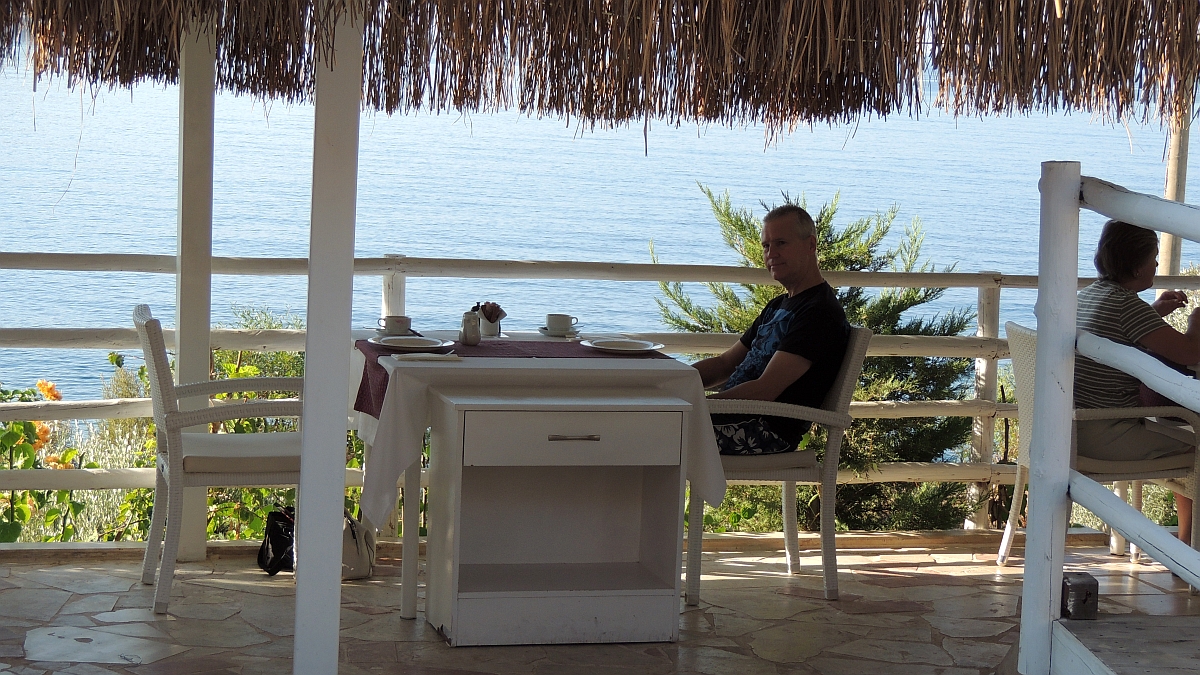 Here's where we had our breakfast every morning.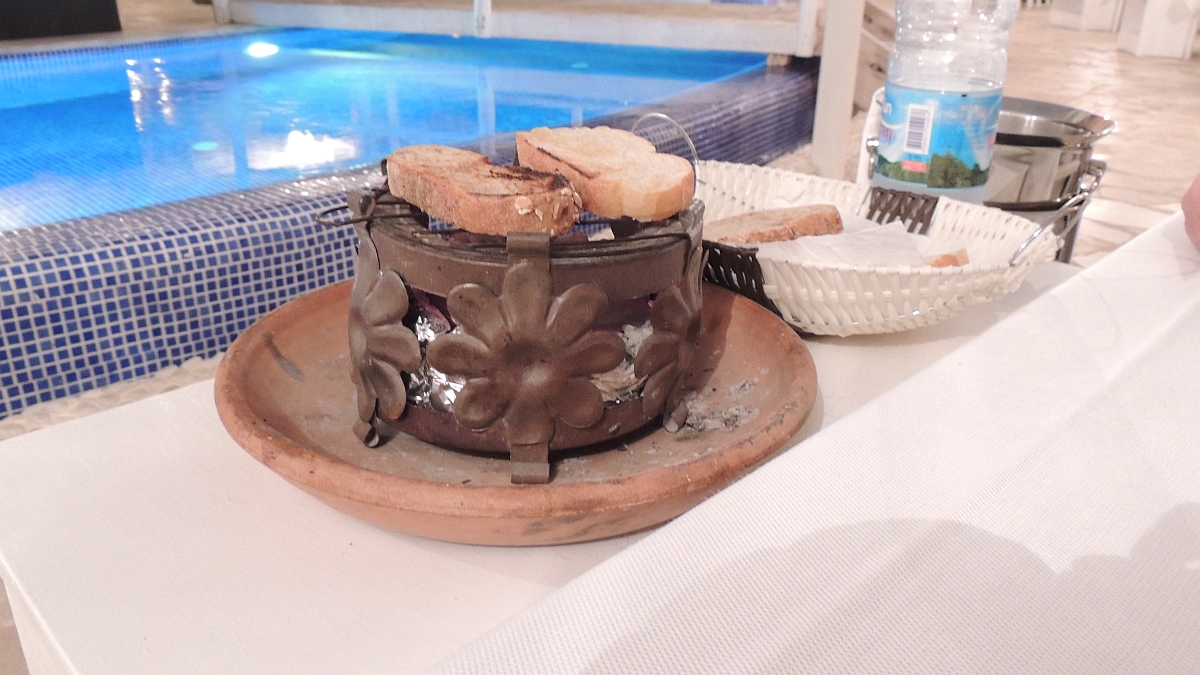 This is a sort of mini BBQ. You got to make your own toast. Suffice to say we burnt it more than once.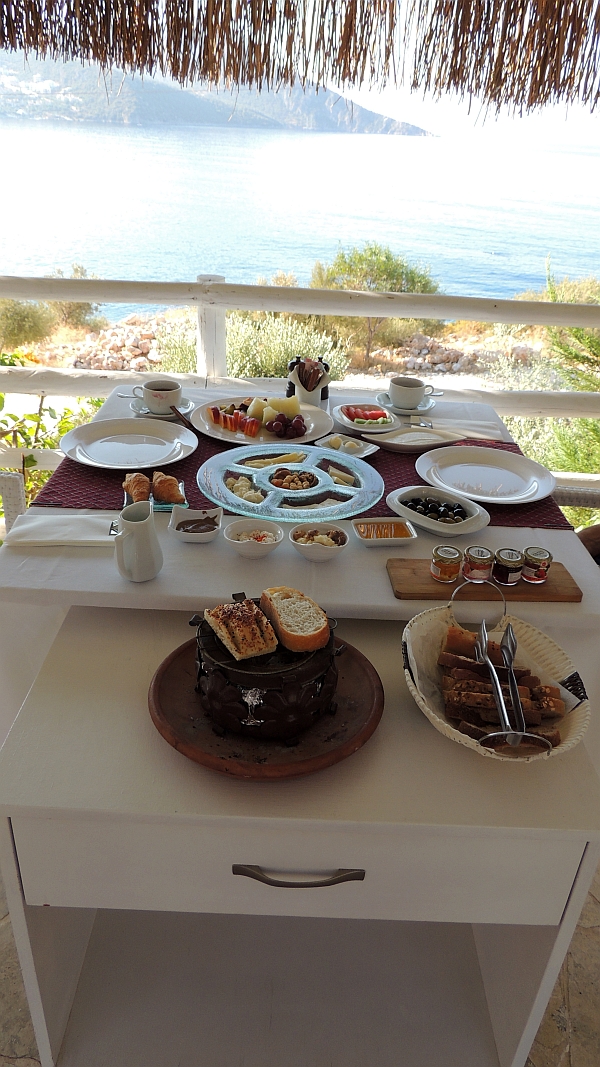 A fine selection of fruits, cold meats, nuts, vegetables and toast. You also had eggs made fresh to order and cereal if you wanted it.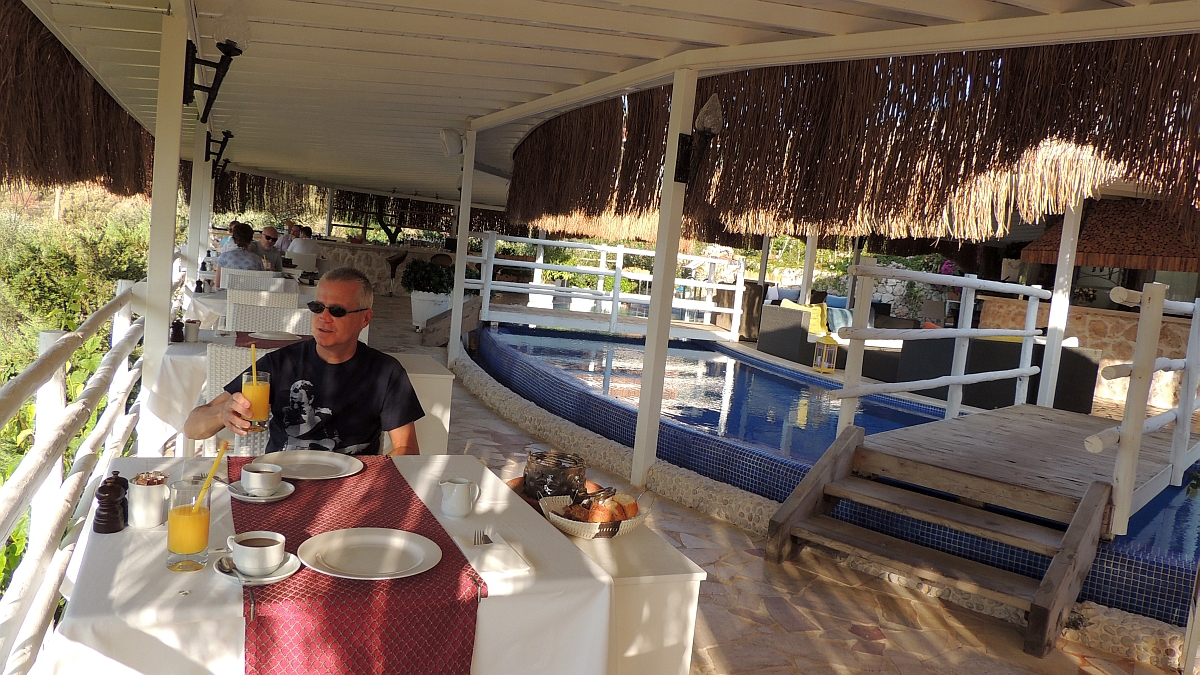 I've had breakfast in worse places.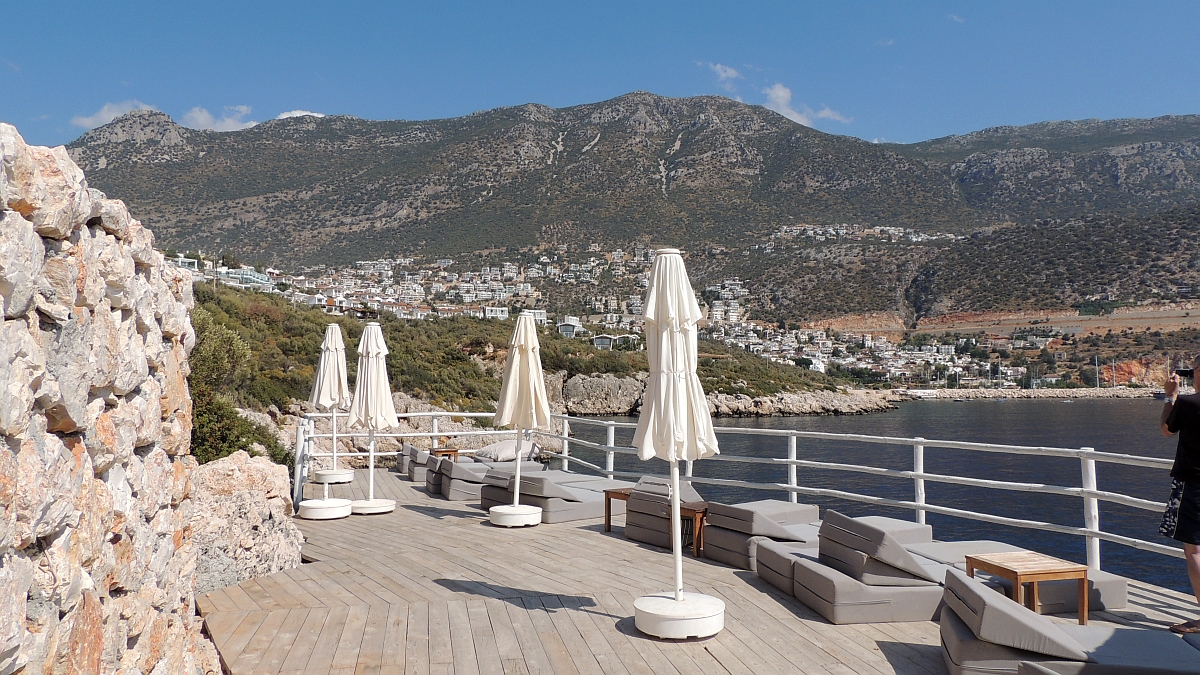 Kalkan only has a small beach, but there are several of these beach clubs around the bay. I don't know why they are called that as there is no beach. You climb down stairs into the sea and relax on sunbeds with beautiful views. This one is called the Yali Beach Club and we could use it free of charge as part of our package. Some of the beach clubs charge a nominal fee to use the facilities and others are free as long as you eat and drink with them.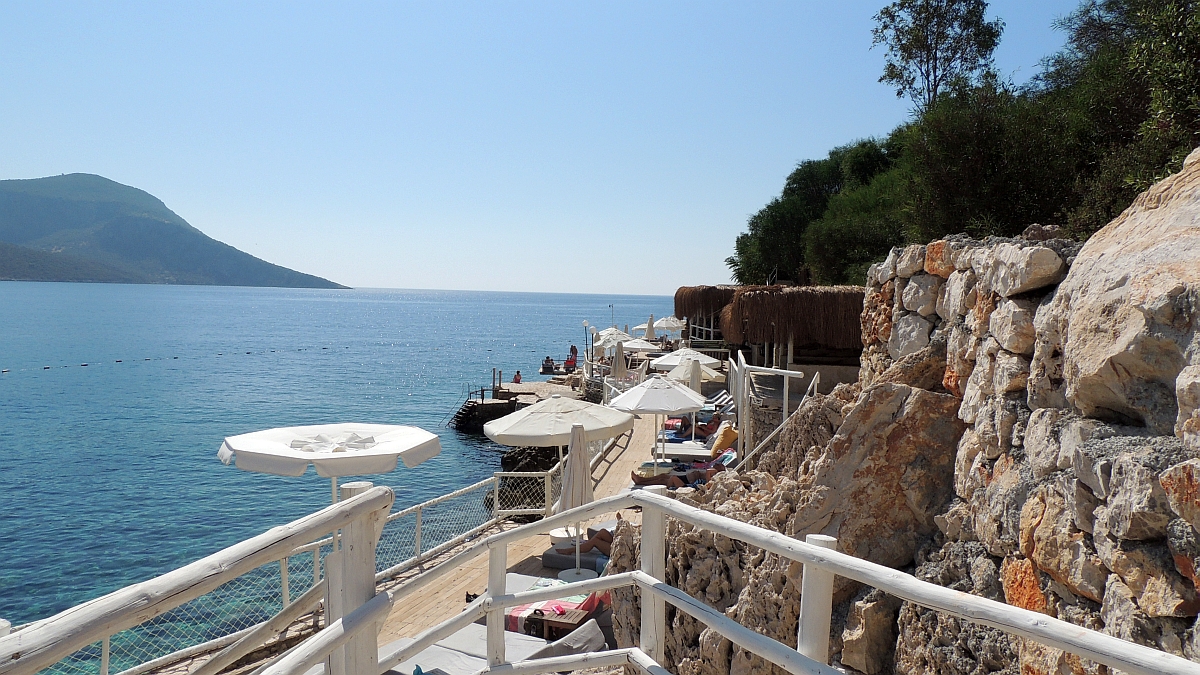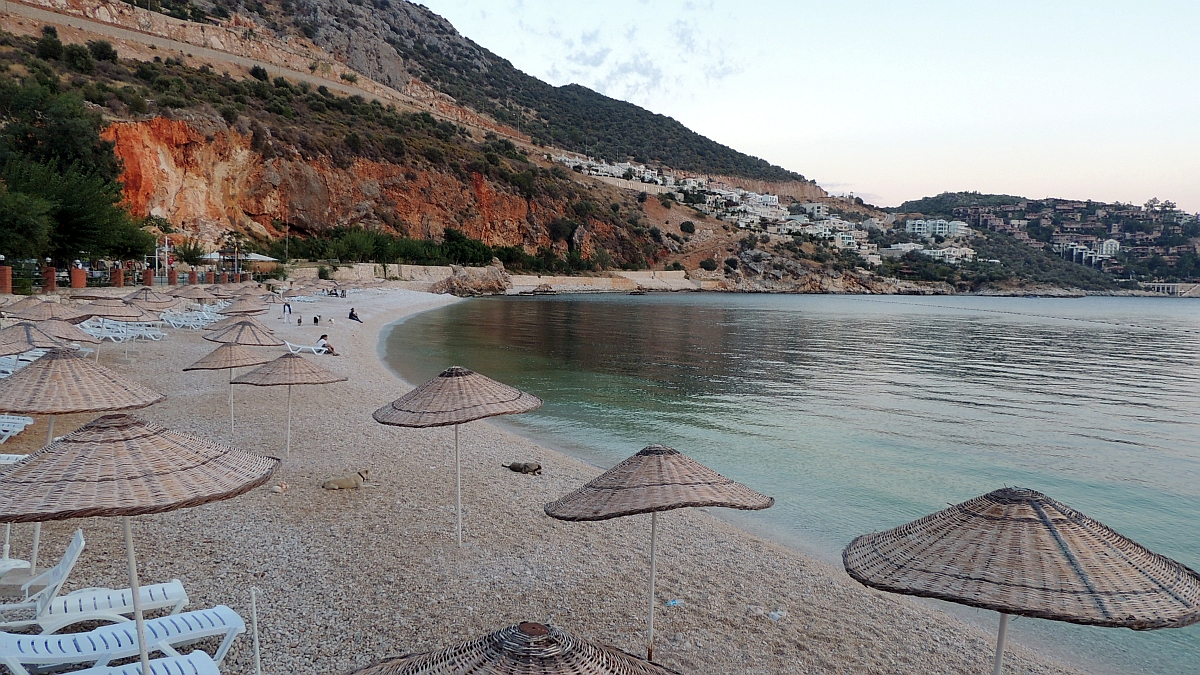 Talking of the small beach - here it is.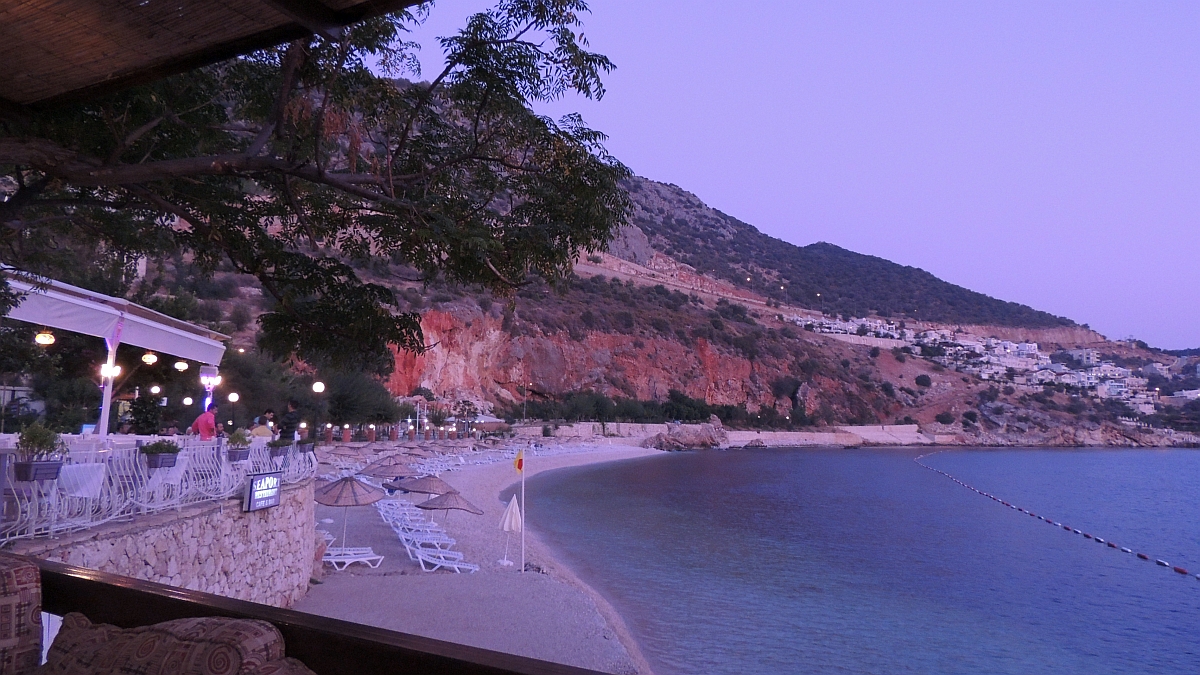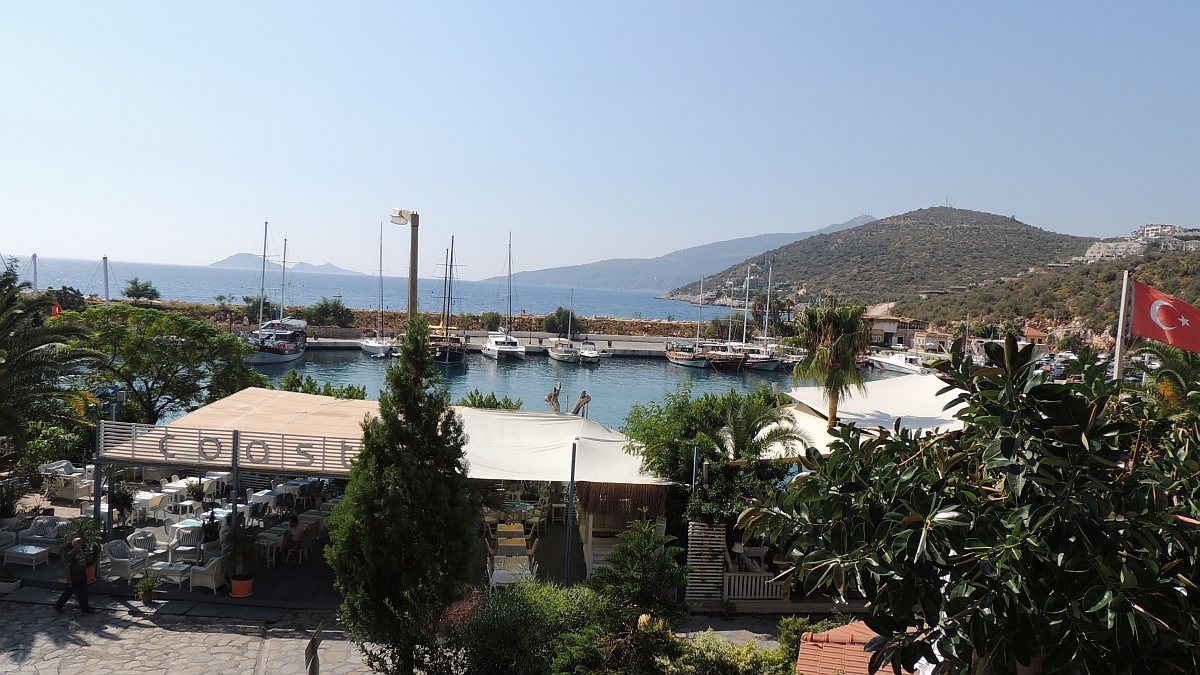 The old town of Kalkan is built around a small harbour. Many of the boat trips leave from here.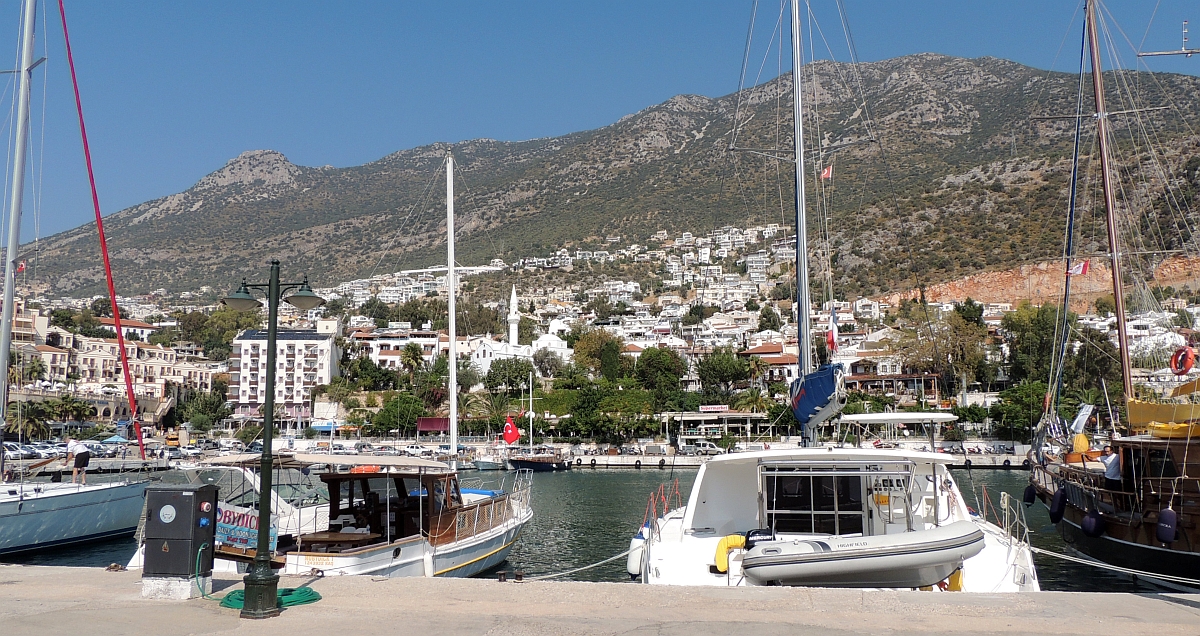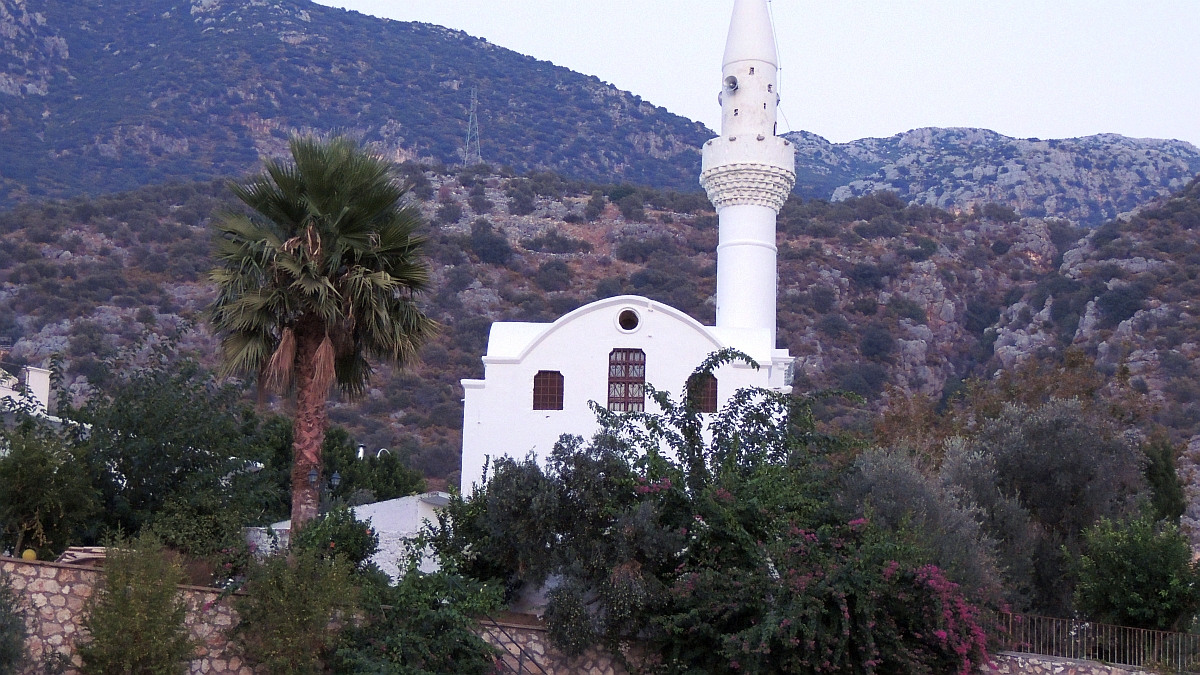 The little mosque in the town centre.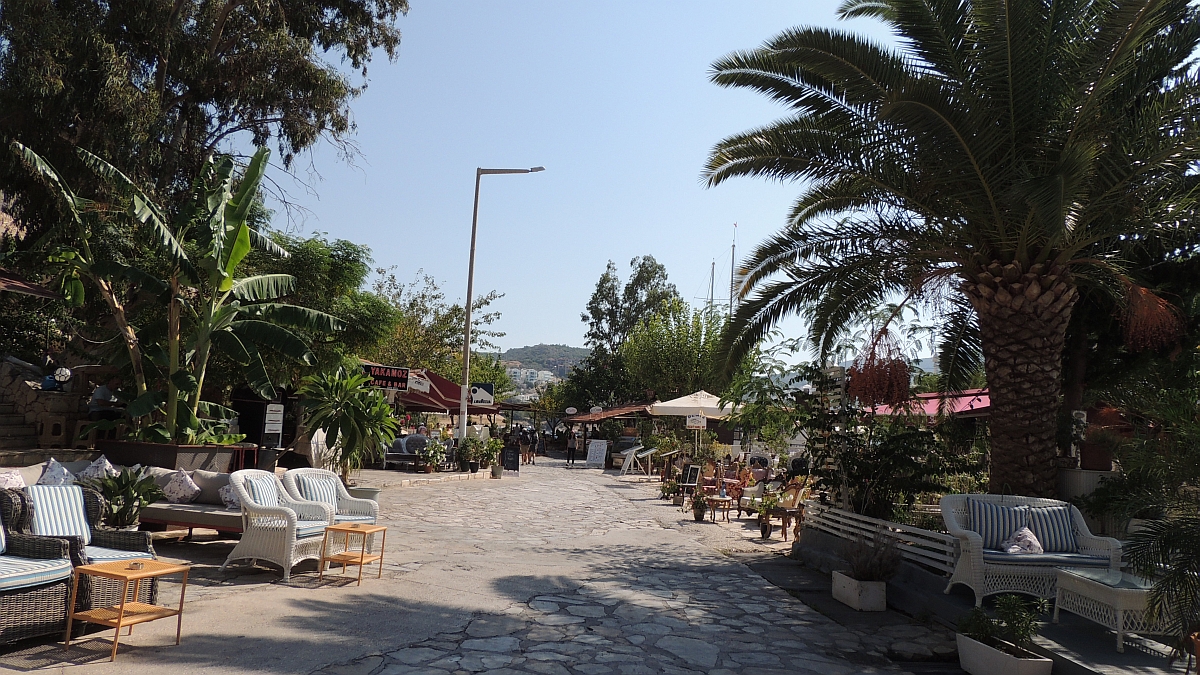 Much of the old town is pedestrianised with bars and restaurants everywhere.
Talking of bars - here's a few we visited: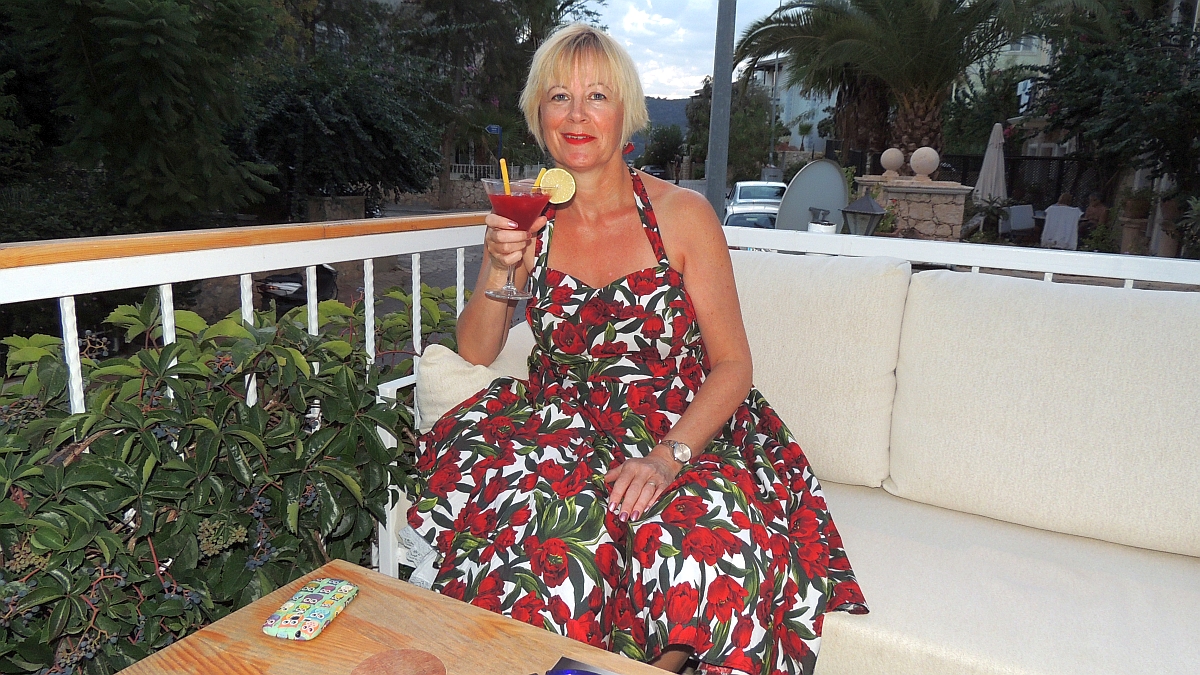 The Deniz Cocktail Bar. Not in the prettiest part of town, but the drinks were very good and the barman was friendly. That's not the reason Tam is smiling. He wasn't that friendly.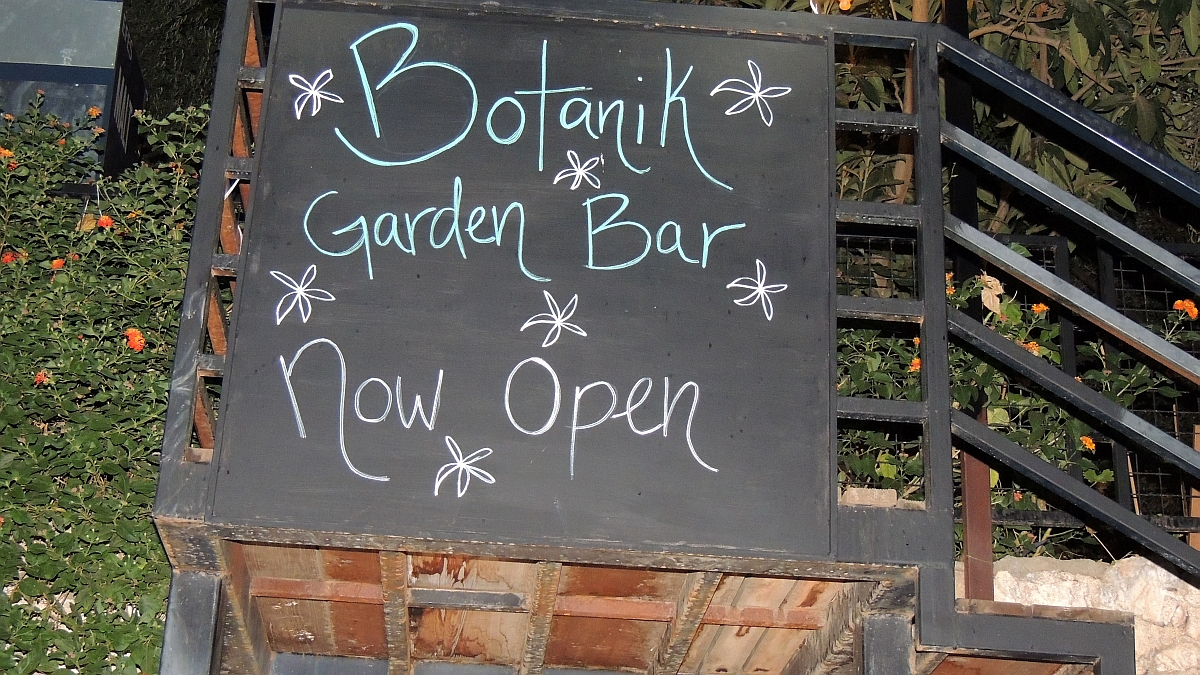 The Botanik bar. I bet you'd never have guessed that would you?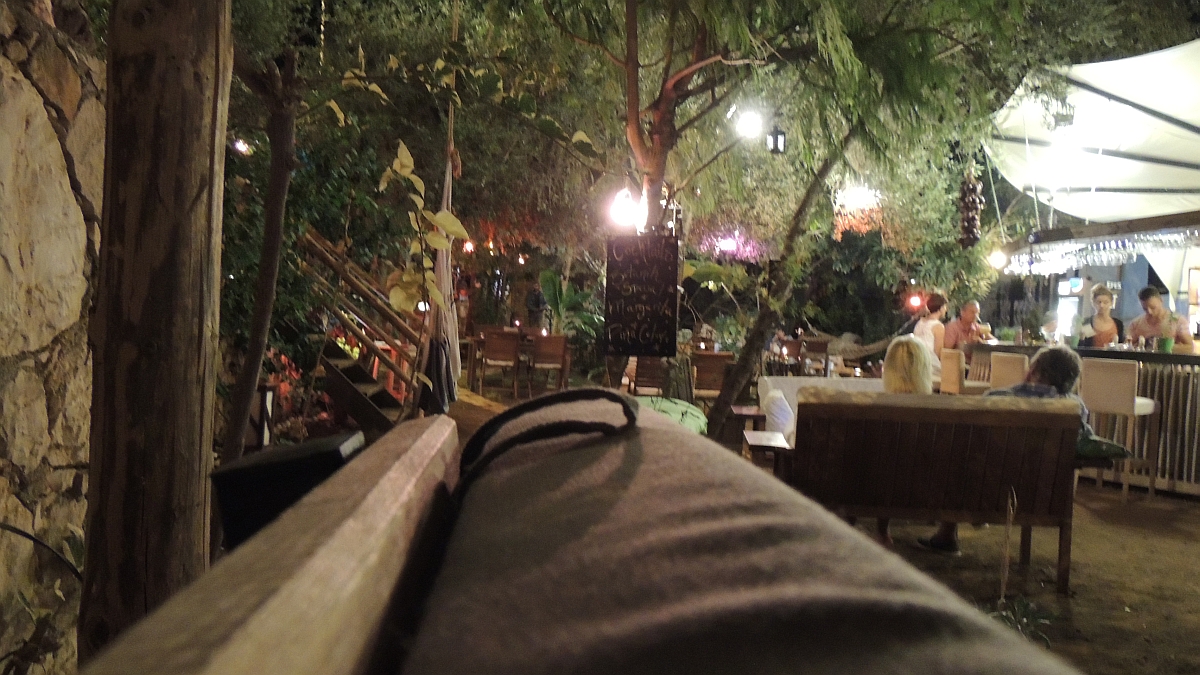 The Botanik is an outdoor bar that's very nicely lit at night and plays relaxing music. I don't know why we didn't have more (and better) photos here. Must have been the strong cocktails.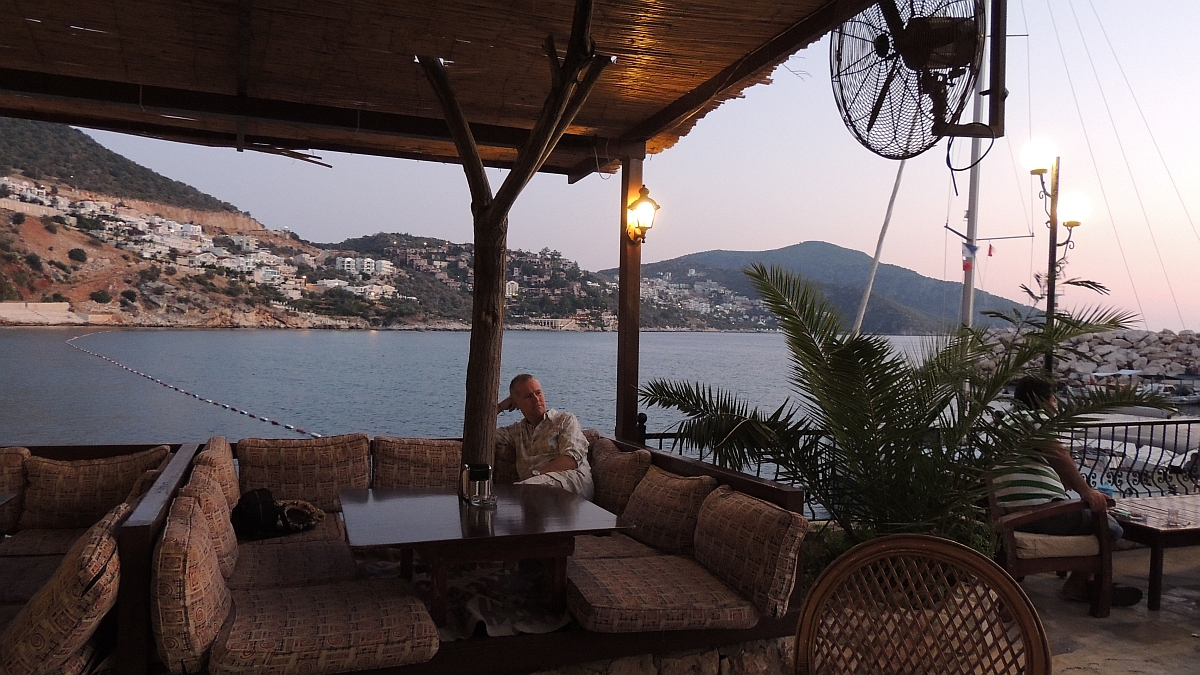 Feners Bar. A very relaxing place to enjoy a cocktail, especially at sunset.
I'll bet you can't work out the name of this bar. Answers on a postcard.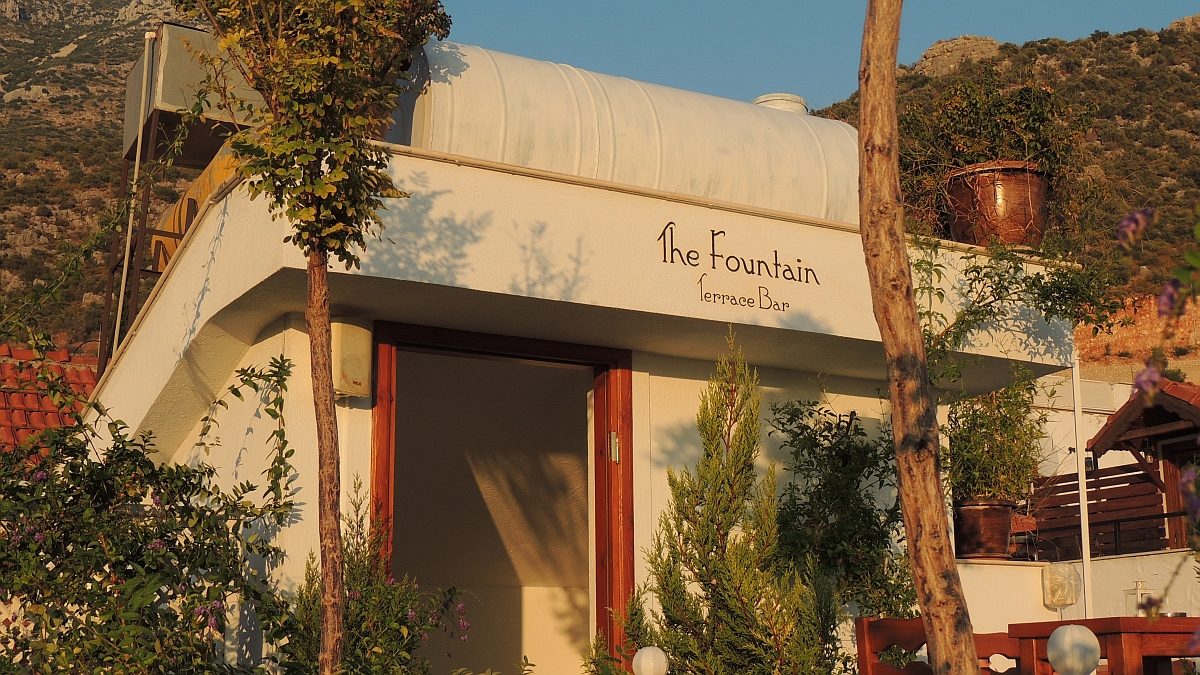 You clamber up quite a few stairs to reach this rooftop bar, but it is certainly worth it. It was our favourite place to enjoy a cocktail both before and after eating.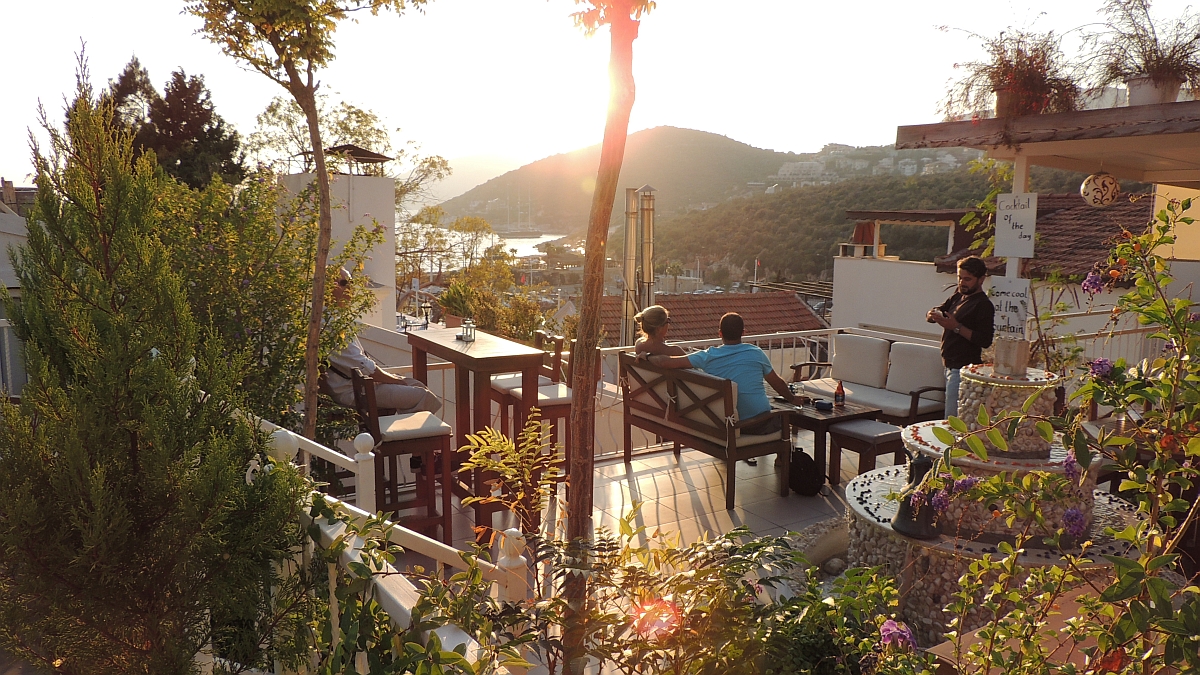 And there is the fountain after which the bar is named. I'm not sure why Tam hid me behind the foliage when she took this photo.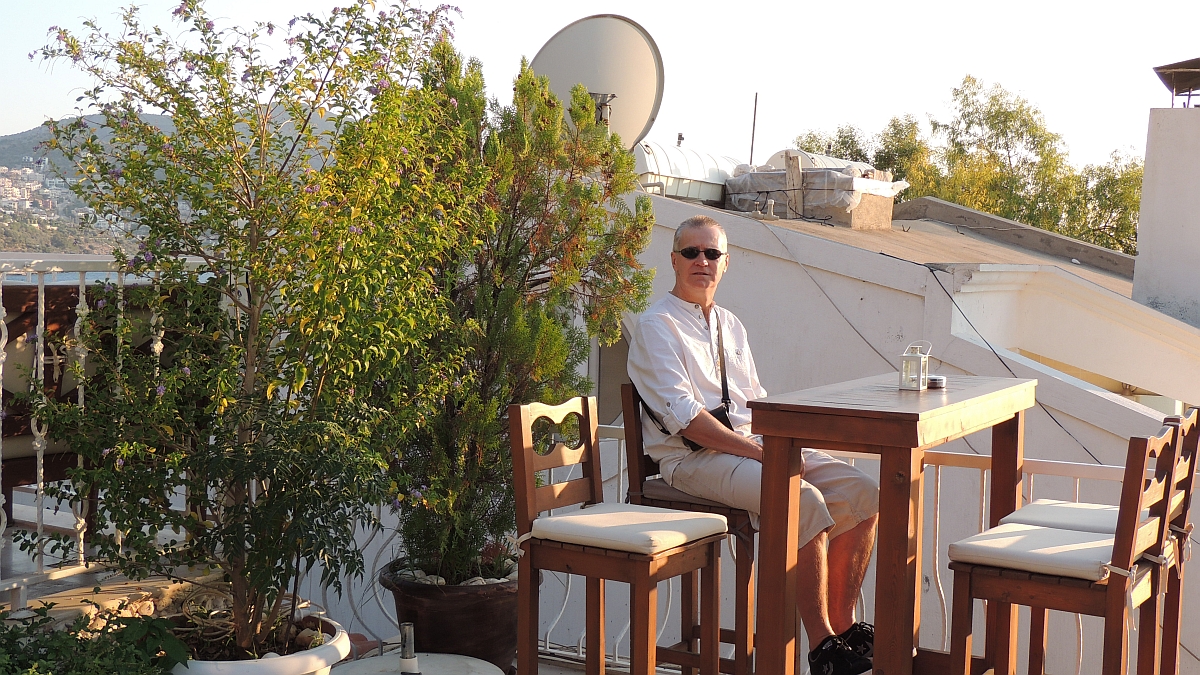 Ah. That's the reason she was hiding me. I guess she was using the rational that I look better behind the bush than in front of it.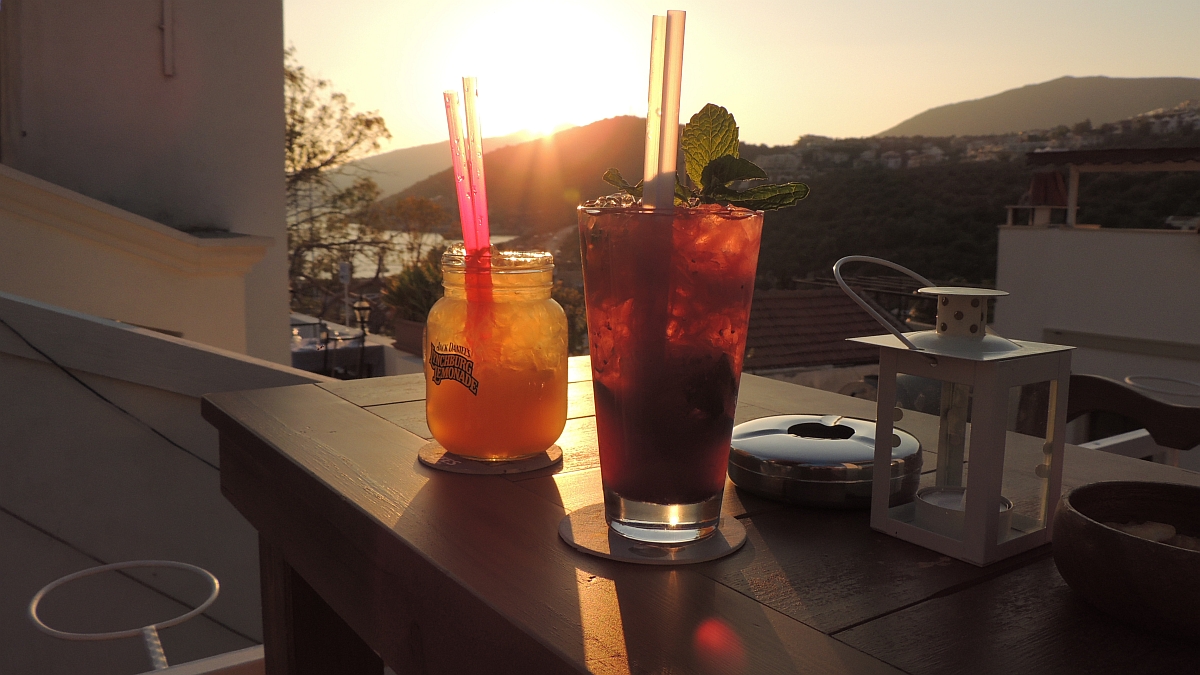 Lovely cocktails at The Fountain Bar - the best in Kalkan.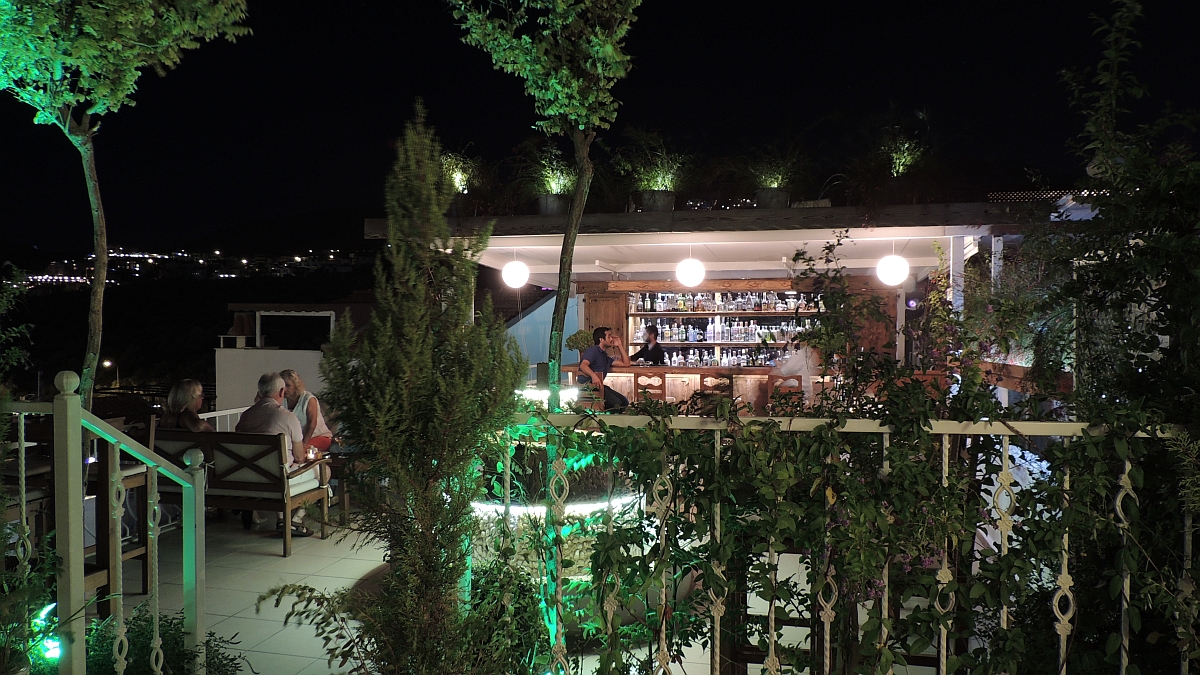 It's very pleasant at night too.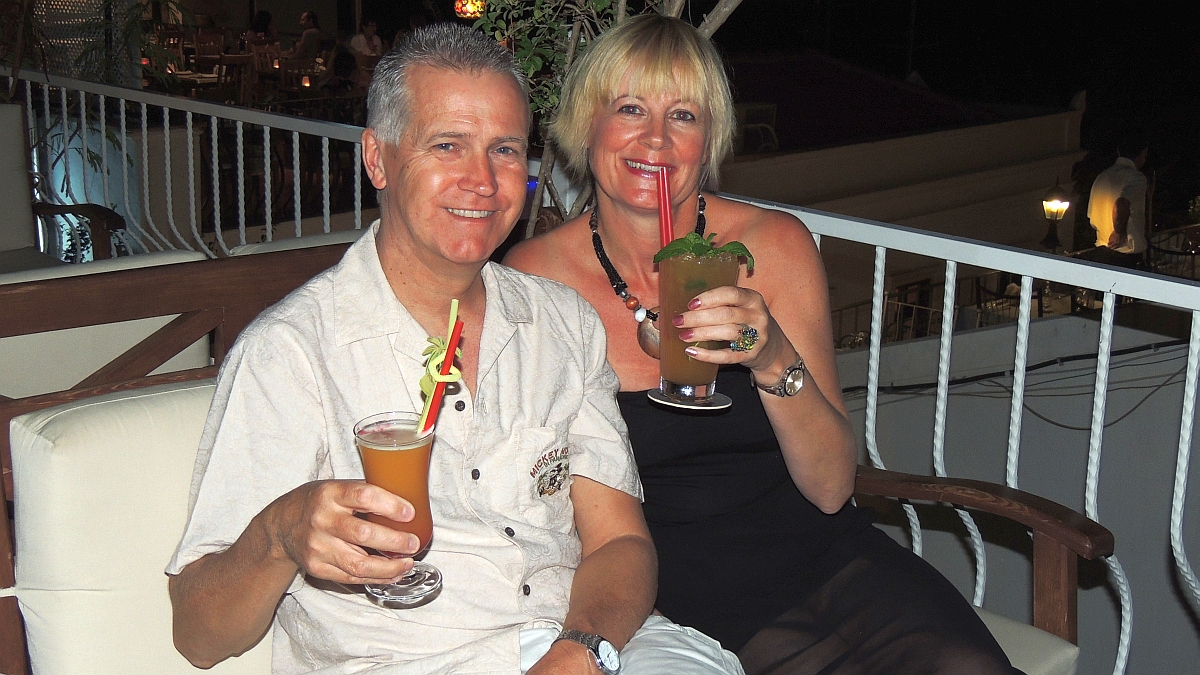 Tam's beer mat has magically attached itself to the bottom of her glass. It's sorcery I tell you.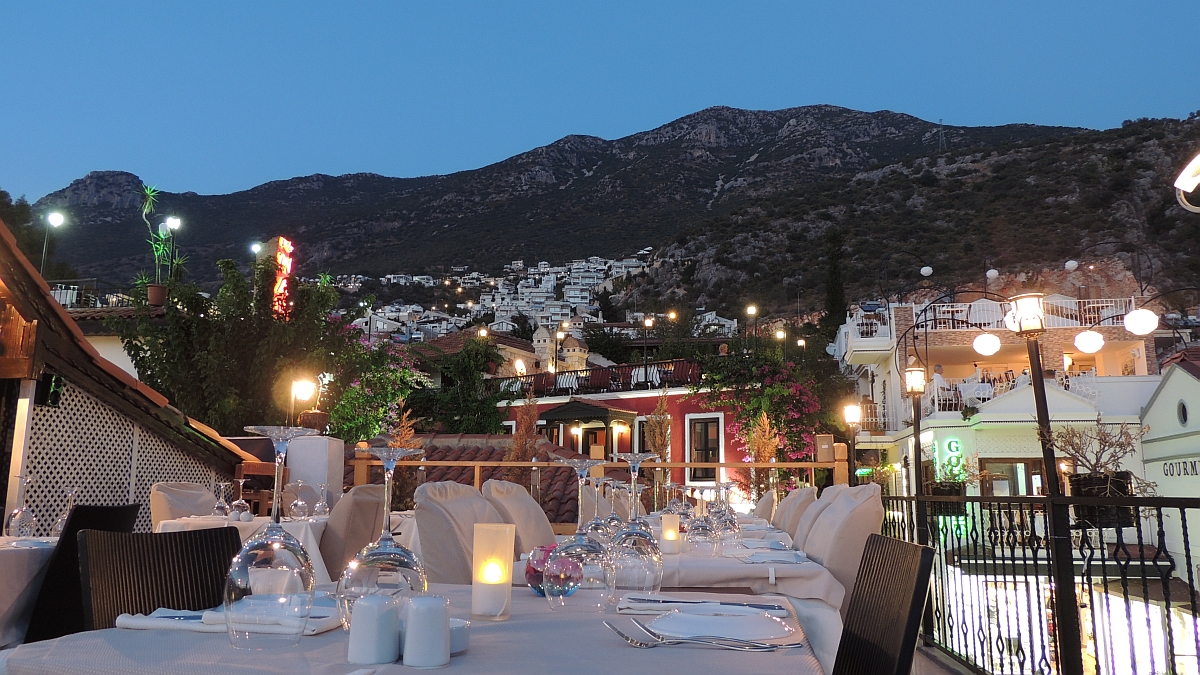 Many of the restaurants in Kalkan have rootop terraces. The restaurant in the middle of the photo with the red chairs is called Gironda. We ate a very nice meal there. In fact all the food we ate in Kalkan was good.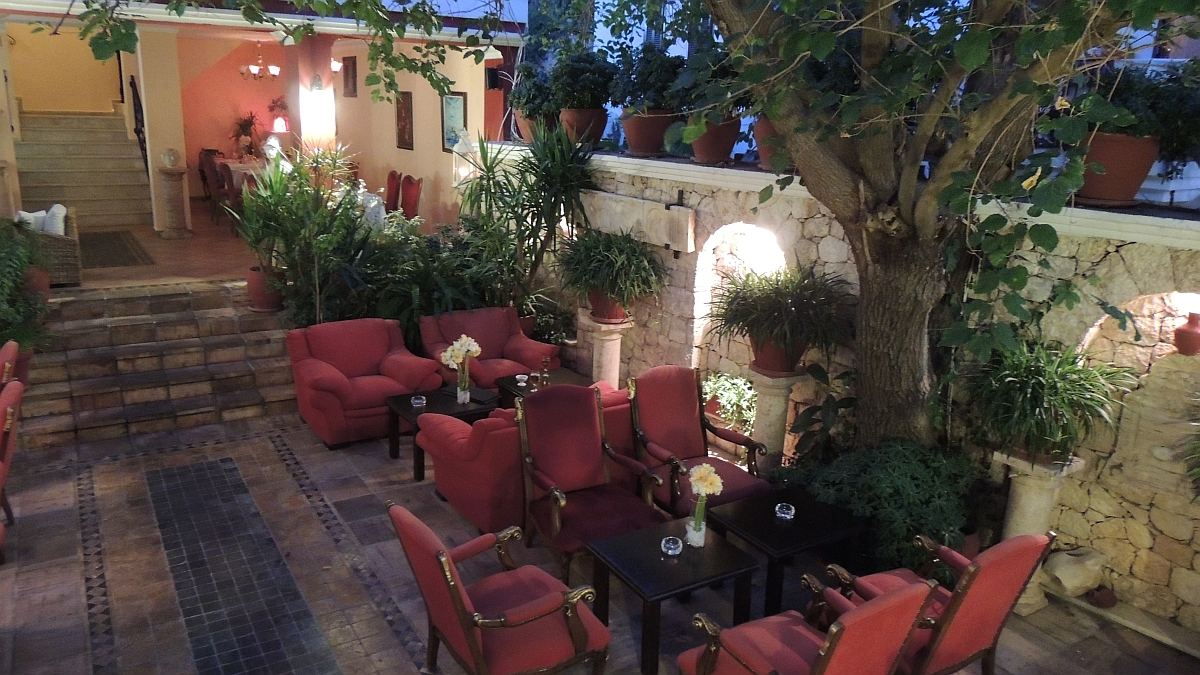 This is the bar at Gironda.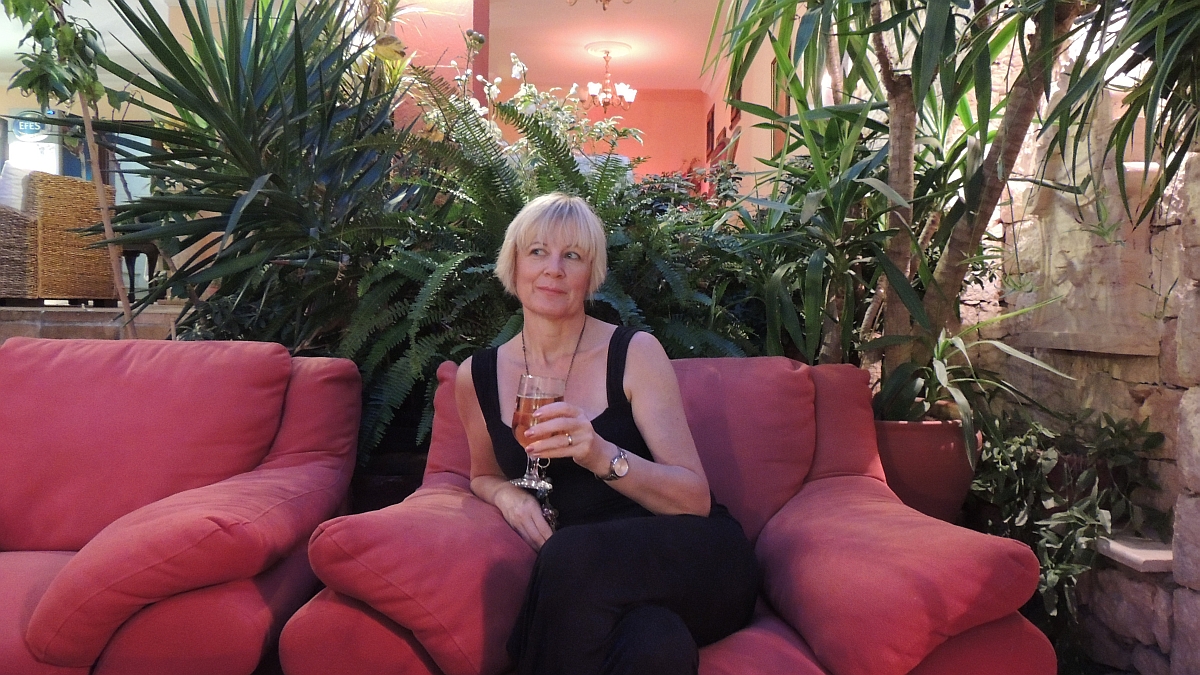 I think Tam was going for the 'whimsical' look. Unfortunately she ended up with the 'trapped wind' look.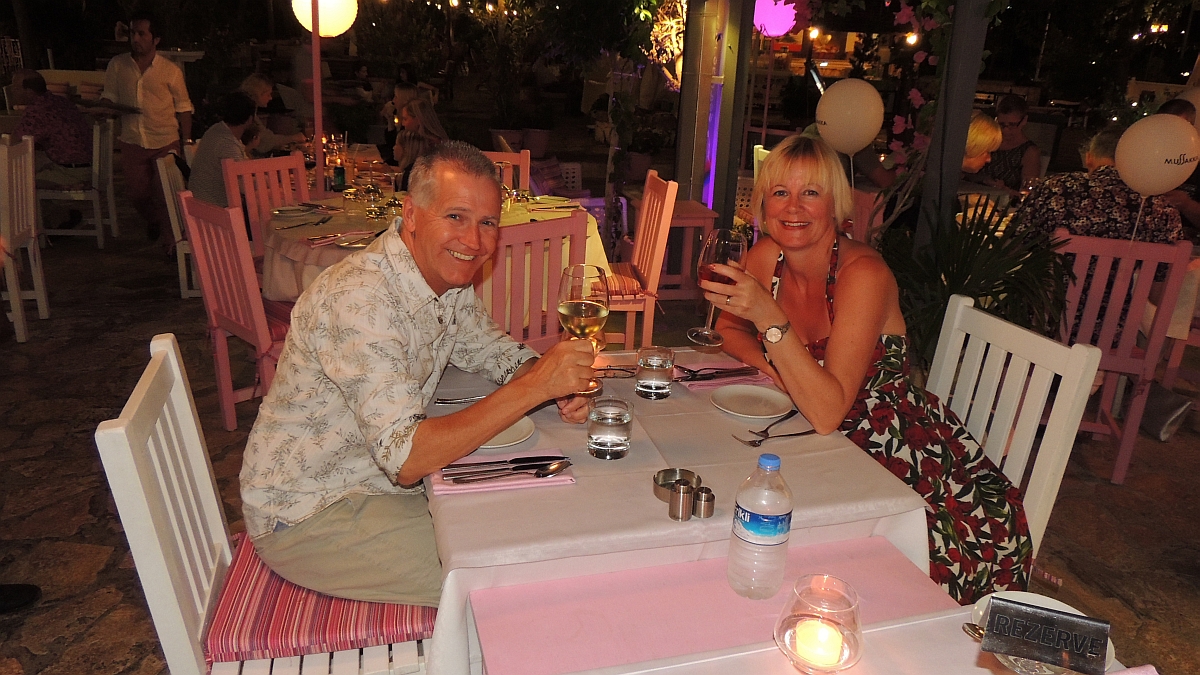 This was a restaurant called Moussaka. Unfortunately there was a fire in Kalkan during the winter and this was one of 5 businesses that burnt down. Such a shame as it was one of the best meals of the week. I think they are opening in another area for the new season.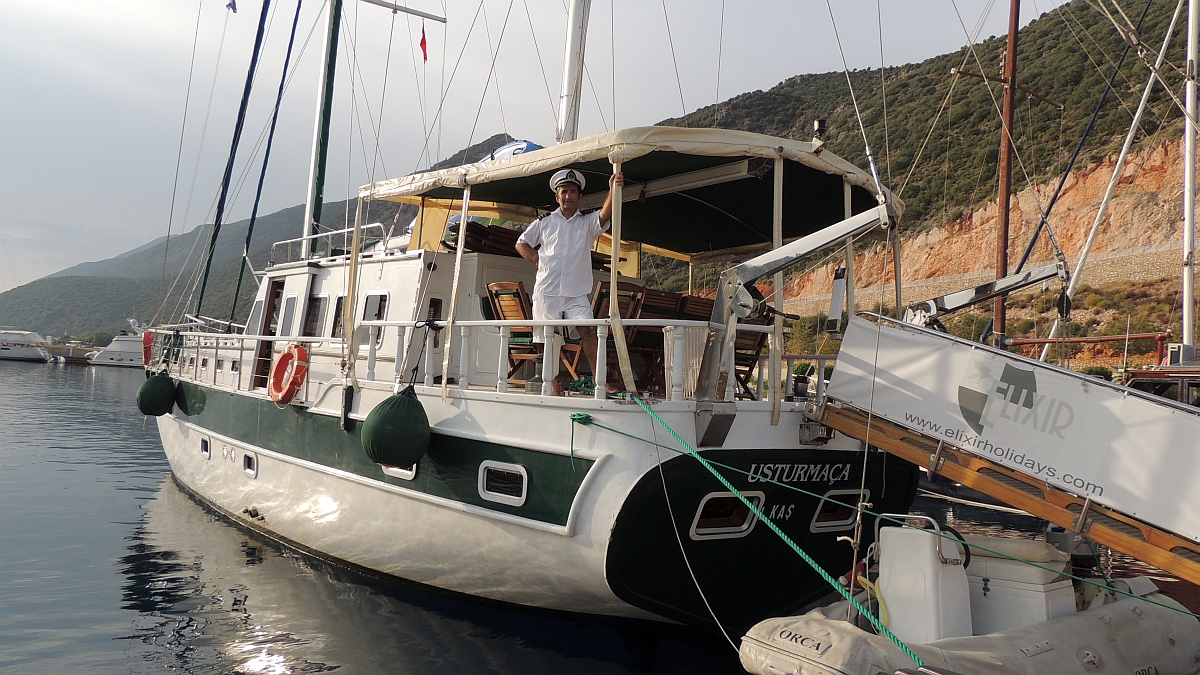 Another perk of the package we booked was a day out on a boat. There were only 10 of us, so there was plenty of space.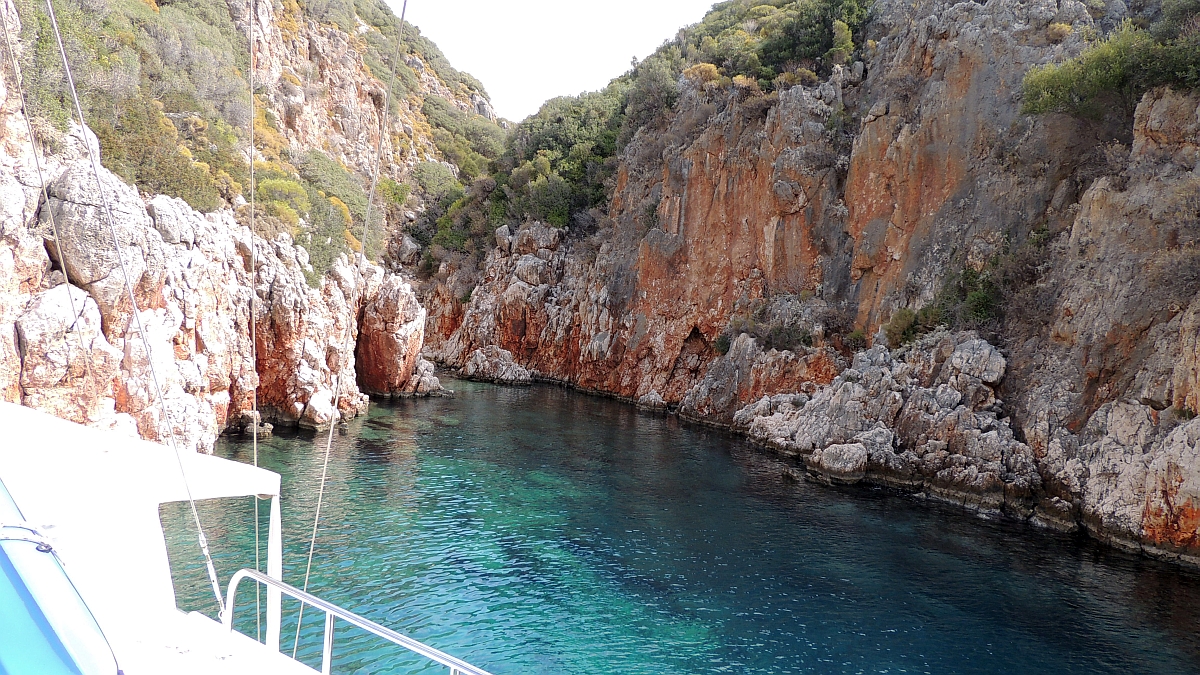 We stopped at several pretty little bays and went swimming. We had lunch and afternoon tea on board and a very enjoyable day.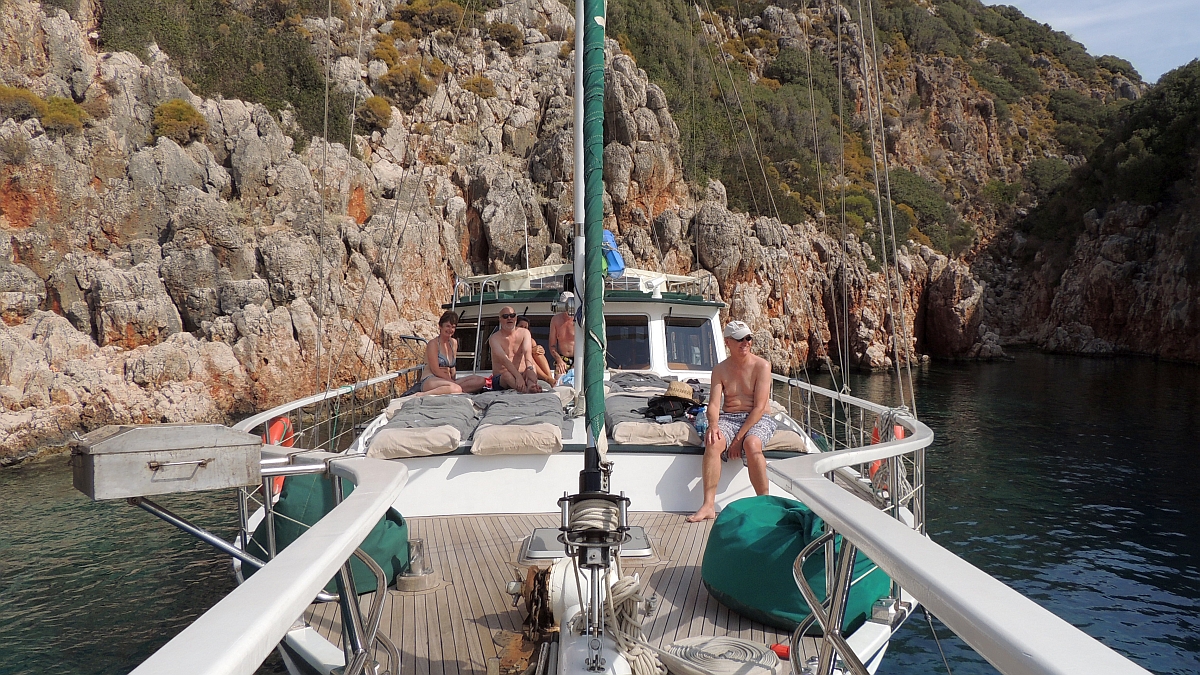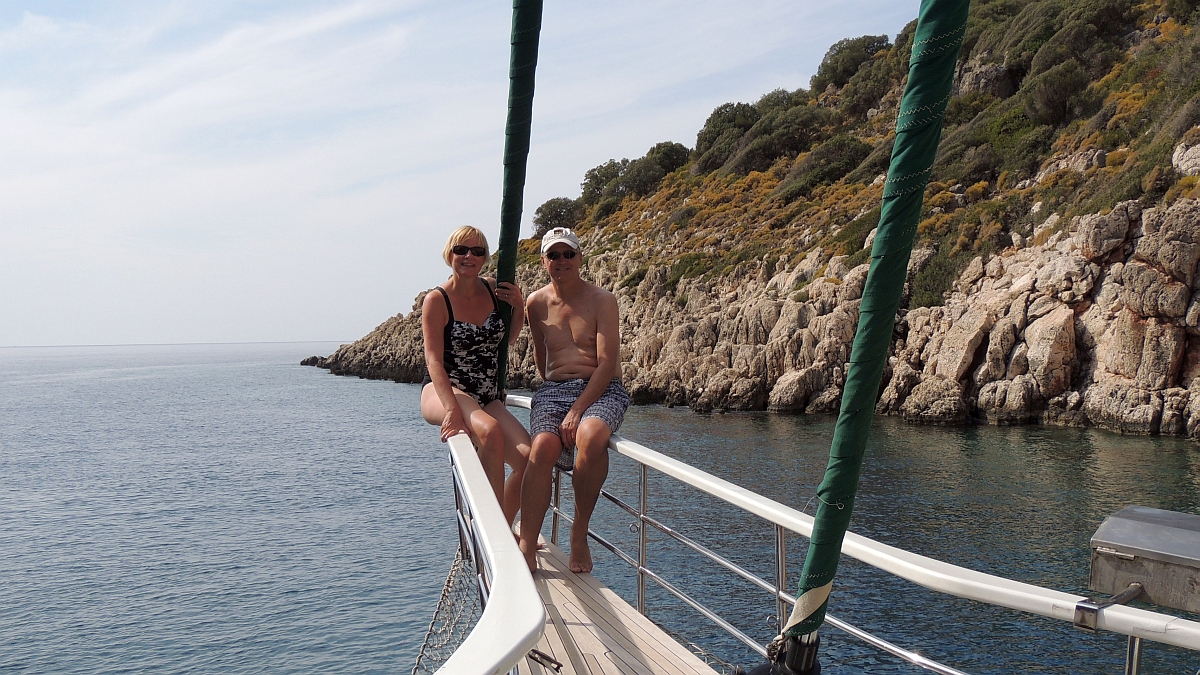 It takes years of hard work to get stomach muscles as big as that.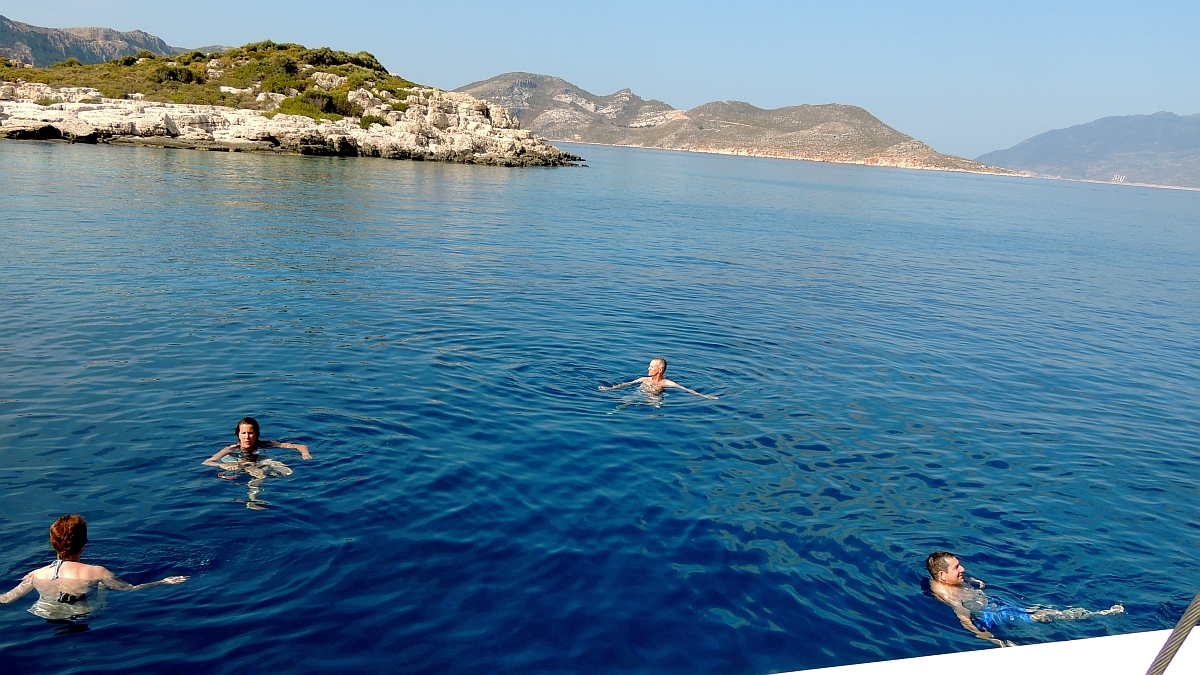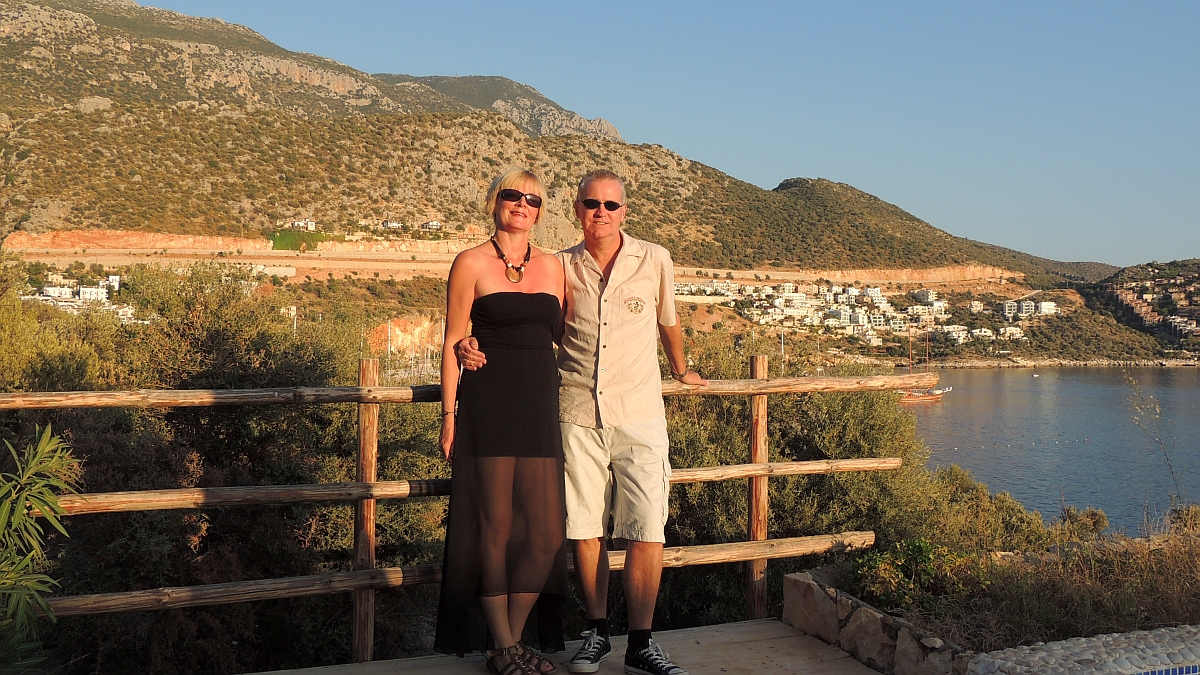 Meanwhile, back at the villa ...... I think the late afternoon and early evening is my favourite time when on holiday.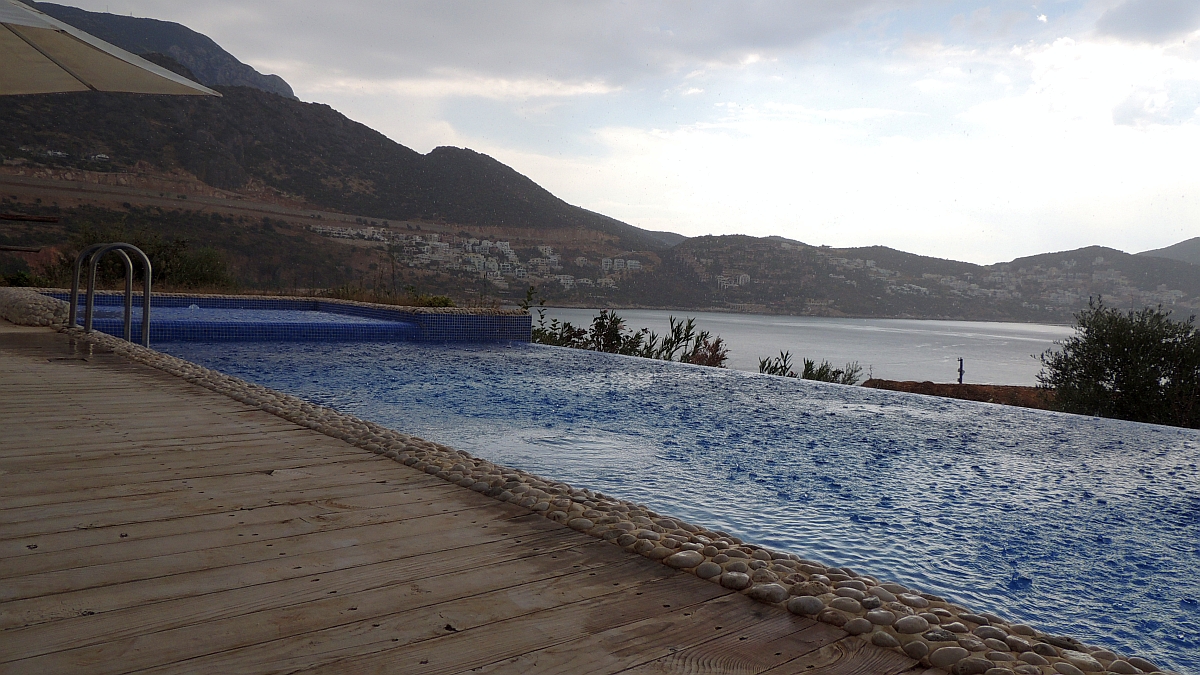 Just to show it wasn't wall to wall sunshine. It was still warm though and we enjoyed watching from underneath the overhang from the roof in the dry.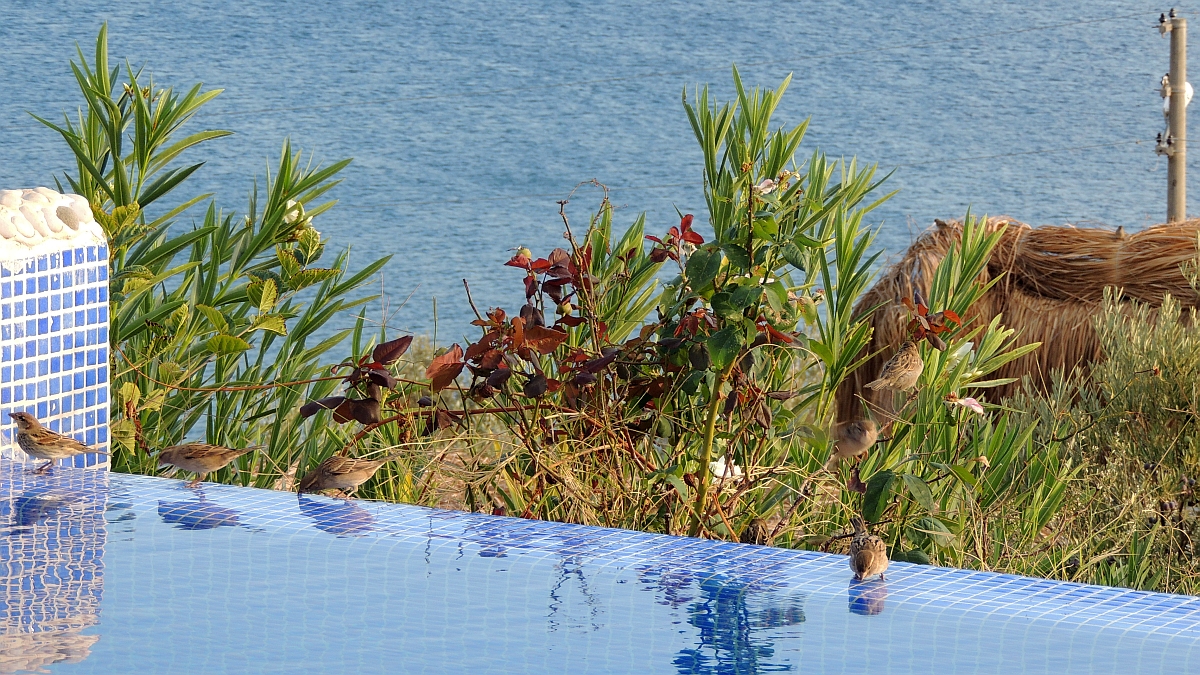 We weren't the only ones that enjoyed the pool.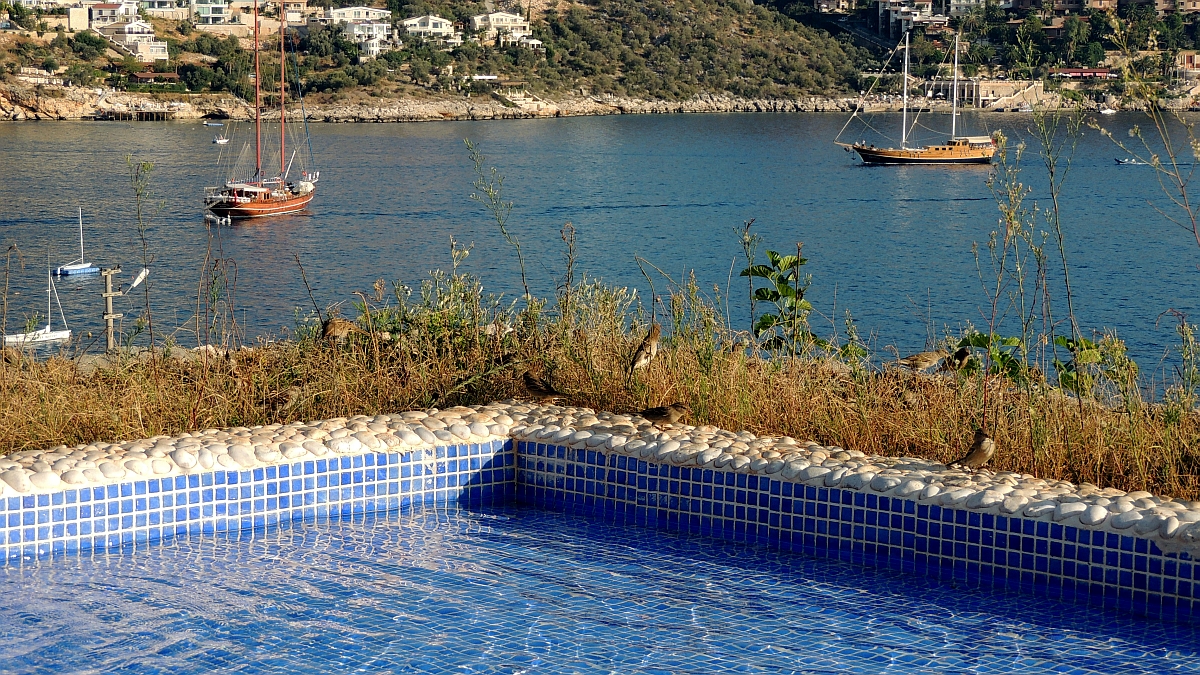 If I was a sparrow I'd like to live here.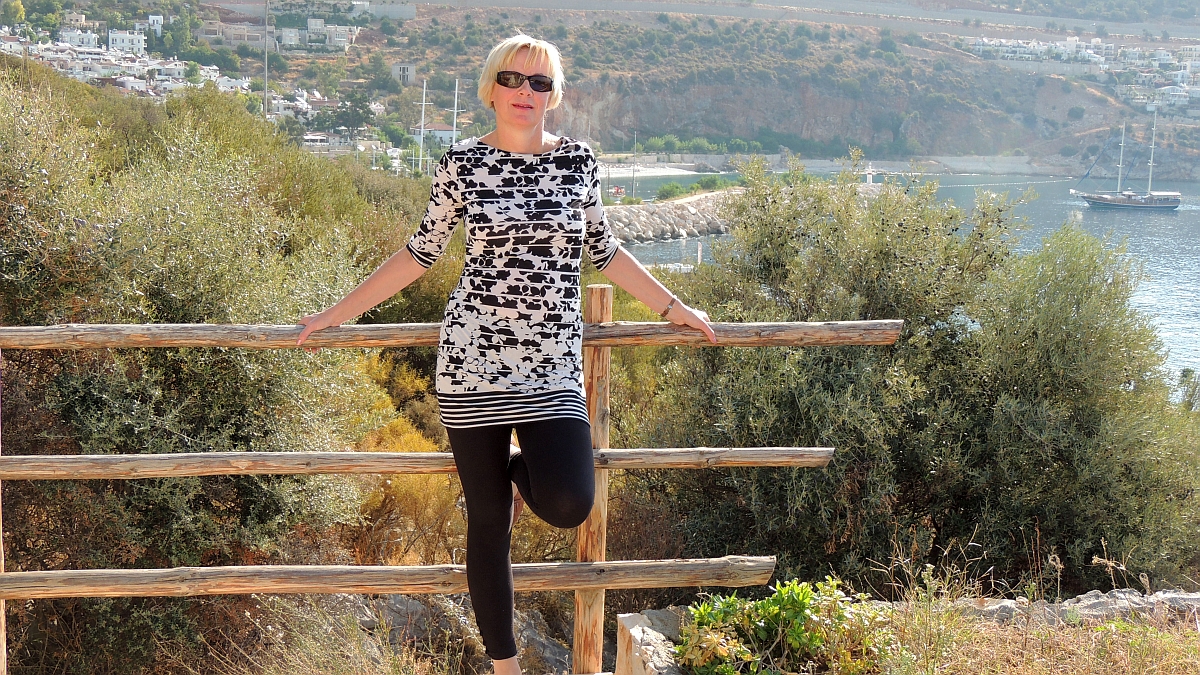 Tam's not looking too happy here. I can't blame her. It was just before the bus came to take us back to the aiport.
All things considered it was a lovely, relaxing holiday. I'd thoroughly recommend Kalkan to anyone whose main aim on holiday is good food and nice places to drink. The old town doesn't have any large high rise hotels or brash disco bars. There are one or two bars with music, but nothing too out of place. I would guess that May/early June and late September/October are the perfect times to go if you do not want it scorching hot, but still very pleasant in the evenings.