Pre-trip Report October 2017
Written by Kev
This is going to be a different sort of trip report. I usually write up the trip reports as I go along, but this takes anything from an hour to 90 minutes every day. So, Tam suggested that we do a more photo intensive report with just a few bits of information thrown in. I took brief notes every day, so we'll see how it all turns out.
This trip is hopefully going to be a lot of fun as both India and Georgia are joining us along with Georgia's boyfriend, Charlie. Charlie has never been to Florida or Walt Disney World , although he did go to Disneyland when he was 6 or 7. How he came to join us on this holiday is a bit of a story in itself. Georgia and Charlie were out one evening with one of Charlie's good friends who had a road trip planned to the USA. He asked Charlie if he wanted to join him for a part of it. Leaving Georgia for 10 days was always going to be a bone of contention, but Georgia is nothing if not devious and cunning (takes after her father) and she sniffed an opportunity. As you know, Georgia loves WDW, but Charlie wasn't really all that keen on going. So, Georgia agreed that Charlie could go with his friend as long as he signed a contract to come along with us to Florida. Yes, there really was a contract - Georgia wrote it up and made Charlie sign it. That's my girl.
There are going to be a few other old friends making an appearance when we get to WDW as well.
When we started planning the trip, Tam and I envisaged using our DVC points to stay at The Boardwalk, but money was always going to be a bit of an issue for the girls, especially given the cost of meals in WDW. I noticed that there was free dining available through Disney UK, so we rented out our DVC points and used the money towards a two bedroom unit at Old Key West Resort. We'd never stayed there before and it looked lovely, so we booked it up.
We decided that it would be nice to have a few nights on the Gulf Coast as well. Prices on Captiva were really high, so we found a lovely looking house on Anna Maria Island. It looked like our sort of place - no high rise hotels, very Floridian looking.
Travelling Day
Tam and I leave work at 3.00pm. Home for a quick shower before a taxi takes us to our local station. Here we meet up with Charlie and Georgia. We get the train to Reading station where we meet up with India. We will be flying into Tampa (easy for the Gulf Coast) and back from Orlando via Miami. This means leaving from Gatwick, but returning to Heathrow, so the train makes a lot of sense, particularly as it's really cheap - £17 for Tam and I with a Two Together railcard. We will be getting a taxi home from Heathrow.
As we've experienced before, the trouble with the train from Reading to Gatwick is that it's just a small local branch train and there's nowhere to put luggage. We end up squeezed together with our suitcases between our knees. Not the most comfortable, but every cloud has a silver lining. Tam and I have brought along a bottle of champagne and some salmon blinis to get the holiday off on a sound footing and the suitcases make a good table to eat our food off. Stay classy family, stay classy.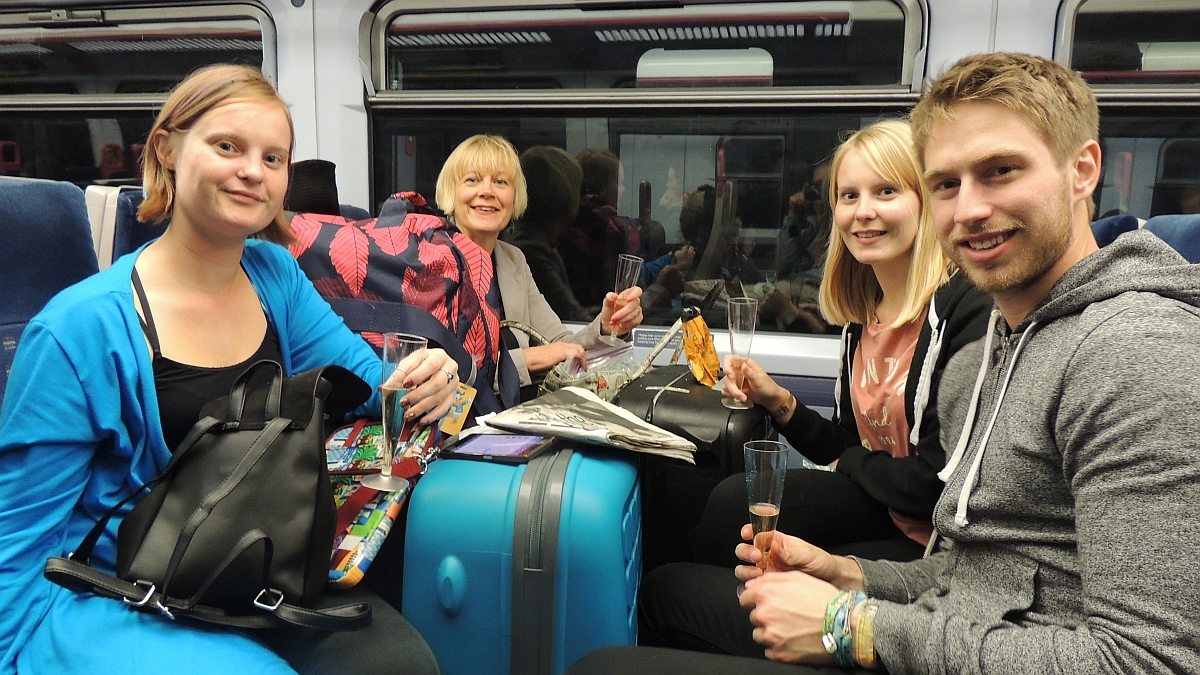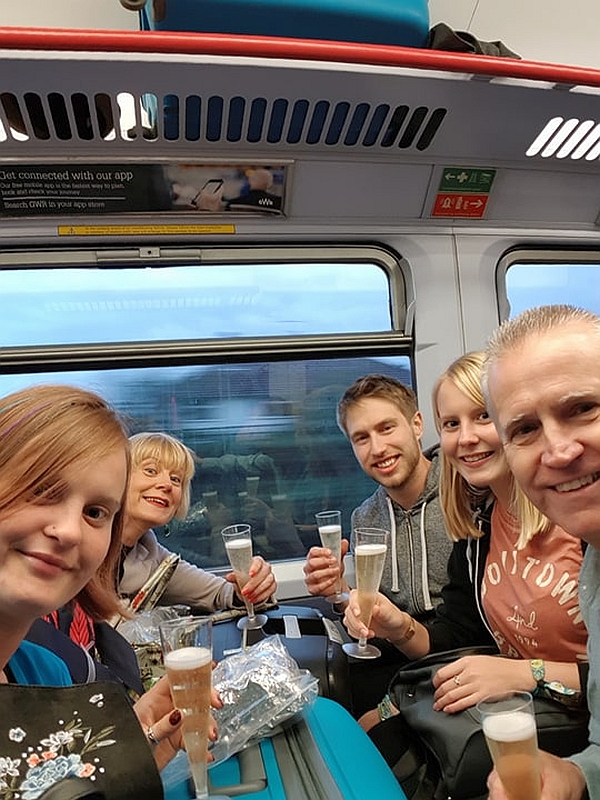 We arrive at Gatwick at 8.00pm and get the train to the North Terminal to check in to the Premier Inn, which is pretty good value at £85 for the room. Georgia and Charlie have there own room, but India shacks up with us. Technically you've got to be under 16 to use the spare bed at a Premier Inn. India has been 16 for 10 years now.
I'd had a look at restaurants airside at the airport and come to the conclusion that the Nicholas Culpeper looked ok. They even have their own gin still, so we all have the only sensible thing to have given this information - a pint of Camden lager. The meal is actually ok - I have the ham and leek pie.
Back to the Premier Inn where I have a pint of Guinness at the bar where the rest of the group look at their phones and mutter darkly about the weather forecast in Florida. There is a tropical depression building in the Gulf that is rapidly escalating into a tropical storm and a potential hurricane. Nate they are calling it. Seems a friendly enough name. Hopefully it won't hit the East coast of Florida, but they are saying there could be a lot of wind and rain. Balls!
Oh well, perhaps Nate will be kind. Off to bed at 11.30pm.
The more observant of you may have noticed that there are very few photos given that I claimed it would be photo intensive. I blame Tam. She is supposed to be the photographer. I'm the video and words man. She's going to have to up her game or they'll be trouble. Actually, there won't be any trouble at all, but I might raise my eyebrows in her general direction - that should do the trick.
[OCTOBER 2017 REPORT HOME PAGE]