Day 5
26th November 2018
Written by Tam
After a much better night's sleep we have a light breakfast and then head to the Cruise Critic "Meet and Mingle". There are a lot of fellow cruisers on the forums who have signed up to this and we are looking forward to meeting some of the people that we have arranged trips with.
It's great to put faces to names and to let people know our meet up times for the various trips we've arranged. There's tea, coffee, juice and pastries available and various crew members there to answer any questions we might have. The Captain is also in attendance and announces that he has good news for us - we wll be the first cruise ship to dock in the new Halong Bay dock which means we won't have to tender in. This is great news as we will be on a deadline to reach our ship for our overnight stay in Halong Bay tomorrow.
We decide to go to the theatre where there is a speaker talking about Vietnam. We found it pretty disappointing compared to previous talks we've attended as it was disjointed and a bit boring, but there were a few interesting bits of information so it wasn't a complete waste of time.
Today is India's (our eldest daughter) birthday so we go to the I cafe to buy 1 hour wifi on our tablets so we can message her happy birthday and to also check emails. With all the trips organised we were anxious that we might miss some important updates so we made the most of the 1 hour package. The sun is out now and we sit on the deck and start watching some of The Incredibles 2 on the big sceen but we find it hard to concentrate so go back to the cabin with a beer to chill and read in the sunshine.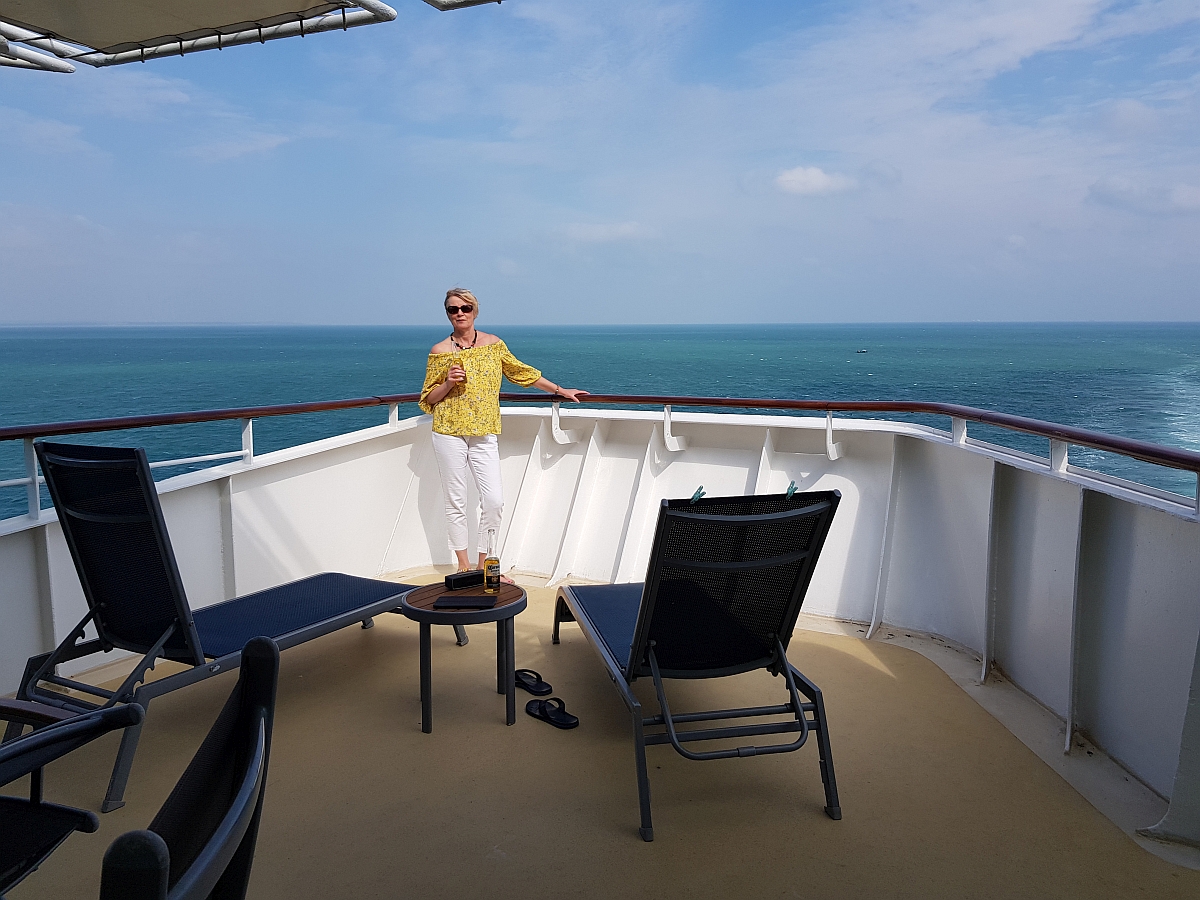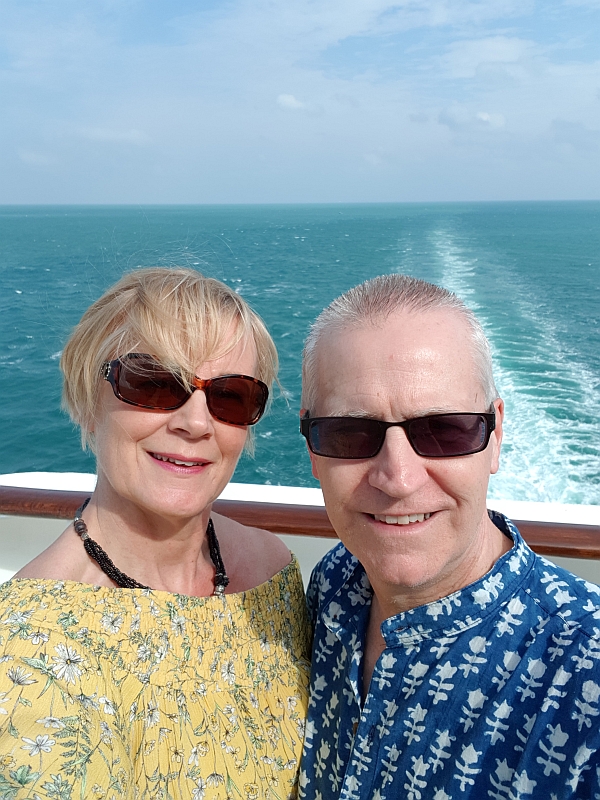 [Kev - As you can see, it was a lovely sunny afternoon and 22°C. Just right for relaxing on our mahossive balcony.]
Out early for drinks in Cellar Masters and listen to a string duet and then to the theatre for the Elysium show. It was a bit surreal but there were good costumes and songs we knew although we couldn't necessarily name all the artists.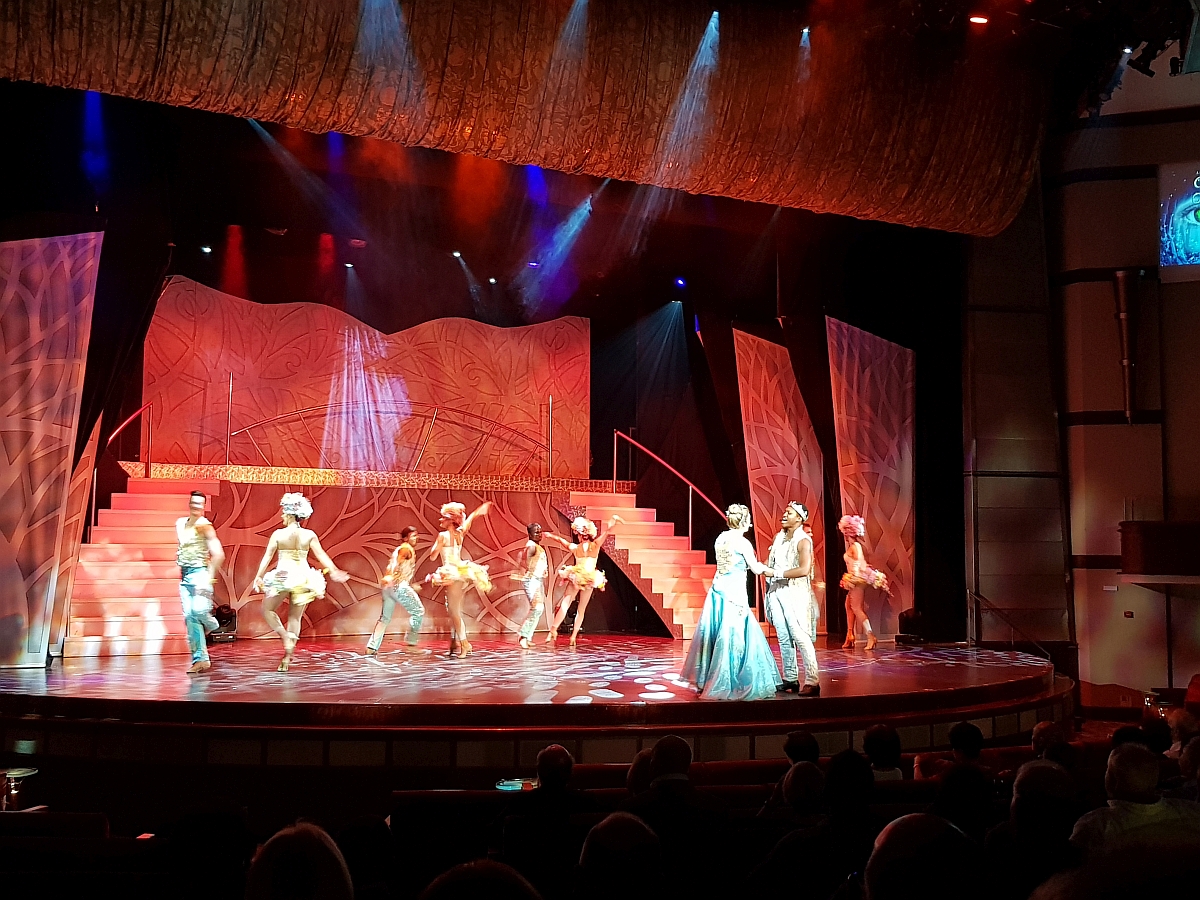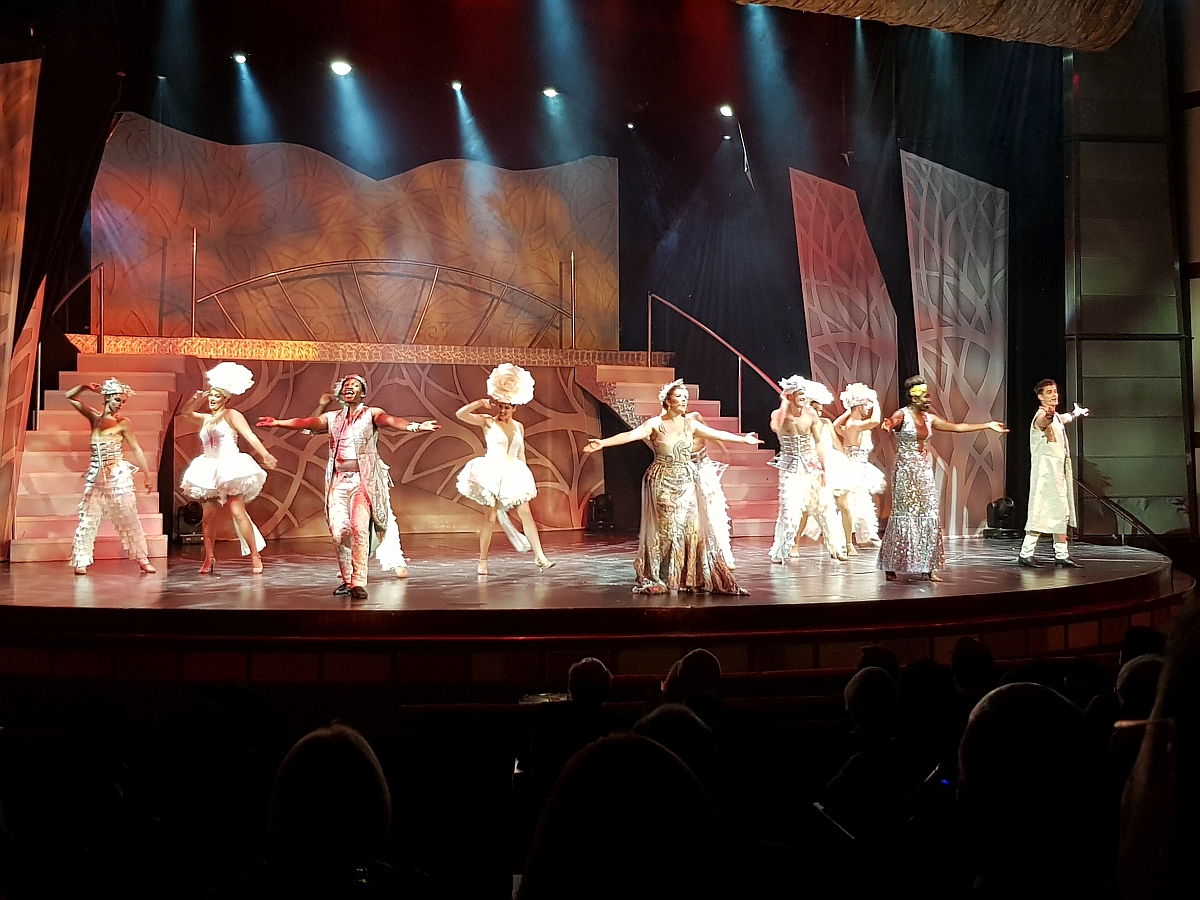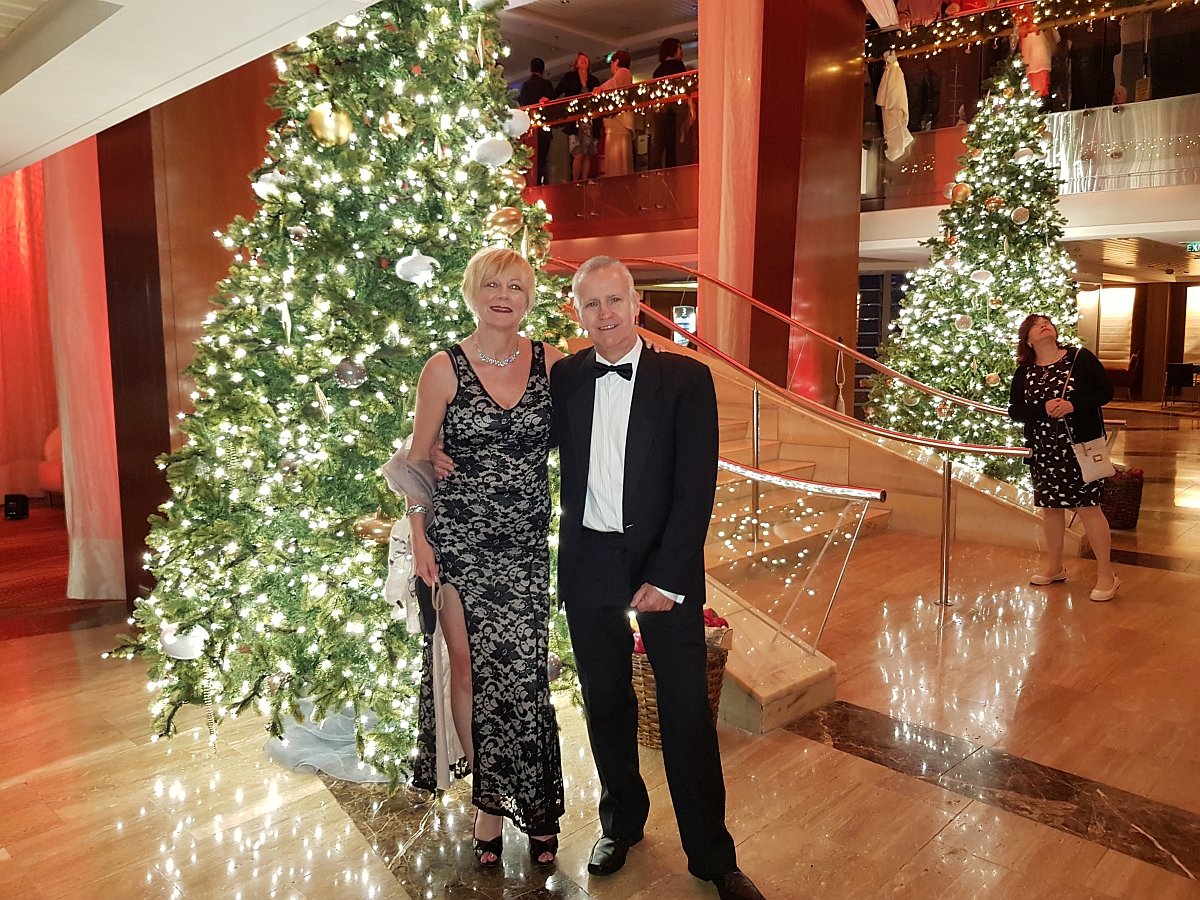 [Kev - It's 'Evening Chic' night, hence the tux. There are not too many other blokes in tuxedos or women for that matter. Most people are reasonably dressed, but there are still a lot in jeans and not all of them are smart. I'm not sure Evening Chic is living up to its name.]
Dinner tonight is at 8pm in the Tuscan Grill - we purchased the 3 night speciaility dining package. We enjoyed a really good meal and our waiter who was from Croatia was very attentive. The free limoncello at the end is always a nice touch, but difficult to drink as it is just so alcoholic.
After a drink in another bar we head to the silent disco in the Cosmos lounge.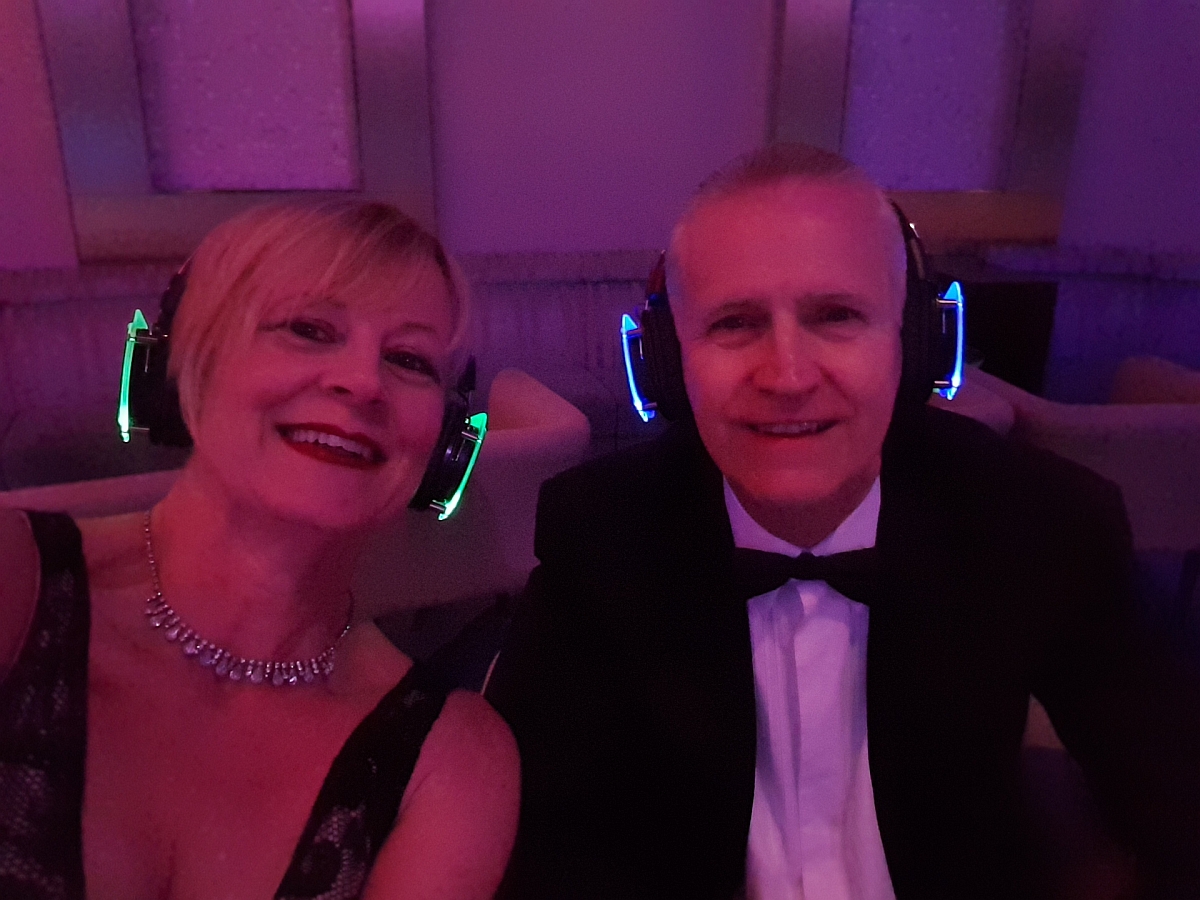 [Kev - It's a bit of a cheesy disco and we play 'wedding party bingo'. This involves guessing which song they are likely to play next and we get them all - Sweet Caroline, Come On Eileen, Dancing Queen and YMCA. The cliched songs just keep coming.]
[NOV/DEC 2018 REPORT HOME PAGE]