Day 17
8th December 2018
Written by Tam
So today is our last day of our holiday. We decided not to pack last night and leave our baggage outside the cabin as we figure we want to be able to get off at our own pace. So after finishing the packing we go for breakfast and then wheel our suitcases off the ship. At the terminal building we get a text from Porterxpress regarding the baggage pick up. We'd arranged this before we left home so we can get rid of the suitcases and enjoy the last day in Singapore before being re-united with them at the airport later before our flight. After a bit of tooing and froing via text we eventually see someone from the company and they put our suitcases and carry ons on a van to the airport. We've now checked on our messages and see that Sneak Peak Singapore had contacted us to state they had no-one available for our tour today. We are very disappointed as Kev had read about them on Tripadvisor and they are locals who show you some of the highlights of Singapore plus some hidden gems and you tip them at the end of the tour.
We have to now re-think our plans for the day - we do have a list of places we were hoping to see on the tour so head off to try and cover as much as we can before heading to the airport later this afternoon. Our first stop is Merlion Park where the iconic symbol of Singapore is on the waterfront - a cross between a lion and a fish. There are some other wonderful statues on the river - a brass collection of five boys all in various stages of jumping in is particularly endearing.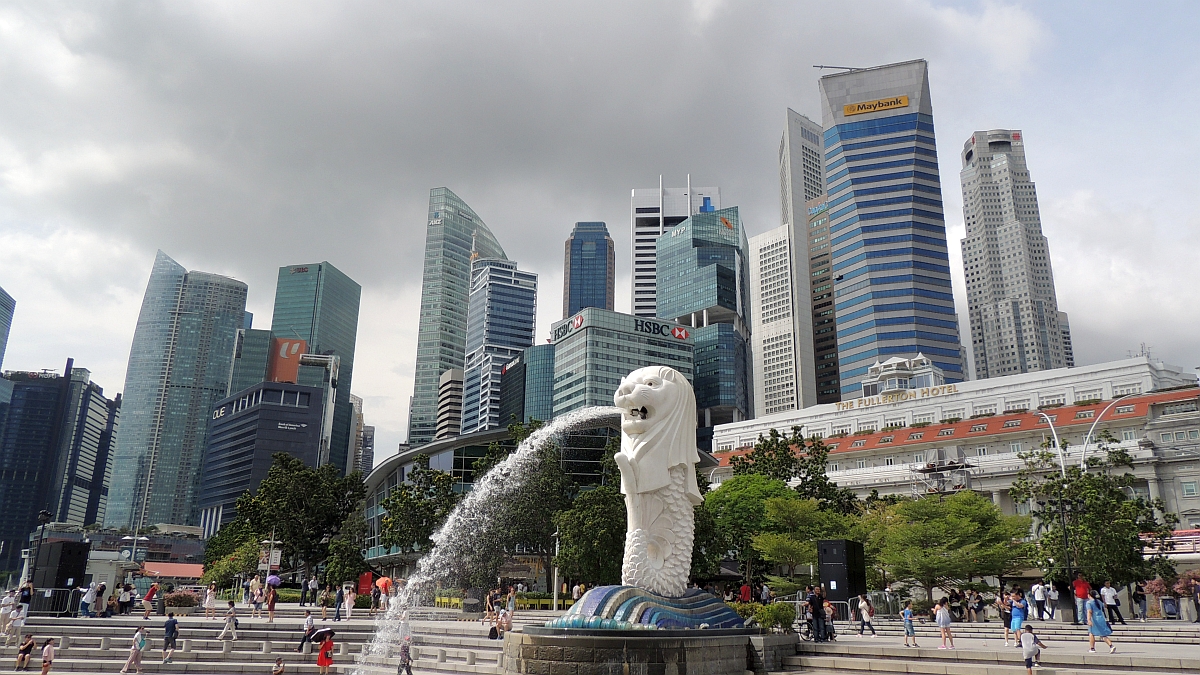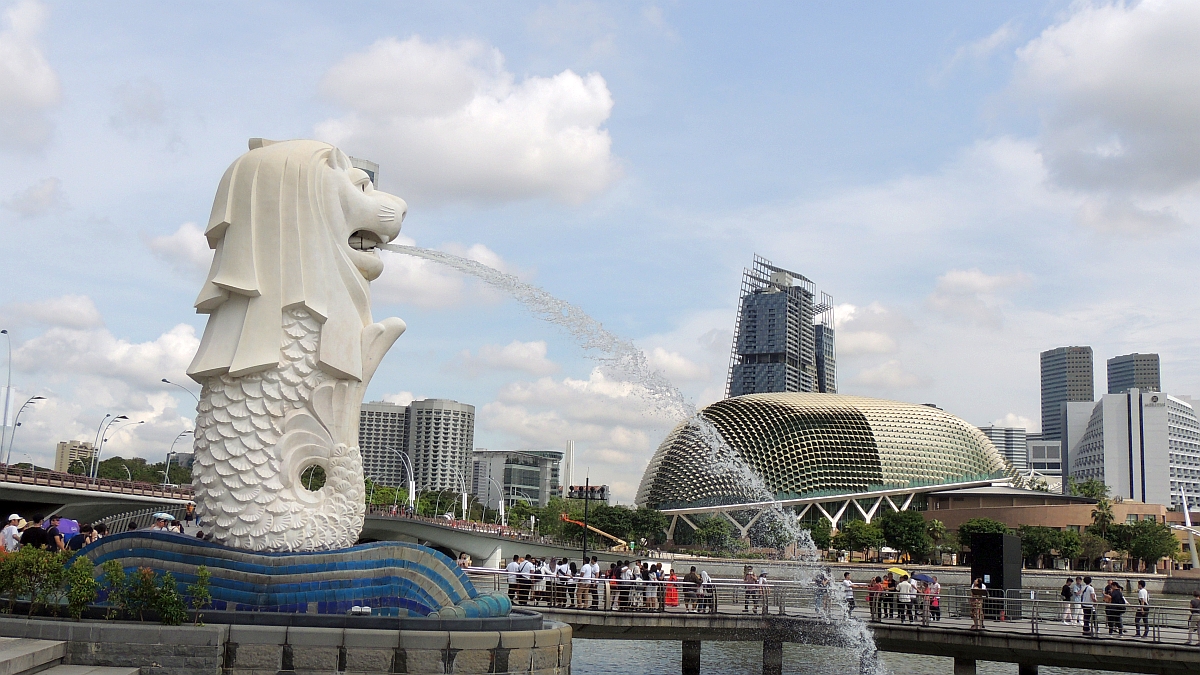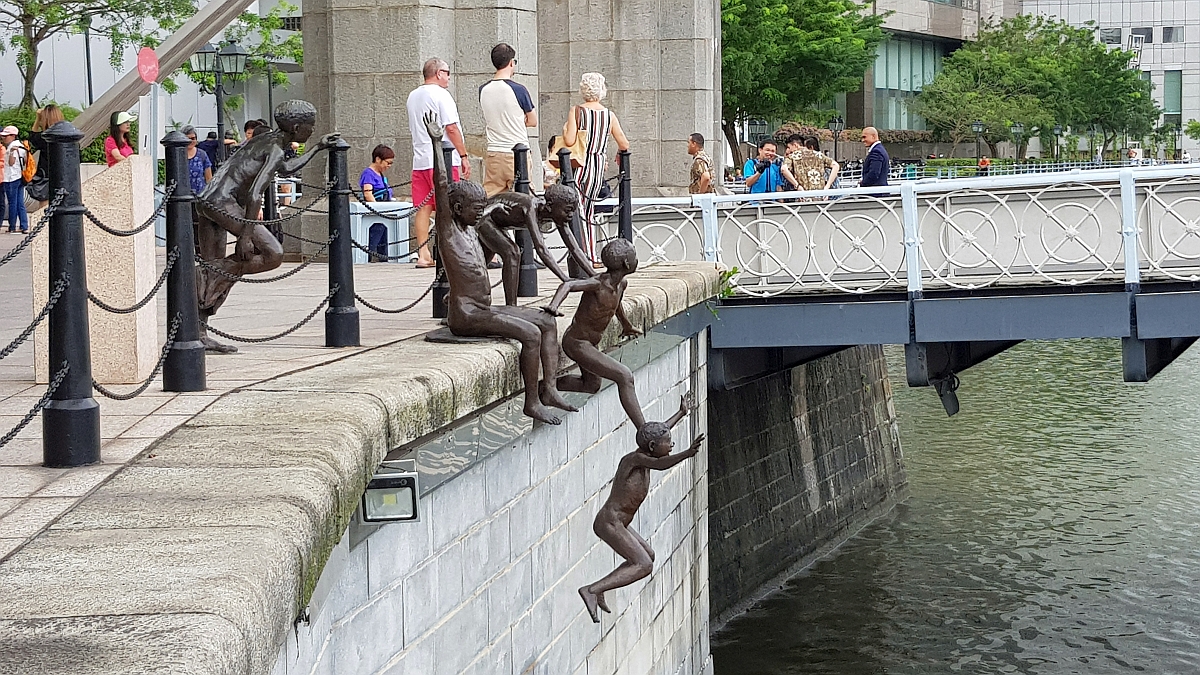 One of the things we'd hoped to do was a trip up the river on a Bum Boat so we buy tickets and wait for the next one to come. It seems like an age as various boats pass our spot without stopping but the ticket office of Singapore River cruise assure us that one is coming soon. Eventually an empty one arrives and we get on board. It's a short but enjoyable journey for 40 minutes on an electric boat with various stop off points along the way where you can get off and new passengers can come on board. We go past the Merlion Park, Clarke Quay, Boat Quay, Fullerton jetty, the central business area and other areas before we arrive back where we started. It's a lovely way to see the city from the river.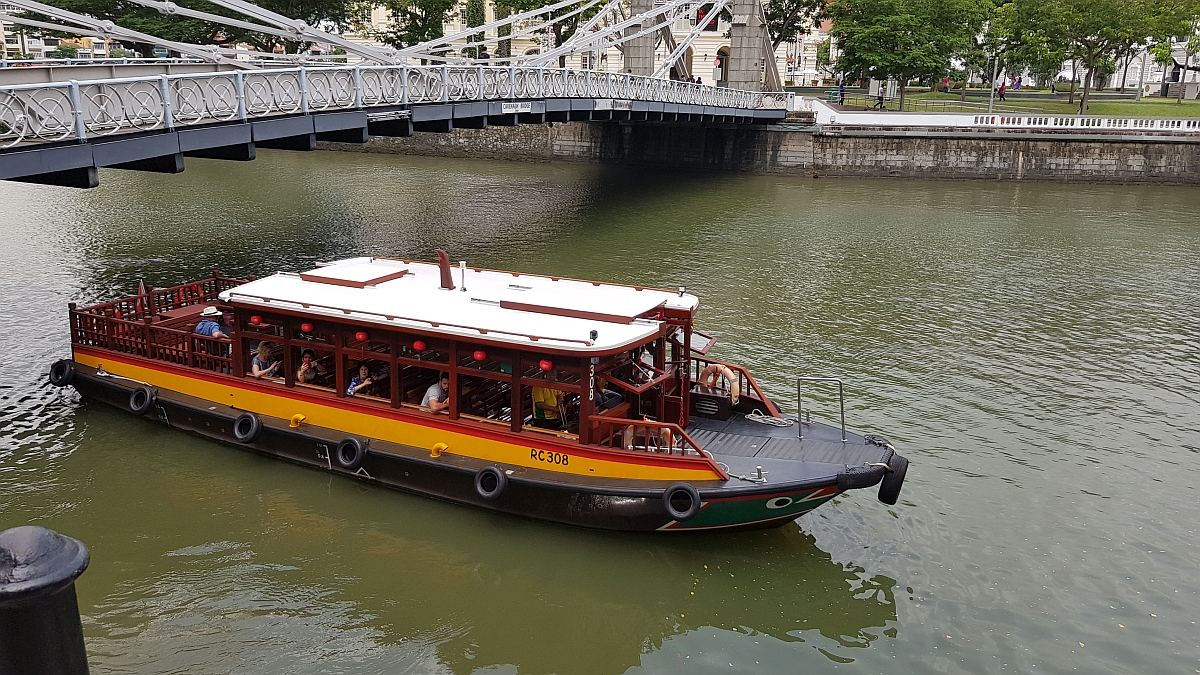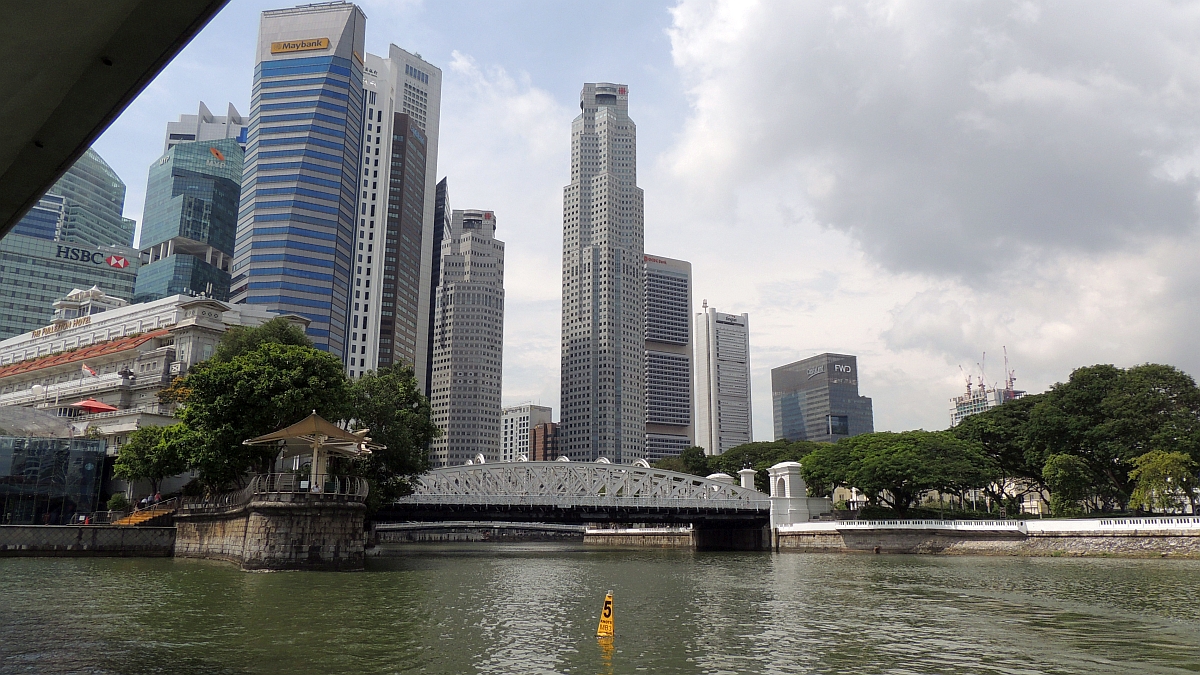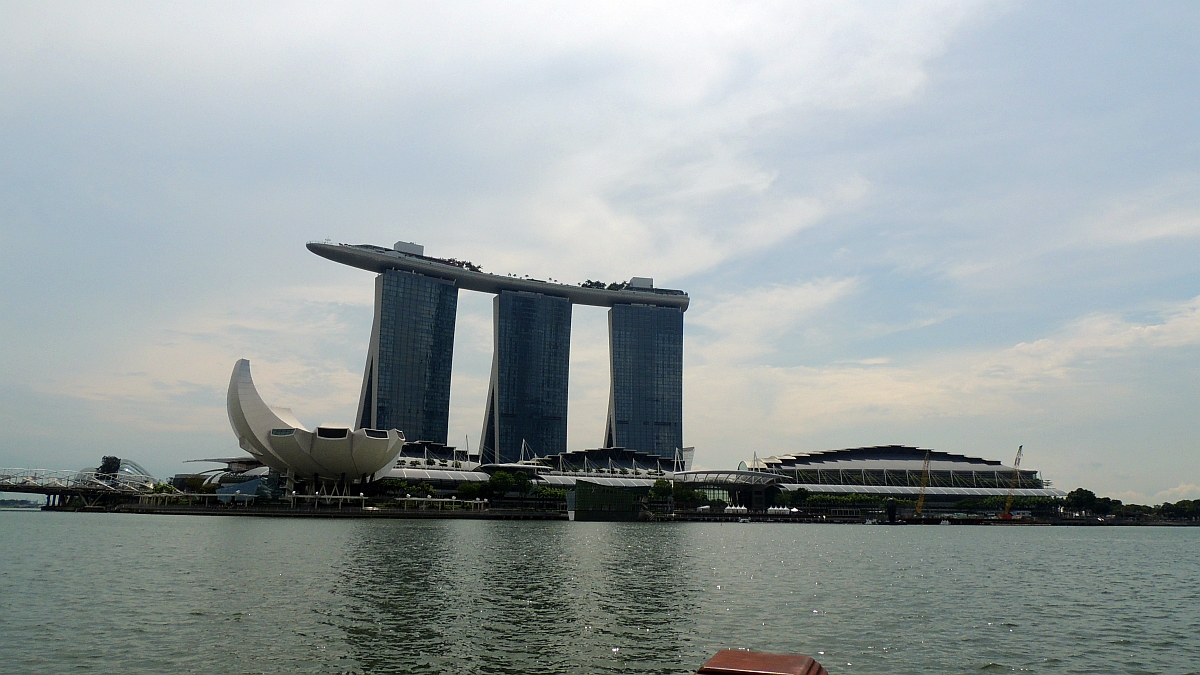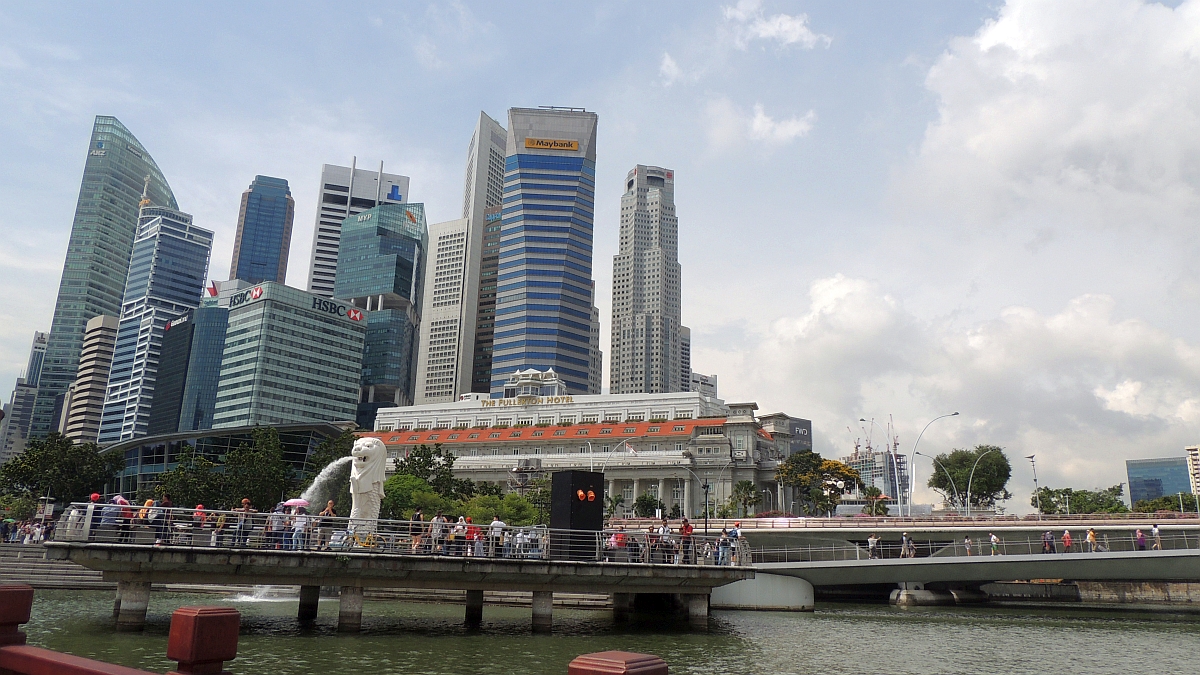 We then decide to walk to see Raffles Hotel - although we know it is shut for refurbishment we feel we cannot come to Singapore and not see it.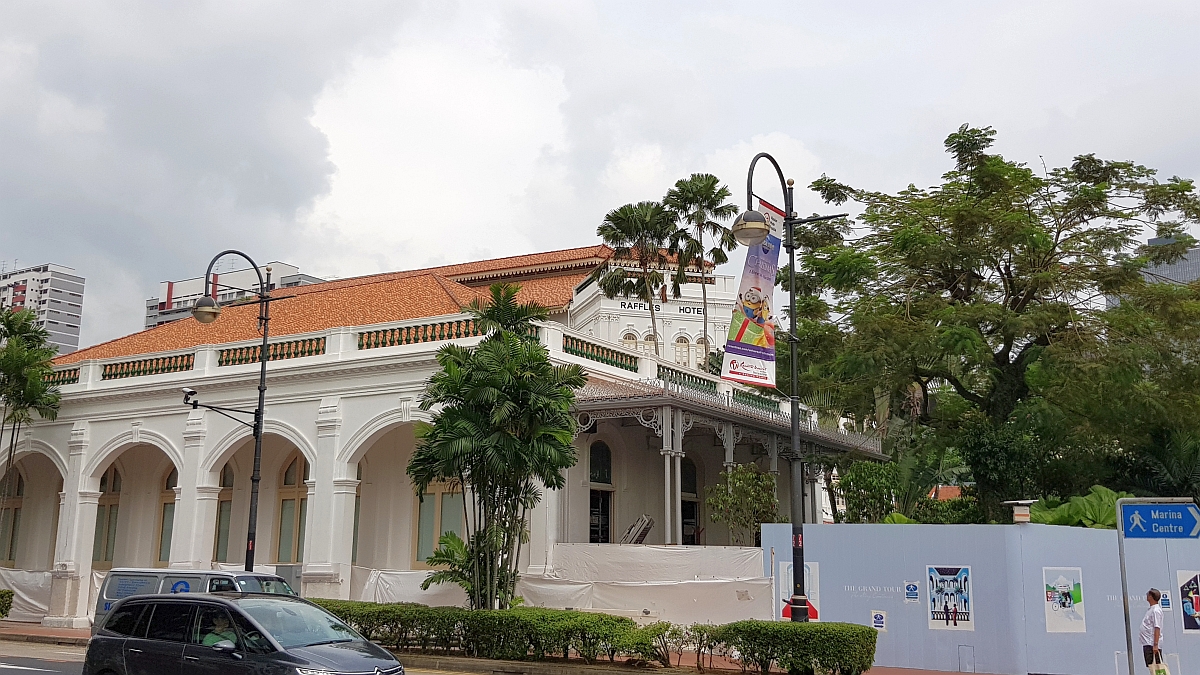 We decide to walk rather than catch the MRT and although it's a little bit of a walk especially in the humidity it's good to see more of Singapore on foot. From Raffles we decide it's time to try the famous Hawker centres where you can experience some amazing cuisine at ridiculously cheap prices. We've read that the Maxwell centre is a particularly good one so that's our next port of call. We're not disappointed when we have braised duck with noodles and the famous Tian Tian Hainanese Chicken rice all washed down with some local beer. It's a really bustling place full of people trying food from the many stalls situated in the hawker centre.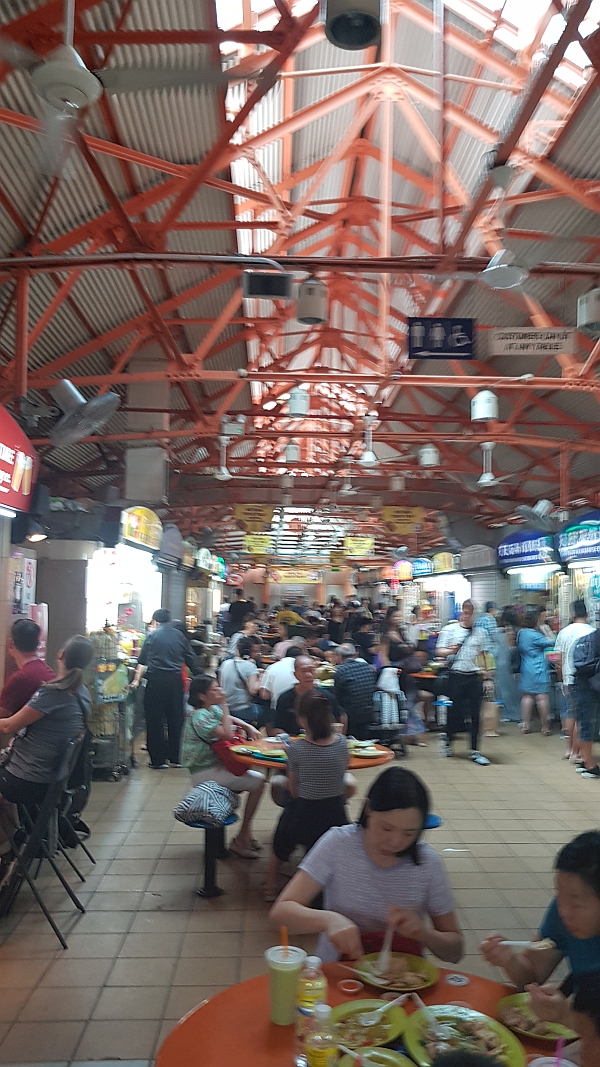 [Kev - sorry the photo is so blurry, but at least it gives an idea of what the place is like.]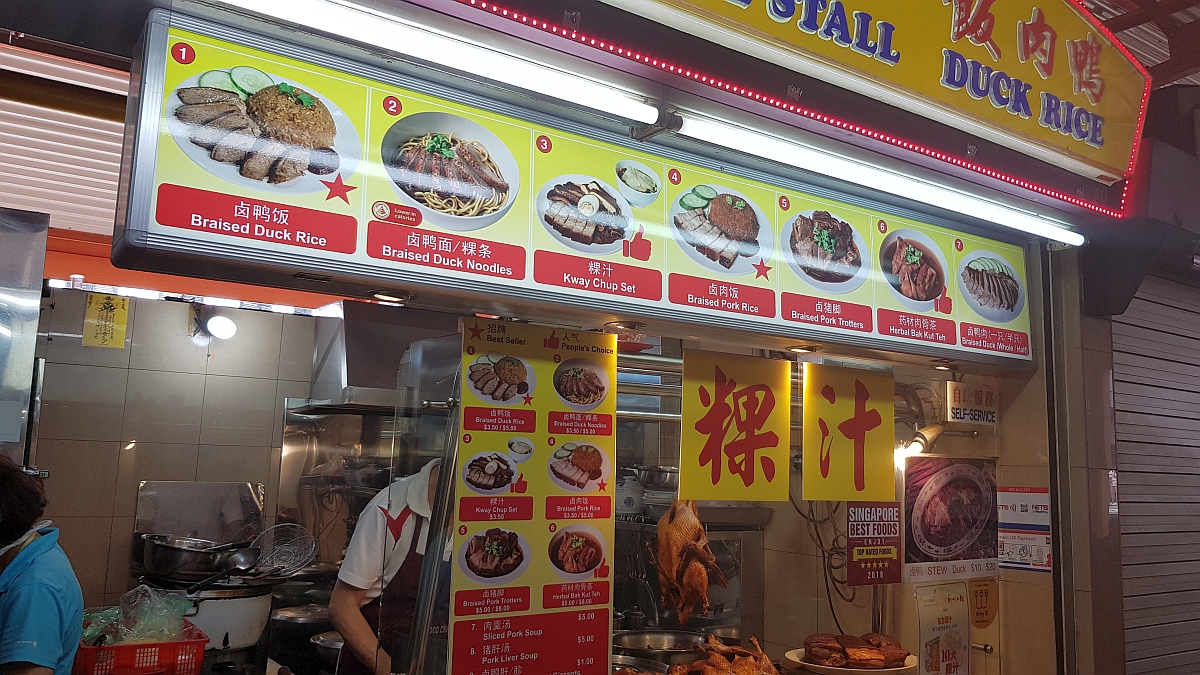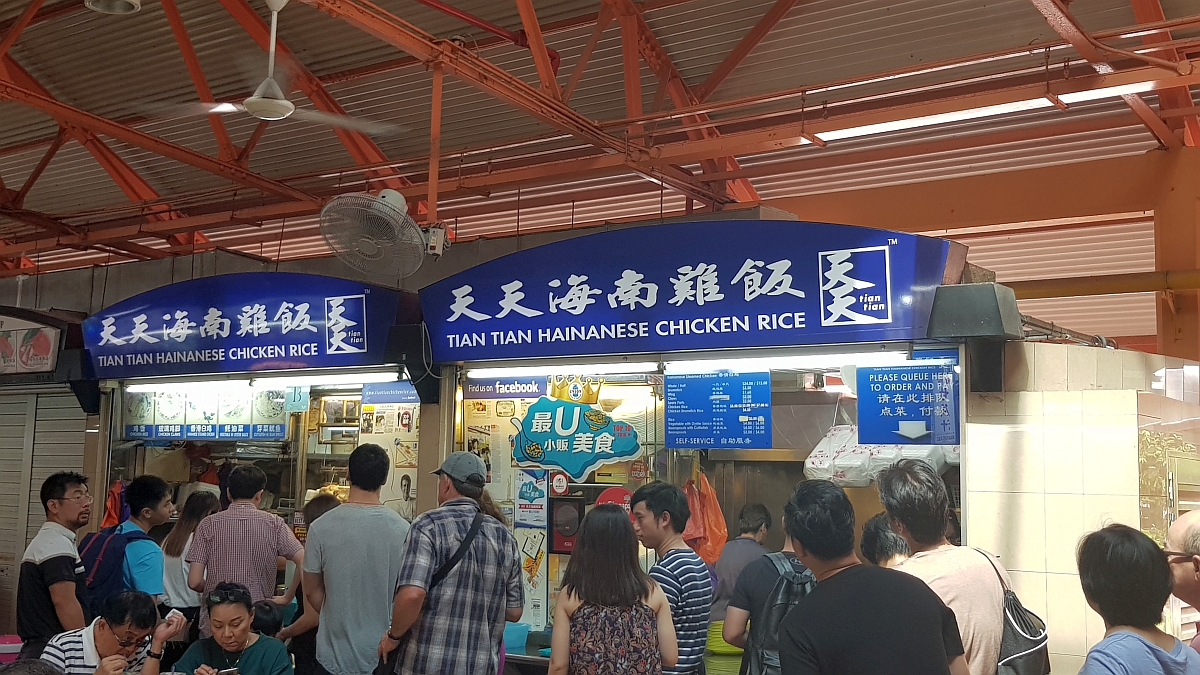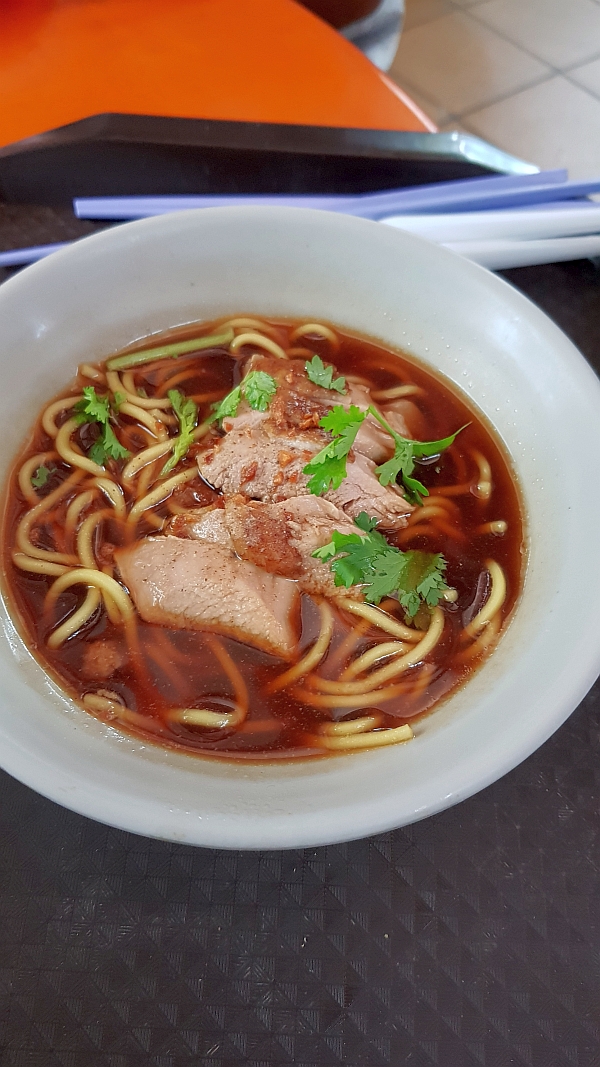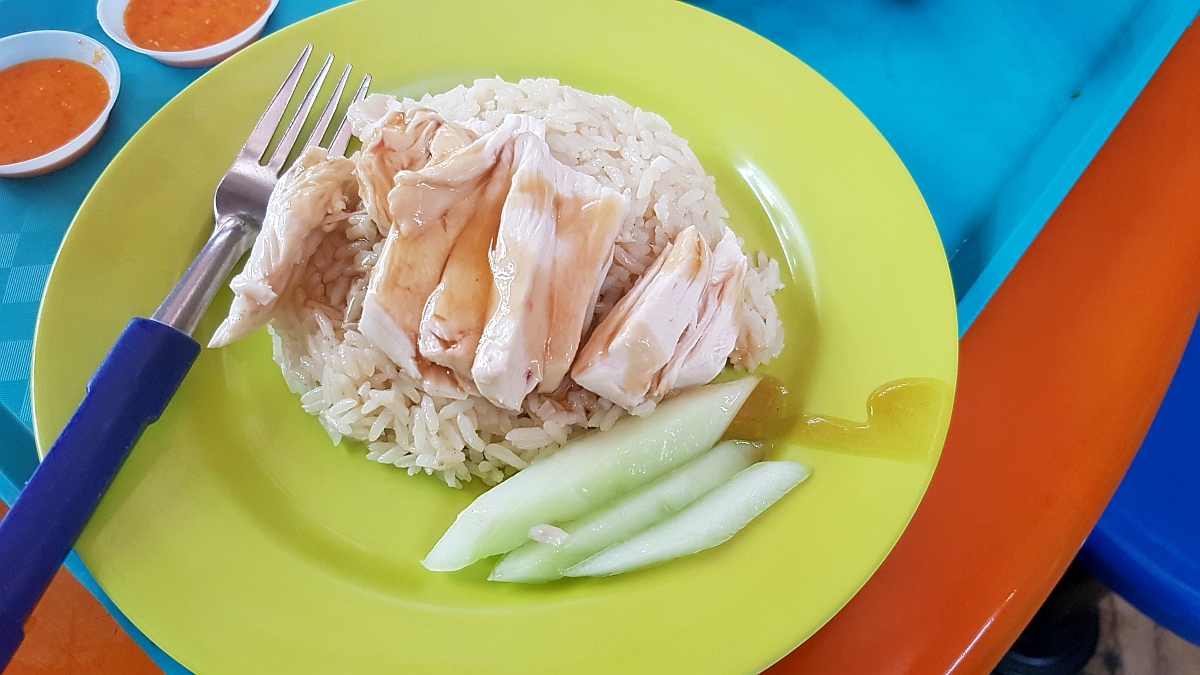 [Kev - I think both plates of food cost the eqivalent of £2.50 each and tasted lovely too.]
Fully satisfied with our meal we decide to walk through China town which is near by - again this place is buzzing - people shopping at the various stalls and a huge variety of goods on sale.
We head back to Clarke Quay and stop by a riverside bar for a drink in the sunshine before crossing the bridge to the other side of the river where we find a nice restaurant to enjoy one last meal before catching the MRT to the airport. We enjoy some lovely fresh spring rolls and a prawn and pineapple dish with ice cold glasses of Tiger beer. The skies are looking ominously grey and sure enough the rain comes down - thankfully there is sufficient coverage that we stay dry and it's over when we leave for the MRT.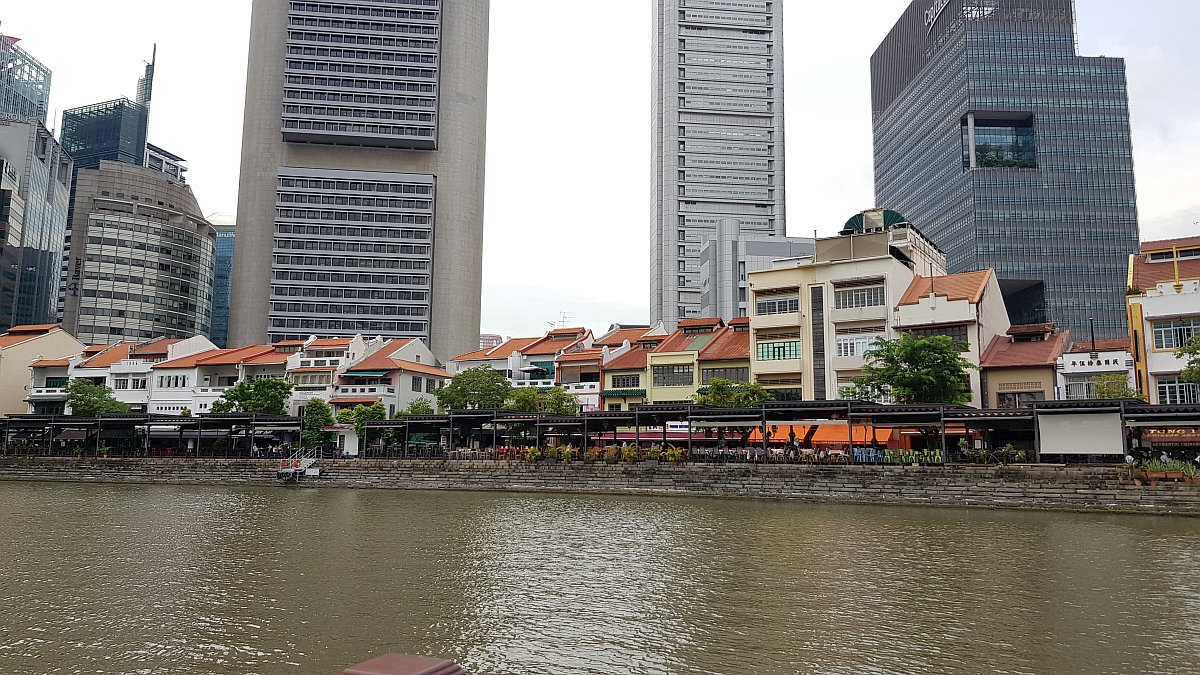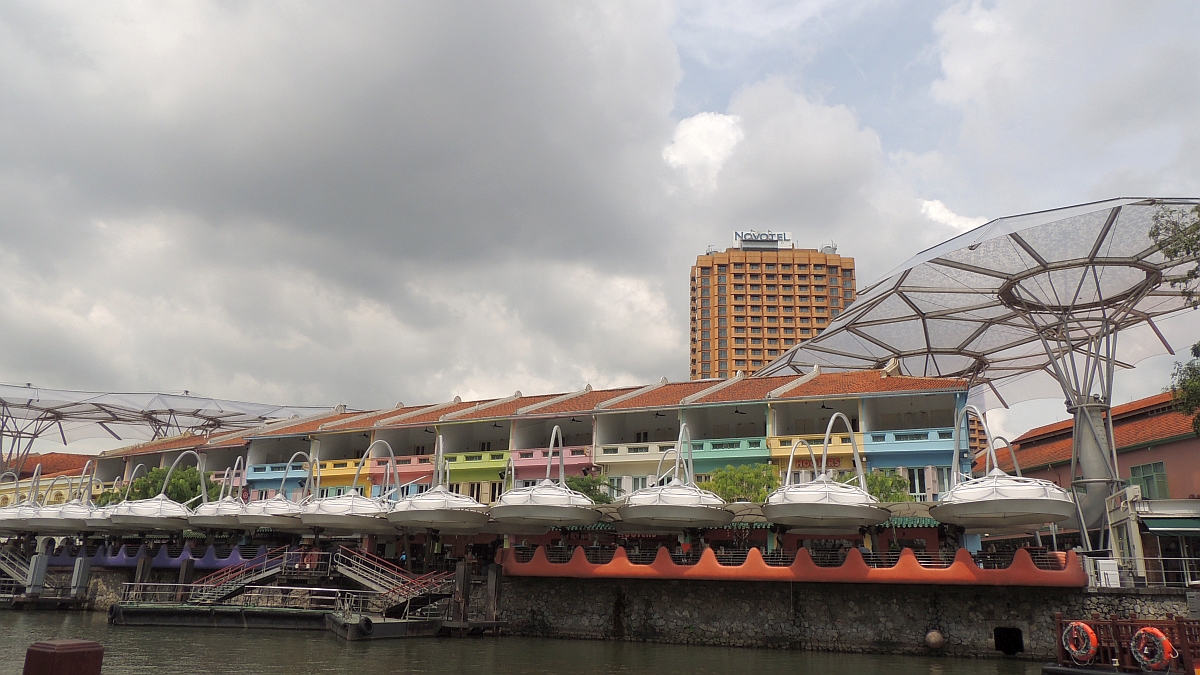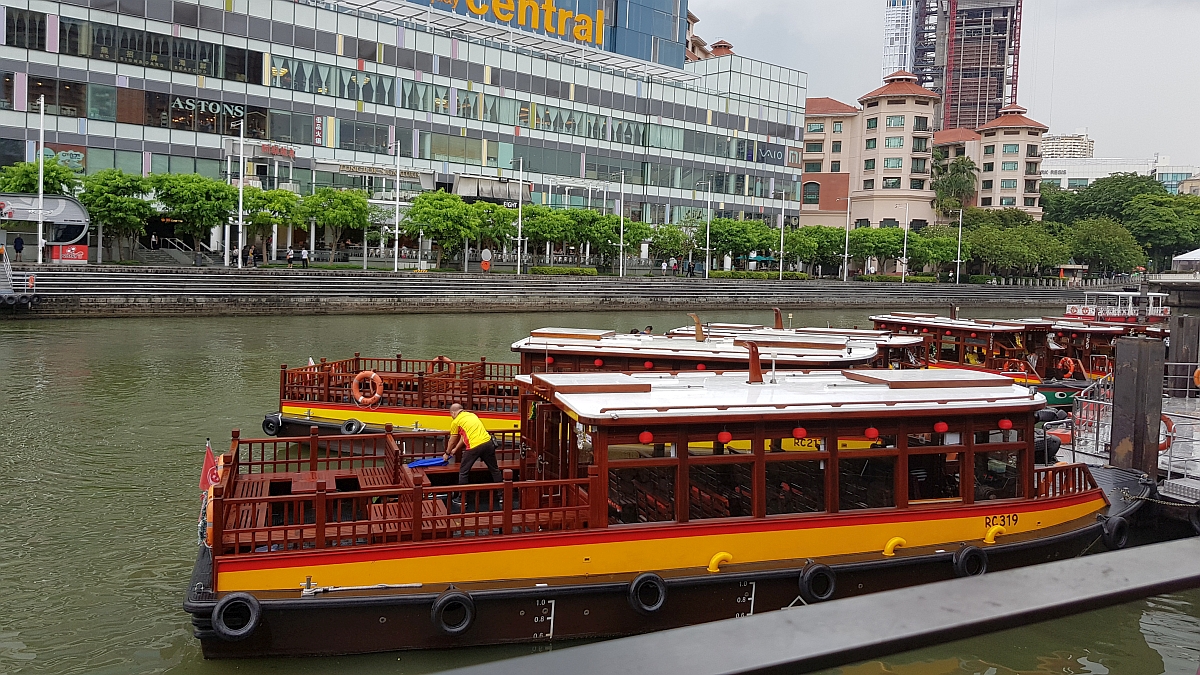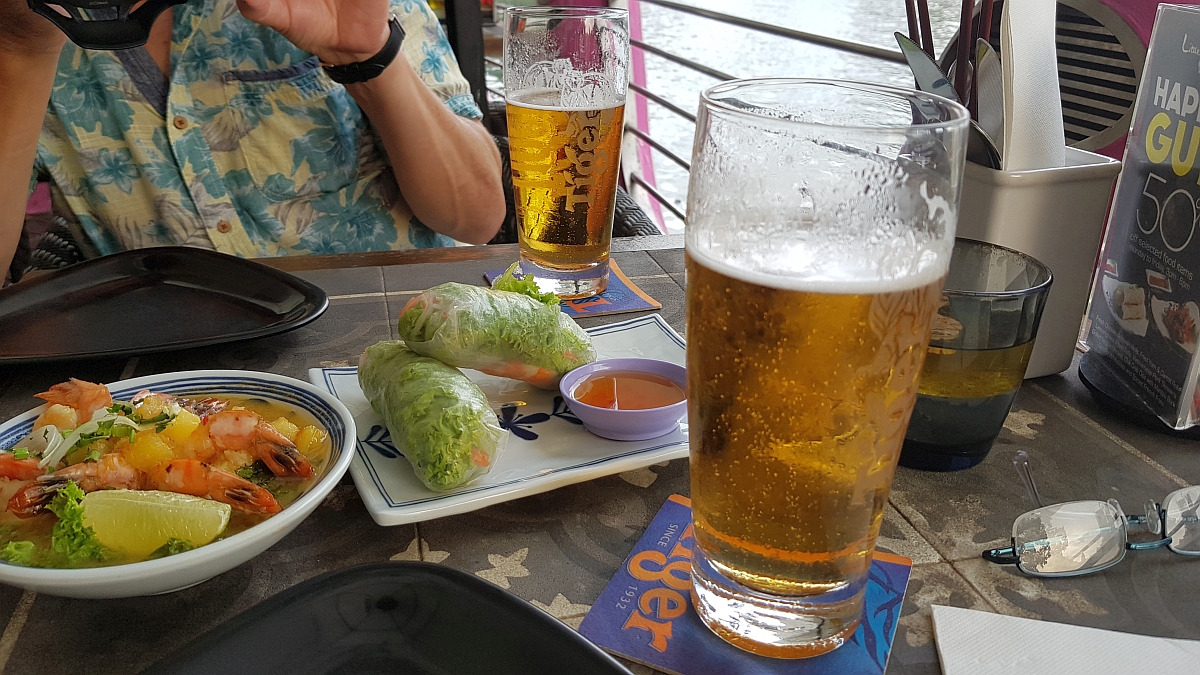 It's an uneventful journey back to the airport and within 15 minutes we're reunited with our luggage and check it in. Then it's just a matter of passing time before the flight home.
[Kev - the flight was not too bad and we even managed a little sleep So that's another holiday over. We visited some amazing places, many of which we would like to return to for longer. The ship was due for refurbishment a few weeks after our cruise ended, but it didn't look shoddy in any way.]
[NOV/DEC 2018 REPORT HOME PAGE]