Barbados
May 2019
Written by Kev
This holiday came about because we had a free companion flight thanks to our American Express card and Tam decided that we had to use it in order to save money. This turned out to be a slightly false economy as we still had to pay for one flight and the taxes on the other, add in the accommodation and spending money and the 'free gift' didn't look quite so 'free' any more.
Anyway, the flight had to be used by the end of June and we quite fancied some time in the Caribbean. We looked at a number of islands before settling on Barbados - I've no idea why other than we'd never been there and we liked the look of it.
We started looking at hotels and decided that we fancied somewhere smaller and quieter with nice beaches and restaurants. The west coast seemed the most likely as it's a little less developed than the south, but not so quiet as the east coast. The east also has rougher seas, in fact they surf there a lot. The west is more like the picture postcard Caribbean beaches we were after.
We turned to Tripadvisor for the accommodation and I must say that it came up trumps. We chose the number one rated bed and breakfast on the island - Bayfield House and were certainly not disappointed. They have only 6 bedrooms with 3 of them occupied when we were there.
We flew with BA from Gatwick and the flight was fine. Immigration took a little while, but nothing really bad and we got a taxi to our accommodation. So, that seems like a good place to start.
Bayfield House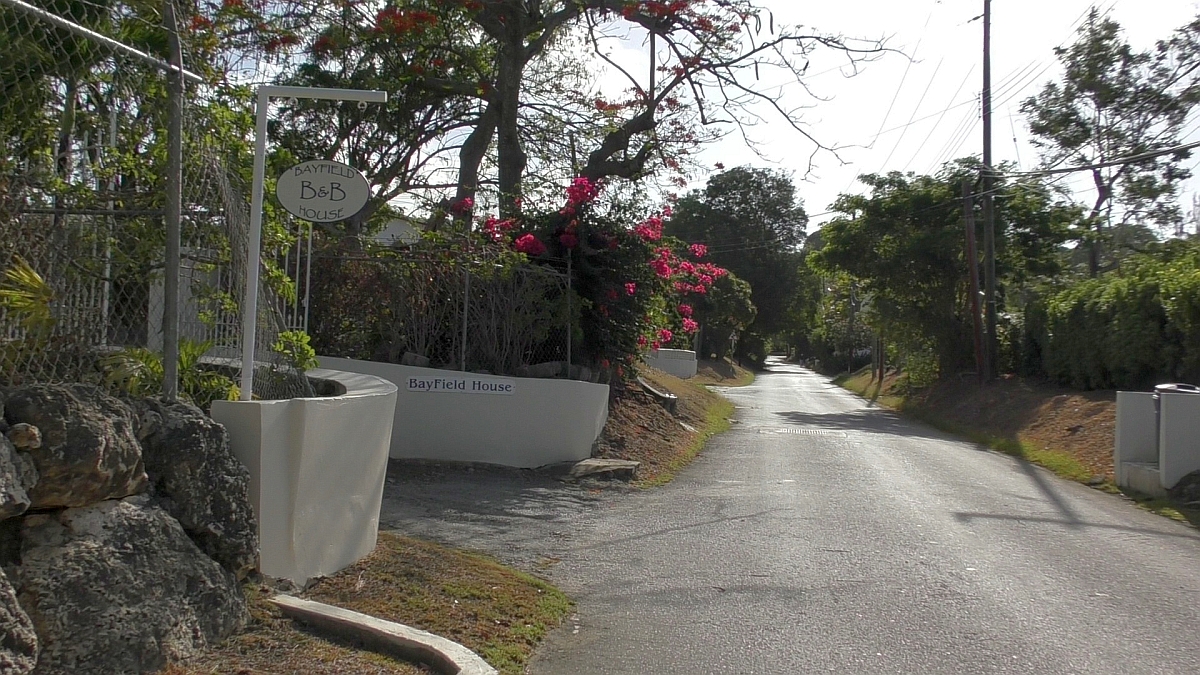 Bayfield is set on a quiet road about 100 metres from Mullins Beach.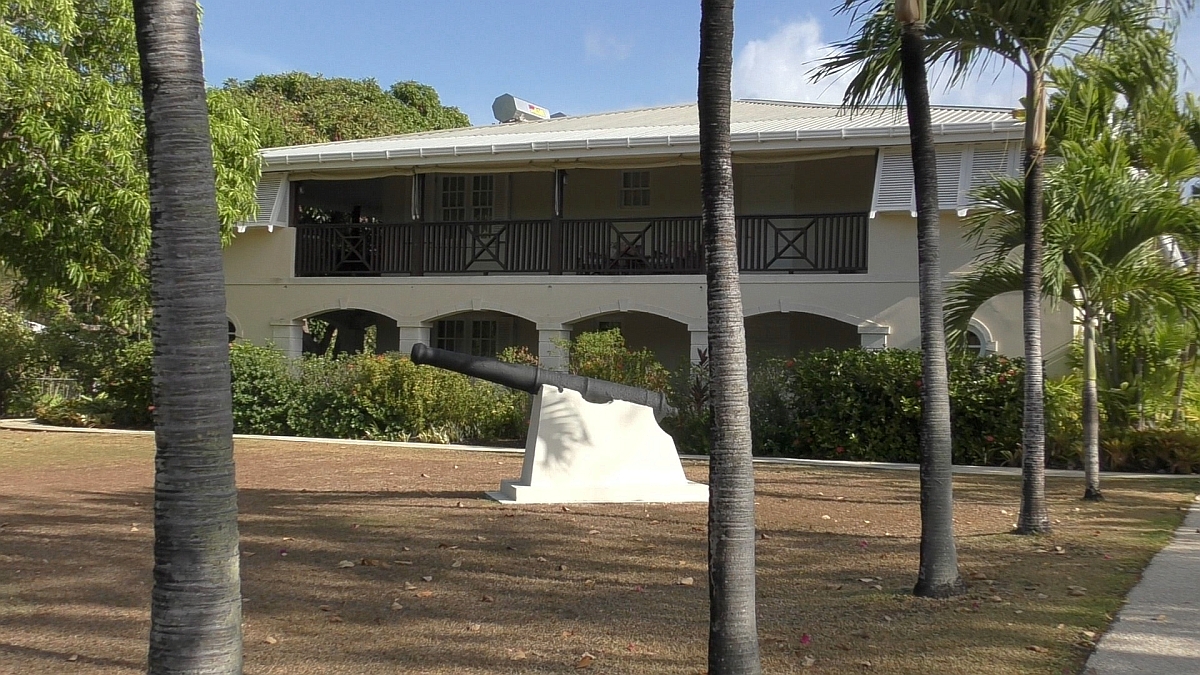 It's an old plantation house and run by a lovely couple called Trevor and Pam with their daughter Maria. Nothing is too much trouble for them. They arranged car hire for us and advised on restaurants, buses etc.
An example of how friendly they are is that they are there to welcome you and show you to to your room when you arrive. We got there about half past four and we'd already communicated with Trevor by e-mail to ask him about somewhere to go on our first evening and settled on The Little Bristol Beach Bar as there was music that night. As Trevor and Pam showed us around they mentioned that they were going to the same bar for the evening leaving in 30 minutes or so and they would give us a lift if we wanted. As it turns out we had a lovely evening having a few beers with them and listening to the band.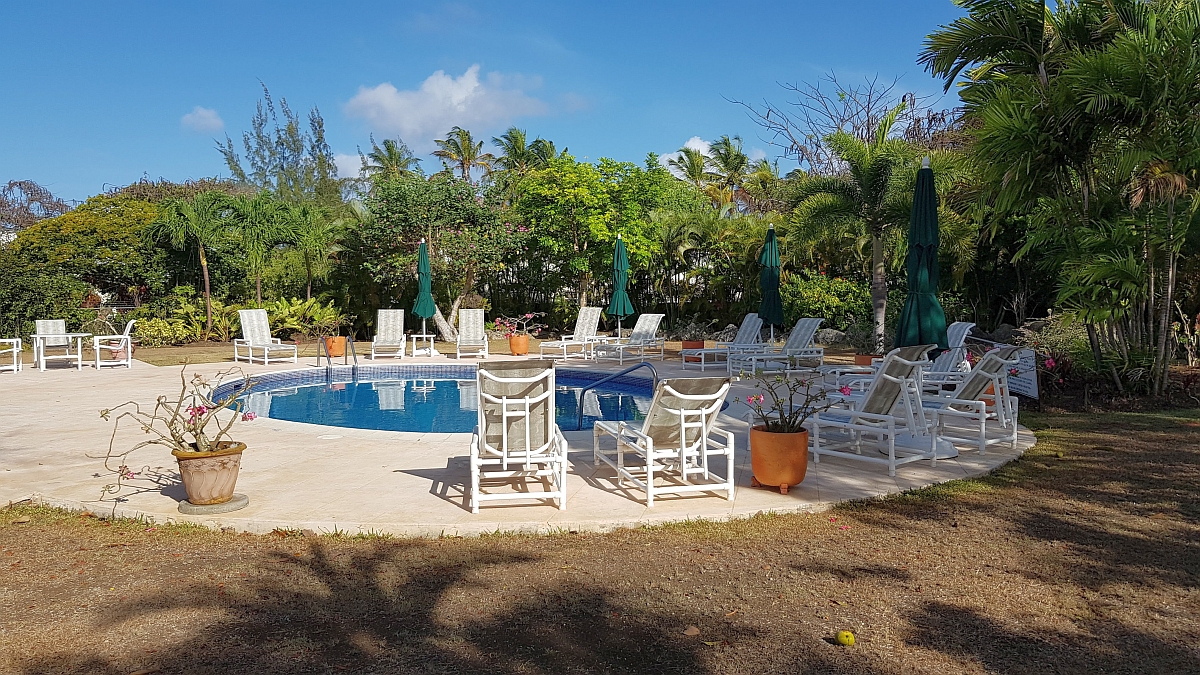 The pool was always quiet because it's an adults only establishment.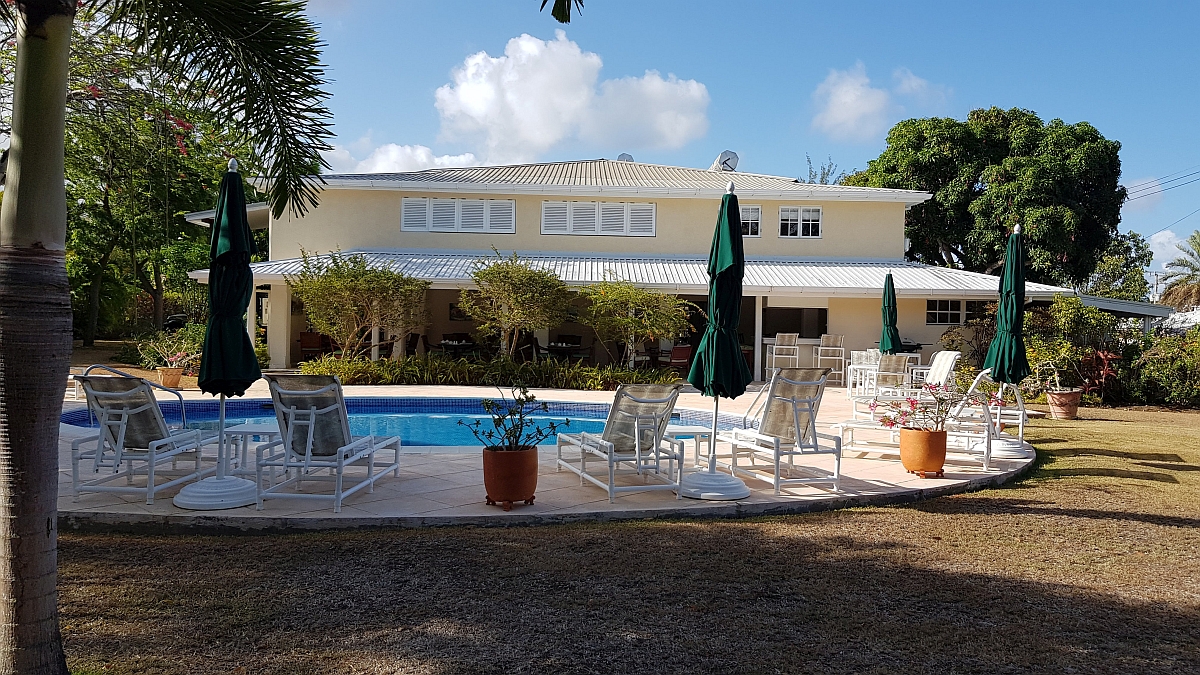 There are tables under the lower roof where breakfast is served every morning. Trevor makes a mean omlette. There's also a small bar which is open most evenings to sit and have a drink. We met the other two couples at breakfast and around the bar. They were all very nice and we spent some time together at one of the restaurants when we happened to be there on the same night.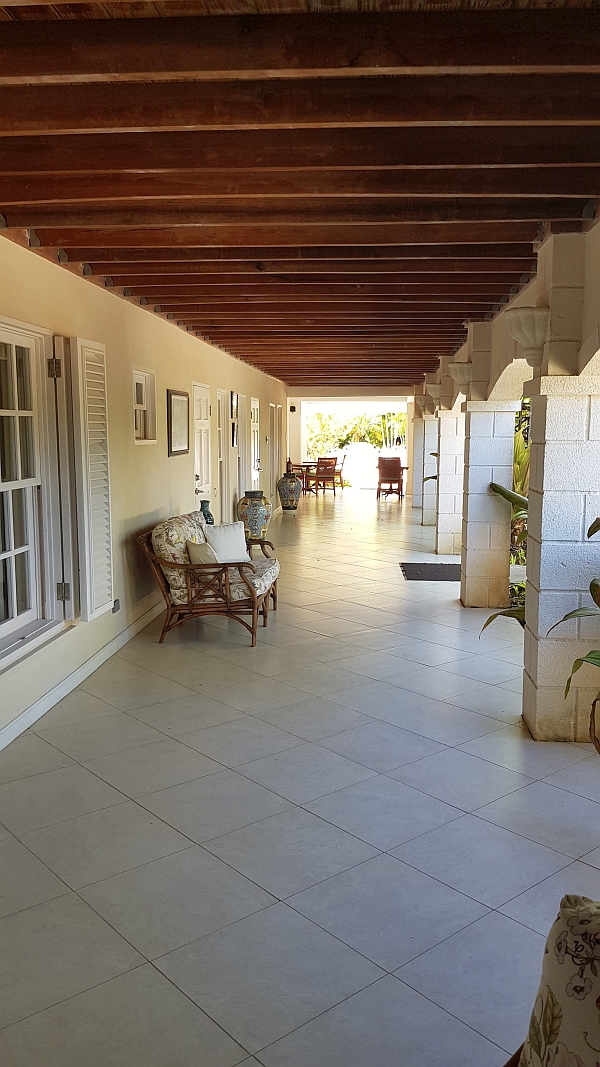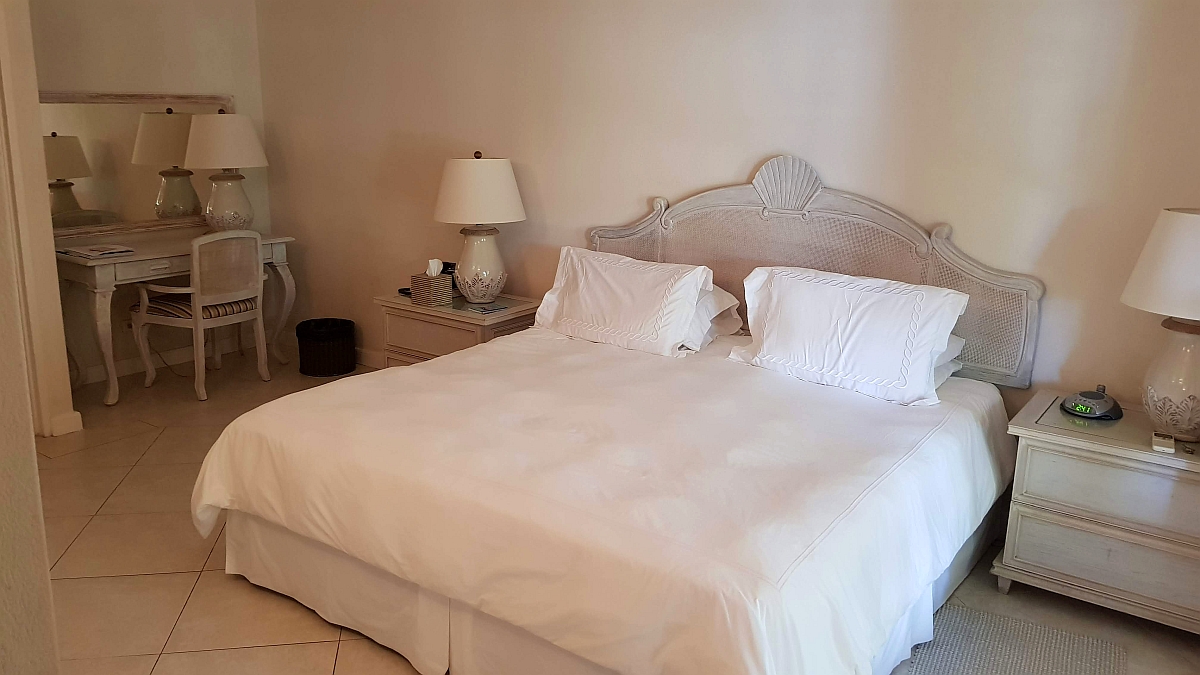 We had the Warren's Suite. As well as a large bathroom we had a small sitting room.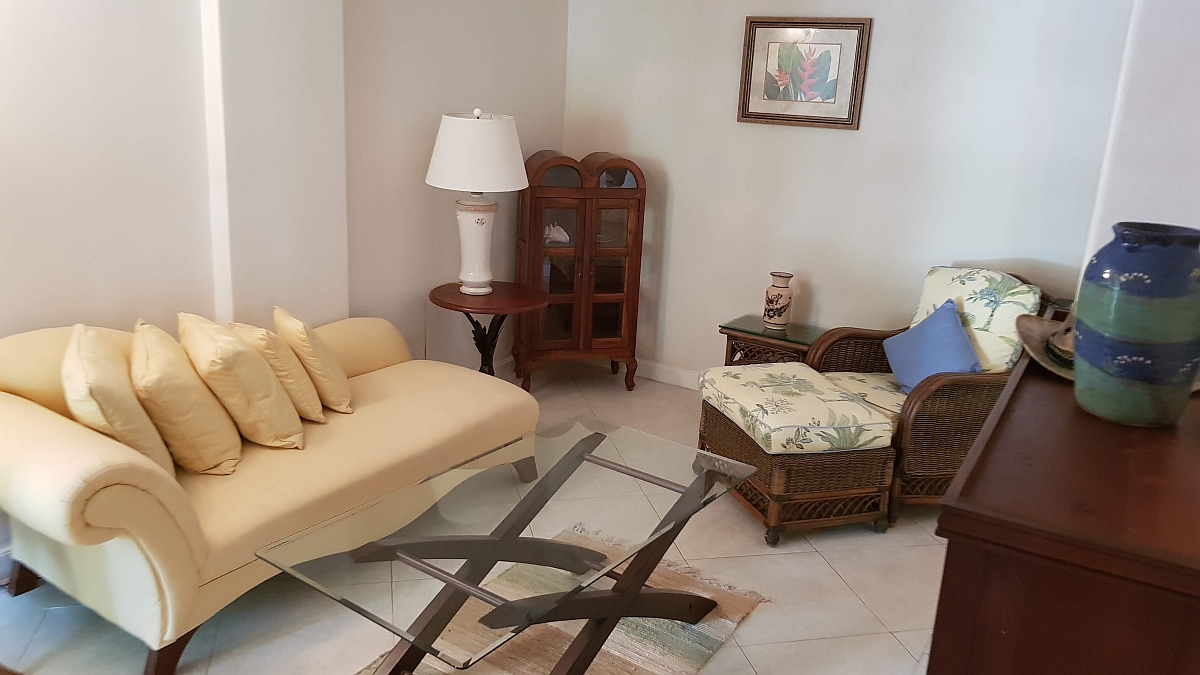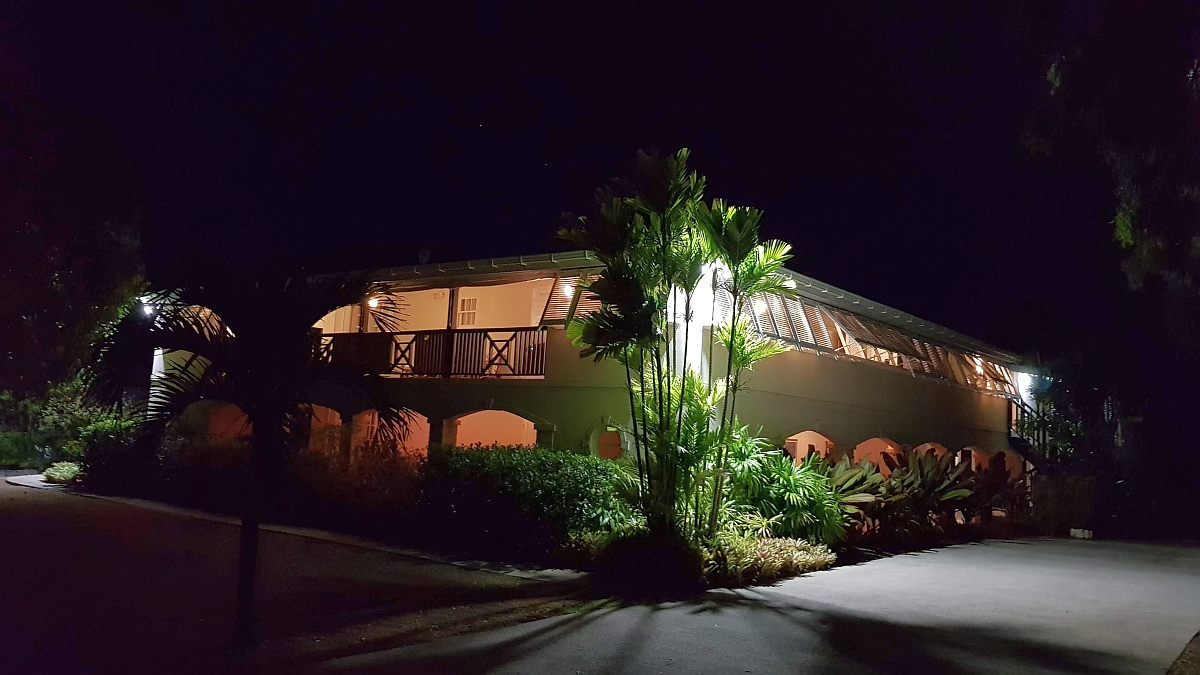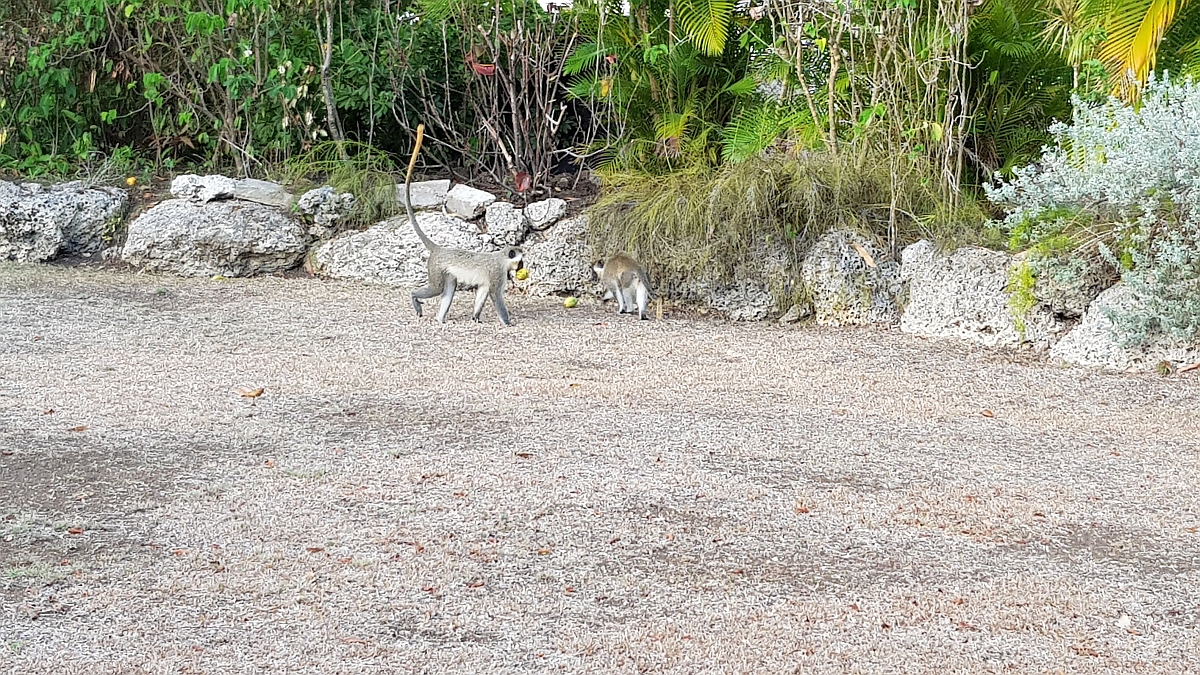 These fellows joined us on a few occasions to dine. Pam gets annoyed by them as they eat her mangoes.
Beaches
Mullins Beach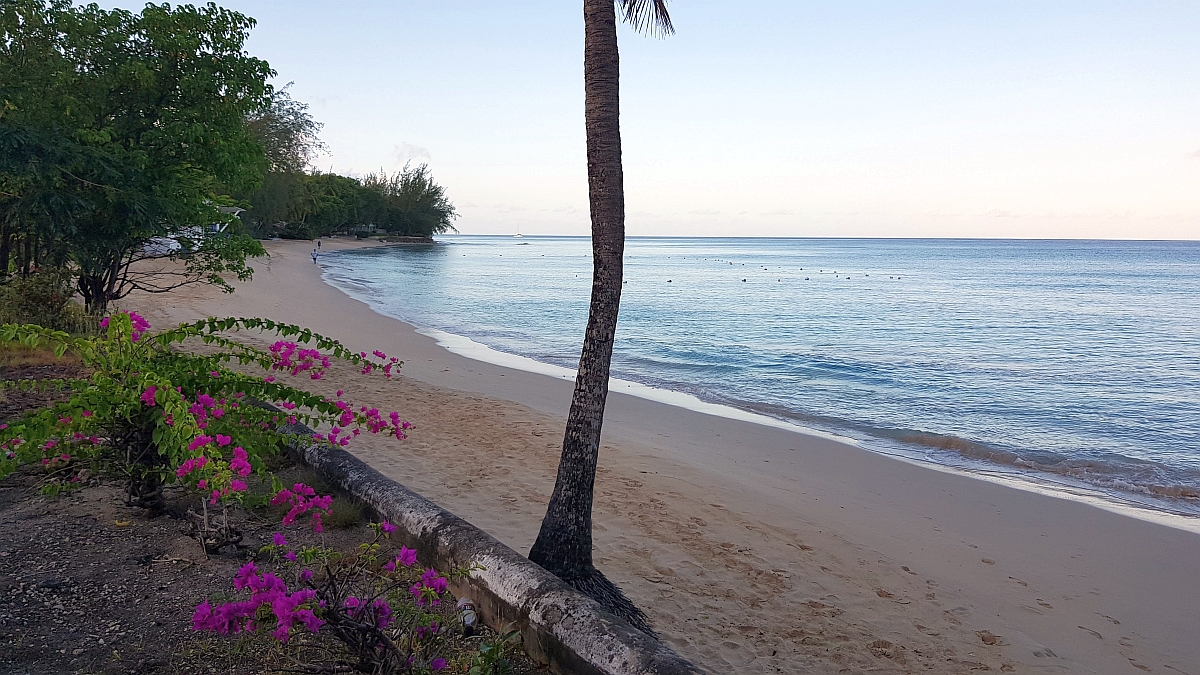 A hundred metres down the road from Bayfield House is Mullins Beach. It was quiet every time we went there as were most of the beaches on the west coast.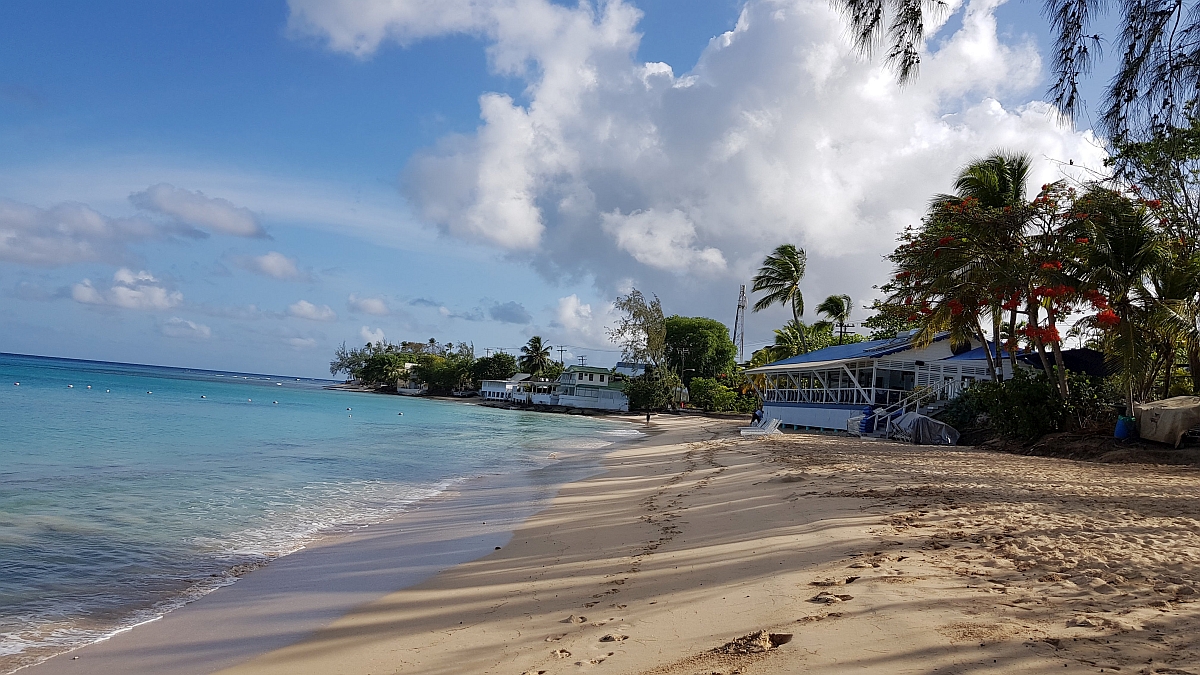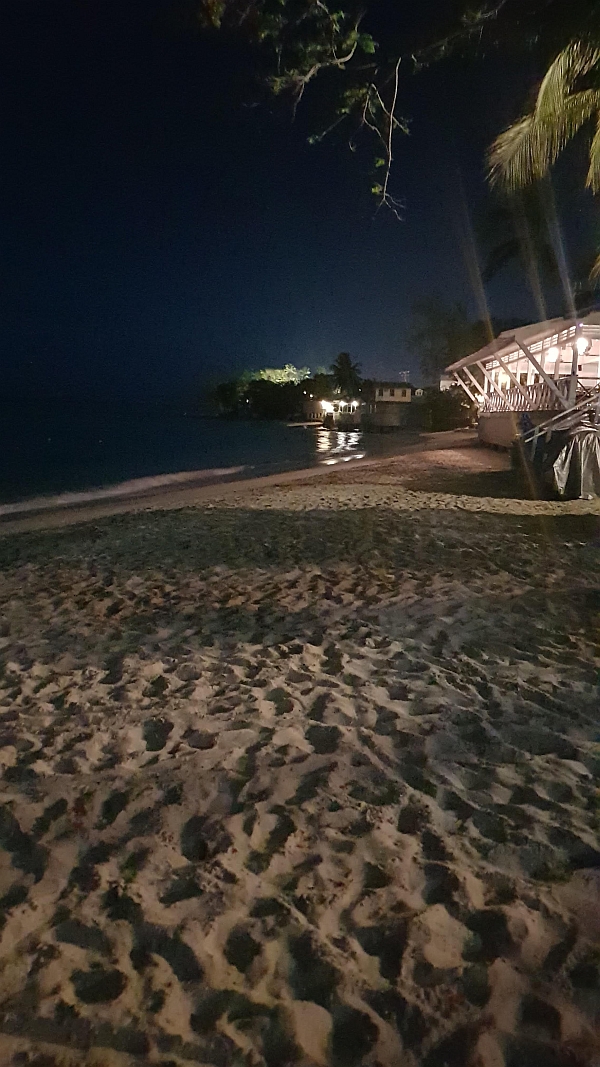 Gibbs Beach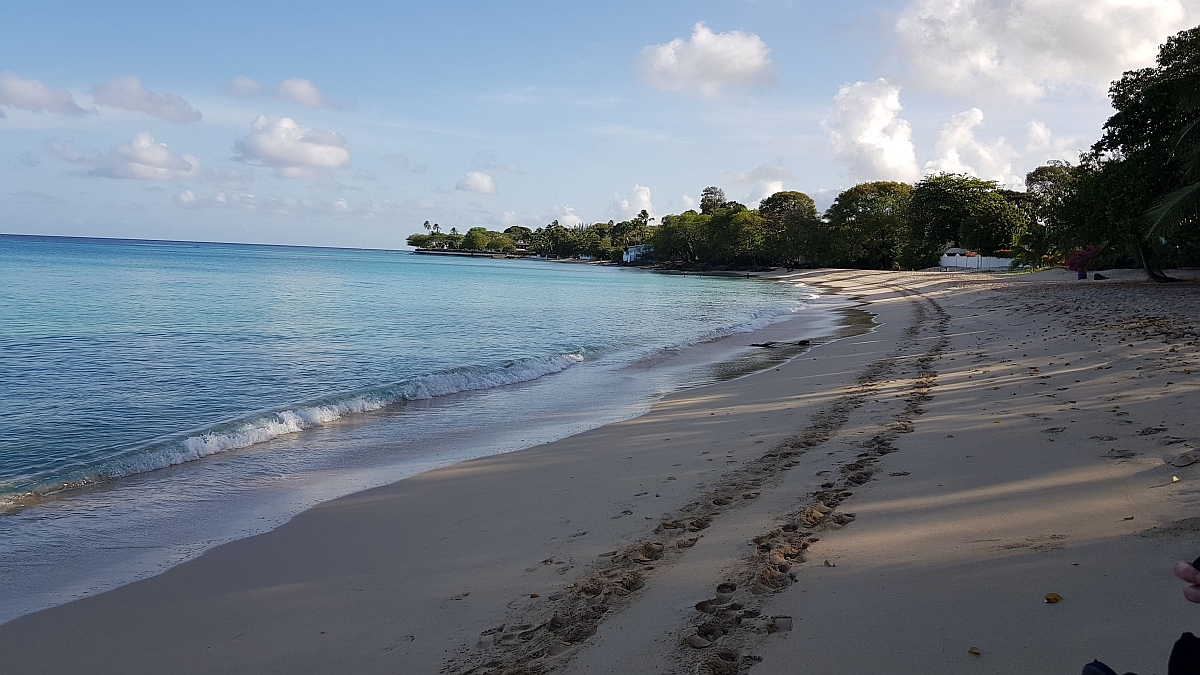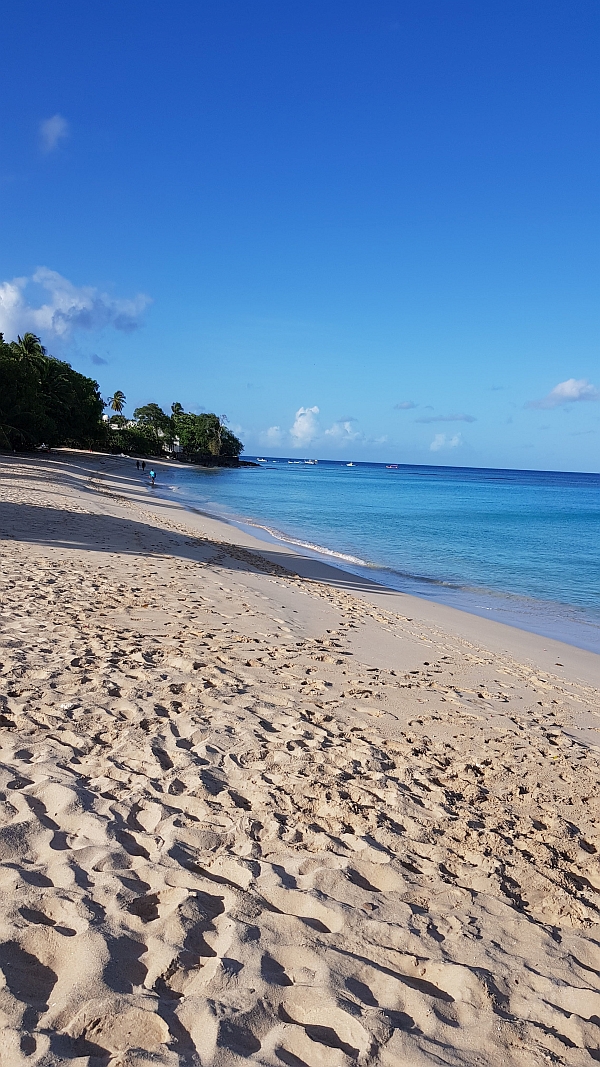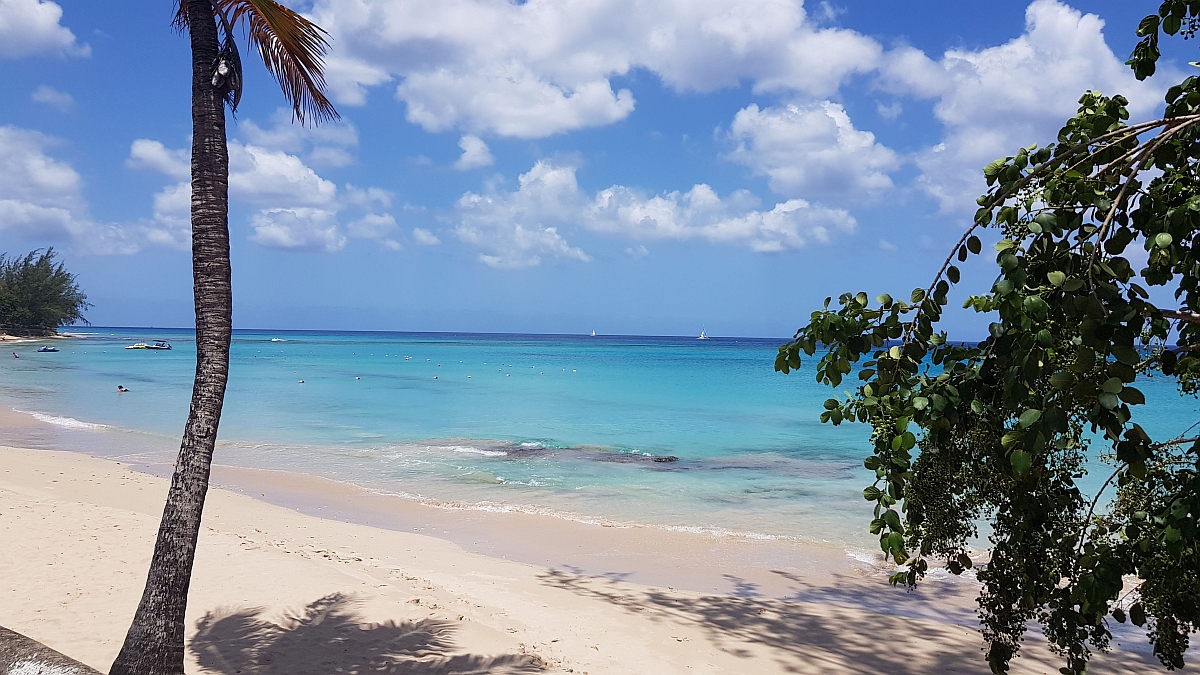 Gibbs is the next beach along to Mullins and is even quieter, in fact we were often the only people on it. There is nothing here at all in terms of beach bars, sunbeds etc. but that just adds to its charm.
Alleynes Beach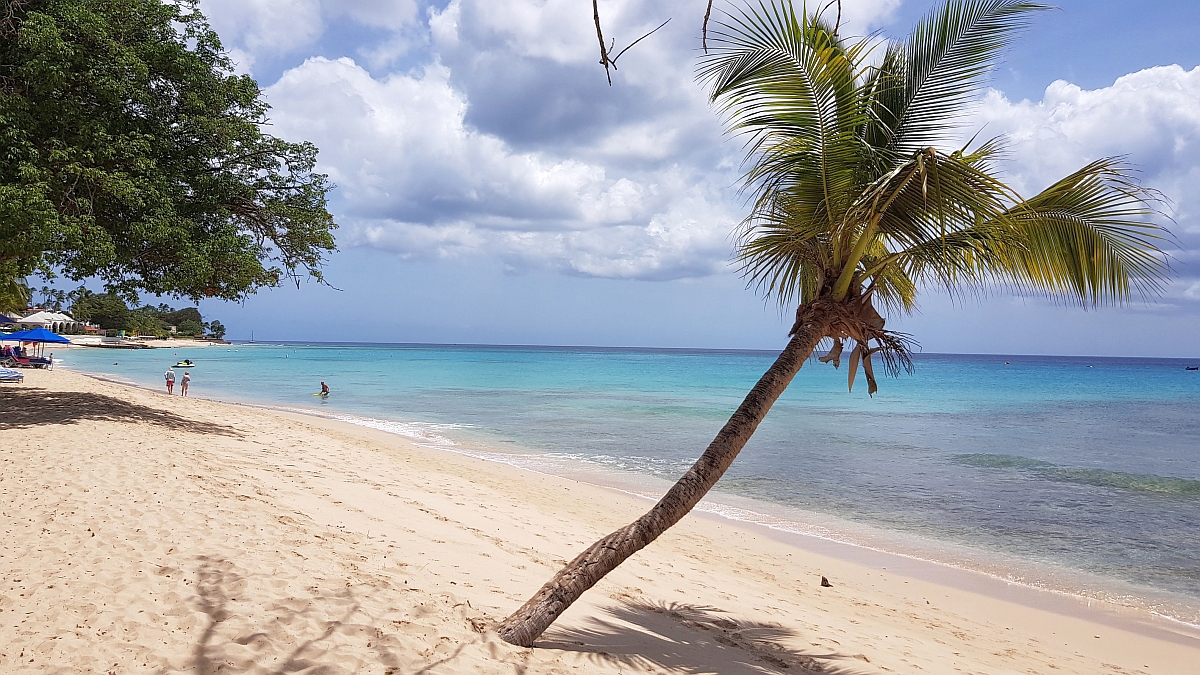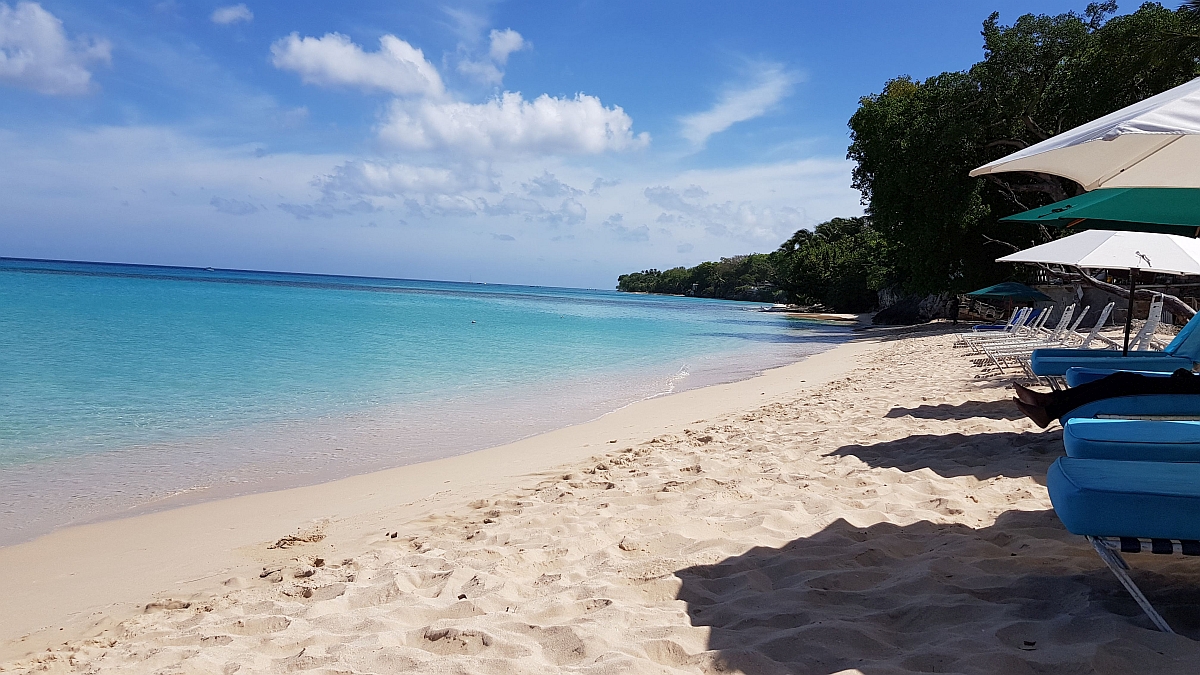 We spent a couple of days here. You can rent two sunbeds and a parasol for the day and the sea was lovely. Tam spent a considerable time snorkeling.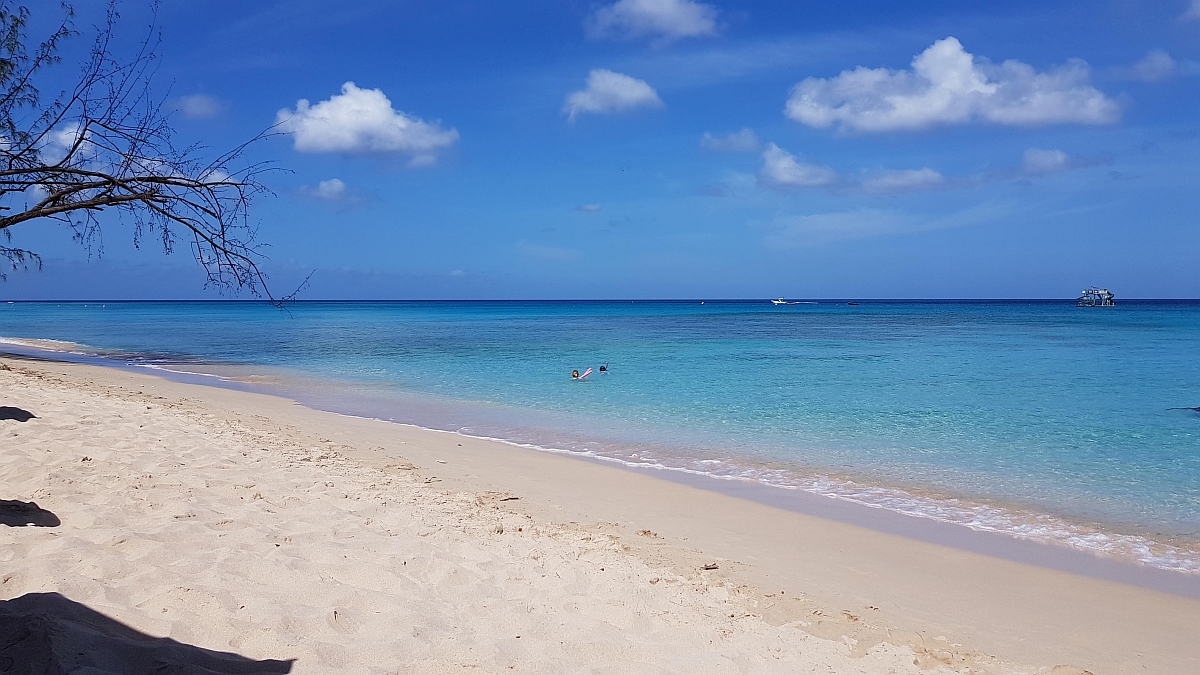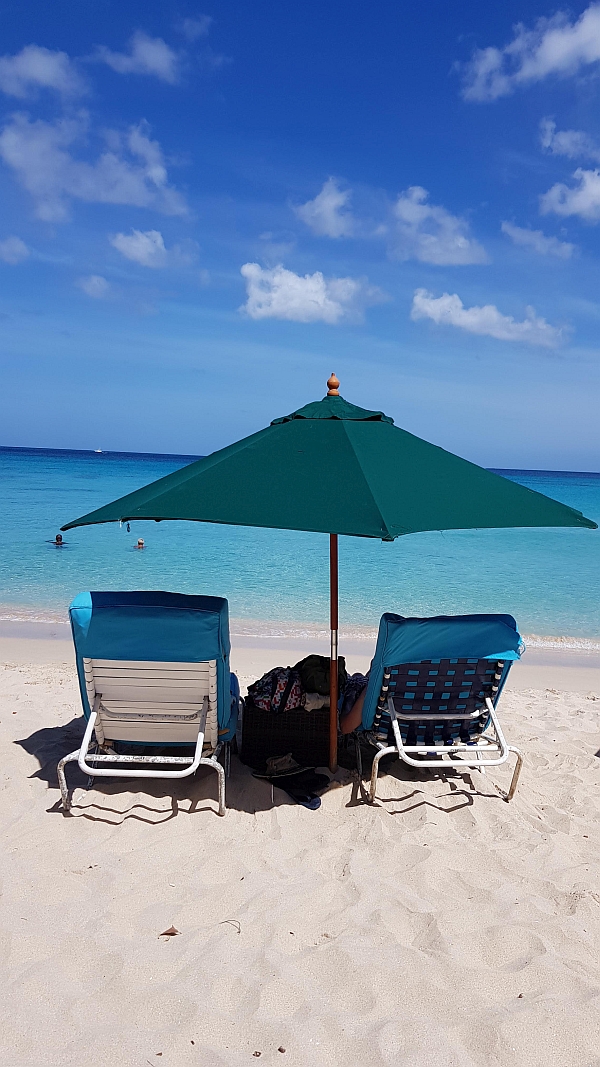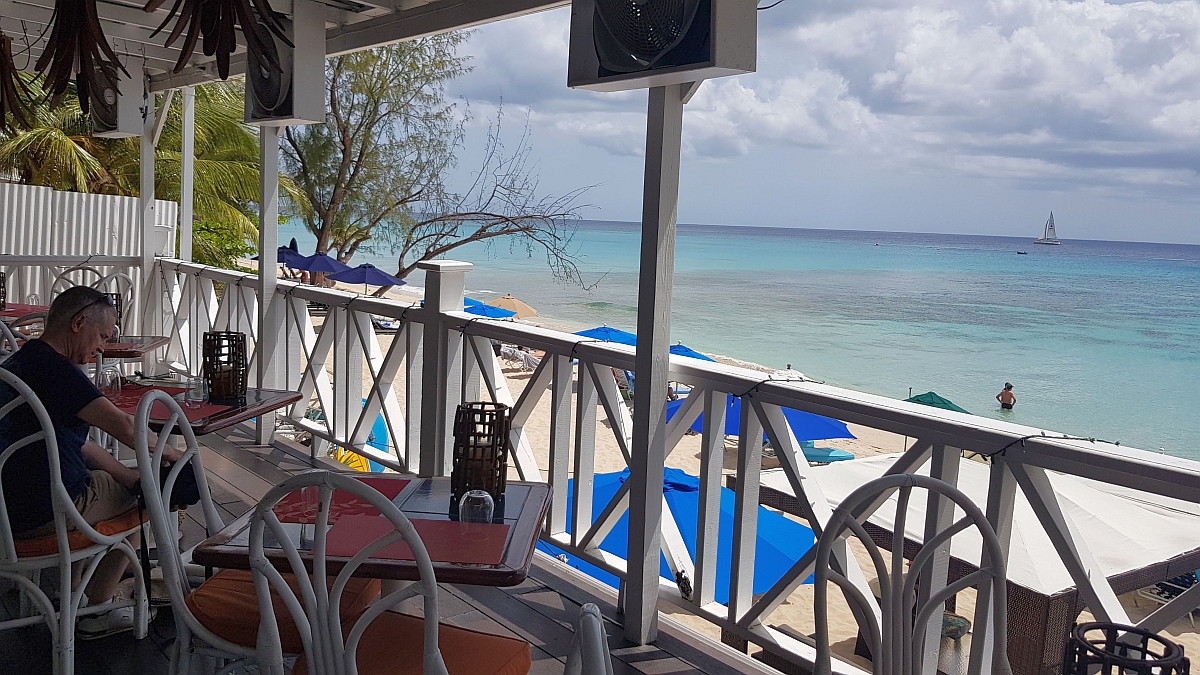 We had lunch here before strolling back to our sunbeds.
East Coast
As mentioned previously, Pam helped out with renting a car for three days. We are so glad we did this as we got to see so much of the island. It's quite a small place - 21 miles x 14 miles - so we drove pretty much everywhere in the three days. We dropped in to several coves and found the east coast very different to the west. It's much more rugged with very few hotels and some impressive surf.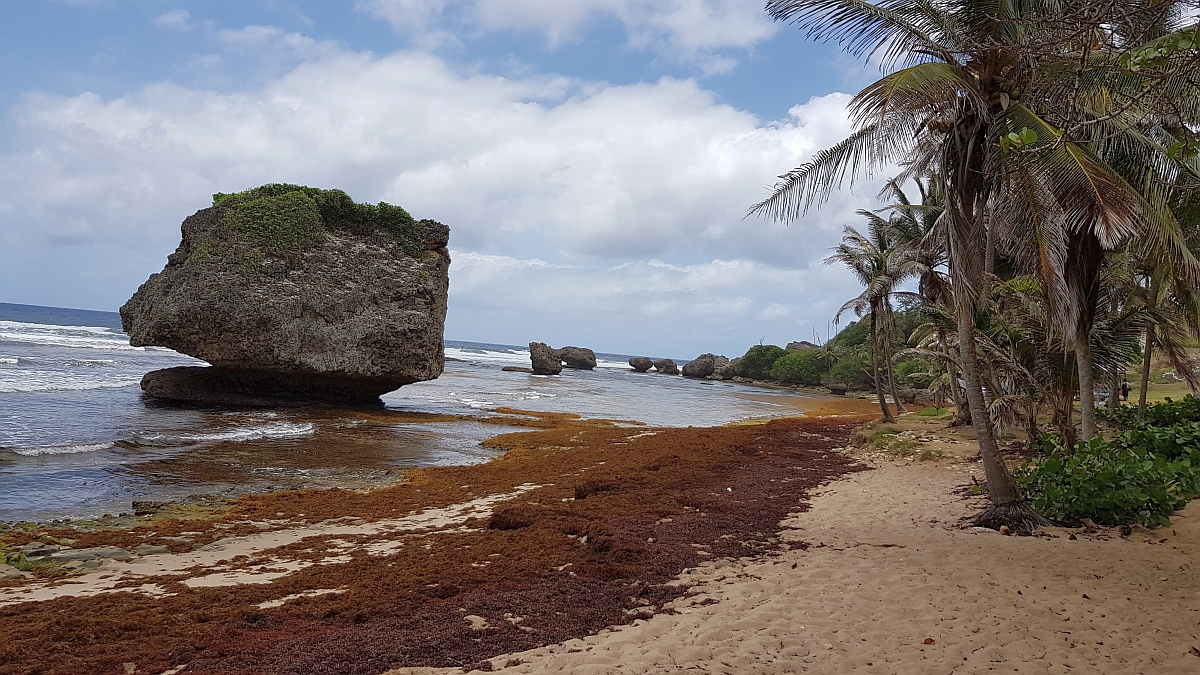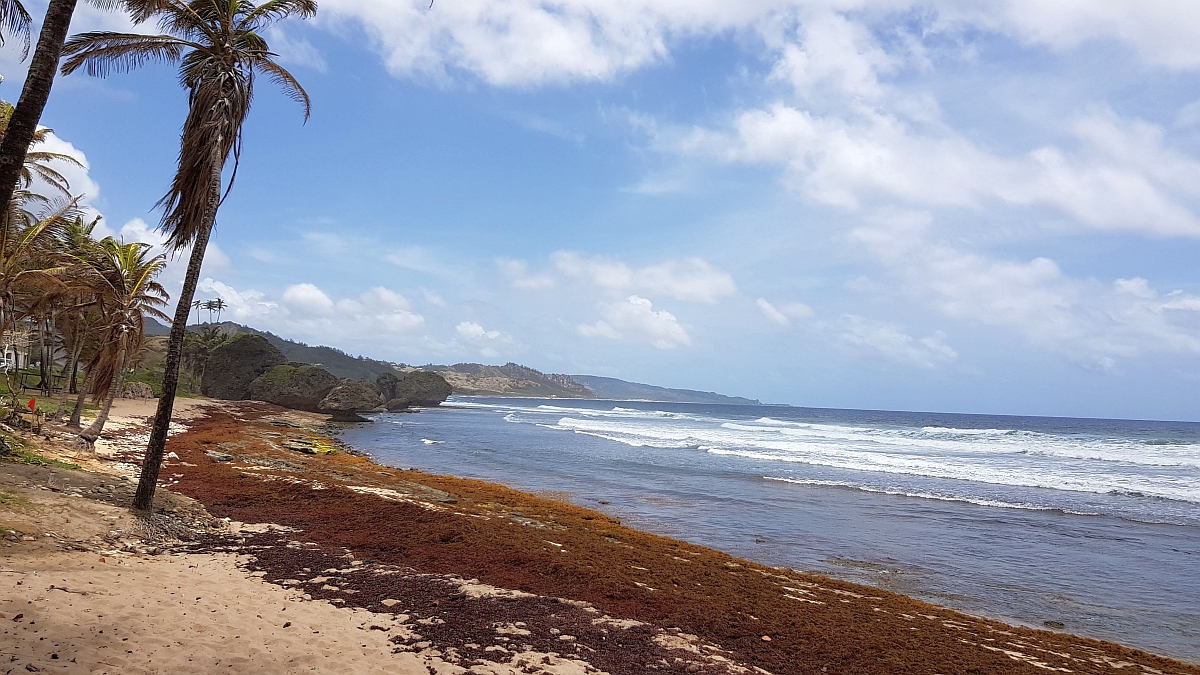 This is Bathsheba. Another reason we are glad we picked the west coast is that the east coast has been blighted by seaweed in the last few years. Apparantly it's a fairly recent phenomenon, maybe to do with climate change affecting sea currents. Whatever the reason, it somewhat spoils the lovely beaches.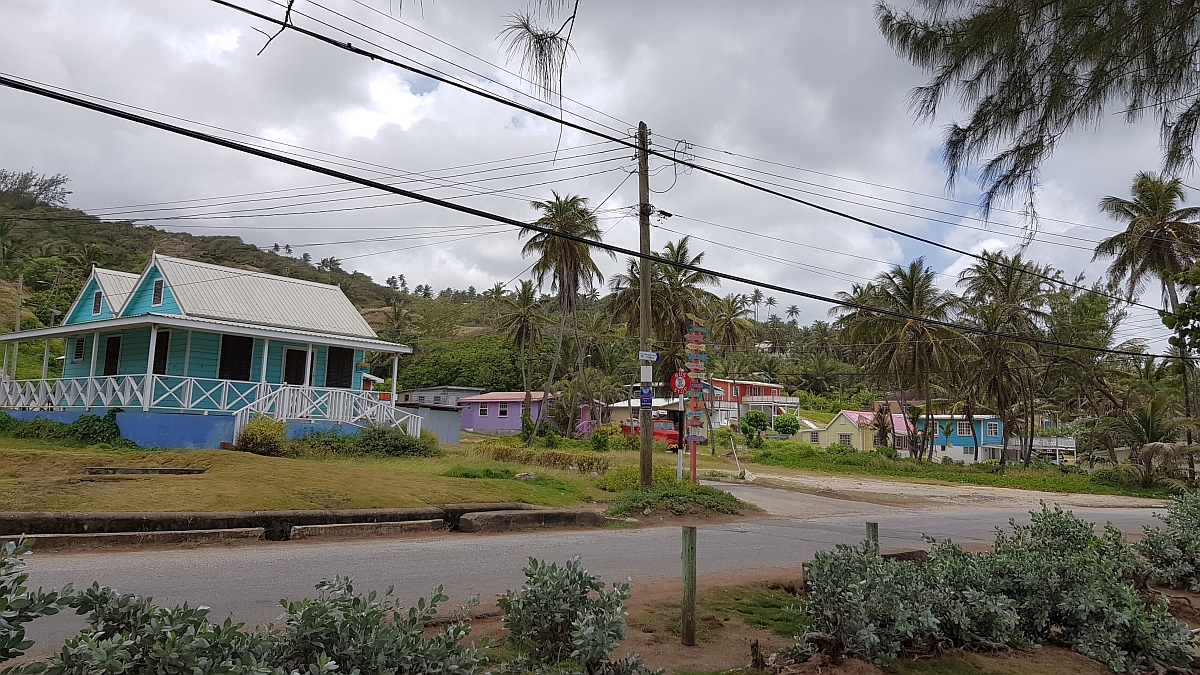 This is looking back from the beach in Bathsheba. You can see what I mean about it being a lot less built up than the south and west.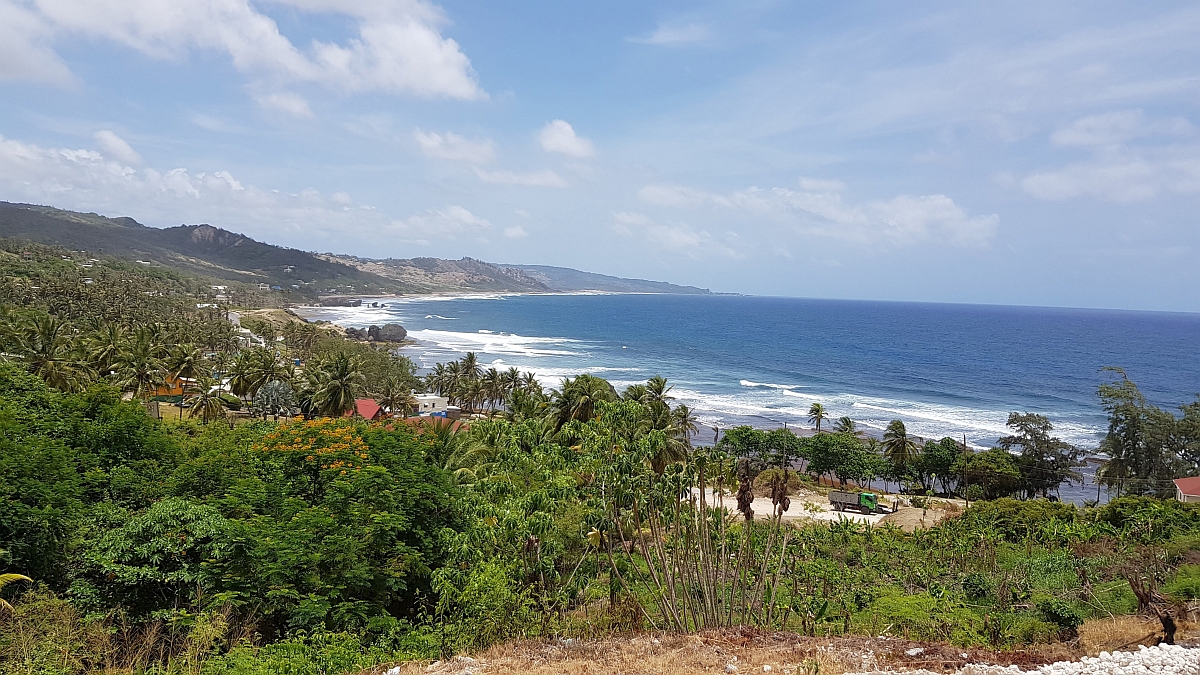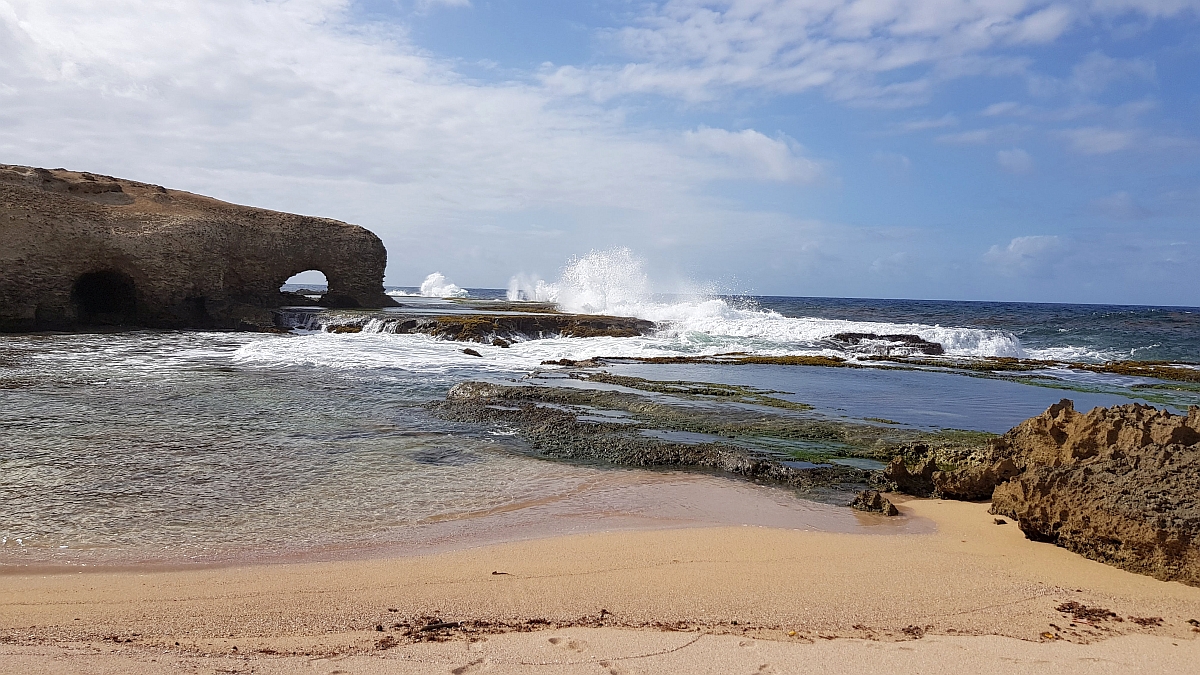 This is Little Bay. We came across this by just picking a place name on the map to visit and I'm very glad we did. It's quite out of the way, but well worth searching out. The photos don't really show how the waves were pounding onto the rocks.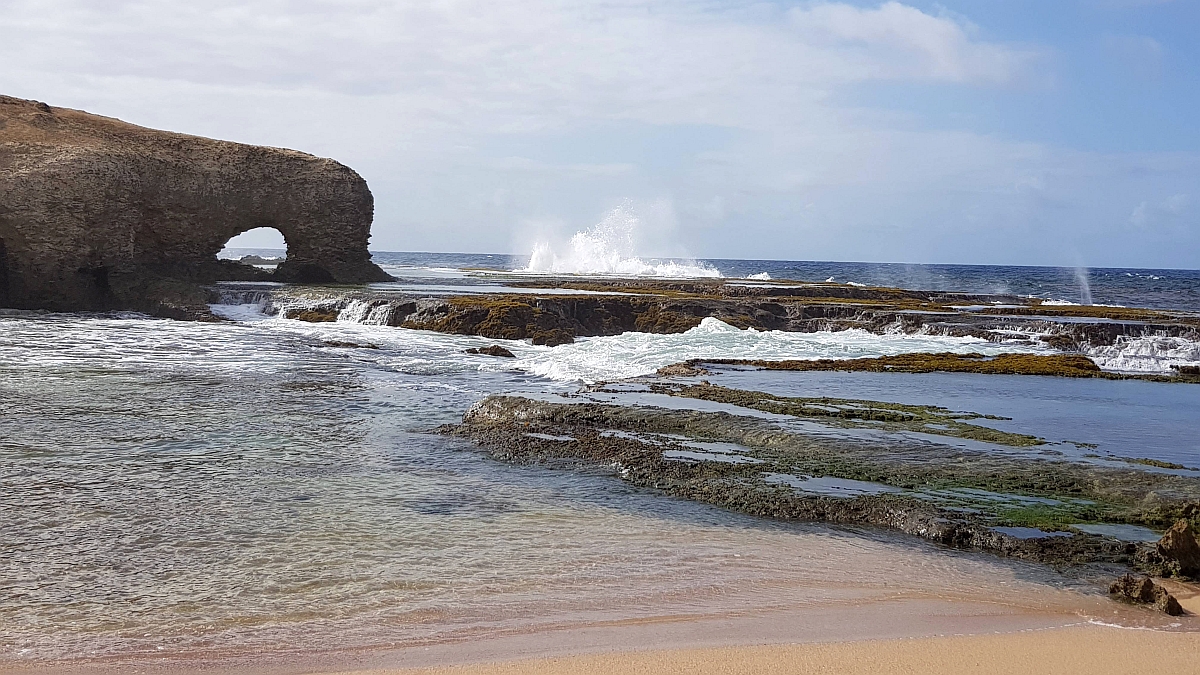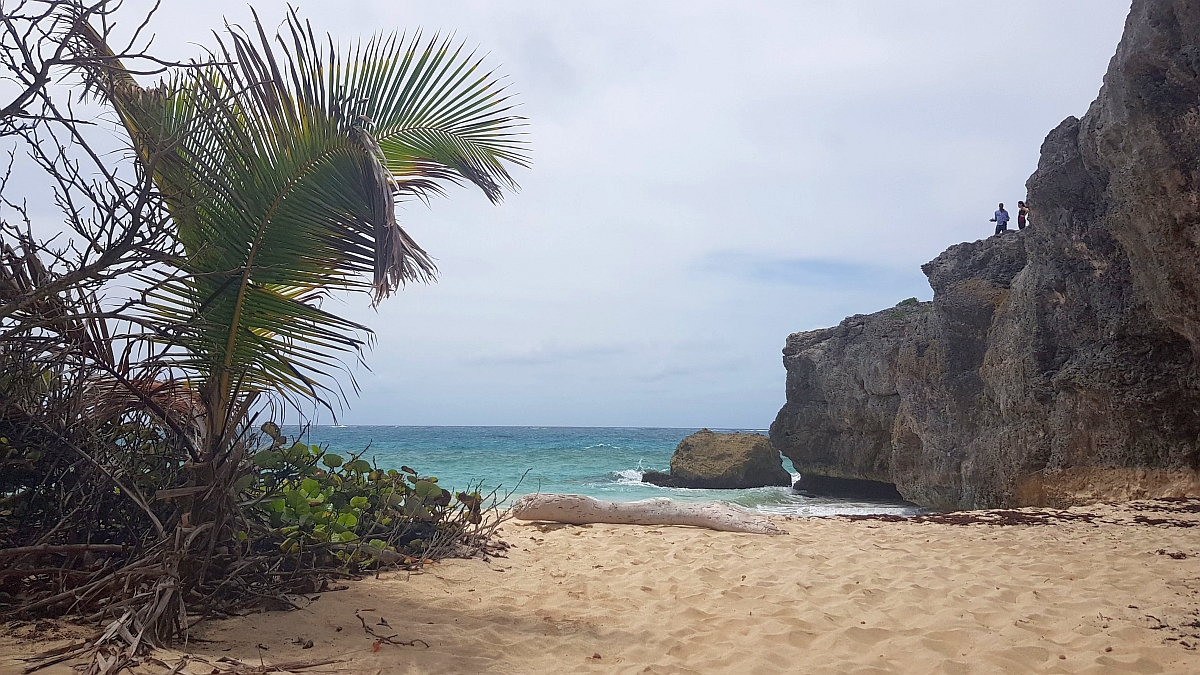 This is Bottom Bay, a lovely beach, but you had to climb down some steps from the car park to get there. There was a guy selling coconut drinks. We didn't buy any, but he was still friendly. Most of the vendors were ok, even the ones that approached you on the beach. One or two tried a bit harder than others, but generally we had no problems, although we did get suckered into paying a few pounds for two coconuts in Speightstown. I think he asked for something like £20 to start with! Of course this was only after he'd cut the tops of the coconuts and given them to us.
Activities
St Nicholas Abbey
St Nicholas Abbey is an old sugar cane plantation that is now a museum and rum distillery. They also recently opened a train that goes a couple of miles to Cherry Tree Hill where you get great views down the east coast.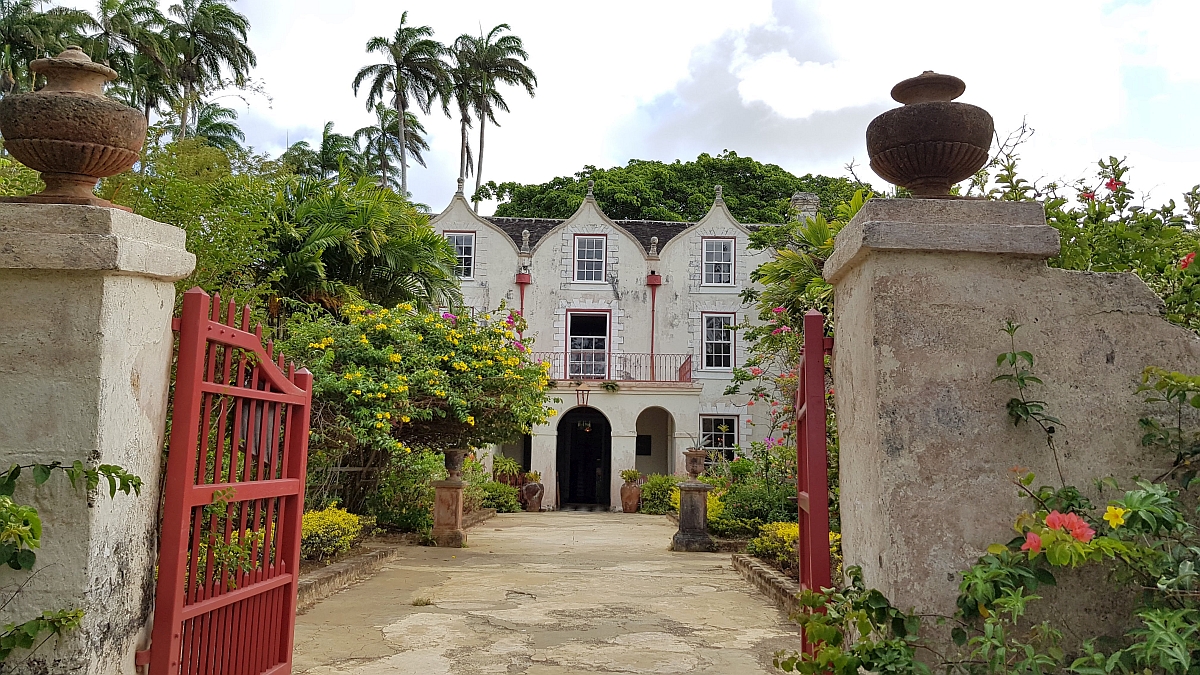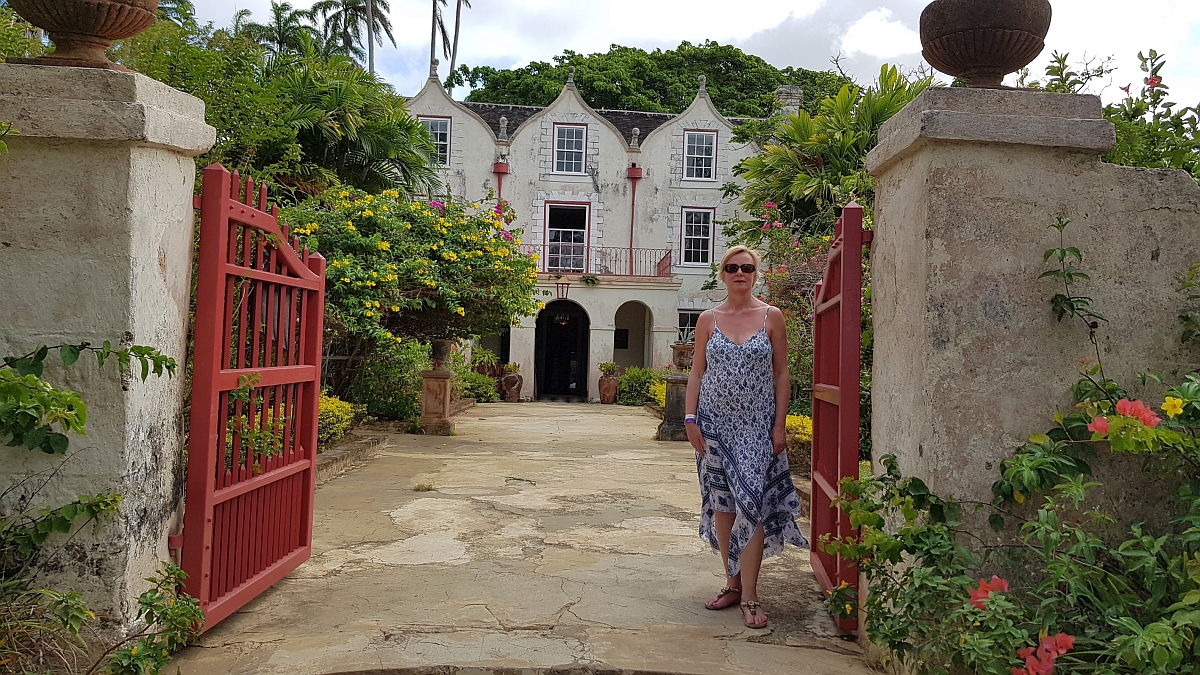 You tour the house (either on your own or with a guide) and enjoy a drink or some lunch in the small cafe before getting on the train.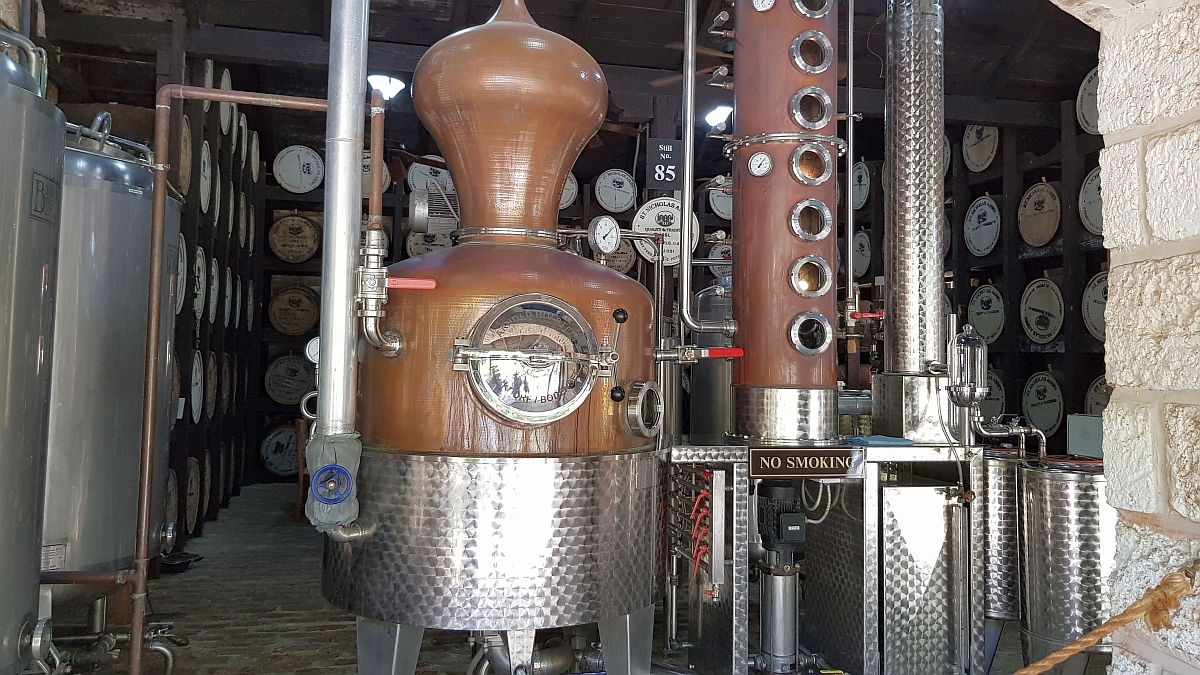 They do have some very good rum for sale, but it was a bit too expensive for us. The aged rums are well over £100 a bottle.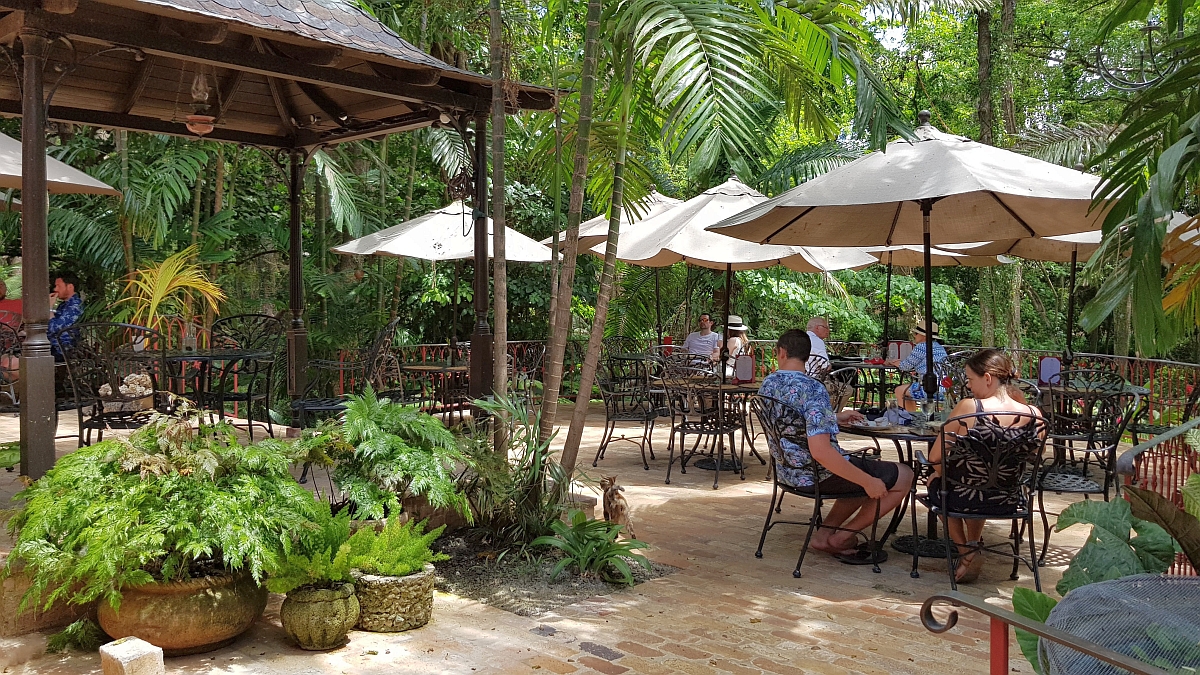 Here's the tables at the cafe.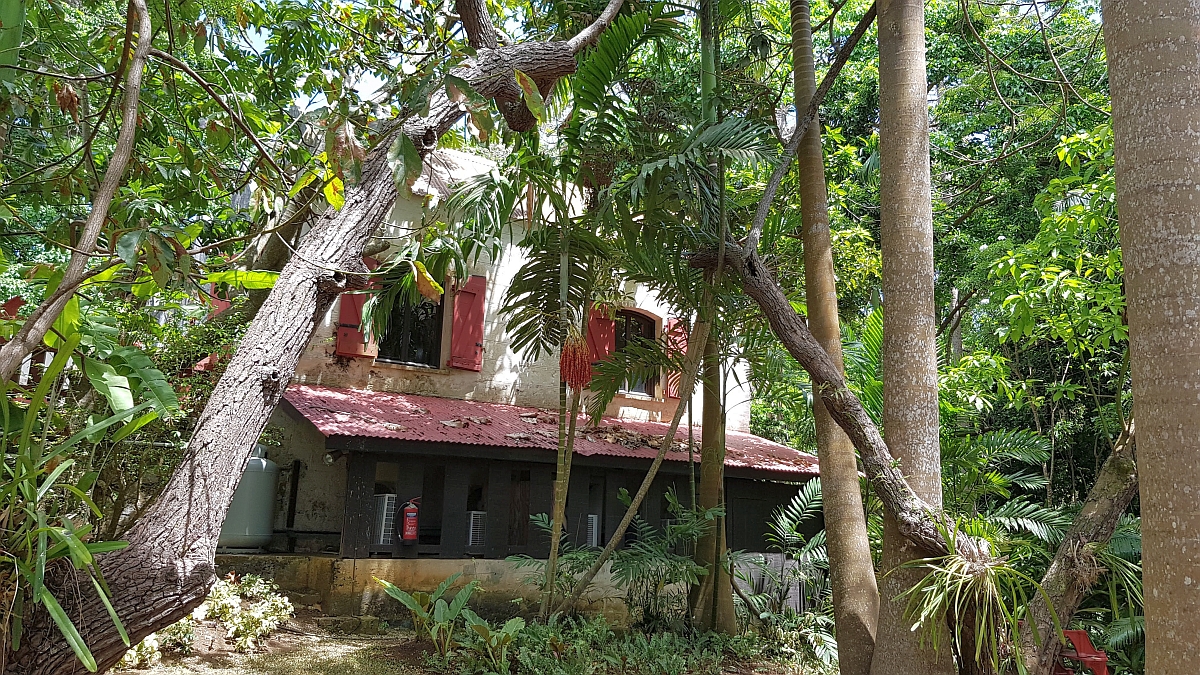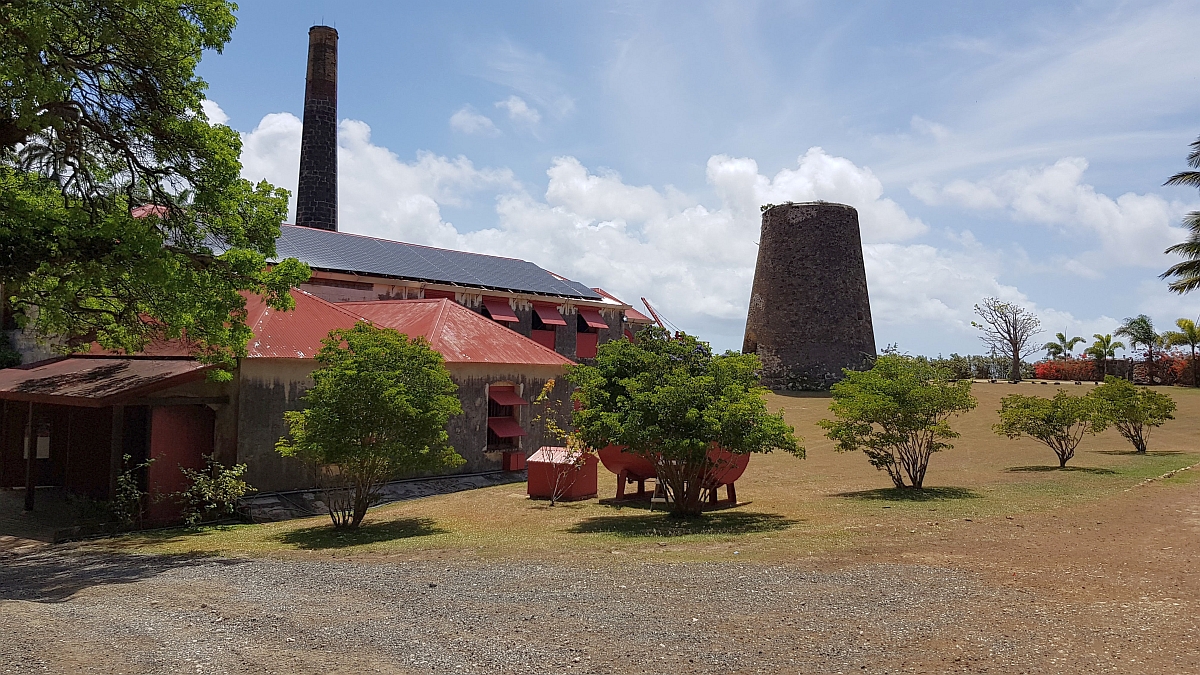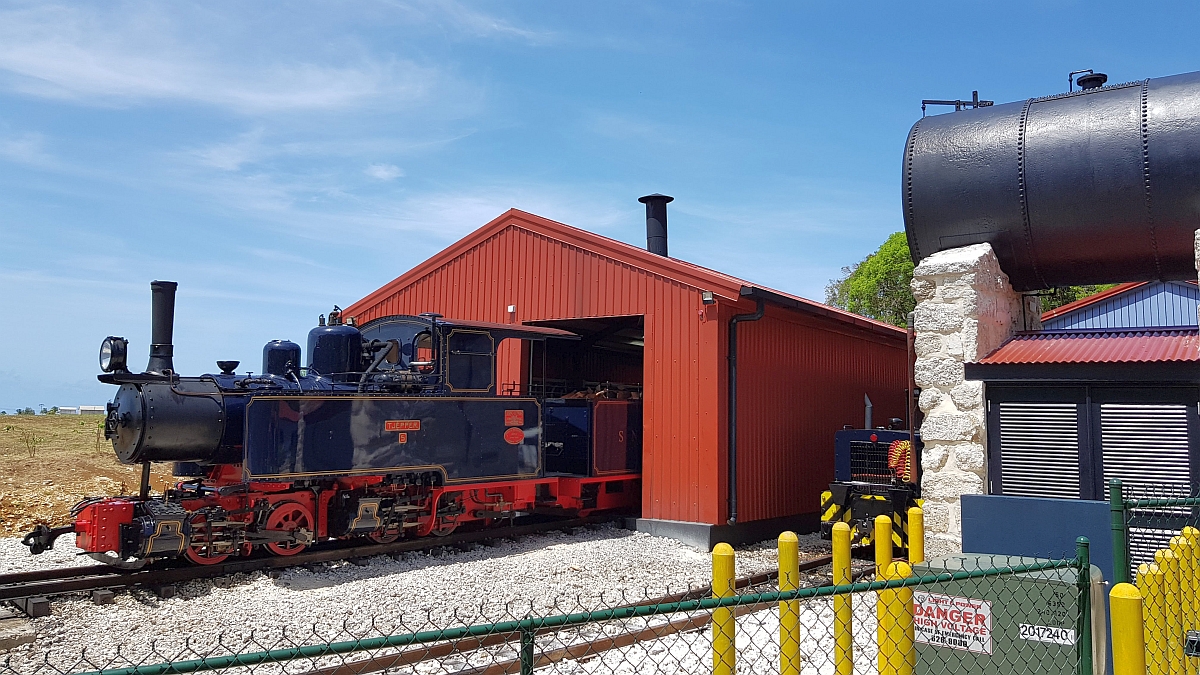 This is the little steam train, although we didn't get to go on this as it was having some maintenance work done. We rode on a diesel train. It was still cute though.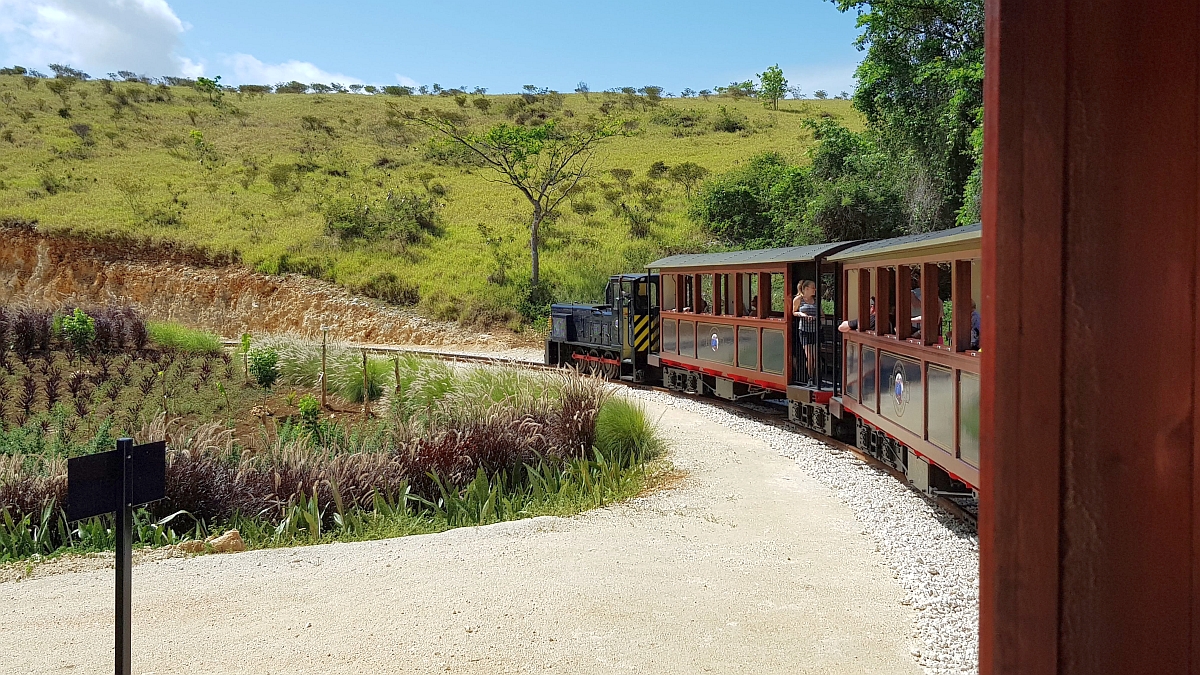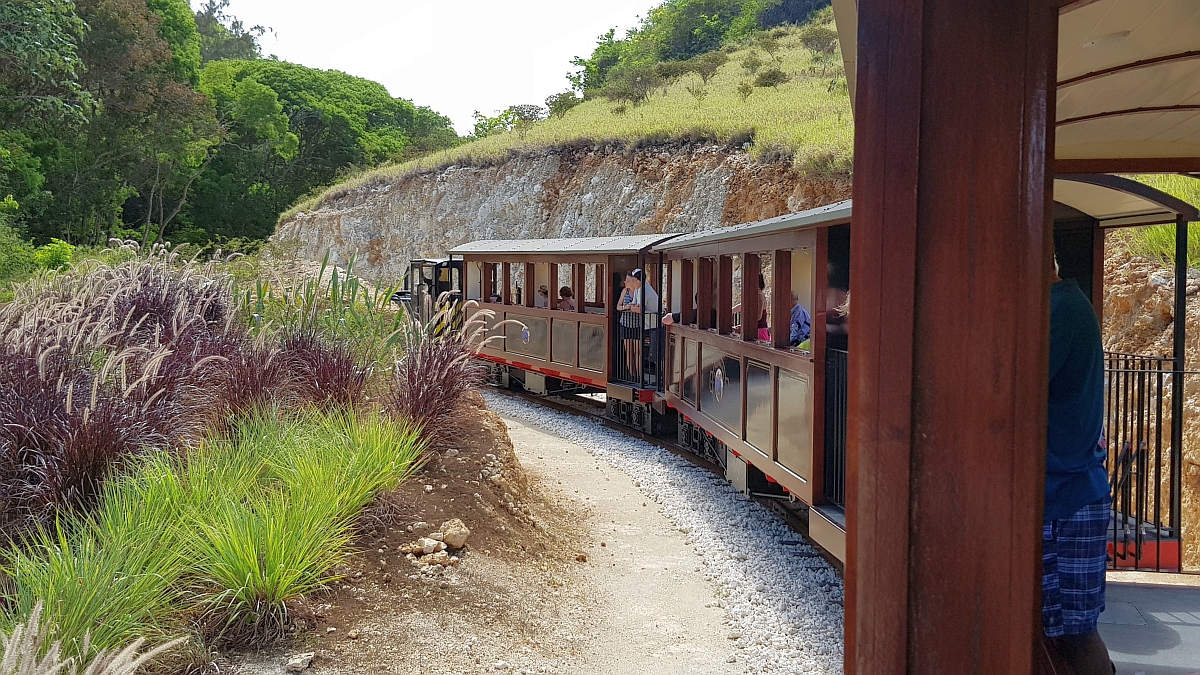 The lady guard narrates the story of the Barbados Railway, which used to run from Bridgetown across the island and then up the east coast. I wasn't really expecting too much from this little train ride, but actually enjoyed it a lot.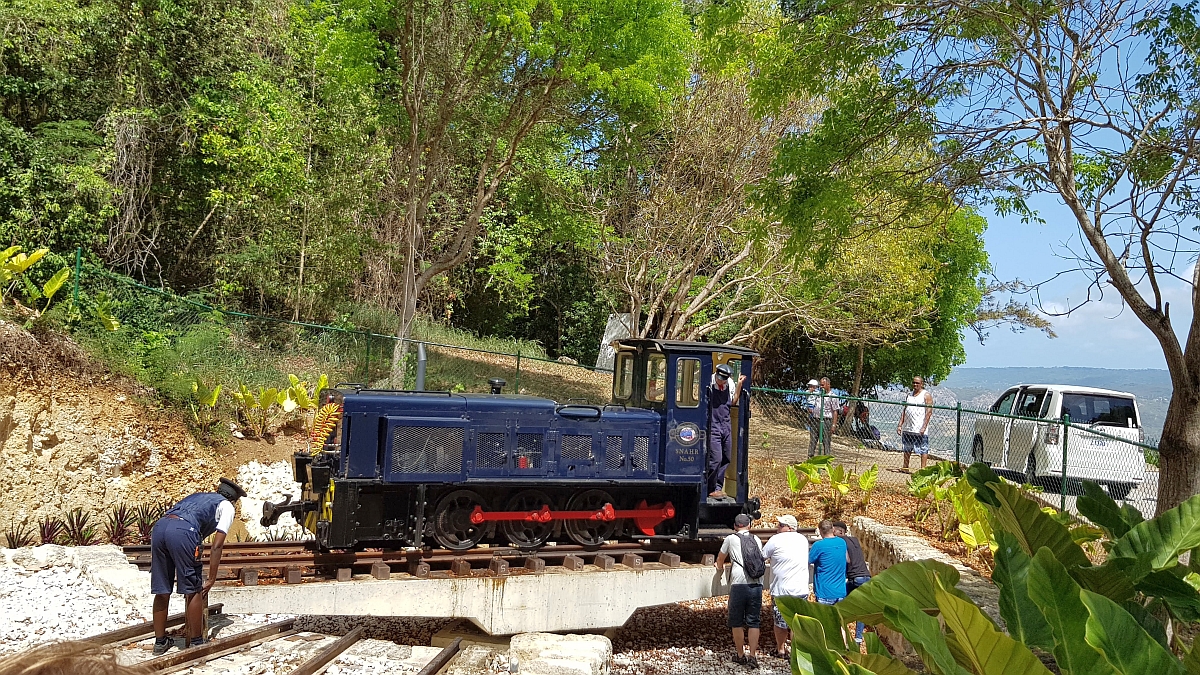 A turntable is used at Cherry Tree Hill to revolve the train for the journey back down.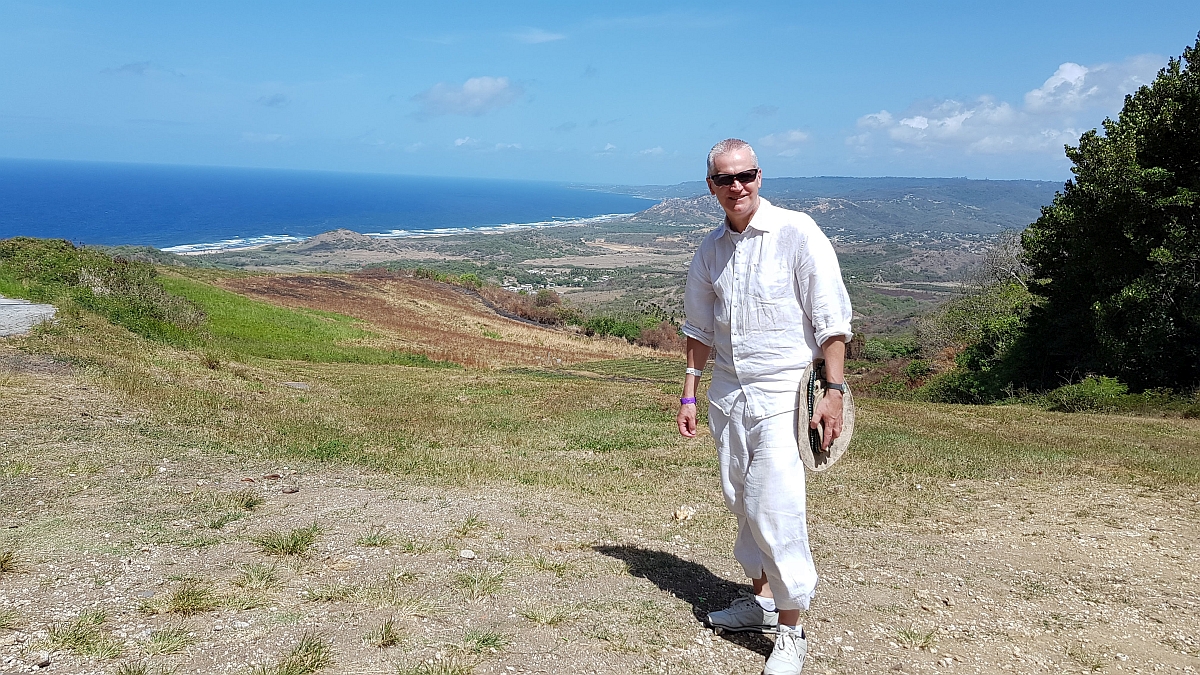 There are a few stalls at the top selling touristy bits and pieces. We didn't buy anything, but the stall holders were pleasant enough and didn't really pressurise you at all.
Tam and I both enjoyed the abbey and train, it's well worth a visit. By the way, it never has been an abbey and has no religious connections. Nobody really knows why it was named as such.
Harrison's Cave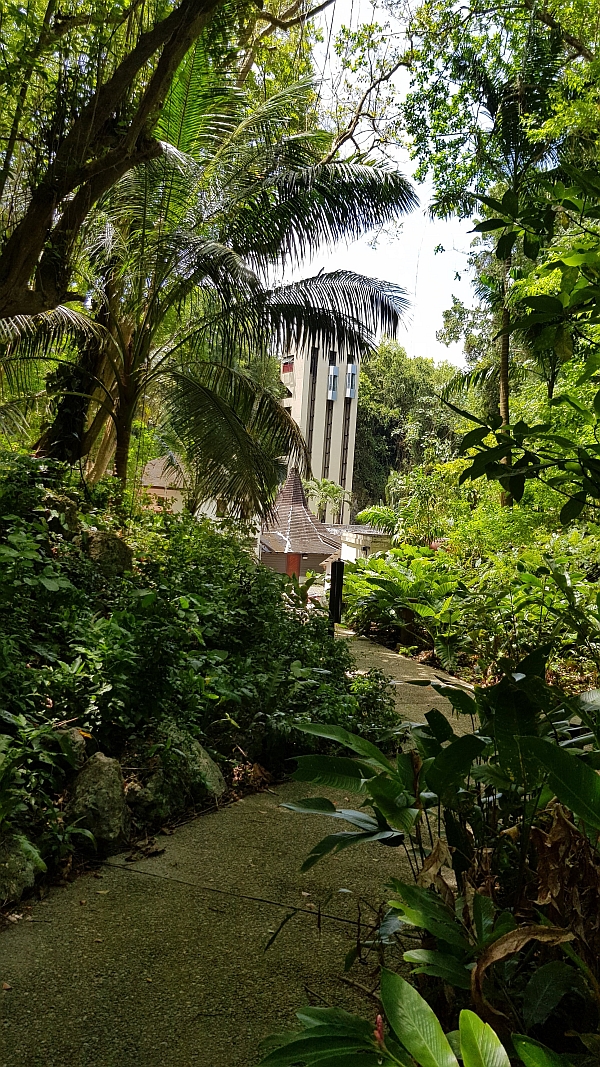 You park your car then get the lift down into the gully. As you go down it looks a little like going into Jurassic Park.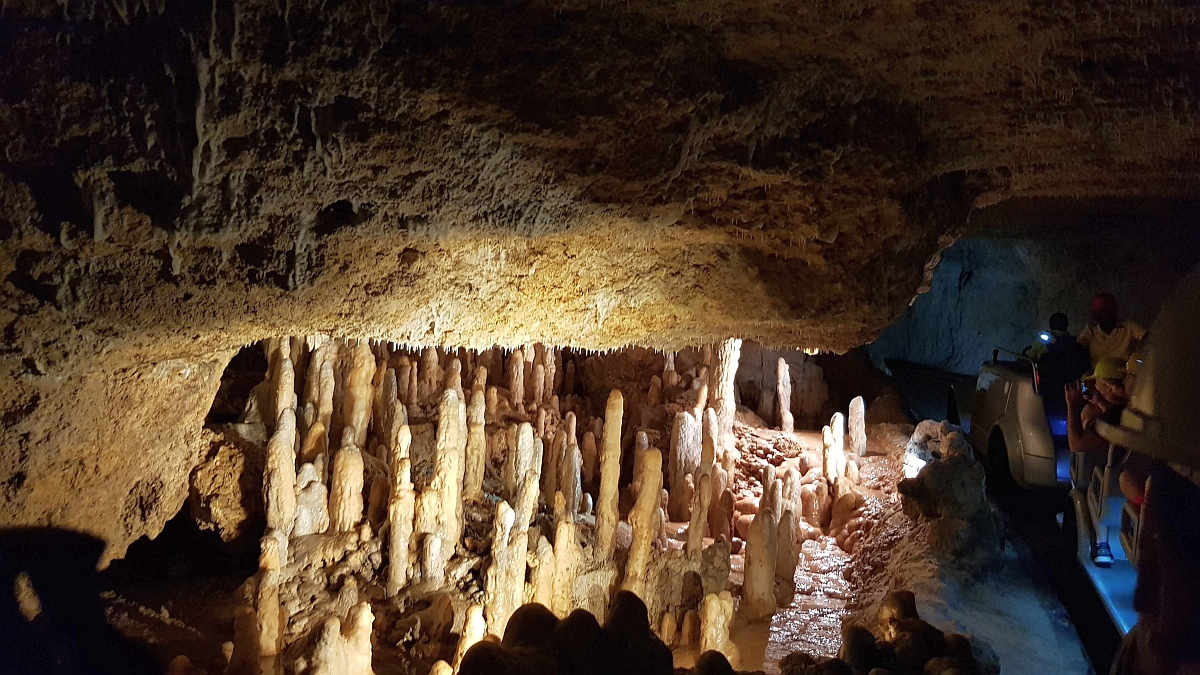 You get into a tram (which you can just see in this photo) and it drives down into the cave complex. There is a guide who gives you lots of information as you go.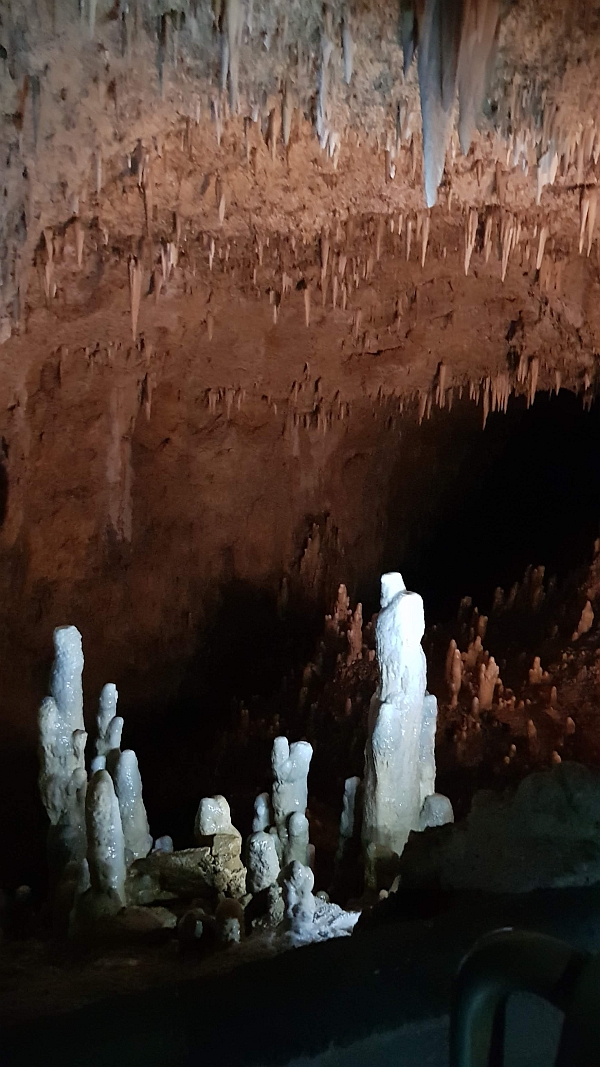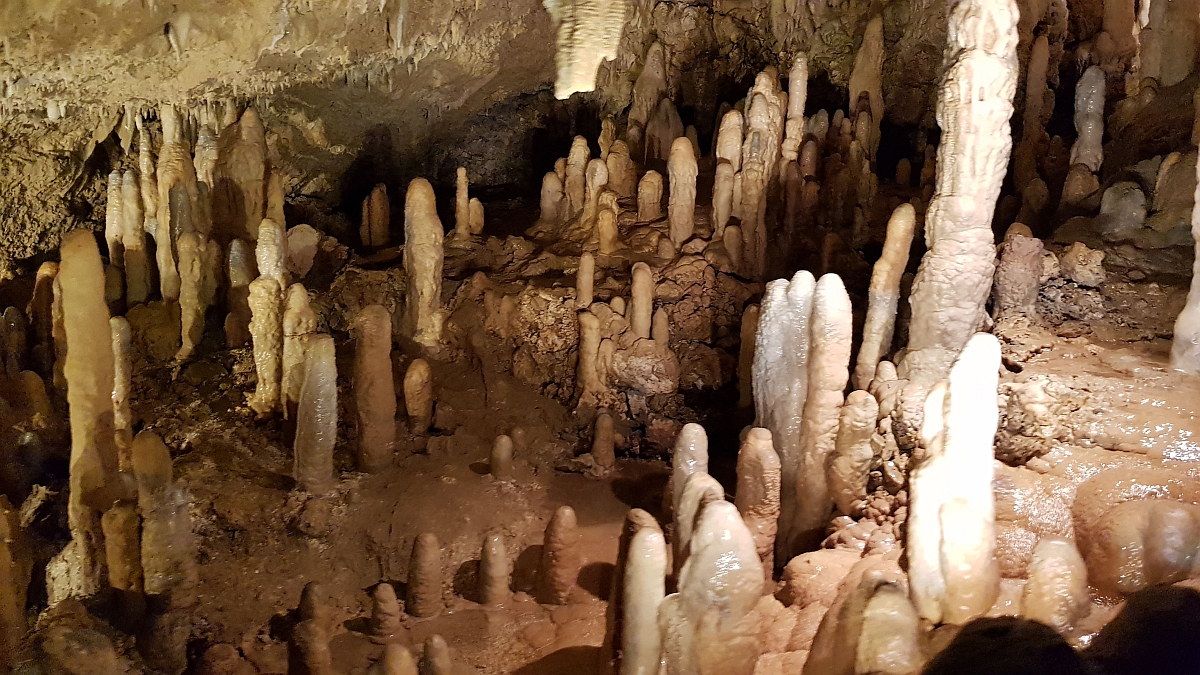 At this point the guide asked what people thought the upstanding rock formations look like. Nobody was brave enough to state the obvious.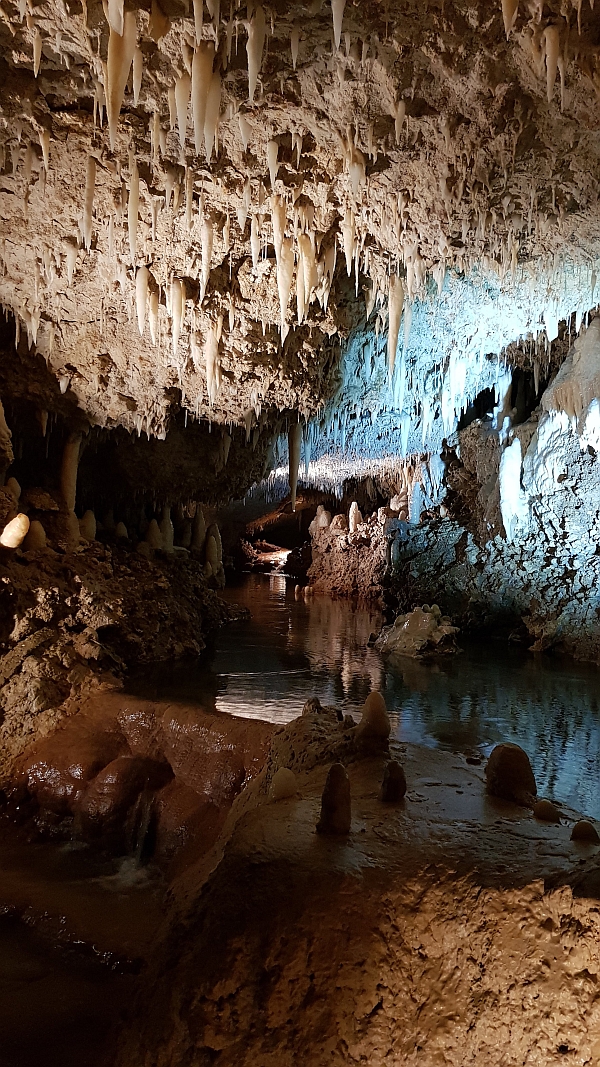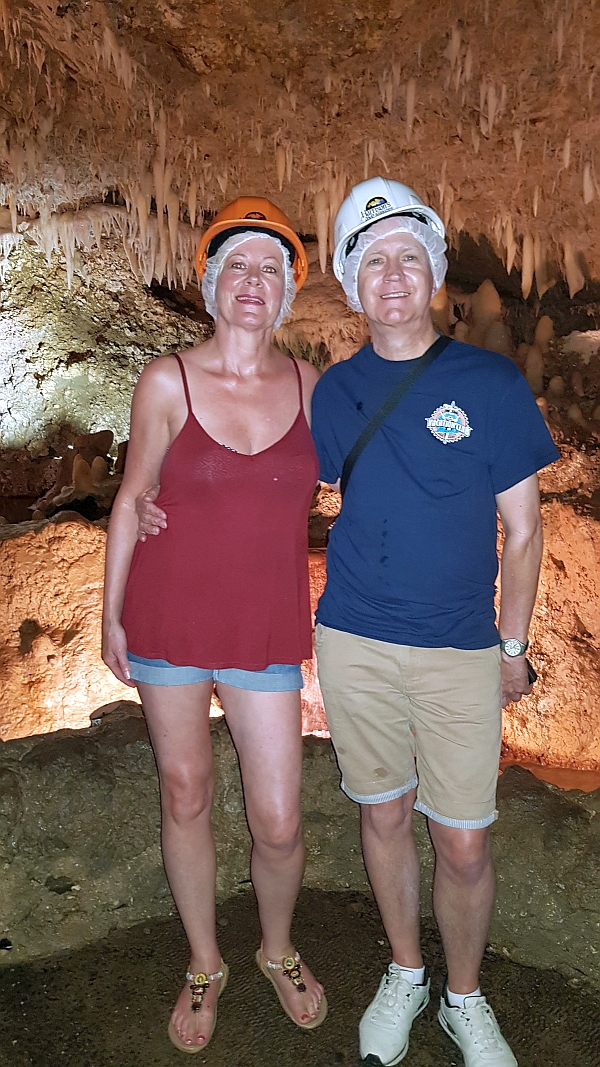 At several points it opens up into a large cavern. You can get out and walk around in one. I'm not sure the hairnet does much for either of us. Probably not going to be the start of a new trend.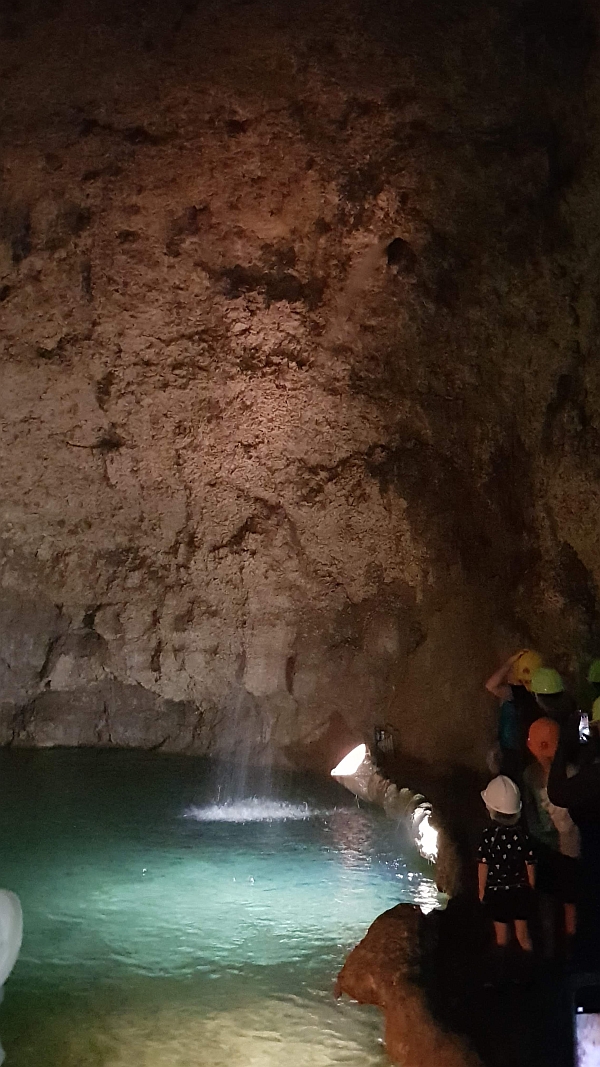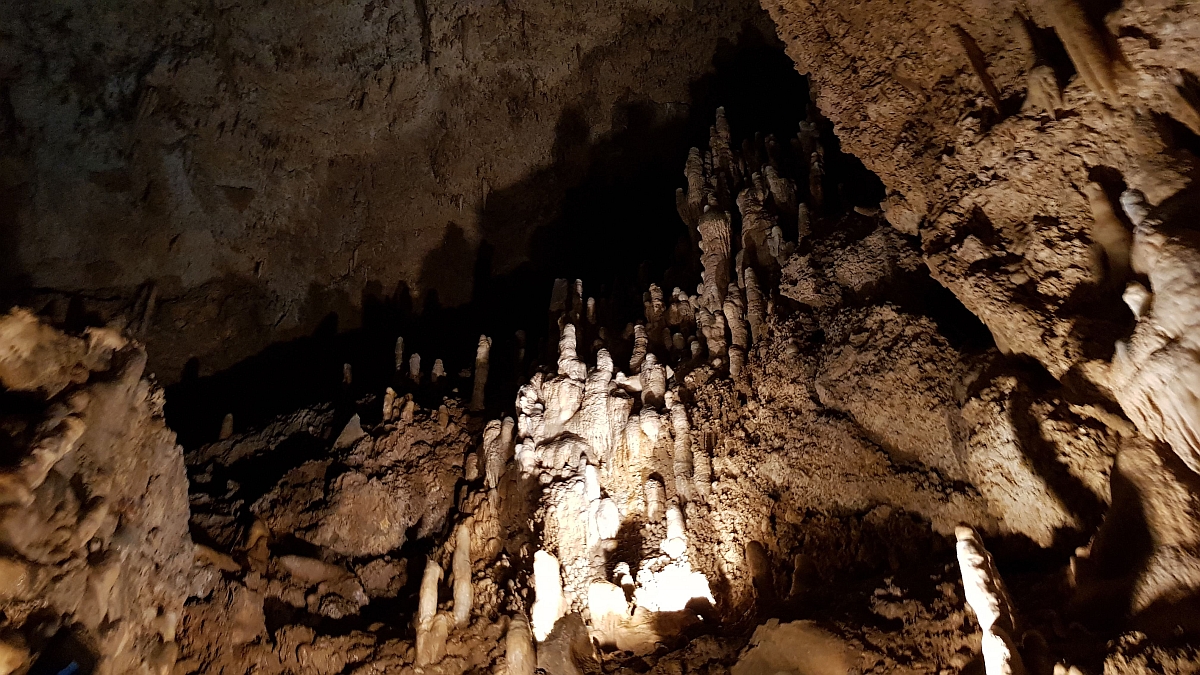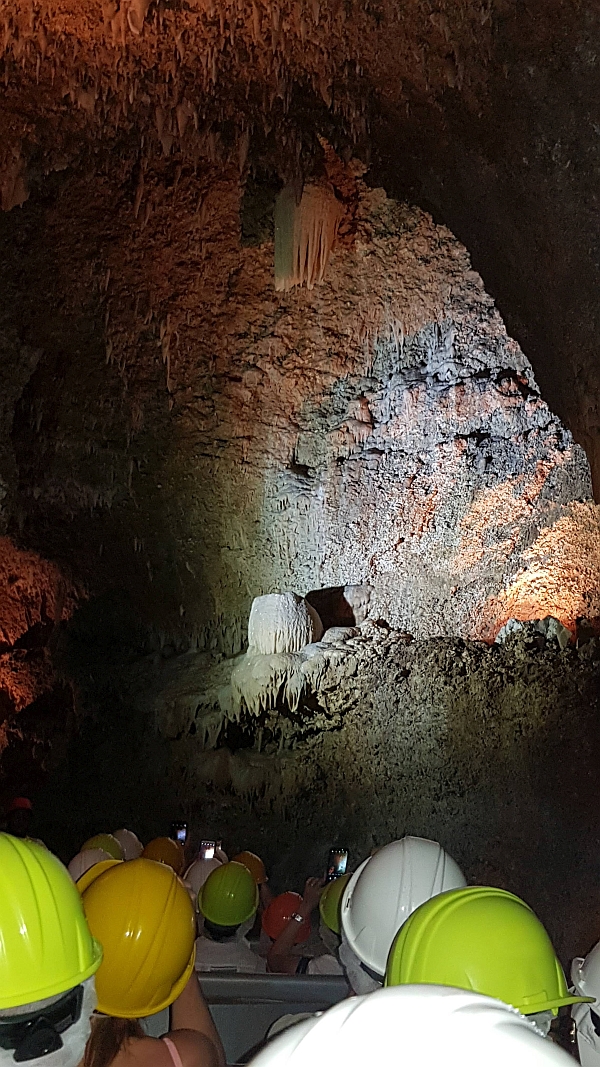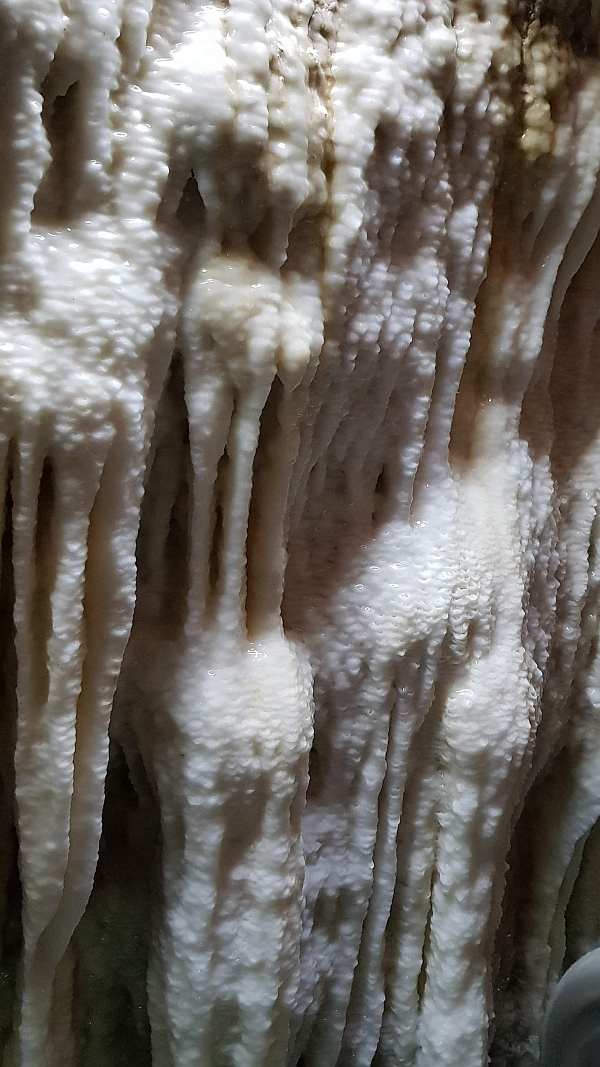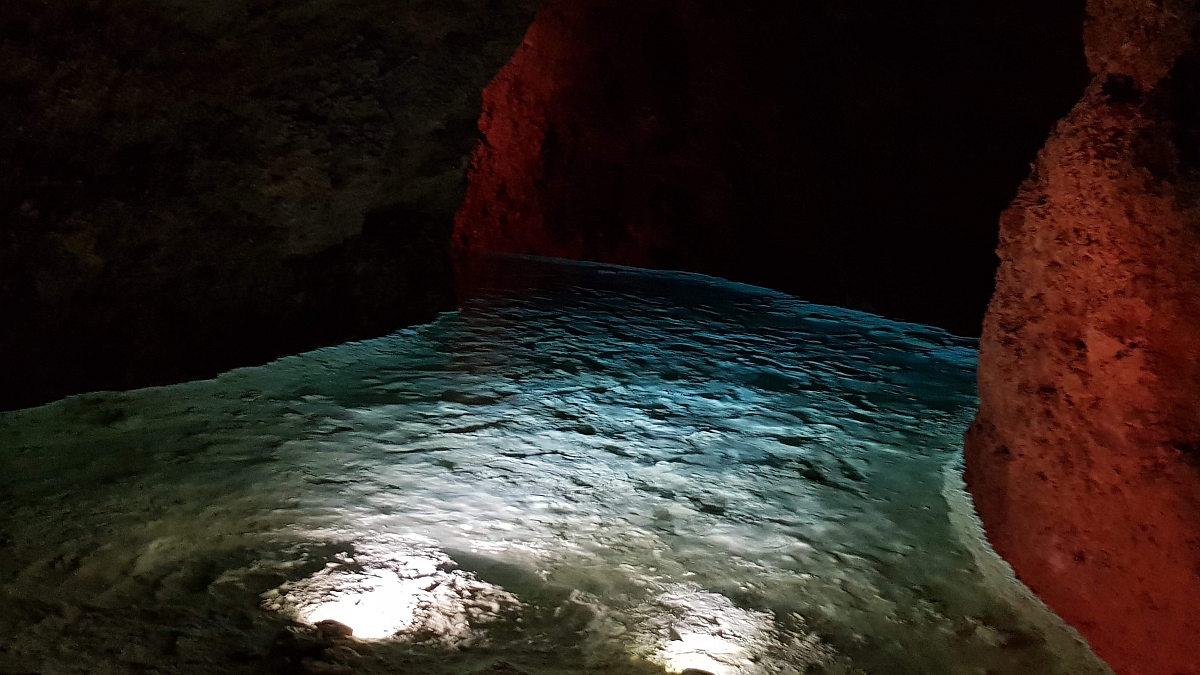 We weren't really sure what to expect from the caves, but enjoyed it a lot. When you are a long way underground and they turn off lights you get a feeling for how the first men to explore the system must have felt, crawling through tight spaces in the pitch black before coming out into cathedral like caverns. Well worth doing.
Welchman Gully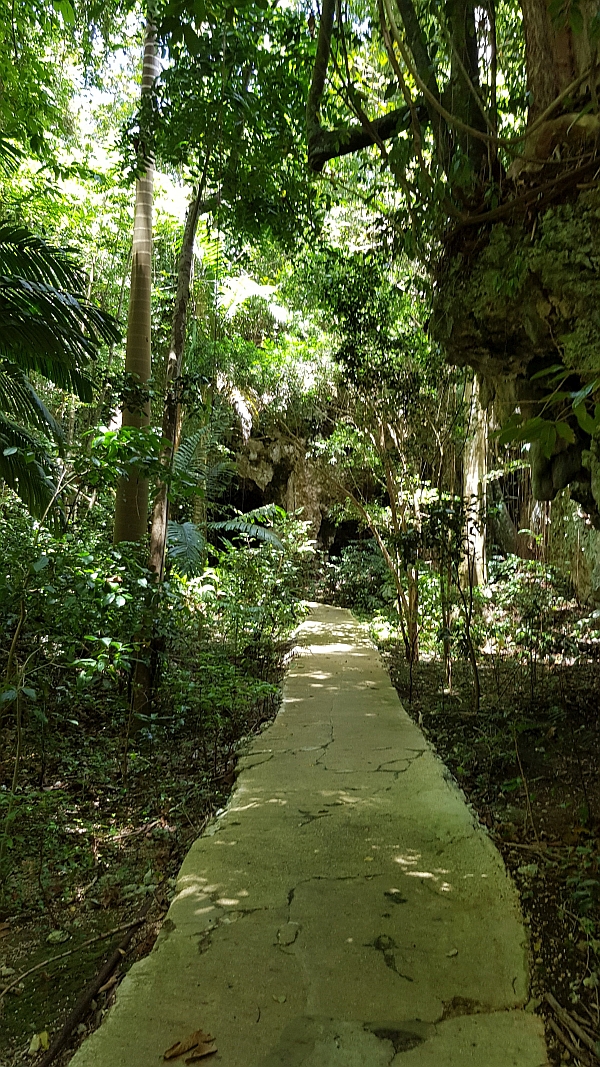 We went straight from the caves to Welchman Gully. It's not anything really amazing, but quite nice to walk through the shaded gully when it's hot.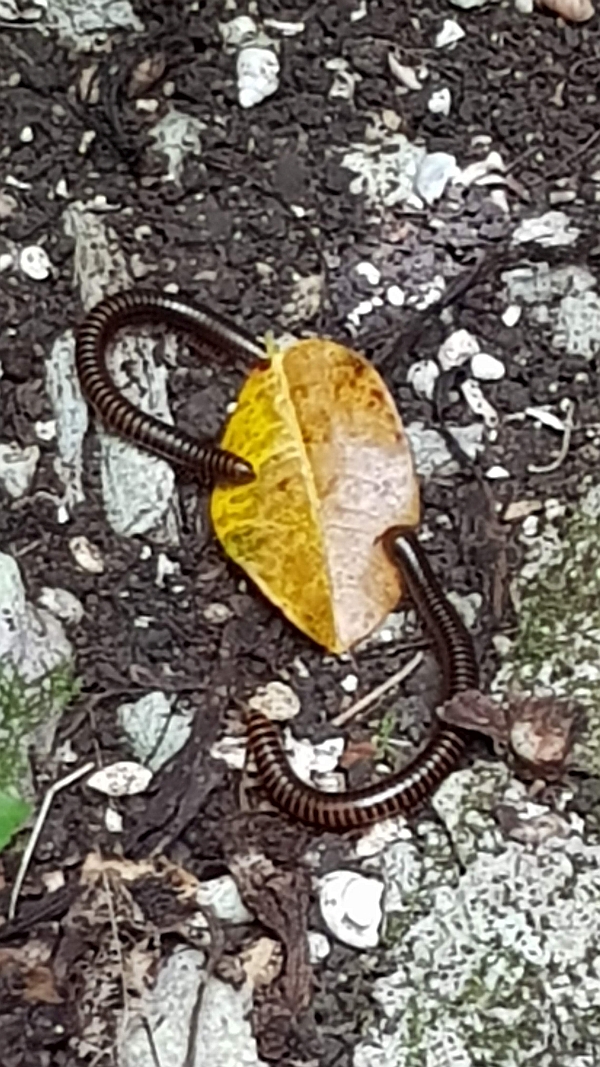 We came across these creepy crawlies. They're giant millipedes and about 4 inches long.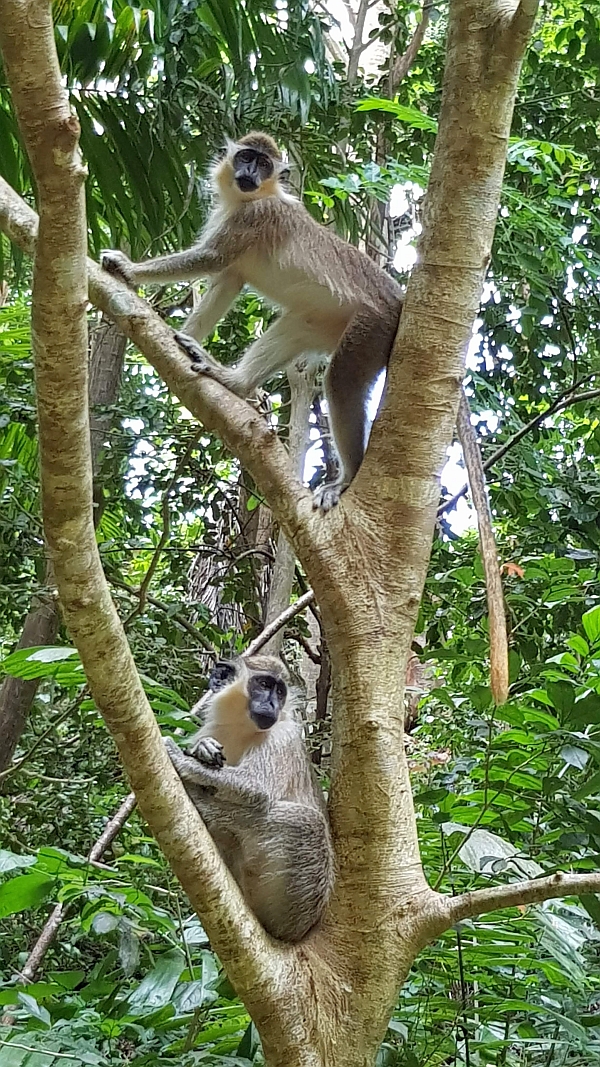 This is the main reason for doing this. There are lots of Green Monkeys wandering around. At one point there was nobody else about and Tam and I stood still in the path as the monkeys wandered around quite close to us.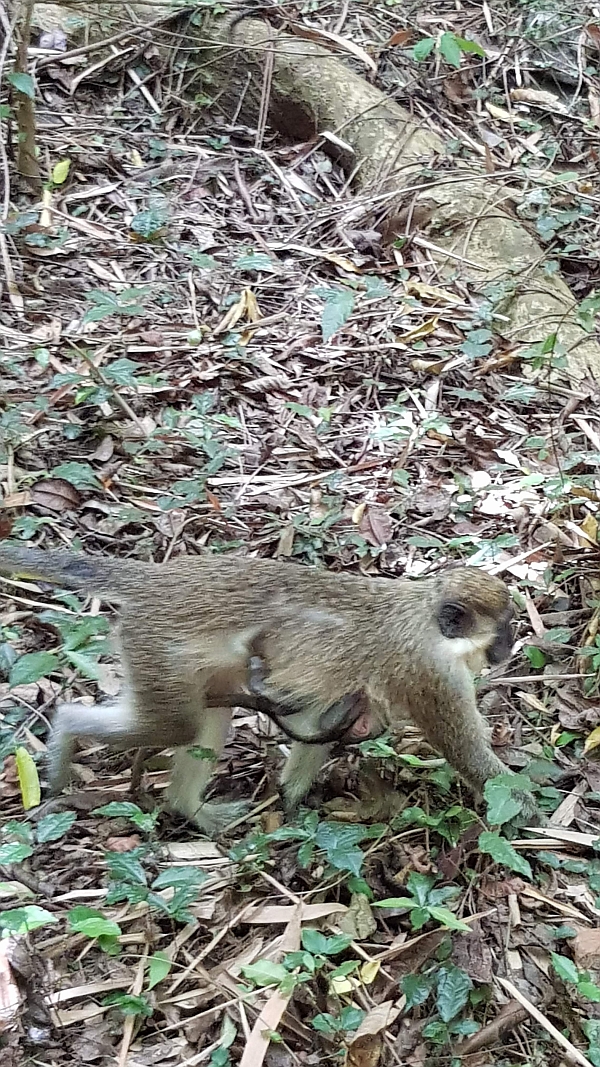 This mother had the baby clinging to her stomach.
Huntes Gardens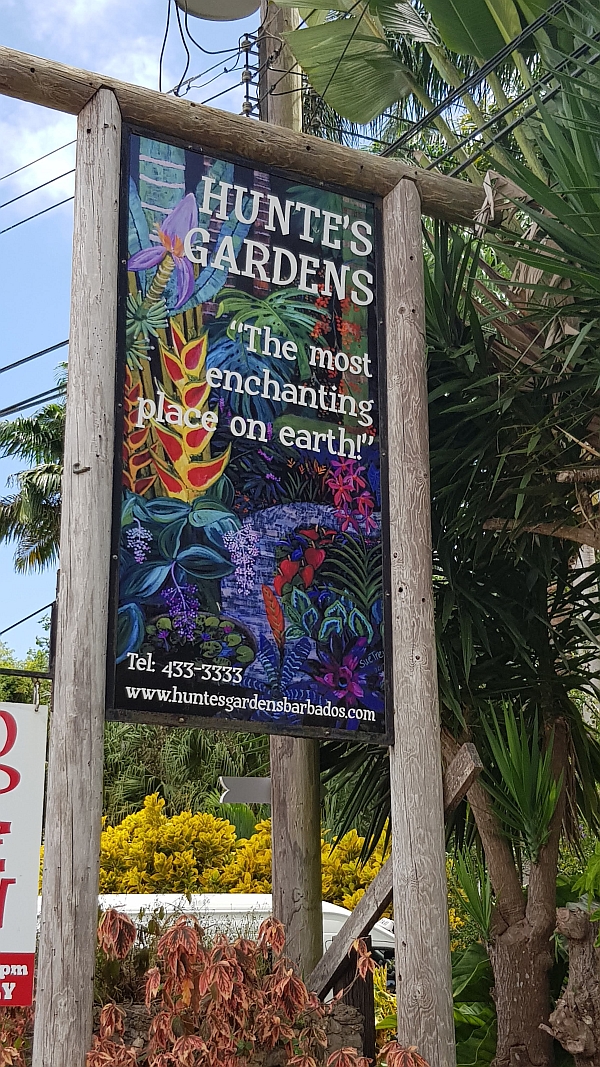 As you can see above, it's advertised as 'the most enchanting place on earth'. Now that's a pretty big claim and I'm not sure I would totally agree, but one thing's for sure - it's very beautiful and tranquil. Tam says that this was the single best thing we did on the holiday.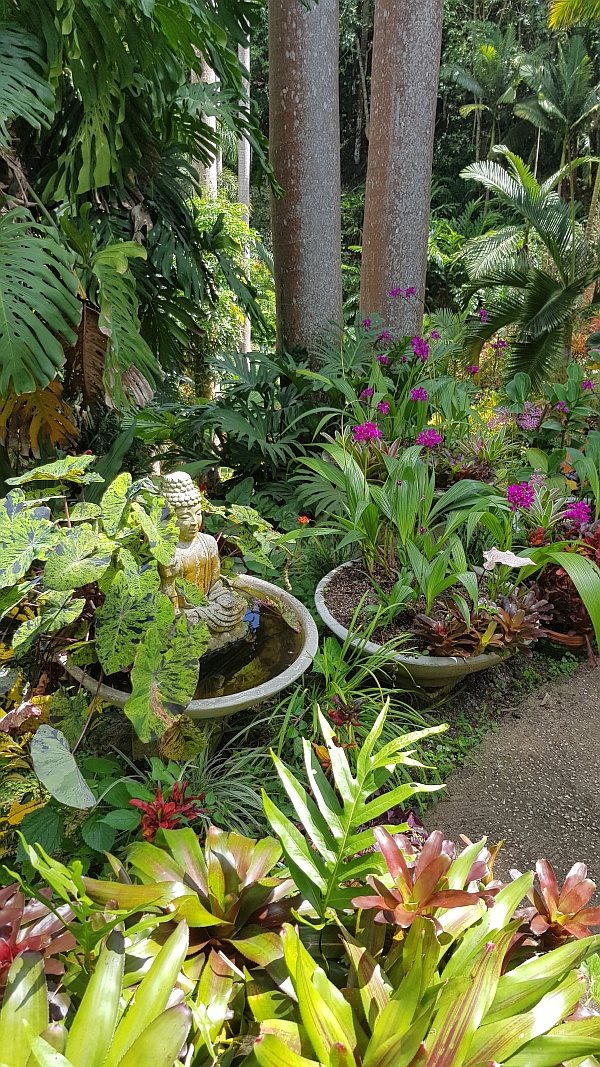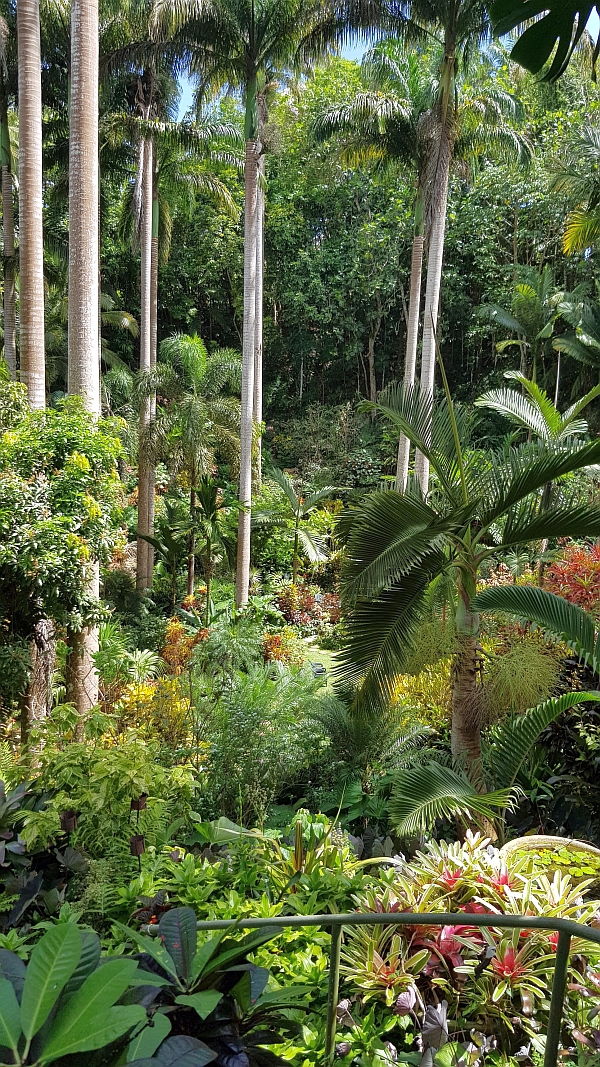 It was created by a chap called Anthony Hunte in an old sink hole and he keeps it up together with just one employee. Amazing when you see the variety and sheer number of plants and flowers.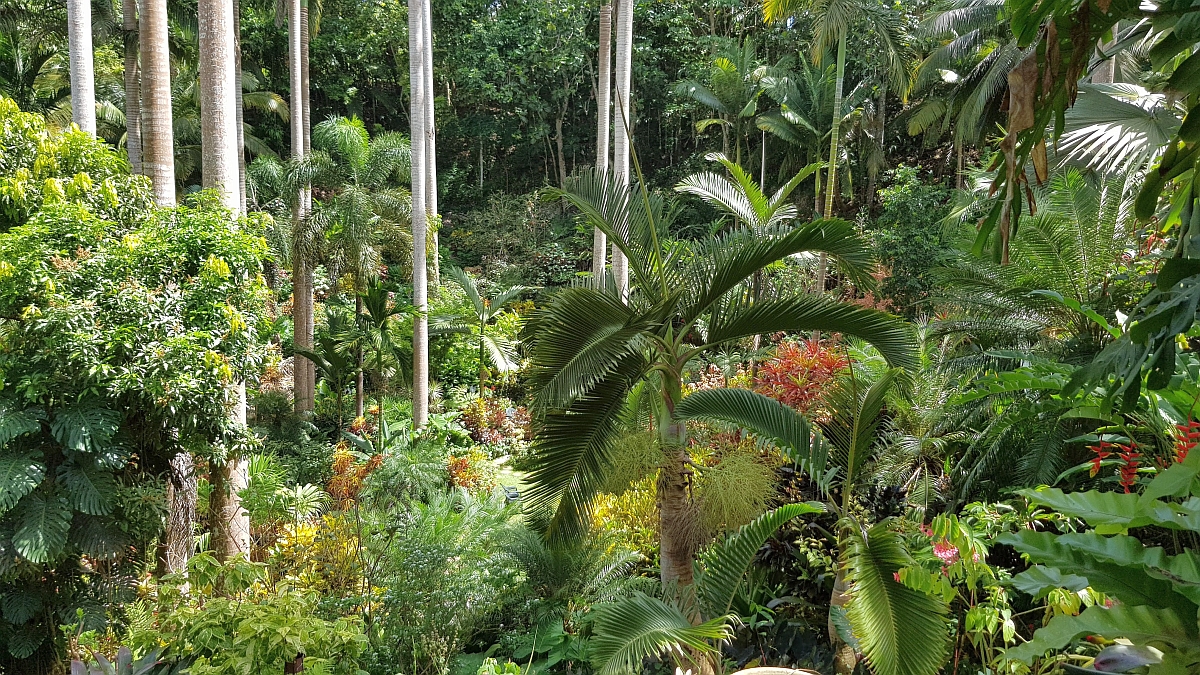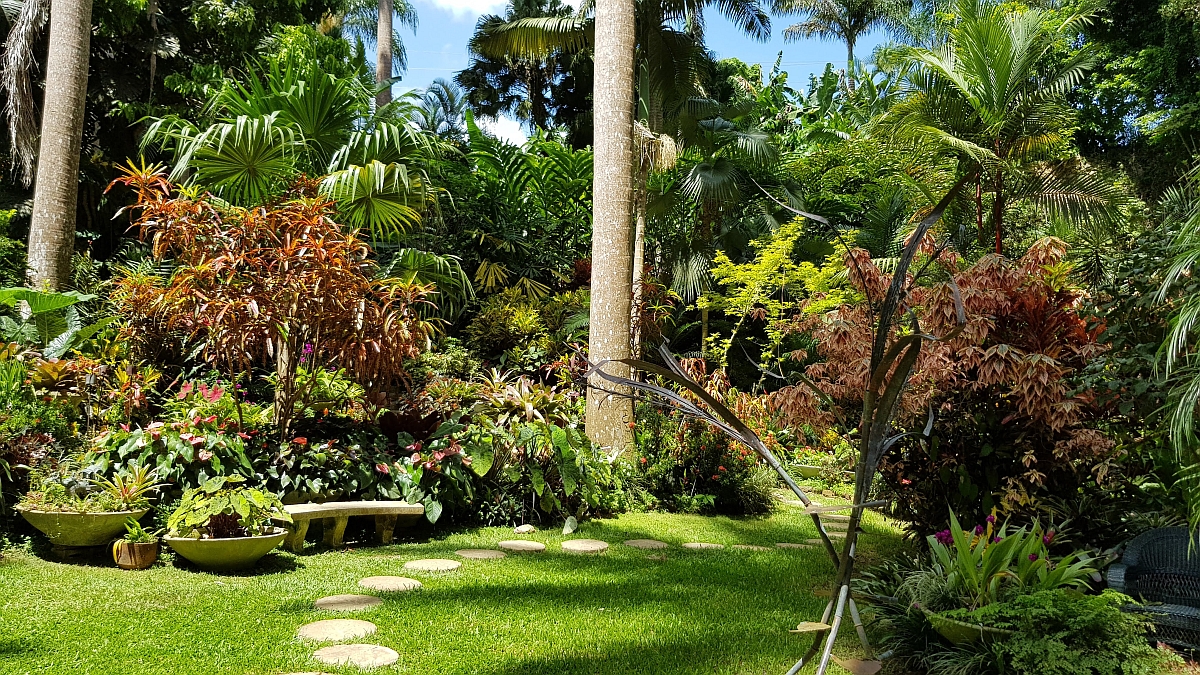 You come across many little places to sit and take in the beauty around you. We were told that some people come and bring a picnic. I could get behind that, a nice bottle of wine and a spot of cheese in this delightful place would be far from the worst thing to do.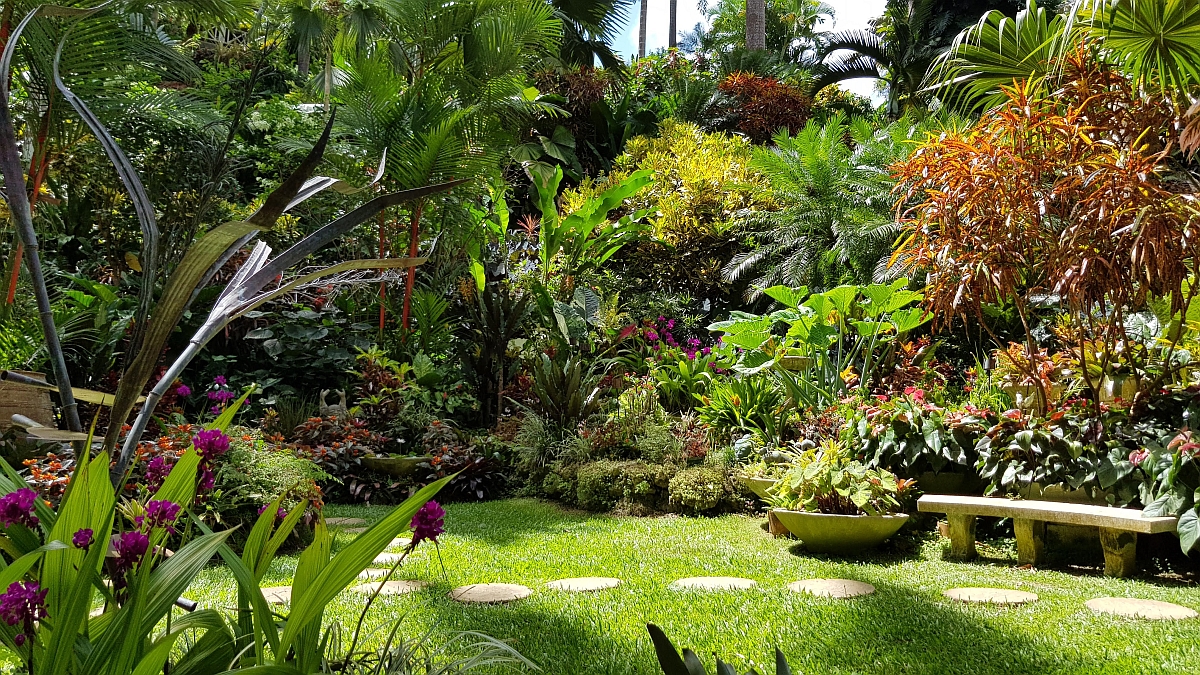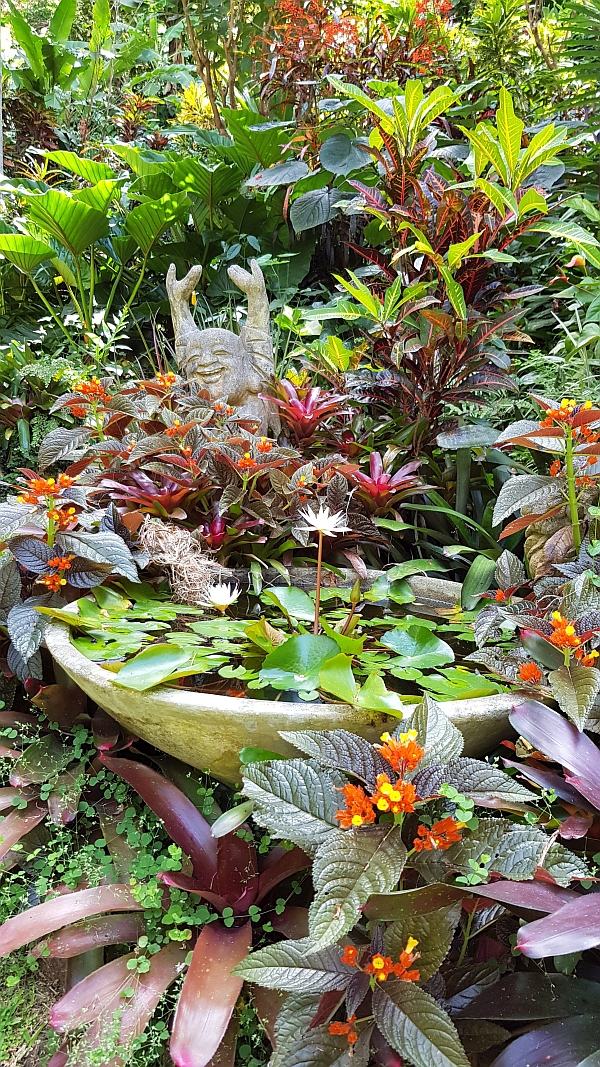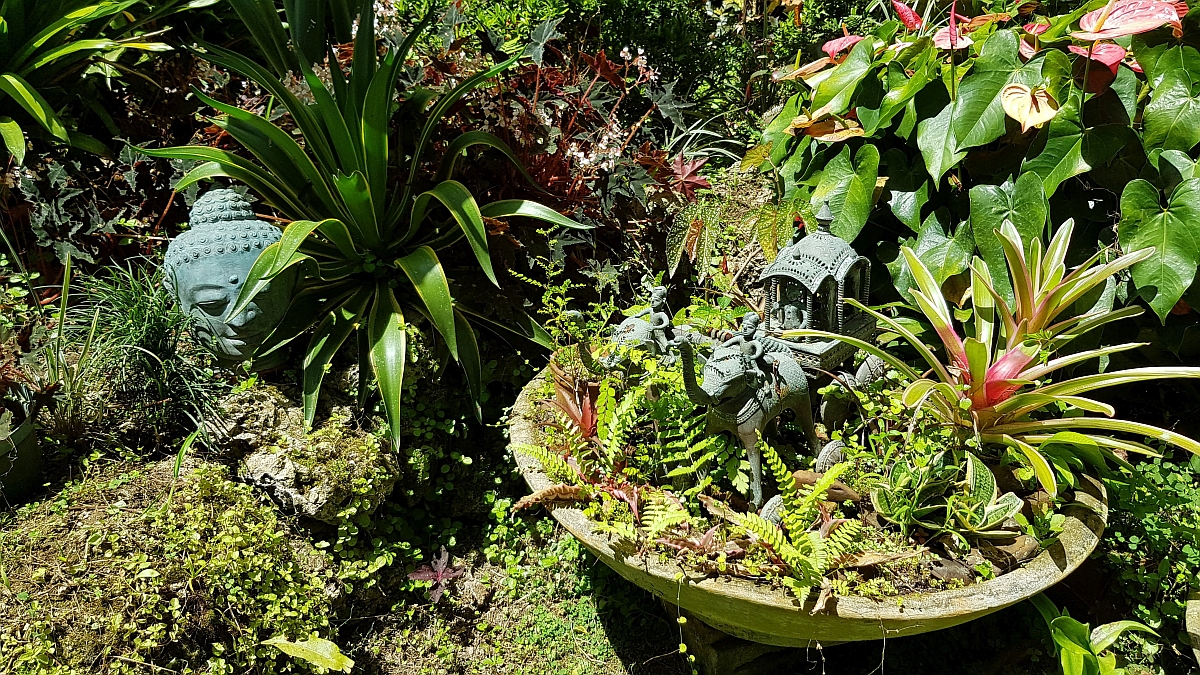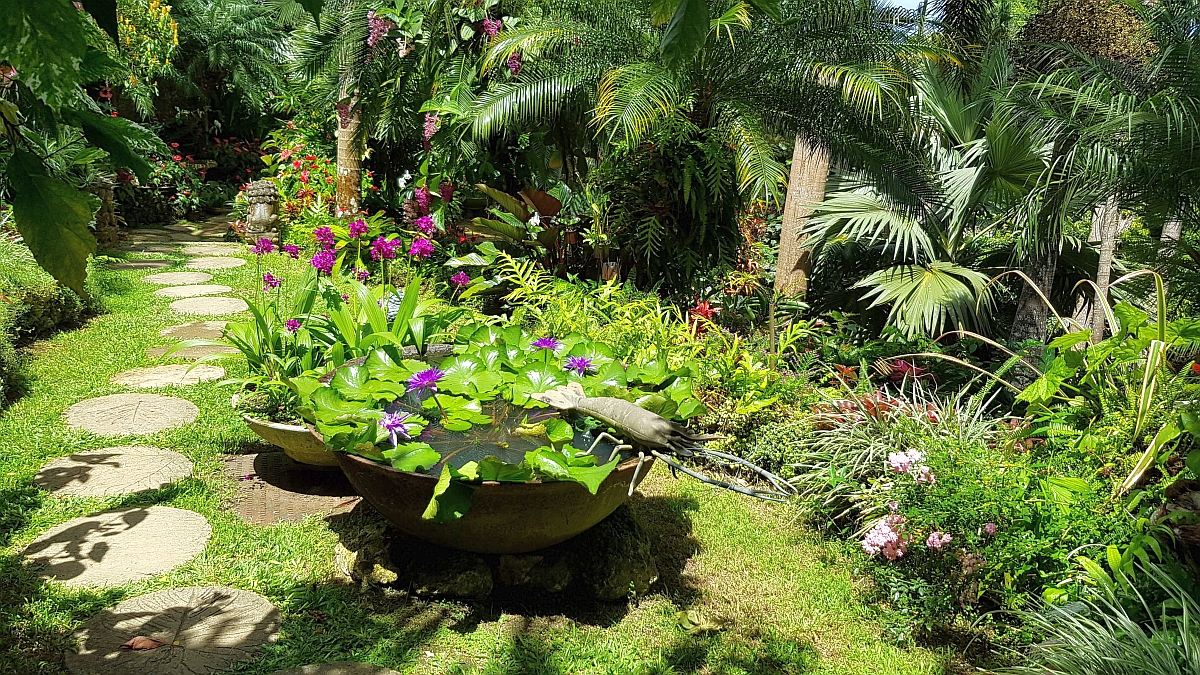 This is actually one of those times when photos don't do justice to the subject matter. It's so lush and pretty that it's hard to take it all in.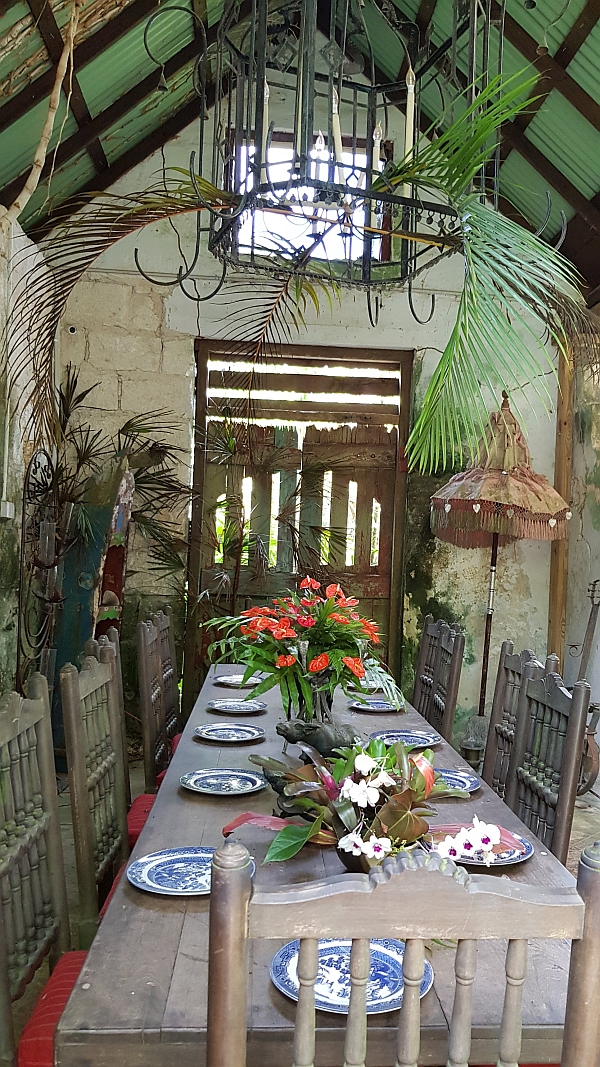 Tam decided that this would make a wonderful place for a small wedding. I had to point out to her that she is already married. A strange wistful look came over her face at this point. I think she might consider divorce just to get married again here. I don't think she'd be too choosy as long as she got to use this place. There are some unkind souls who would say she wasn't too choosy first time round either.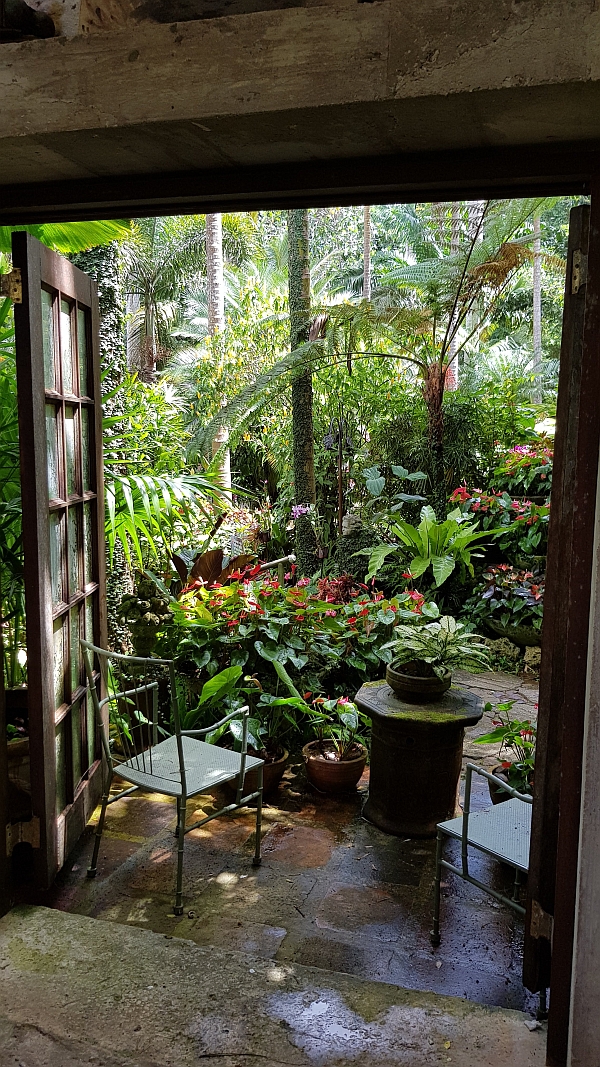 After you finish wandering round you end up on the balcony of Anthony Huntes home where you can have a drink and a chat with him. It's all very relaxed. While we were there he was trying to contact the Chelsea Flower Show where he had an entry.
Foursquare Rum Distillery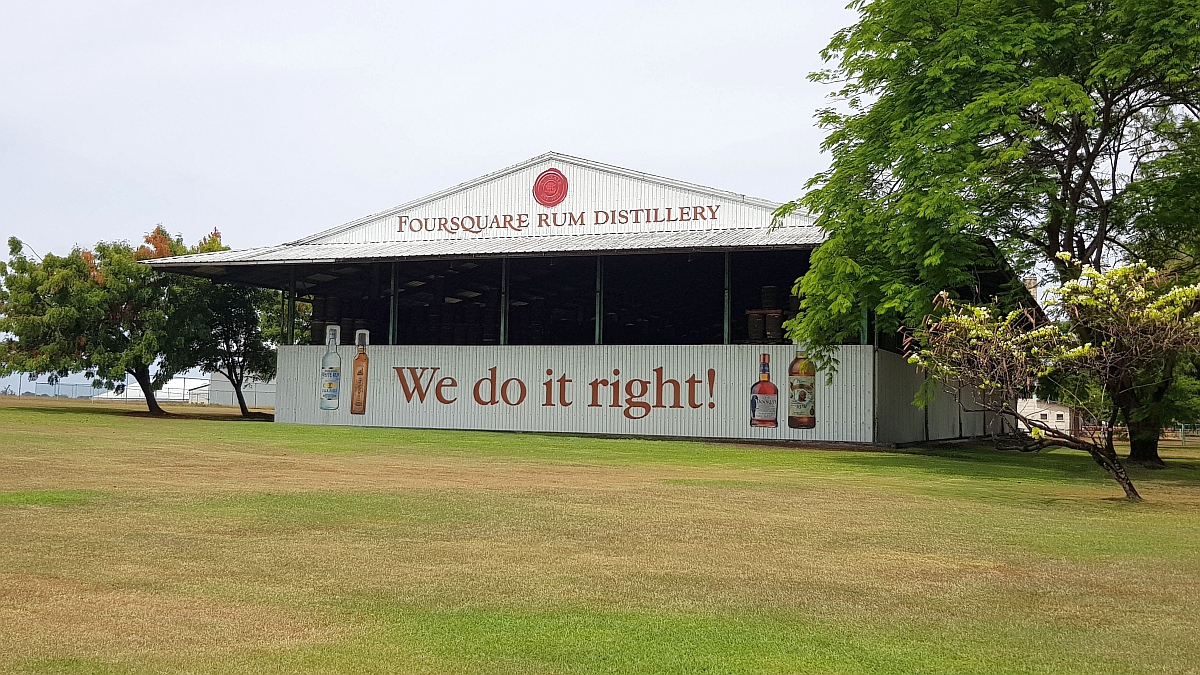 This was a fun thing to do. You have to drive here as it's out in the country. I think you can get a bus, but it wouldn't be easy and would involve a couple of changes.
This is one of the warehouses where they age the rum.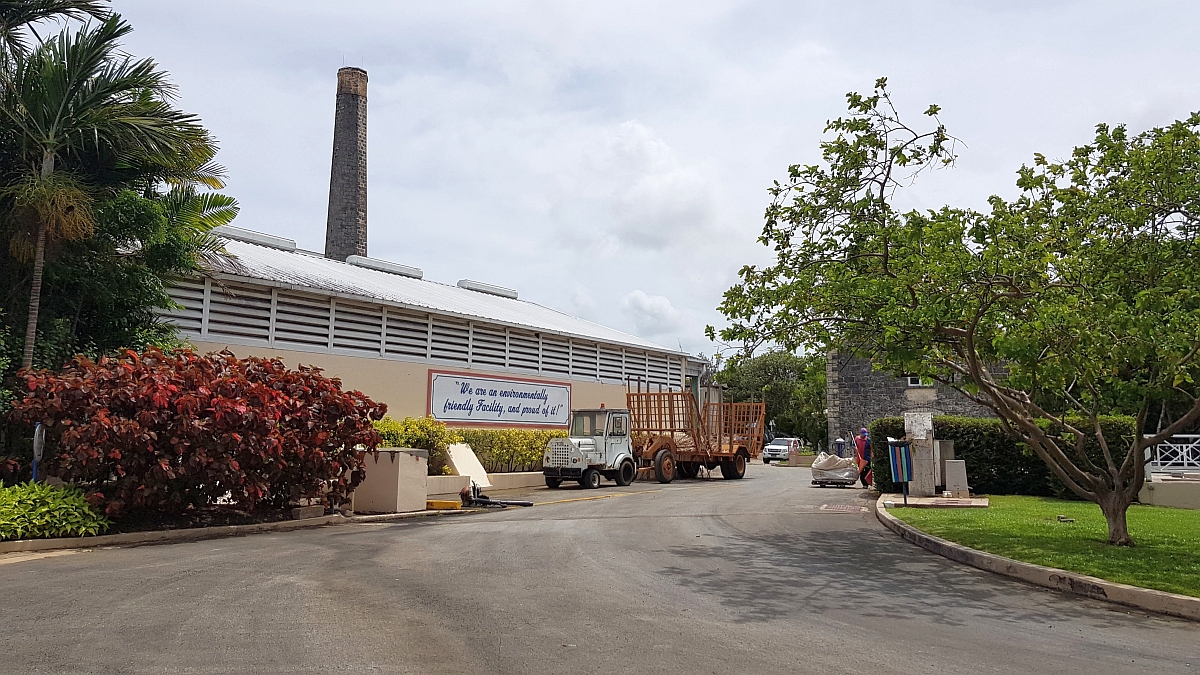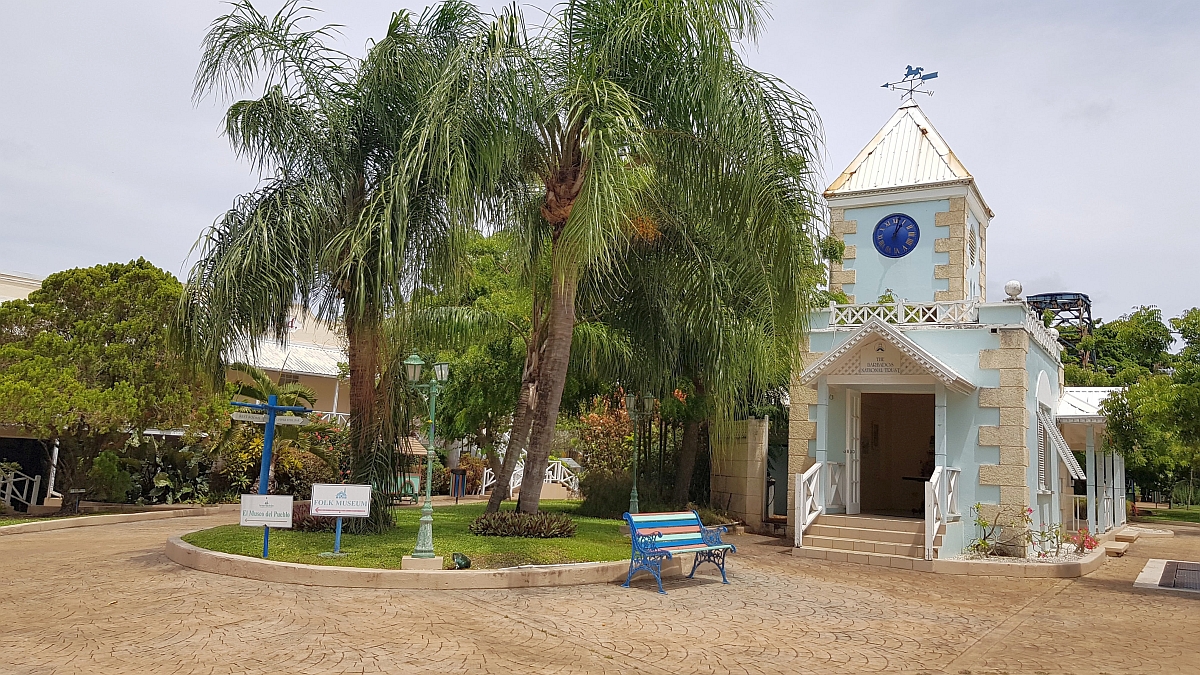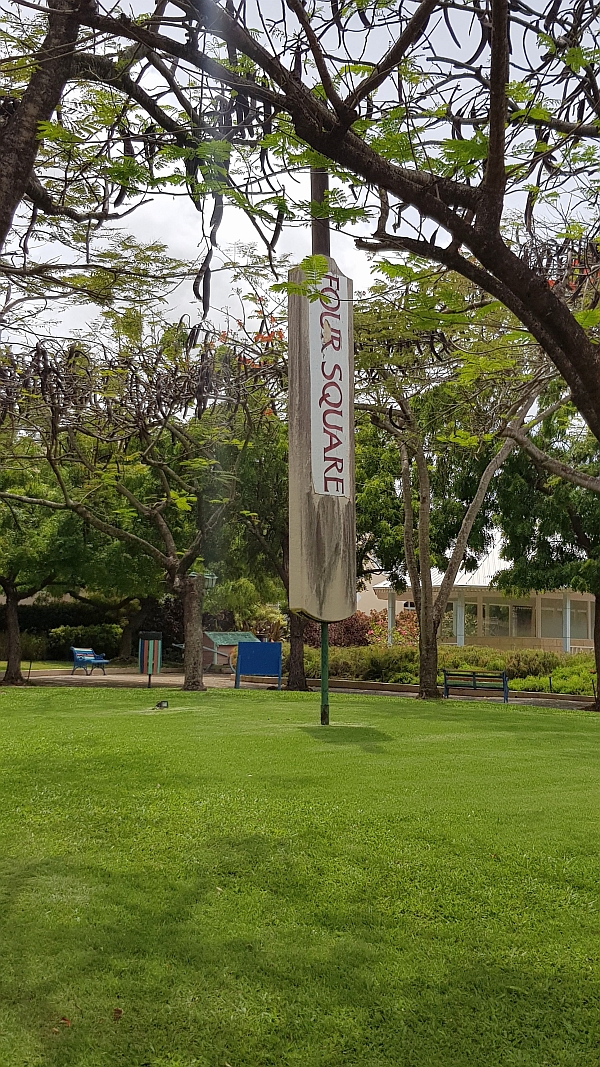 After we parked the car it wasn't immediately obvious where to go. It's a self guided tour as you walk through the distillery and look at various displays telling you about the rum production process.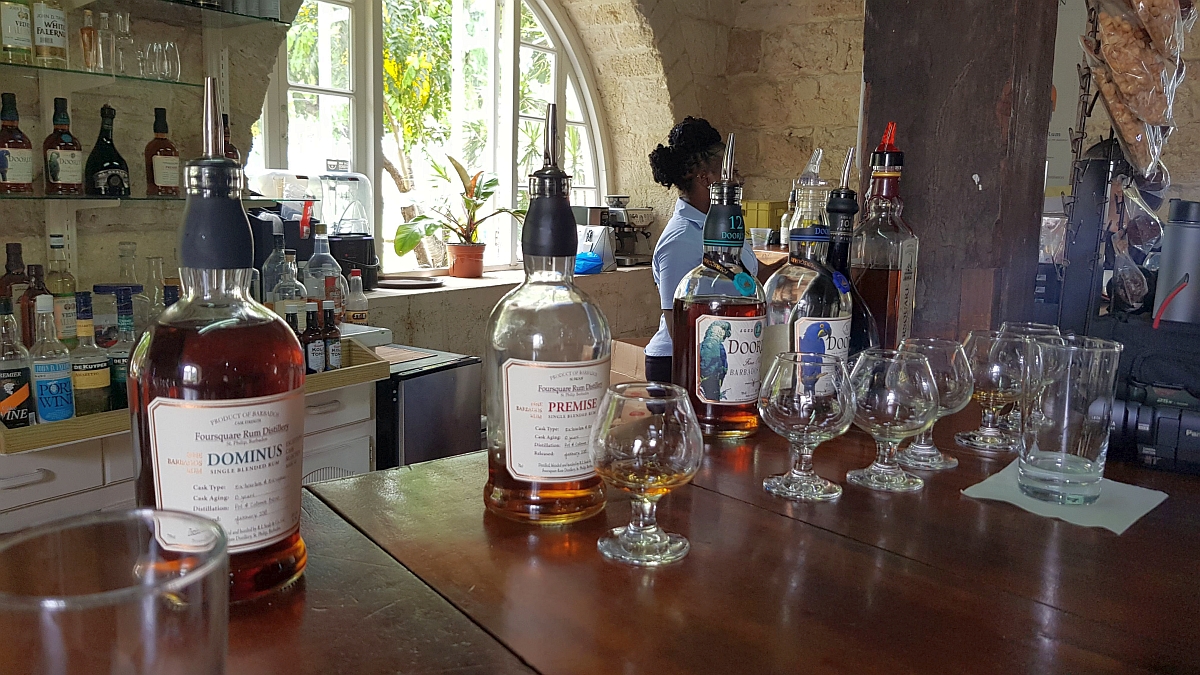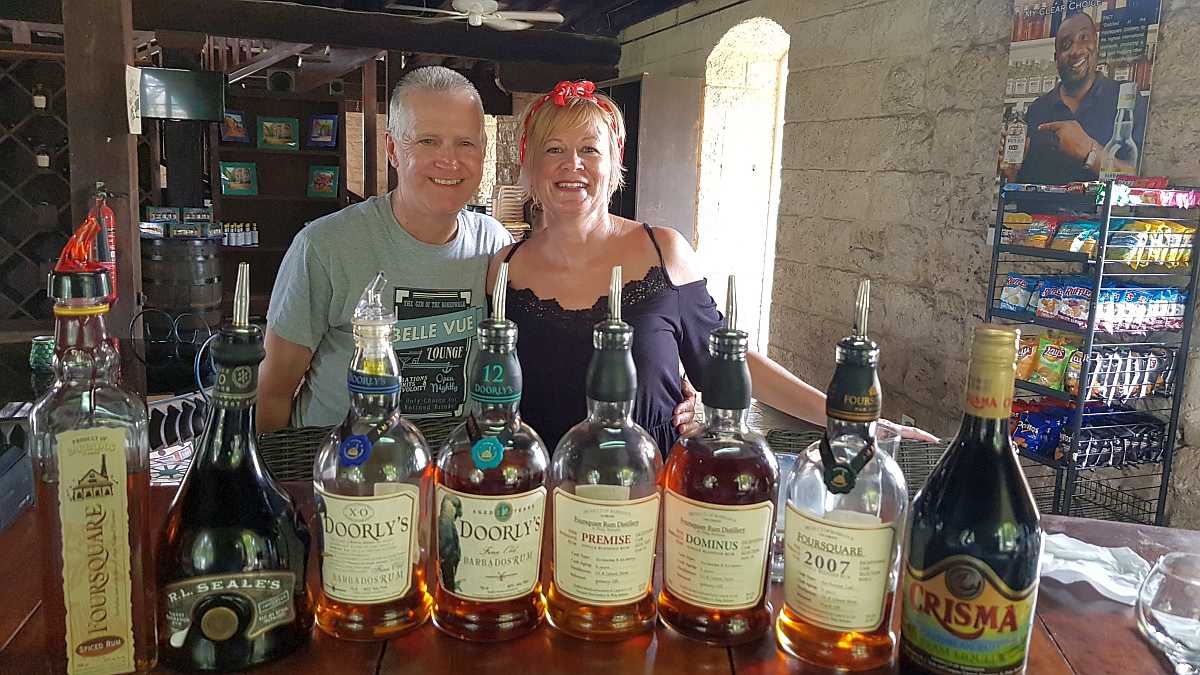 At the end you can pay for a rum tasting, which was interesting. Some of the rums are quite expensive, but we bought a couple of bottles of Doorly's - a 5 year aged and a 12 year aged. These were very reasonably priced (I think the 12 year was about £20) compared to what you would pay in the UK. If only the suitcase was bigger - and the customs man more forgiving.
Catamaran Cruise
We fancied doing a bit of a sail around and investigated the best company to use and booked it before leaving the UK. We chose Silver Moon. Many of the companies get excellent reviews, but we were very pleased with our choice. We decided on the afternoon/evening cruise. It's all inclusive, so you get food and all drinks on board and they certainly didn't skimp on the alcohol, we were constantly being asked if we wanted another beer or rum punch. They also had spirits. It wasn't cheap (nearly $300 US), but we thoroughly enjoyed our time on the boat.
They picked us up from Bayfield House along with people from other resorts before driving us to Bridgetown to pick up our catamaran.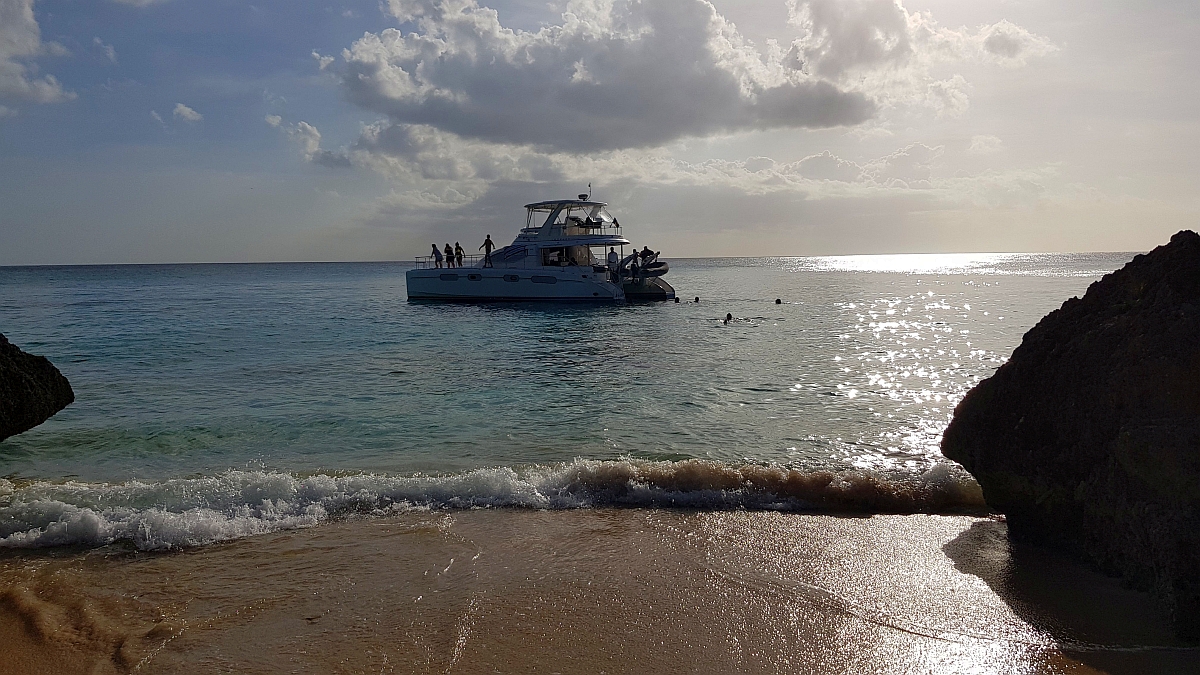 This is the boat we were on. It held 12 people (all adult) and they were mostly very friendly Americans.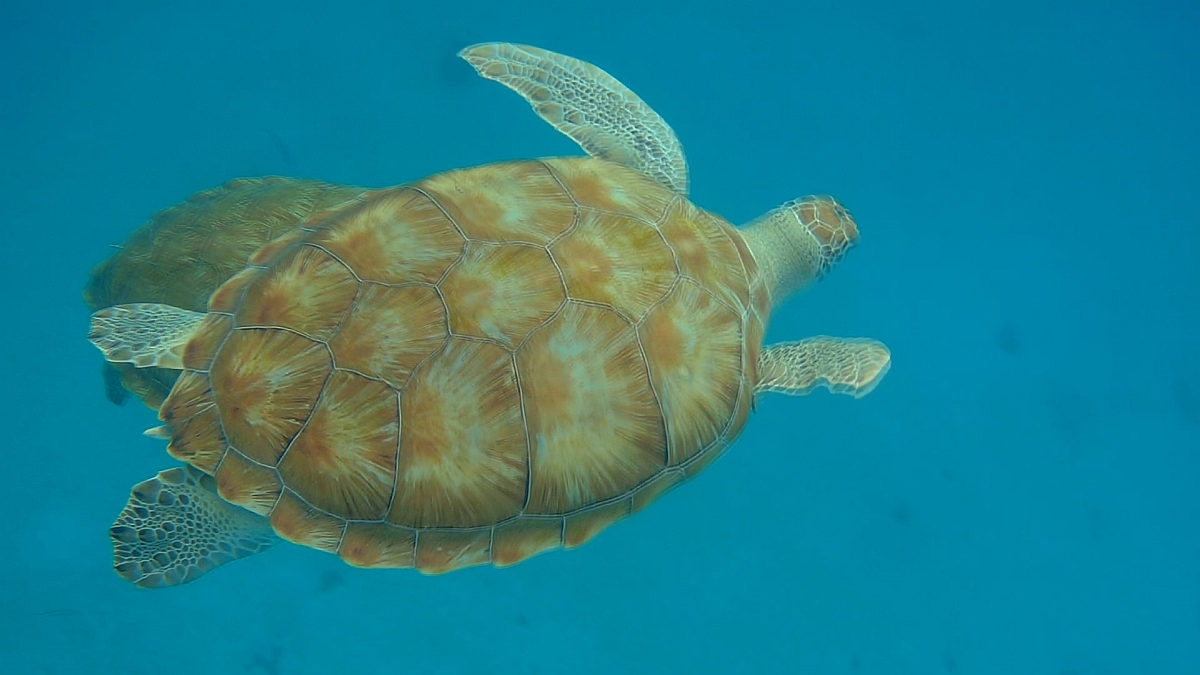 The sail out from Bridgetown was a little rough, in fact I lost my baseball cap overboard before we left the harbour! It soon settled down though and our first stop was to go snorkelling with turtles. This was tremendous with many turtles swimming very close to us. This was on a par with Hunte's Gardens for Tam - it was incredible to swim so close to these magnificent creatures.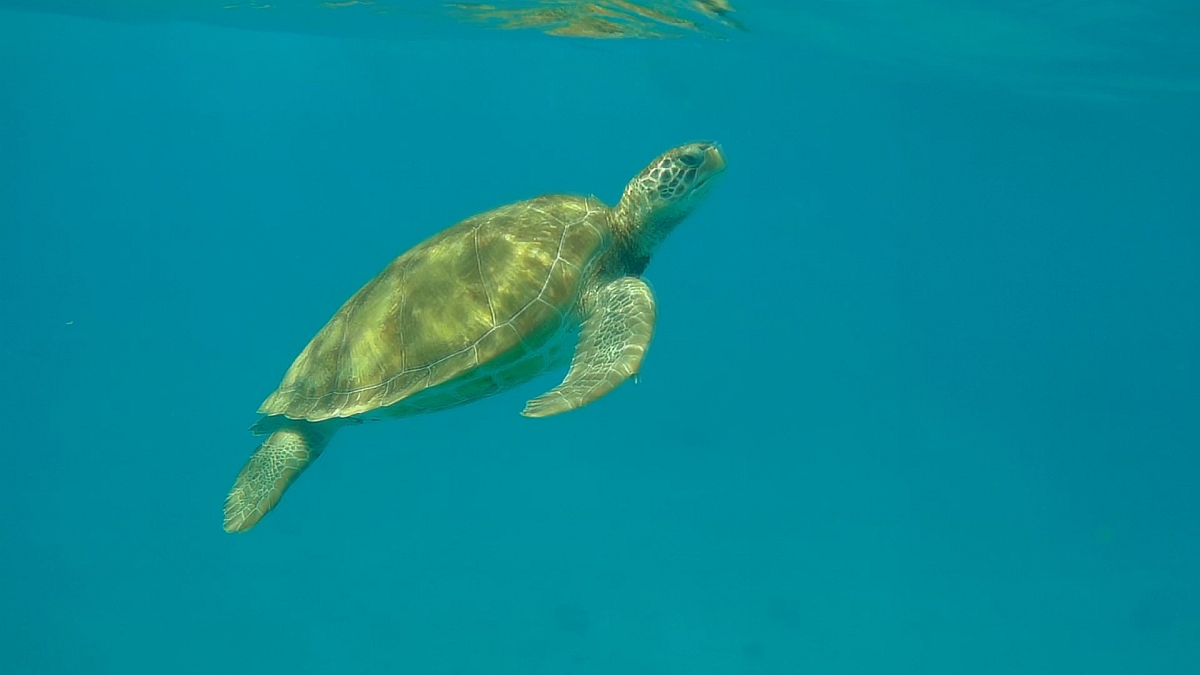 The second stop was over a wrecked ship for another 20 minutes of snorkelling before setting sail up the coast.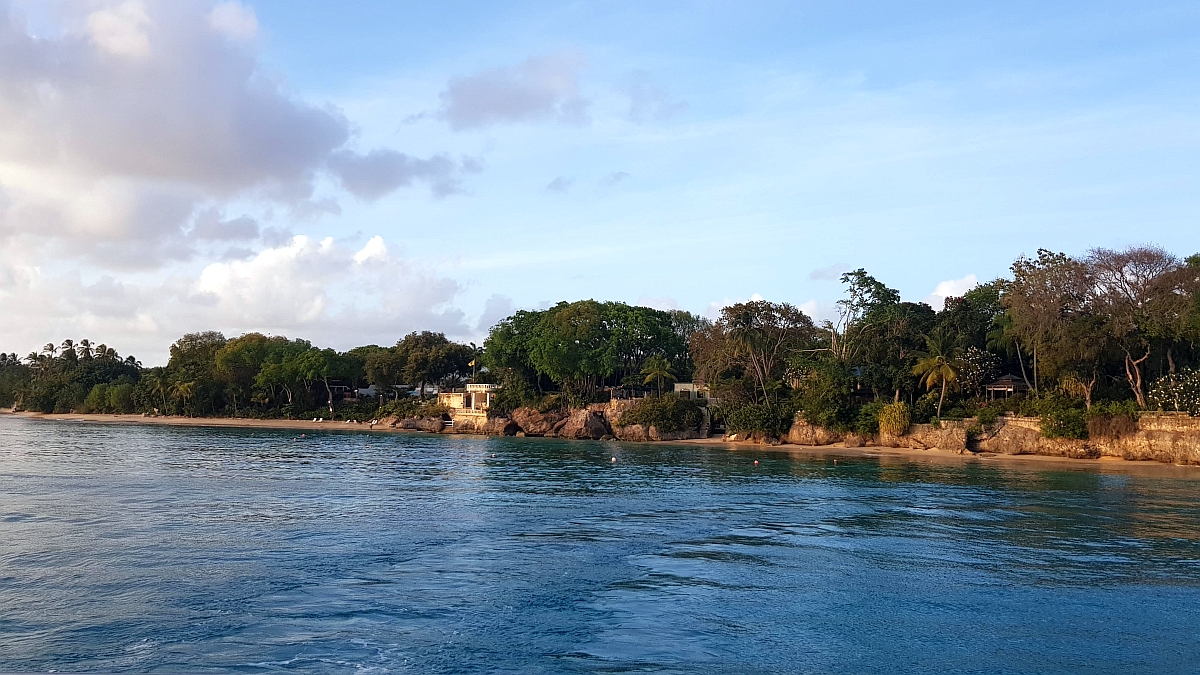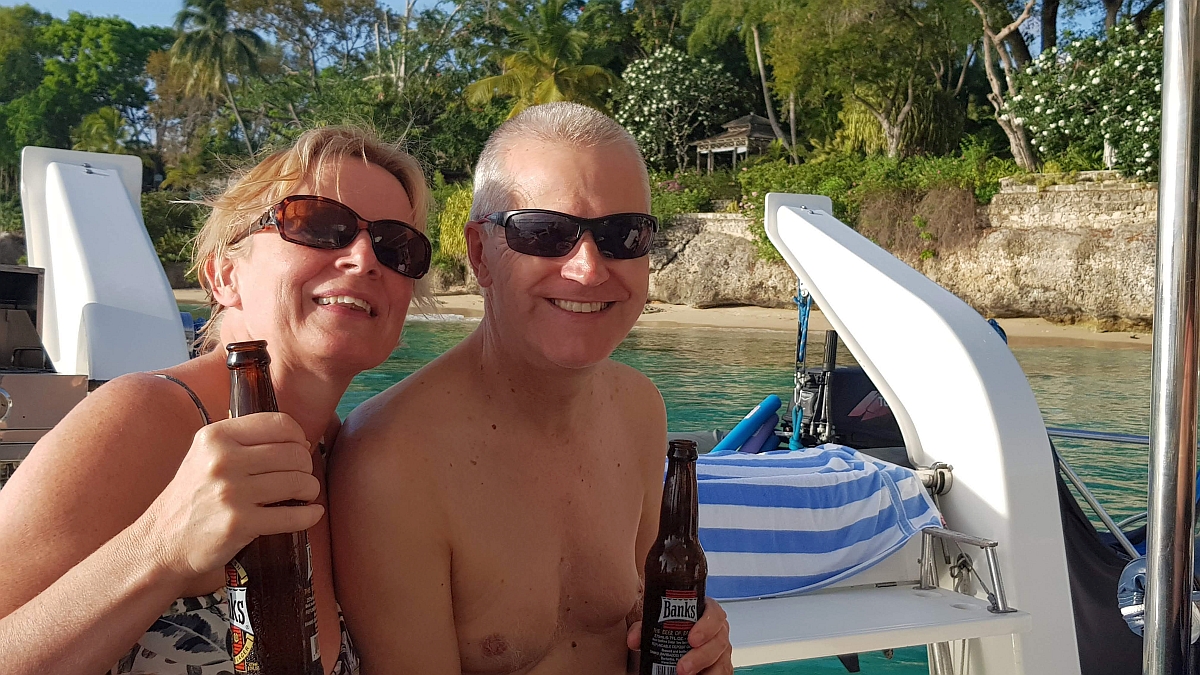 We made full use of the free drinks on board. Tam probably drank more than me - I do believe she was somewhat squiffy by the end.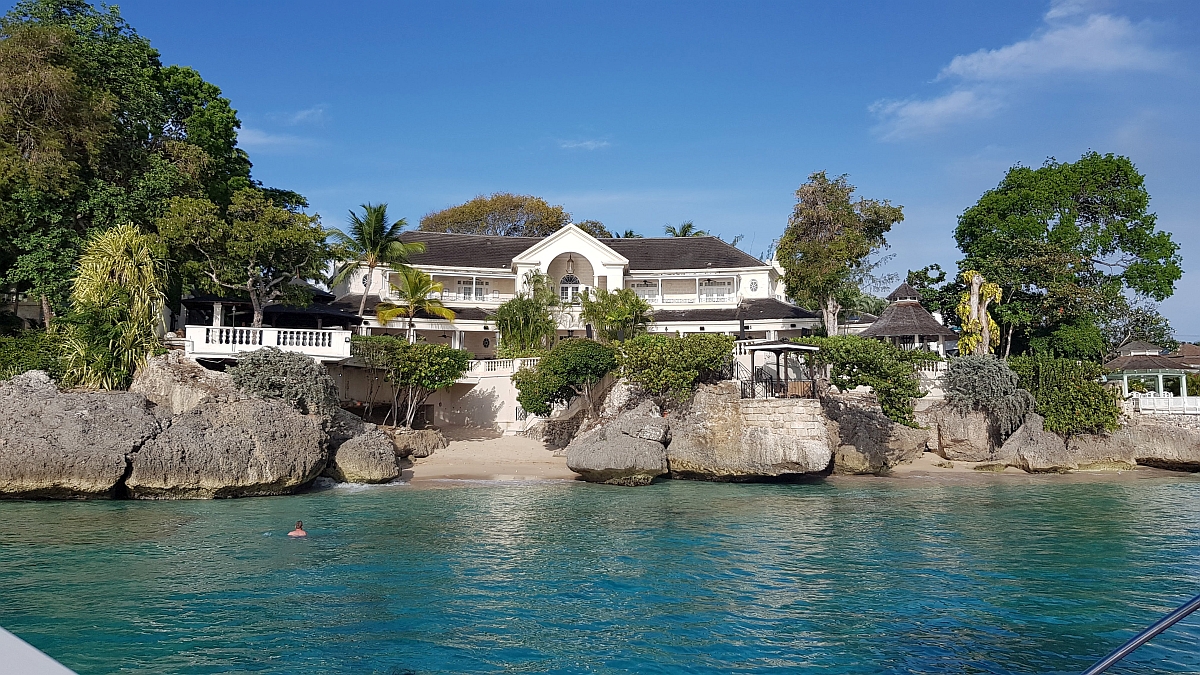 We moored up here for our meal. They told us this was the X Factor house. Don't ask me - I wouldn't know the X Factor house from the Y Factor house.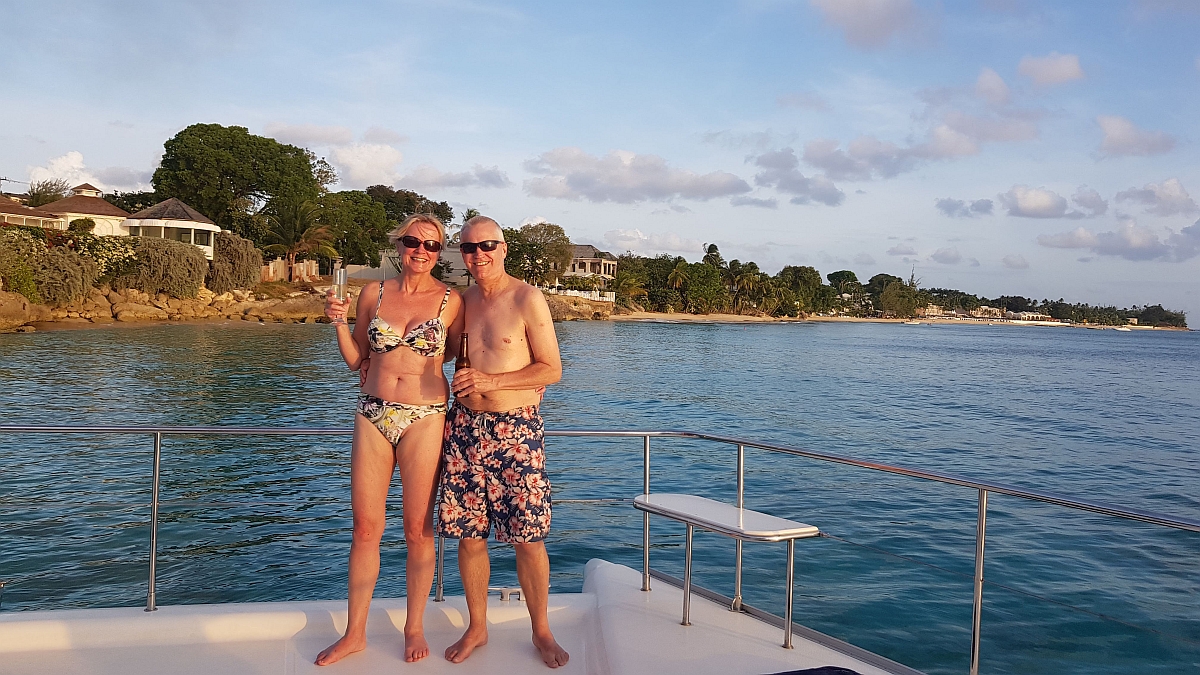 See! She's on the Prosecco now!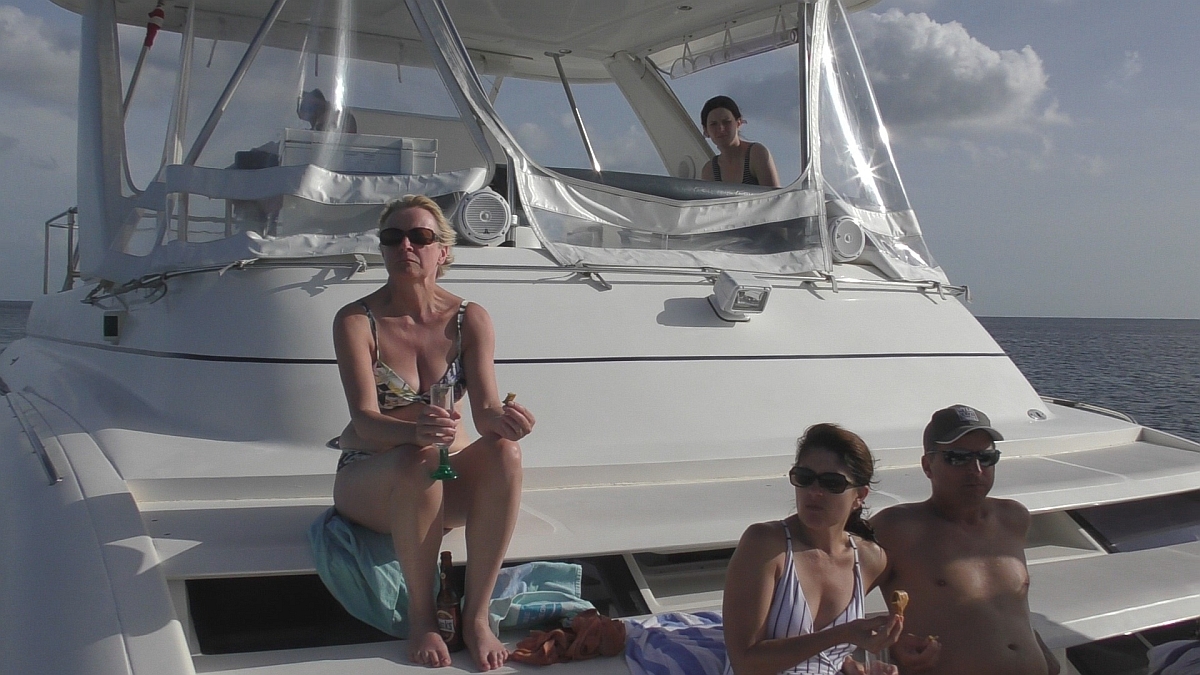 We sailed back into Bridgetown as the sun set. The food on board was very good and they kept coming round with little nibbles as well.
Bars and Restaurants
Ah, now we get to the real meat and drink (ho,ho) of the report. There is a real mixture of high end restaurants and more relaxed eateries.
Little Bristol Beach Bar
The first night of our holiday was spent here with Trevor and Pam from Bayfield House. It was a perfect way to start things off. A very pleasant temperature, cold beer, warm breeze coming off the sea, good company and a fun band.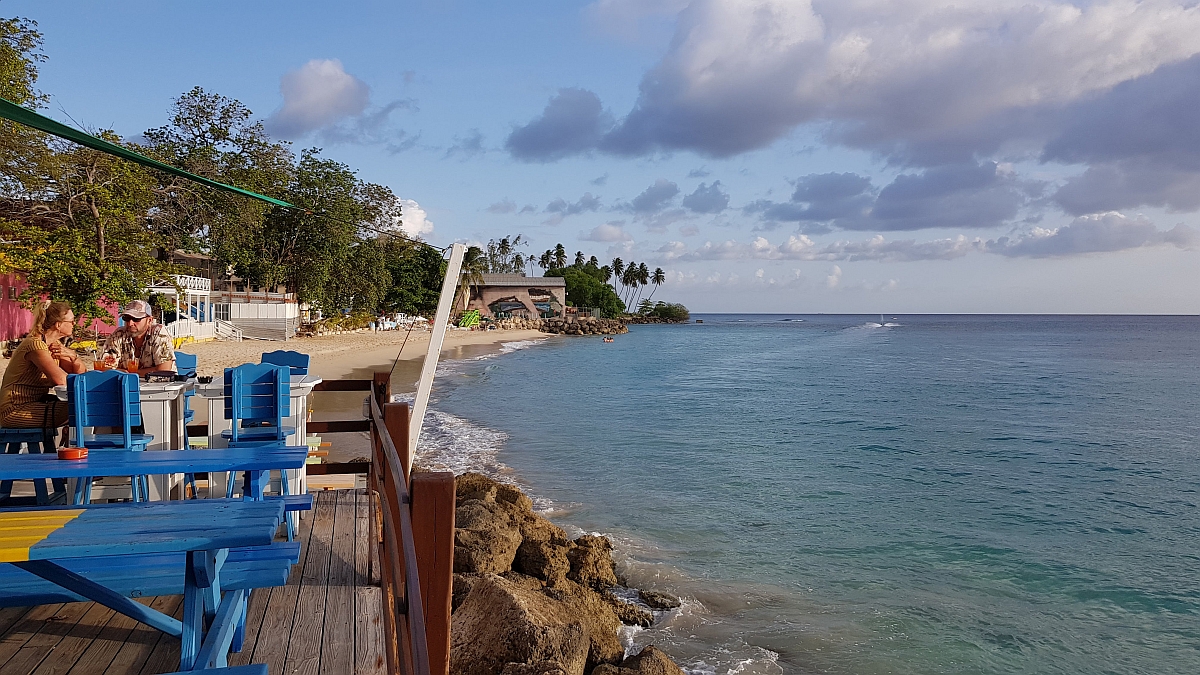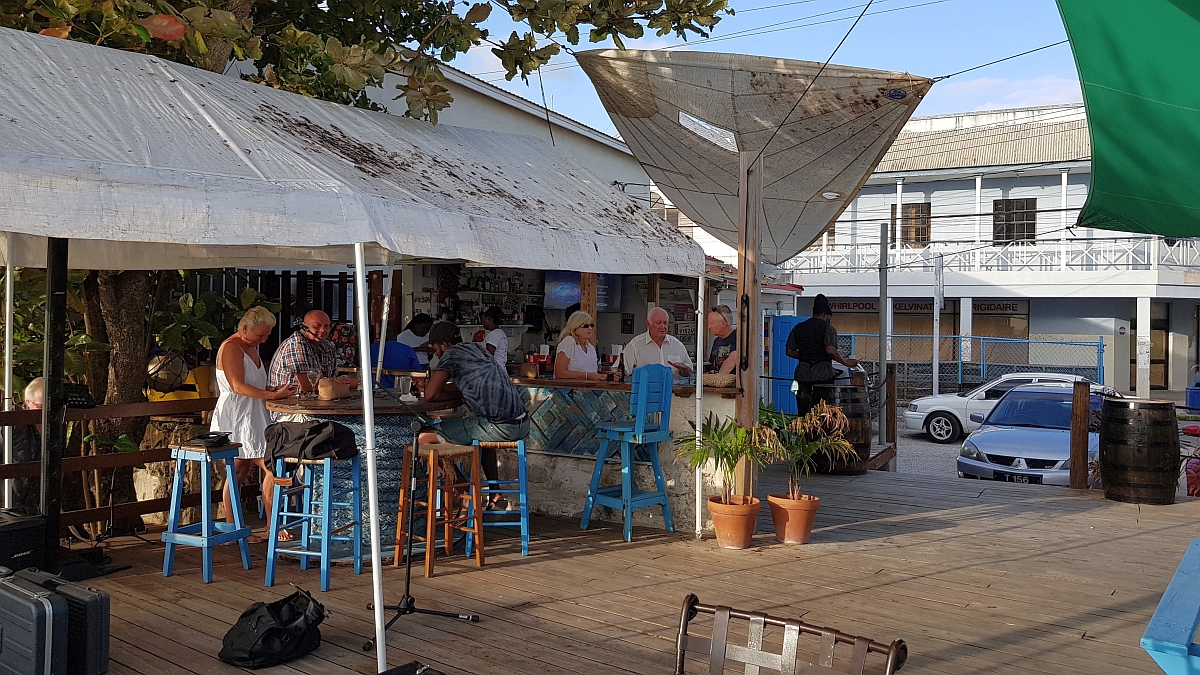 That's me standing and chatting to Trevor and Pam.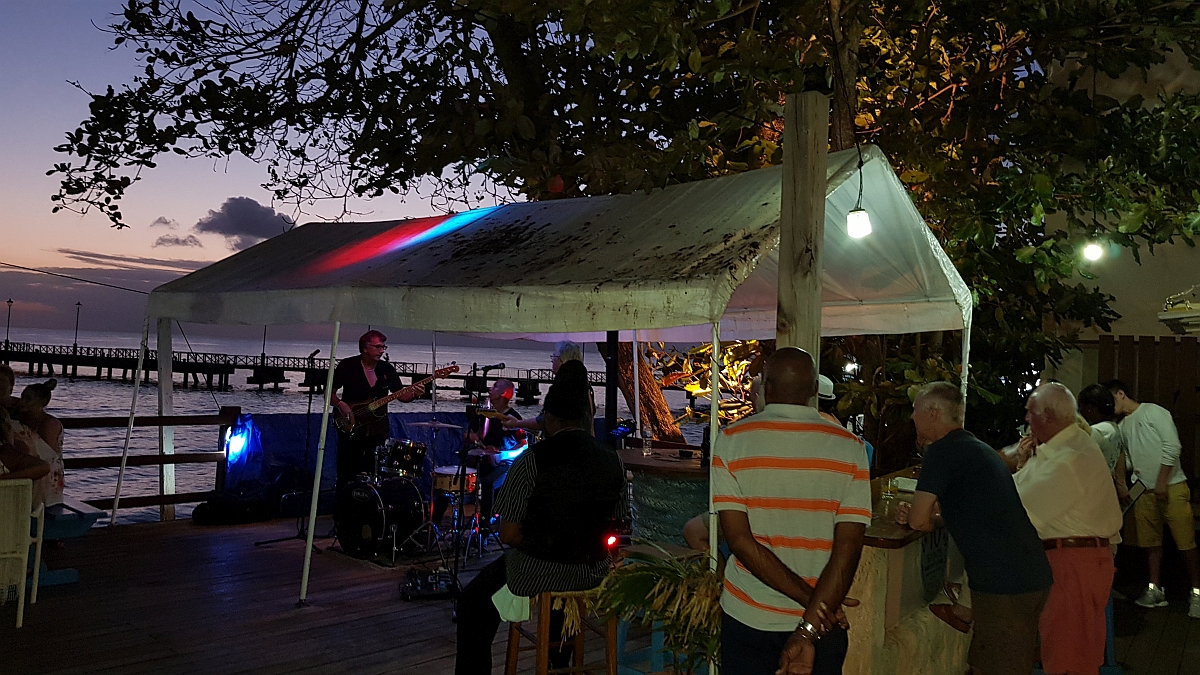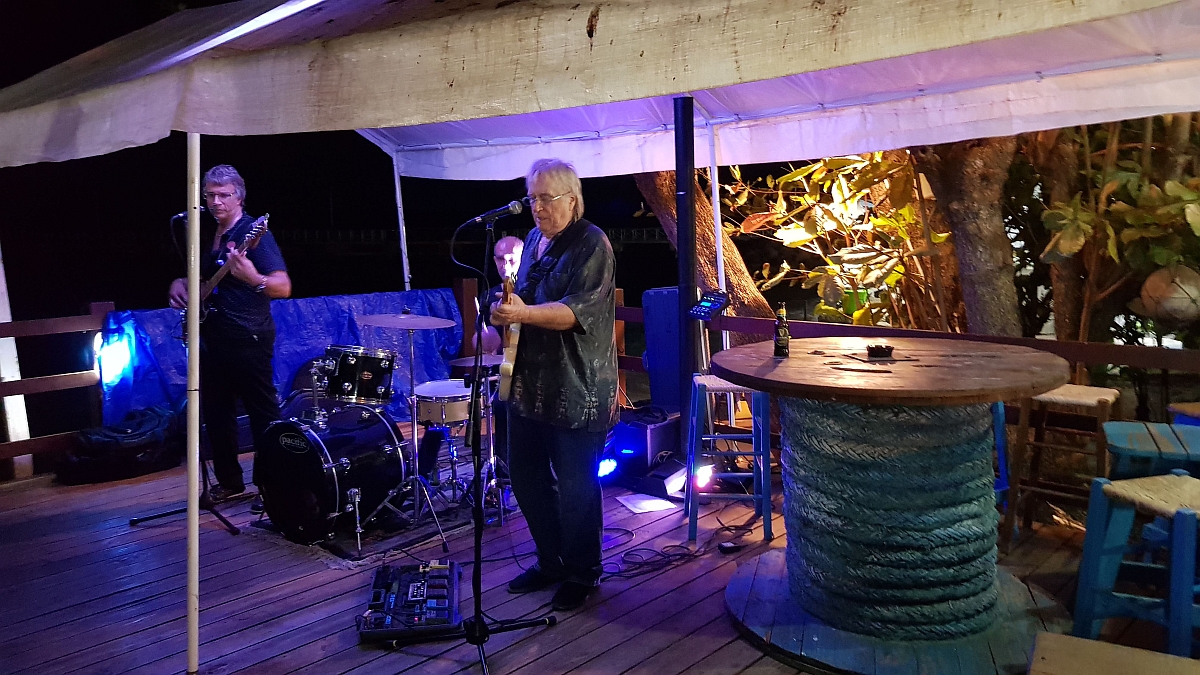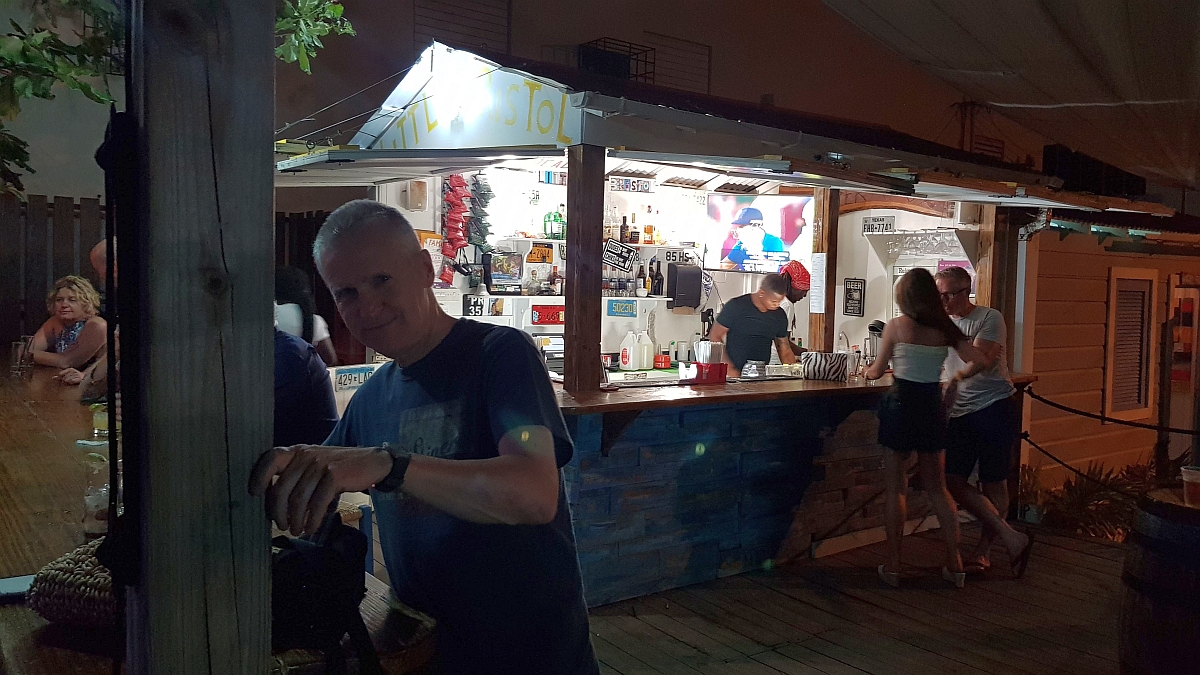 This is more a bar than a restaurant, but they do have a little shack where they cook food. I had fish (I can't remember what sort) and it was very nice. I ate lots of fish throughout the holiday and it was all good - some was exceptional.
Zacchio's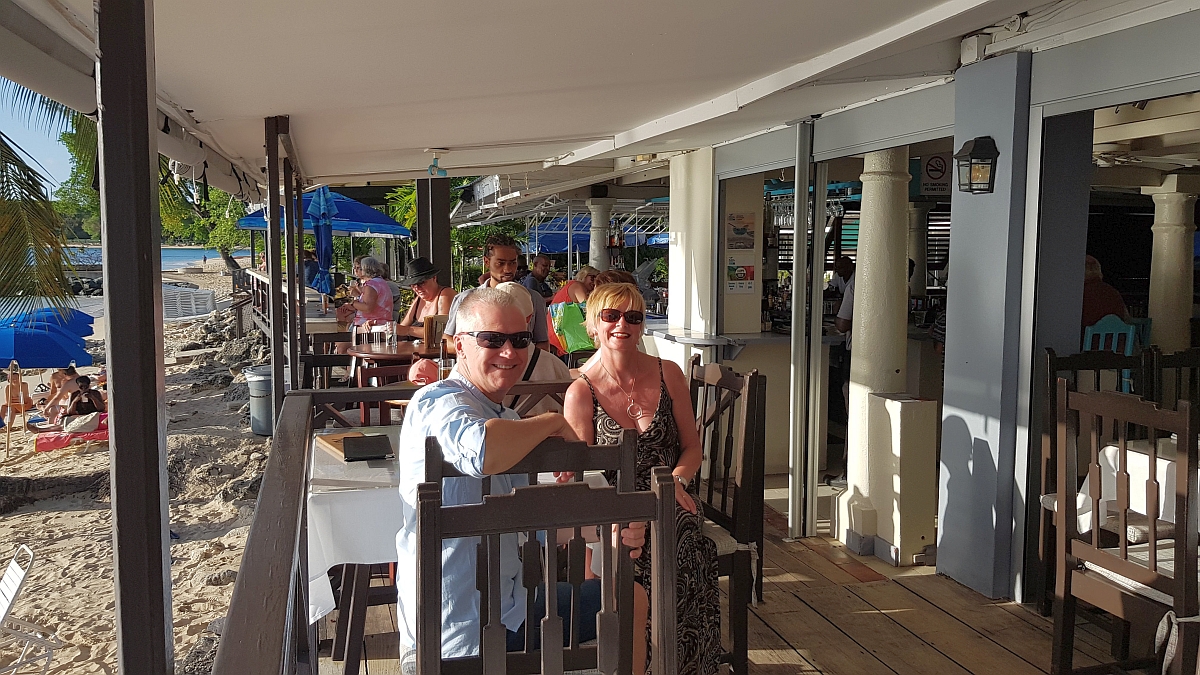 There's a restaurant and also a bar area. The bar is the part with the blue umbrellas looking out over the beach. We ate here once and had drinks a couple of times.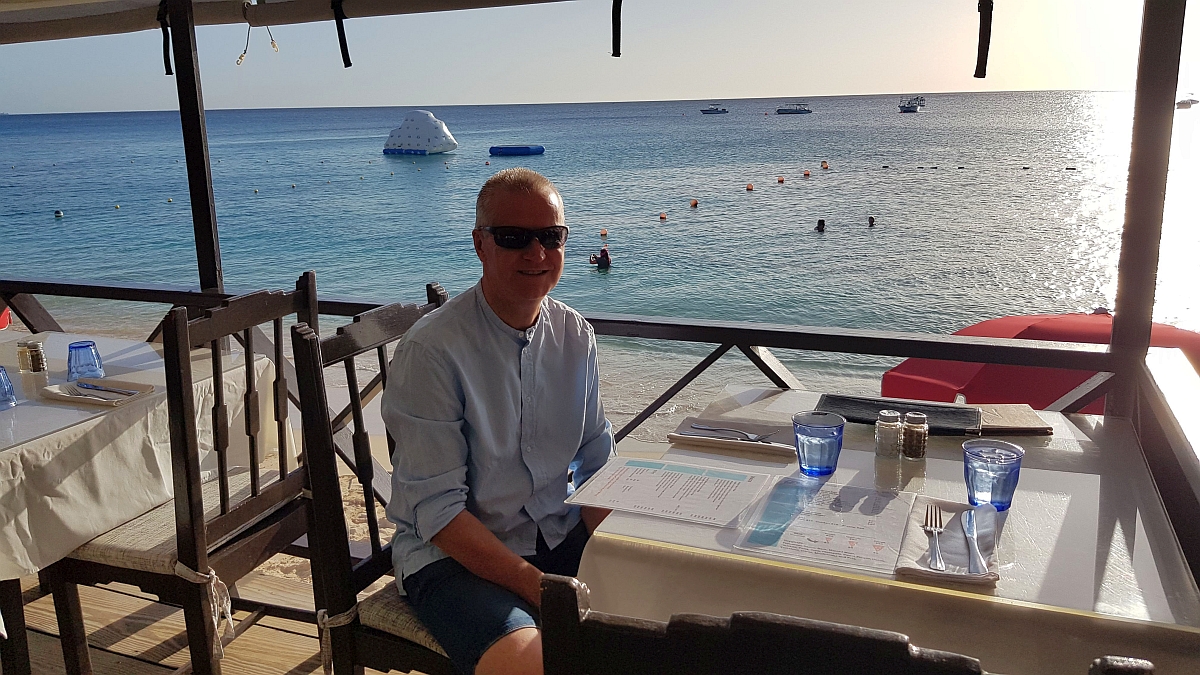 We booked in order to get a table right by the beach so we could watch the sun set over the ocean.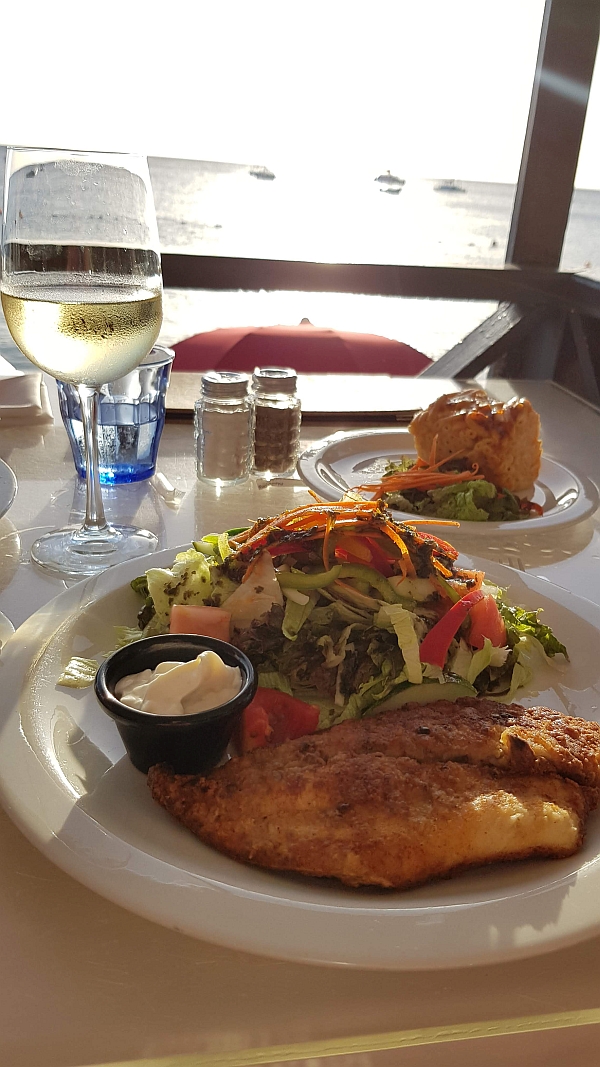 I think we both had fish of some description and Tam had a side order of a Bajan speciality - Macaroni Pie. She likes a bit of macaroni cheese, so she she siad it was lovely.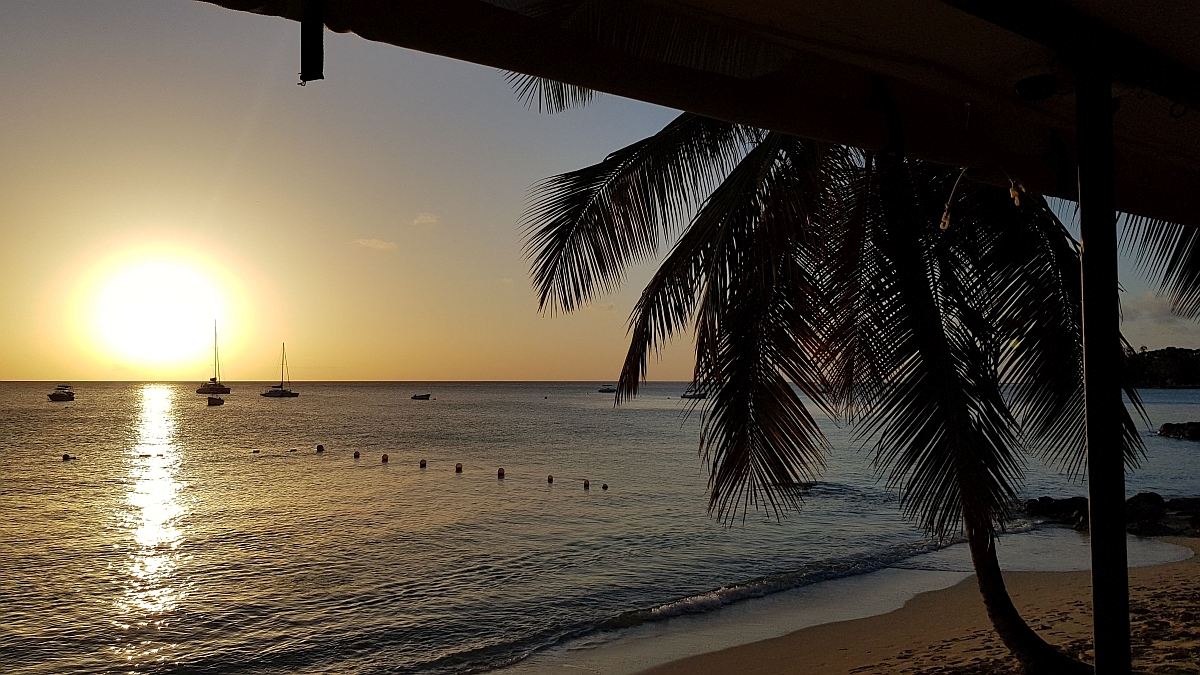 Of course, this is the main reason to eat here, watching the sun set. Actually the food is pretty good as well, not fantastic, but perfectly nice. The bottle of wine helped. This is a mid-priced establishment, so it's not too dear.
Bomba's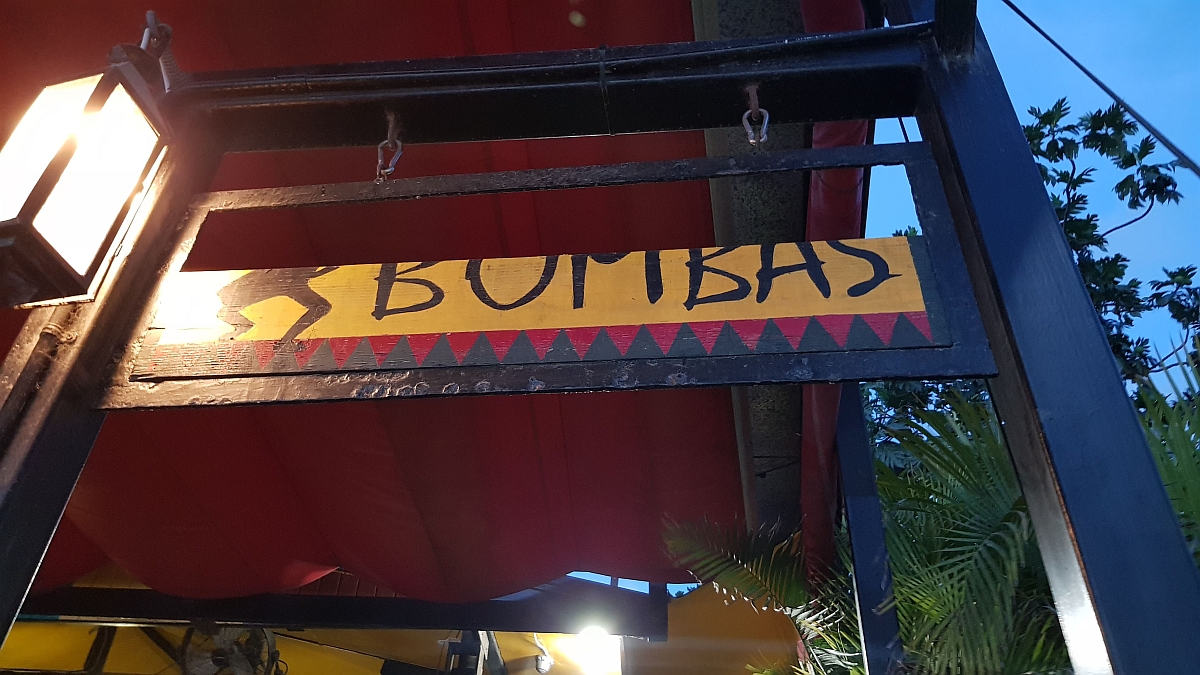 This little restuarant was just down the road from Bayfield House. The owner had just returned from holiday and had opened up again that day, so there were only a few people dining here.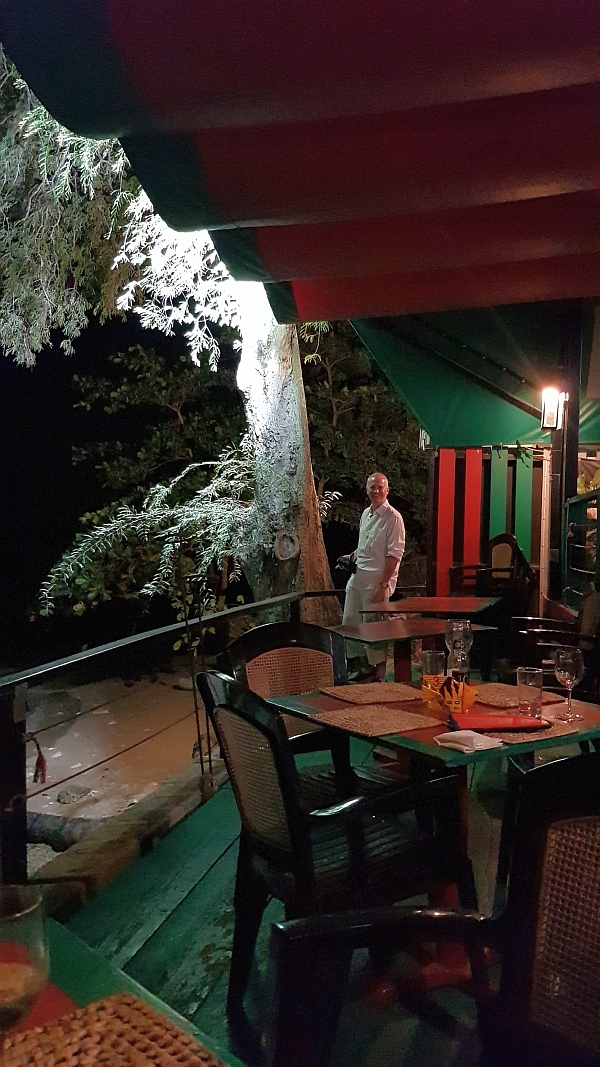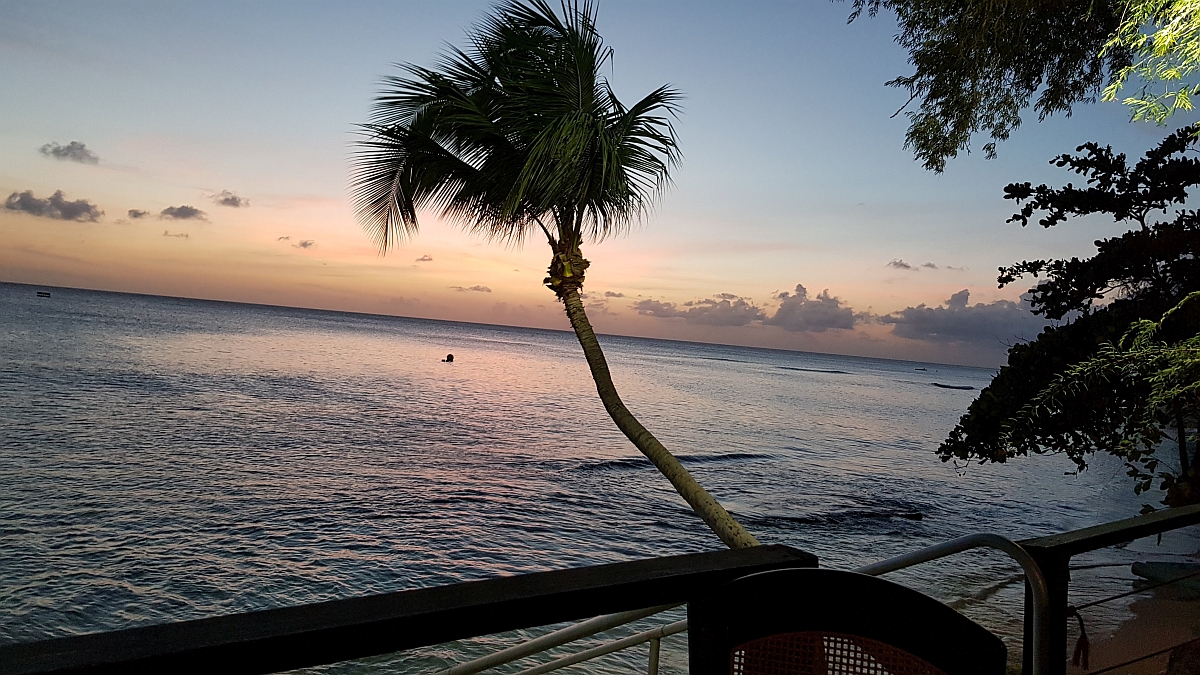 We had one of the little tables by the water.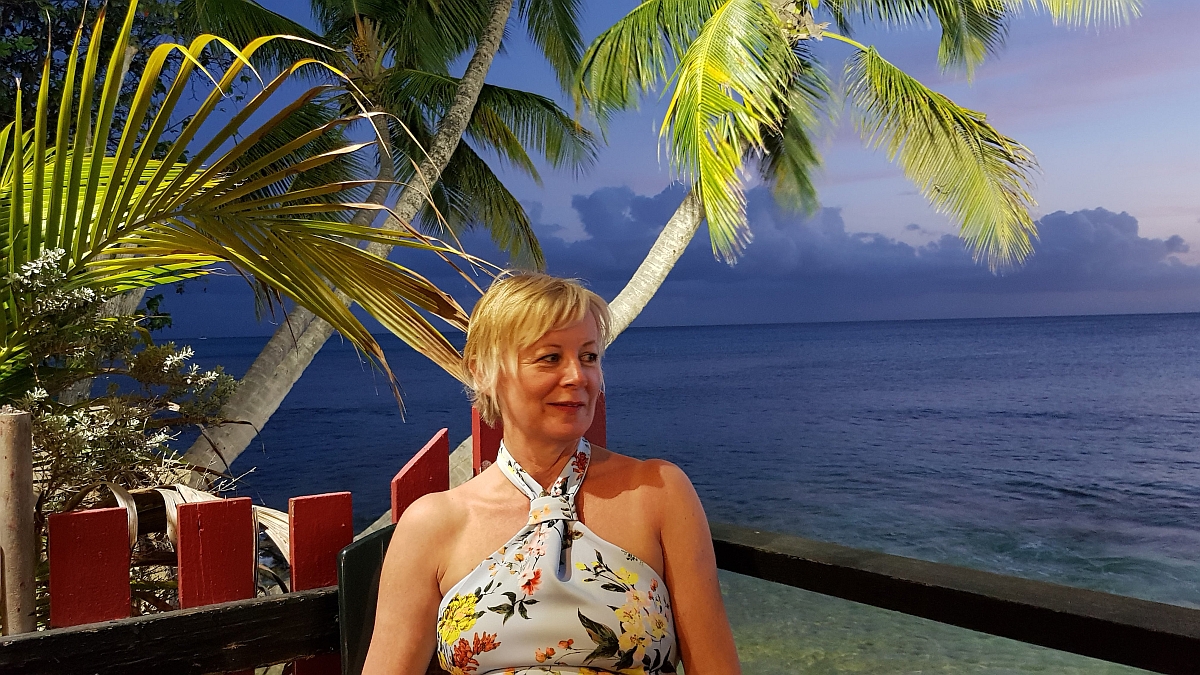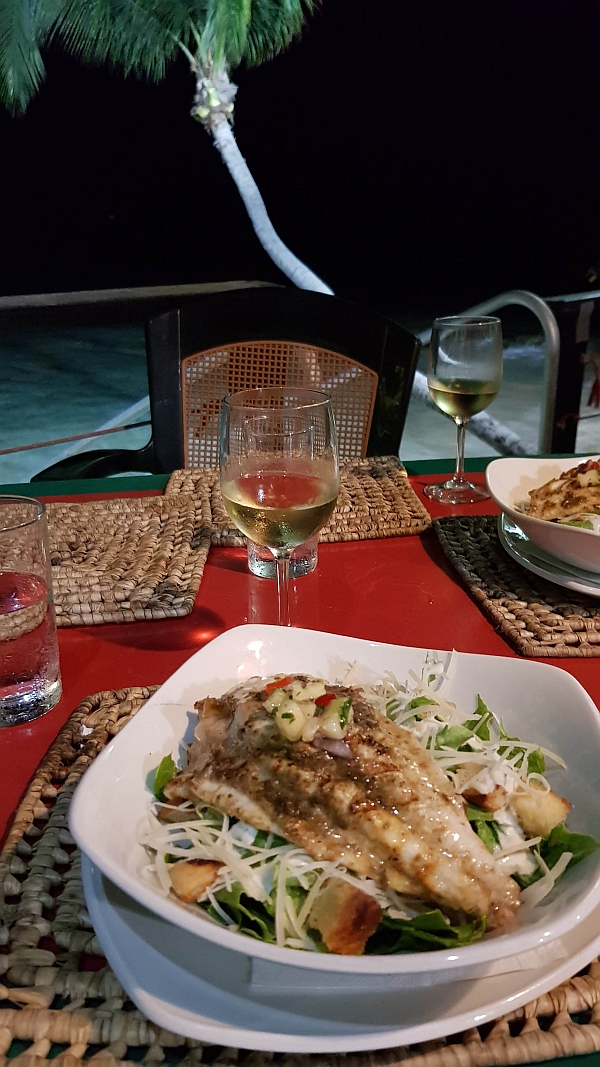 Now I do remember that this was Lionfish. I'd never heard of it before, but it was absolutely lovely.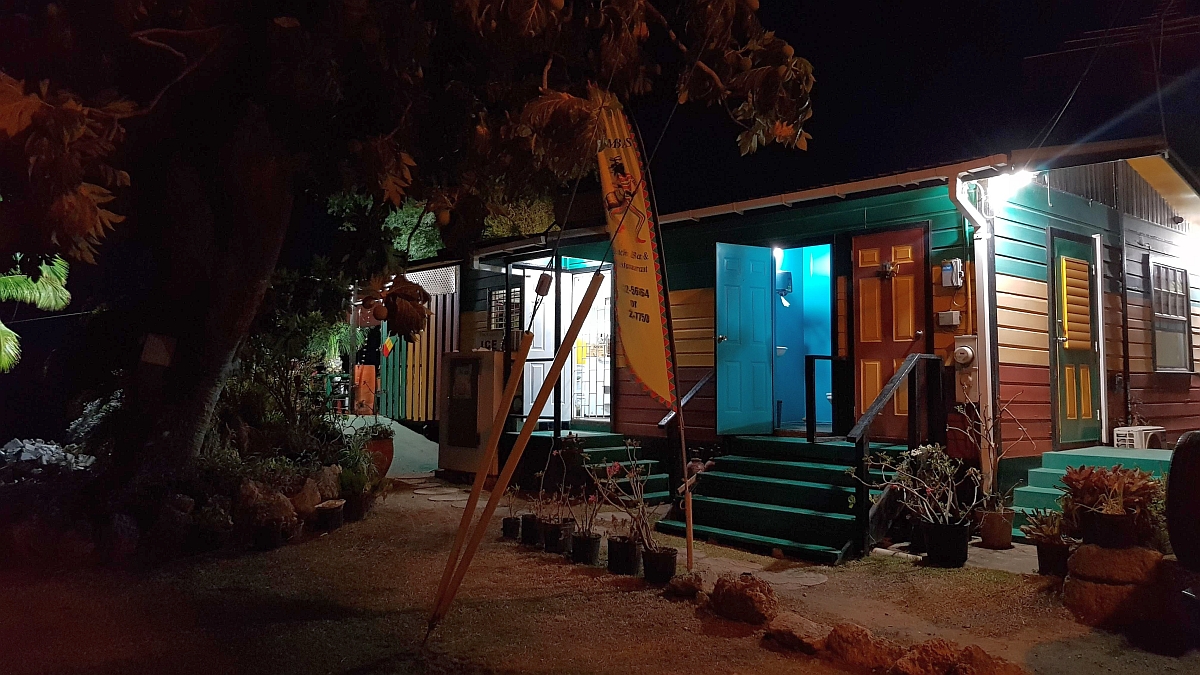 I had read that it can quite busy at times and some times the wait is quite long, but we had a very pleasant relaxed meal here.
John Moore's Rum Bar
I think we'll always remember this as one of the most fun things we did on this holiday. There are rum shacks dotted around the island. The way it works is that you go up to the bar and order a flask of rum and then take whatever mixer you want to go with it out of the fridge. You pay and are given glasses and a bowl of ice. That's it. Sit and enjoy a bottle of rum in the sunshine.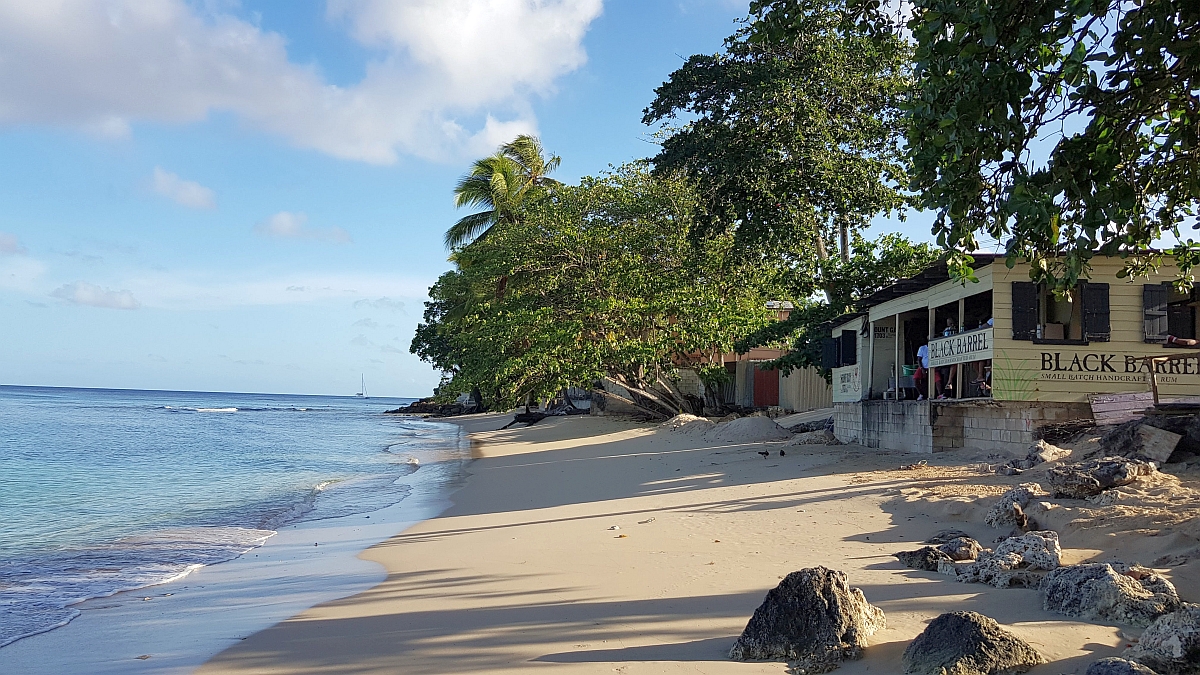 As you can see, it's right on the beach.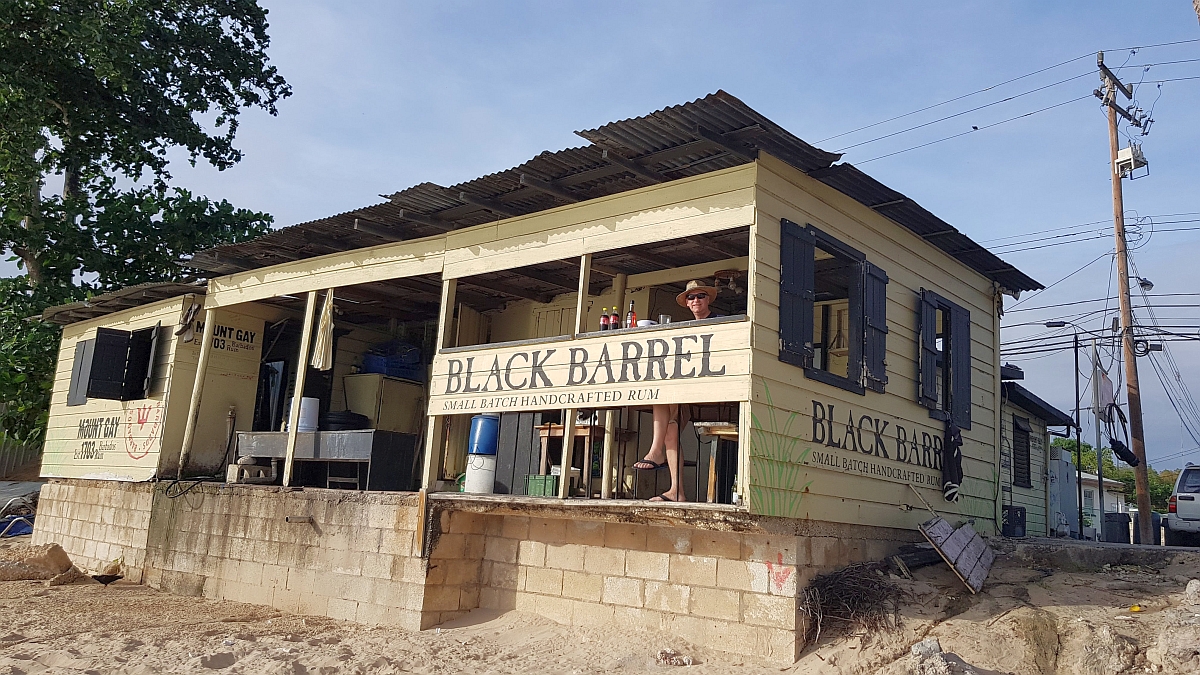 It was a bit of a walk from Bayfield House, but most of it could be done along the beach. Why do my legs look like they don't belong to my body in this picture?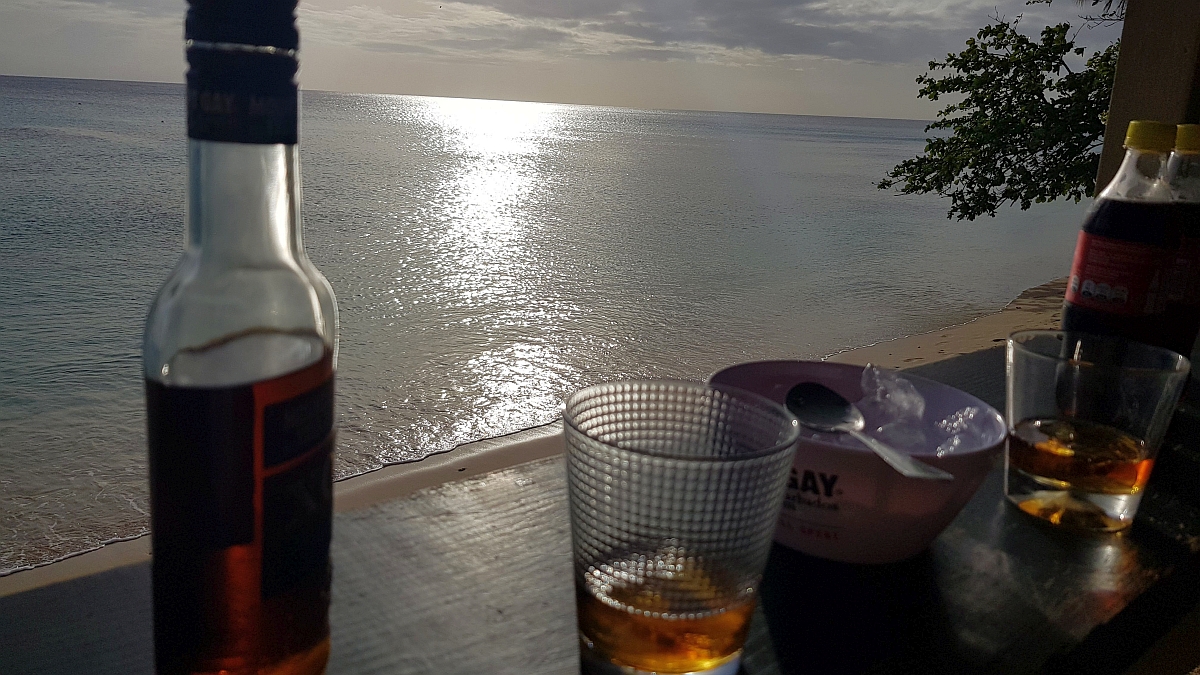 There was a speaker blaring out music from a local radio station (some good, some not so) and the sound of the fisherman in the room next door slamming down dominoes. It just felt very Caribbean.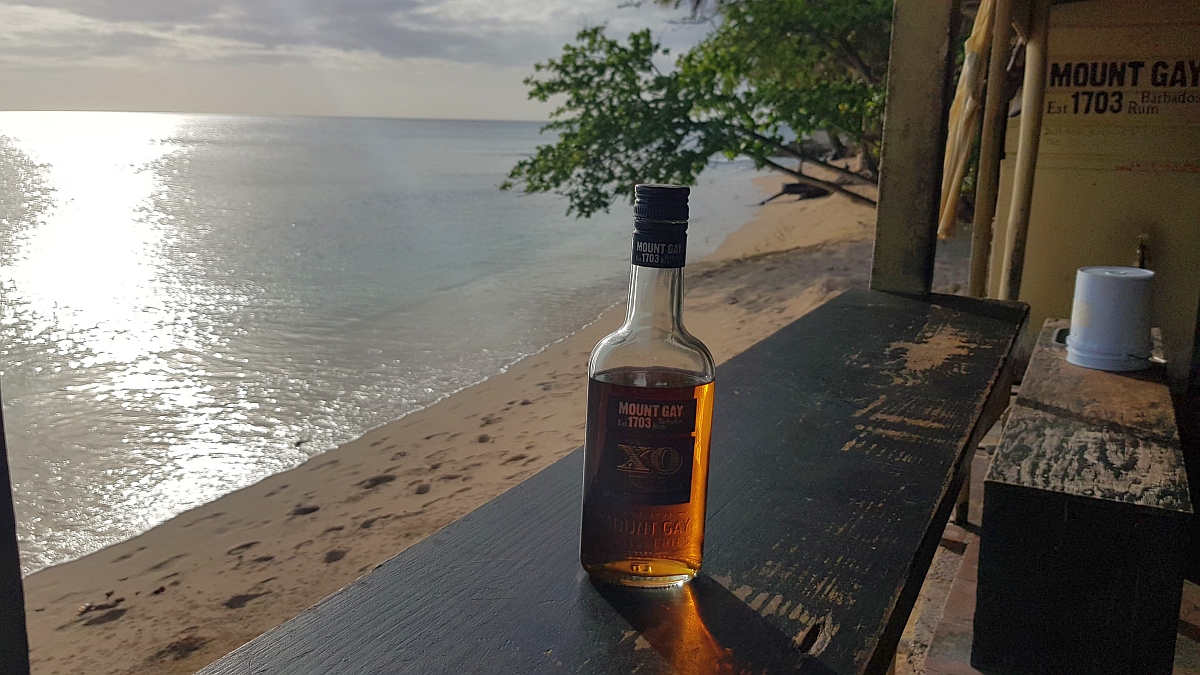 We knew we wanted a bottle of Mount Gay XO. The lady said they'd sold out of the small flask so we told her we'd have the larger one. She looked a little bit sideways at us and it turns out that this is a 350ml bottle. I worked that out to be 14 single shots of rum. Tam and I got through that in a couple of hours as we watched the sun set.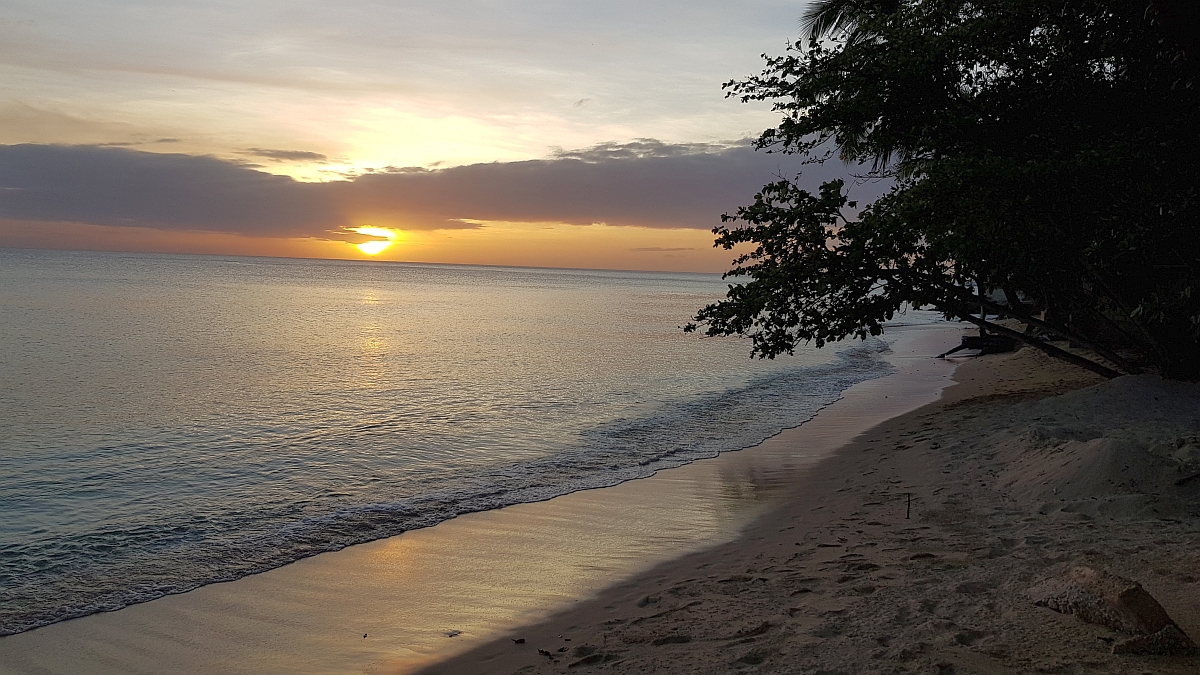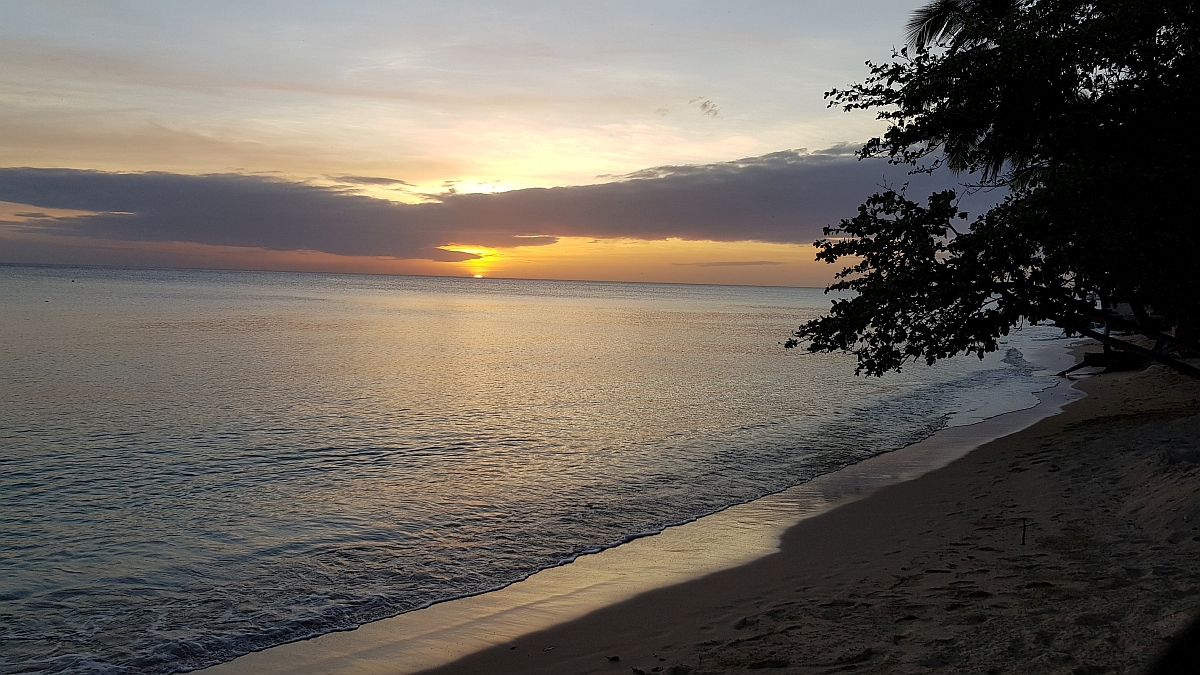 It was glorious. Nobody else came in and we sat drinking, listening to various sorts of Bajan music and looking out over a practically empty beach as the sun drifted slowly into the sea.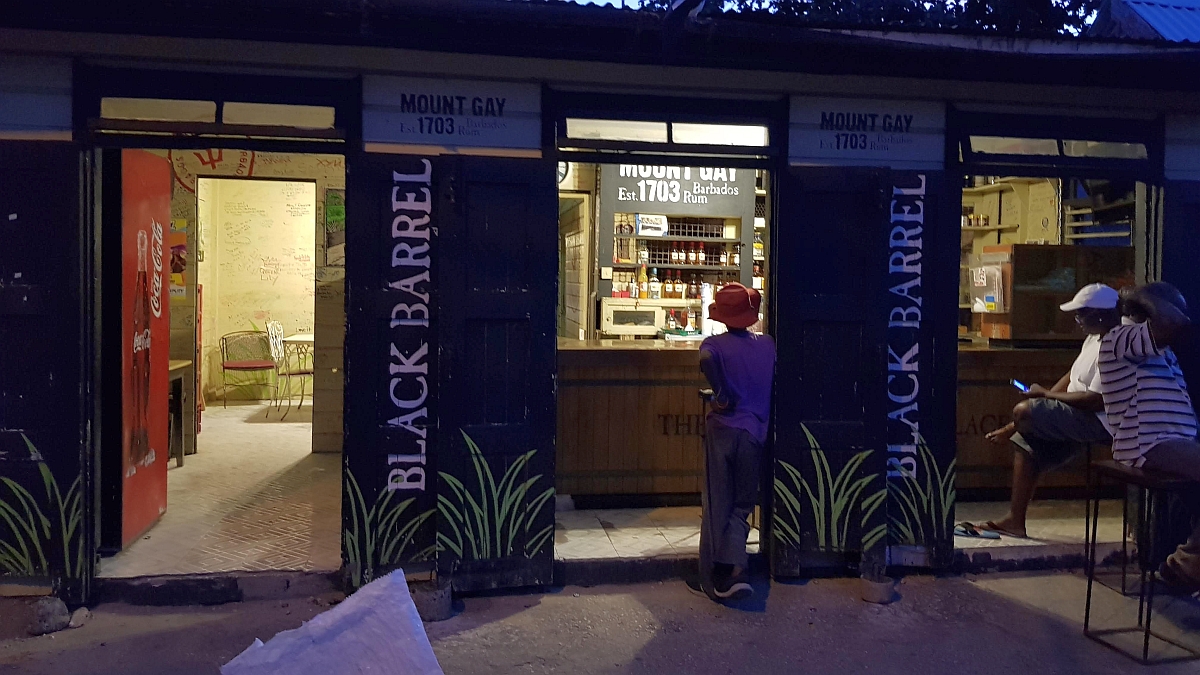 This is a photo of the front of the bar as we left. Being somewhat squiffy (as a rat) we decided that walking back was probably not the best option. So we jumped on a Reggae Bus as the stop was just outside. More on those later.
Tides Restaurant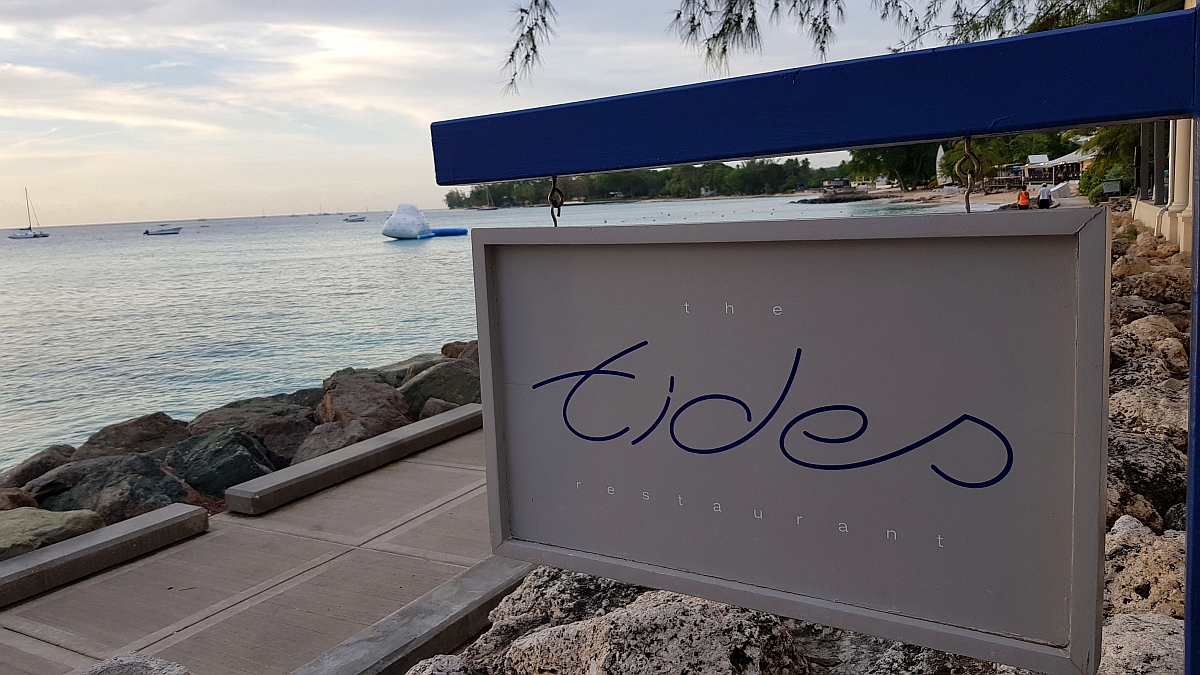 This is one of the finer dining establishments and had been recommended to us by Trevor and Pam. It's in Holetown just along from Zacchio's, so we got the Reggae Bus down even though we were dressed up for the evening.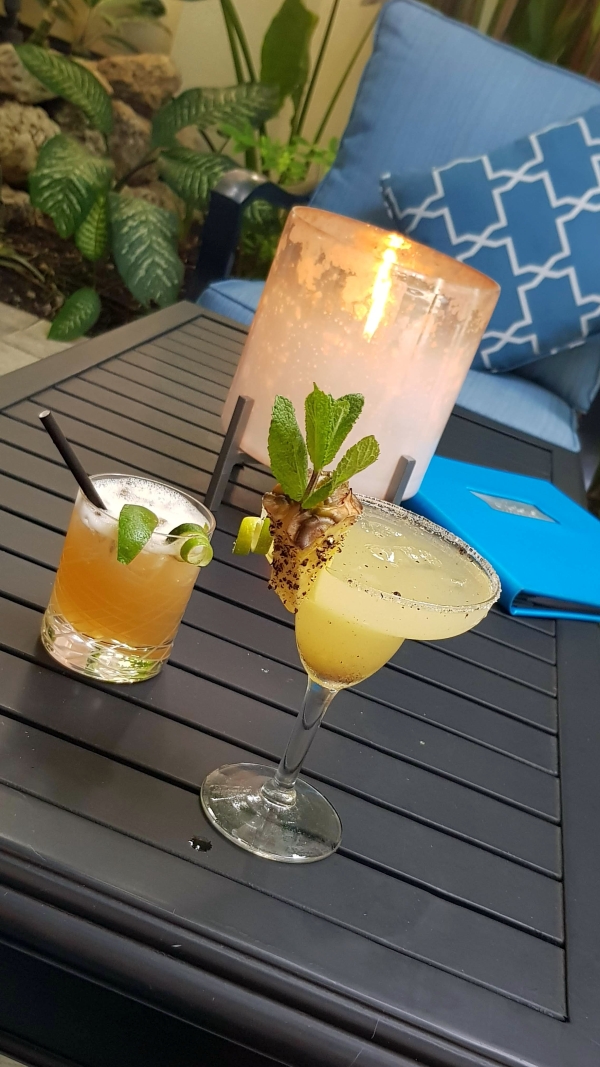 We started with a couple of cocktails in the little courtyard.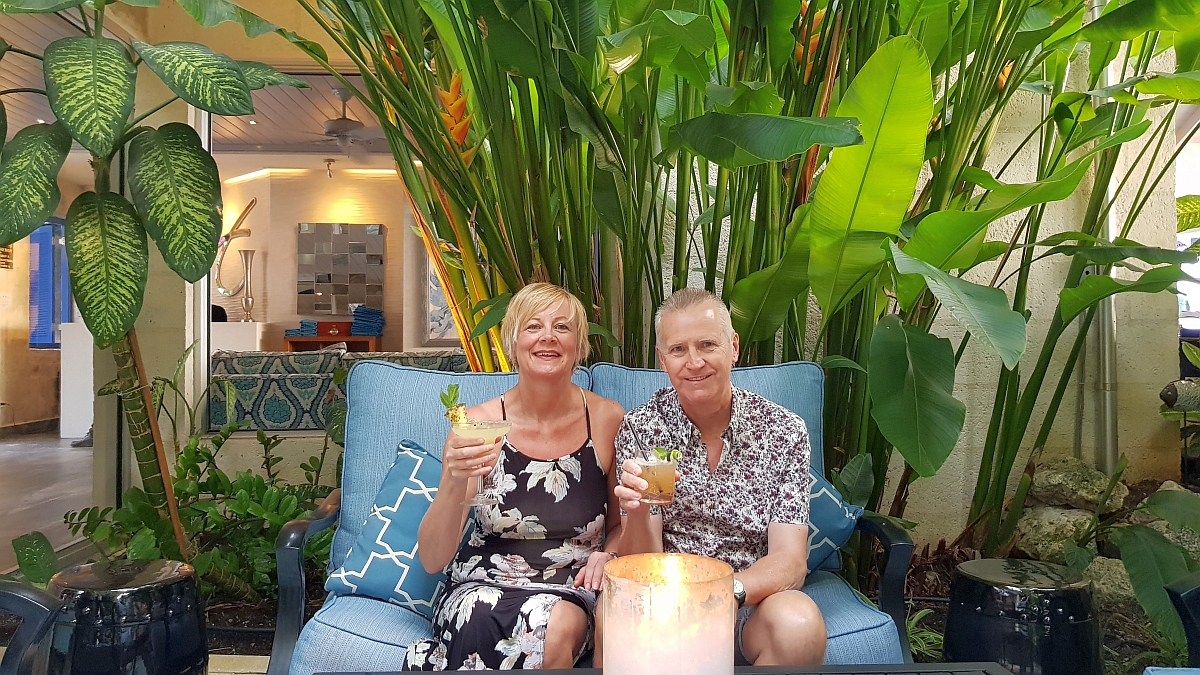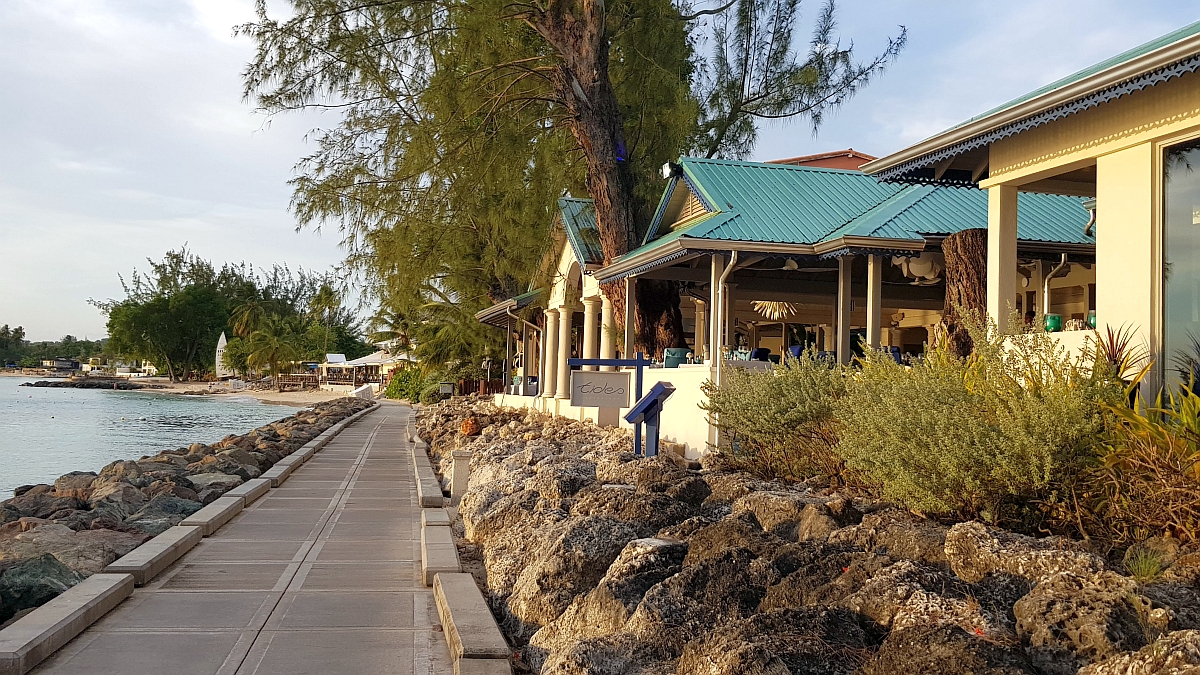 The staff here were very nice and didn't mind us taking our drinks and sitting on the little boardwalk to watch the sun go down. You may have noticed that most of our meals coincided with sunset. I think it's my favourite time of the day when you're on holiday.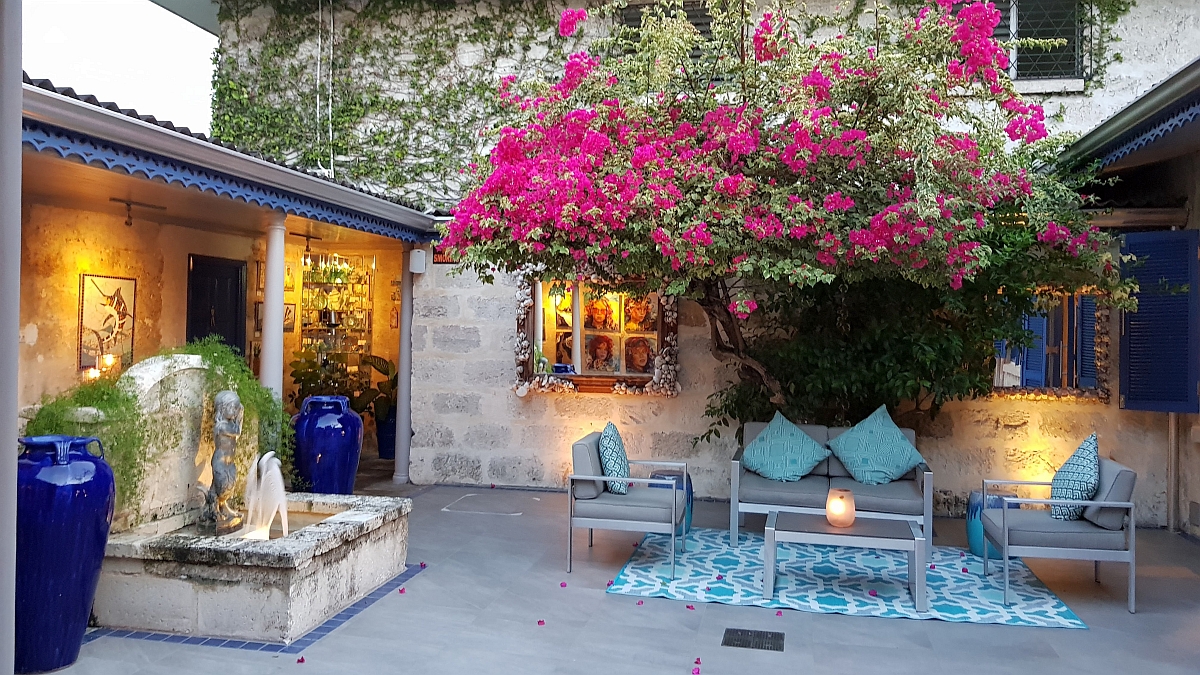 Another little courtyard.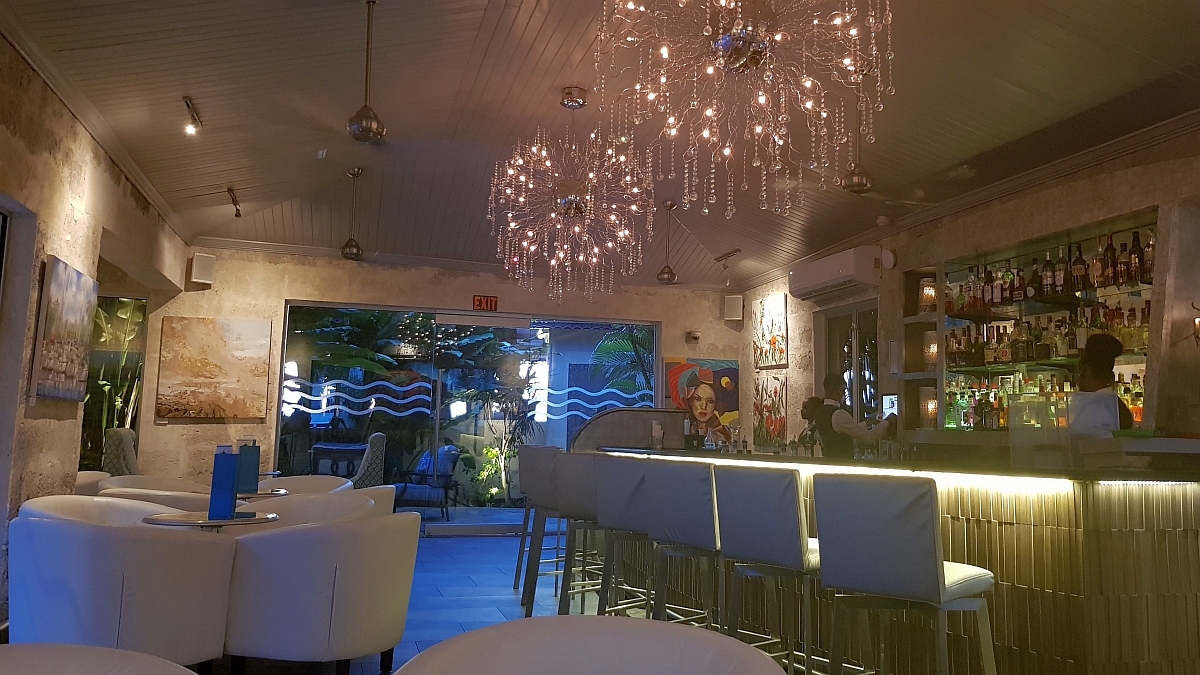 This is the bar and we had another drink here before going to our table.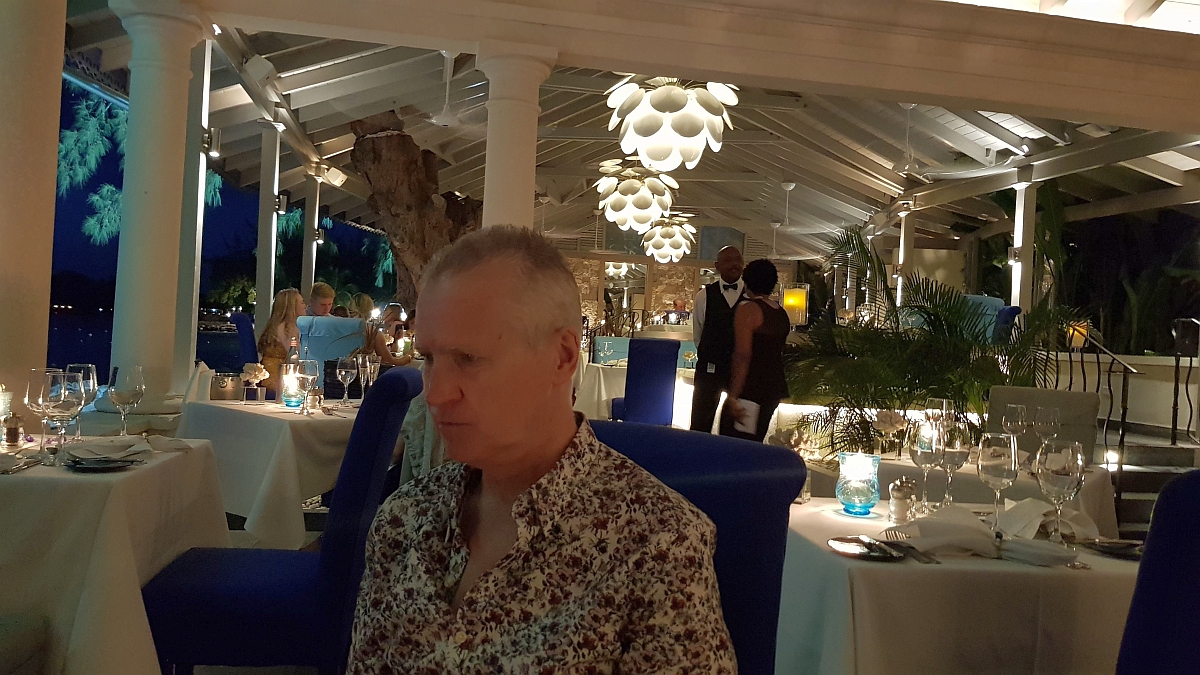 For some reason Tam didn't take too many photos inside, so you'll just have to make do with this rather unflattering view of me. The front of the restaurant is open onto the boardwalk and sea.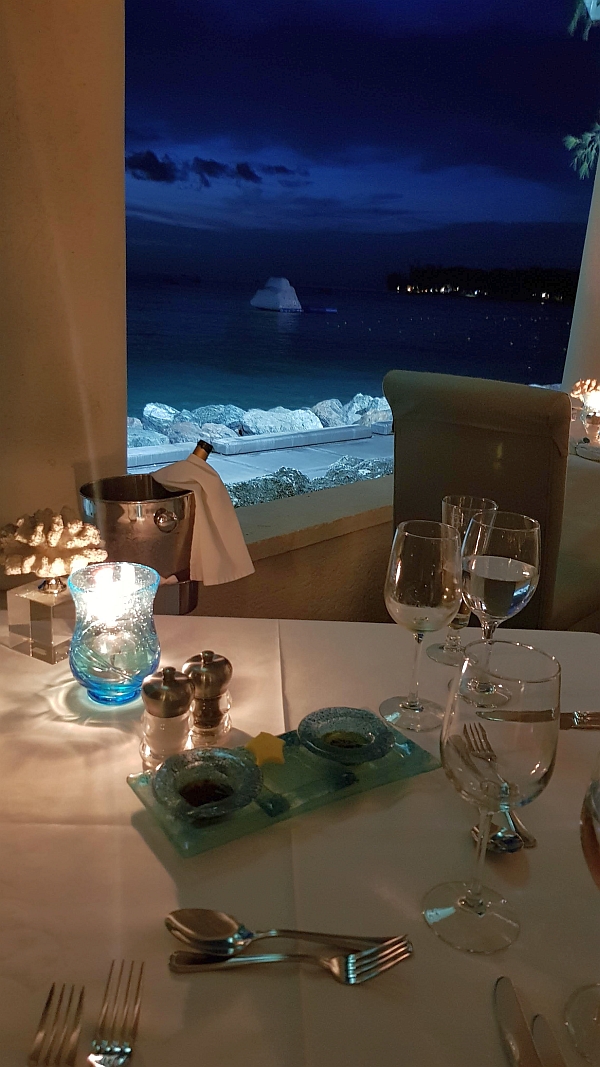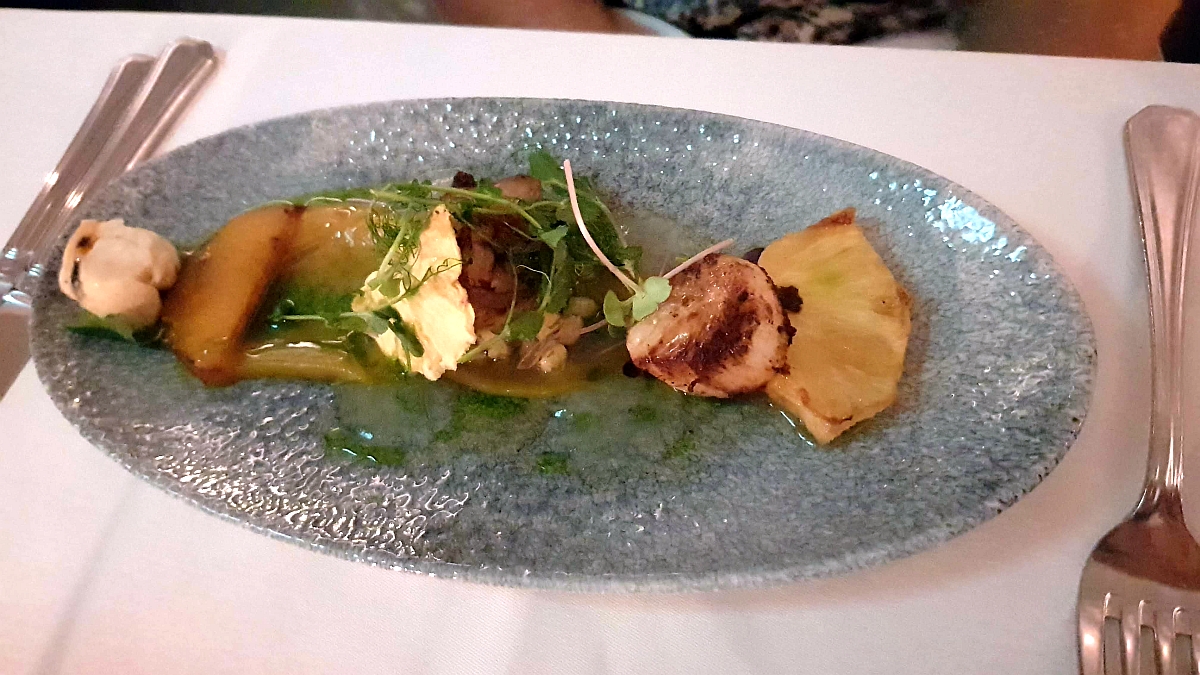 I think this was the scallop starter.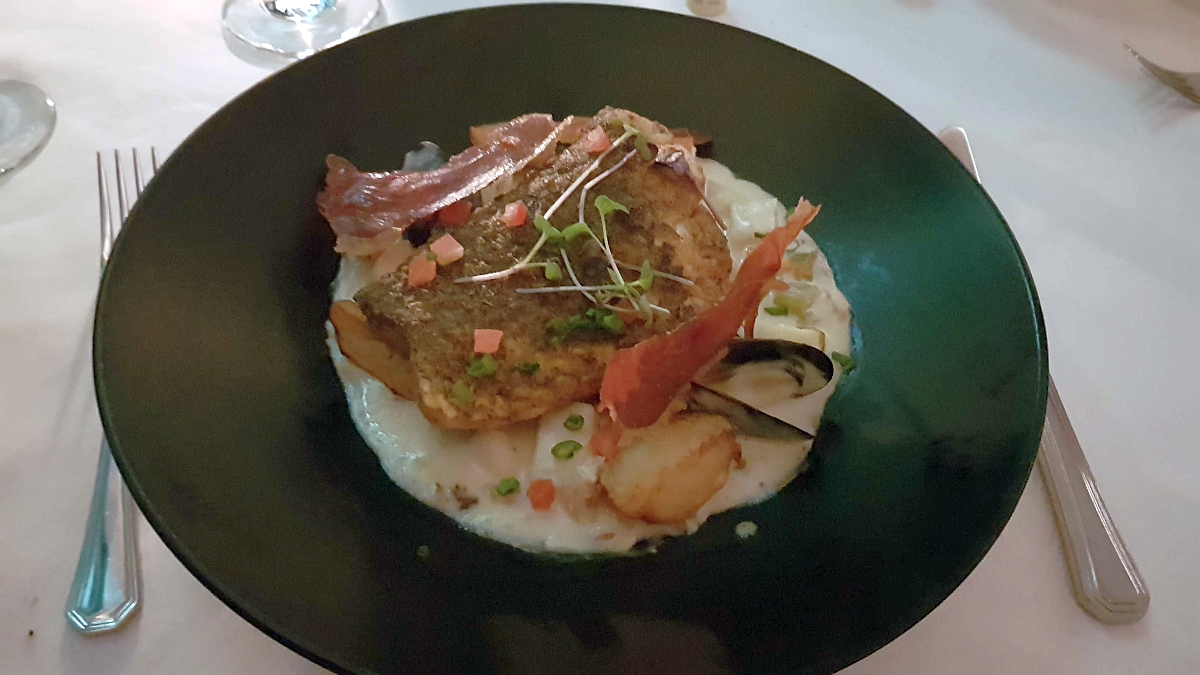 Now that's a surprise - fish for my entree.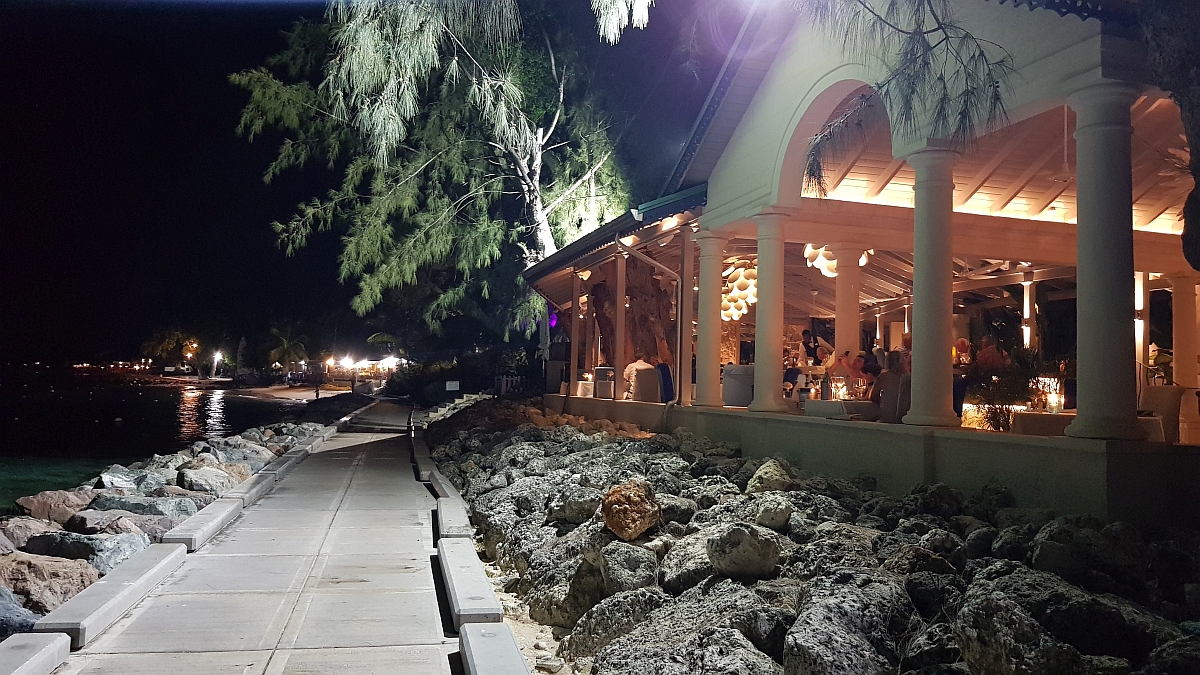 This was our most expensive meal of the holiday. The bill came to £200, but this included 4 pre-dinner drinks, a bottle of wine with the meal and gratuity. Even so, we still thought it was worth the money - the food, drinks and service were very good.
Nishi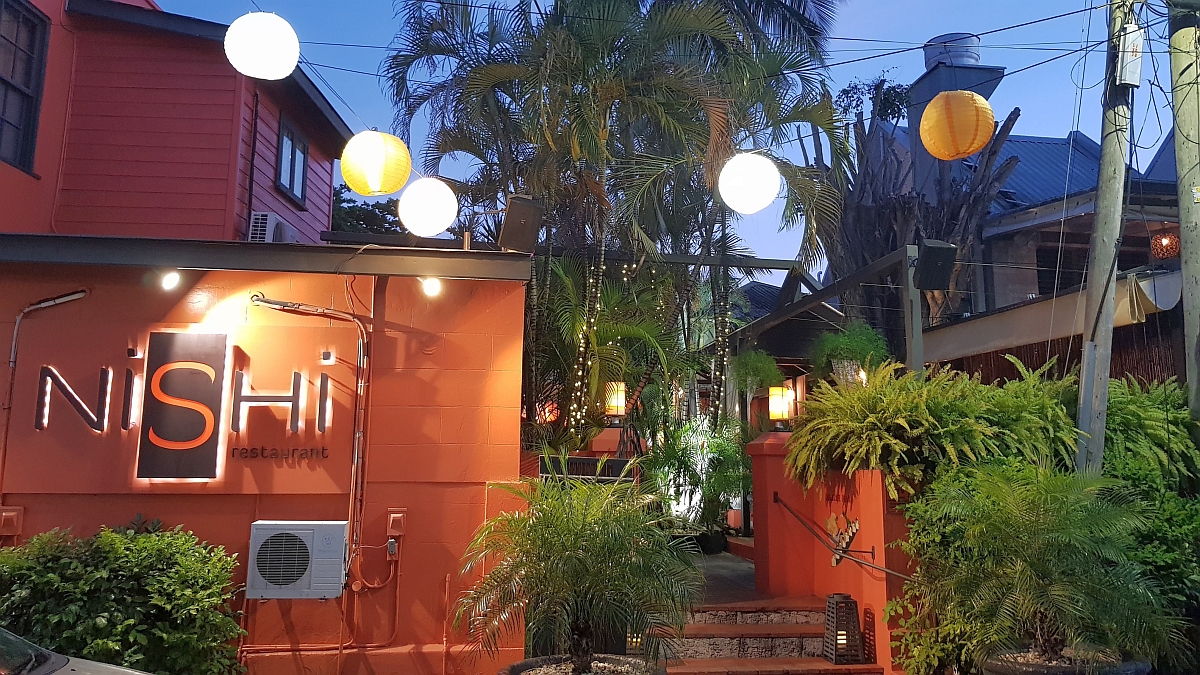 This is another restaurant in Holetown.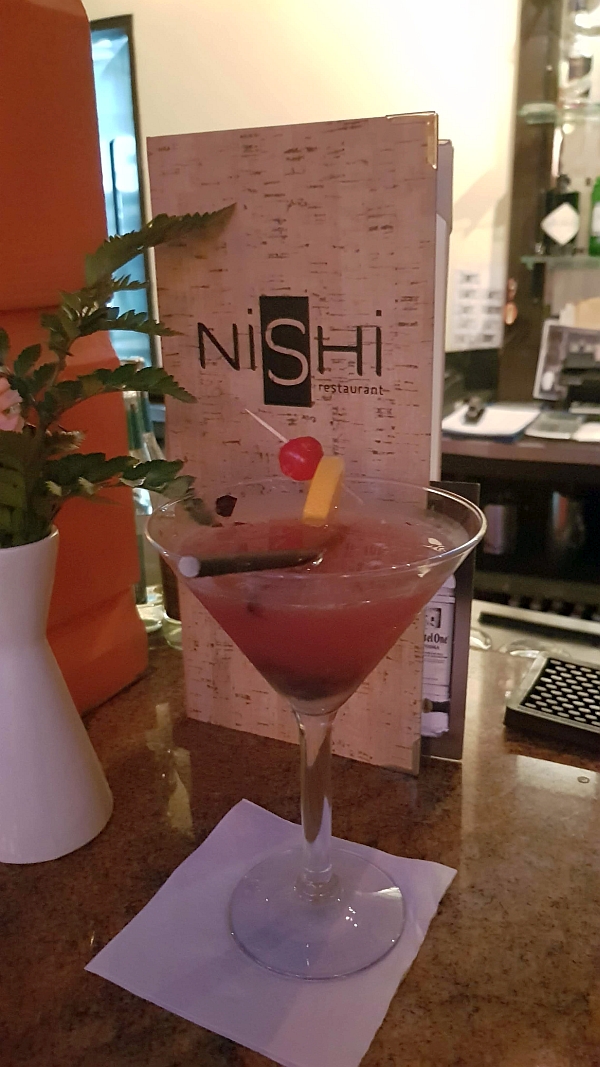 We had a cocktail at the bar before eating and the owner came round and had a chat.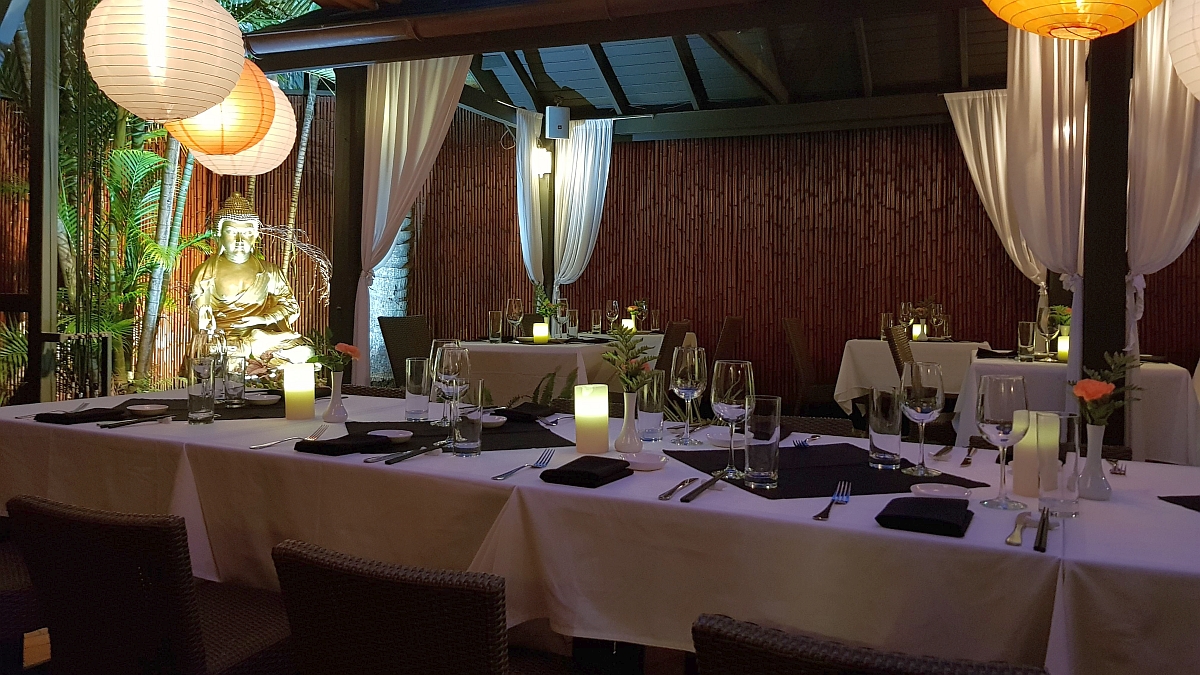 They have another seating area inside, but we chose to eat in the little courtyard as they have music there some evenings.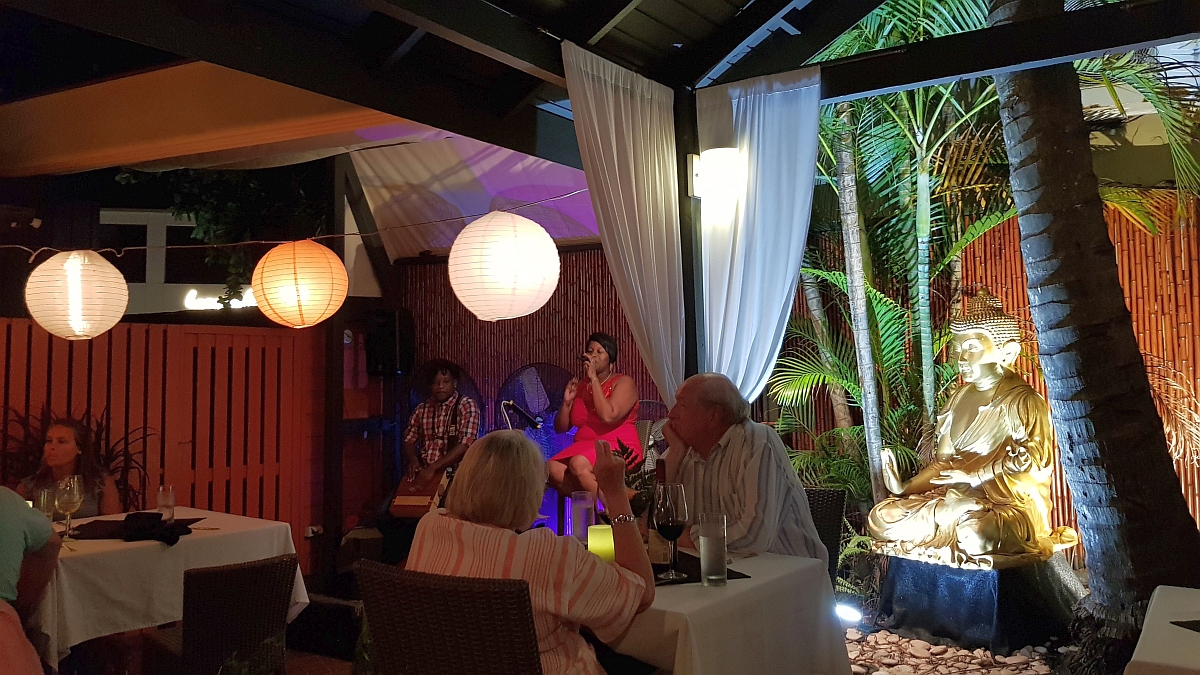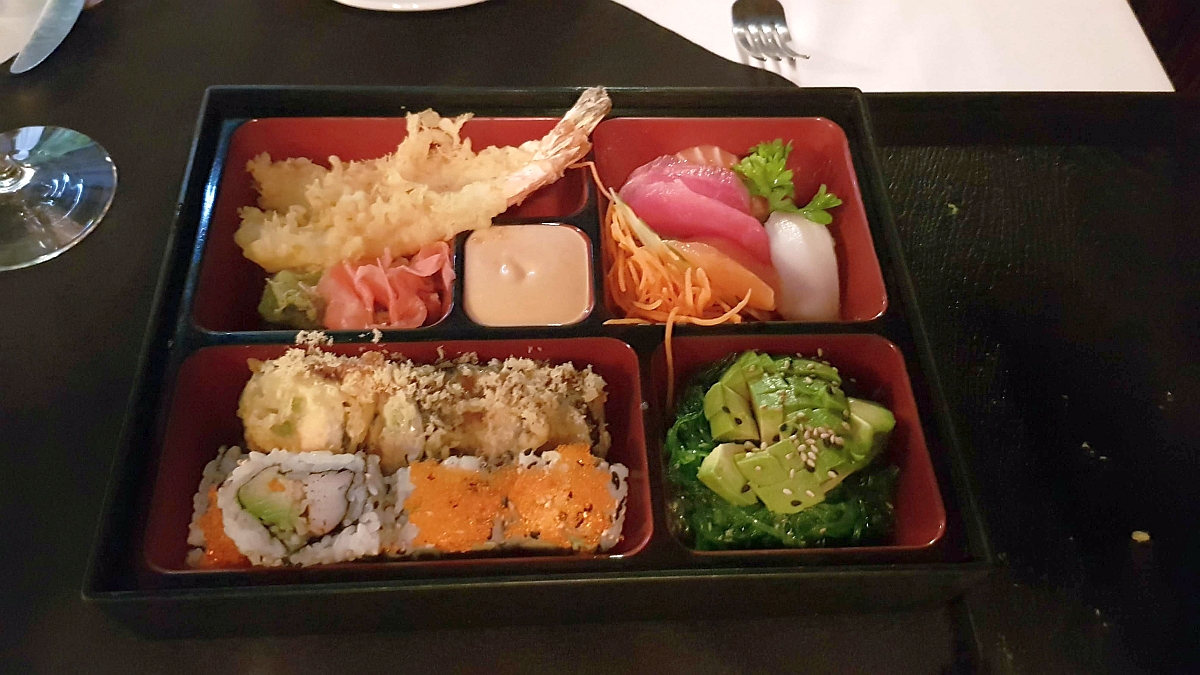 They have a wide ranging and varied menu here with a good reputation for sushi. We had dim sum to start and then shared this selection. The food was very good, as was nearly every meal we had in Barbados.
Surfside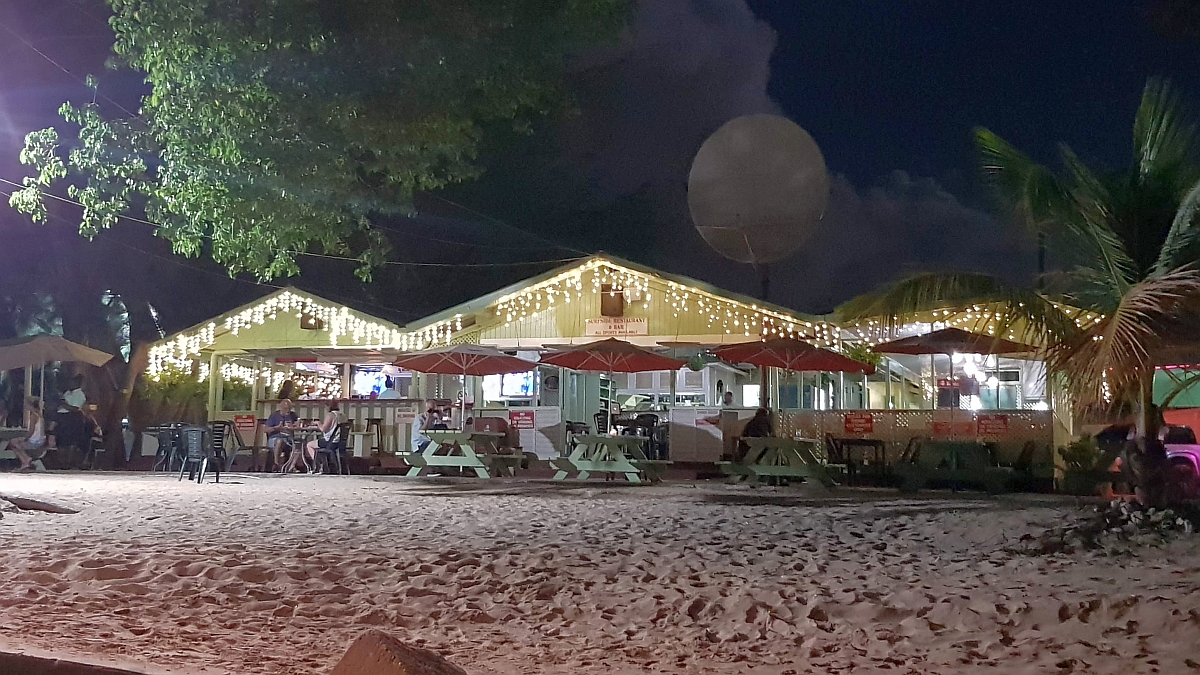 Another place on the beach in Holetown. We didn't eat here - it looked a bit cafeteria like - but did stop for a drink. We sat at a table outside looking over the beach.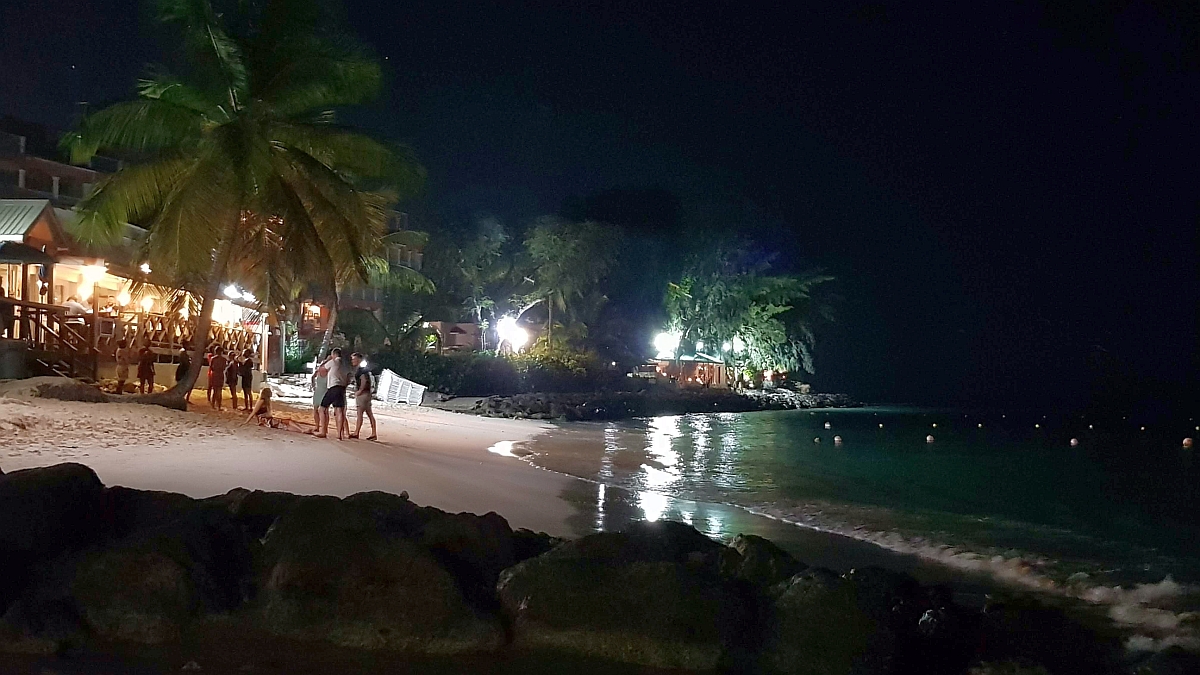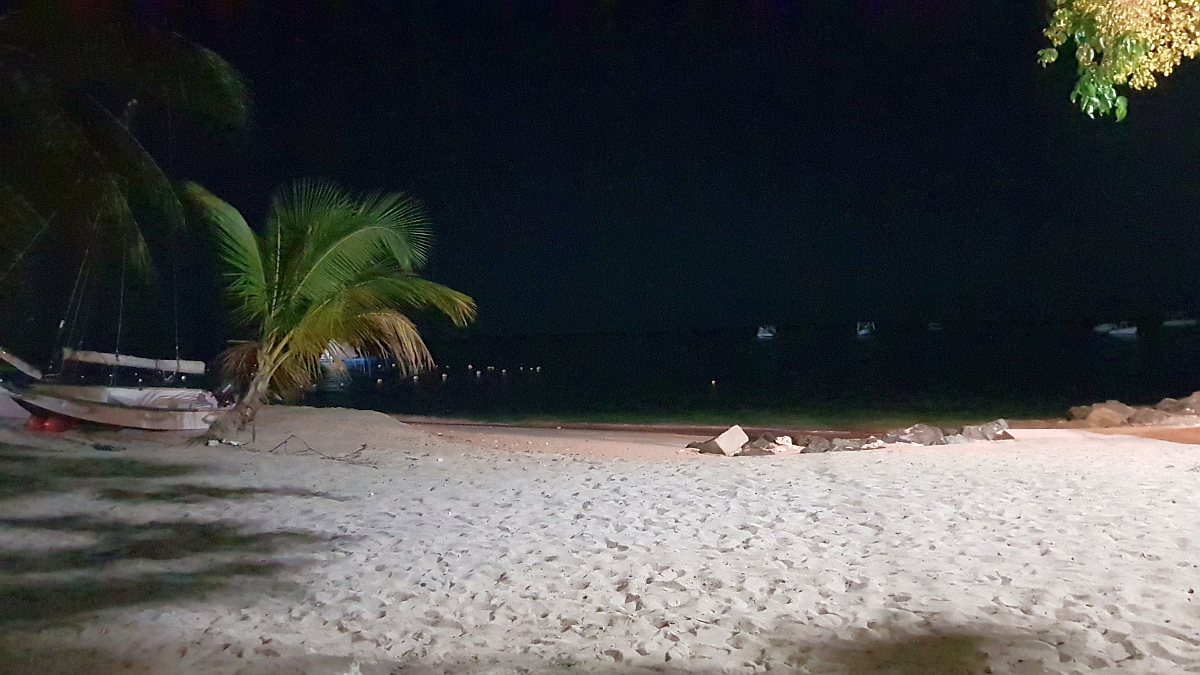 The Cliff Beach Club
This was our 'last night' meal. It's expensive, but next door is the actual Cliff Restaurant. The prices were even more eye watering there, so we decided to try the Beach Club and I'm glad we did.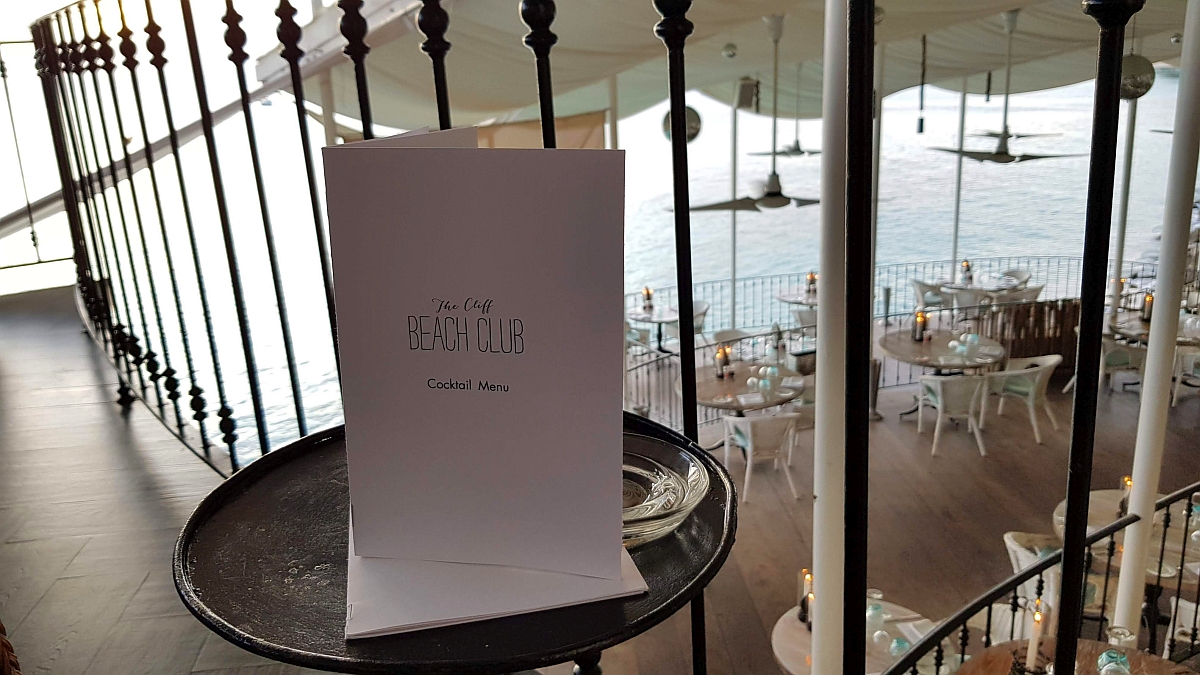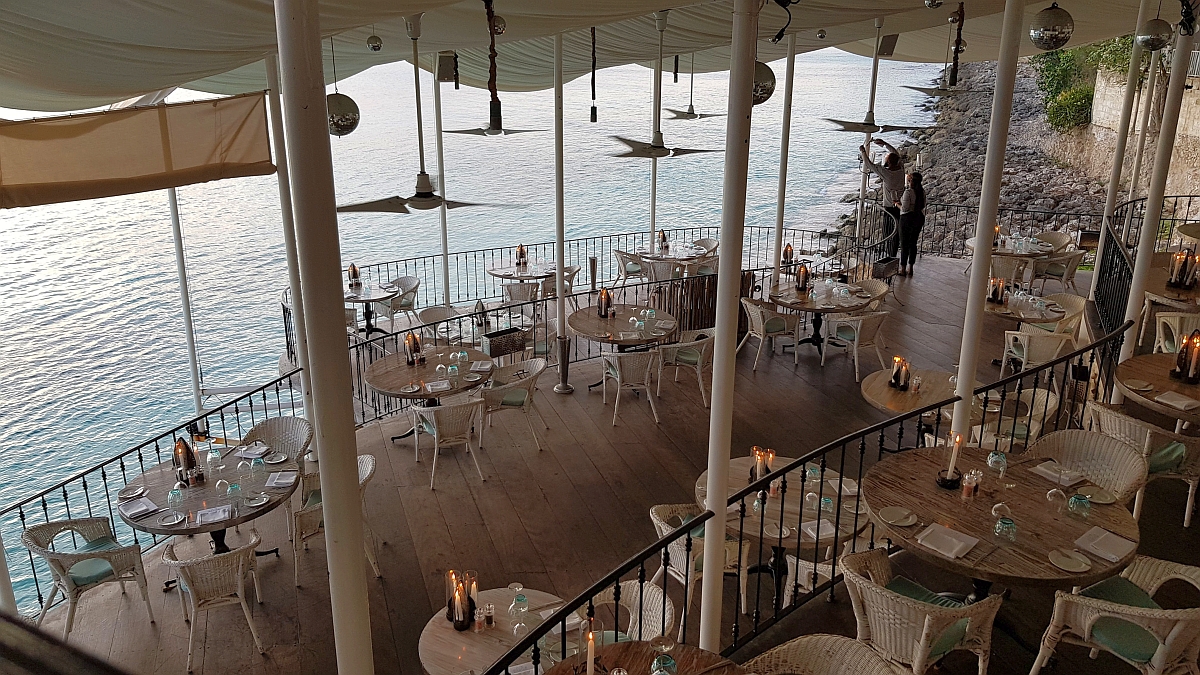 I certainly think this was the nicest location of all the restaurants we went to and it just got better and better as the sun set and the lights came on.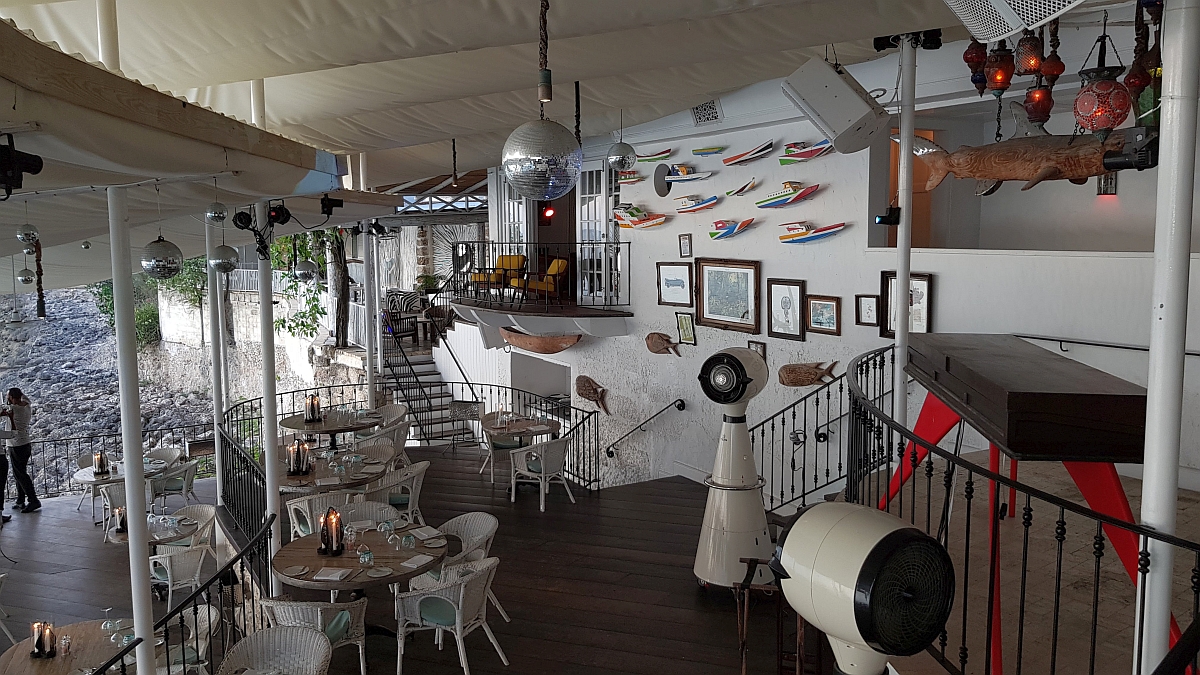 There were all sorts of strange bits and pieces around and Tam was most impressed that they had the audio book for Around The World In 80 Days playing in the loos. It sounds strange, but it worked incredibly well. She wanted to stay in there and listen to the whole thing!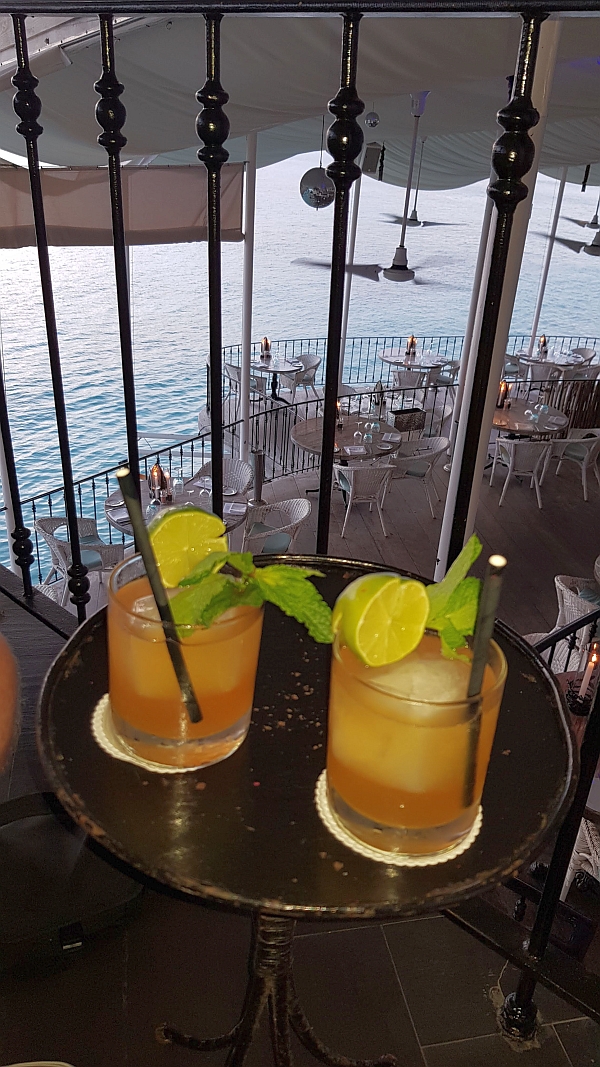 The obligatory cocktail to start in the bar area.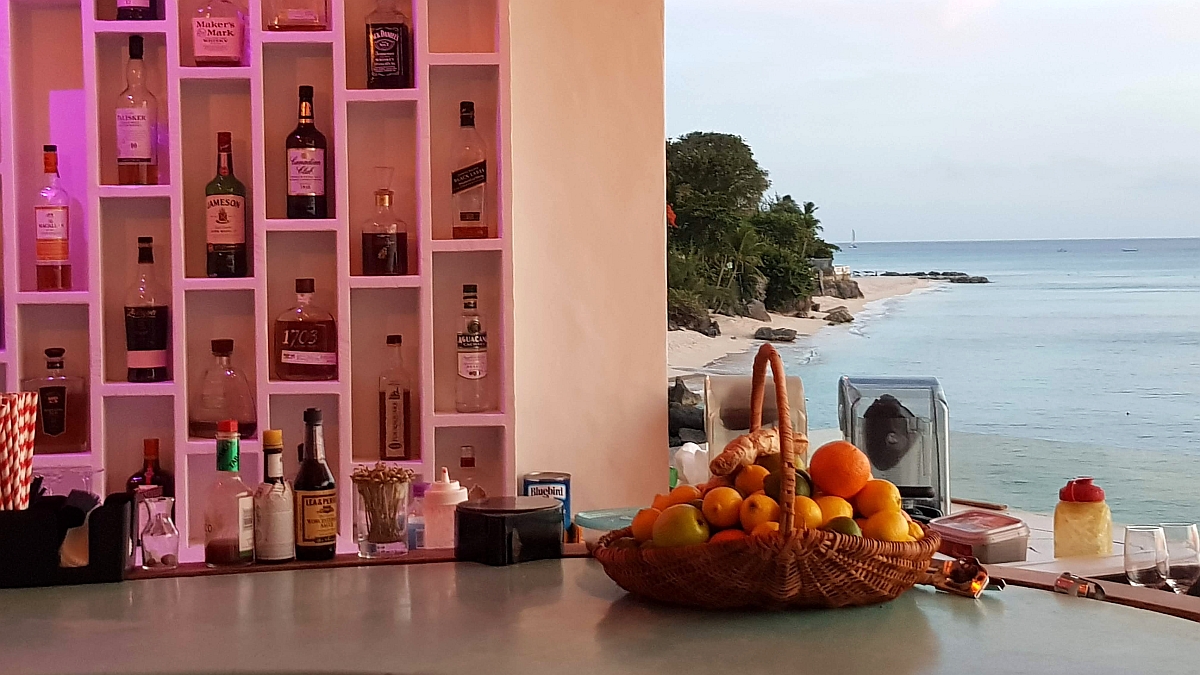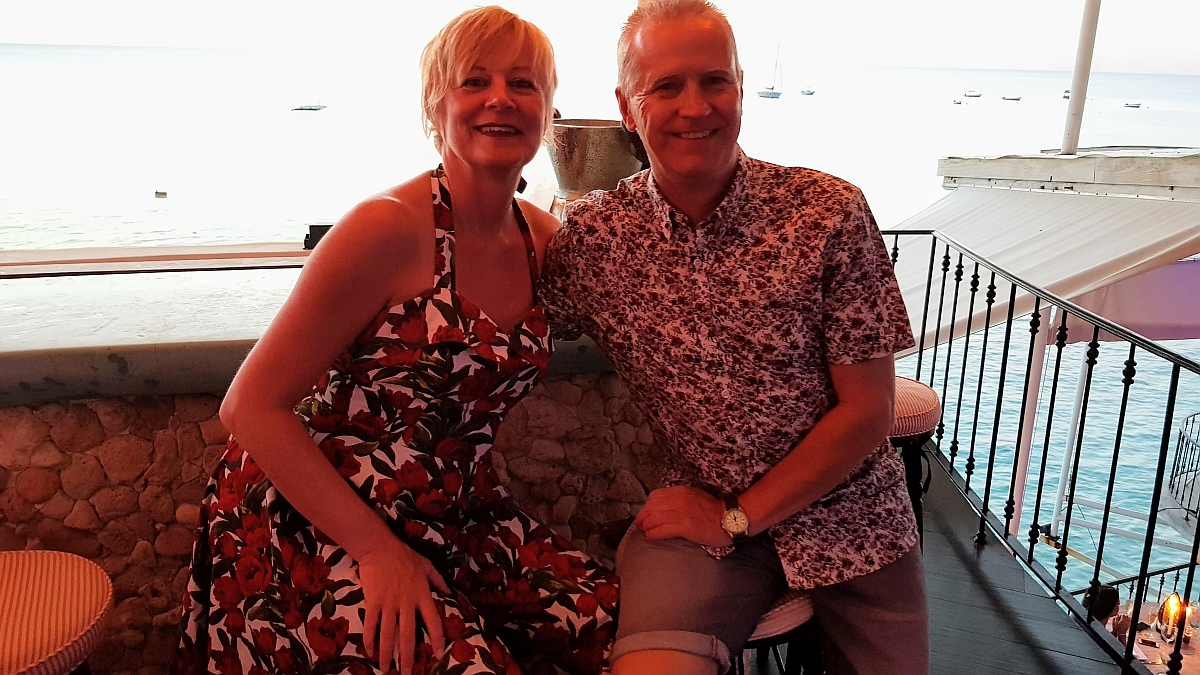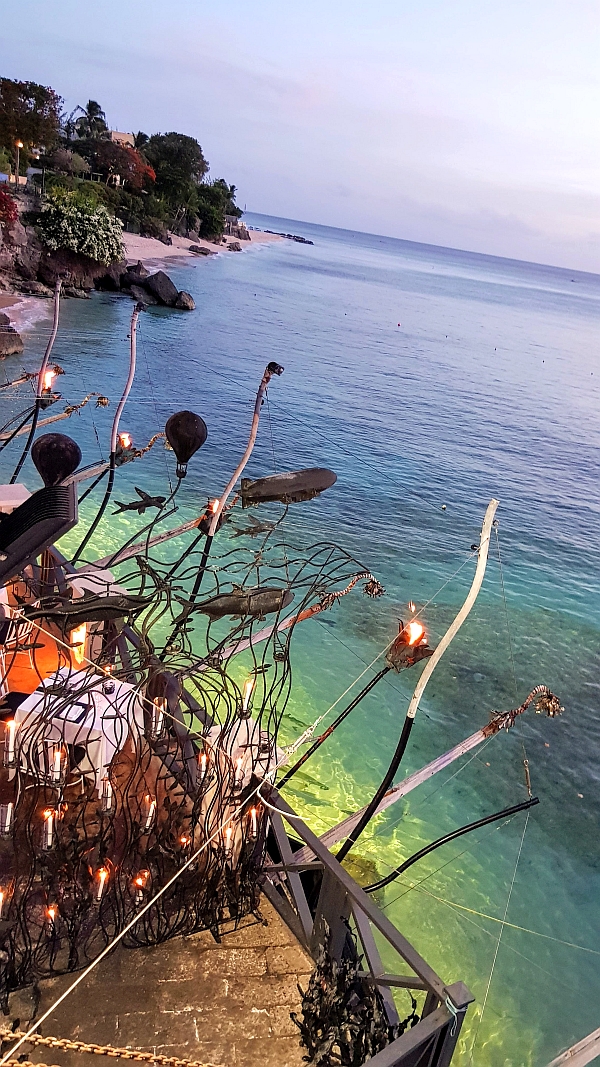 This is looking into the edge of The Cliff Restaurant next door from the bar. You can just see the massive tarpon in the illuminated water.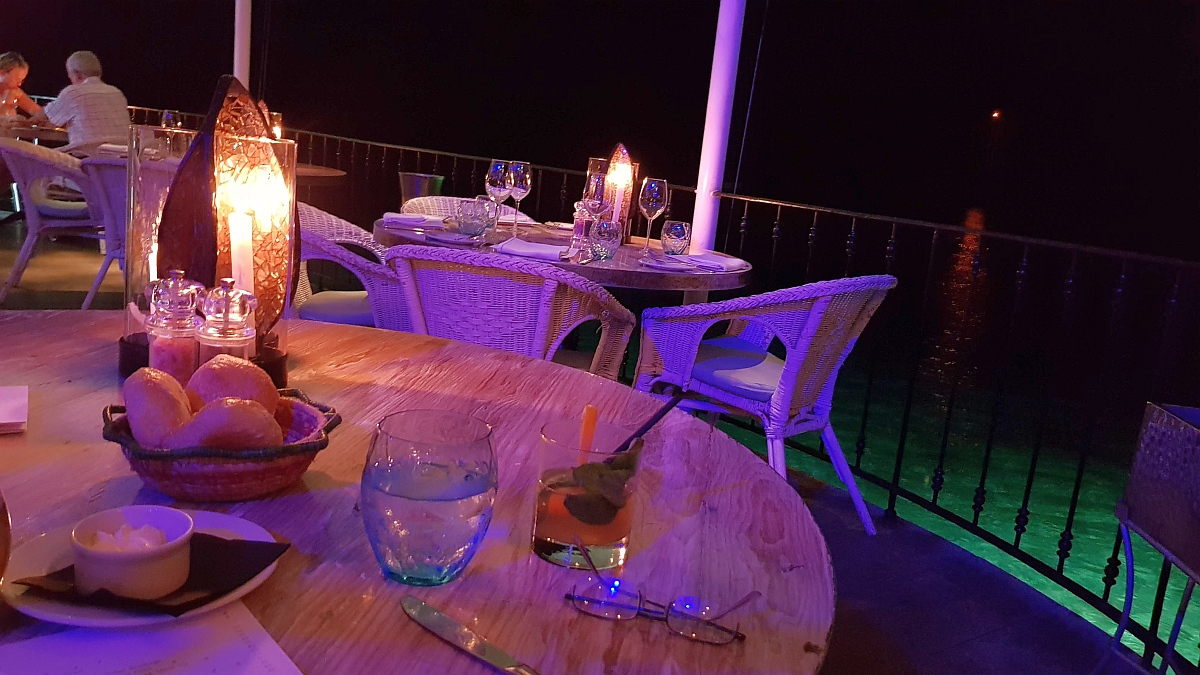 We had a very nice table on the lower level.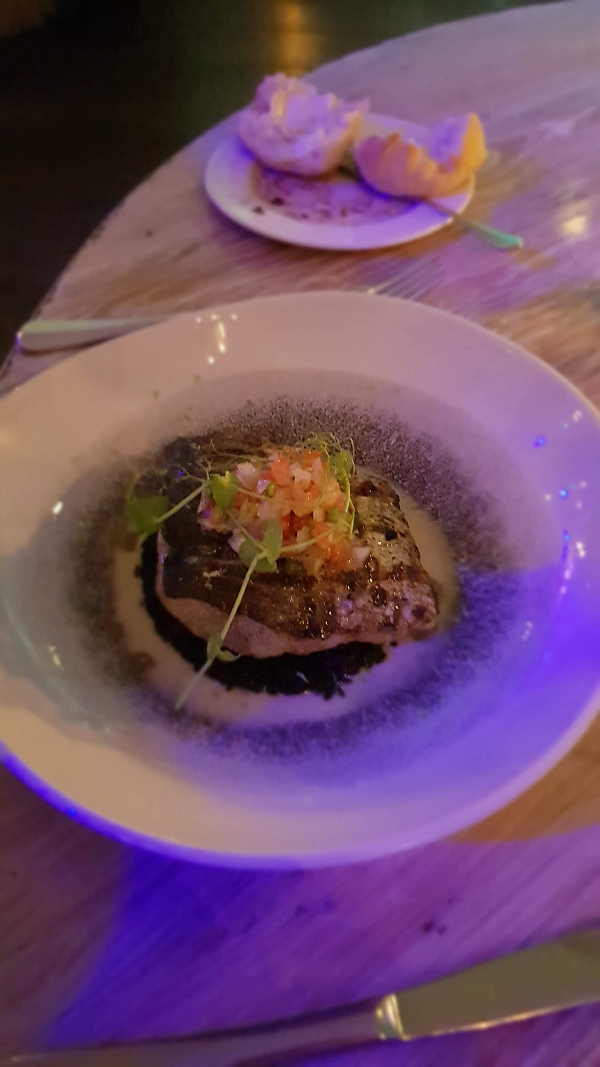 More fish! Both Tam and I thought our meals were slightly over seasoned. Despite this we still thought this was the best overall dining experience we had all week.
So that's it. We thoroughly enjoyed our time in Barbados and would be very happy to return again. The weather was lovely. Hot at times (in the 90's), but there was always a pleasant breeze. The evenings were beautifully warm and calm. They often get rain showers in May and Pam said that they desperately needed some rain as it had been so dry, but we didn't get any.
It's not a cheap place to eat. The food is generally expensive wherever you go, although there are obviously some places that give reasonable value for money. That being said we had some absolutely lovely meals in beautiful locations. The drinks are one of the cheaper things if you stick to beer or rum. Cocktails vary from good value to expensive (£10 to £12) in the better restaurants, but most were very good.
About the best value was the transport system. The buses run up and down the west coast from Bridgetown to Speightstown. There are the government buses (blue) that run to a timetable, but we never got one of those. The most popular are the Reggae Buses. They are yellow and run frequently. There is a man on board who takes your money (about£1.50) and it costs the same no matter how far you go. Some of the drivers are really fast and there is always loud music blasting out. Most of the time you could get a seat, but if you caught one at busy times they really pack people in. The men that take the money were always helpful and will make sure you get off at the correct place if you tell them where you are going. We enjoyed travelling on them enormously.
The Reggae Buses were less plentiful later in the evening and little vans with seats for a dozen or so people took over. They were less frequent, but a couple of times we sat at the bus stop and had a pleasant conversation without a local waiting to go somewhere as well. The people in general where very friendly, we never felt unsafe even when walking in very quiet areas.
Barbados is a lovely island and I'd definitely recommend it to anyway who wants a beach holiday, but still would like to get out and see the sights.