MADRID - JUNE 2012
Tam and I went to Madrid primarily to see Bruce Springsteen at the Bernabeu Stadium, home of Real Madrid.
We flew out from Gatwick on Friday 16th June on EasyJet. We booked early and got a great price of £139 for the two of us. Arriving in the early evening we caught the excellent Metro into Los Ministeros where we walked to our hotel, the NH Abascal. It was fine for our needs as the prime consideration was somewhere within walking distance of the Bernabeu.
After unpacking quickly, we legged it down to the bar so I could watch the second half of England v Sweden on the screen they had set up. We managed to win (the high spot of the European Championships for England) and we left to grab something to eat at a tapas bar. A relatively early night as we were both pretty tired.
The next morning we were up early as we had a busy day planned. We had checked out things to do on Tripadvisor and picked a bike tour for the morning and a tapas and wine tour in the evening.
We caught the Metro into the centre of Madrid and had a bit of a look around before finding the office for the bike tour. It's only a small place and one of the guides was taking out quite a large Dutch group, but we were the only English people and so had a guide all to ourselves. His name was Geza, which caused me some amusement as I couldn't help thinking I was a Cockney for a few hours - 'Alright, Geezer'.
They fitted us out with helmets and off we went. The cycling was pretty easy and mostly on quiet roads and cycle paths, but you always felt safe even on the small bits on busy roads as Geza was very good at waiting for the right moment to move out into traffic. He stopped at points of interest along the way to give us a little of the history of the place. We visited all the major sights and even stopped for a beer in the huge Retiro Park. The whole trip lasted for 3 hours and was an absolute bargain at 25 Euros per person. Geza even took photos on the way round, which we downloaded from their website when we got home. If you are reasonably active and want a different way of seeing the sights of Madrid, I would thoroughly recommend this tour.
http://www.bravobike.com/html/eng/viajes/oneday/madridx.htm
We then went back to the hotel for a rest and a shower before walking the couple of miles into the centre of Madrid where we visited a couple of bars before meeting up for the tapas tour at Plaza de la Villa. The tour is run by a chap called Andres and costs 60 Euro each. This seems like a lot, but it really is worth it. There were 7 other people on the tour, all Americans and all in Madrid on business, except the two ladies with their husbands on a bit of a jolly.
The next few hours were spent walking between tapas bars and eating some wondeful food and enjoying excellent wines. At the last restaurant we had several different dishes and Andres opened wines from his own collection. He had a happy knack of ensuring your glass was always full. It was a fantastic experience and one I would repeat tomorrow given the chance.
I think we got to bed around 1.00am, but the memory may have been a bit confused by excessive wine.
We were up early on the Sunday ready for the main reason for being in Madrid - a concert by the ever wonderful Bruce Springsteen and the E Street Band.
We had decided to commit the whole day to the gig as we wanted to get into the pit - the area directly in front of the stage - and knew that we had to be there early to get any chance. We arrived at the Bernabeu at about 9.15am and there were already several hundred people there. Now Springsteen's fans are excellent at organising themselves (with help from the stadium staff) so that those that arrive early get into the show first. They do this by taking your name and writing a number on your hand. Number 1 gets in first, then 2 etc., but you have to be around for when they have roll calls. This ensures that people don't disappear for hours and then turn up expecting to be at the front of the queue. Anyway, it shows how many people were already hanging around there when I tell you that Tam and I were numbers 1249 and 1250. Remember, this is 9.15am and the gates are not due to open until 6.00pm. There is a bit of confusion as most of the announcements are in Spanish and difficult to hear with so many people, but we work out that those with numbers on their hands have to return for the next roll call at 2.00pm, so we catch the Metro into Madrid for a while to get something to eat and visit a local flea market.
Back at the stadium at 2.00pm the crowd is even bigger and I say to Tam that there is no way that they will be able to organise this lot into a sequentially numbered line. Well, not for the first time, I'm wrong. The organisation is excellent, if a little confusing to those that don't speak Spanish. Luckily the guy next to us in line speaks English and he is wonderful in helping us out for the next few hours and keeping us informed of exactly what is going on.
To cut a long story short, we enter the stadium around 6.30pm and get our wristbands for the pit. At this point you can wander in and out of the pit area. As long as you have a wristband you can always get back in. That's the prime reason for waiting all day in the hot sun - those behind the pit will be crammed in like sardines, but there is always plenty of room in the back of the pit, although we stand off to the left of the stage and about 5 rows from the front.
The stadium is a truly impressive sight, bigger than Wembley or Twickenham by some way. The only slightly strange thing is that there is a big block of Portaloos at back of the pitch along with some open air urinals. It's quite a liberating experience relieving yourself in full view of a stand of 15,000 people.
Now the main reason for coming to see Springsteen in Madrid is that I'd read many times that the crowds in Spain and Italy for his concerts are just about the best anywhere in the world. Boy, were they right. I'm not too sure at first as there doesn't seem to be much atmosphere as the stands begin to fill, but as the evening draws on and the time for the concert to start gets nearer the crowd starts to get more excited and animated. By the time Springsteen takes the stage at 9.30pm the whole place is on its feet and rocking. Usually you see most of the people at the side, and especially at the back, sitting in their seats. Not in Madrid. Everyone is on their feet singing along and having a wild time. I've never seen such a large crowd jump up and down together, it is something I'll never forget.
No matter what you think of Springsteen, I really can't think of anybody that has been around for as long as he has that is still producing original, chart topping material. Sure, there are lots of legacy acts around - The Who, The Eagles, even the Beach Boys - but nobody I can think of that is still pushing the boundries. The guy is 62 for goodness sake and turns in a performance of nearly 4 hours non-stop! That's right, 3 hours 48 minutes he is on stage for. Now at the time this is a record even for Springsteen, but he has since played for 4 hours in Helsinki.
For every minute of that near 4 hours the crowd are singing along, chanting, jumping, dancing and having one damn good time. I genuinely believe that Springsteen and the band enjoyed it every bit as much as the crowd, I'm sure he didn't want to leave that stage.
Just a little sample - this is the opening of the set (not taken by me of course):
We finally leave the stadium at 1.30am, exhausted but happy. It doesn't help that we also get lost on the way back to the hotel and walk for about 4 miles!
Sorry for rambling on, this was supposed to be just a video as we got a new fancy HD camcorder and Madrid was its first full outing. Unfortunately I didn't risk taking it to the concert, so it's just showing some of Madrid.
It should be in full HD, so if you have a good internet connection you can change the quality by clicking the little cog in the bottom right hand corner and selecting 720 or 1080p and then full screen.
As we have no video of the concert, here are a few photos.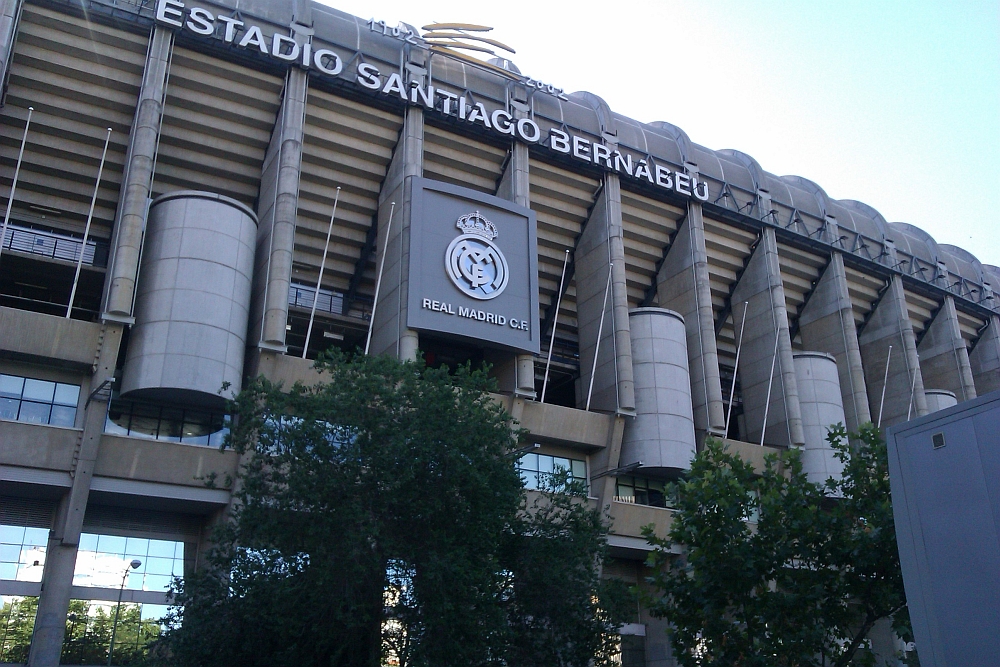 Outside the stadium.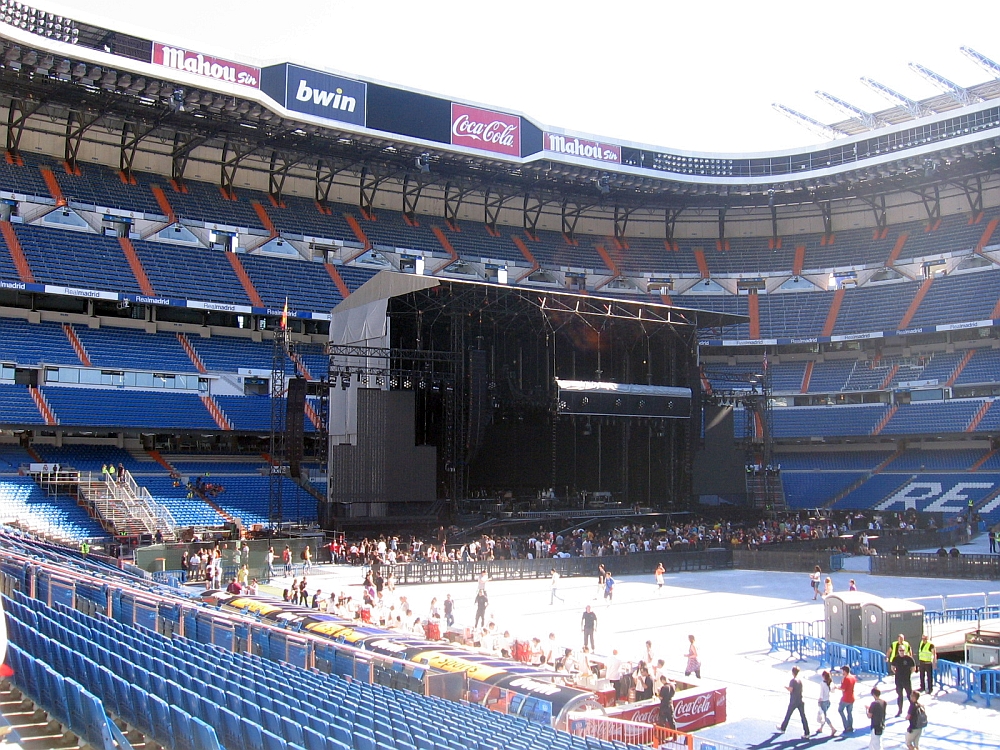 You can see the pit at the front.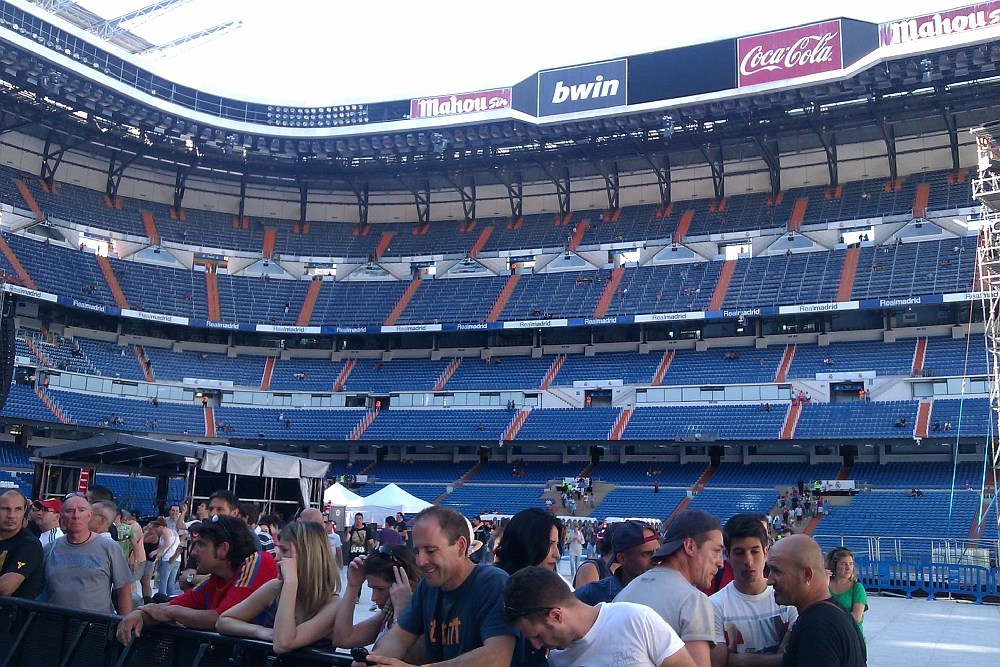 Looking back from the pit.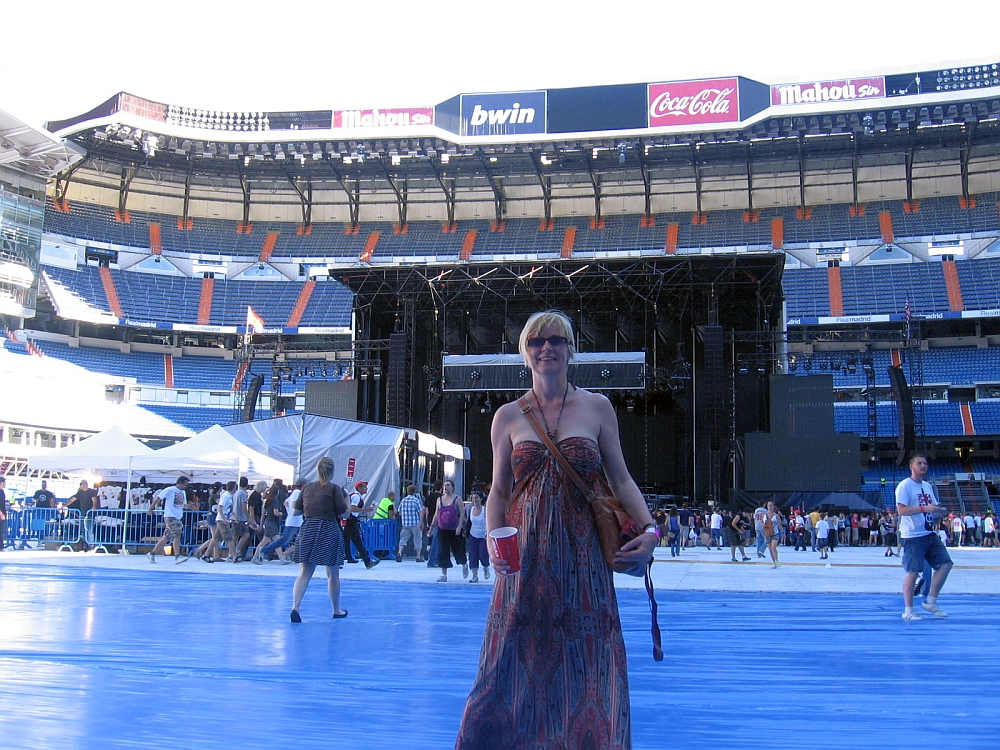 The Tamster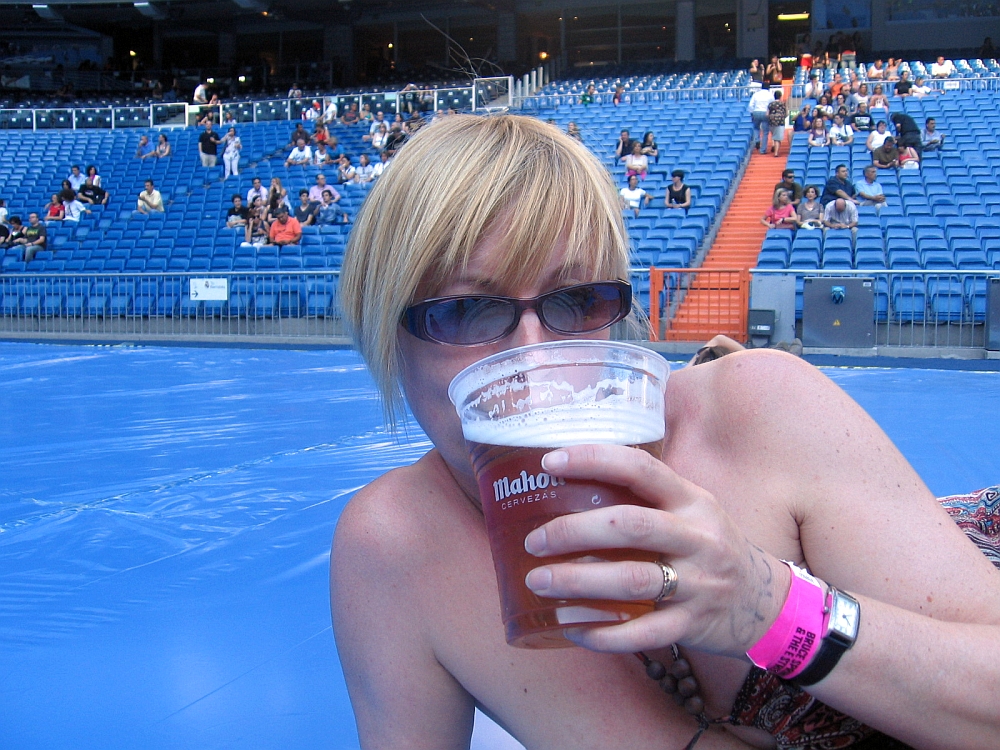 The Tamster relaxes.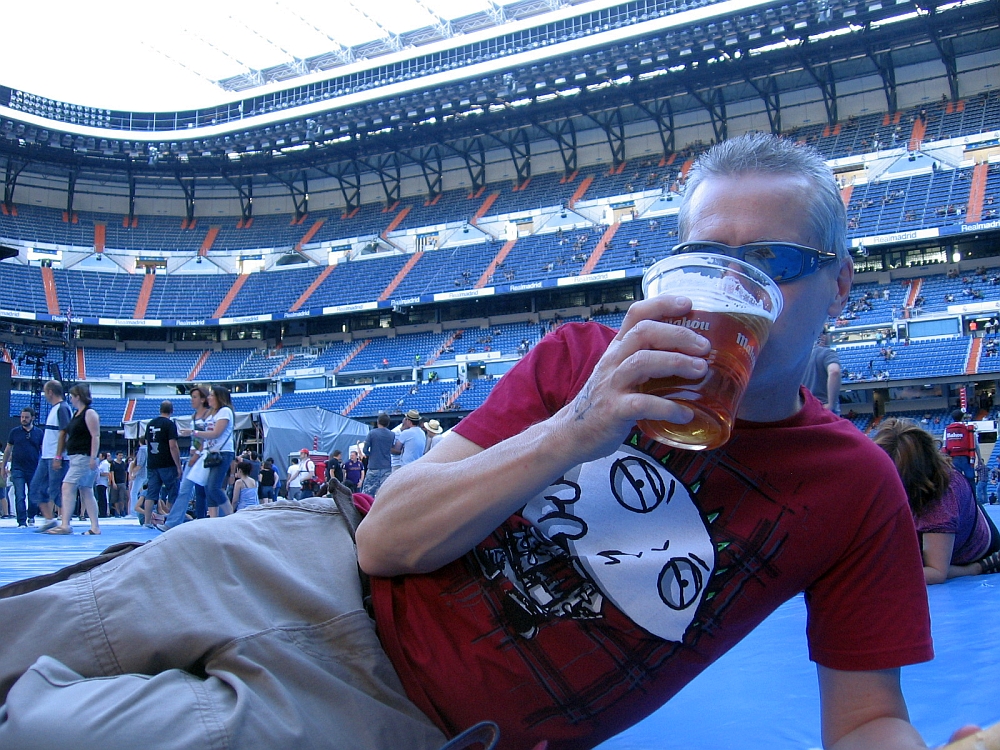 Those beers were as big as a bucket, but 10 Euros each!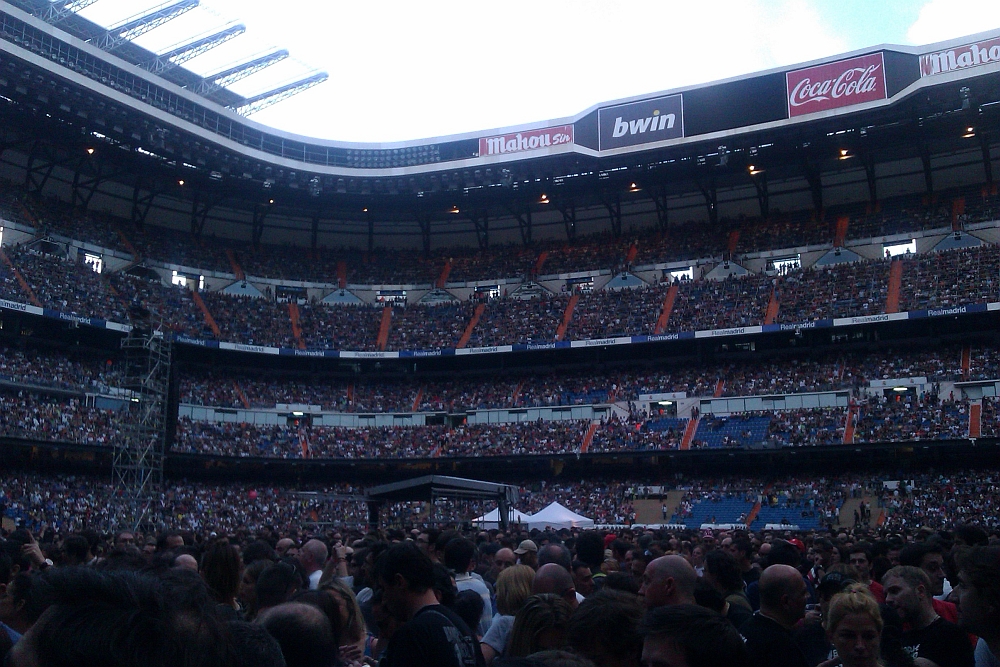 Just before the start.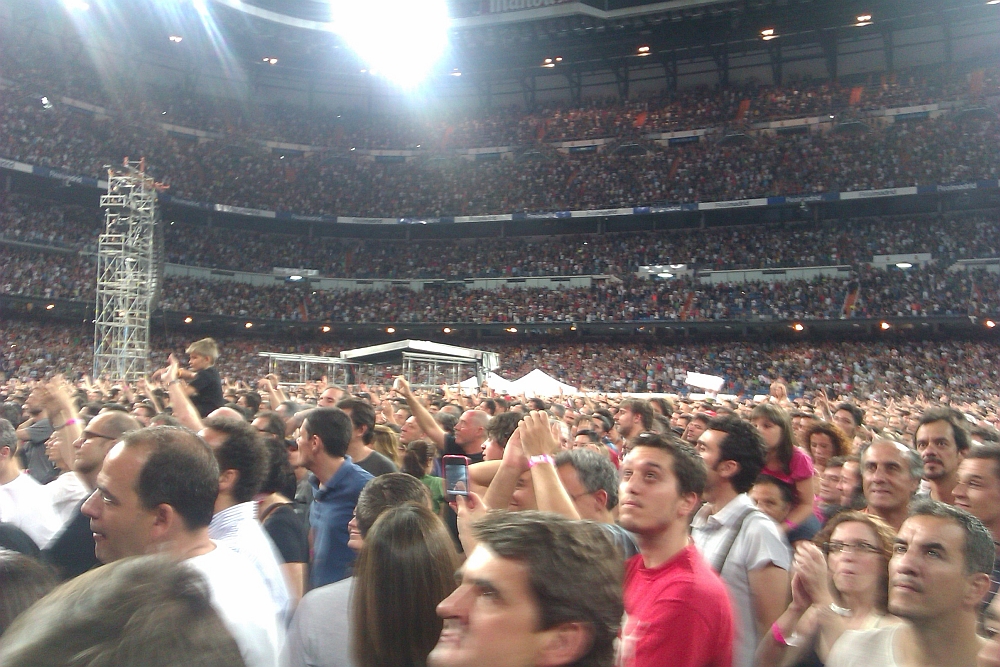 Half way through.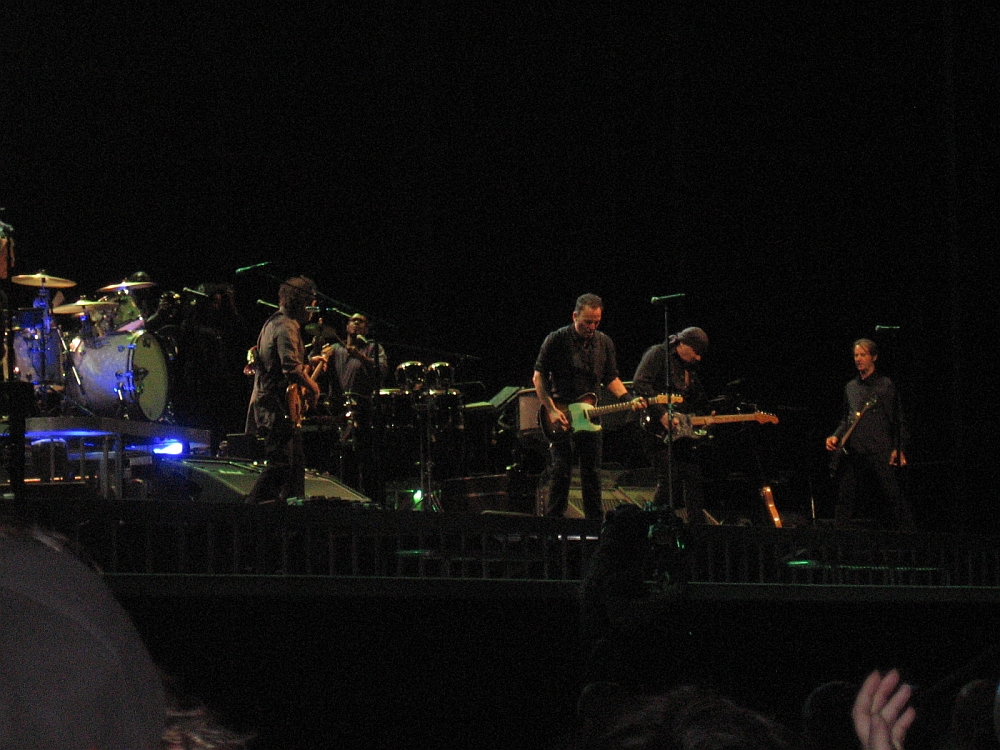 The man himself, God bless his little American socks.