Kalkan - October 2020
Written by Tam
So 2020 the nightmare year of Covid 19 meant that many of our plans were cancelled or moved to 2021. This was supposed to be a year of music for us, no big holidays planned, but many festivals and gigs including Mad Cool in Madrid and then on to Budapest to see Pearl Jam.

Needless to say after lockdown 1 and tier restrictions we were, like a lot of people, desperate to get away and experience some normality in these trying times. So once restrictions looked to be easing and the virus appeared to be under control we bit the bullet and booked an 8 night stay in Kalkan for ourselves, India, Georgia and Charlie. We booked flights with Easyjet from Gatwick and a fantastic villa - Villa Beyaz Kelebek through Home Away.
All that planning ahead wasn't without stess though and just 3 days before we were due to fly the government announced that people returning from Turkey would need to quarantine at home for 14 days on return. Well thankfully 4 out of the 5 of us were already working from home still and Kev had enough holiday days left so that with the furlough he was also doing we were good to go.
Saturday 3rd October we get to Gatwick and check in at The Premier Inn. Have a meal in the restaurant and a few drinks and an early night as our flight leaves at 6.10am.

Uneventful flight and mostly people abide by the mask wearing protocol and we arrive in time at a sunny Dalaman airport. Once again we are met by Dalaman Car Hire who we used last year, after the formalities are completed we are off to Kalkan in high spirits.
The villa is situated on the Kisla side of the bay – a first for us and gave a different perspective looking back at the harbour from this side. The villa was amazing, beautifully decorated and equipped with absolutely everything you could want, a big change from last year's villa which was poorly kitted out in the kitchen department.
We particularly liked the outdoor areas with a pool, terrace, upper deck and path down to a jetty with sunbeds so it was possible to swim in the sea. The flowers were truly stunning Here are some of the photos.

[Kev - This is a view looking back towards our villa. We are the buildings situated on the far right as you look back over the bay. In fact that was probably the only complaint I would have about it - the sun would disappear behind the hill around 3.30pm every afternoon. I guess the time of year has something to do with this as the sun is a lot lower in the sky. Everything else was just about perfect.]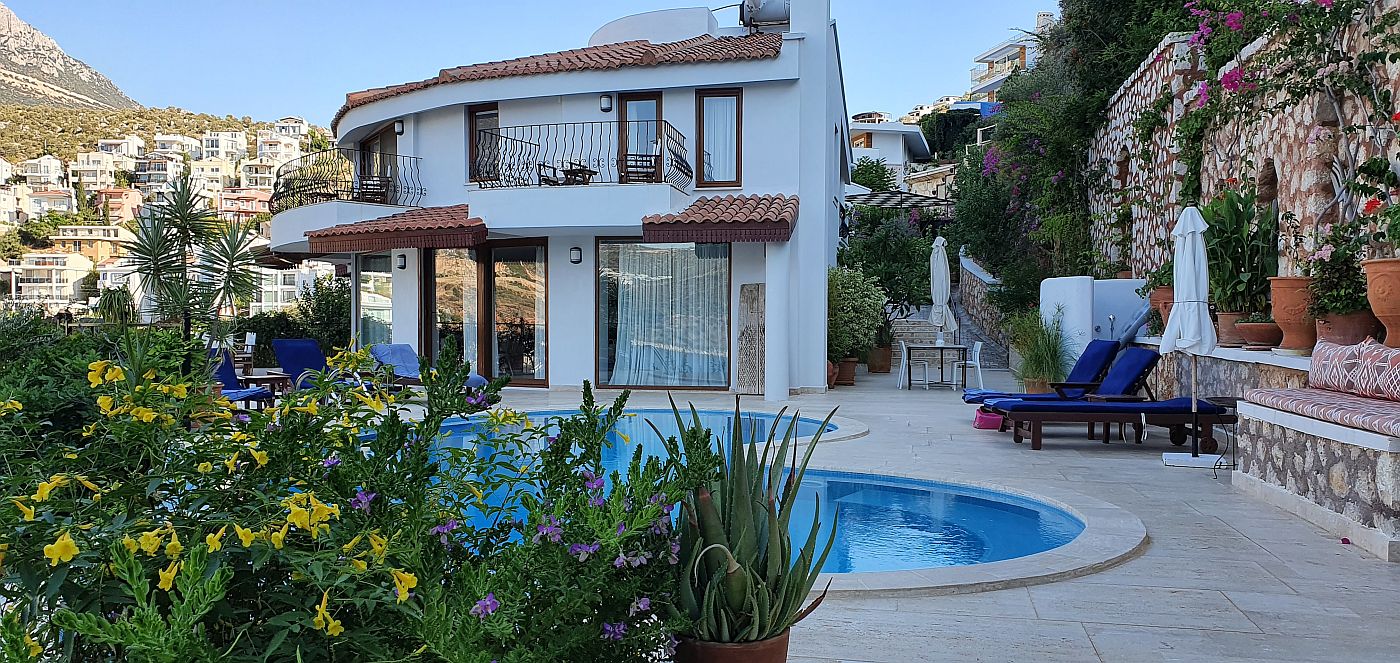 [Kev - This was the view from our bedroom balcony every morning. Not bad, eh?]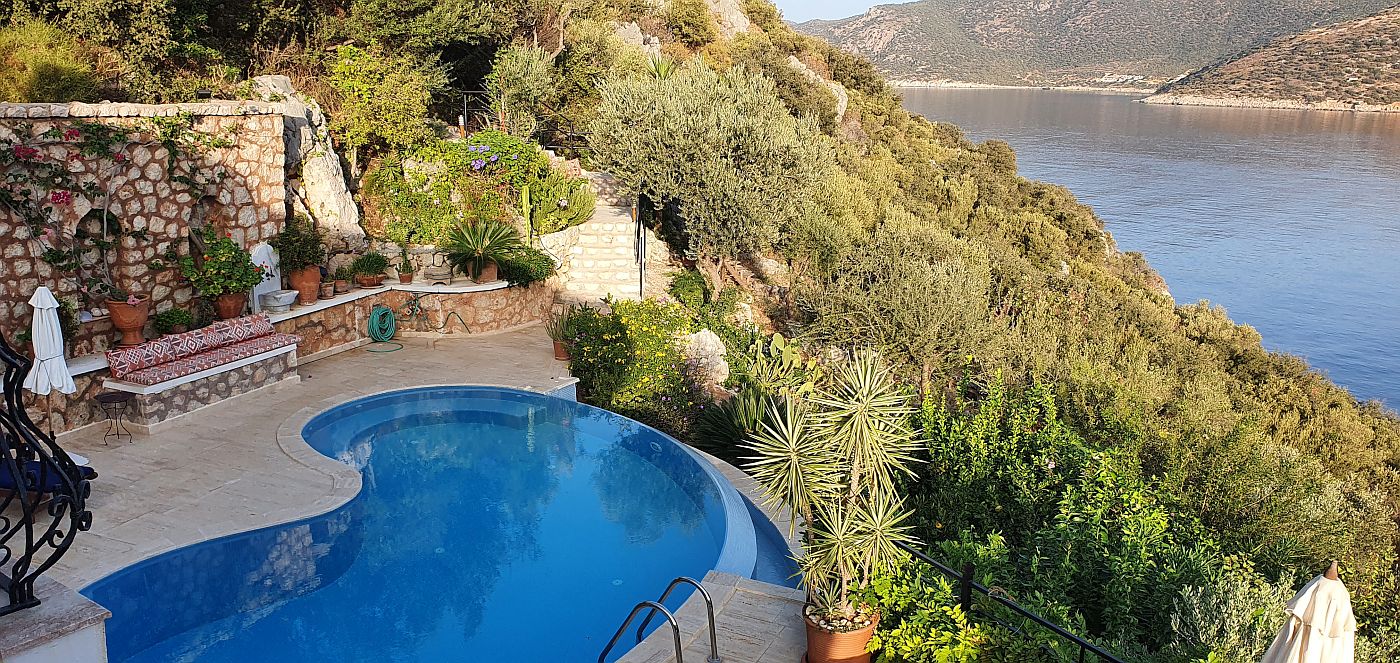 [Kev - I really liked the fact that we were the last villa just about as far out of town as you can get on the Kisla side. Taxis are cheap and there is also a boat that goes across to the harbour from the beach club just below us.]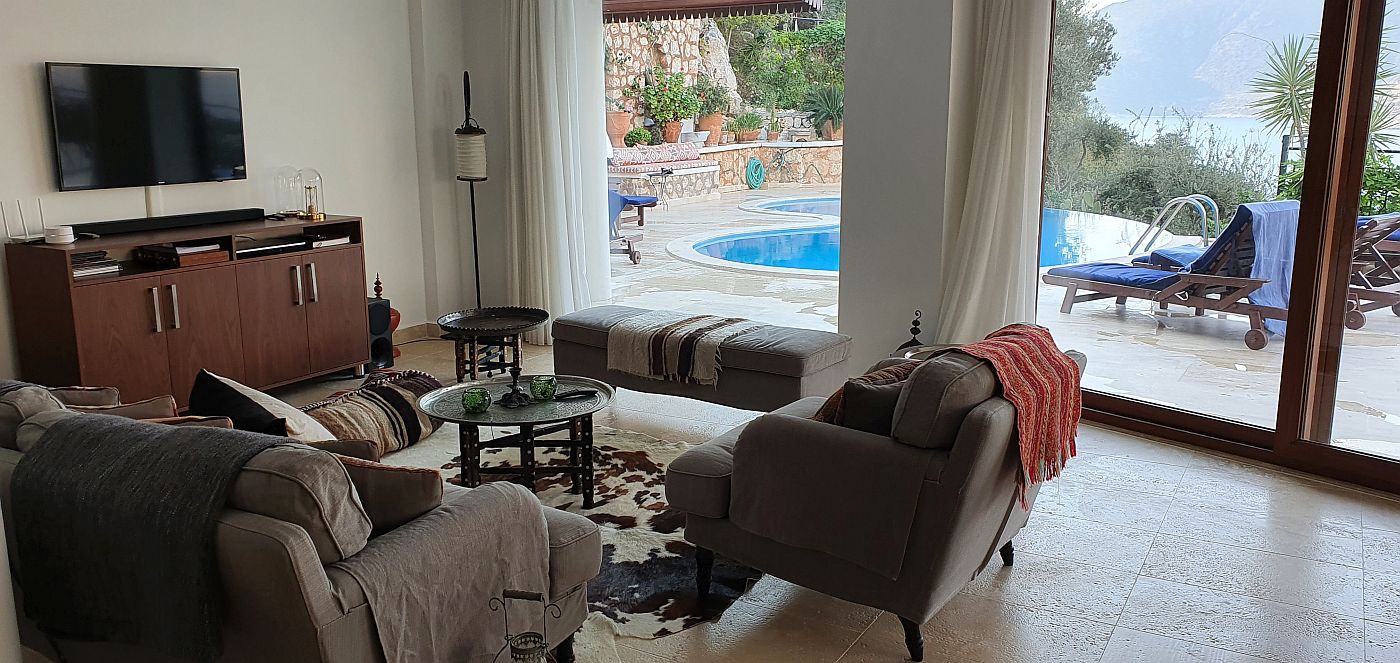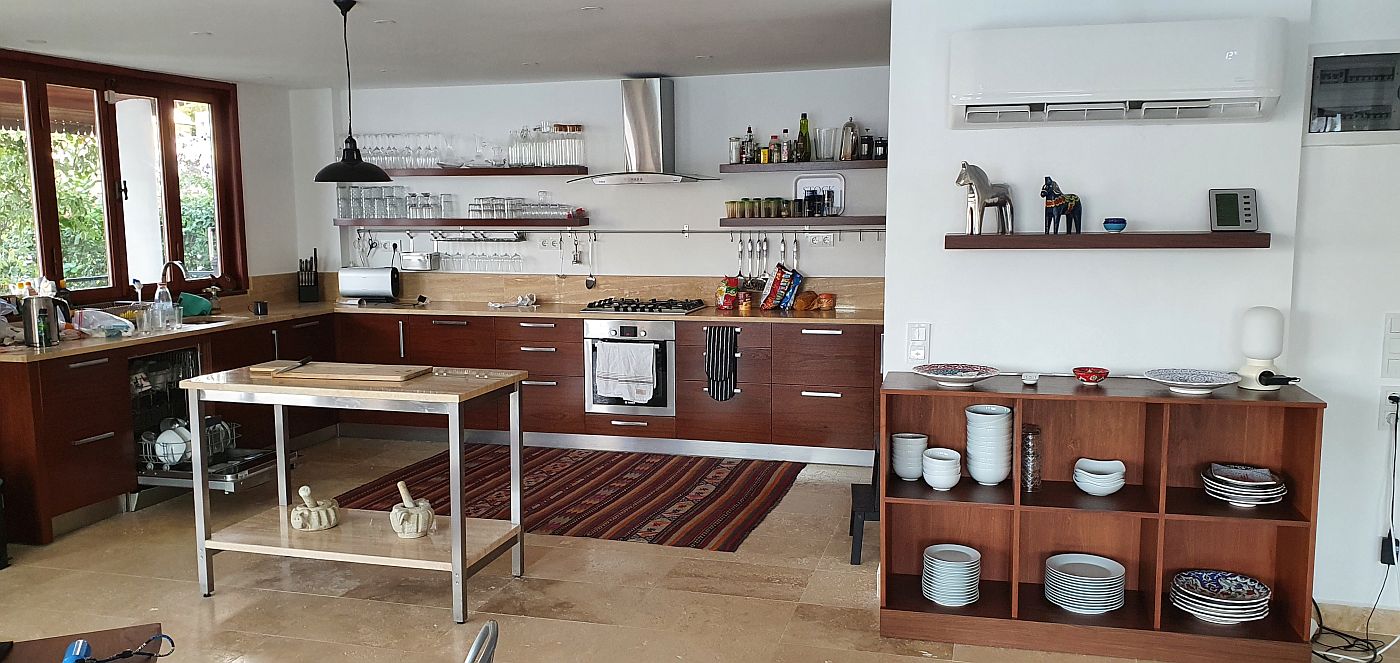 [Kev - The villa had just about everything we could possible have wanted. In fact Kazim (the chef that came in to make us a wonderful meal one evening as you'll see shortly) said it was the most well stocked kitchen he's ever worked in.]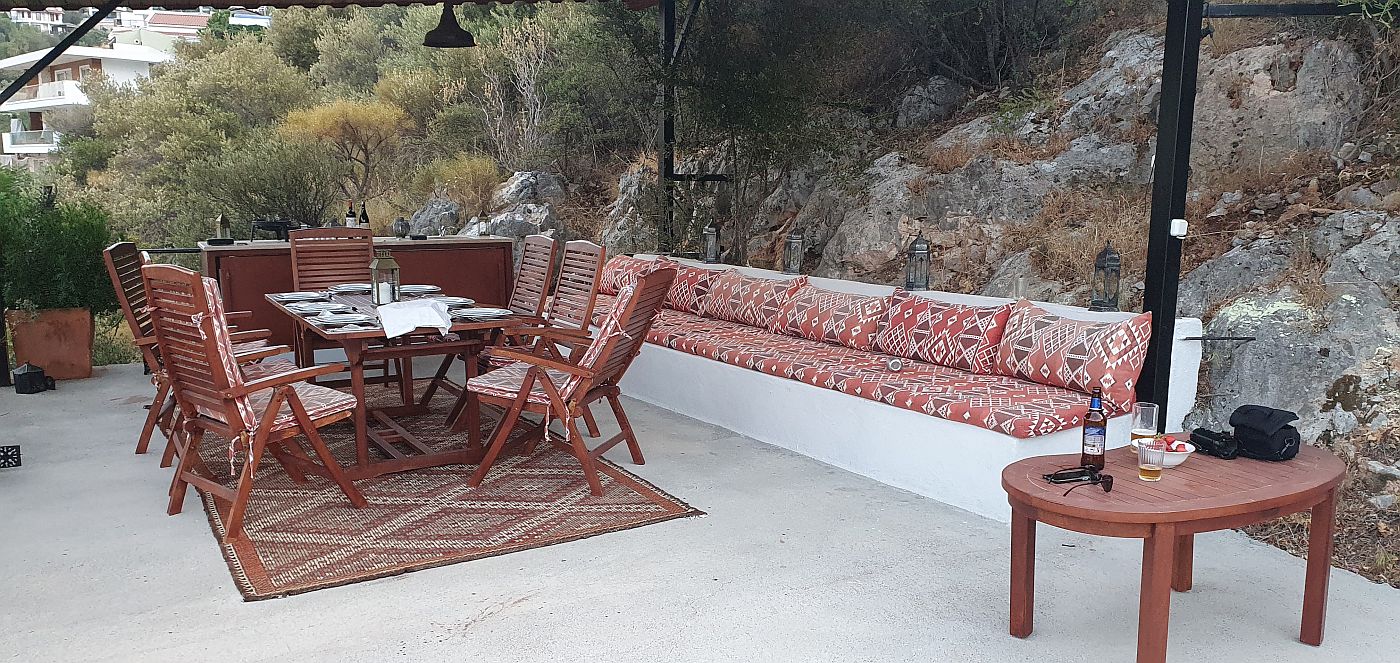 [Kev - This terrace area was up quite a few steps, but we all loved this part of the villa. The views across to the town are beautiful, especially at night.]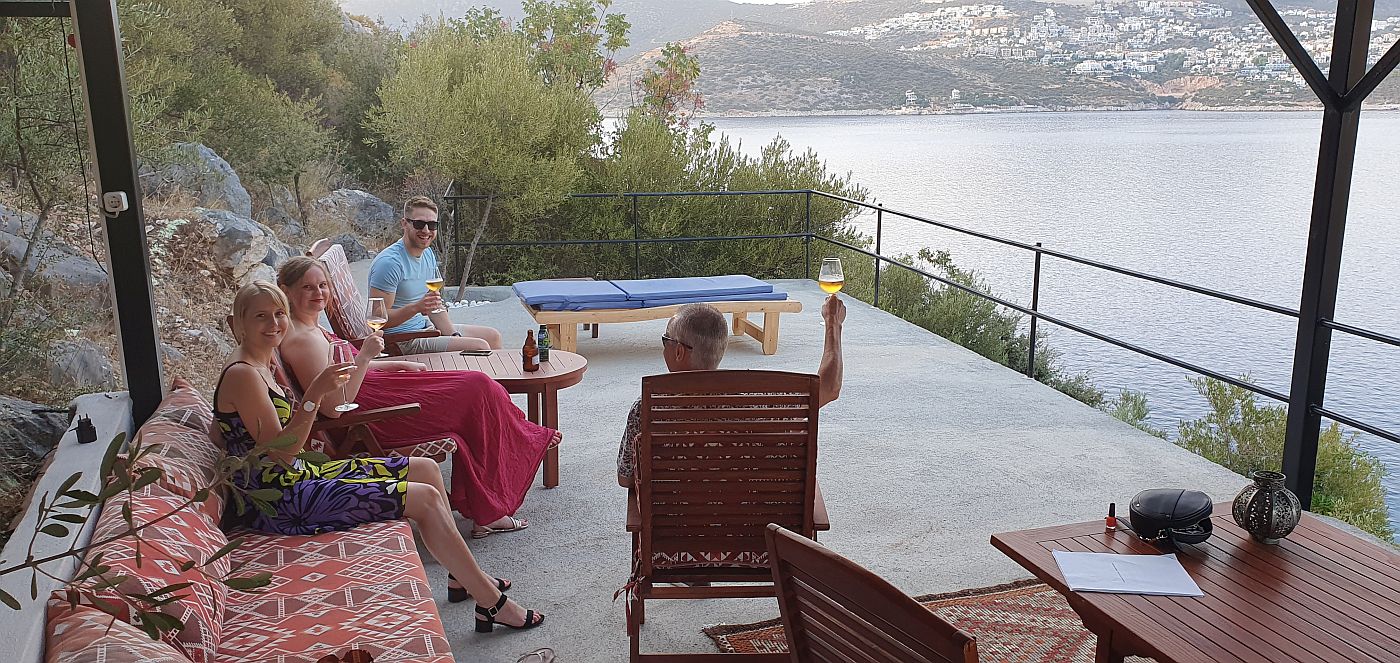 [Kev - In fact it'a all so relaxing I can't even raise the energy to turn round and smile at the camera.]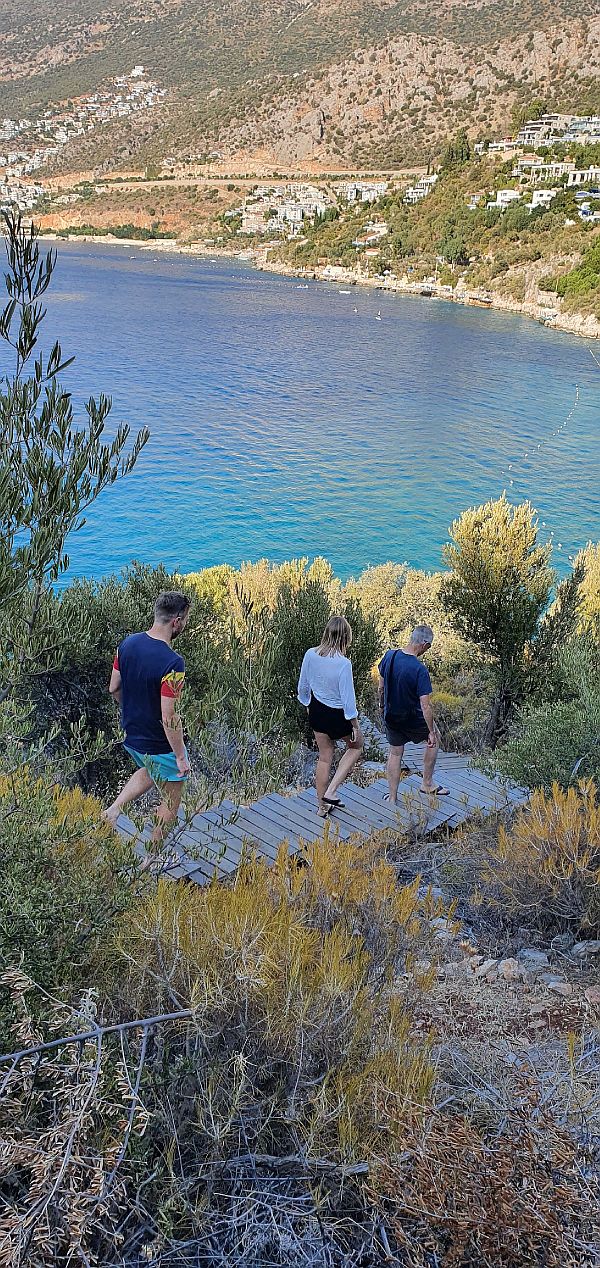 [Kev - These are the steps down to our private swimming deck. It was quite a walk back up, but so worth it.]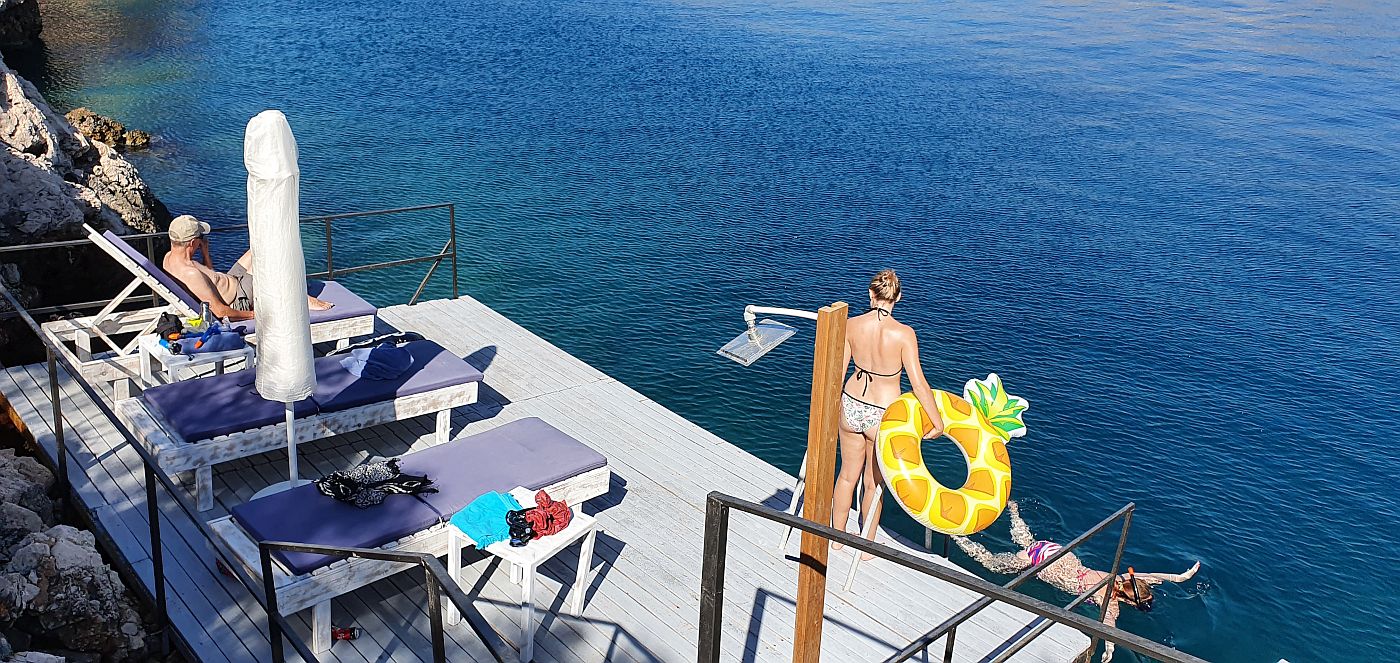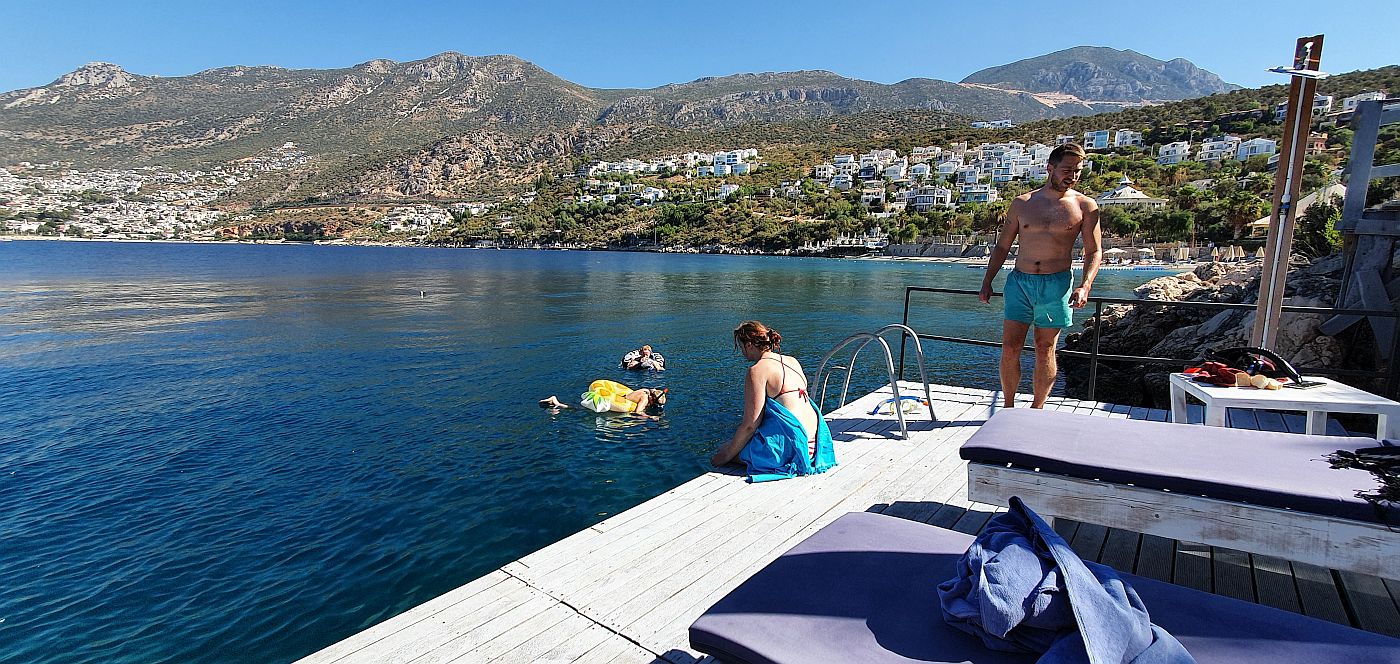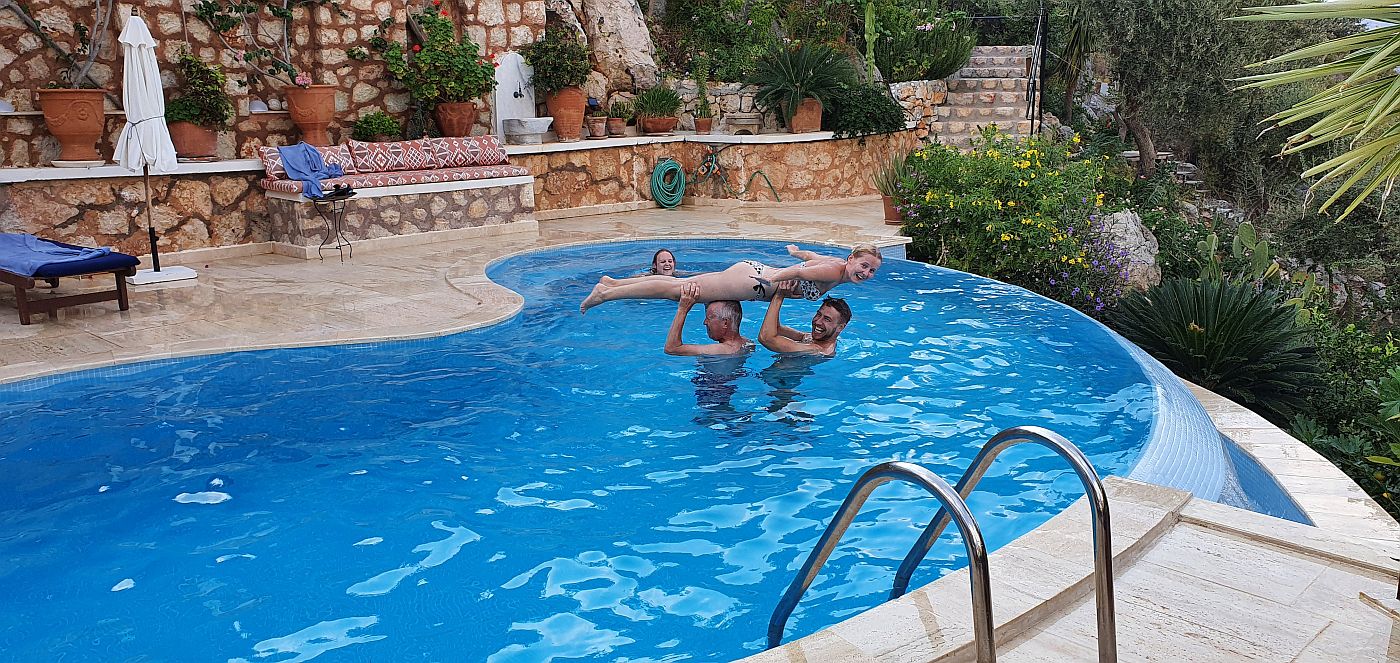 [Kev - Charlie has gone for the muscleman pose. I'm more in 'balance the girl on my head' mode.]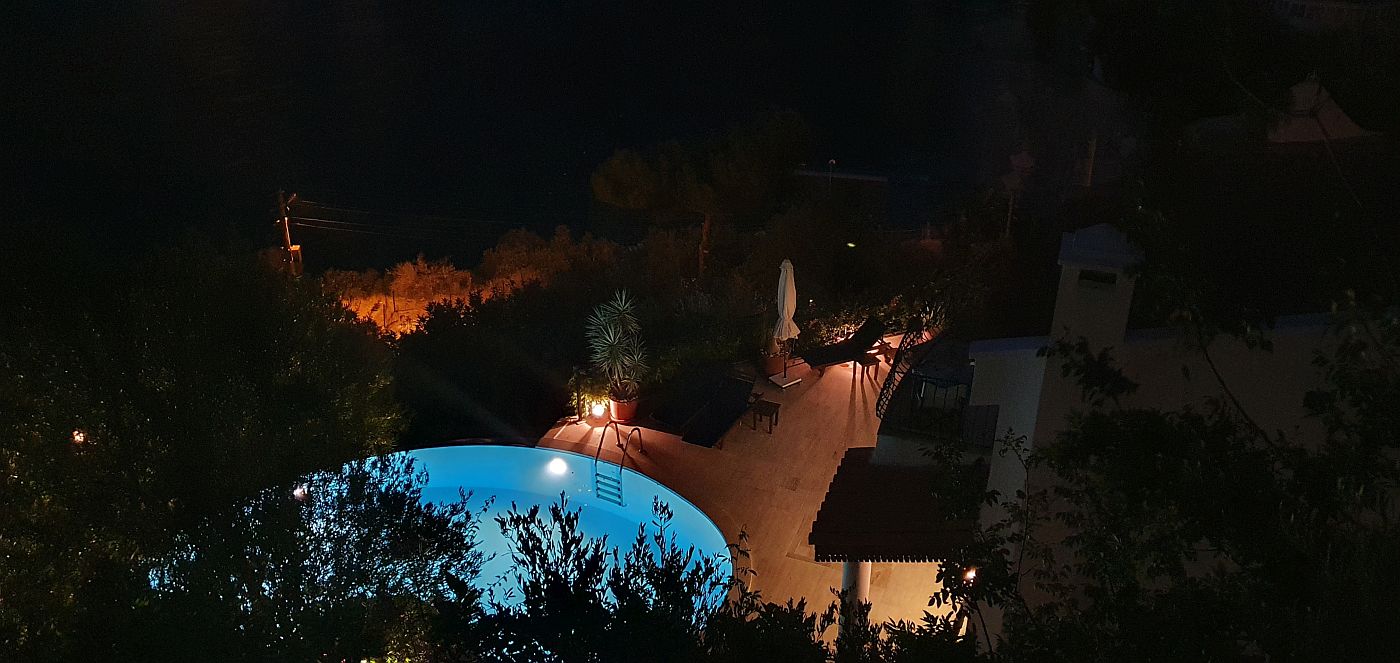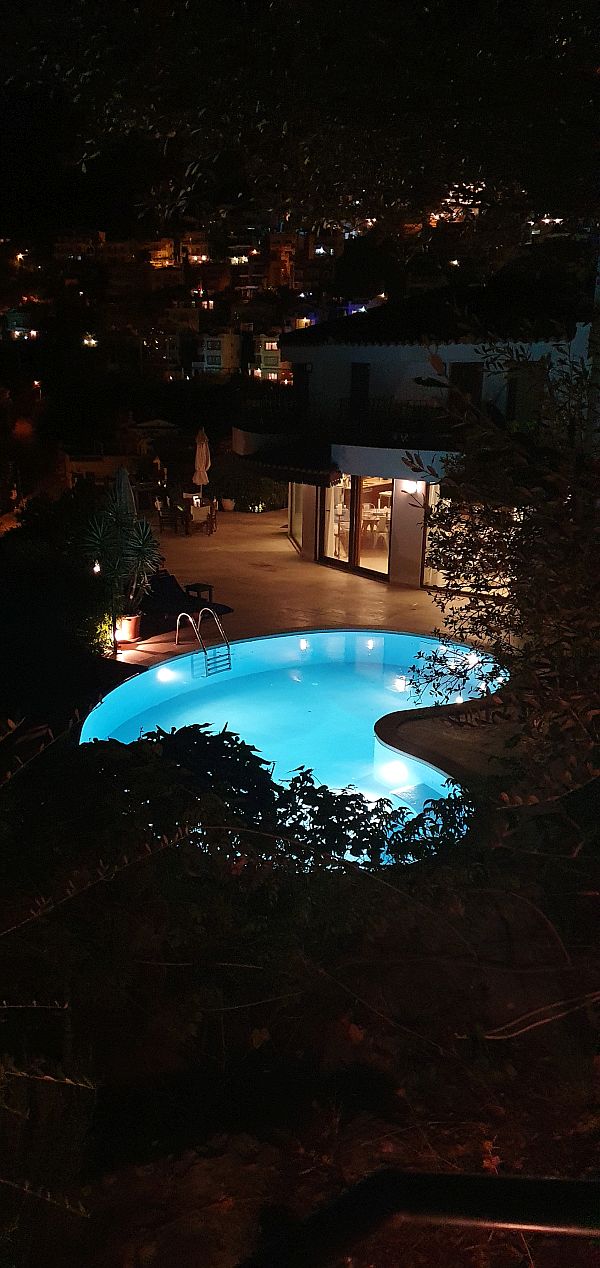 One evening we booked a chef to come to the house and after reviewing all the options we decided on Chefs at Home and the amazing Kazim. He came to the house prior to the meal to ask us for our menu choices and we picked 5 starters, 2 mains and a dessert and you pay per head. Charlie's parents Nicky and Simon were also in Kalkan while we were there and we invited them to join us. The food was incredible and Kazim and his helper were so efficient, cooking and clearing up afterwards. We chose to eat on the top terrace which was a bit of a trek up the steps but worth it for the ambience as we carted up a myriad of lanterns that are in the house to make it look so pretty.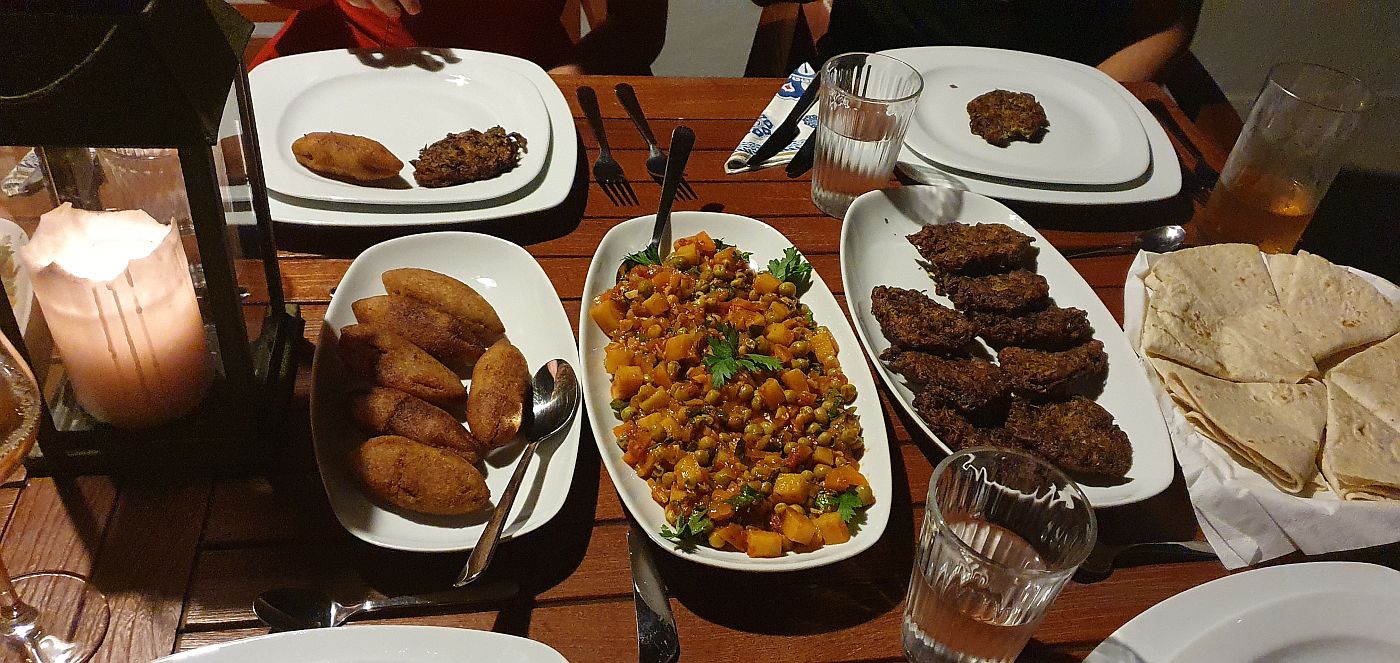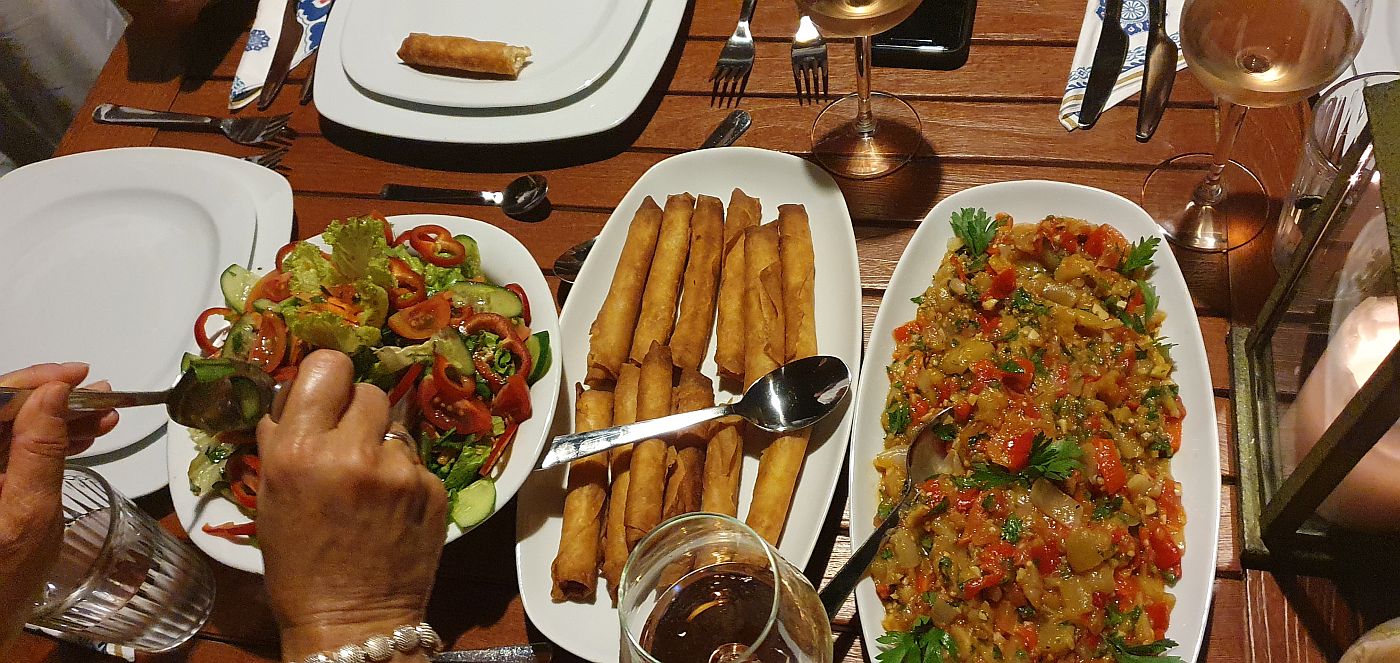 [Kev - We all enjoyed this meal very much. As well as all the vegetable dishes there was a lamby thing and a chickeny thing. I reckon I'd make a great food critic. I can't remember what it cost, but I know it was very reasonable.]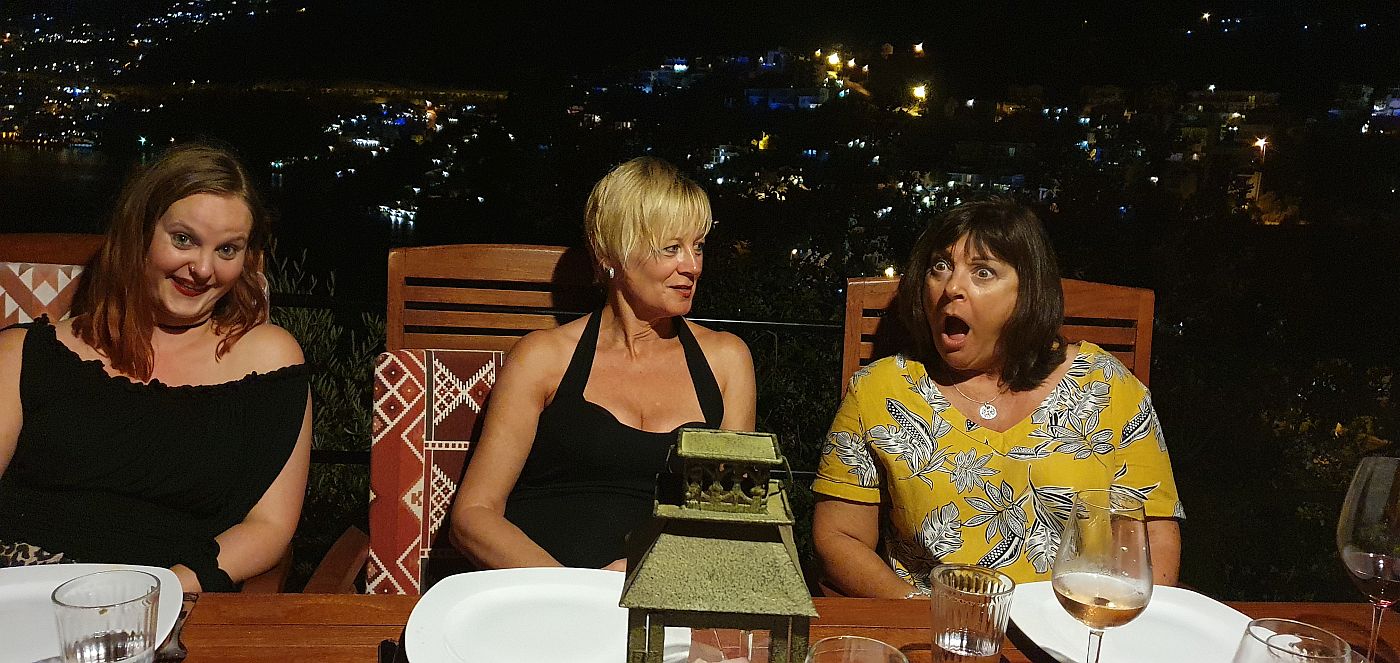 [Kev - Nicky's just been told she's picking up the bill. India seems amused by this.]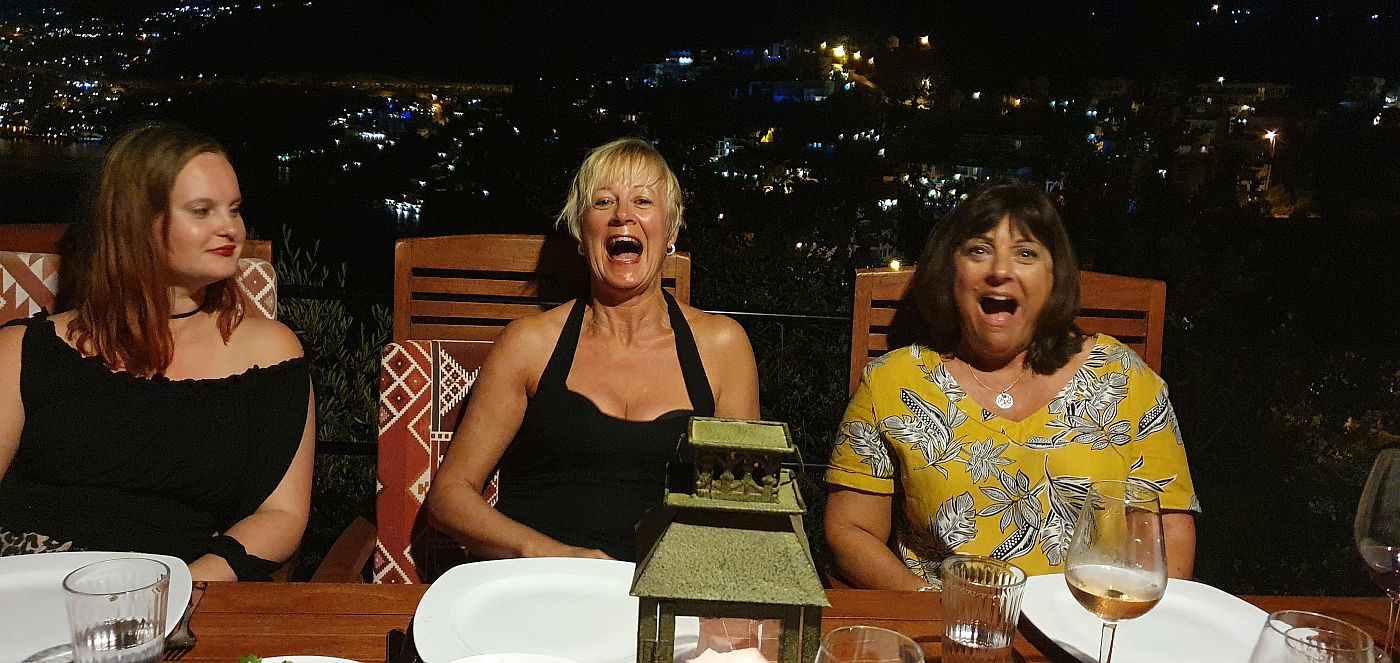 [Kev - Not really Nicky.]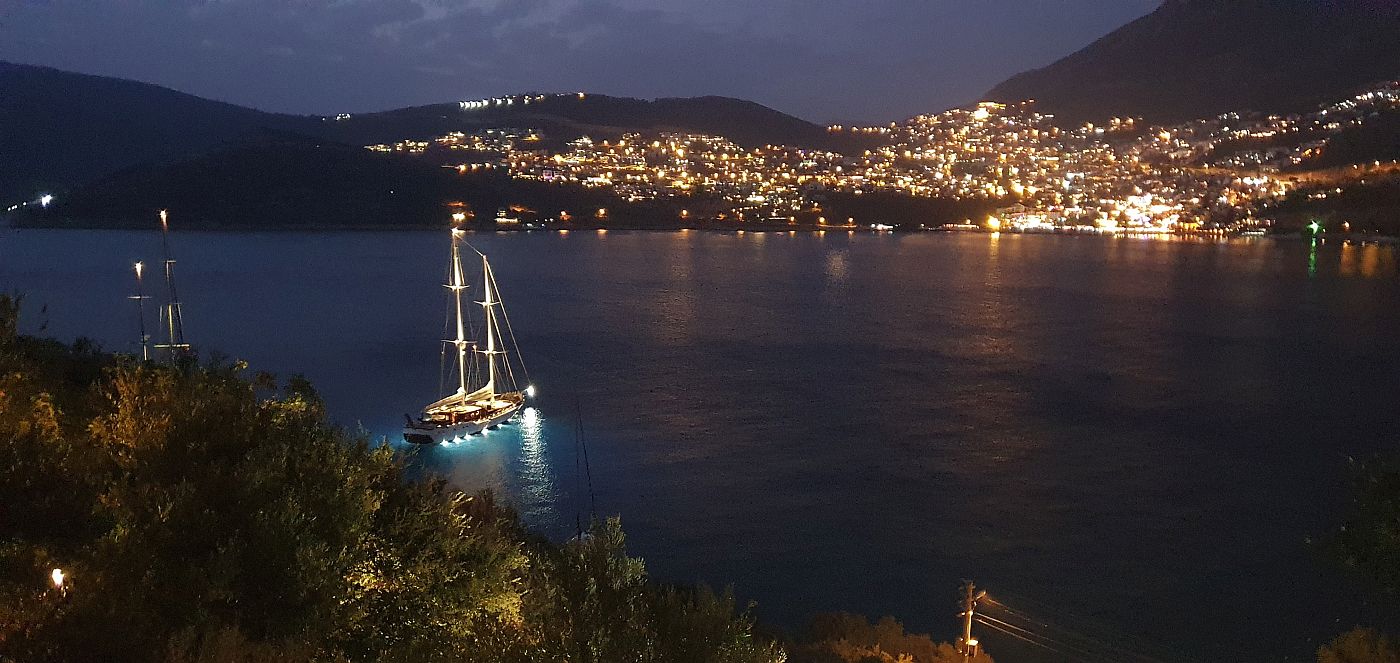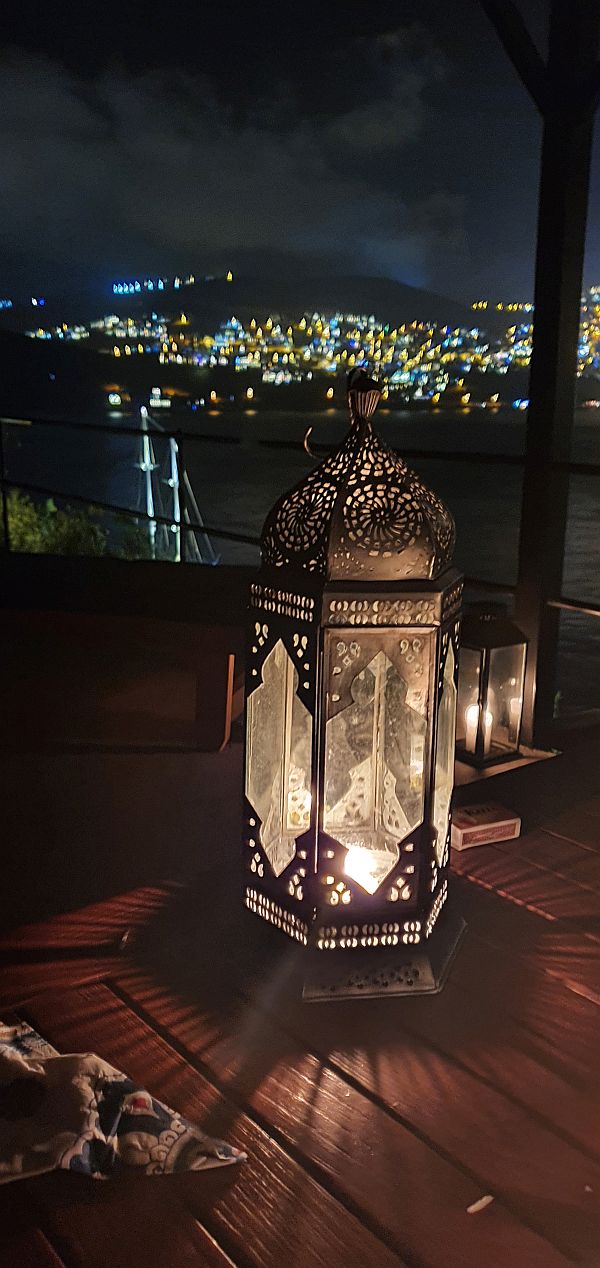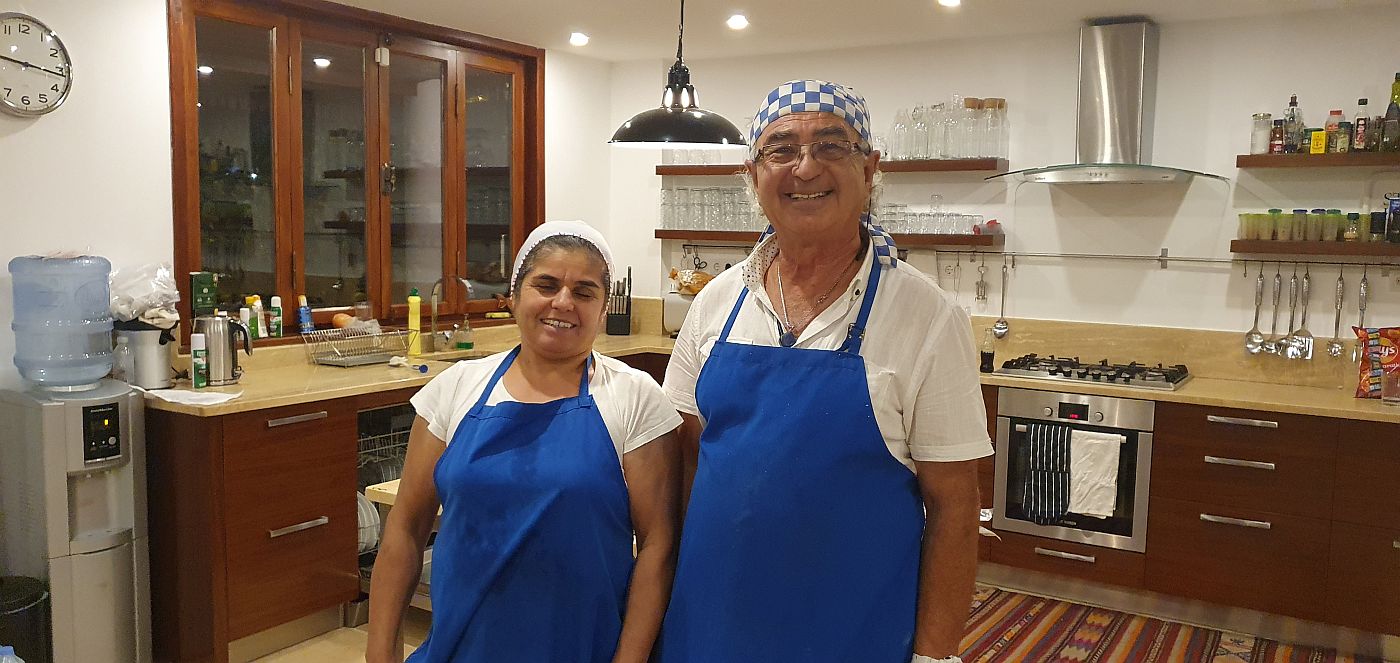 [Kev - This is Kazim and his assistant. They really did an incredible job. They arrived in the afternoon and spent many hours preparing everything from scratch. Afterwards the washing up was done and the place was left spotless.]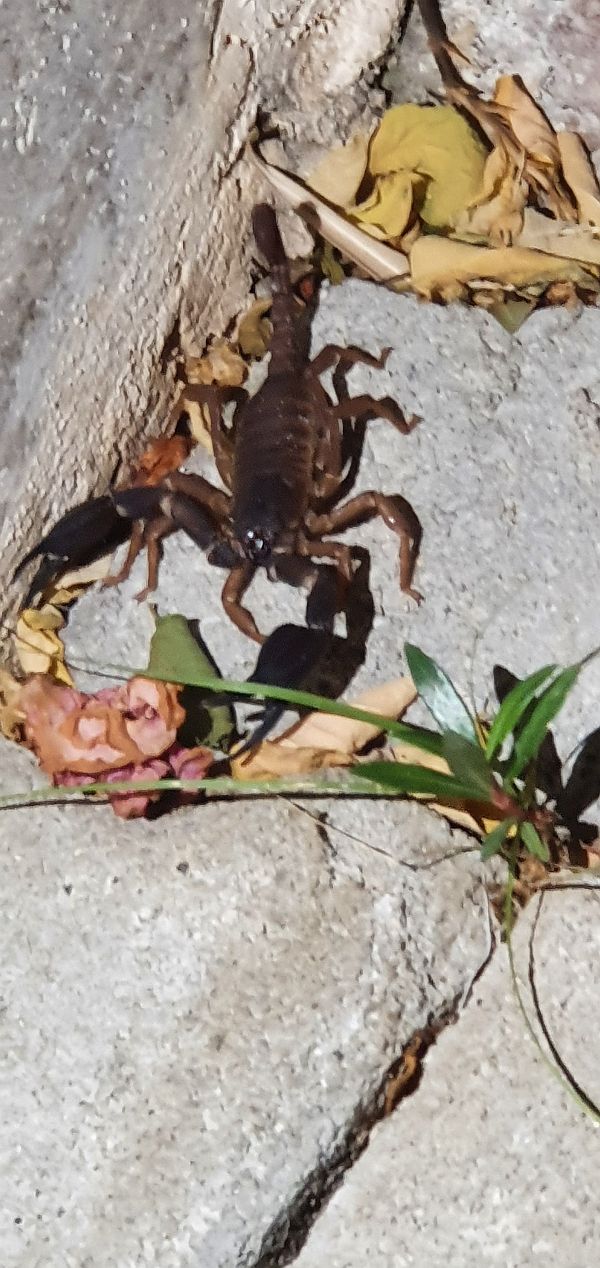 [Kev - As Nicky and Simon left this little beast was waiting for them just outside the front door. Not so little really, I'd guess it was at least 3 inches long. That's 75mm to the non-metrically challenged.]

Another first for us was a trip out to Patara beach and ruins. We paid the entrance price and walked around the ruins which are spectacular and then went to the beach. Unfortunately the wind was really blowing which meant the sand was being whipped up but we had a quick dip in the sea before returning back to the villa. The beach is enormous. On the way back we stopped at a viewpoint which had great views down into Kalkan.

[Kev - That's Charlie on the floor of the ampitheatre with his arms wide apart being ...... well, just being Charlie.]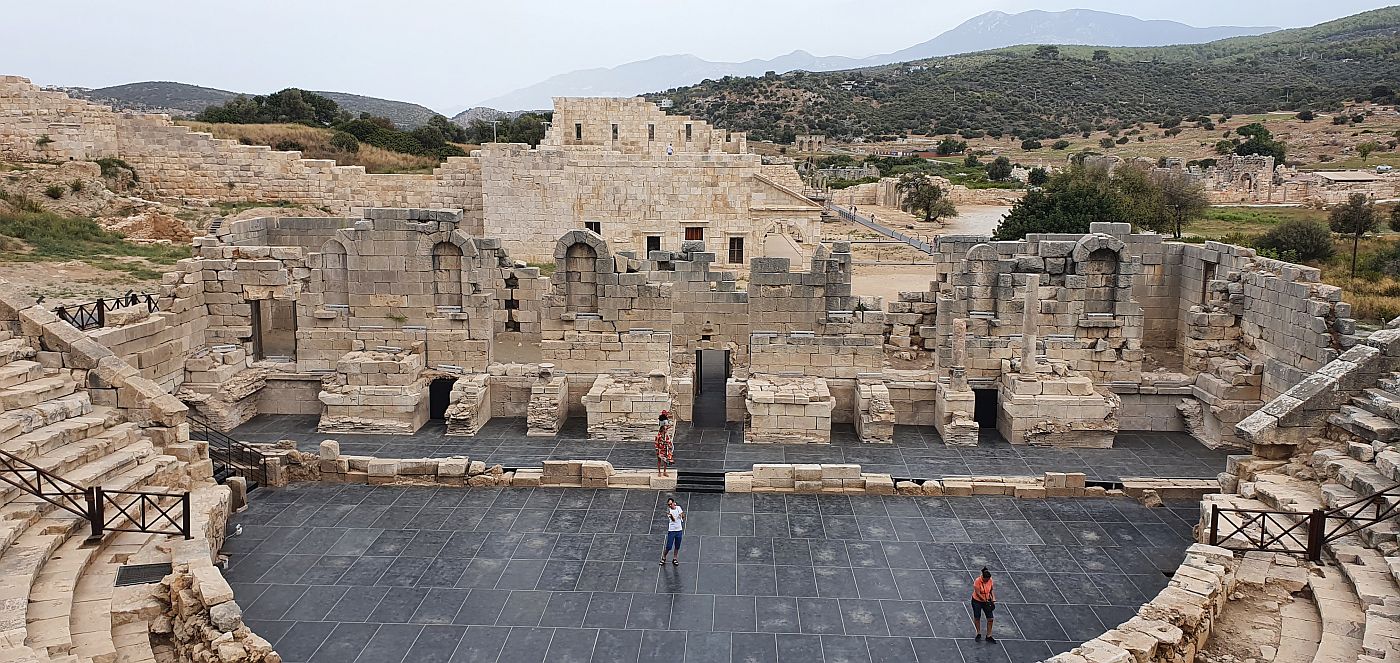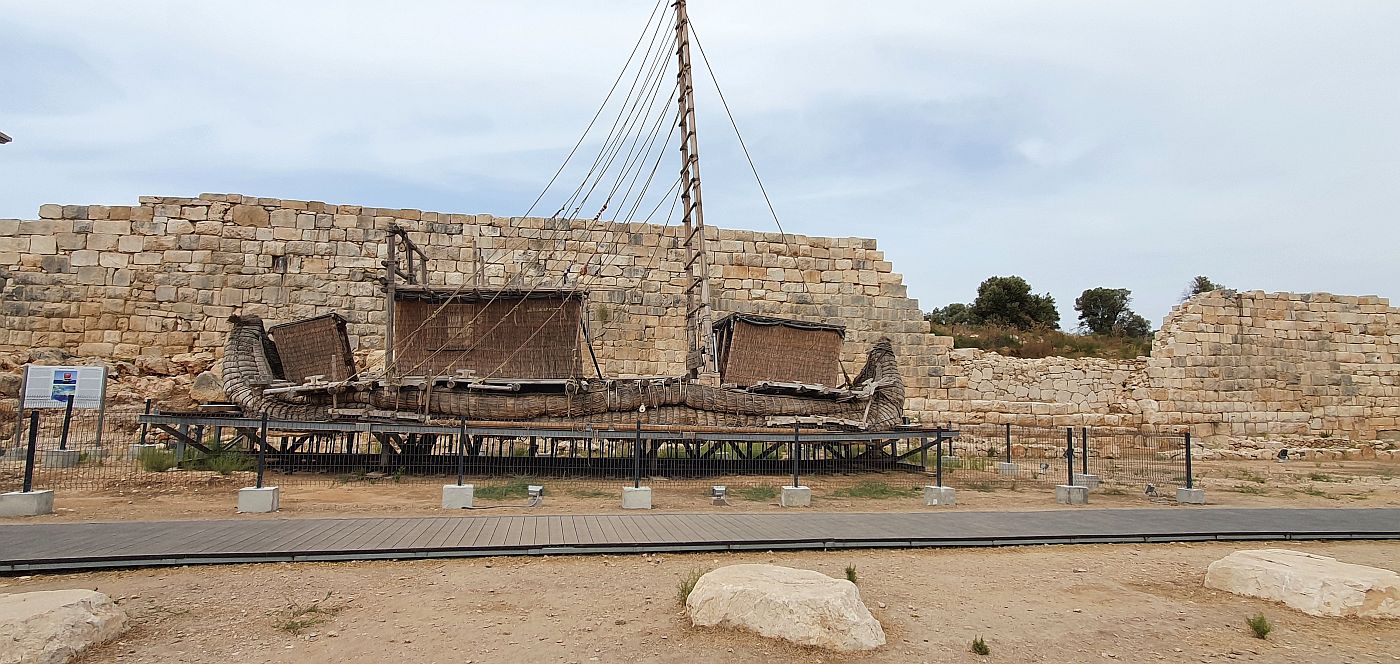 [Kev - In Roman times the city of Patara was actually a port which is amazing considering it a mile or so inland now.]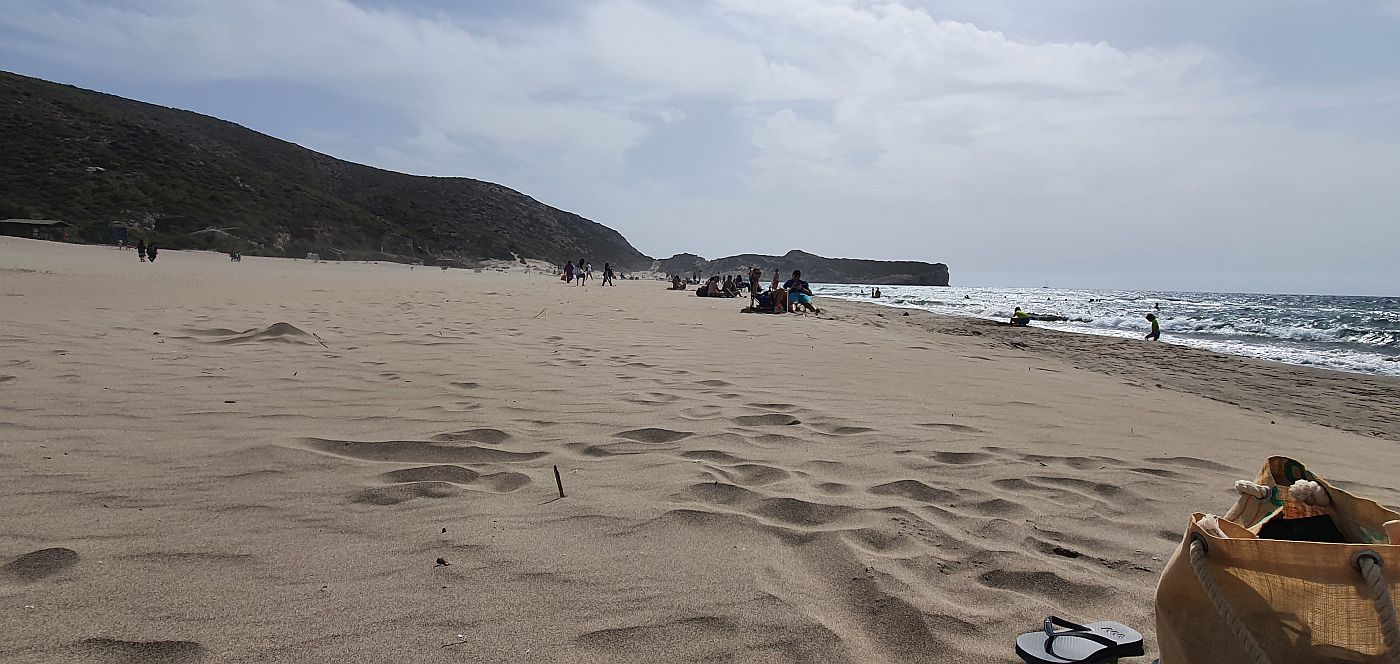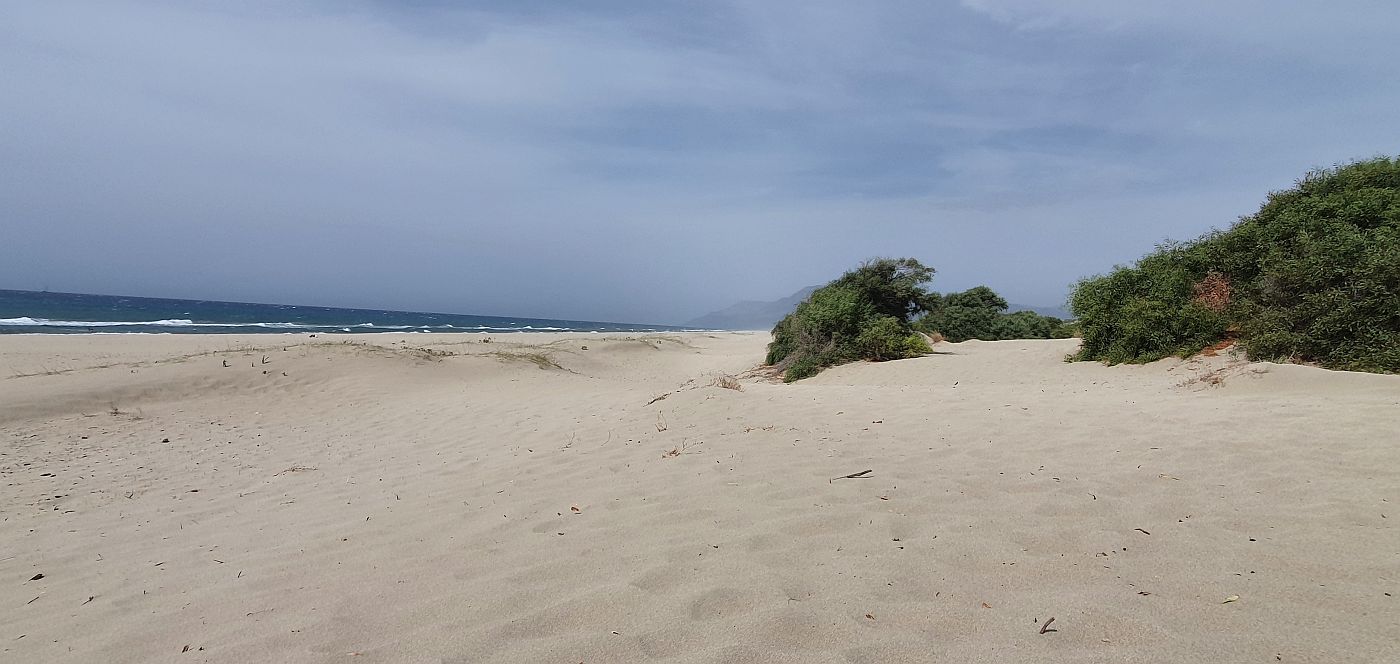 [Kev - A lovely beach although it was quite windy and the sand is so fine we all ended up sandblasted.]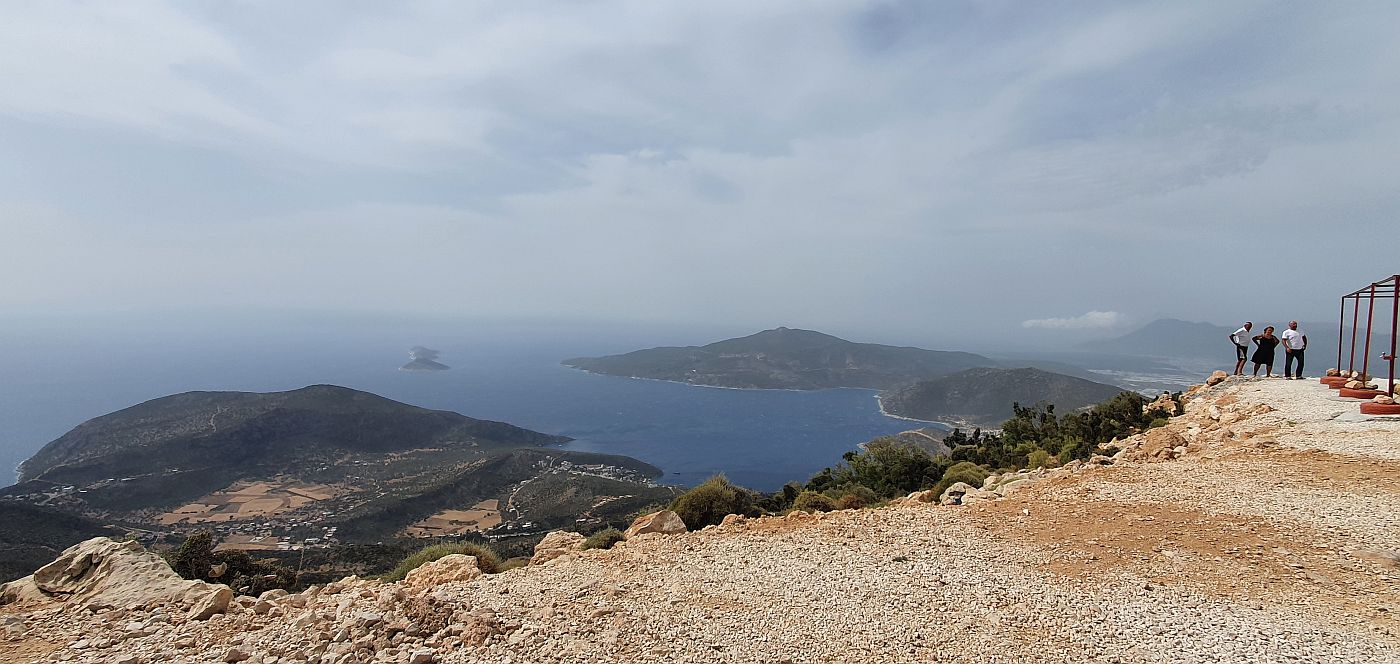 [Kev - This was a view point we stopped at. We could even see our villa from here.]

On a more daring note Kev, Ind, George and Charlie also went parasailing with Aristos Water sports – they thoroughly enjoyed it. Stupidly I decided not to go as I'm not fond of heights but having watched the video I'm sure I would have enjoyed it and even if I hadn't taken part apparently I could have joined them on the boat. I actually watched them from the pool terrace and videoed them instead, but it was hilarious as I continued videoing who I thought was them only for them to walk through the door.

[Kev - Could be me and India - could be Georgia and Charlie - could be Mr and Mrs Hemmingsworth from Milton Keynes for all we know.]
We found some new places to eat and drink – we really enjoyed the Fidanka hotel which was easily walkable from the villa. We only had a drink here in it's beautiful, leafy oasis but wouldn't hesitate to return and try a meal.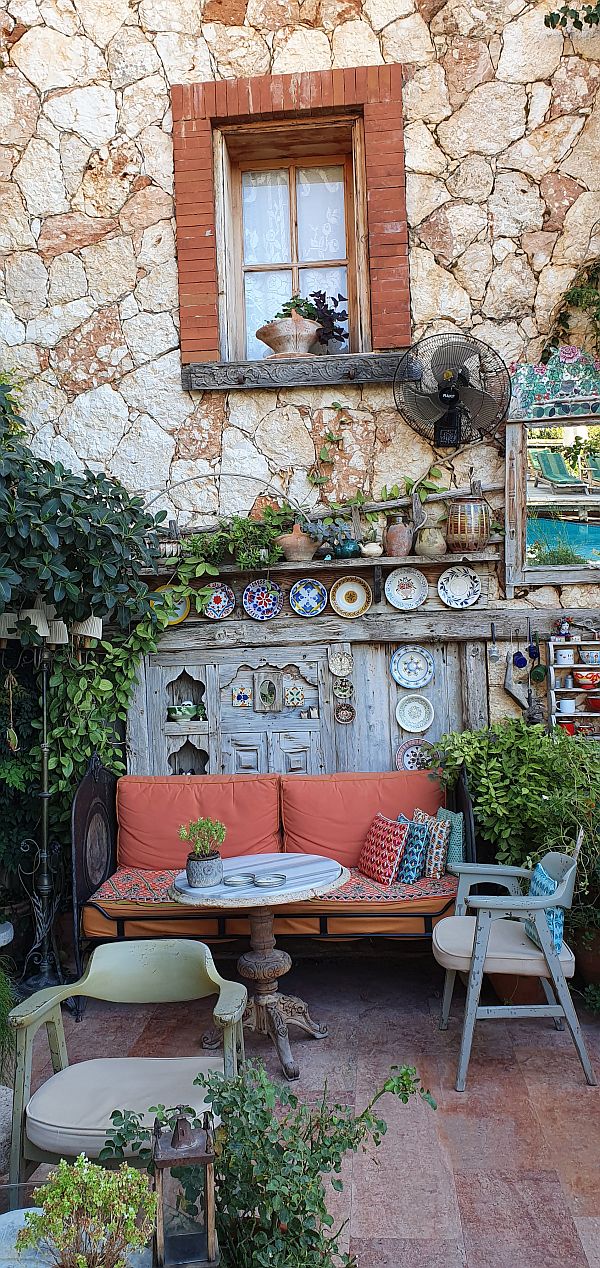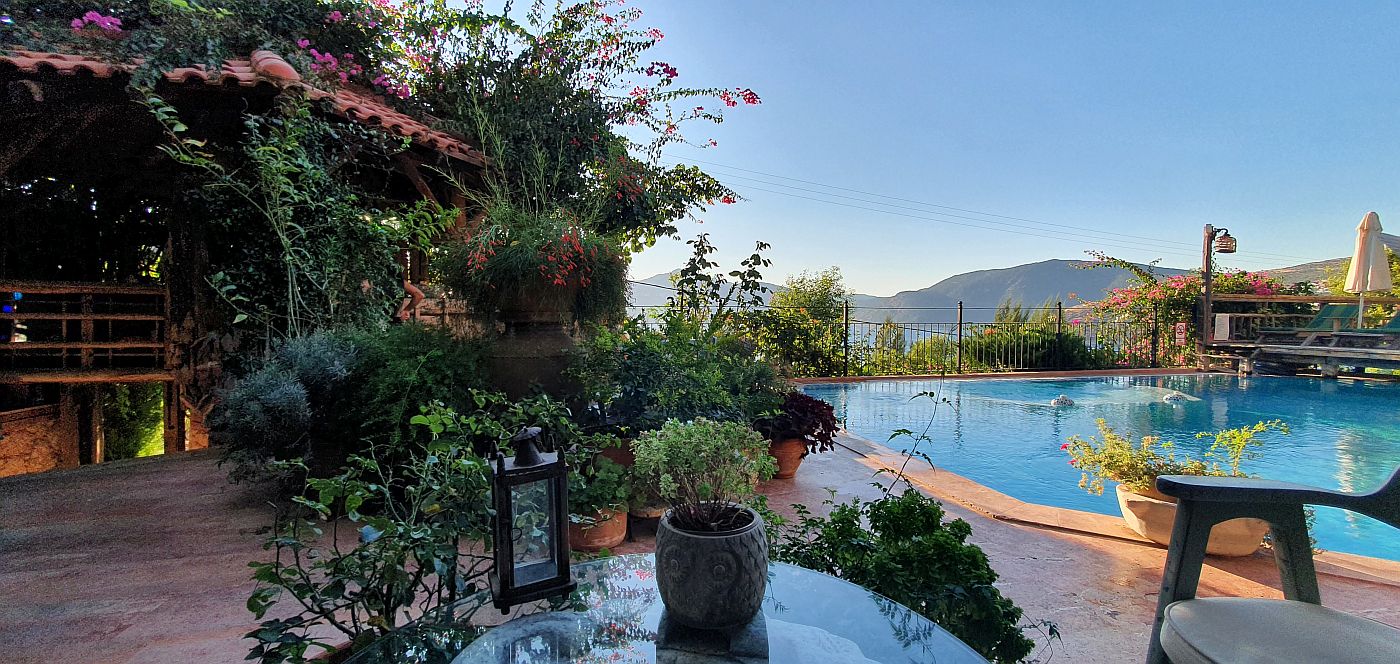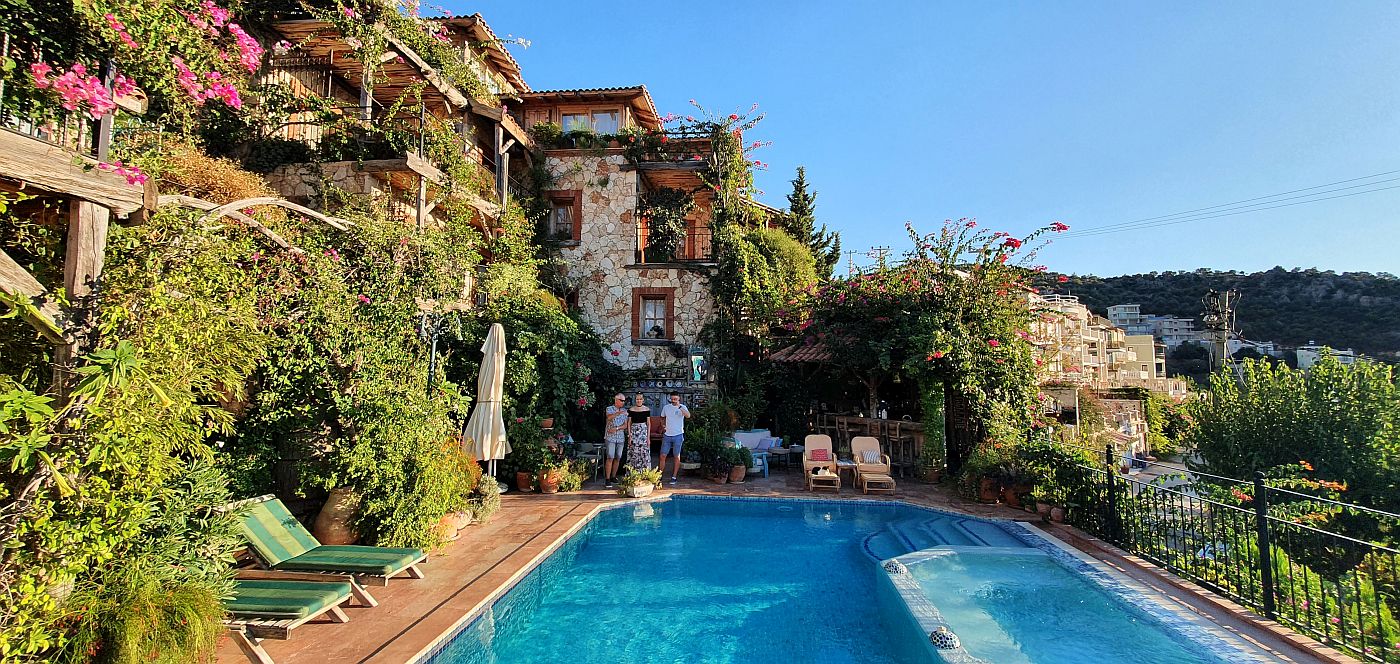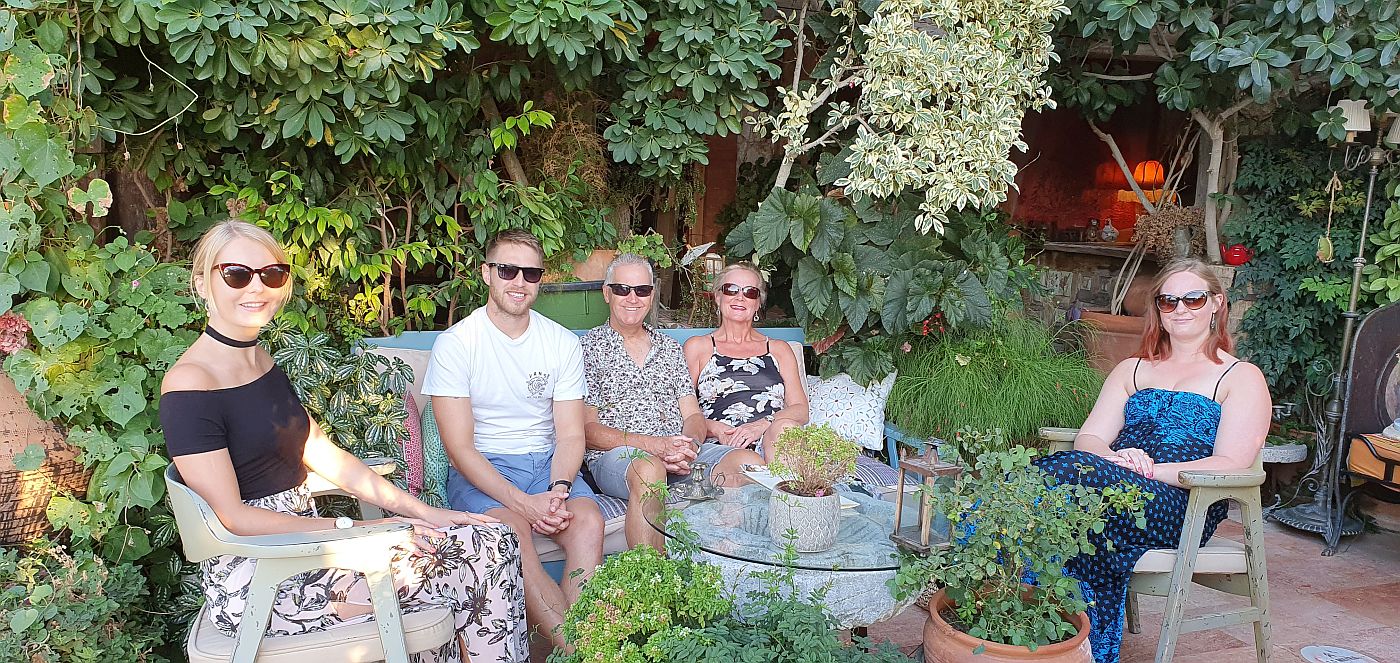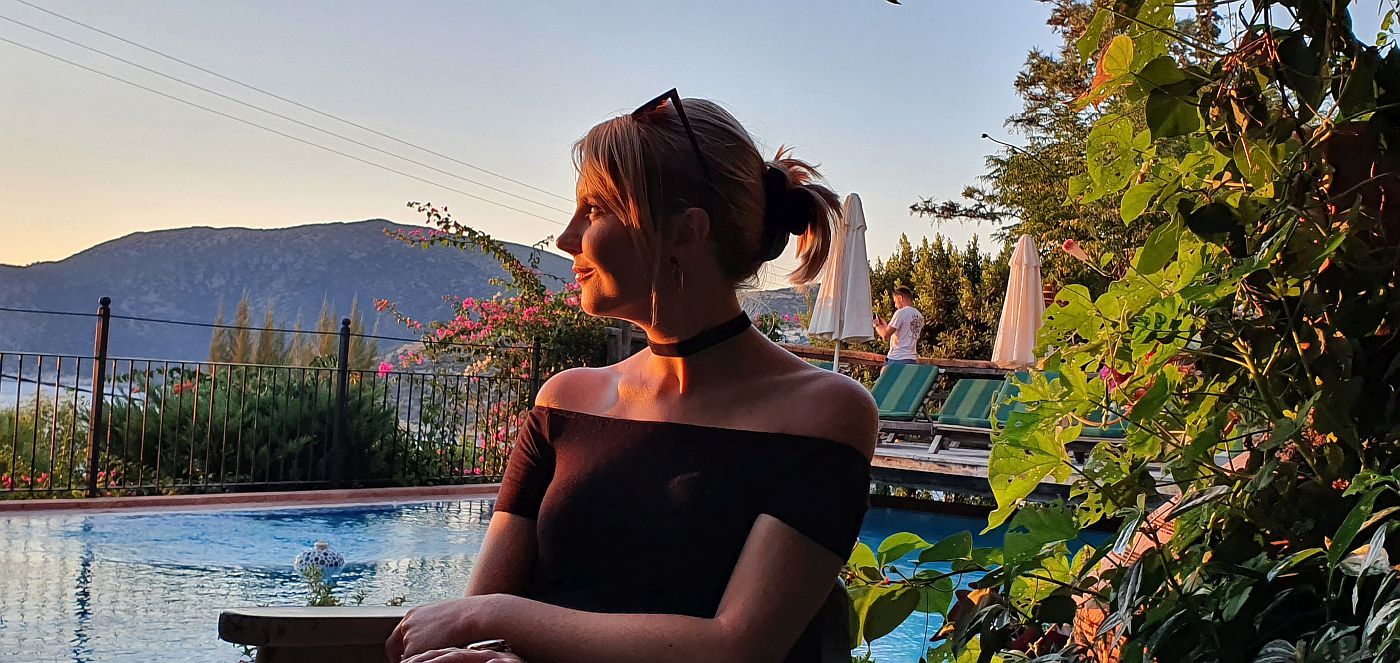 [Kev - I think the light in this photo is lovely. It would be perfect if some fool hadn't got in the background to spoil it. Wait a minute - that's no fool, that's my soon to be son-in-law.]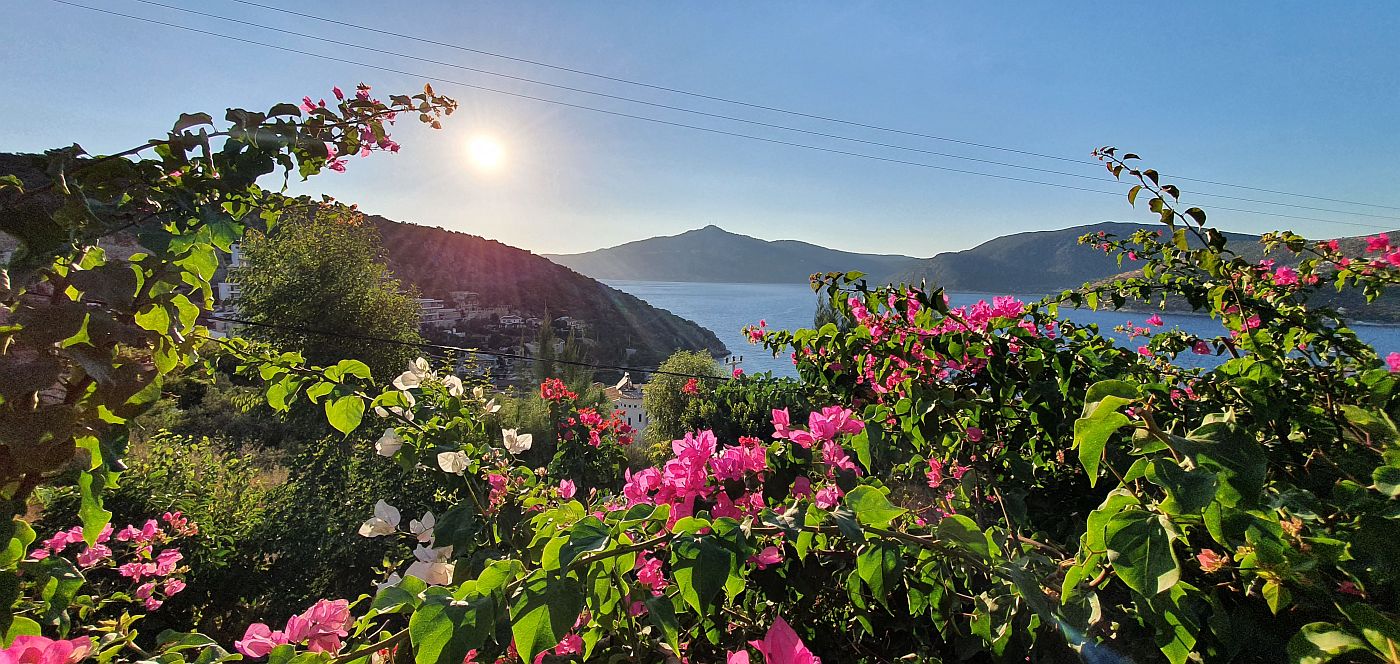 We had a drink at the Mediteran Hotel Terrace bar which had stunning views down to the harbour. We enjoyed some welcome live music at Marley's and some great cocktails. A lovely waterside drink at Indigo and our old favourites The Fountain, Black and Gold Bar, Botanik and Belgin's Kitchen.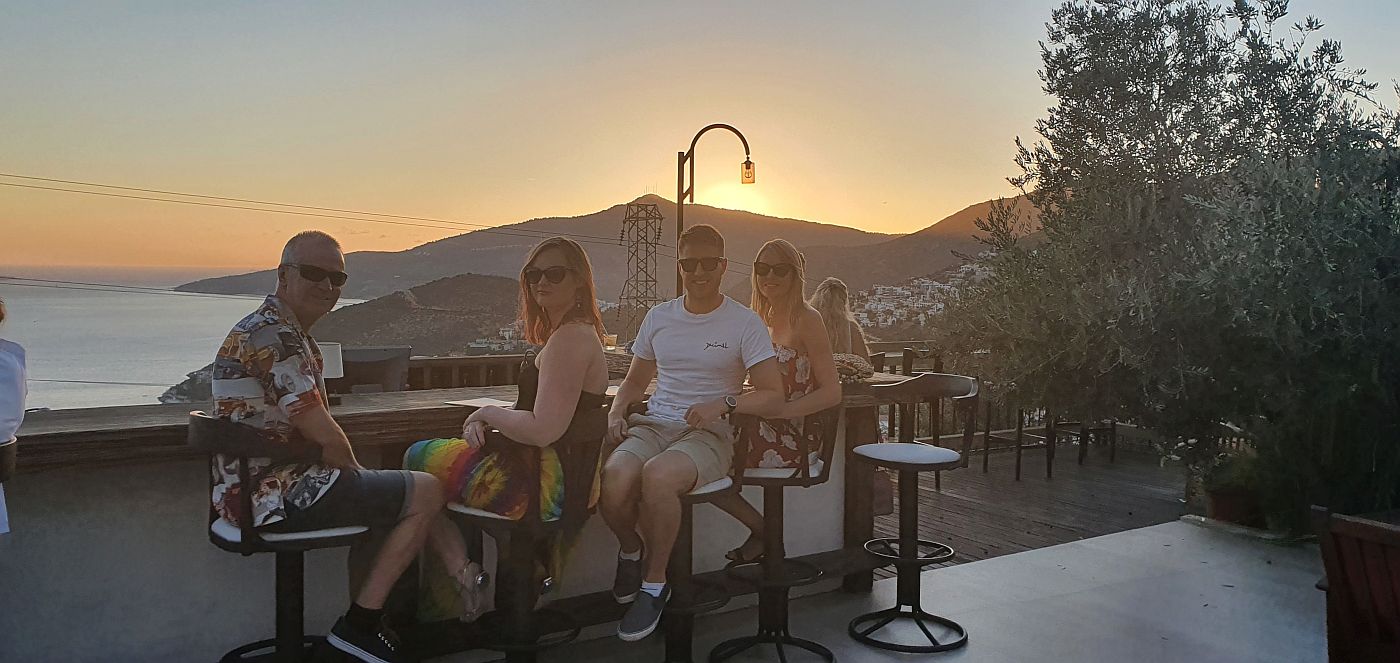 [Kev - This is the bar at the Mediteran Hotel.]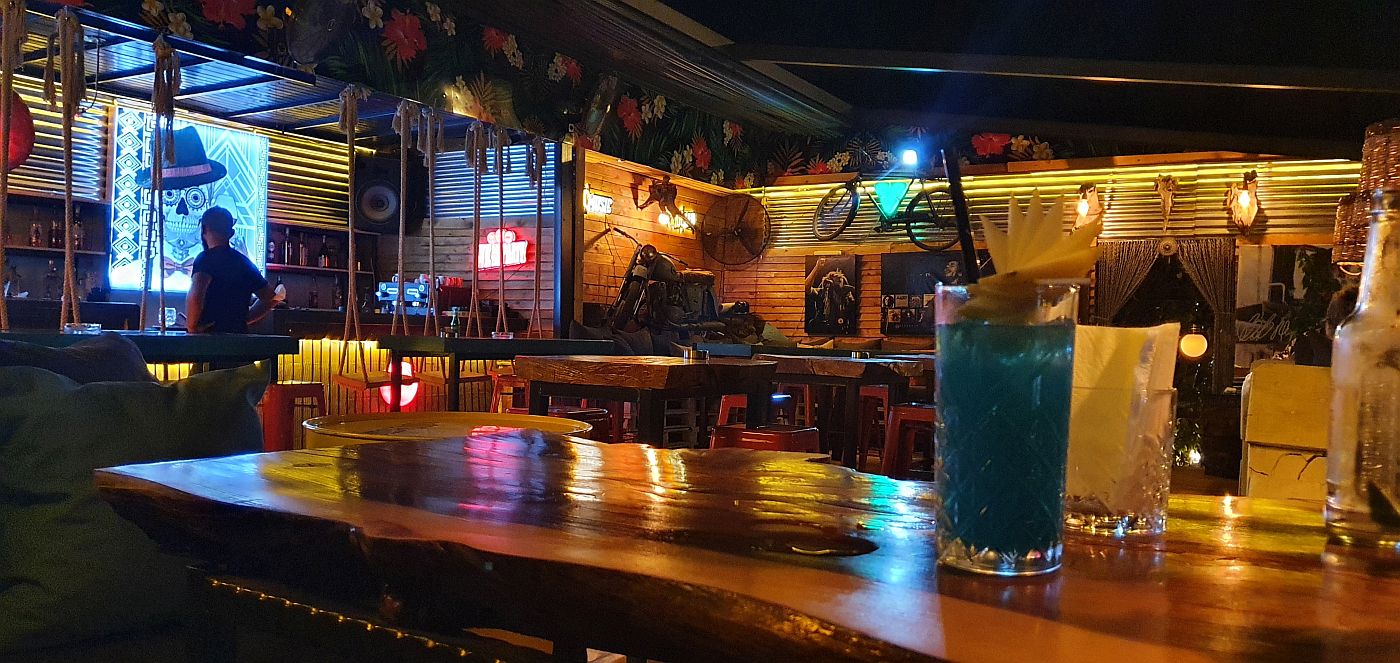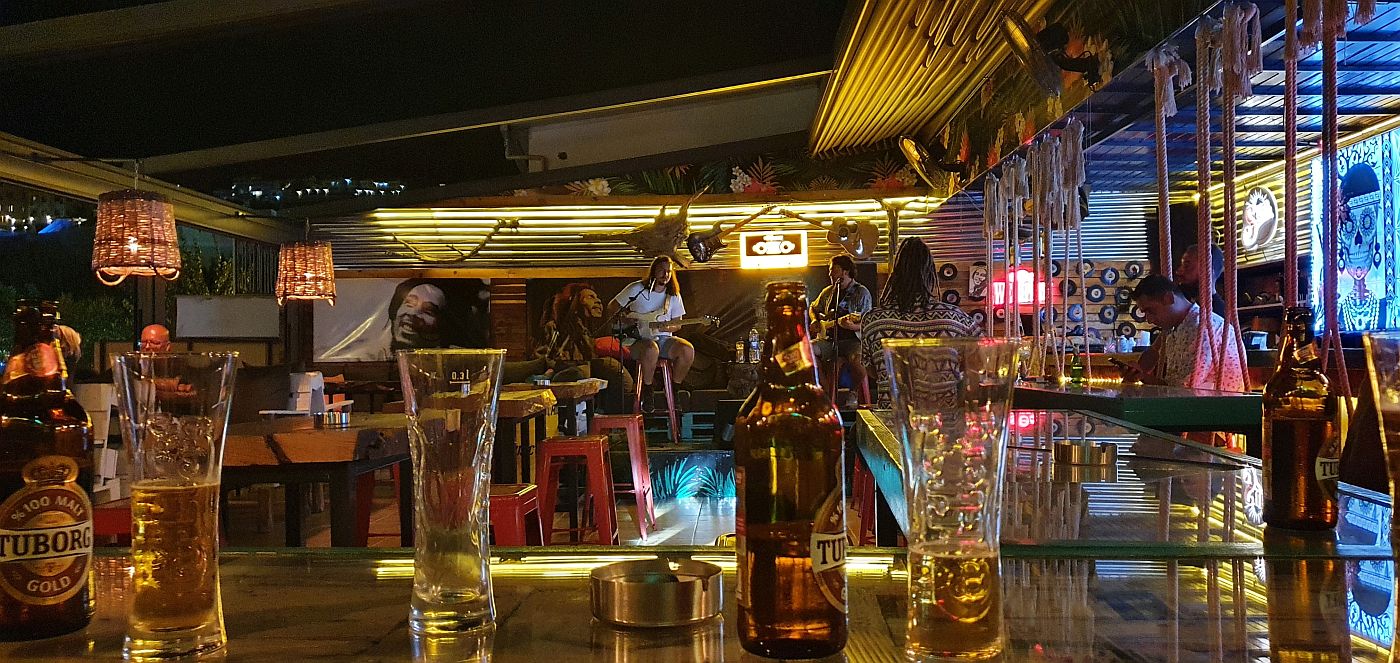 [Kev - This is Marley's. We had only intended to have a drink and then find somewhere to eat. Well, one drink led to two, led to three....... I think you get the picture. We had a great night here with good music and booze.]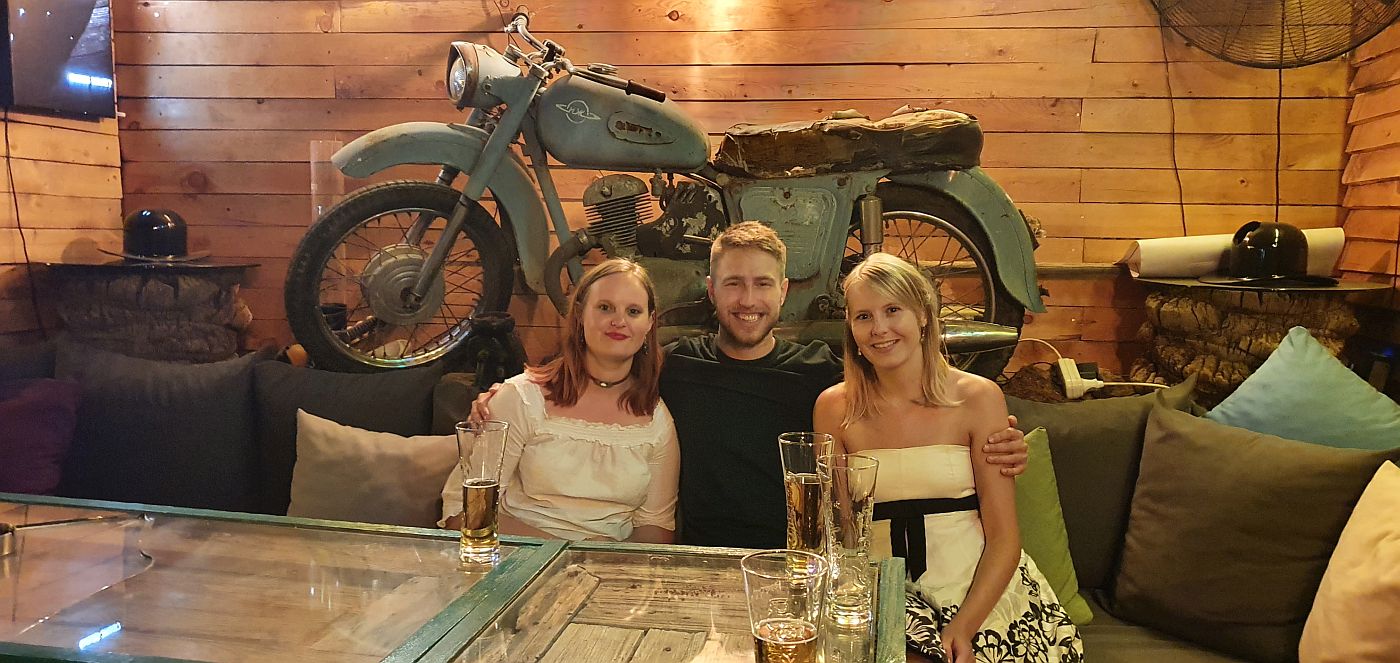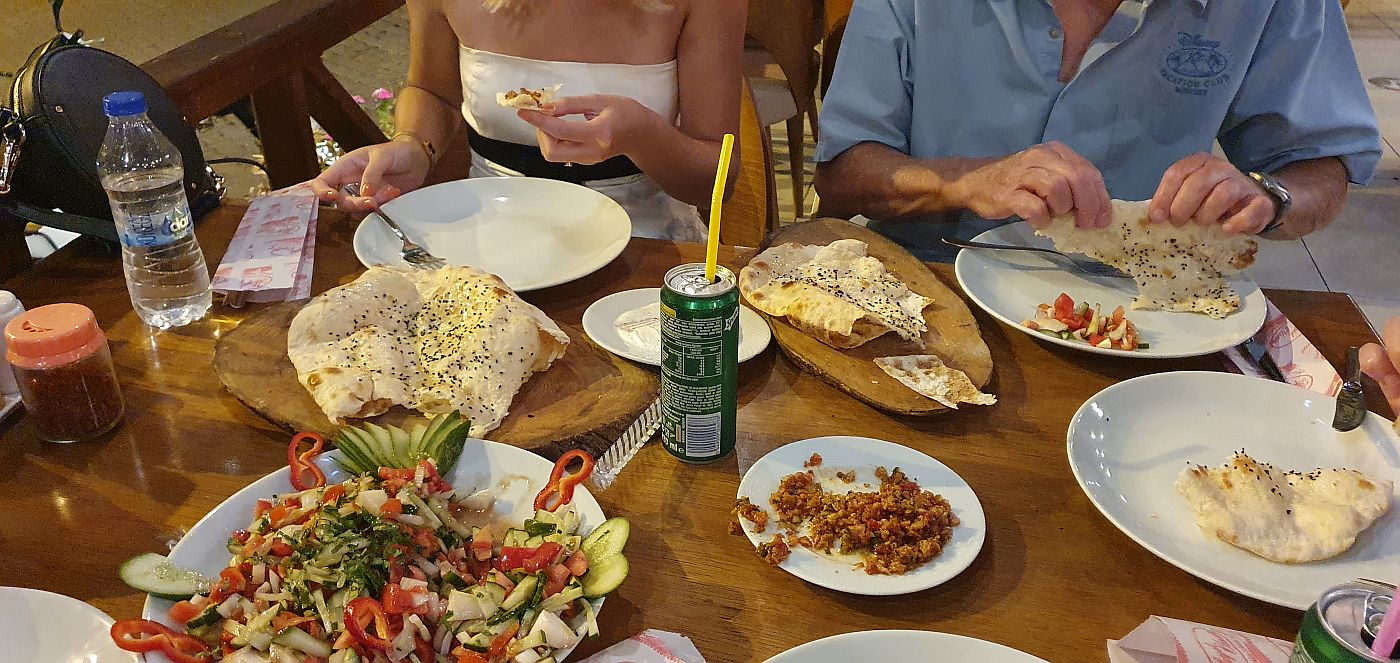 [Kev - Having not eaten all evening at Marley's Bar we found this place just down the road around midnight. It's not a classy restaurant, but the food was lovely and really cheap. The big bready things are called pide and you picked whatever you wanted to go with them. Tam in her inebraited state pronounced it to be the best meal of the holiday.]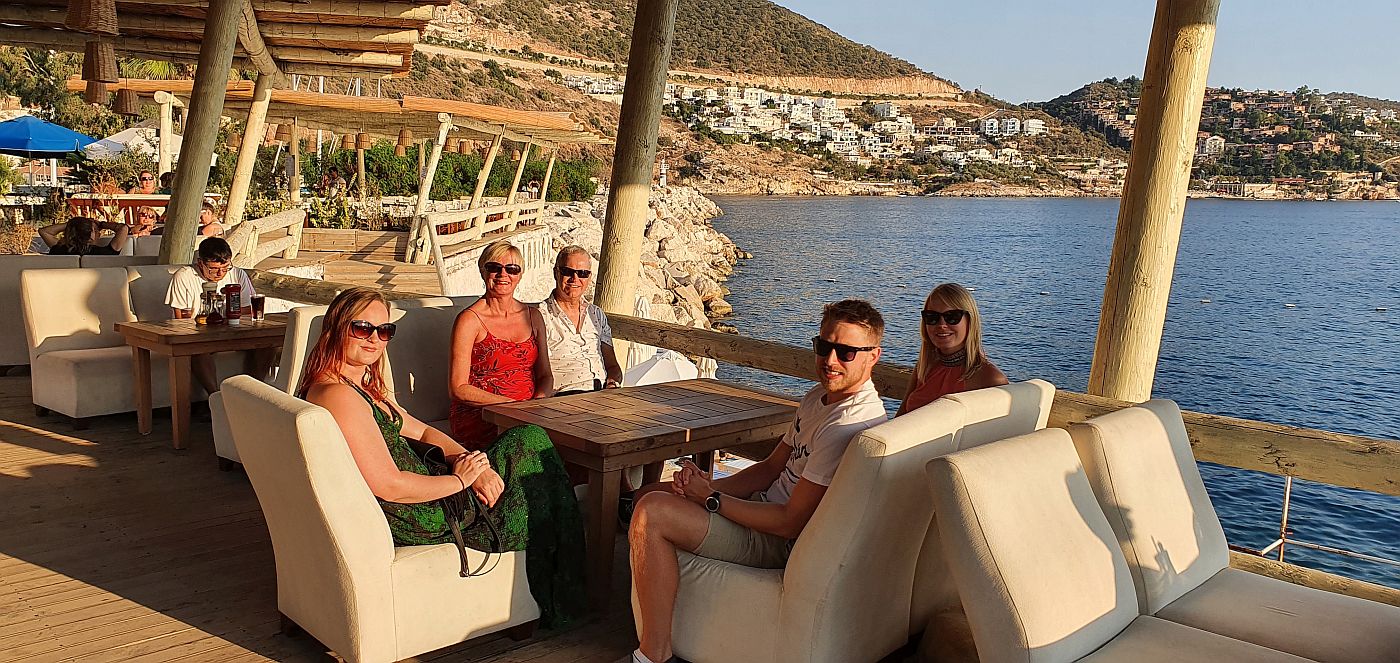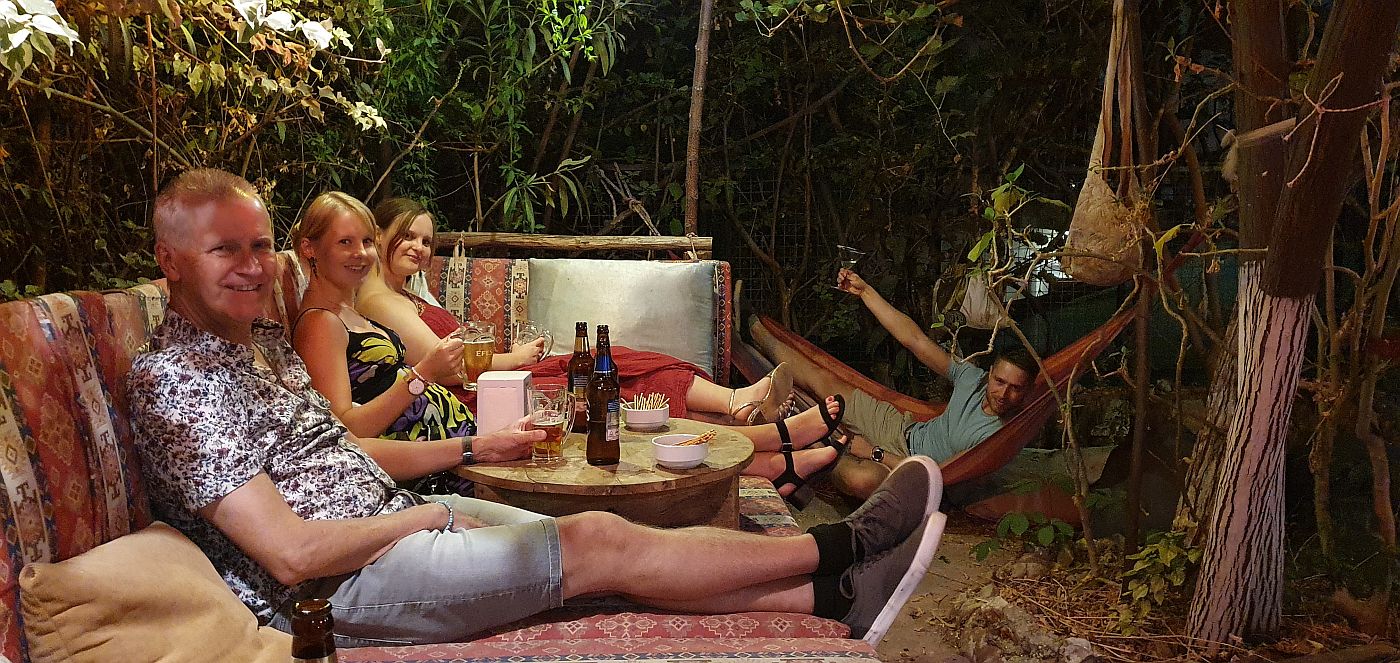 [Kev - The always required photo in Botanik.]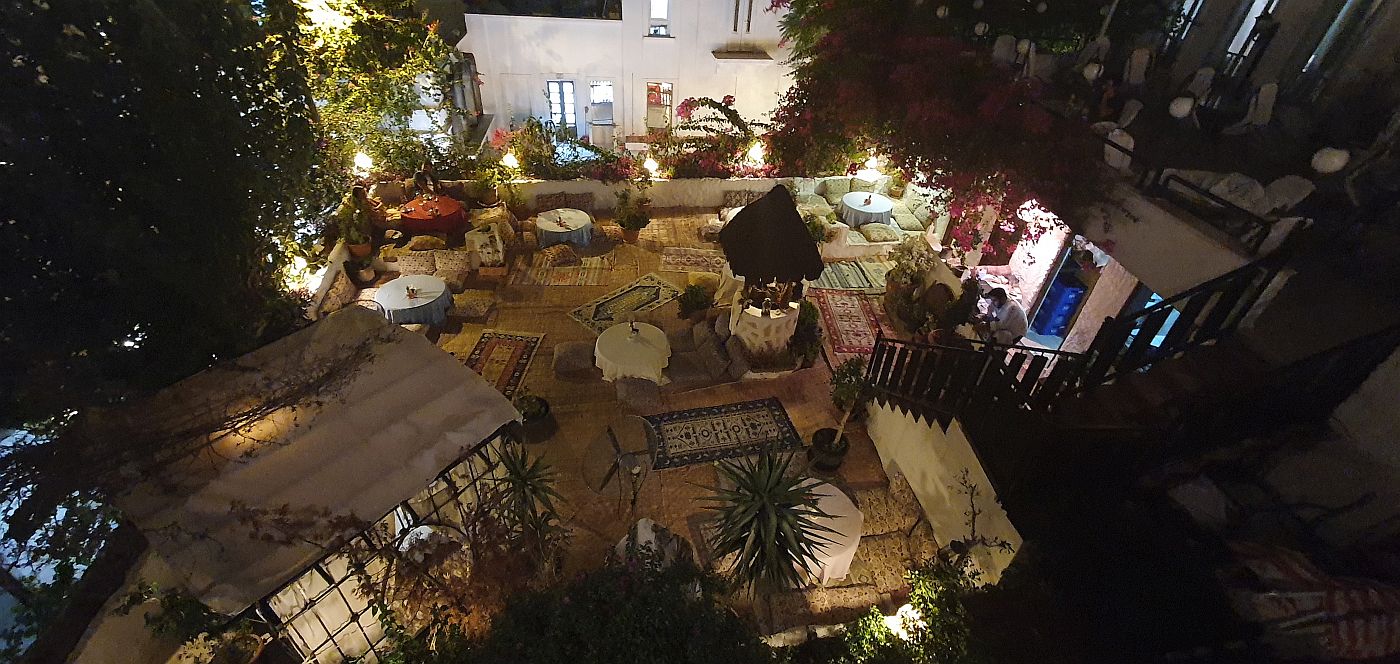 [Kev - Closely followed by the always required photo of Belgin's Kitchen.]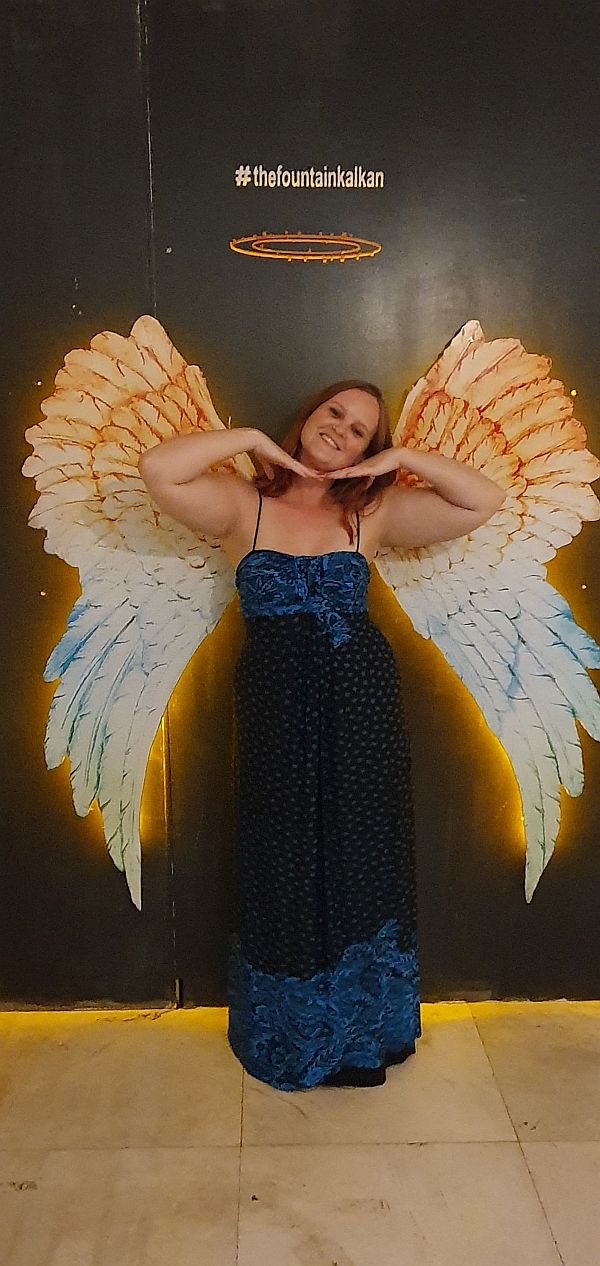 [Kev - India proving what an angel she is.]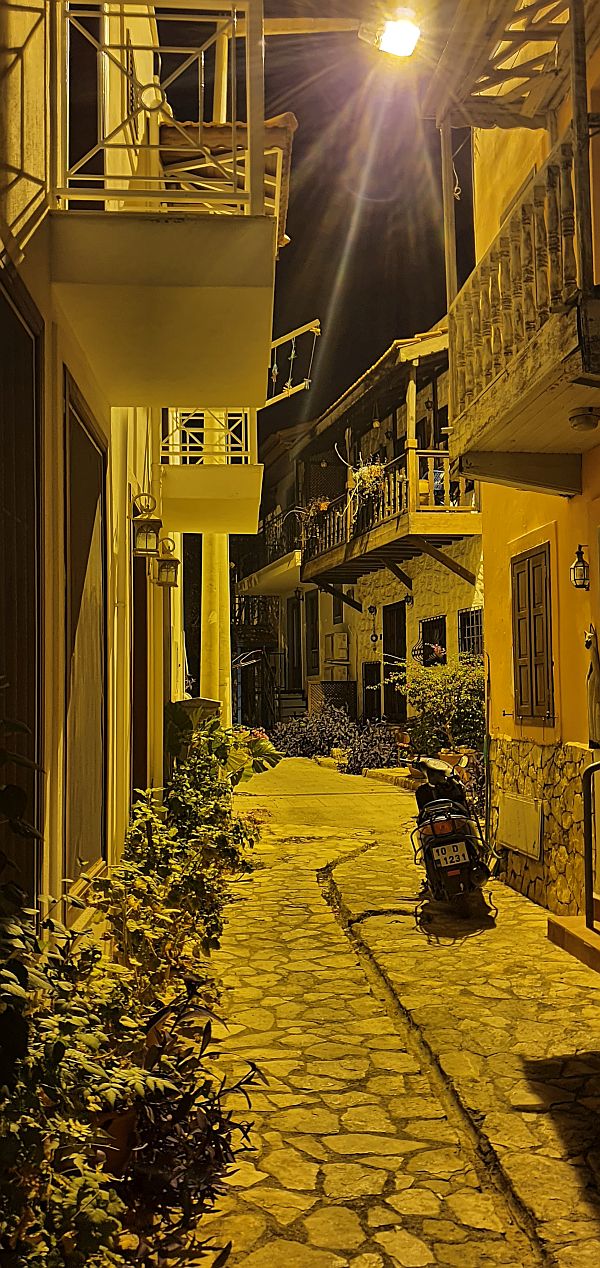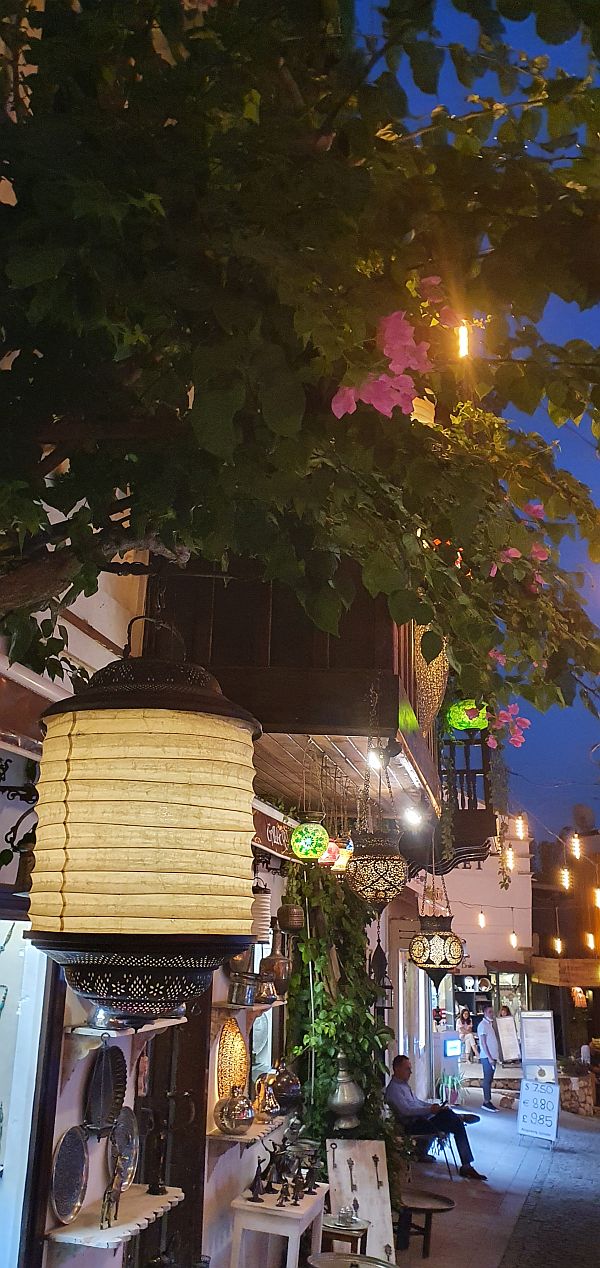 We had a wonderful meal at Doy Doy which was recommended by a work colleague and the food and service was wonderful. Our must visit Sade was as good as ever with a fantastic steak aslo Kosk for it's high quality food and we bought some fish and chicken for a barbecue one lunch at home.
Another excellent holiday in Kalkan comes to a close.