Day 19 Tuesday 18th October 2016
Written by Kev
Holy hairy hell! They put the clocks back another hour last night! At this rate, by the time I get home, I'll be 35. It actually works in our favour because we are now 3 hours closer to UK time than when we left Sydney.
I get up at 7.00am (8.00am really) to find Tam already sitting on the balcony feeling a little bit the worse for wear. I'm not surprised with the quantity and strength of the alcohol she had last night. Actually we've both been waking up feeling good until this point – must be the sea air.
Tam retires to bed to recuperate and I go to Blu for breakfast. I just have the granola parfait and some toast. It appears that people talk to you more when you are on your own as I converse with an American couple for a few minutes before a really nice Australian couple sit the other side of me and they talk to me as well. I can only come to the conclusion that Tam frightens people off.
Back at the stateroom, Tam is up and about so we walk to the Solstice Theatre at 9.00am for John Manka's talk on Krakatoa as we are now sailing through the Indian Ocean and Indonisia has the highest number of active volcanoes anywhere in the world.
Before the presentation starts, John Manka always asks if anyone has a question for him and has a little chat with the audience. He asks if anyone saw the birds following the ship yesterday and tells us that they are Brown Booby's. If he'd asked a couple of days ago whether anyone had seen the Brown Booby's around Yorkey's Knob I think I would have lost it.
The presentation is again very interesting and gives an insight into tectonic plates and continental drift that cause earthquakes and volcanoes. I wish we had attended more of his talks in the first week.
After a relax for a short while on our balcony, we go to Celebrity Central to see a presentation about Celebrity cruises to the Galapagos Islands with the option of an add on to see Machu Pichu. It looks fantastic as the largest Celebrity ship in this area (the Expedition) only holds 96 people. The trouble is the price is fantastic too. Around $7,000 without flights.
Lunch is next and we go to the Oceanview Café for some more of the lovely grilled fish along with some buffalo wings and ribs.
Another relax on the balcony and then we are off to the Reidel Wine Tasting in Cellar Masters. Reidel wine glasses (there are many different shapes and sizes for different wines) are supposed to enhance the taste and smell of the wine. I'll admit I was pretty sceptical beforehand, but willing to give it a try.
You have different Reidel glasses with different red and white wines. There is also a 'joker' glass, which you use to compare to the Reidel glasses.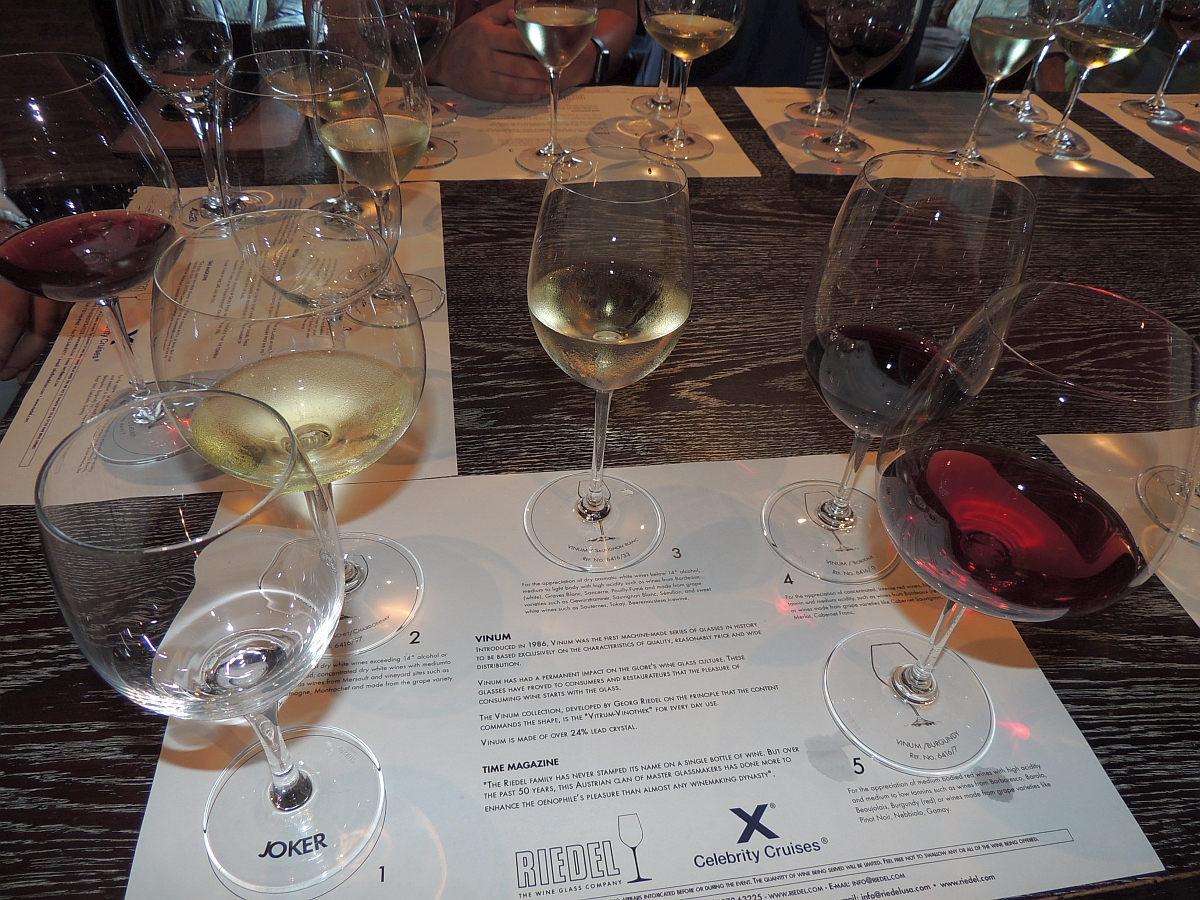 It's very interesting and the glasses really do make a difference, although there is one wine (a Pinot Noir) that Tam and I both think tastes better in the joker glass! The lady running the presentation is very knowledgeable, but not snobby in any way. She makes it clear that any wine that you like is a good wine for you.
You get to try 4 different wines and she is quite happy to top up your glasses with anything you want more of. One Australian lady certainly makes full use of this, not only topping up her glasses, but also grabbing the glasses of someone that has not turned up. Good for you madam.
It cost $30 (US) for the wine tasting and you can get 4 Reidel glasses of your choice for an additional $57 (US) plus posting if you want, so we decide we will.
We sit around for an hour or so after it's finished talking with the left over attendees and have a very nice time.
Back to the stateroom to relax for an hour (notice a pattern here?) before we get ready for the evening.
At 6.30pm we go to the World Class Bar where Tam has an El Don Julio and I ask Rahadian if he can make a Hawaiian Lava. He doesn't know how, so I write out the recipe for him and he gives it a go. It's pretty good. I thank him and he gets me to promise not to tell Loida as it's her speciality.
We take our drinks to the theatre to watch a Phillipino lady who was a runner up on their version of The Voice or X Factor or Antiques Roadshow or something. She has a good voice and the audience certainly like her.
We are eating in Tuscan Grill tonight, the last of our 5 speciality restaurant package. We are seated at a nice table by the window again. We both have soup to start, Minestrone for Tam and White Bean and Sausage for me. Tam has Carbonara for her main, but doesn't enjoy it as the pancetta is overcooked and it's a huge plateful. I do better with my filet mignon with garlic mash and eggplant parmesan. We are both stuffed and can't face dessert.
I think we are both having one of the days that you get on every cruise where the overeating and overdrinking catches up with you. You feel blown up and tired and you don't really want to eat or drink anymore. Being troopers, we decide to keep going and end up at the Sunset Bar as it's a lovely warm night.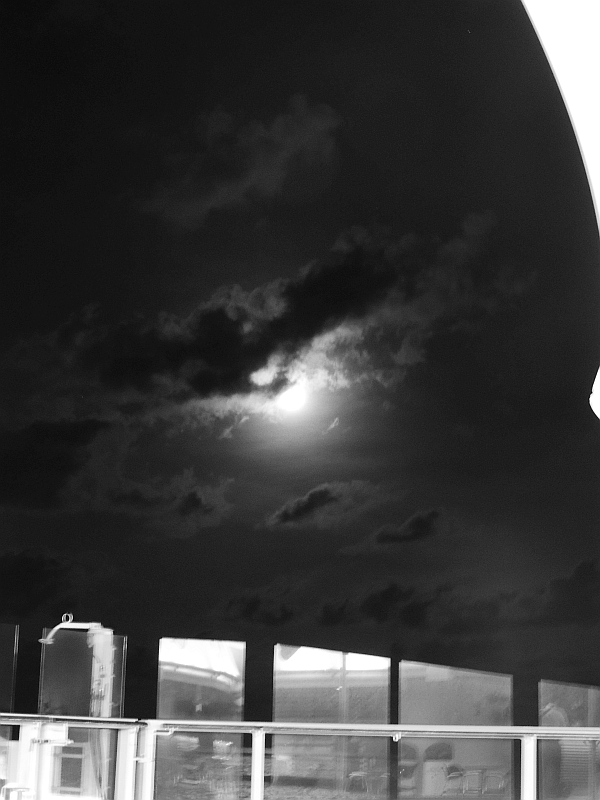 I have a Negroni and Tam has a Southern Comfort and lemonade while we listen to Ryan Andrews playing acoustic songs. It's nice, but we are struggling to get really enthused about anything tonight, so I get a Guinness and we walk back to our room. I sit on the balcony and write up the trip report while Tam relaxes in bed for a short while. To be fair, it is 11.00pm, which is really midnight as the clocks went back this morning.
Mind you, it's still beautiful sat on the balcony cocooned in the warm night air, listening to the sea as the full moon filters through the broken cloud and reflects off the ocean. Beats a day at work, doesn't it?
[OCTOBER 2016 REPORT HOME PAGE]