Day 16 Saturday 15th October 2016
Written by Kev
Another sea day. I'm awakened by the phone at 8.00am with a call from the spa asking if they can change the time of our couples massage from 11.00am to 10.30am. Bit of an early time to call if you ask me, I thought the spa was supposed to promote relaxation, not awaken you rudely. Anyway, I've not had a full massage before, but Tam really loves them. As we under spent our budget on both the Sydney leg of the holiday and the cruise up to yet, we take the plunge and pay the $340 (US) including automatic 18% gratuity (yes, you read that right $340 – I'm still going a little faint at the thought of it) for the pleasure.
I forgot to mention, we had to put our clocks back 30 minutes last night. I've never heard of that before. I always thought they moved the time by a full hour only.
Breakfast is in Blu and I go the whole hog with granola, natural yoghurt and blueberry parfait followed by eggs benedict with salmon instead of ham, toast and tea. I'm nearly full after eating the parfait. I struggle manfully to finish the rest.
We go to the spa a little early to use the Persian Garden to relax prior to the massage. Tam is a bit miffed as we don't get offered a robe and slippers. I think she's just upset as I usually look very fetching in a robe and slippers. A bit of the Hugh Hefner going on I feel.
My masseuse is Tamara from Jamaica and Tam has Paula, who she talked to on our first day. We are led to a small room with two massage tables and are left to strip off and get under a sheet. I will admit that's it's very relaxing although I nearly have to exclaim at one point 'I say, steady on old girl, getting rather close to a chaps undercarriage there'.
Afterwards we are left for a few minutes to get dressed and then they come back to try and sell you all sorts of treatments and products. Tamara wants me to buy a bottle of muscle relaxant, which she says will help to pull out the toxins from my obviously incredibly tense body. It's a bargain price of $68 (US). No thanks. I could spray some Glade air freshener and get Tam to rub me down with a cupful of Tesco vegetable oil for a similar experience.
There is a space on the receipt we have to sign for additional gratuity. I feel a bit tight not adding anymore, but 18% on the price of $145 (US) is enough already. Don't get me wrong, if I had loads of free onboard credit I would probably have another go, but I think I'm just about relaxed enough for the rest of the cruise thanks.
Back in our stateroom we continue our relaxation on the balcony as we snooze and read and watch the sea go by. I've just started to read Born To Run – Bruce Springsteen's autobiography. His book is just like his songs – honest, intelligent and thought provoking.
Just after 2.00pm we go to the Oceanview Café where we split a chicken panini and then go to watch the hot glass show. This is presented by 3 ladies who represent the Corning Museum of Glass and produce various pieces of glasswork throughout the cruise. Today we watch them make two goblets. It's very informative as you see them make the bowl of the goblet, the stem and the foot and then assemble them together. They tell us that it's quite unusual to have three ladies working together in an industry that is heavily dominated by men, although that is changing.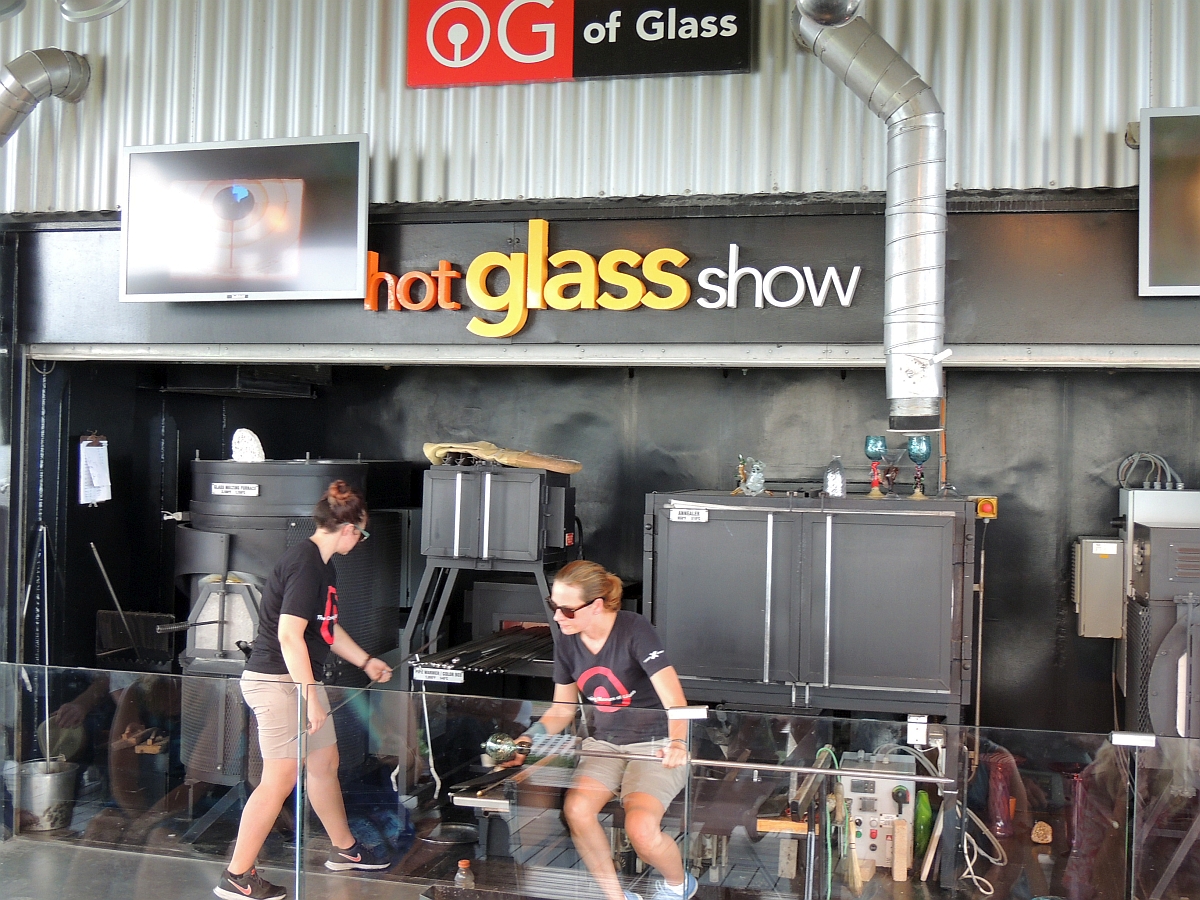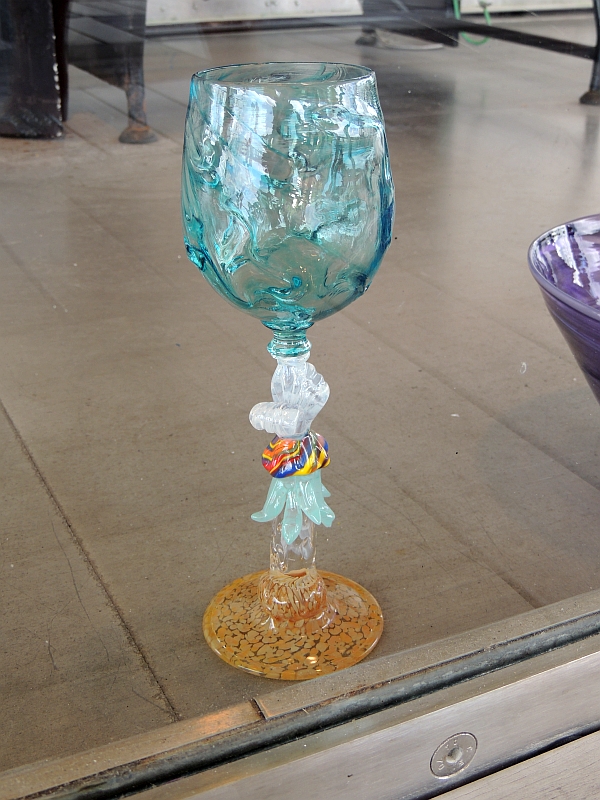 Back to the stateroom where I sit on the balcony while Tam goes for a consultation with the acupuncturist in the spa as it's free and they will advise on treatment that can help her bad neck. Surprisingly he recommends 5 sessions of acupuncture at $190 (US) per session. That has got as much chance of happening as I have got of winning the Miss World competition, although I am thinking of entering next year. I'm considering going as Miss Grumpy or Miss What's That Hanging Out The Side Of Your Swimsuit. I'm not optimistic about my chances.
After showering we go to the Martini Bar where I get a cherry based martini and Tam has a Lycheetini. We take our drinks up to the Solstice Deck to watch the sunset. It really is lovely up there as few people bother and it's beautifully warm. This is why we pay to cruise. The heat, the sunset, the cocktail, the topless dancing – I told Tam it was inappropriate, but she wouldn't listen. I forgot to say, it's 'Evening Chic' night again and I have my tuxedo on and Tam has an evening dress.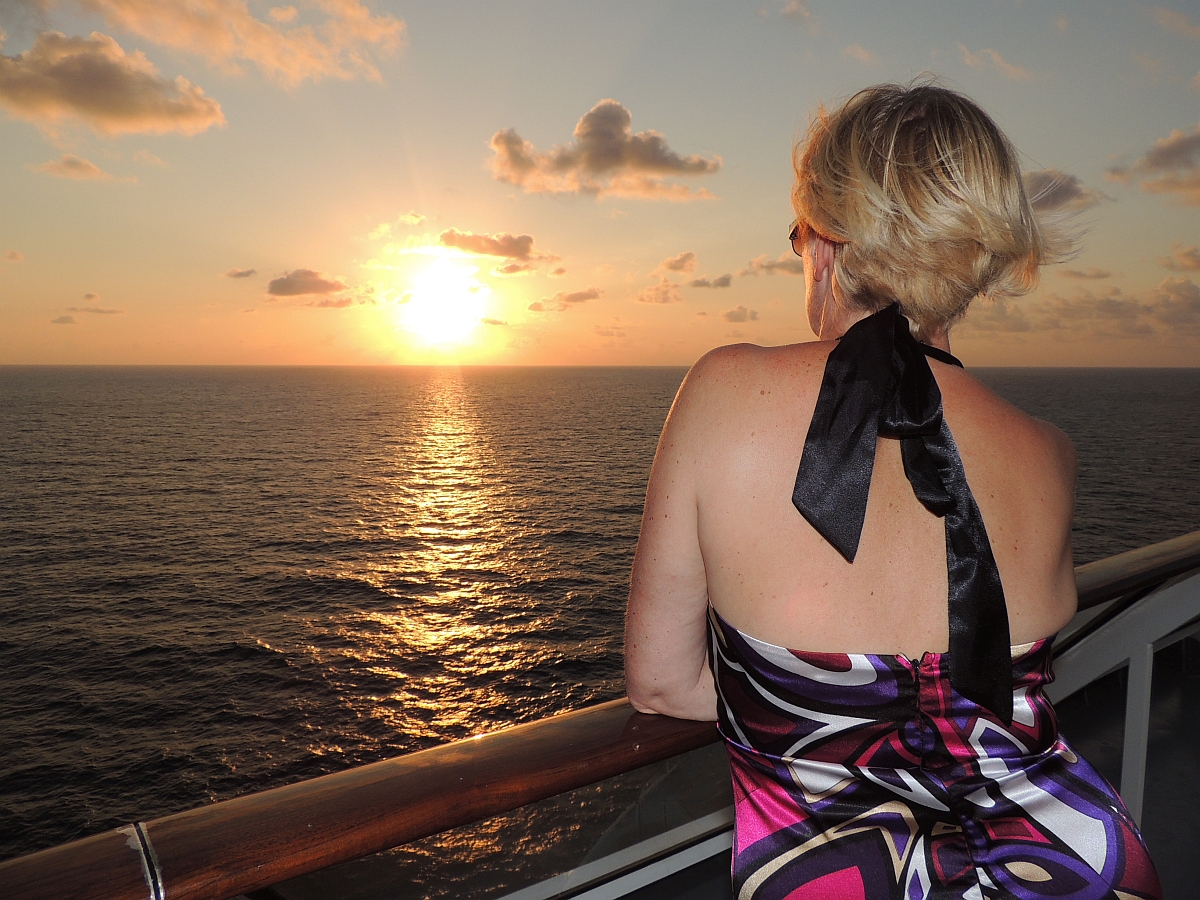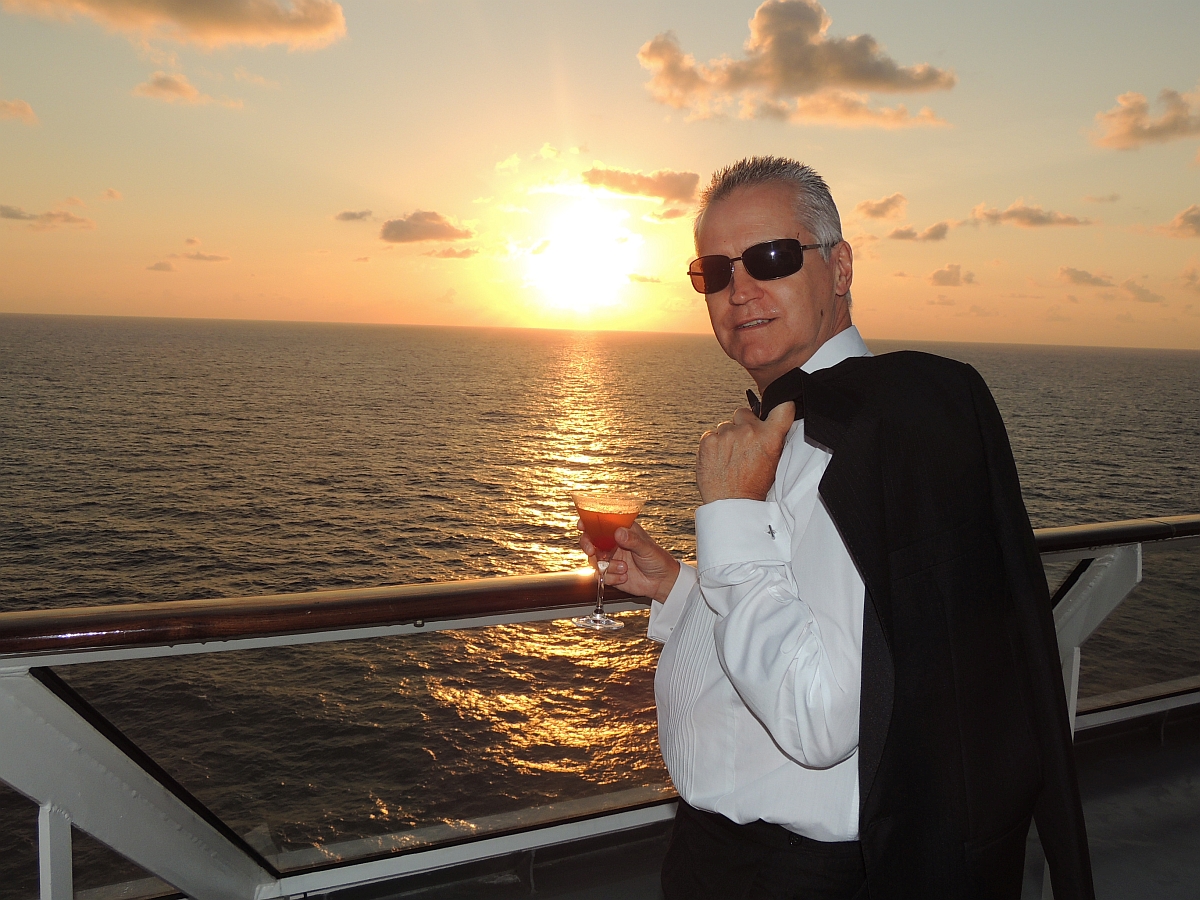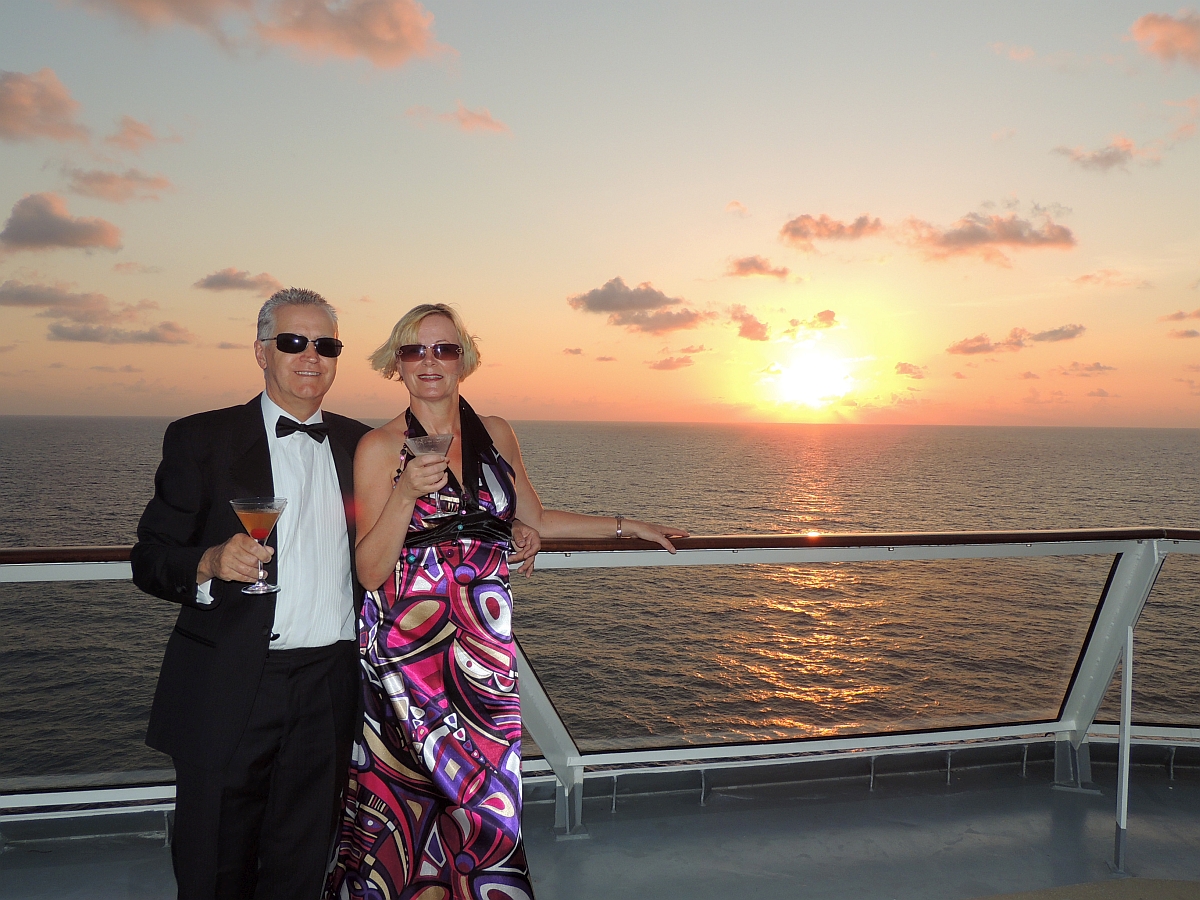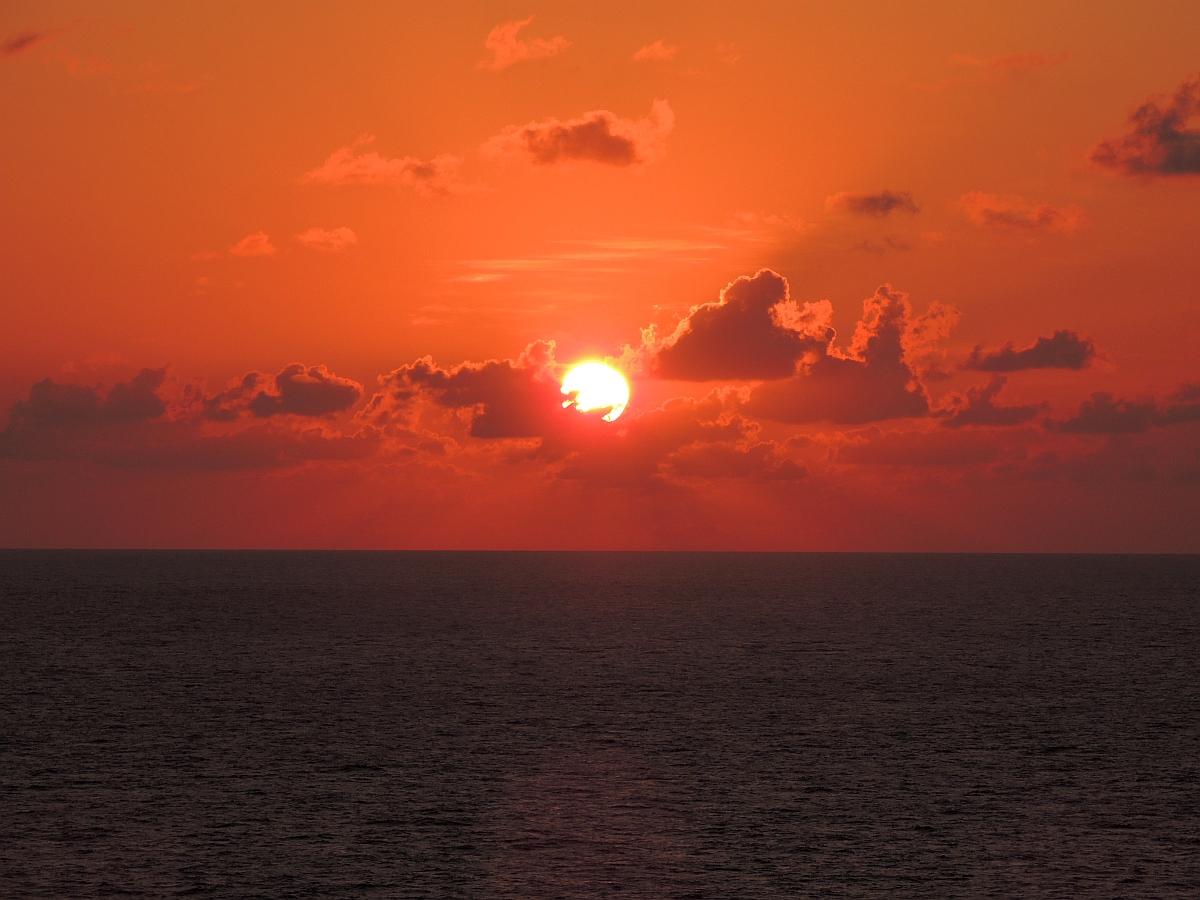 Time to eat and we are off to Silk Harvest for our 7.00pm reservation. Last time we ate here we ordered far too much, so we are determined to be a little more disciplined this time. We are both hungry as we have eaten very little since our large breakfast and this is a rare thing on a cruise. To actually look forward to a meal is really nice. We share a chicken soup to start and then split the Hunan Beef, the Black Bean Chicken and a fried rice. The food is all really good and Tam rates the service as the best we have had yet, friendly without trying too hard. We leave an appropriate tip.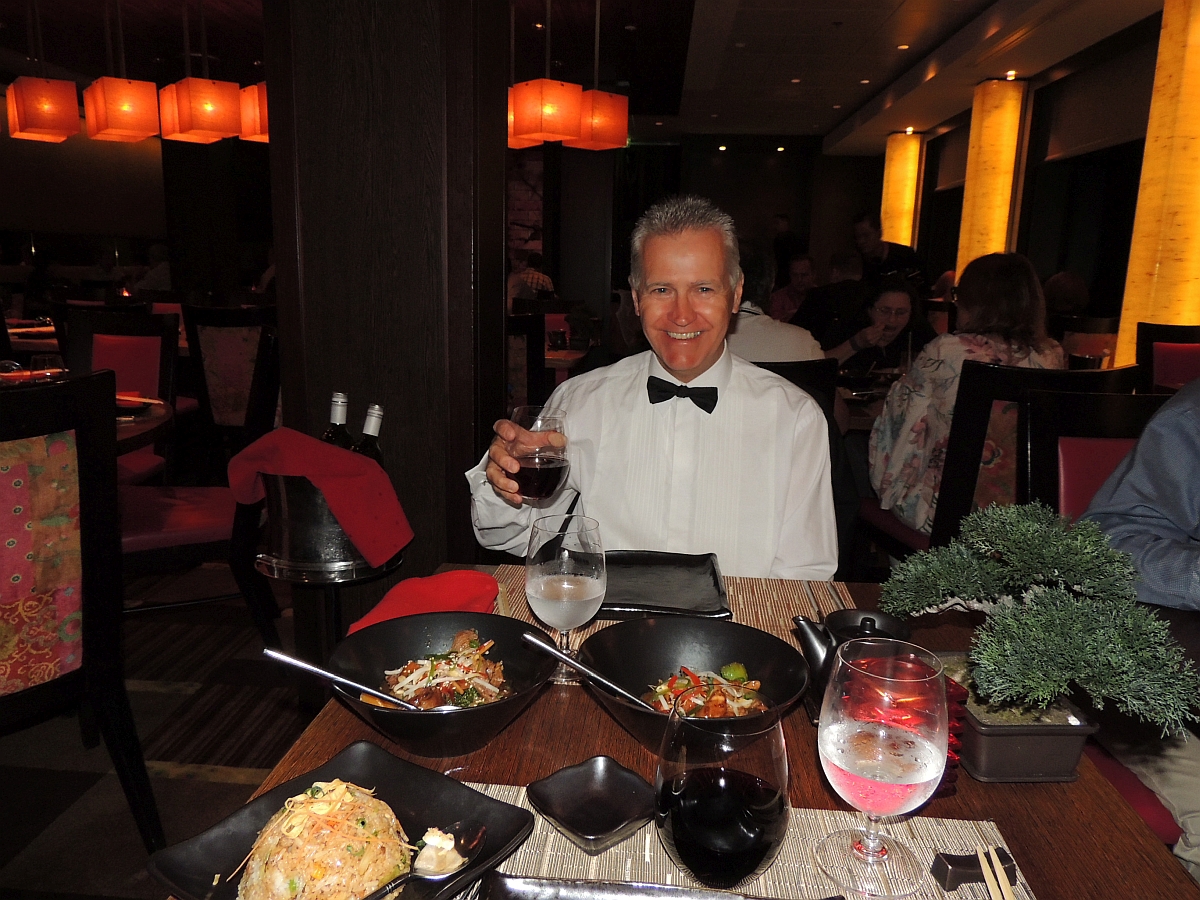 Next up is the World Class Bar. Surprisingly there are three other couples at the bar and the men are all wearing tuxedos. The reason that this is surprising is that I haven't seen more than 10 people wearing tuxedos all evening. I guess people are more relaxed on cruises in this part of the world, but I do mourn the passing of a cruising tradition. The reduction from 'Formal Night' to 'Evening Chic' allows smart jeans (whatever the hell that means) to be worn and has blurred the boundaries to such an extent that nearly anything outside of shorts and t-shirts is acceptable. That's fine if you want a relaxed cruise and there are many, many cruise lines out there that will cater for you. Why did Celebrity have to change from being one of the very few lines that celebrated dressing up and looking nice? And yes, I also know the answer to that question.
Meanwhile, back at the World Class Bar …… I have an El Don Julio and Tam has a mojito with passion fruit and ginger foam. We talk to the other couples, some of who remember the Molecular Bar. I tell Loida (the bartender) about my favourite cocktail, the Hawaiian Lava. She declares that she will make us all one in a couple of days time. It takes that long to prepare as she has to infuse the bourbon with figs first. This is commitment to the cause above and beyond expectations. They work hard enough without this additional task and it's one of the reasons I like the World Class Bar so much, the staff are really good.
We get a Tan Russian (Tam) and a Mr B (Kev) to take with us to the theatre to watch the show. Neither of these are on the current menu, but are from the old Molecular Bar.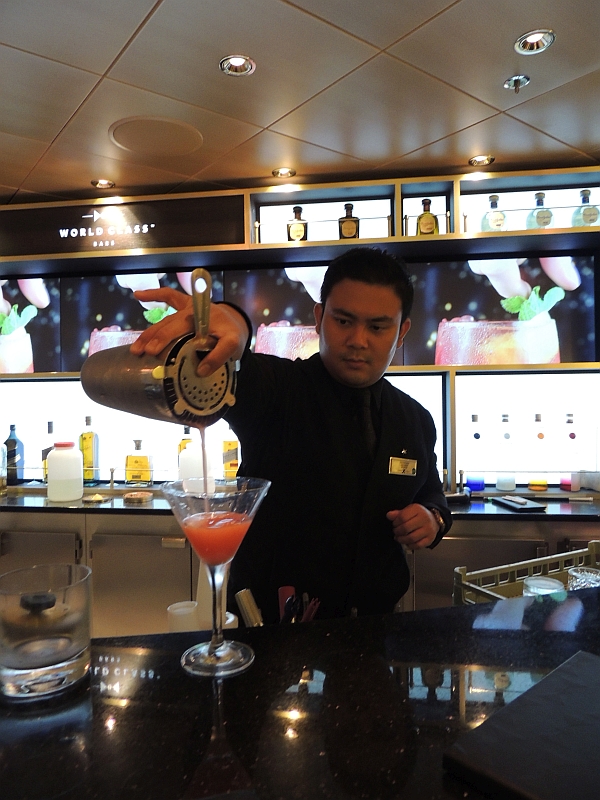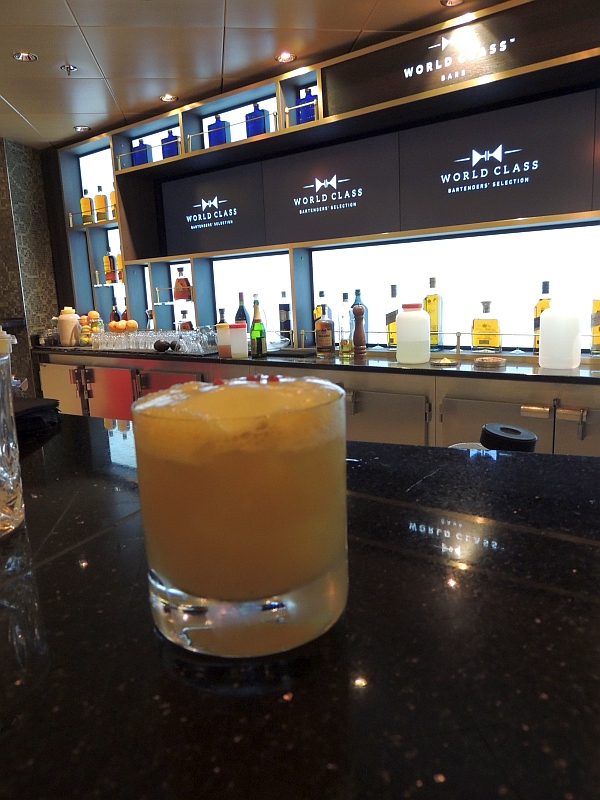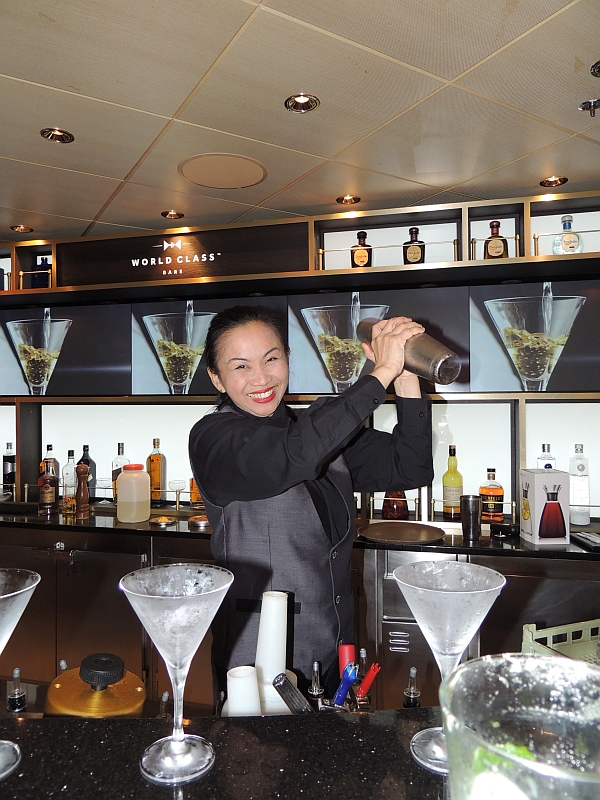 The show tonight is called 'Broken Strings'. It has lots of modern music, much of which I don't recognise, but I do know the songs by Mumford and Sons and Kayne West. It's done with lots of energy and enthusiasm and it's the best show we've seen to date. I'm not sure there is much in the way of narrative. I think it goes something along the lines of boy meets girl, boy and girl have a bit of a tiff, boy and girl get back together. I may be missing something deeper – perhaps it's an existential piece teaching us the role of mankind in the cosmos. Whatever it is, Tam especially enjoys it.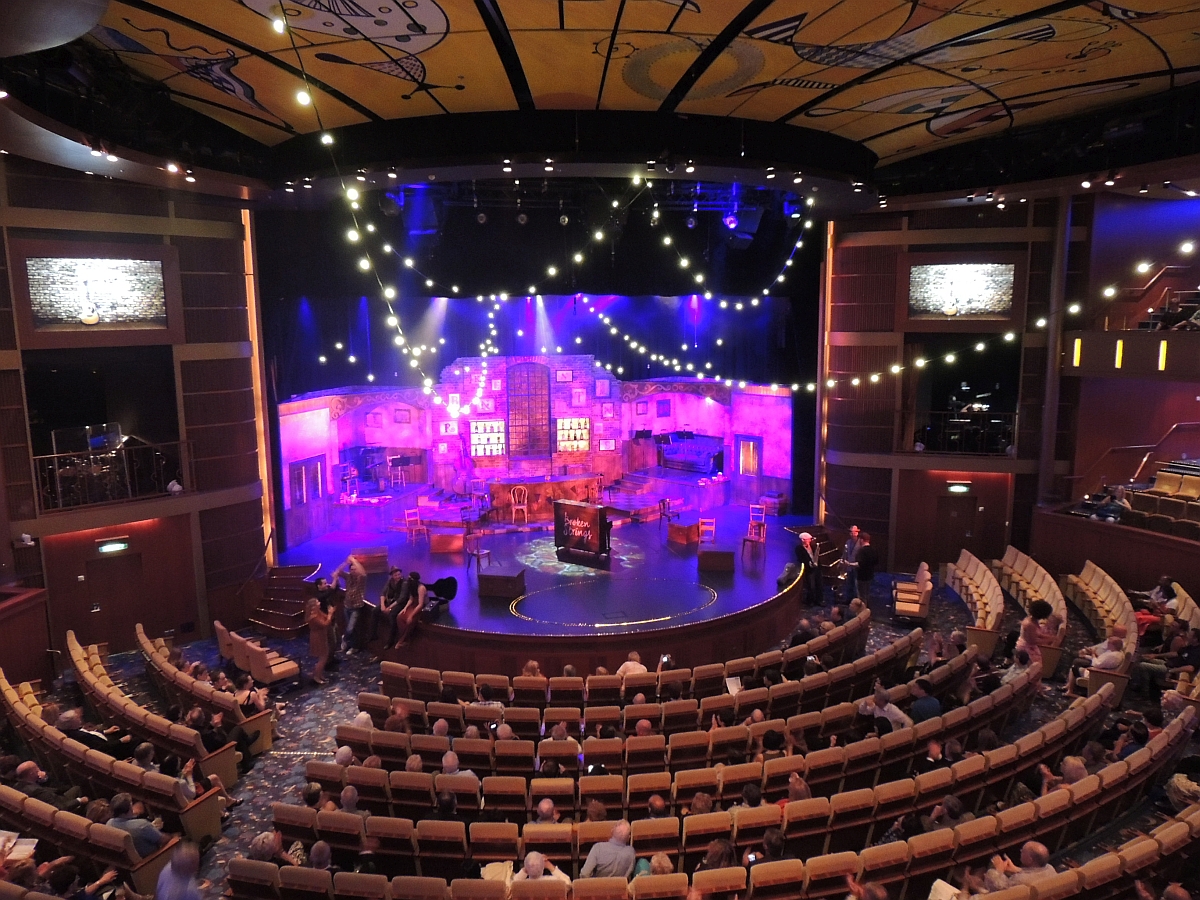 We decide to go to the Sky Lounge after the show as a band is playing Beatles hits. The place is as full as I've ever seen it, so it shows that people will attend music shows if the right sort of thing is being played.
It's so full that it takes a little while to get a drink – eventually Tam has a Gin and Tonic and I have a beer. It's fun to sing along and people watch.
Back to the stateroom by 11.30pm as we have an early start in Darwin tomorrow.
[OCTOBER 2016 REPORT HOME PAGE]