Day 1 Friday 30th September 2016
& Day 2 Saturday 1st October
Written by Tam
It's been 5 years since the seeds of this trip were sown when we made a promise to visit my youngest sister Serena, her partner Fiona and their son Perry during Serena's 50th birthday celebration year.
So after an early finish from work our rather luxurious taxi picks us up at 4.30pm for the drive to Heathrow. The weather is still unseasonably warm and the sun is shining and within a couple of hours we are there.
We print our boarding passes get rid of the three cases (my excuse was we were taking Christmas presents across for the family), but in reality the bulk of the space was taken up with my cruise outfits - at least one different outfit for every evening and then all manner of options for lazy days at sea and for the shore excursions.
Freed from our luggage we head to The Perfectionist Cafe for a plate of charcuterie and cocktails - we start this holiday as we mean to go on.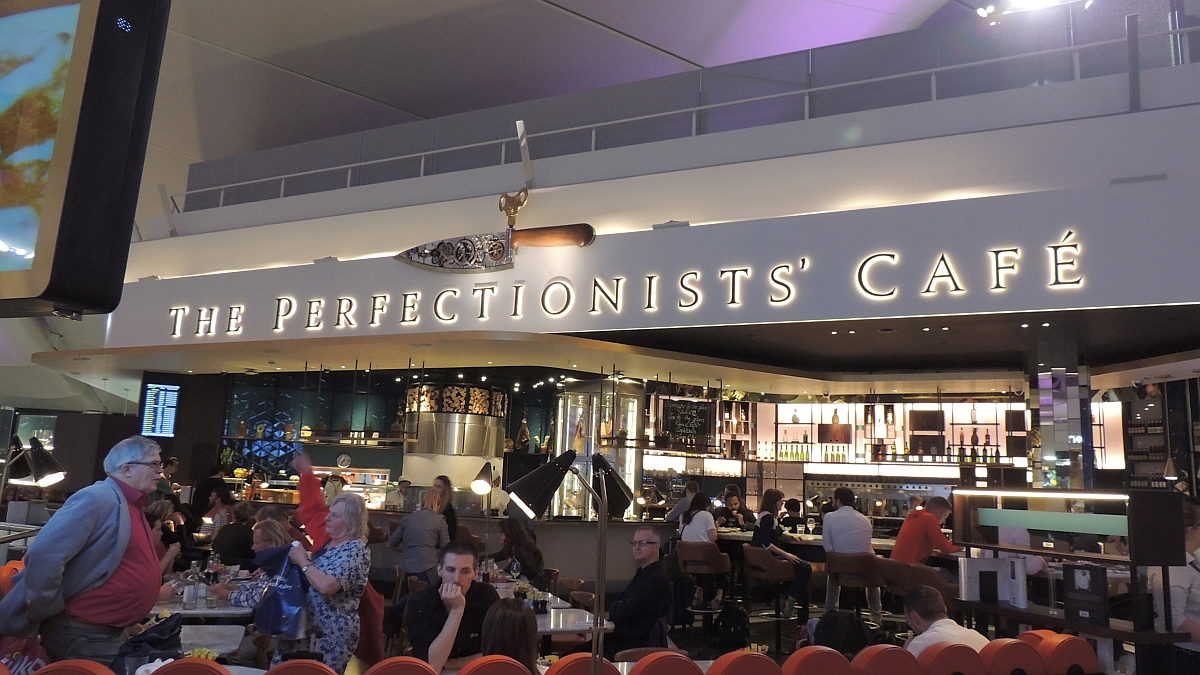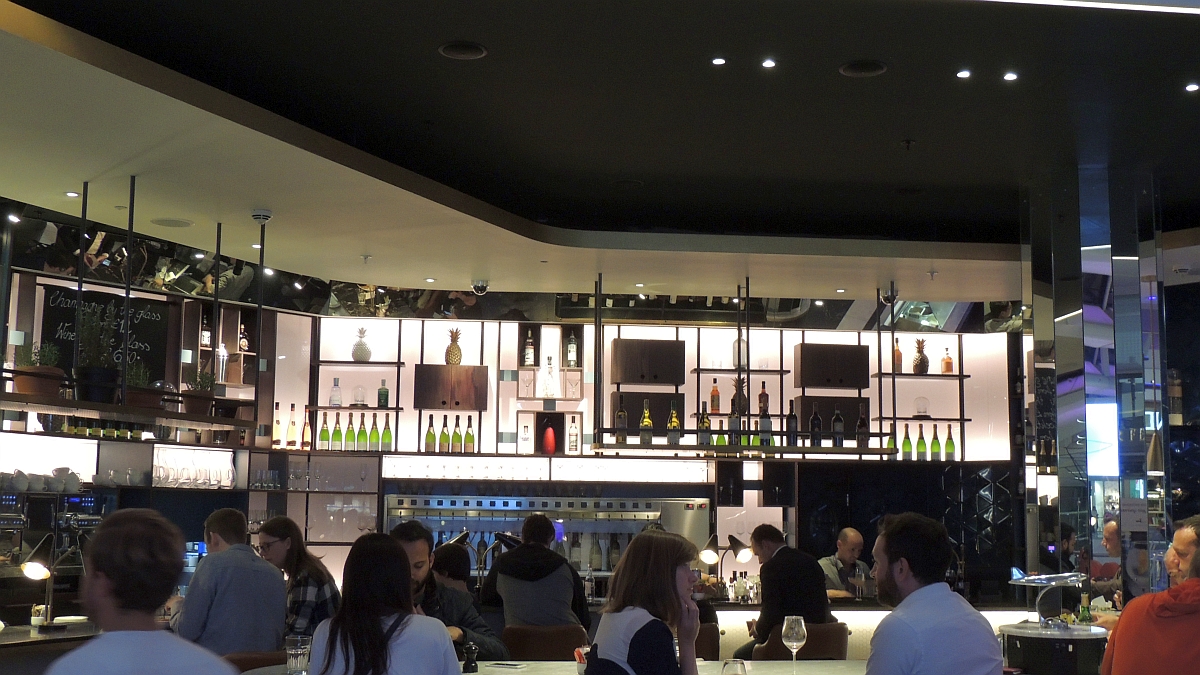 Manage to have another drink in a bar before we board the flight at 22:05 on an A380. We have paid for extra leg room seats but when we see the size of the screens compared to the normal seats we are not sure we'd bother again - yes, the extra leg room was great but it made watching the films less enjoyable in our opinion - although we suspect this differs from plane to plane and airline to airline. Also the fact all our hand luggage was put in the overhead lockers rather than having any to hand was a bit of a pain.
The first thing that strikes us about this Singapore airlines flight is the hostesses - we've never seen such beautiful crew and the outfits they wear are incredible. If only I was a size 6 I'd have been sorely tempted to ask if I could buy one to add to my cruise attire - they really were beautiful.
So we manage to find more than enough films to pass the first leg of the flight - amongst others I watched Finding Dory (which I was disappointed in), Now You See Me 2, Dave and Mike need Wedding dates (which as usual the altitude definitely heightens my sense of humour and emotional state) I found myself laughing out loud on more than one occasion - much to Kev's embarrassment.
We had plentiful amounts of food served up including pastrami and potato salad with a mustard dressing, prawn curry with rice and a roll and then a vanilla dome for pudding. Later we were offered a sandwich, with a chocolate bar and fruit and when we thought we couldn't eat any more we had breakfast of fruit salad, poached eggs, chicken sausage, beans and fried potatoes, finished with yoghurt and a roll with butter and jam. I smugly show Kev how perfect the poached eggs are cooked as I cut in the runny yolk oozes out - amazing how they do this considering we are hours into the flight I say. Kev eagerly cuts into both his eggs only to be greeted by a hard cooked yolk which could well have been cooked the previous day. Oh well you win some you lose some!
Although the plan was to try and sleep during this leg to mimic our natural bedtime, it was definitely easier said then done but I guess we napped for a couple of hours on and off. To be honest though with all the food breaks and having such a good selection of films to watch we both feel quite chirpy when we land at Singapore Chiangi airport at 18:10 local time.
Wow what a wonderful airport, so light airy and with so many things to see and places to eat we are spoiled for choice. We have a wander and go into the butterfly house, loads of large colourful butterflies flying around amongst the exotic plants - very calming and such a lovely touch. We then find the koi carp pond - with some very large fish swimming around. There's also a free cinema, place for massages and lots of lovely shops and restaurants. In the other terminal there is apparently an orchid house - so they have really put an effort into making the airport a lovely relaxing place to visit prior to a flight and it was great to spend a small amount of time here relaxing before the next leg.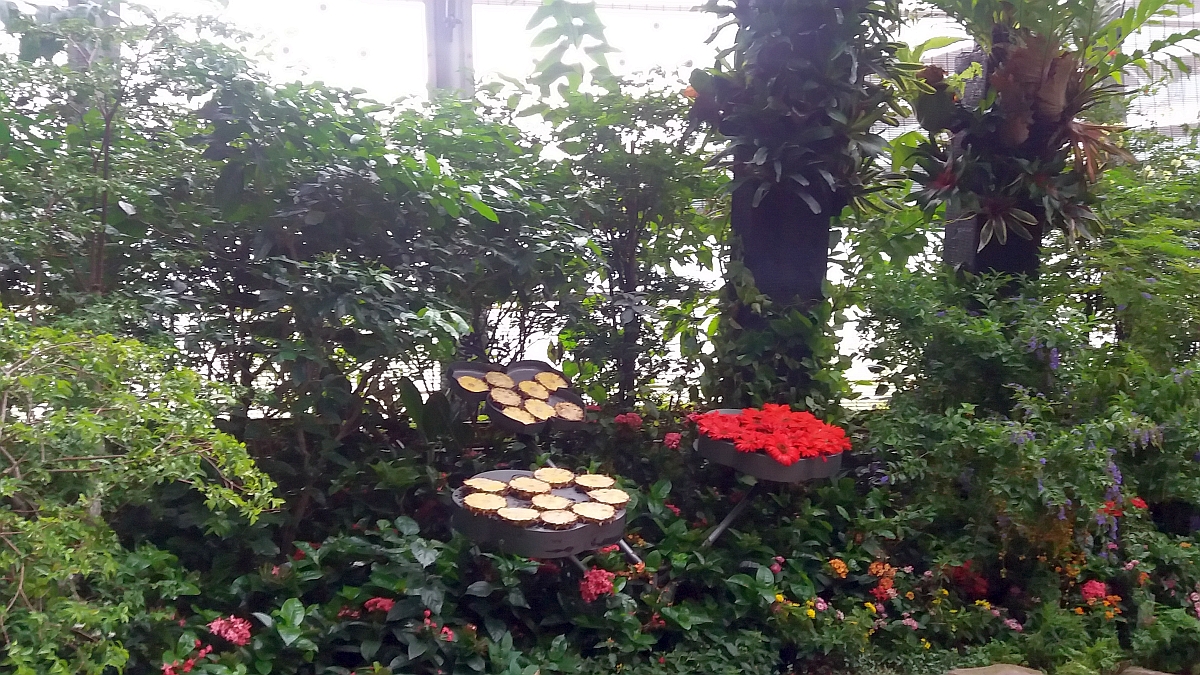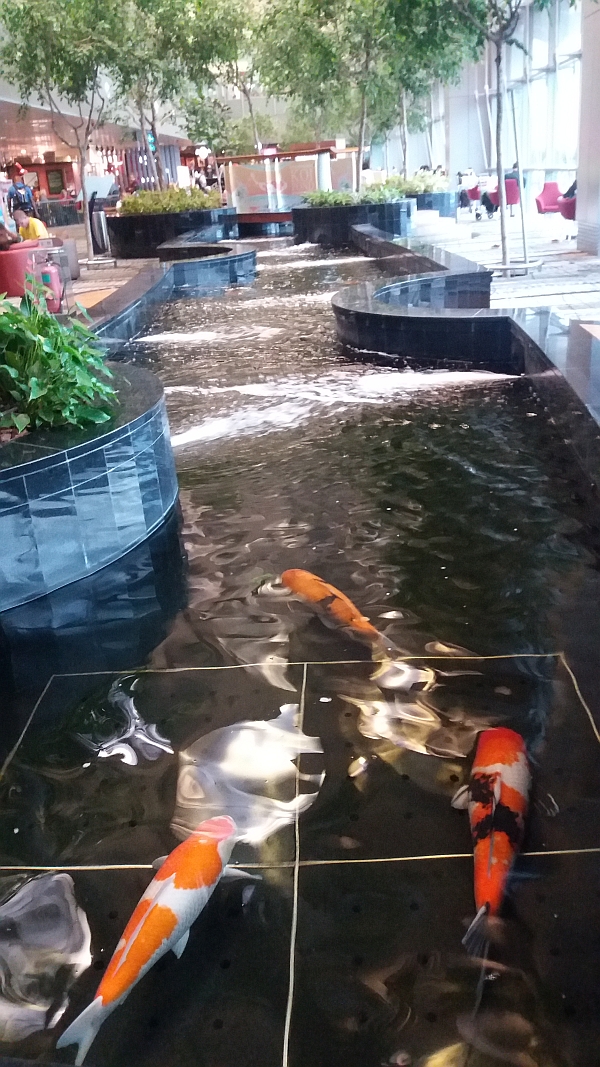 By the gate for the next flight we find a free leg and foot massage chair and I thoroughly enjoy the next 15 minutes trying out all the settings on my feet and legs. There's no way I could possibly get DVT now after that pummelling, my legs and feet felt really amazing afterwards. So what with our exploring and massage chair experience the 2 and a bit hours waiting for the next flight soon passed.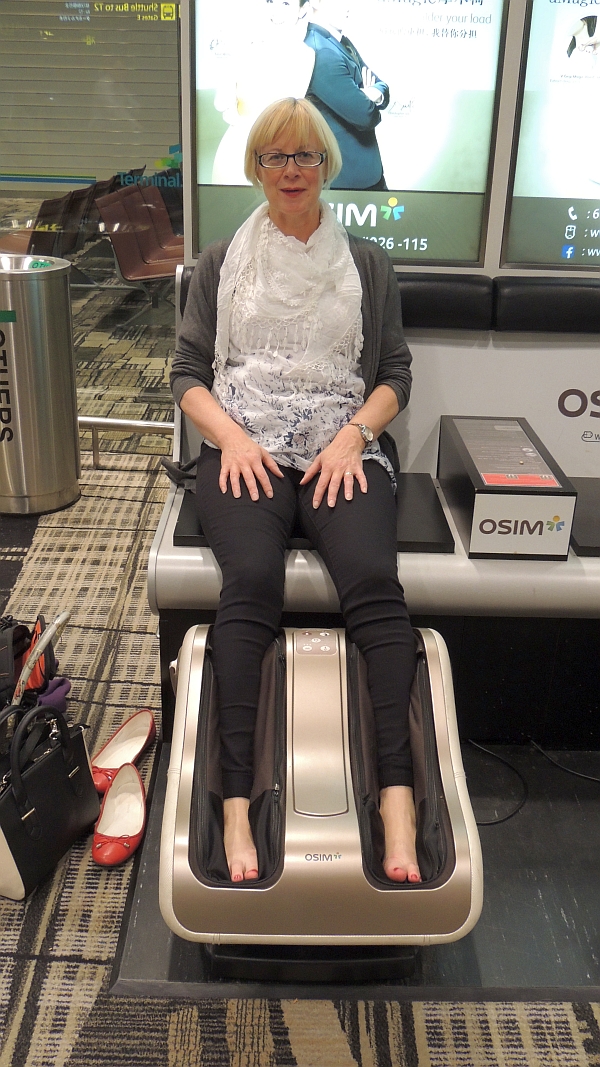 The next flight which leaves at 20:15 is also on an A380 but this time we booked economy seats upstairs in a row of 2 together. Whilst we miss the leg room we are grateful to have a side storage container so we can keep our bits and pieces to hand and we have the full size screens to watch the films. Another wonderful thing on the Singapore airlines flights was the lovely supply of hot towels before you take off, before a meal etc. They were very, very hot but once they'd cooled just enough they certainly made you feel refreshed and they were very welcome
We decide to have a Singapore Sling with our meal as it seems apt - it tasted very nice but I'm not sure how authentic it was. The first meal of this leg was a ham and pasta salad, followed by chicken in a coriander cream sauce with potatoes, vegetables and a roll followed by ice cream.
My films of choice were Dirty Grandpa and Eddie the Eagle, which I really enjoyed. Then the lights were dimmed and we took the opportunity to try and sleep, but it appears someone right behind us has a very persistent and loud cough. I try to ignore all thoughts of airborne germs and try to remember if bird flu is still prevalent and can you catch TB that easily in a plane!
[OCTOBER 2016 REPORT HOME PAGE]